Jacksonville Jaguars:

Maurkice Pouncey
May, 30, 2014
May 30
4:45
PM ET
JACKSONVILLE, Fla. -- Here are highlights from the weekly
Jacksonville Jaguars
chat. You can find the full transcript
here
.
Big Al (Eating a big pizza pie):
I found your answer to my question last week rather puzzling. I don't understand how you can say that the Jags wouldn't spend the money on [Maurkice] Pouncey to upgrade a position that they tried to do just that in acquiring
Alex Mack
. The Jags have over 20 million, which I gotta believe they will roll over into next year's cap, which would give them plenty of money to acquire Pouncey or any other big time FA. That is not even counting the cap increase and the money they will have to spend in 2015. I be pleasantly surprised if [Mike] Brewster can at least be an avg C, but why not upgrade the position with Pouncey? He is much younger than Mack, plays at about the same level if not better, and will cost the Jags about the same amount they offered Mack. Did Pouncey steal your lunch money at Florida loll
DiRocco:
They went after Mack because he is by far the best center in the game and they felt they could take a shot. But notice they didn't go after any other centers in free agency and only drafted one in the sixth round. That means they felt confident Brewster could do the job and they didn't view it as a need position. Going after Mack was just a "let's take a chance" move. Let's see how Brewster plays this season before we decide the Jags need to go after someone else. If he plays well and they like him it'd be a waste of money to go after Pouncey when they could use that on another position (maybe a tight end?). That's all I'm saying.
Willie (DUVAL):
How are ticket sales? How's my boy
Andre Branch
looking? Heard Gus rave about how much quicker he is. Did you see that in practice?
DiRocco:
At the team's state of the franchise news conference a couple weeks ago, president Mark Lamping said season-tix renewals are about 10 percent higher than a year ago and new season-tix sales are up 15 percent. As for Branch, he had a good first week. I did notice his quickness, but that has never been his issue. It's his consistency, and so far that seems to not be an issue any longer. But it's early.
Jordan (Duval):
31 sacks last season. With the additions made via free agency and the draft, what is a realistic total for this unit in 2014?
DiRocco
: It's tough to put a number on that, but I agree with you that the pass rush should be much better than it was the last two seasons. The Jags were actually much better in 2013 (31 sacks) than they were in 2012 (20). So let's say anything in the 40-50 range would be pretty good.
James (KY):
Are there any "under the radar" guys that haven't been talked about much that could not only make the roster but have a larger impact than expected/haven't taken notice of?
DiRocco
: Keep an eye on TE
Marcel Jensen
. He's big (6-6, 270), strong, a solid blocker, but raw as a receiver. Another guy would be S
Jerome Junior
. The Jaguars need to upgrade FS and find some good depth behind [Johnathan] Cyprien at SS and he's a guy to watch.
Wally (Grand Rapids, Mi):
What's up with
Chris Clemons
not being there? I thought he was brought in to be a role model for the younger players. Doesn't look like he is making a good first impression.
DiRocco
: He's been dealing with some personal issues (that the team hasn't disclosed) but Gus [Bradley] said he is 98 percent sure he'll be here for Monday's OTA. Gus said he's not worried about Clemons not being in shape but he would like him here because of the team/competition mantra he preaches. It is disappointing.
September, 26, 2013
9/26/13
12:00
PM ET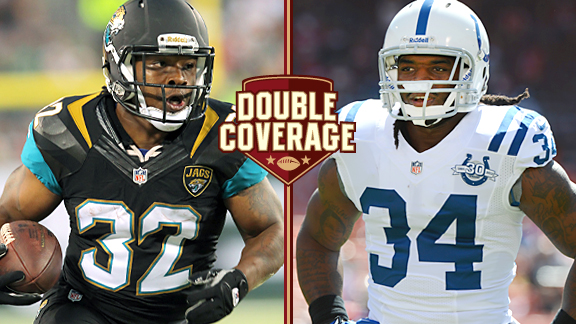 USA TODAY SportsMaurice Jones-Drew and Trent Richardson will square off Sunday in Jacksonville.
The winless
Jacksonville Jaguars
return to EverBank Field after spending more than a week on the West Coast -- they played at Oakland on Sept. 15 and remained in California to prepare for this past Sunday's game at Seattle -- for Sunday's game against the
Indianapolis Colts
. The Colts had a much better trip out West than the Jaguars. They routed host San Francisco 27-7 on Sunday by shutting down 49ers quarterback
Colin Kaepernick
. The Jaguars, meanwhile, fell to 0-3 after the Seahawks routed them 45-17. Sunday presents another tough task for the Jaguars. Colts reporter Mike Wells and Jaguars reporter Michael DiRocco take a look at this week's matchup.
Michael DiRocco:
Mike,
Peyton Manning
was such an iconic figure in Indianapolis. With all the success he's had in his first 20 games, has
Andrew Luck
come close to that level yet?
Mike Wells:
Manning may be on his way to his fifth MVP trophy out there in Denver, but the Colts could be set at quarterback for the next decade with Luck. It's only natural to compare the quarterbacks because they both carry themselves in the same manner. They're humble, perfectionists and, best of all, damn good quarterbacks. Luck isn't at the same level as Manning, but the goal in Indianapolis is for him to reach that status or beyond. Speaking of quarterbacks -- or maybe it's not a good idea -- what's going on down there in Jacksonville with that situation? When do the Jaguars officially throw in the towel and say
Blaine Gabbert
is not the answer for them?
DiRocco:
That is the general belief around Jacksonville, but that's not yet the case for new general manager Dave Caldwell and coach Gus Bradley. They have given Gabbert a clean slate and will evaluate him based on what they see from the 6-foot-4, 235-pounder this season. They have to find out whether Gabbert is the player around whom they can build the franchise, so this season is essentially a pressure-packed tryout for him. He has not performed well since being taken with the 10th overall pick in the 2011 draft. This year he's dealing with a pretty porous offensive line, and two of his top three weapons -- tight end
Marcedes Lewis
(calf) and
Justin Blackmon
(suspension) -- have yet to play this season. By the end of the season Caldwell and Bradley will know whether Gabbert is the answer. The Colts obviously have one piece of their foundation in Luck, but they recently traded for
Trent Richardson
to fulfill the role
Edgerrin James
had for years. My question is this: Who's the next
Marvin Harrison
?
Wells:
They don't have that receiver yet.
Reggie Wayne
is obviously a future Hall of Famer, and he's still playing at a very high level. But he's also 34 years old. The Colts are hoping that
Darrius Heyward-Bey
could be that receiver. He was the No. 7 overall pick in 2009, so he has the potential to complement Luck and Richardson. But Heyward-Bey has to get over his case of the drops. Playing well in spurts isn't good enough. In fact,
T.Y. Hilton
, the Colts' third receiver, outplayed Heyward-Bey in the preseason. I hate to do this to you -- and probably a lot of NFL fans -- but is there any possibility that the Jaguars would even think about bringing in
Tim Tebow
? There are fans down there rallying for him. And if anything, it'll help in the attendance department.
DiRocco:
Not going to happen, no matter how much noise Tebow's supporters make. The Jaguars are moving forward with Gabbert, and if it turns out he's not the player around whom they can build the franchise, they'll look to the 2014 draft to find a quarterback. I covered Tebow at Florida, and he was fantastic, one of the best collegiate players of all time, but he's just not able to make the leap. And there's nothing wrong with that. It doesn't diminish what he did at Florida in any way. As for attendance, the Jaguars actually ranked 20th in that stat last season, drawing an average of 64,984. That's ahead of teams such as Chicago (62,329), Minnesota (60,725) and Miami (57,379). That was for a 2-14 team that didn't have Tebow. Sometimes young, talented teams that make the playoffs take a step backward the following season before really taking off a year later. Do you see that being the case with the Colts in 2013?
Wells:
The Colts are a better team this season, but they will take a step back with their record by a game. Good fortune was on their side in more ways than one last season. They caught some breaks and Luck led them to seven fourth-quarter comebacks. They're still a playoff team, and if Houston slips up, the Colts will take advantage of it and win the division. The Jags are ranked last in this week's Power Rankings. Will they stay there all season?
DiRocco:
I think they'll battle the Browns and -- I can't believe I'm writing this -- the Steelers for the last spot all year. Right now no team is playing worse than the Jaguars, especially on offense. But I do think things will get a little better with the return of Lewis and Blackmon. The offensive line has to play much better, though. Cleveland's victory last week was surprising, but I see that as more of a byproduct of emotion and anger after the Richardson trade than anything else. The Steelers have looked horrible, and the loss of
Maurkice Pouncey
has them reeling. Plus, we all know it's a matter of time before
Ben Roethlisberger
gets hurt.