Jacksonville Jaguars:

Patrick Peterson
November, 20, 2013
11/20/13
12:30
PM ET
JACKSONVILLE, Fla. --
Clay Harbor
wasn't the intended target, nor was he even touched on the play, but he played a critical role in the Jaguars' successful fourth-down touchdown against Arizona last Sunday.
The 6-foot-3, 255-pound Harbor was one of three tight ends the Jaguars used on the fourth-and-1 play from their own 38-yard line early in the first quarter. His pre-snap motion -- in which he went right, left, and back right again -- confused the linebackers and safeties and was the reason Noble was able to get wide open.
"The most important thing was the motion," quarterback
Chad Henne
said. "Yo-yoing the motion and getting him to sprint out right kind of threw the defense off guard. They thought we were going to go right and we went left with it."
[+] Enlarge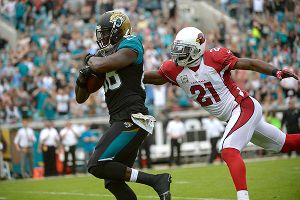 AP Photo/Phelan M. EbenhackDanny Noble took his first career reception 62 yards for a score against the Cardinals.
A look at the film shows exactly what happened:
The Jaguars went with three tight ends, fullback
Will Ta'ufo'ou
, running back
Maurice Jones-Drew
and no receivers.
Danny Noble
, whom the team signed to the practice squad Oct. 9, and
Marcedes Lewis
lined up tight on the left and right side of the formation, respectively. Harbor lined up one step behind the line of scrimmage off Noble's left hip.
When Harbor went in motion to his right, cornerback
Patrick Peterson
and safety
Tyrann Mathieu
slid across the formation with him. Harbor then went back to his left for two steps before turning around and going back right. You can see the reversal caused confusion between linebackers
Karlos Dansby
and
Daryl Washington
, with Washington pointing and waving his left hand.
At the snap, Noble releases and brushes by linebacker
John Abraham
and heads up the hashmarks before curling toward the numbers. Henne play-fakes the ball to Jones-Drew, who goes low to block Abraham while Ta'ufo'ou heads into the flat.
Henne looks at Ta'ufo'ou, which causes Mathieu and Washington to make a beeline for the flat. Peterson, who was simply backpedaling after the snap, never sees Noble until he catches the ball. At that point it becomes a footrace.
Peterson eventually catches Noble at the 12-yard line but he grabs high and slides off Noble's hip at the 5-yard line.
Coach Gus Bradley said Henne deserves credit for not taking the quick throw to Ta'ufo'ou, who was open and would have made the first down and instead going to Noble. That's a decision he may not have made earlier this season.
"I think earlier in the season Chad may have thrown it to Will in the flat and we would have all been sitting here saying, 'Oh, if he would have just throw it to Noble we had a chance for an explosive play,' and he did it," Bradley said. "He was looking at the fullback but he hung in there and threw it to Nobes and we got a big play off of it."
November, 17, 2013
11/17/13
7:25
PM ET
JACKSONVILLE, Fla. -- The
Jacksonville Jaguars
' offense hasn't had any trouble starting fast the last two weeks.
It's the rest of the game that has been the problem.
It happened in a 29-27 victory over Tennessee on Nov. 10 but the Jaguars were able to hang on and get their first victory over the season. They couldn't overcome it against the
Arizona Cardinals
on Sunday at EverBank Field, however, and lost
27-14
.
[+] Enlarge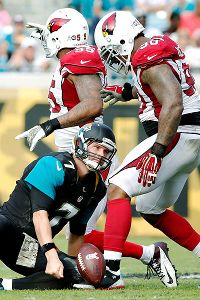 Sam Greenwood/Getty ImagesChad Henne
The Jaguars scored two touchdowns -- their first at EverBank this season -- and racked up 111 yards in the first quarter. But penalties, an injury to an already-depleted receiving corps, and the lack of a running game crushed the early momentum. The result was the ninth loss of the season and sixth consecutive loss at EverBank Field.
"After those scores we struggled," head coach Gus Bradley said. "We had quite a few three-and-outs. I know we had some second-and-longs, some penalties that showed up in the second half, a couple interceptions. We've got to overcome that. We've really got to continue to challenge our guys to step up and make plays."
The Jaguars (1-9) managed just two first downs in the second quarter and two more in the third. They managed just 163 yards in the final three quarters and 58 came after the Cardinals took a 24-14 lead. Why such a poor performance?
Penalties hurt. A false start on third-and-8 by receiver
Ace Sanders
in the second quarter. Early in the fourth, center
Brad Meester
and guard
Uche Nwaneri
had false starts on the same drive. A holding penalty on tackle
Cameron Bradfield
wiped out a 21-yard reception by
Maurice Jones-Drew
.
The running game was non-existent, too. That's not surprising considering the Cardinals entered the day with the NFL's third-ranked rush defense, but Jones-Drew and the offensive line really struggled. The Jaguars ran for just 32 yards on 16 carries and Jones-Drew ran 14 times for 23 yards, which is the second-lowest total of his career in games in which he's had double-digit carries.
The Jaguars were already short at receiver with the suspension of
Justin Blackmon
and
Stephen Burton
missing the game with a concussion, but
Mike Brown
left the game in the second half with a shoulder injury. That meant the Jaguars had to use
Kerry Taylor
, whom the team claimed off waivers from Arizona on Nov. 4, in a bigger role.
Sanders, Brown, Taylor and tight ends
Marcedes Lewis
and
Clay Harbor
were pretty much quarterback
Chad Henne
's only options because No. 1 receiver
Cecil Shorts
was being shadowed by Arizona cornerback
Patrick Peterson
. Until the final four minutes of the game, Henne targeted Shorts just once. In those final four minutes, Henne threw to Shorts four times.
Shorts was clearly frustrated.
"There was opportunities throughout the game I should have been involved in," Shorts said. "But, you know, it is what it is. I can't control what the … We can do better as an offense."
Henne wasn't particularly effective, either. Though he completed 27 of 42 passes for 255 yards and one touchdown, he threw two interceptions and didn't challenge the Arizona secondary. As noted, he didn't look for Shorts until the game was well in hand and there were instances where he was open against Peterson.
He settled for shorter passes too often, too, especially on several third downs. It seemed as if he was overly concerned with Peterson and safety
Tyrann Mathieu
.
"It was tough," Henne said. "Patrick Peterson's a great corner and we knew we were going to have some problems with him. But Cecil, I thought, in some of his one-on-one routes did some really good things with it. They were playing a high safety. Their guys up front are good pass rushers, so we wanted to get the ball out quick, get it out on time, and I think we definitely accomplished some of that."
It was a typical Henne game. Several good throws, several bad, and a mixture of safe stuff. But he couldn't lead the offense to any points despite starting possessions at his own 40, the Arizona 42, midfield, and his own 42. Punt, punt, punt, interception.
"Field position was outstanding," Bradley said. "We had a couple times we started on the 50 and there in. Those we have to come away with some points. We have to. Even if it's a field goal, to get it down there inside the 35. We took a sack on one. We were on the 36 yard line, the 38-yard line, trying to get it to the 35, we take a sack. Throw it away and give it a chance. We'll continue to grow on those decisions."
It's not all on Henne, Shorts said.
"I felt like we had a lot of momentum at the beginning of the game," said Shorts, who caught just two passes for 22 yards. "We had penalties. When we're in their territory we need to at least get three points. We're on their side of the 50, we can't have a penalty, first-and-15, and we get a positive play, then another penalty, first-and-20. We can't have stuff like that. We need to at least get three every time we're in their territory. We've just got to do better. We need to execute."
November, 17, 2013
11/17/13
4:07
PM ET
JACKSONVILLE, Fla. -- A few thoughts on the
Jacksonville Jaguars
' 27-14
loss
to the
Arizona Cardinals
.

What it means:
The Jaguars were trying to achieve something that hasn't happened since 2010: win back-to-back games. They beat Tennessee and Oakland in consecutive weeks in December that season but have won just eight games since. There is a silver lining in the loss, though. Tampa Bay was routing the Falcons, which leaves the Jaguars as the league's only team with a single victory and puts them in the lead for the No. 1 overall selection in the 2014 draft.
Stock watch:
Punter
Bryan Anger
had perhaps his best game of the season, averaging nearly 50 yards per punt and pinning the Cardinals deep in their own territory. In the third quarter alone he forced the Cardinals into starting drives on their 9-, 10- and 2-yard line. Anger kept the Jaguars in the game while the offense sputtered in the second half. Cornerback
Alan Ball
had a solid game, too, by breaking up four passes in the first half -- three of which were intended for
Michael Floyd
.
TOs overturned:
The Jaguars had what appeared to be two turnovers deep in Arizona territory wiped out.
Patrick Peterson
fumbled a punt at his own 10-yard line. Three Jaguars pounced on the ball but somehow Peterson came out with it and the Cardinals retained possession. Replays appeared to show long-snapper
Carson Tinker
coming out of the pile with the ball and the Jaguars challenged the play, but officials upheld the ruling on the field. Two plays later, middle linebacker
Russell Allen
intercepted
Carson Palmer
's pass to
Larry Fitzgerald
, but officials announced after the play that the Cardinals had called timeout before the snap.
Sneaky:
The Jaguars scored their first touchdown on an interesting fourth-and-1 call. They lined up at their own 38 with extra tight ends. The Cardinals played run all the way, and the play-action fake allowed recently acquired tight end
Danny Noble
to get behind the first level of defenders.
Chad Henne
hit him with a good pass and Noble broke a tackle to score a 62-yard touchdown. What made the play work is the fact that Noble is a blocking tight end who had played in only five games and never had a catch until Sunday.
What's next:
The Jaguars will play at Houston on Sunday.
November, 16, 2013
11/16/13
8:00
AM ET
Here are five things to watch in Sunday's
Jacksonville Jaguars
-
Arizona Cardinals
game at EverBank Field in Jacksonville, Fla.
Peterson
Shorts vs. Peterson:
Cardinals cornerback
Patrick Peterson
usually shadows the opposing team's best receiver. In the Jaguars' case, that's
Cecil Shorts
(48 catches, 607 yards). Can the 6-foot, 202-pound Shorts handle the 6-1, 219-pound Peterson? Shorts cannot get completely taken out of the game, because the Jaguars' other receivers aren't good enough to carry the passing game.
Mike Brown
is a solid No. 3 receiver but the only other healthy receiver is
Kerry Taylor
.
The Honey Badger:
Tyrann Mathieu
was a ballhawk at LSU, and he's doing the same with Arizona. He has two interceptions and 10 pass breakups. He starts at safety, and he's also talented enough to cover slot receivers man-to-man. The Jaguars need to be aware of where he is pre-snap, because he's also a decent blitzer.
Who's in the middle:
Jaguars middle linebacker
Paul Posluszny
is questionable because of a concussion. He's by far the defense's best player (88 tackles, two interceptions, two forced fumbles), so not having him on the field would be a huge loss. Outside linebacker
Russell Allen
would take his place. Though he has played all three spot in his five-year career, Allen hasn't started a game in the middle since his rookie season (2009). Allen's replacement would be rookie
John Lotulelei
, who has played in just two games this season.
Can Mojo get going?
The Jaguars have struggled to run the ball all season, and now they'll be facing the No. 3 run defense in the league. The Cardinals are allowing only 86.9 yards per game on the ground. Jones-Drew has rushed for 432 yards, and is averaging 3.0 yards per carry, more than a yard less than his career average. The offensive line might be without starting left guard
Will Rackley
(concussion), too.
The end zone:
The Jaguars haven't been in one in EverBank Field this season. The last TD the team scored there came in the first quarter of a Week 16 loss to New England in 2012. The Jaguars have been out-scored 89-11 in three games at EverBank this season.
November, 15, 2013
11/15/13
12:30
PM ET
JACKSONVILLE, Fla. -- Looking for some help with your fantasy football lineup? Every Friday I'll give you my opinions on which
Jacksonville Jaguars
players to play and sit, as well as which of the opposing players might be a good play against the Jags. For more fantasy football advice, check out ESPN.com's
fantasy football page
.
Jaguars
Henne
QB Chad Henne:
In three games vs. NFC West teams this season, Henne has completed 56.3 percent of his passes for 552 yards and three touchdowns with two interceptions. He'll be throwing a lot again Sunday, because the Cardinals have the league's No. 3 rush defense. However,
Patrick Peterson
will likely shadow top receiver
Cecil Shorts
.
Verdict
: Sit him.
RB Maurice Jones-Drew:
The Cardinals are allowing only 86.9 yards per game rushing thanks to a stout defensive front. Even if he gets 20-plus touches again, there won't be a lot of room for Jones-Drew.
Verdict
: Sit him.
WR Cecil Shorts:
He is the Jaguars' top receiver with
Justin Blackmon
suspended, but that means he'll likely draw Peterson all day. That's not a good matchup for the Jaguars.
Verdict
: Sit him.
TE Marcedes Lewis:
He should be a bigger factor in the passing game, especially if Shorts is shadowed by Peterson. But that's what everyone thought last week, too, and Lewis caught three passes. Maybe this will be the week he breaks out.
Verdict
: Might be worth a gamble.
K Josh Scobee:
He is the only Jaguar other than linebacker
J.T. Thomas
to have scored a point this season at EverBank Field.
Verdict
: Start him.
Defense/special teams:
It's unlikely that middle linebacker
Paul Posluszny
plays, and if that's the case, the Jaguars' defense won't have its best player and biggest playmaker. Still waiting on
Ace Sanders
to break out as a punt returner, although kick returner
Jordan Todman
had a good game last week.
Verdict
: Sit them.
Cardinals
Palmer
QB Carson Palmer:
Palmer has struggled with turnovers (15 interceptions) and is averaging 222.9 yards per game passing. The Jaguars' pass rush, however, has only managed 12 sacks and 30 pressures, and the secondary includes three rookies.
Verdict
: If you're in a league that allows two quarterbacks, he'd be a good option.
RB Rashard Mendenhall:
He hasn't been especially productive (388 yards), but he'll be facing the NFL's 31
st
-ranked rush defense -- likely without Posluszny.
Verdict
: He'd be a good play for a No. 3 back or a flex in deeper leagues.
RB Andre Ellington:
He ranks No. 1 among running backs with a 7.2 per-carry average, which is more than twice what Mendenhall averages (3.1).
Verdict
: He's got more of a chance of breaking a long run than Mendenhall, so he's worth a start as a flex player.
WR Larry Fitzgerald:
Fitzgerald has caught just 39 passes, but he's averaging a touchdown every eight catches. Plus, the Jaguars' secondary has three rookies.
Verdict
: Start him.
WR Michael Floyd:
He said he will play Sunday despite injuring the AC joint in his shoulder last week. He has 36 catches, so he's just as much of an option for Palmer as Fitzgerald.
Verdict
: That's an easy injury to aggravate for a receiver. The safe bet would be to sit him.
TE Rob Housler:
He just caught the first touchdown pass of his career last week against Houston, and has just 18 catches.
Verdict
: If there was ever a week to start him it would be this one, because the Jaguars have struggled against tight ends all season.
K Jay Feely:
He has missed just one field goal attempt all season (16-for-17). The Cardinals' offense should be able to move up and down the field, so he'll get plenty of work.
Verdict
: Start him.
Defense/special teams:
The Cardinals' defensive front is among the best in the NFL, so the Jaguars won't have much success on the ground. That means more opportunities for
Tyrann Mathieu
, the ballhawking rookie from LSU.
Verdict:
Start them.