Jacksonville Jaguars:

Robert Griffin III
May, 1, 2014
5/01/14
5:00
PM ET
Which player should the Jacksonville Jaguars take with the No. 3 pick in the NFL draft? That's a question that general manager David Caldwell and head coach Gus Bradley are trying to answer before the first round on May 8. Not that they're asking, but I'm here to offer some help. Every day until the first round I'll argue for a certain player. We're going to go with the caveat that each of the players is available when the Jaguars make their selection.
Today I make the case for quarterback
Johnny Manziel
. Friday will be quarterback
Blake Bortles
.
JACKSONVILLE, Fla. -- There is no
Andrew Luck
in this draft, a can't-miss quarterback that can carry a franchise for 10-15 years.
But there is one available that abused one of the country's top college defenses coached by one of the greatest college football coaches of all time. Twice.
He made All-Americans look confused and silly. He made high draft picks look like walk-ons getting their first playing time. He had coaches throwing up their hands because they didn't know what more they could possibly do to stop him.
So when it's time for the Jaguars to make their pick in next week's NFL draft, they should select Texas A&M's Johnny Manziel.
The Jaguars finished 22
nd
in passing, 31
st
in rushing, and 31
st
in total offense and averaged just 15.4 points per game last season, so they desperately need a playmaker on offense. There has been no bigger playmaker in college football than Manziel the past two seasons. He threw for 7,820 yards and 63 touchdowns and ran for 2,169 yards and 30 touchdowns while playing in the toughest conference in the nation.
In two games against Alabama and Nick Saban, Manziel accounted for 907 yards and seven touchdowns of total offense. The Aggies beat the Crimson Tide, which would go on to win the national title, in 2012 but lost by a touchdown in 2013. He rushed for 190 yards in those games and most of that came on scrambles outside the pocket.
Then again, a lot of his passing yards came that way, too, with him running around, juking defenders, and finding receivers for big gains.
Granted, that style is not going to be as successful in the NFL. Manziel has to learn to play more from the pocket and quit taking off and running at the first sign of trouble. He has to refine his fundamentals and mechanics so he's not relying on his strong arm and athleticism. He has to get stronger so his somewhat slight frame (5-foot-11 3/4, 207 pounds) can better handle the pounding he's going to take at the NFL level.
That's what coaches are for, though. Offensive coordinator Jedd Fisch and quarterbacks coach Frank Scelfo can fix those problems (all but the height, obviously).
But it's the other stuff that makes Manziel special. The ability to escape from trouble, improvise, extend plays with his legs, and make big plays. That's instinctual, and it's Manziel's greatest asset. You have to have all those things to be an elite quarterback in the NFL.
Robert Griffin
III does, and so does Luck. Unless a quarterback is operating at the level occupied by
Tom Brady
and
Peyton Manning
, he's got to have the ability to make plays outside the pocket.
Caldwell and Bradley still have work ahead in improving the talent level on the roster. The team won't contend for the playoffs until they do. But adding Manziel can speed up the process a bit.
Though it shouldn't factor into any football decision, there's also this: Adding Manziel would make the Jaguars instantly relevant nationally. The NFL would surely flex a couple Jaguars games to get Manziel on national television. Fans, tired of being the butt of jokes around the country, would revel in the attention.
Manziel isn't a perfect quarterback, but he is the best choice for the Jaguars.
May, 1, 2014
5/01/14
10:00
AM ET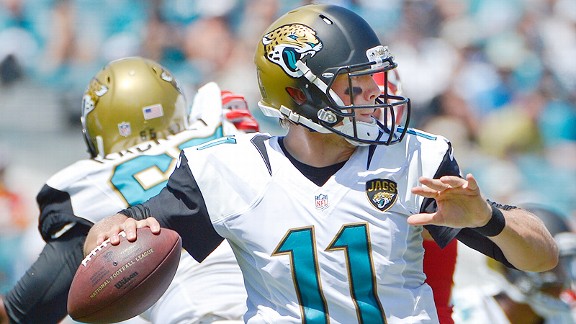 AP Photo/Phelan M. EbenhackIf they draft another QB, the Jaguars don't plan to play him early, as they did with Blaine Gabbert.
JACKSONVILLE, Fla. --
Jacksonville Jaguars
general manager David Caldwell and coach Gus Bradley have been adamant for months that whichever quarterback they draft next week will not play right away.
Chad Henne
will be the starter. That is why they signed him to a two-year extension in March.
The rookie's only responsibilities in 2014 are to learn the offense, adjust to the speed of the NFL game and develop his skills. It's tough enough to do that without also having to worry about winning games each week.
The offense belongs to Henne, and it's the right move for the Jaguars. None of the quarterbacks in this draft are in the
Andrew Luck
/
Robert Griffin III
/
Cam Newton
category. Draft experts are divided on whether any of this draft's QBs are ready to play right away, and the pieces are not yet in place for a young quarterback to succeed in Jacksonville.
The Jaguars still need a playmaking wide receiver and have to continue to upgrade the offensive line, especially in the middle. The pass rush has been last in the league the past two seasons (51 sacks), and the speed on defense needs to improve.
It's hard for a young quarterback to succeed without a strong supporting cast, and the Jaguars certainly can't put a complete one on the field in 2014.
Sitting a rookie quarterback drafted in the first or second round is not an approach shared by every NFL team. Of the 40 quarterbacks drafted in the first two rounds over the past 10 years, half started at least eight games as rookies. Of the remaining 20, five started between three and seven games. Only one (Brian Brohm in 2008) failed to take a single snap as a rookie.
Granted, the group that started at least eight games includes Luck, Griffin, Newton,
Ben Roethlisberger
,
Matthew Stafford
,
Matt Ryan
and
Joe Flacco
. That is a pretty good list. It also includes
Blaine Gabbert
,
Christian Ponder
,
Jimmy Clausen
and Matt Leinart. That is not as good a list.
But among the players who started fewer than eight games as rookies are
Aaron Rodgers
(none),
Eli Manning
(seven),
Philip Rivers
(none) and
Jay Cutler
(five). However, it also includes
Brady Quinn
(none), J.P. Losman (none) and JaMarcus Russell (one) – three of the bigger first-round quarterback busts of the past decade.
This shows there is no correlation between playing a lot as a rookie and success, so that doesn't mean the Jaguars' decision to keep the quarterback they draft (expected to be in the second round) on the bench will ensure that he develops into an elite player. But it certainly can't hurt.
And if a QB isn't really ready for the burden, it can be devastating. The Jaguars are all too aware of that.
Gabbert certainly had his issues in the pocket, was unable to transfer what he did on the practice field to Sundays, and had trouble staying healthy. The first two were certainly related to being put on the field before he was ready.
Then-general manager Gene Smith traded the Jaguars' first-round pick (No. 16) and second-round pick (No. 49) to Washington to move up six spots to take Gabbert with the 10th overall pick in 2011. The Jaguars' starter that season was supposed to be David Garrard, who was in the fourth year of a seven-year, $60 million contract, but in a surprise move the team released Garrard just five days before the 2011 season opener.
Luke McCown
started the first two games, but then-coach Jack Del Rio made the switch to Gabbert. He was robbed of minicamps and OTAs because of the lockout and was just 21 years old when he stepped on the field for the first time. It's no surprise he struggled and went on to win just five of his 27 starts before being traded to San Francisco in March.
There is at least one other organization that agrees with the Jaguars' new approach.
Houston Texans
owner Bob McNair recently told the Houston Chronicle that having rookie David Carr start 16 games in 2002 was a mistake. Carr was sacked a league-high 76 times and threw nine touchdown passes and 15 interceptions in '02. McNair says it would have been better for Carr and the Texans if coach Dom Capers had gone with veteran Tony Banks that season instead.
The Texans, who own the No. 1 pick this year, are expected to draft a quarterback in the first or second round next week, but the team's starter will be
Ryan Fitzpatrick
,
Case Keenum
or
T.J. Yates
.
What the Jaguars are hoping for is what happened in Green Bay. The Packers took Rodgers with the 24th pick in the 2005 NFL draft, but he didn't start a game in his first three seasons as he learned and developed behind Brett Favre. Rodgers became the starter in 2008 and has led the Packers to a 58-29 record and a Super Bowl title.
That might be asking too much. But avoiding what teams went through with Russell, Losman and Leinart isn't.
So the Jaguars are going to sit the rookie and wait … and hope.
April, 23, 2014
4/23/14
8:12
PM ET
»
NFC
:
East
|
West
|
North
|
South
»
AFC
:
East
|
West
|
North
|
South
»
Predictions
Breakdown:
If the Jaguars are going to get off to a good start in 2014, they'll have to do it against some pretty tough competition. They play three of their first four games against teams that made the playoffs last season, including two on the road (Philadelphia to open the season on Sept. 7 and San Diego three weeks later). In fact, the Jaguars play five games against four teams (Indianapolis twice) that made the playoffs last season and four of those games come within the season's first nine games. In addition to Philadelphia and San Diego, the Jaguars play host to Indianapolis on Sept. 21 (home opener) and play at Cincinnati on Nov. 2. If the Jaguars are going to challenge the .500 mark this season, they can't afford to play like they did in the first half of the 2013 season when they lost all eight games by double digits.
Complaint department:
The Jaguars have just one home game in the season's first month and play four of their first six games on the road for the second consecutive season. It's not as bad as it was in 2013, when they played at Oakland and Seattle in Weeks 2-3, but it still robs the team of gaining a little momentum from an attendance boost because of the new scoreboards and amenities at EverBank Field. There's also a stretch in which the Jaguars don't play a game at EverBank for nearly a month because of the annual Florida-Georgia game, the game against Dallas in London, a bye week and the Great Jacksonville Agricultural Fair.
Secondary concerns:
We'll quickly get a chance to see how much cornerback
Dwayne Gratz
and safety
Johnathan Cyprien
have improved in their second season and whether the pass rush is any better. The Jaguars start the season by facing a run of pretty darn good quarterbacks in the season's first five games: Philadelphia's
Nick Foles
, Washington's
Robert Griffin
III, Indianapolis'
Andrew Luck
, San Diego's
Philip Rivers
and Pittsburgh's
Ben Roethlisberger
. The Jaguars finished the 2013 season tied for 25th in pass defense (247.6 yards per game) and tied for last in sacks (31). The addition of defensive end
Chris Clemons
and linebacker
Dekoda Watson
, plus a potential high draft pick, should improve the rush.
Strength of schedule:
29th, .453 |
Vegas over/under

:
4.5
Jaguars Regular-Season Schedule (All times Eastern)
Week 1:
Sunday, Sept. 7, at Philadelphia, 1 p.m.
Week 2:
Sunday, Sept. 14, at Washington, 1 p.m.
Week 3:
Sunday, Sept. 21, Indianapolis, 1 p.m.
Week 4:
Sunday, Sept. 28, at San Diego, 4:05 p.m.
Week 5:
Sunday, Oct. 5, Pittsburgh, 1 p.m.
Week 6:
Sunday, Oct. 12, at Tennessee, 1 p.m.
Week 7:
Sunday, Oct. 19, Cleveland, 1 p.m.
Week 8:
Sunday, Oct. 26, Miami, 1 p.m.
Week 9:
Sunday, Nov. 2, at Cincinnati, 1 p.m.
Week 10:
Sunday, Nov. 9, Dallas, 1 p.m. (in London)
Week 11:
BYE
Week 12:
Sunday, Nov. 23, at Indianapolis, 1 p.m.
Week 13:
Sunday, Nov. 30, NY Giants, 1 p.m.
Week 14:
Sunday, Dec. 7, Houston, 1 p.m.
Week 15:
Sunday, Dec. 14, at Baltimore, 1 p.m.
Week 16:
Thursday, Dec. 18, Tennessee, 8:25 p.m.
Week 17:
Sunday, Dec. 28, at Houston, 1 p.m.
April, 17, 2014
4/17/14
8:15
AM ET
Former Georgia quarterback Aaron Murray made quite an impression on Jacksonville Jaguars coach Gus Bradley at the Senior Bowl by actively participating in meetings despite not being able to play in the game because of a knee injury.
That impression
was reinforced at Murray's pro day
, writes Marc Weiszer of the Athens (Ga.) Banner-Herald.
Bradley, the only NFL head coach in attendance, liked what he saw from Murray, who was throwing in public for the first time since tearing the ACL in his left knee in a Nov. 23 game against Kentucky.
"We have, as much as you can, a good feel for his personality, his competitiveness," Bradley said. "That's off the charts. Then to see how fast he came back and how he's doing it and the drills that he did, very impressive. ... The big thing was to see how he's progressed through that injury and how he's come back. If nothing else, it shows how competitive he is. To come back from an injury like that, I think it just reassured us of what we thought we already knew."
Here are some additional pieces of Jaguars-related content from around the Web in our Reading the Coverage feature:
It's a pretty deep group of receivers in the draft, but teams are
going to have to decide which kind they want
, writes Hays Carlyon of the Florida Times-Union.
NFL.com's Bucky Brooks did a
2012 re-draft
. His pick for the Jaguars instead of receiver Justin Blackmon? Quarterback Robert Griffin III.
CBSSports.com's Pete Prisco's
latest mock draft
still has the Jaguars taking defensive end Jadeveon Clowney.
Here's some
reader feedback
on my picks for the Jaguars' best and worst draft picks in each round.
September, 3, 2013
9/03/13
6:52
PM ET
JACKSONVILLE, Fla. -- This is a make or break season for Jaguars quarterback
Blaine Gabbert
.
Either he proves he can be a consistent starter who could develop into a franchise quarterback or the Jaguars will give up on the 6-foot-4, 235-pounder and look for a quarterback in the draft.
The Jaguars took Gabbert with the No. 10 overall pick in the 2011 draft, believing he would become a quarterback that could lead the franchise to a Super Bowl. He obviously hasn't developed the way the team had hoped, and entering his third season he has completed just 53.8 percent of his passes for 3,876 yards and 21 touchdowns with 17 interceptions.
His inconsistency -- in his 24 starts he has completed at least half of his passes 16 times (and also a 17th game in which was injured went 2-for-2) but has also had seven games in which he completed less than 50 percent of his passes -- looks even worse when compared to the other 11 quarterbacks who were drafted in 2011.
[+] Enlarge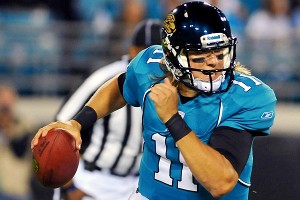 Al Messerschmidt/Getty ImagesBlaine Gabbert is just 5-19 as the starting quarterback for the Jacksonville Jaguars.
More importantly, his record as a starter is 5-19 (.208). That's the worst record among the 12 quarterbacks taken in the 2011 NFL draft. Six, including Gabbert, were taken in the first two rounds and those are the players against which he should be measured, so here's a breakdown:
Cam Newton (No. 1 overall by Carolina):
Newton had a fantastic first season, setting rookie records for passing yards (4,051) and rushing yards by a quarterback (706). Those numbers lasted only a season, though, as
Andrew Luck
and
Robert Griffin
III broke them last season. Newton is 13-19 as a starter after going 6-10 as a rookie and 7-9 last season. Career stats: 590-1,002-29, 7,920 yards, 40 TDs; 1,447 yards, 22 TDs rushing.
Jake Locker (No. 8 overall by Tennessee):
Locker played in five games as a rookie but won the starting job entering last season. He missed five games and parts of two others because of two shoulder separations and led the Titans to a 4-7 record in the 11 games which he started. He completed 56.4 percent of his passes for 2,176 yards and 10 touchdowns with 11 interceptions in 2012. Career stats: 211-380-11, 2,718, 14 TDs.
Christian Ponder (No. 12 overall by Minnesota):
He started the final 10 games of his rookie season (going 2-8) but helped lead the Vikings to a 10-6 record and a playoff berth last season, though, he missed the playoff game with a deep triceps bruise. This, too, is a make-or-break season for Ponder. Career stats: 458-774-25, 4,788 yards, 31 TDs.
Andy Dalton (second round, No. 35 overall by Cincinnati):
Dalton is by far the most successful quarterback of the group, having started every game the past two seasons and leading the Bengals to a 19-13 record and two playoff berths. Each season has ended with playoff losses to Houston, but it was the first time since 1981-82 the franchise has made back-to-back playoff appearances. Career stats: 629-1,044-29, 7,067 yards, 47 TDs.
Colin Kaepernick (second round, No. 36 overall by San Francisco):
Kaepernick was a relative unknown until he replaced
Alex Smith
(concussion) in Week 10. He led the 49ers to a 5-2 record to close the regular season and playoff victories over Green Bay and Atlanta to reach the Super Bowl. He threw for 798 yards and four TDs and rushed for 264 yards and three TDs in the postseason. Career stats: 139-223-3, 1,849 yards, 10 TDs.
Here's a look at the other six:
Ryan Mallett (third round, No. 74 overall by New England):
He has played in four games in two seasons in mop-up duty in relief of
Tom Brady
. He was the subject of trade rumors early in the preseason but remains with the Patriots. Career stats: 1-4-1, 17 yards.
Ricky Stanzi (fifth round, No. 135 overall):
Spent two seasons with the Chiefs until being cut last week. He is now with the Jaguars as the No. 3 quarterback behind Gabbert and
Chad Henne
. He has never appeared in a game.
T.J. Yates (fifth round, No. 152 overall by Houston):
He started the last five games of the regular season and two playoff games in 2011 when
Matt Schaub
was out with a Lisfranc injury. He led the Texans to a 3-4 record in those games, which included a 31-10 victory over Cincinnati in a wild-card game that was the first playoff victory in franchise history. Career stats: 86-144-4, 987 yards, 3 TDs.
Nathan Enderle (fifth round, No. 160 overall):
He spent the 2011 season with the Bears but was waived after the season. He went to training camp with the Jaguars and spent time with Tennessee in the offseason. He signed with San Diego on July 31 and was among the Chargers cut last week. He has never appeared in a game.
Tyrod Taylor (sixth round, No. 180 overall):
He has played in 10 games in relief of
Joe Flacco
. Career stats: 18-30-1, 197 yards.
Greg McElroy (seventh round, No. 208 overall):
The former Alabama standout started one game for the
New York Jets
last season, going 14-for-24 for 185 yards with one interception in a 27-17 loss to San Diego. He was released earlier this week. Career numbers: 19-31-1, 214 yards, 1 TD.