Jacksonville Jaguars:

Robert Quinn
April, 25, 2014
Apr 25
4:00
PM ET
JACKSONVILLE, Fla. -- Here are highlights from the weekly
Jacksonville Jaguars
chat. You can find the full transcript
here
.
Rjich (New Jersey):
Hi Michael, The four teams in the AFC South have the four easiest schedules in the NFL in 2014, 4 of the 8 road games for Jacksonville are against playoff teams. Do you see an improvement from 4-12 a year ago to maybe 6-10 or 7-9 in 2014?
DiRocco:
I went over the Jaguars' schedule when it came out and I can realistically see them going 6-10/7-9. They can challenge the .500 level this season, especially if they make the right moves in the draft. I'm probably leaning more toward 6-10 right now but let's see what they add in the draft.
Shawn (Detroit):
Do you think the Jags are leaning more towards [Sammy] Watkins or [Khalil] Mack?
DiRocco:
I actually wrote about this earlier today. Todd McShay believes it's a coin flip. I think they're leaning more toward Mack because he's a game-changer on defense and there aren't a lot of those at linebacker available. The group of receivers is deeper so while they can't get someone as talented as Watkins they can get some really good players later.
Super Mario (Pec Deck):
Now that the dust has settled, what is the final analysis of the failed attempt at Alex Mack? Any sense within the organization that he used us to do his negotiating?
DiRocco:
Not at all. They took a shot, negotiated a deal they thought would keep Cleveland from matching, and it didn't work out. They're not any worse off now than they were a month ago, so no harm, no foul.
Tom (NYC):
You linked to a 2013 re-draft where Jags took [Kiko] Alonso instead of [Luke] Joeckel. Knowing what you know now, agree or disagree? Sure is interesting to consider how that would impact Jags #3 pick this year
DiRocco:
It's really hard to make that call for me because Joeckel only played in five games. Joeckel may still develop into an All-Pro left tackle and that's way more valuable than a linebacker. I liked what Joeckel did against Robert Quinn in the little time he played left tackle. Alonso is a beast for sure, but I think it's a little too early to make that call. And there's also this: If you're rebuilding a franchise an elite left tackle would be one of your cornerstone pieces, not a linebacker.
Silver (CAL):
Does Justin Blackmon have any decent trade value?
DiRocco
: No. There's no guarantee he'll be playing this season. Why would anyone trade for someone like that?
October, 7, 2013
10/07/13
2:50
PM ET
JACKSONVILLE, Fla. -- Jaguars left tackle
Luke Joeckel
has recovered from the initial shock of losing the rest of his
rookie season to a broken ankle
.
Now the No. 2 overall selection in last April's draft is dealing with some different emotions.
Embarrassment, mainly. But a little bit of shame, too.
Not because he has to use what is essentially a small tricycle to support his right foot to get around. It's the fact that his mother, Reecanne, flew into Jacksonville on Sunday night so she could take care of Joeckel, who isn't able to drive and has limited mobility.
[+] Enlarge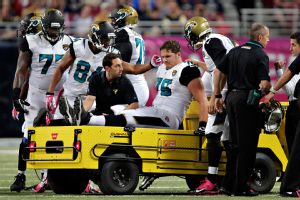 AP Photo/Tom GannamLuke Joeckel was carted off Sunday in his first start at left tackle for the Jaguars.
"I see myself as kind of a grown-up now and a grown man and I still need my mom to come take care of me," Joeckel said with a sheepish grin. "I'm really happy she's here helping out but it's pretty tough on my self-esteem being a grown man and having my mom take care of me."
That he was able to joke about feeling like a kid again shows just how quickly Joeckel has rebounded mentally from what happened during the first quarter of the Jaguars' 34-20 loss to St. Louis on Sunday afternoon. His right leg got caught underneath him when several players rolled into his right leg at the end of a running play and he suffered a fractured right ankle.
Joeckel said he most likely will need surgery but the final determination has not yet been made. It's not a career-threatening injury, and Joeckel is already talking about being aggressive with is rehab so he's about to be back on the field before OTAs next spring.
"I see myself coming back before that," he said. "I don't really know a timeline right now but I want to get back as soon as possible. I want to have a full offseason. I want to come back and start getting back into football as soon as possible.
"Not really thinking that far in the future, but this is kind of just a bump in the road but I'm not looking at it as being that serious. I'm going to come back better from it."
Joeckel admitted Monday that the most frustrating part of the injury was that it occurred during his first game at left tackle. He had started the first four games of the season at right tackle but the Jaguars traded starting left tackle
Eugene Monroe
to Baltimore early last week and moved Joeckel back to his natural position.
He played well in his 12 snaps, keeping defensive end
Robert Quinn
-- who came into the game with five sacks -- away from quarterback
Blaine Gabbert
.
"That was probably the hardest part. I finally get to live my dream, play left tackle in the NFL, and got less than a quarter and then this happens," Joeckel said. "You know, God puts you in these situations and the only thing you can take from it is to get stronger. Just got to call on Him, call on the people that are really important in my life that'll help me through this and come back better and stronger from all of it.
"I felt like I was getting better every week. Moving over to the left side I felt good in that first quarter. It was good to go back. It felt comfortable. My set felt better. This is hopefully just a bump in the road in a successful career."