Jacksonville Jaguars:

Sebastian Janikowski
September, 13, 2013
9/13/13
3:30
PM ET
JACKSONVILLE, Fla. -- Looking for some help with your fantasy football lineup? Every Friday I'll give you my opinions on which
Jacksonville Jaguars
players to play and sit, as well as which of the opposing players might be a good play against the Jags. For more fantasy football advice, check out ESPN.com's
fantasy football page
.
QB Chad Henne:
Henne gets the start in place of
Blaine Gabbert
(hand), but he'll be battling the same issues that Gabbert did last week: A questionable offensive line and a lack of experienced pass catchers-other than
Cecil Shorts
.
Verdict:
Keep him on your bench.
RB Maurice Jones-Drew:
He ran for 45 yards on 15 carries last week and should be an even bigger part of the game plan against the Raiders. He has played well on the West Coast, rushing for a total of 146 yards in four games. His best performance was 75 yards on 15 carries.
Verdict:
Use him as your flex player.
WR Cecil Shorts:
He has been battling a groin injury this week, but is listed as probable. He's drawing most of the attention from the opposing secondary because of the Jaguars' lack of playmakers with
Justin Blackmon
(suspension) unavailable. He didn't catch his first pass last week until the fourth quarter.
Verdict:
Put him on the bench.
TE Marcedes Lewis:
He is doubtful with a calf injury, although he said this week the injury is progressively getting better.
Verdict:
It's too big of a risk to play him.
K Josh Scobee:
Scobee has been practicing kicking off the infield at a nearby baseball stadium to prepare for the field conditions at O.co Coliseum. The offense, however, has to play much better than it did last week to get him in position to take advantage of that extra work.
Verdict:
Too much uncertainty with the offense means you should keep him on your bench.
Defense/special teams:
After a shaky start, the Jaguars' defense did settle down against Kansas City last week. But it'll be facing
Terrelle Pryor
, who ran for 112 yards and threw for 217 yards last week, and the pass rush is struggling. Plus, the unit might be down both starting cornerbacks. Coverage units have been hit and miss, but there is a possibility for a big play if
Ace Sanders
gets a chance to return punts.
Verdict:
Not a good matchup, so put them on the bench.
Oakland
QB Terrelle Pryor:
He accounted for 329 yards of total offense and one touchdown last week against Indianapolis, but a lot of those rushing yards came because he was running for his life. He's not an accomplished passer, but he can make plays with his feet.
Verdict
: If you're in a league that allows you to play two quarterbacks, it wouldn't be a crazy move to play him as the No. 2. Otherwise, probably better off waiting another week or two to see if he can show any consistency.
RB Darren McFadden:
It's Week 2 and he's healthy, so that's a good thing for McFadden, who has missed 23 games in his career. He ran for 48 yards on 17 carries last week, but has traditionally had success against the Jaguars: 176 yards on 35 carries.
Verdict
: Play him as your No. 3 back while he's healthy.
WR Rod Streater:
He caught five passes for 70 yards last week and is likely to end up as Pryor's favorite receiver because the two worked out together throughout the offseason.
Verdict
: Right now he's at best a No. 3 receiver in 10- or 12-team leagues.
WR Denarius Moore:
He also caught five passes last week, but for only 43 yards.
Verdict
: Put him in the same category as Streater.
K Sebastian Janikowski:
He should be good for a couple of long field goals. That's pretty much a given with him, right?
Verdict:
Start him.
Defense/special teams:
The defense is nowhere near as good as Kansas City's defense, but consider what it's facing: an offense without its best receiver, starting quarterback, and potentially the starting tight end, and an offensive line that has two banged-up guards.
Verdict
: A safe play.
September, 13, 2013
9/13/13
8:45
AM ET
JACKSONVILLE, Fla. --
Oakland Raiders
kicker
Sebastian Janikowski
is angry that a story in the Florida Times-Union reports that he roots against the Oakland Athletics so they'll miss the playoffs and he won't have to kick off infield dirt when the Raiders play at home.
First, the background: Jaguars kicker
Josh Scobee
is kicking off the infield dirt at the minor league baseball stadium near the Jaguars' practice facility so he has an idea of what he's in for at the O.co Coliseum on Sunday. He told T-U writer Vito Stellino that Janikowski told him he roots for the Athletics to miss the playoffs so the field can be fully sodded.
However, according to ESPN NFL Nation Raiders reporter Paul Gutierrez, Janikowski said he
never told Scobee that
.
Here are some other pieces of content from around the Web in the Jaguars' version of Reading the Coverage:
Hays Carlyon of the T-U writes that offensive coordinator Jedd Fisch says the offense is
bouncing back
in practice after the dismal performance in the opener.
WJXT TV-4 sports director Sam Kouvaris and Cole Pepper debate whether Chad Henne could
wrestle the starting job away from Blaine Gabbert
if he performs well on Sunday.
Raiders quarterback Terrelle Pryor is wearing No. 2 this season instead of the No. 6 he wore in 2012. He
wasn't allowed to wear No. 2
because if reminded people of former No. 1 overall pick JaMarcus Russell, Gutierrez writes.
September, 12, 2013
9/12/13
12:00
PM ET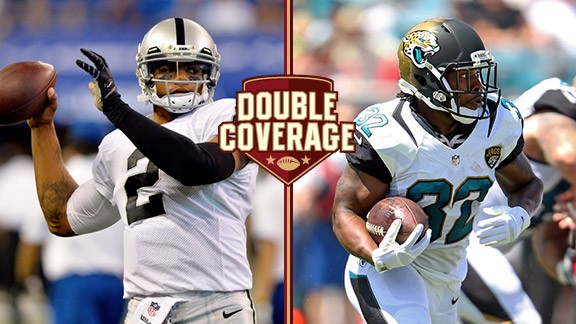 AP Photo Terrelle Pryor and Maurice Jones-Drew are key players to watch in the Raiders-Jaguars game.
Oakland showed a flash of life in a 21-17 loss at Indianapolis last week and Jacksonville struggled mightily in a 28-2 home loss to Kansas City. Many see the Raiders and Jaguars as the two most downtrodden teams in the NFL, but somebody has to win, right? It's not like they can play to a scoreless tie, unless … in any event, these two hook up Sunday in Oakland.
Paul Gutierrez
: So, the Jaguars are the 32nd-ranked team in
ESPN.com's NFL Power Rankings
, and the Raiders are 31st. Not exactly a clash of the titans, but there were several silver (and black?) linings in Oakland's 21-17 loss in Indianapolis last week. Primarily, the play of newly anointed starting quarterback
Terrelle Pryor
. To a man, the Raiders said there is no such thing as a moral victory. Yet there was a feeling of promise in the Raiders' postgame locker room not felt in a while. What was the feeling like in the Jags' locker room after they not only lost their starting quarterback, but lost the game to Kansas City in such dispiriting fashion, and does it already feel like another long season is in store in Jacksonville?
Michael DiRocco
: Disappointment, but not just at losing. The offense played poorly in all phases, which was somewhat surprising because it had shown signs during the preseason of being competent. Most troubling was the play of the offensive line, especially the interior, where center
Brad Meester
and guards
Uche Nwaneri
and
Will Rackley
really struggled. Six sacks and not crossing midfield until the fourth quarter was embarrassing. But the Jaguars were missing starting receiver
Justin Blackmon
(suspension) and starting tight end
Marcedes Lewis
(calf), so that mitigates things somewhat. While the team believes it can certainly play significantly better than that, the veterans are realistic and understand that this is one of the youngest teams in the NFL and the new regime has begun a rebuild that will take three years. You've got to feel for
Matt Flynn
. Goes to Seattle and gets beat out by
Russell Wilson
. Then ends up in Oakland and gets beat out by Pryor, who played well in the season opener. He made a lot of plays with his feet but certainly has a way to go as a passer. Is he the long-term answer for the Raiders at quarterback or will we see Flynn at some point this season?
Gutierrez
: Yeah, the humanistic side has to feel for Flynn's predicament. Then the snarky side comes out and thinks he and his millions -- remember, he signed a two-year, $11.5 million contract extension with $6.5 million guaranteed after the Raiders traded for him this spring -- will be just fine, thank you very much. But your point is taken. Especially since Flynn was second-year general manager Reggie McKenzie's handpicked choice to be this rebuilding franchise's, ahem, franchise quarterback. And really, the case can be made that Flynn is a better prototypical NFL quarterback than Pryor. But that's with a solid offensive line and a strong running game and trusted receivers. The Raiders, really, are still looking for those things. So until that trifecta comes in for Oakland, the playmaking Pryor is the Raiders' best hope for winning games. Even if he was not the new regime's choice and it inherited Al Davis' last draft pick. At this point, it seems Flynn is destined to be a career backup, albeit a well-compensated backup. And speaking of clipboard holders, what's taking the Jags so long to ink Jacksonville's favorite son,
Tim Tebow
(you knew there'd be a Tebow question somewhere, right?), especially with ticket sales needed and
Chad Henne
being no
Blaine Gabbert
, and vice-versa? Or is it too soon?
DiRocco
: The Tebow ship has sailed for the Jaguars. General manager Dave Caldwell said earlier this year that the Jaguars were not going to sign Tebow -- who at the time was still under contract with the
New York Jets
-- "even if he's released." He's sticking to that. As for the ticket sales argument, there's no way to quantify whether sales would increase and by how much if he was signed. Plus, the Jags are actually doing pretty well in the ticket department. The team hasn't had a blackout since 2009 and averaged at least 62,331 fans at every home game over the past three seasons. The No. 1 task for the new regime is to find out whether Gabbert can be a franchise quarterback and the player around which to build the team over the next decade. The only way to determine that is for him to play the entire season. Barring a rash of injuries to free-agent quarterbacks, I just don't see a scenario in which Tebow returns to his hometown.
Sebastian Janikowski
, who went to nearby Florida State, is one of the more colorful players in the NFL. There are a lot of colorful stories floating around about him both in the locker room and off the field. What's your favorite -- at least among the verified ones you can tell?
Gutierrez
: Wow, you caught me off guard. This is, after all, a family website, no? I kid. Kinda. But yeah, the evolution of the wild child formerly known as Jano (he hates that name, by the way) has been a unique experience. He is now a doting father to twin girls. No word, though, on how strong their kicking legs are yet. Off the field, he's become a proficient golfer. When he arrived in Oakland as a first-round draft pick way back in 2000, he had never touched a club before in his life. Then
Shane Lechler
, his long-time running, er, kicking mate, introduced him to the links. Now? He's a regular in the Lake Tahoe Pro-Am. Then there was the time he had to punt for an injured Lechler against Kansas City in the rain. It was as ugly a punt as it was effective -- the Chiefs player fumbled the ball away and the Raiders recovered. It went down in Oakland and the crowd loved it. Speaking of guys known by one name or simple initials, how much does MJD have left in the tank for the Jags? Can a return "home" this weekend rejuvenate him?
DiRocco
: That is a good question, because there is some uncertainty regarding whether MJD can again reach the level at which he played in 2011, when he led the NFL in rushing. He did miss 10 games last season with a foot injury. Nobody expects him to rush for 1,600 yards but he does need to be a 1,000-yard rusher for this offense to be effective and help take a load off Gabbert/Henne. Another thing to consider is that Jones-Drew is in the final year of his contract. He'll need prove that at 28 he's still one of the league's better backs in order to have a chance to sign the kind of deal he wants -- whether it's in Jacksonville or elsewhere. Speaking of running backs coming off an injury, hasn't that been the biggest knock on
Darren McFadden
? What kind of odds would you give on him playing all 16 games?
Gutierrez
: Ouch. The biggest knock on Run DMC has been his inability to stay healthy throughout his career. He has never played in more than 13 games in any of his first five seasons and he has missed 23 games in his career. He insists he's not injury-prone, though, and that each injury is a freak occurrence. Maybe, but based on his track record, it's not a question of if McFadden gets hurt but when, and how the Raiders are equipped to deal with his absence. Harsh? Maybe, but also true. And based on that history, odds are low that he'll play all 16 games this season. Then again, he is in a contract year. And after being neutralized last week by the Colts to the tune of 48 yards on 17 carries, what better time for him to get going than against the Jags? In two career games against Jacksonville, McFadden has carried the ball 35 times for 176 yards.