Jacksonville Jaguars:

Teddy Bridgewater
December, 4, 2013
Dec 4
5:00
PM ET
Got questions about the Jaguars? I'll try to answer a representative selection of them every Thursday. Submit your questions via Twitter to @ESPNdirocco.
November, 21, 2013
Nov 21
6:15
PM ET
November, 15, 2013
Nov 15
12:00
PM ET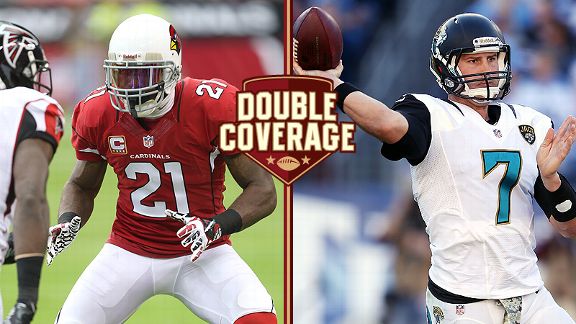 AP PhotoCornerback Patrick Peterson, left, and the Cardinals could make life hard for the Jags' Chad Henne.
JACKSONVILLE, Fla. -- The
Jacksonville Jaguars
finally took 0-16 off the table with their 29-27 upset of Tennessee in Nashville.
But that doesn't mean things are wonderful in Jacksonville. The team still ranks last in the NFL in total offense and rush defense and next-to-last in rushing offense.
To the Jaguars' credit, the players said those same things almost immediately after the game and have repeated them throughout the week. Finally getting that first victory doesn't change the fact that the team still has a long way to go.
The
Arizona Cardinals
have won back-to-back games for the second time this season and find themselves in the hunt for a playoff spot. The offense hasn't been especially productive, but the defensive front has been stellar, which is why the Cardinals are the NFL's third-best rush defense.
ESPN.com Jaguars reporter Michael DiRocco and Cardinals reporter Josh Weinfuss break down Sunday's matchup at EverBank Field:
DiRocco:
Josh, running back
Rashard Mendenhall
has really struggled this season. Rookie
Andre Ellington
has clearly outplayed him, yet coach Bruce Arians seems to be sticking with Mendenhall. What gives?
Weinfuss:
If I had the answer to that question, I would sell it to Arians, retire and be living on a beach. Nobody really knows. There are a few guesses as to why, but the most common one is that Arians is simply loyal to players he brings in. Mendenhall was Arians' handpicked running back, and the coach will go with him through thick and thin. There's also the fact that Arians doesn't consider Ellington an every-down back. Arians would rather give Mendenhall the brunt of the carries -- especially between the tackles -- while he uses Ellington out in space. That said, Arians won't shy away from using Ellington more than Mendenhall throughout the game if the rookie has the rhythm.
After getting their first win, are the Jags feeding off that momentum, or are they basking a little bit in not being a winless team?
DiRocco:
The Jaguars certainly enjoyed their first victory, but I would call it a tempered excitement. In the locker room after the game, players talked about fixing mistakes and staying humble. That message was reiterated Monday and Wednesday. The players remember what happened after the Denver game. They played relatively well against the Broncos, trailing 14-12 at halftime before eventually losing by 16 in a game in which they were 28-point underdogs. They figured the progress they showed would naturally continue, but they followed that performance by playing two of their worst games of the season, against San Diego and San Francisco. The players say they've learned their lesson and that won't happen again. We'll have to see Sunday if that's the case.
Like the Jaguars, the Cardinals are searching for a long-term answer at quarterback. But they're also in contention for a playoff berth, so they're not likely to be picking near the top of the draft. Louisville standout Teddy Bridgewater, Oregon's Marcus Mariota and Texas A&M's Johnny Manziel are probably out. So which quarterbacks to do you think they have their eyes on, and which would be the best fit?
Weinfuss:
I think this draft could be the long-term answer to the Cardinals' quarterback situation. If the Cardinals end up in the playoffs, they won't be picking near the top, which means they might get their hands on a college veteran. I've liked Aaron Murray from Georgia for a long time, and I think he's the type of player who can come in and have the talent to play right away. Another guy who could benefit the Cardinals is LSU senior Zach Mettenberger. They are both pocket passers who have big arms and are smart. Mettenberger might pick up an NFL offense quicker than Murray, because he's been running an NFL offense under offensive coordinator Cam Cameron. Arians' offense calls for a big arm, but I think Arians is seeing what life is like in the NFC West, facing mobile quarterbacks like Seattle's
Russell Wilson
and San Francisco's
Colin Kaepernick
, who can run and have big arms. Both Murray and Mettenberger could benefit from playing behind
Carson Palmer
for another season, if the Cardinals bring Palmer back. If a slinger like Clemson's Tajh Boyd is available, I wouldn't be shocked to see him drafted. At the same time, I also wouldn't be surprised if Arizona waits on a quarterback until the second or third round, hoping a gem like Wilson is available then.
Speaking of quarterbacks, is
Chad Henne
the short-term or long-term answer, and what will the Jags do with
Blaine Gabbert
?
DiRocco:
Right now, Henne gives the Jaguars a better chance to win than Gabbert, but Henne isn't the long-term answer for the franchise. The Jags' first pick in the 2014 draft -- whether it's No. 1 or not -- will almost certainly be a quarterback. That's a clear indication that the team is ready to move on without Gabbert, who was the No. 10 overall pick in 2011. I would be surprised if he's on the roster next season. Henne will be a free agent after the season and might opt to go somewhere else to compete for a starting spot. If he decides to come back to Jacksonville, it would likely be to serve as a mentor to whichever quarterback is drafted.
Cardinals cornerback
Patrick Peterson
has shadowed top receivers
Calvin Johnson
,
Steve Smith
and
Andre Johnson
and did a good job against them. I'm assuming he'll draw
Cecil Shorts
on Sunday. Is that the case, and where do you think Peterson ranks among the league's top corners?
Weinfuss:
If Shorts is the Jags' top receiver threat, then Peterson will most likely draw that assignment. Peterson prides himself on stopping the opponent's top receiver, as he has done in wins against Detroit and Houston -- despite two touchdowns by Andre Johnson that were barely inbounds. Peterson is no doubt one of the top two or three cornerbacks in the game, and depending on how you grade them, he could be the best. He's definitely the most athletic, but sometimes his fundamentals aren't as sound as they should be. He's shown that size doesn't matter as he takes on bigger players and makes them all but a nonfactor.
Is the Jacksonville defense better than people give it credit for, or is its 32nd ranking in stopping the run an accurate representation of the unit?
DiRocco:
It's pretty bad. The defensive line, outside of
Sen'Derrick Marks
, has played pretty poorly. It has been physically handled way too often, has poor gap control and has had trouble with missed tackles. Linebacker
Geno Hayes
has been inconsistent, and there are three rookies in the secondary. Middle linebacker
Paul Posluszny
has been terrific, but he might not play this week because of a concussion.
November, 7, 2013
Nov 7
6:05
PM ET
Got questions about the Jacksonville Jaguars? I'll try to answer a representative selection of them every Thursday. Submit your questions via Twitter to @ESPNdirocco.
October, 24, 2013
Oct 24
5:15
PM ET
Got questions about the Jaguars? I'll try to answer a representative selection of them every Thursday. Submit your questions each Thursday via Twitter to @ESPNdirocco.
.
October, 11, 2013
Oct 11
9:00
AM ET
JACKSONVILLE, Fla. --
Chad Henne
isn't the Jaguars' starting quarterback but he's played more snaps than
Blaine Gabbert
in the first five games.
That's just another example of how unusual the 2013 season has been for Henne, writes Vito Stellino of the Florida Times-Union.
"This year has been kind of weird," Henne told Stellino. "You never know if you're going to be the starter or coming into the game. When I do come into the game [when Gabbert was injured in the Kansas City and St. Louis games], I don't get any reps [in practice]. Obviously I don't make any excuses, but there's definitely determining factors out there and I try to play my best at all costs."
Henne will make his third start of the season on Sunday when the 0-5 Jaguars play the 5-0
Denver Broncos
at Mile High Stadium. He could hold onto that job for another week or two because of Gabbert's left hamstring strain, or he could be right back on the bench if Gabbert is cleared next week. It's a
roller-coaster ride
and Henne is never sure where the dips and loops are.
Here are some additional pieces of Jaguars content from around the Web in our daily Reading the Coverage feature:
Kicker Josh Scobee says he's going to take advantage of the lighter air in Denver and
try an 80-yard field goal
in pregame warm-ups.
Former Jaguars head coach Jack Del Rio is Denver's defensive coordinator. Linebackers Russell Allen and Paul Posluszny told the Times-Union that they
enjoyed playing for Del Rio
.
Former Jaguars quarterback David Garrard has
re-joined the New York Jets
.
Everyone assumes that Louisville quarterback Teddy Bridgewater will leave school after this season and enter the 2014 draft. He isn't saying, but in a Sports Illustrated piece Bridgewater's mother kind of let the cat out of the bag. She said she hoped her son -- a likely candidate to be the Jaguars' top pick --
has a good season and then does what he needs to do to prepare for the draft
.
Here's a roundup of items from this blog: the weekly
mailbag
; Cecil Shorts did not practice Thursday but he
will play against the Broncos
; tight end Clay Harbor
surprises as a blocker
; the
stat of the week
, which shows that Henne does a better job throwing to Shorts and Justin Blackmon than Gabbert.
October, 10, 2013
Oct 10
5:40
PM ET
October, 10, 2013
Oct 10
11:15
AM ET
JACKSONVILLE, Fla. -- Who's No. 1?
The debate over whether Louisville quarterback Teddy Bridgewater or South Carolina defensive end Jadeveon Clowney should be the first pick in the 2014 NFL draft will intensify over the next seven months. It appears the
Jacksonville Jaguars
will play a role in that decision because they may possibly own the first pick.
ESPN Radio's Mel Kiper Jr. provides his insight on whether Clowney's decision to sit will affect his NFL draft stock, which team will claim Bridgewater, other college quarterbacks' draft prospects, and more on a
clip from a recent appearance

on the Mike & Mike radio show.
October, 10, 2013
Oct 10
8:00
AM ET
How big is the discrepancy between
Denver Broncos
quarterback
Peyton Manning
and the Jaguars' secondary?
Manning has been to 12 Pro Bowls. Safeties
Josh Evans
and
John Cyprien
have started 10 NFL games. Combined.
That's why Sunday's game between the teams at Sports Authority Field at Mile High will likely be their "
Welcome to the NFL
" moment, writes Hays Carlyon of the Florida Times-Union.
"
We're going up against a future Hall of Famer," Evans said. "He'll go down as one of the greatest quarterbacks to play this game, so to get a chance to face him is going to be a great experience."
Here's my story on Evans and Cyprien facing Manning, in which they admit it will be a bit
strange being on the same field
as the player they grew up watching.
Here are some additional pieces of Jaguars content from around the web in our daily Reading the Coverage feature:
If the Jaguars upset the Broncos, a Dallas promotions company says it will
donate $100,000
to the National Multiple Sclerosis Society.
A Louisville, Ky., radio station reports that the
Jaguars have asked for three credentials
to Thursday's nationally-televised game against Rutgers. The attraction, obviously, is quarterback Teddy Bridgewater, who is expected to be the first quarterback drafted in May should he opt to bypass his senior season.
WJXT TV-4 sports director Sam Kouvaris and Cole Pepper discuss whether the Jaguars can
keep Sunday's game close.
The T-U's Ryan O'Halloran lists
three storylines
to follow this week: cornerback
Mike Harris
will be busy, defensive tackle
Abry Jones
' increasing role, and Denver's simple approach on offense.
Maurice Jones-Drew
is
close to 100 percent
recovered from the ankle injury he suffered against Oakland, writes the T-U's Vito Stellino.
Here's a roundup of items from this blog: Jones-Drew also said the Broncos may be really good, but the Jaguars
aren't going to back down
; the weekly
NFL Nation Buzz video
about the Jaguars' biggest storylines this week; Grantland's Bill Barnwell says coach Gus Bradley's decision to
take three points off the scoreboard
and go for a touchdown was correct; our weekly
QB Watch
feature.
October, 3, 2013
Oct 3
5:45
PM ET
September, 12, 2013
Sep 12
5:15
PM ET
Got questions about the Jaguars? I'll try to answer a representative selection of them every Thursday. Submit your questions every week via Twitter to @ESPNdirocco and use the hashtag #jagsquestion.

September, 5, 2013
Sep 5
4:25
PM ET
Got questions about the Jaguars? I'll try to answer a representative selection of them every Thursday. Submit your questions every week via Twitter to @ESPNdirocco and use the hashtag #jagsquestion.