Jacksonville Jaguars:

Tim Tebow
April, 4, 2014
Apr 4
5:00
PM ET
JACKSONVILLE, Fla. -- Here are highlights from the weekly
Jacksonville Jaguars
chat. You can find the full transcript
here
.
James (KY):
What do you think is more likely? [Jadeveon] Clowney being there at #3 or the Jaguars trading out of the #3 spot if Clowney "slides" to them?
DiRocco:
If Clowney is there at No. 3 I'd be stunned if they didn't take him. I can't see them trading out of that spot with him on the board. That being said, I'm putting it 50-50 on him being there. If the Texans don't take him I think he's there because I think the Rams will go Sammy Watkins or an OT.
Danny Graves (Cleveland):
Does
Denard Robinson
's "different approach" include holding onto the ball this season? What has the coaching staff done to address his ball security issues?
DiRocco:
That's what the Jaguars are hoping. As for what they've done, there's really not much they can do other than instruct him on how to hold the ball "high and tight." After that, it's up to Denard to commit to doing that.
Jeff Juden (The Bullpen):
How many touches does [Toby] Gerhart get a game? Can he be the 3-down back the Jags need? What are his blocking skills like?
DiRocco:
Gus Bradley said that between carries and pass receptions Gerhart should get 15-20 touches per game. He's a solid blocker so that isn't an issue. He's an every-down back, according to Dave Caldwell and Bradley.
Poochie (Springfield): I'm trying to trademark "The House that Denard Built" for these chats. At what point does the sideshow that Manziel brings with him outweigh his talent on the field? Seems like he'd be bringing the circus to town. Have a good weekend.
DiRocco:
That's a question that individual teams have to answer. Some teams/coaches/GM can handle it a little better. The Patriots, for example, handled the Tebow stuff much better than the Jets. I honestly believe it'd be a good thing for the Jaguars because it would make them relevant nationally. But I don't see him being the pick.
November, 29, 2013
11/29/13
8:00
AM ET
Jaguars quarterback Chad Henne is enjoying himself these days.
He's happy in Jacksonville, he' got a new son, and he has cemented his hold on the starting quarterback job with some good performances in the last several weeks, including winning back-to-back road games.
But he can't help wondering about the future. His contract expires after this season and
he's unsure where or what he'll be doing next season
, writes Vito Stellino of the Florida Times-Union.
"It's tough," Henne said. "Obviously, it always crosses your mind. You always wonder what it going to happen in the future. You have to stay focused on what we're doing right now. When the offseason does come, higher-up people are going to make decisions."
Here are some additional pieces of Jaguars content from around the Web in our daily Reading the Coverage feature:
Receiver Cecil Shorts attended Collinwood High School in Cleveland, Ohio, so
he's naturally pretty excited
about playing the Cleveland Browns on Sunday in FirstEnergy Stadium, writes the T-U's Ryan O'Halloran.
The NFL announced on Thursday that the Jaguars' game against the Dallas Cowboys in London in 2014
will be on Nov. 9
.
Here's a roundup of items from this blog: the weekly
mailbag
, which (shockingly) includes another Tim Tebow question; the
stat of the week
, which details the Jaguars' December losing streak; Maurice Jones-Drew is
OK with getting fewer carries
; Cleveland's defense
needs to produce
(by ESPN.com's Browns reporter Pat McManamon).
November, 28, 2013
11/28/13
11:00
AM ET
Got questions about the
Jacksonville Jaguars
? I'll try to answer a representative selection of them every Thursday. Submit your questions via Twitter to
@ESPNdirocco
.
November, 19, 2013
11/19/13
8:00
AM ET
JACKSONVILLE, Fla. -- Jaguars receiver Cecil Shorts on Monday
stood by his postgame comments
that he needs to be more involved in the offense and said he still wants to meet with coach Gus Bradley and offensive coordinator Jedd Fisch to figure out how to make that happen.
Shorts caught just two passes in the Jaguars' 27-14 loss to Arizona. He was targeted just once in the game's first 56 minutes, writes Ryan O'Halloran of the Florida Times-Union.
"I meant what I said," Shorts said. "I'm not going to back down from it. I just know I want to help the team win. That's my biggest thing. I want to help the team improve and get better and I feel I can do that by getting the ball. However they want to do it, we'll figure out a way to make it happen."
Bradley said they did try to get Shorts involved but coverages, pressure and situations dictated that the ball go elsewhere. Bradley also said he understands Shorts' frustrations but doesn't want players airing complaints like that publicly.
Here are some additional pieces of Jaguars content from around the web in our daily Reading the Coverage feature:
T-U columnist Gene Frenette breaks down the Jaguars' chances of
holding onto the No. 1 pick in the 2014 draft
.
O'Halloran breaks down the Jaguars' third-down offense, compares Chad Henne to Carson Palmer, looks at the 91-yard touchdown and examines other issues from Sunday's game in his weekly post of
five observations from the game
.
Cornerback Will Blackmon tells the T-U's Vito Stellino that
he was trying to strip the ball
away from Michael Floyd on the 91-yard touchdown catch.
Middle linebacker Paul Posluszny (concussion) has been
cleared to return to practice
.
ESPN's Darren Rovell
found out who was behind the ad placed in the Times-Union
urging Jaguars owner Shad Khan to sign Tim Tebow. Here's my take on why the Tebow-to-the-Jaguars logic is
flawed
.
Here are some additional items from this blog: a breakdown of the
offensive
and
defensive
snaps in Sunday's loss to the Cardinals and the weekly
Upon Further Review
.
November, 18, 2013
11/18/13
9:45
PM ET
JACKSONVILLE, Fla. -- The
Tim Tebow
-to-the Jaguars movement seemed to have slowed until golf pro Dewey Arnette revved it back up by purchasing an
ad in the Florida Times-Union newspaper
urging owner Shad Khan to sign the former University of Florida standout.
But the latest effort -- which comes on the heels of a plane carrying a banner urging the same thing flying around EverBank Field on Sunday -- isn't going to make a difference. General manager Dave Caldwell has made it abundantly clear that the team has no desire to sign Tebow.
Tebow
That's not going to stop Tebow's fans from trying to get him to change his mind, but they're using flawed logic.
Their top argument is that signing Tebow would mean fans would fill EverBank Field. Maybe they would. The novelty of having the Jacksonville native and Heisman Trophy winner would surely cause a spike in attendance for one or two of the Jaguars' three remaining home games. But what about long term?
How many will show up for every home game? How many of them will buy season tickets, which are the lifeblood of a franchise? Some surely will, but what's the number? Ten thousand? Five thousand? Five hundred? There's no way to know for sure and a billboard or newspaper ad promising that the stadium will be filled is hardly a guarantee.
Besides, Tebow wouldn't be on the field anyway. He's not going to play quarterback, certainly not coming in with six weeks remaining in the season and having to learn a brand new offense. He wouldn't be the Jaguars' quarterback next season, either. Caldwell is drafting a quarterback in the first round in May -- and if he doesn't and instead opts for Jadeveon Clowney, he's taking a quarterback pretty soon after.
Which results in the second argument that Tebow's supporters use: He can switch positions and play fullback or tight end.
That makes it sound as if playing fullback and tight end is so easy anyone can do it. Learning to block blitzing linebackers and defensive ends, apparently, is pretty darn easy. A minicamp, a couple of practices, and a preseason game or two and Tebow would be able to play positions he's never played before as well as guys who have been doing it since high school.
Forget how illogical that sounds. It's also a slap in the face to fullbacks (however few there are remaining) and tight ends who have worked for years to reach the NFL.
It's easy to understand the Tebow fervor. The Jaguars are floundering,
Blaine Gabbert
obviously isn't the answer, and there isn't anyone on the roster who generates any excitement or national attention. Tebow would certainly generate national attention and his jersey would fly off the racks. But he wouldn't make an impact on the field.
The Jaguars need players who can make an impact. They add enough of those and there will be plenty of people in the seats.
November, 18, 2013
11/18/13
3:45
PM ET
JACKSONVILLE, Fla. -- Tim Tebow's supporters are stepping up their game as the NFL's regular season hits the home stretch.
Tebow
Someone purchased an ad in Monday's Florida Times-Union newspaper asking the
Jacksonville Jaguars
owner Shad Khan to sign the Jacksonville native and former standout at the University of Florida:
DEAR MR. KHAN, SIGN TEBOW & WE WILL FILL THE STADIUM!
SIGNED, THE CITIZENS OF JACKSONVILLE
ESPN's Darren Rovell confirmed with the newspaper's ad sales department that the ad was purchased, but the paper declined to say by whom.
That's just the latest bit of politicking for Tebow by fans around Jacksonville. A small group meets outside EverBank Field every Monday at 3:16 p.m. for three hours and 16 minutes. Khan stopped by one of the meetings and spoke with participants for a few moments.
Orlando attorney John Morgan, a UF law school graduate, paid for radio commercials that urged the Jaguars and Khan to sign Tebow.
There also is a billboard located about a mile northwest of EverBank field that has intermittently carried a message asking the Jaguars and Khan to sign Tebow.
About 90 minutes before the Jaguars' home game against Arizona on Sunday, a plane flew around the stadium pulling a banner that read, "WE WANT TEBOW."
Jaguars general manager Dave Caldwell has said several times the team is not interested in signing Tebow.
NFL Network's Ian Rapoport reported Nov. 10 that Tebow has hired broadcast agent Nick Khan to represent him to help him pursue a college football broadcasting job if he is unable to sign with an NFL team.
November, 14, 2013
11/14/13
5:25
PM ET
September, 26, 2013
9/26/13
12:00
PM ET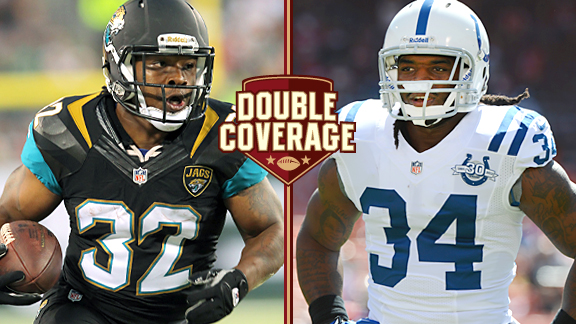 USA TODAY SportsMaurice Jones-Drew and Trent Richardson will square off Sunday in Jacksonville.
The winless
Jacksonville Jaguars
return to EverBank Field after spending more than a week on the West Coast -- they played at Oakland on Sept. 15 and remained in California to prepare for this past Sunday's game at Seattle -- for Sunday's game against the
Indianapolis Colts
. The Colts had a much better trip out West than the Jaguars. They routed host San Francisco 27-7 on Sunday by shutting down 49ers quarterback
Colin Kaepernick
. The Jaguars, meanwhile, fell to 0-3 after the Seahawks routed them 45-17. Sunday presents another tough task for the Jaguars. Colts reporter Mike Wells and Jaguars reporter Michael DiRocco take a look at this week's matchup.
Michael DiRocco:
Mike,
Peyton Manning
was such an iconic figure in Indianapolis. With all the success he's had in his first 20 games, has
Andrew Luck
come close to that level yet?
Mike Wells:
Manning may be on his way to his fifth MVP trophy out there in Denver, but the Colts could be set at quarterback for the next decade with Luck. It's only natural to compare the quarterbacks because they both carry themselves in the same manner. They're humble, perfectionists and, best of all, damn good quarterbacks. Luck isn't at the same level as Manning, but the goal in Indianapolis is for him to reach that status or beyond. Speaking of quarterbacks -- or maybe it's not a good idea -- what's going on down there in Jacksonville with that situation? When do the Jaguars officially throw in the towel and say
Blaine Gabbert
is not the answer for them?
DiRocco:
That is the general belief around Jacksonville, but that's not yet the case for new general manager Dave Caldwell and coach Gus Bradley. They have given Gabbert a clean slate and will evaluate him based on what they see from the 6-foot-4, 235-pounder this season. They have to find out whether Gabbert is the player around whom they can build the franchise, so this season is essentially a pressure-packed tryout for him. He has not performed well since being taken with the 10th overall pick in the 2011 draft. This year he's dealing with a pretty porous offensive line, and two of his top three weapons -- tight end
Marcedes Lewis
(calf) and
Justin Blackmon
(suspension) -- have yet to play this season. By the end of the season Caldwell and Bradley will know whether Gabbert is the answer. The Colts obviously have one piece of their foundation in Luck, but they recently traded for
Trent Richardson
to fulfill the role
Edgerrin James
had for years. My question is this: Who's the next
Marvin Harrison
?
Wells:
They don't have that receiver yet.
Reggie Wayne
is obviously a future Hall of Famer, and he's still playing at a very high level. But he's also 34 years old. The Colts are hoping that
Darrius Heyward-Bey
could be that receiver. He was the No. 7 overall pick in 2009, so he has the potential to complement Luck and Richardson. But Heyward-Bey has to get over his case of the drops. Playing well in spurts isn't good enough. In fact,
T.Y. Hilton
, the Colts' third receiver, outplayed Heyward-Bey in the preseason. I hate to do this to you -- and probably a lot of NFL fans -- but is there any possibility that the Jaguars would even think about bringing in
Tim Tebow
? There are fans down there rallying for him. And if anything, it'll help in the attendance department.
DiRocco:
Not going to happen, no matter how much noise Tebow's supporters make. The Jaguars are moving forward with Gabbert, and if it turns out he's not the player around whom they can build the franchise, they'll look to the 2014 draft to find a quarterback. I covered Tebow at Florida, and he was fantastic, one of the best collegiate players of all time, but he's just not able to make the leap. And there's nothing wrong with that. It doesn't diminish what he did at Florida in any way. As for attendance, the Jaguars actually ranked 20th in that stat last season, drawing an average of 64,984. That's ahead of teams such as Chicago (62,329), Minnesota (60,725) and Miami (57,379). That was for a 2-14 team that didn't have Tebow. Sometimes young, talented teams that make the playoffs take a step backward the following season before really taking off a year later. Do you see that being the case with the Colts in 2013?
Wells:
The Colts are a better team this season, but they will take a step back with their record by a game. Good fortune was on their side in more ways than one last season. They caught some breaks and Luck led them to seven fourth-quarter comebacks. They're still a playoff team, and if Houston slips up, the Colts will take advantage of it and win the division. The Jags are ranked last in this week's Power Rankings. Will they stay there all season?
DiRocco:
I think they'll battle the Browns and -- I can't believe I'm writing this -- the Steelers for the last spot all year. Right now no team is playing worse than the Jaguars, especially on offense. But I do think things will get a little better with the return of Lewis and Blackmon. The offensive line has to play much better, though. Cleveland's victory last week was surprising, but I see that as more of a byproduct of emotion and anger after the Richardson trade than anything else. The Steelers have looked horrible, and the loss of
Maurkice Pouncey
has them reeling. Plus, we all know it's a matter of time before
Ben Roethlisberger
gets hurt.
September, 17, 2013
9/17/13
10:10
AM ET
OAKLAND, Calif. -- The Jaguars are obviously frustrated after losing their first two games by a combined score of 47-11 and essentially being out of each game by the time the fourth quarter began.
But the solution to their frustrations won't be found by signing free-agent quarterback Tim Tebow, who was the subject of a
less-than-impressive rally
outside EverBank Field Monday afternoon. Rather,
the answers are in the locker room
, writes Ryan O'Halloran of the Florida Times-Union. Those answers begin with: stop hurting themselves with penalties, improving coverage on special teams and finding some way to get some consistency in the offense.
"It's not OK where we're at right now," coach Gus Bradley said. "We have to get better and we have a high standard. … The big thing for us is accountability. What are willing to accept and what is our team willing to accept? We're just trying to figure out, 'Why is this happening and why is this taking place?' It comes back to making sure we don't hurt ourselves."
Here is some other pieces of Jaguars content from around the web:
Here's my take on
Tebow and the Jaguars
.
In a move that was anticipated last week, Bradley announced Monday that quarterback Blaine Gabbert
will not play against Seattle
on Sunday. Running back Maurice Jones-Drew suffered a sprained tendon in his ankle against Oakland but Bradley is optimistic that he'll play against the Seahawks.
A roundup of other items from this blog: the Jaguars claimed cornerback Jamell Fleming
off waivers from Arizona
and made four other roster moves; running back Jordan Todman is
ready for any role
; the weekly
Upon Further Review
examines four hot issues from the loss against the Raiders.
The Jaguars opened as 19.5-point underdogs against Seattle. That's a pretty high number, but Ryan Wilson of CBSSports.com writes that it's not among the
top-five largest lines in the NFL since 1972
.
Cole Pepper has an interesting take on the Jaguars' biggest issue: other than Jones-Drew and Josh Scobee -- and possibly Paul Posluszny -- the
fans don't feel any connection with the players
. One way to solve that is have a player do something big in a game that's important, like in the matchup against San Francisco in London.
O'Halloran breaks down
five plays that mattered
against the Raiders.
The T-U's Hays Carlyon sat down for a
Q&A with safety Dwight Lowery
. They touched on the team's attitude after the Raiders loss, the play of safety Johnathan Cyprien and the challenge the defense will face against Seattle quarterback Russell Wilson.
September, 16, 2013
9/16/13
1:35
PM ET
OAKLAND, Calif. -- The fans who are gathering outside EverBank Field Monday afternoon for
a "Sign Tebow" rally
are going to be wasting their time -- and not just because Jaguars general manager Dave Caldwell is still on the West Coast with the team and won't be able to witness the demonstration.
Caldwell has made it abundantly clear the team has no desire to sign free-agent quarterback
Tim Tebow
, a Jacksonville, Fla., native who won the Heisman Trophy and helped Florida win two national championships. He's not going to budge on that issue, and it's the right move.
Tebow wouldn't have any more success than
Blaine Gabbert
or
Chad Henne
has had in the first two weeks of the season. He'd be just as hamstrung by a depleted receiving corps and leaky offensive line as Gabbert and Henne have been. He would be able to add a running element to the position, but that doesn't necessarily make a difference.
Robert Griffin III,
Colin Kaepernick
and
Russell Wilson
are quarterbacks who can run, but they're also more accomplished passers than Tebow. Kaepernick, Wilson and Griffin all complete at least 61 percent of their passes. Tebow's career completion percentage is 47.9. In the NFL, you win because of a quarterback's arm, not his legs.
The Jaguars are undertaking a major rebuild, and the No. 1 priority is finding out if Gabbert, the No. 10 overall selection in 2011, can be a franchise quarterback and the player around which the team can be built. The only way to determine that is by having Gabbert play. Plus, there are people inside the building who believe Gabbert is a much better quarterback than he's shown so far and will, with the right pieces around him, be successful.
The additional ticket sale argument is compelling, but there's no way to quantify that his signing would have a significant effect on attendance.
Tebow might have been ruined as a quarterback, anyway. He's had many people tinkering with his throwing motion and has gone through three different head coaches and three different offensive systems. He isn't the same player he was coming out of Florida.
Tebow is a great role model and person. He'll likely be the best athlete to ever come out of Jacksonville. But he shouldn't be a Jaguars quarterback.
September, 12, 2013
9/12/13
5:15
PM ET
Got questions about the Jaguars? I'll try to answer a representative selection of them every Thursday. Submit your questions every week via Twitter to @ESPNdirocco and use the hashtag #jagsquestion.

September, 10, 2013
9/10/13
9:00
AM ET
By
michaeldirocco
| ESPN.com
JACKSONVILLE, Fla. -- Jaguars quarterback Blaine Gabbert is only in his third season, but he's got an injury history befitting a grizzled veteran.
As Ryan O'Halloran of the Florida Times-Union writes, the cut on the back of his throwing hand that will
keep him out of Sunday's game at Oakland
is the latest in a string of injuries. Gabbert played through a toe injury in 2011 and also battled shoulder and forearm injuries last season, the latter of which landed him on injured reserve.
He sprained his right ankle on the third day of training camp and suffered a fractured right thumb during the Jaguars' second preseason game on Aug. 17. He cut his hand late in Sunday's game against Kansas City.
Here are some other pieces of content from around the web in the Jaguars' version of Reading the Coverage:
Content from this blog includes news about cornerback Dwayne Gratz's left high ankle sprain that will
keep him out for three weeks
as well as
injury updates on guard Will Rackley and tight end Marcedes Lewis
and the Jaguars receiving permission from the NFL to bring suspended receiver Justin Blackmon to California next week.
There's also a piece on whether backup quarterback Chad Henne would be a
better option
for the Jaguars' offense than Gabbert regardless of the injury situation.
Linebacker Kyle Knox is one of Peter King's
Goats of the Week
for catching a Bryan Anger punt instead of letting it roll for extra yardage.
Because of the Jaguars' miserable offensive performance against the Chiefs (178 total yards), the Orlando Sentinel's Mike Bianchi is
imploring the team to sign free-agent quarterback Tim Tebow
.
According to NFL Nation Oakland Raiders reporter Paul Gutierrez, Raiders coach Dennis Allen isn't playing any games this week when it comes to naming a starting quarterback. Terrelle Pryor, who accounted for 329 total yards against Indianapolis on Sunday,
will be the Raiders' starter going forward
.
As the Raiders begin preparations for the Jaguars, Gutierrez notes that the Raiders are
relatively injury free
.
September, 9, 2013
9/09/13
9:20
AM ET
JACKSONVILLE, Fla. -- It wasn't pretty on Sunday.
In fact, it was ugly. Really ugly.
The Jaguars had fewer than 200 yards of offense, scored only two points and let Kansas City quarterback Alex Smith pretty much do whatever he wanted in a 28-2 loss to the Chiefs at EverBank Field.
As the Florida Times-Union's Ryan O'Halloran notes, the debacle on the bank of the St. Johns River
eliminated many of the good feelings
that had been generated in the preseason.
Here are some other pieces of content recapping Sunday's game from around the web in the Jaguars' version of Reading the Coverage:
O'Halloran also reviews how well the Jaguars met the
four keys to the game
he listed earlier Sunday morning.
The T-U's Hays Carlyon recaps
how poorly the offensive line played
.
The T-U's Vito Stellino describes
how little Maurice Jones-Drew and Cecil Shorts contributed
on Sunday.
Jaguars fans were pretty
harsh in their criticisms
in the T-U's Monday Morning Quarterback feature. And, yes, there were some Tim Tebow comments.
Jaguars quarterback Blaine Gabbert was one of one of Kevin Seifert's
duds
in his recap of Week 1's best and worst playmakers on ESPN.com.
Pete Prisco of CBSSports.com gave only
one team an F
in his weekly report card. Guess which team it was?