Jacksonville Jaguars:

Tom Brady
June, 13, 2014
Jun 13
10:00
AM ET
JACKSONVILLE, Fla. – When
Maurice Jones-Drew
decided to sign a free-agent contract with Oakland, he took more than just 8,071 rushing yards and a Jaguars-record 81 touchdowns to the West Coast.
He took the Jaguars' national identity.
Jones-Drew was the franchise's most recognizable player. He was one of the few Jaguars players -- and possibly the only one -- who the average football fan in, say, Kenosha, Wisconsin, could pick out of a lineup, mainly because of fantasy football. When Jones-Drew said something interesting or controversial, it was national news.
[+] Enlarge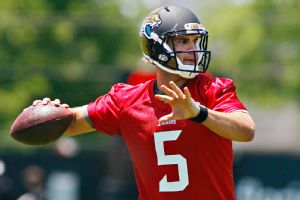 Phil Sears/USA TODAY SportsThe Jags are surely hoping that rookie Blake Bortles will soon be identified as the face of the franchise.
He was the team's unquestioned leader and the person whose name first came to mind when the Jaguars were mentioned.
He was the face of the franchise, and now he's wearing silver and black.
The Jaguars are entering the second season of the Dave Caldwell/Gus Bradley era, and while the rebuild is focusing on improving the talent level on the roster, they also need to find Jones-Drew's replacement as the public image of the franchise.
"I think that will just develop," Bradley, the head coach, said. "We don't talk to our guys about that. Our hope is that they just continue to become the best that they can be, and then that might be a byproduct of it. That's kind of how we look at it, and we think in due time those things will come."
Every NFL team needs a face, especially a small-market team like the Jaguars. In many cases it's the quarterback -- think
Tom Brady
,
Peyton Manning
and
Aaron Rodgers
. But not always -- think
J.J. Watt
,
Adrian Peterson
and
Larry Fitzgerald
. It certainly helps from a marketing perspective to have one -- especially when it comes to jersey sales -- but it goes beyond that.
The face of a franchise gives the team an identity. He's the player who rallies the team when things go wrong. It goes hand in hand with leadership, but think of the face of the franchise as the alpha leader. Teams generally have several leaders, and a player can be a leader without being the face of the franchise, but a player can't be the face without being a leader.
In almost every case, he's a good player -- usually among the league's elite. That's the Jaguars' problem. While they do have some very good players, they don't have any who would be considered elite. Tight end
Marcedes Lewis
and middle linebacker
Paul Posluszny
have been to the Pro Bowl, but neither carries the same national recognition and cachet that Jones-Drew did for the past five seasons. Posluszny even admits that.
"Maurice is a national figure, and playing the running back spot, Pro Bowl player, offensive guy, great personality -- so whether you can fill his role in that aspect, I don't know," Posluszny said. "Maybe it's going to be by committee. Marcedes Lewis is a huge name, and then you look at
Chad Henne
and how he's going to be able to lead, so as far as the leadership aspect of it there are several guys that'll definitely step up to fill that void.
"Who's going to be the guy? I don't know. Your guess is as good as mine."
The most logical pick would be quarterback
Blake Bortles
, the No. 3 overall selection in last month's draft. He's the most high-profile player on the roster right now. However, it's hard to be the face of a franchise when you're sitting on the bench, which is what general manager Caldwell and Bradley want Bortles to do in 2014.
Henne is well-liked in the locker room and has become more of a vocal leader now that he is assured of being the starting quarterback, but he doesn't have the star power. Neither do receiver
Cecil Shorts
and running back
Toby Gerhart
.
The Jaguars' most notable player may actually be wide receiver
Justin Blackmon
, who is serving an indefinite suspension for violating the league's substance-abuse policy for the third time, but he wouldn't be considered the face of the franchise.
Right now, the most visible and prominent Jaguar is owner Shad Khan, and not just because of his handlebar mustache. He has put $31 million of his own money into improvements at EverBank Field -- $11 million to renovate the locker room and weight room and $20 million to help finance the $63 million in stadium upgrades that include the world's largest video boards and two pools in the north end zone.
The mustache helps, though. It is featured in advertising campaigns and on T-shirts, and you can spot fans sporting fake ones throughout the stadium on game days.
It's clever and it's funny, and it's obvious that the fan base has completely embraced Khan, who purchased the team from the beloved Weaver family in late 2011. But how long will that last if the Jaguars continue to struggle on the field? And can an owner truly be the face of a sports franchise? It has happened with Jerry Jones, Mark Cuban and George Steinbrenner, but those three men share the same traits: huge egos and dominant, aggressive personalities. That's not Khan.
It appears that Caldwell and Bradley have begun adding good players. They need one to become the franchise's new face.
February, 4, 2014
Feb 4
12:00
PM ET
JACKSONVILLE, Fla. --
Jacksonville Jaguars
owner Shad Khan created a bit of a stir among fans when he said it's no mystery that the team would draft a quarterback in May -- and possibly even two.
Notably absent from his comments, however, was the phrase "in the first round."
The Jaguars have the No. 3 overall selection and will have a shot at
Teddy Bridgewater
,
Johnny Manziel
or
Blake Bortles
. For months I've been on the Bridgewater bandwagon. I believe he's the most polished, NFL-ready quarterback in the draft. Manziel wouldn't be a bad option either because he's such a dynamic player and will certainly make the Jaguars instantly relevant nationally.
The Jaguars, though, should pass on a quarterback with their first-round pick. They should do the same in the second round, too.
[+] Enlarge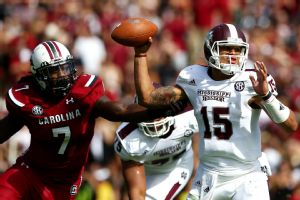 Streeter Lecka/Getty ImagesUsing the No. 3 overall pick on an elite defender like South Carolina's Jadeveon Clowney, 7, could appeal to Jacksonville head coach Gus Bradley.
That certainly won't be a popular opinion among fans, who desperately want the team to move on from
Blaine Gabbert
and
Chad Henne
. But it's the best decision for general manager David Caldwell and coach Gus Bradley as they continue their rebuild of the franchise. Fix and bolster the defense first, especially the pass rush and the secondary, then make quarterback a priority.
Two reasons:
Defense is more important to winning championships than most people realize.
Young, inexperienced quarterbacks, provided they have the pieces in place around them, can make it to and win Super Bowls.
Seattle won the Super Bowl last Sunday because of its stifling defense, which led the NFL in yards allowed per game, passing yards allowed and scoring, and finished tied for seventh in rushing yards allowed. The Seahawks absolutely throttled Denver's record-setting offense and badgered Denver quarterback
Peyton Manning
in a 43-8 victory.
But don't believe that what the Seahawks did signifies a changing philosophy or the start of a new trend in the NFL in which defense -- and not elite quarterbacks -- win championships. Defense has been winning Super Bowls for years, but people overlook that because of the elite quarterbacks.
Six of the past 10 Super Bowl winners had a defense that ranked in the top 11 in the NFL in three of the four major statistical categories (total defense, rush defense, pass defense and scoring defense): Seattle, Green Bay (2011), Pittsburgh (2009, 2006),
New York Giants
(2008), and New England (2005). Each of those teams -- with the exception of the Seahawks because it's too early to tell how good
Russell Wilson
will be -- also had elite quarterbacks.
The Green Bay team that thrived on
Aaron Rodgers
' right arm? The Packers' defense ranked second in scoring and fifth in passing and total defense. Pittsburgh's 2009 Super Bowl title team led the league in total defense, pass defense and scoring defense.
The last time New England won the Super Bowl was 2005. That was
Tom Brady
's third title in four years, but the Patriots' defense was one of the league's best that season, ranking second in scoring, sixth in rushing and ninth in total defense.
The four other Super Bowl champs of the past decade won because of their quarterbacks (Baltimore in 2013, New York Giants in 2012, New Orleans in 2010 and Indianapolis in 2007), but the Giants wouldn't have won without their pass rush, and the Saints might not have won without cornerback
Tracy Porter
's fourth-quarter interception return for a touchdown.
The Jaguars' defense has some solid building blocks -- tackle
Sen'Derrick Marks
, linebacker
Paul Posluszny
, safety
Johnathan Cyprien
and cornerback
Dwayne Gratz
-- but Caldwell and Bradley need to bolster the pass rush, get more depth on the defensive line and add help at outside linebacker. They should address those areas in the first two rounds, especially if they can nab defensive end
Jadeveon Clowney
with the No. 3 pick.
Bradley is surely in favor of taking that approach. It's the way Seattle did it during his four years as the Seahawks' defensive coordinator, and we just saw how well it worked. The team was built around its defense, and everything was in place for a Super Bowl run once Wilson was added to the mix.
Wilson is clearly not an elite quarterback right now. He wasn't even in the Seahawks' plans two years ago when they drafted him in the third round, because Pete Carroll had traded for
Matt Flynn
in the offseason and gave Flynn the starting job. Wilson beat out Flynn and has played solid but not spectacular football, winning a Super Bowl ring in his second season.
More proof that young quarterbacks aren't a hindrance to success:
Colin Kaepernick
led San Francisco to the Super Bowl in his second season in the league;
Andrew Luck
has led Indianapolis to the playoffs in his first two seasons;
Ben Roethlisberger
led the Steelers to the AFC Championship Game as a rookie; and Brady won a Super Bowl in his first season as a starter, which was his second season in the NFL.
Taking a quarterback with the No. 3 pick won't guarantee that the Jaguars will be ready for a playoff run in 2014 or 2015, especially if, as some inside the building believe, none of the quarterbacks available in this draft are ready to contribute right away. There is no guarantee that Bridgewater, Manziel or Bortles will turn out to be a better quarterback than
Aaron Murray
,
Zach Mettenberger
or
Jimmy Garoppolo
, anyway, and those latter three are players the Jaguars could land in the third round or later.
The Jaguars need immediate impact players, which is why taking Clowney or another elite pass-rusher in the first two rounds is the better -- albeit not popular -- option.
January, 29, 2014
Jan 29
10:00
AM ET
Jacksonville Jaguars
players don't agree with the majority of NFL players that named
Tom Brady
as the quarterback they'd like to have with two minutes remaining and the score tied in the Super Bowl.
In an NFL Nation confidential survey of 320 players, 40 percent (128) said they'd want the
New England Patriots
quarterback taking snaps. However, most of the 10 Jaguars players that participated in the survey said they want
Peyton Manning
.
In fact, Brady got just one vote.
Manning got four votes,
Aaron Rodgers
received two, and
Eli Manning
,
Drew Brees
and
Andrew Luck
each were named once.
Those results are a bit surprising considering Brady and Eli Manning have both led their teams to a pair of Super Bowl victories with late-game drives. When Peyton Manning's Colts won Super Bowl XLI 29-17 over the
Chicago Bears
, they didn't score an offensive point in the fourth quarter. He also threw an interception that was returned for a touchdown with 3:12 remaining in the Colts' 31-17 loss to New Orleans in Super Bowl XLIV.
The Jaguars had the fifth-youngest roster in the NFL when the season began (according to research done by philly.com's Jimmy Kempski) which means some of the players were as young as 9 or 10 years old when Brady won his first Super Bowl title after the 2001 season.
January, 16, 2014
Jan 16
10:00
AM ET
JACKSONVILLE, Fla. -- Maybe it's because the Jaguars used to face
Peyton Manning
twice a year, but he was the overwhelming favorite as the NFL's most respected player among the 10 Jaguars players who participated in an NFL Nation confidential survey.
Five players voted for Manning, now with the
Denver Broncos
, and New England's
Tom Brady
was the only other player to receive multiple votes (two). Seattle's
Marshawn Lynch
, Arizona's
Larry Fitzgerald
and Houston's
Greg Jones
also received votes.
That Jones received a vote wasn't a surprise since he spent the first nine seasons of his career in Jacksonville before choosing to sign with the Texans after the 2012 season. Jones was one of the Jaguars' most respected players.
Manning also was the overwhelming favorite in the survey of 320 players as well, earning 26.8 percent of the vote (86 votes). Brady and Minnesota's
Adrian Peterson
were the closest players, with each earning 7.5 percent of the vote (24 votes).
January, 16, 2014
Jan 16
10:00
AM ET
JACKSONVILLE, Fla. --
Denver Broncos
quarterback
Peyton Manning
may be 37 years old but he's still the one person more NFL players would like to have if they were starting team from scratch -- but not by much.
Manning was named on 19.3 percent of the ballots of our NFL Nation confidential survey of 320 players, narrowly edging out
Indianapolis Colts
quarterback
Andrew Luck
(17.5 percent). It's really not surprising, though, considering his record-breaking season and the importance of elite quarterbacks.
In fact, five of the top seven vote-getters in the survey were quarterbacks. Only one, however, is under 30: Luck, who turned 24 last September.
The 10 Jaguars players surveyed fell right in line with those results as well. Manning received four votes, followed by Luck (two), Green Bay quarterback
Aaron Rodgers
(two), New England quarterback
Tom Brady
(one) and
Detroit Lions
receiver
Calvin Johnson
.
The Jaguars' results, and those in the overall survey, are a bit surprising because I thought the overwhelming winner in the survey would be Luck. He meets all the criteria of someone around who you'd want to build a franchise: young, talented, smart, hard working, humble, and, most of all, a quarterback.
December, 19, 2013
12/19/13
1:15
PM ET
JACKSONVILLE, Fla. -- The Jaguars need a quarterback.
They also need a pass-rushing defensive end or outside linebacker.
The question in May's draft will be which one they should grab first.
[+] Enlarge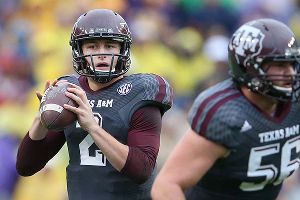 Crystal LoGiudice/USA TODAY SportsIf you believe you can build around a quarterback such as Texas A&M's Johnny Manziel, you grab him. Right?
Six weeks ago there wasn't a question the Jaguars would be taking a quarterback with their first-round draft pick. But that was when they were winless and held the No. 1 overall pick. And it was also before two of the top college quarterbacks decided they were going to return to school in 2014.
Now, things aren't so clear.
The Jaguars currently sit at No. 4 in the draft order and have two winnable games remaining, which means they could be picking in the 5-7 range. That would most likely not allow general manager
David Caldwell
and coach Gus Bradley to have their pick of the quarterbacks that are available.
Depending on their draft board and what happens ahead of them (a trade?), they may not even be able to get their No. 2 choice. Would taking the pass rusher they desperately need and picking up a quarterback in the second or third round make more sense in that scenario?
This debate is going to go on for months, especially after the Jan. 15 deadline for underclassmen to declare and there's a set list of quarterbacks that will be available. Here's a quick argument for each, with the caveat that Louisville's
Teddy Bridgewater
, UCLA's
Brett Hundley
, Texas A&M's
Johnny Manziel
and UCF's
Blake Bortles
decide to declare for the draft as most expect:
Take the QB
This isn't a secret, but the NFL is all about the quarterback. Elite teams have great quarterbacks. All you have to do is look at the teams in the hunt for the playoffs. For the most part, they all have very good quarterbacks, and the teams that don't are going to be early exits.
It's imperative the Jaguars find a franchise quarterback. While this class doesn't have the sure-fire star like
Andrew Luck
it is a relatively deep class, and there are several quarterbacks who have the pre-draft look of a franchise QB: Bridgewater, Manziel, Bortles, Hundley, and Fresno State's
Derek Carr
. Any one of those has the potential to develop into the quarterback around which the franchise can be built.
That's pretty much the golden rule of the NFL now. If you can get what you believe will be a franchise quarterback, you grab him. No questions asked. Everything else is secondary to finding that guy.
So, take the quarterback.
Take the pass rusher
Remember that line about the depth of this quarterback class? That means you should be able to find a quarterback in the second or third round. There are plenty from which to choose: Alabama's A.J. McCarron, LSU's
Zach Mettenberger
, Georgia's
Aaron Murray
, Virginia Tech's
Logan Thomas
and Miami's
Stephen Morris
, for example.
[+] Enlarge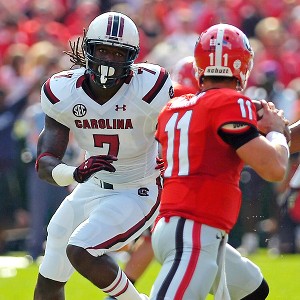 AP Photo/Mike StewartWith such a deep quarterback class in this year's draft, it may benefit the Jaguars to chose an elite defender first such as South Carolina's Jadeveon Clowney.
Are they as highly rated as Bridgewater, Bortles or Manziel? No, but that doesn't mean they won't be better players.
Colin Kaepernick
was a second-round pick. So was
Drew Brees
.
Russell Wilson
was a third-round pick.
Tom Brady
a sixth.
Tony Romo
went undrafted. They seem to be doing pretty well.
The NFL is all about the quarterback, which also means finding a way to stop great QBs. You do that by pressuring them over and over again. That's why teams need elite pass rushers and the Jaguars have a chance to get one of the most gifted ones we've seen in a long time.
Remember
Jadeveon Clowney
? The guy people said would have been the No. 1 overall pick last year had he been able to come out? The player some experts said shouldn't even play in 2013 because he'd be risking too much? He could still be available when it's the Jaguars' turn to pick. Can't pass him up.
Or UCLA's
Anthony Barr
and Buffalo's
Khalil Mack
. All have the ability to become double-digit sack machines.
So, take the pass rusher, then the quarterback.
October, 6, 2013
10/06/13
8:15
PM ET
ST. LOUIS --
Blaine Gabbert
will be the
Jacksonville Jaguars
' starting quarterback next Sunday against Denver -- provided his left hamstring injury isn't severe enough to put him on the bench.
Coach Gus Bradley didn't hesitate a bit when asked that question after the Jaguars' 34-20 loss to the
St. Louis Rams
. Gabbert is his quarterback.
[+] Enlarge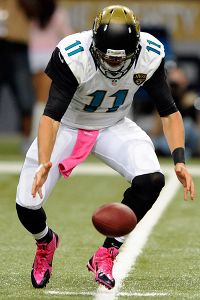 AP Photo/L.G. PattersonBlaine Gabbert threw a TD pass and two interceptions in the loss against the Rams.
Gabbert's performance against the Rams produced some compelling reasons why he shouldn't -- and should -- be.
First, the bad:
He air-mailed a pass 6 feet over Justin Blackmon's head that was intercepted and returned for a touchdown.
He fumbled twice while trying to scramble around in the pocket.
He threw an end-zone interception on fourth down.
And he missed a wide open
Cecil Shorts
on the sideline on a scramble, when he had enough room to run for a first down and time to set his feet and make a good throw.
Now, the good:
He threw a perfect pass to Shorts along the right sideline for a 28-yard gain from the Jaguars' 1-yard line.
He also converted a third-and-5 with a nifty pass to Shorts a millisecond before Rams defensive end
Robert Quinn
hit him in the legs.
He answered the interception return for a touchdown by guiding the team on a seven-play, 50-yard drive that culminated with Josh Scobee's 48-yard field goal to give the Jaguars a 10-7 lead.
But that's quintessential Gabbert. Inconsistent, with flashes of the kind of talent that would warrant being the No. 10 overall selection in the 2011 draft.
"We just need the consistency of making good decisions," Bradley said. "We just have to continue to train. The challenge is for our guys to play with some freedom. We have to find that balance, where we are making good decisions, but yet we have freedom to make plays."
The problem is that Bradley and GM Dave Caldwell haven't been able to get a full evaluation on Gabbert this season because he has been injured and playing without full firepower. He had a sprained ankle and fractured thumb in the preseason, then suffered a cut on his hand that required stitches and kept him out of two games. Now he's dealing with a hamstring strain that put him on the bench in the third quarter against the Rams.
He hadn't had Just Blackmon, his best receiver, until Sunday, and tight end
Marcedes Lewis
has been on the field for just two plays this season because of a calf injury. The Jaguars are now on their third left tackle after the trade of
Eugene Monroe
and the season-ending ankle injury to
Luke Joeckel
.
The running game has been no help, either, averaging just 49.0 yards per game going into Sunday's game -- although the Jaguars did run for a season-high 96 yards against the Rams.
"Things haven't gone the way we wanted to the first couple weeks of the season for this team and with some individuals on it, but it's just something that we've got to fight through," Gabbert said. "We've got to fight through some adversity, and we'll get better in the long run."
That's what he's been saying all season, but at some point you have to rise above adversity and just start making plays. There have been opportunities for big plays in every game he's played this season, and he has failed to make the throws.
He's making the same mistakes this season he made as a rookie. Any strides he made with his pocket presence evaporated on Sunday when he hopped around and bolted out early. Not once or twice, but several times.
Nobody is asking Gabbert to be
Peyton Manning
or
Tom Brady
or
Drew Brees
. The Jaguars just want him to not be
Mark Sanchez
, and that's not too much to demand in his third season.
Barring injury, Gabbert will start against the Broncos, but his time to prove that he deserves to have that job at the end of this season and beyond is running out.
September, 3, 2013
9/03/13
6:52
PM ET
JACKSONVILLE, Fla. -- This is a make or break season for Jaguars quarterback
Blaine Gabbert
.
Either he proves he can be a consistent starter who could develop into a franchise quarterback or the Jaguars will give up on the 6-foot-4, 235-pounder and look for a quarterback in the draft.
The Jaguars took Gabbert with the No. 10 overall pick in the 2011 draft, believing he would become a quarterback that could lead the franchise to a Super Bowl. He obviously hasn't developed the way the team had hoped, and entering his third season he has completed just 53.8 percent of his passes for 3,876 yards and 21 touchdowns with 17 interceptions.
His inconsistency -- in his 24 starts he has completed at least half of his passes 16 times (and also a 17th game in which was injured went 2-for-2) but has also had seven games in which he completed less than 50 percent of his passes -- looks even worse when compared to the other 11 quarterbacks who were drafted in 2011.
[+] Enlarge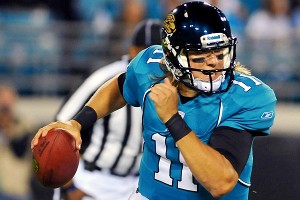 Al Messerschmidt/Getty ImagesBlaine Gabbert is just 5-19 as the starting quarterback for the Jacksonville Jaguars.
More importantly, his record as a starter is 5-19 (.208). That's the worst record among the 12 quarterbacks taken in the 2011 NFL draft. Six, including Gabbert, were taken in the first two rounds and those are the players against which he should be measured, so here's a breakdown:
Cam Newton (No. 1 overall by Carolina):
Newton had a fantastic first season, setting rookie records for passing yards (4,051) and rushing yards by a quarterback (706). Those numbers lasted only a season, though, as
Andrew Luck
and
Robert Griffin
III broke them last season. Newton is 13-19 as a starter after going 6-10 as a rookie and 7-9 last season. Career stats: 590-1,002-29, 7,920 yards, 40 TDs; 1,447 yards, 22 TDs rushing.
Jake Locker (No. 8 overall by Tennessee):
Locker played in five games as a rookie but won the starting job entering last season. He missed five games and parts of two others because of two shoulder separations and led the Titans to a 4-7 record in the 11 games which he started. He completed 56.4 percent of his passes for 2,176 yards and 10 touchdowns with 11 interceptions in 2012. Career stats: 211-380-11, 2,718, 14 TDs.
Christian Ponder (No. 12 overall by Minnesota):
He started the final 10 games of his rookie season (going 2-8) but helped lead the Vikings to a 10-6 record and a playoff berth last season, though, he missed the playoff game with a deep triceps bruise. This, too, is a make-or-break season for Ponder. Career stats: 458-774-25, 4,788 yards, 31 TDs.
Andy Dalton (second round, No. 35 overall by Cincinnati):
Dalton is by far the most successful quarterback of the group, having started every game the past two seasons and leading the Bengals to a 19-13 record and two playoff berths. Each season has ended with playoff losses to Houston, but it was the first time since 1981-82 the franchise has made back-to-back playoff appearances. Career stats: 629-1,044-29, 7,067 yards, 47 TDs.
Colin Kaepernick (second round, No. 36 overall by San Francisco):
Kaepernick was a relative unknown until he replaced
Alex Smith
(concussion) in Week 10. He led the 49ers to a 5-2 record to close the regular season and playoff victories over Green Bay and Atlanta to reach the Super Bowl. He threw for 798 yards and four TDs and rushed for 264 yards and three TDs in the postseason. Career stats: 139-223-3, 1,849 yards, 10 TDs.
Here's a look at the other six:
Ryan Mallett (third round, No. 74 overall by New England):
He has played in four games in two seasons in mop-up duty in relief of
Tom Brady
. He was the subject of trade rumors early in the preseason but remains with the Patriots. Career stats: 1-4-1, 17 yards.
Ricky Stanzi (fifth round, No. 135 overall):
Spent two seasons with the Chiefs until being cut last week. He is now with the Jaguars as the No. 3 quarterback behind Gabbert and
Chad Henne
. He has never appeared in a game.
T.J. Yates (fifth round, No. 152 overall by Houston):
He started the last five games of the regular season and two playoff games in 2011 when
Matt Schaub
was out with a Lisfranc injury. He led the Texans to a 3-4 record in those games, which included a 31-10 victory over Cincinnati in a wild-card game that was the first playoff victory in franchise history. Career stats: 86-144-4, 987 yards, 3 TDs.
Nathan Enderle (fifth round, No. 160 overall):
He spent the 2011 season with the Bears but was waived after the season. He went to training camp with the Jaguars and spent time with Tennessee in the offseason. He signed with San Diego on July 31 and was among the Chargers cut last week. He has never appeared in a game.
Tyrod Taylor (sixth round, No. 180 overall):
He has played in 10 games in relief of
Joe Flacco
. Career stats: 18-30-1, 197 yards.
Greg McElroy (seventh round, No. 208 overall):
The former Alabama standout started one game for the
New York Jets
last season, going 14-for-24 for 185 yards with one interception in a 27-17 loss to San Diego. He was released earlier this week. Career numbers: 19-31-1, 214 yards, 1 TD.
September, 3, 2013
9/03/13
1:30
PM ET
JACKSONVILLE, Fla. -- Which Jaguars players are making the biggest contributions on the field?
I'll give you my opinion each week this season. I'll rank the top 10 players who made the biggest impact in the previous game. At the end of the regular season, I'll tabulate the weekly results and come up with the final top 10.
Remember, this isn't a list of MVP candidates, but a compilation of the players who are making the biggest difference each week.
Today's list will be the rankings heading into Sunday's season opener against Kansas City. It's what I think the final list could look like on Dec. 31.
Here's the top 10:
[+] Enlarge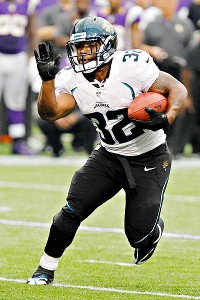 Bruce Kluckhohn/US PresswireSuperstar running back Maurice Jones-Drew starts the season ranked as the Jaguars' most important player.
1. RB Maurice Jones-Drew:
He looked good in the limited action he got in the preseason and professes himself ready for the regular season. If he stays healthy, he should have no trouble rolling up 1,300 yards. He is the cornerstone of the offense.
2. WR Cecil Shorts:
It may seem unusual to have two receivers so high when there are so many questions about the quarterback, but Justin Blackmon (865 yards) and Shorts (979 yards) both approached 1,000 yards last season despite less-than-stellar play from
Blaine Gabbert
and
Chad Henne
. Shorts will be the go-to receiver while Blackmon is out for the first month and may hold onto that role throughout the season.
3. WR Justin Blackmon:
I'm taking a leap of faith here that Blackmon has learned something from his off-field problems and he won't have any further trouble after he returns from his four-game suspension. He has the talent to be one of the league's top receivers. Even though he will only play 12 games, I think he can still approach 1,000 yards receiving.
4. QB Blaine Gabbert:
Putting Gabbert this high is about expectations. The Jaguars don't need Gabbert to become
Tom Brady
or
Peyton Manning
or
Drew Brees
this season. Gus Bradley would certainly love that but it's not realistic. What the Jaguars need is for Gabbert to not become
Mark Sanchez
or
Matt Cassel
, guys who turned the ball over a 26 and 19 times, respectively, last season. Gabbert needs to play relatively mistake-free football this season, which is not too much to ask.
5. P Bryan Anger:
No, I'm not a Gene Smith apologist. But yes, a punter as the No. 5 playmaker. Why? Because he is one of the best in the league. But also because he's a field-position weapon and when you're a team that struggles to consistently move the ball it's nice to have someone who can bail you out of bad field position. Anger put 31 punts inside the 20-yard line last year and he'll been called upon to do that a lot again this season.
6. K Josh Scobee:
The Jaguars' all-time leading scorer (848 points and counting) enters his 10
th
year and is coming off his the second-best season of his career. He made 25-of-28 field goal attempts in 2012.
7. LB Paul Posluszny:
It has taken a while to get to the first defensive player, which is indicative of how much work needs to be done on that side of the ball. Posluszny has led the team in tackles the past two seasons and probably will again in 2013. He's entering his seventh season and will turn 29 in October but shows no sign of slowing down.
8. OW Denard Robinson:
The "offensive weapon" can make an impact as a runner and receiver, but he needs more work throwing the ball out of the wildcat formation -- which is odd considering he was a college quarterback. There's no denying he's an electric player in the open field. The Jaguars need to find ways to get him the ball in space because he's a big play waiting to happen.
9. DE Jeremy Mincey:
This should be a bounce-back year for Mincey, who followed up a team-high 8.0 sacks in 2011 with just 3.0 last season. After 33-year-old DE
Jason Babin
(55 sacks), Mincey has more career sacks (18.0) than anyone else on the roster. The Jaguars are desperately in need of a pass rush and Mincey has proven he can help.
10. CB Dwayne Gratz:
Being a rookie cornerback is not easy in the NFL, so expect some ups and downs from the former Connecticut Huskie. But he's certainly talented and has the size (5-foot-11, 201 pounds) that Bradley wants in his corners.
September, 3, 2013
9/03/13
11:00
AM ET
JACKSONVILLE, Fla. -- The Jaguars' 2013 season -- and with it the Gus Bradley/Dave Caldwell era -- finally begins on Sunday when they play host to Kansas City. The Jaguars and Chiefs were two of the worst teams in the NFL last season, but there's optimism in both cities that 2013 will be better.

In Jacksonville, it's because of the energy and enthusiasm of Bradley, who spent the past four seasons as the Seattle Seahawks' defensive coordinator, and the presence of Caldwell, who spent his formative years in the NFL under two of the league's top executives in Bill Polian and Thomas Dimitroff. In Kansas City, it's because of the addition of Andy Reid, who led Philadelphia to nine postseason appearances in 14 seasons, and quarterback
Alex Smith
, who seemed to turn a corner and become a consistent player for San Francisco before being injured and eventually replaced by
Colin Kaepernick
.
The Chiefs also have a new general manager in John Dorsey, who spent the past 12 seasons as the director of college scouting for the
Green Bay Packers
.
Kickoff is set for 1 p.m. EST and the game will be televised on CBS with a broadcast team of Spero Dedes (play-by-play), Steve Beurlein (color) and
Steve Tasker
(sideline).
Here's a look at the Chiefs:
2012 Record:
2-14.
Coach:
Andy Reid, first season; 14
th
season overall (130-93-1).
Offensive coordinator:
Doug Pederson.
Defensive coordinator:
Bob Sutton.
Series record:
Jaguars lead 6-3.
THREE PLAYERS TO KNOW ON OFFENSE
RB Jamal Charles:
The Chiefs were fifth in the NFL (and tops in the AFC) in rushing last season and were paced by Charles' 1,509 yards. His 4,536 career rushing yards is fourth on the Chiefs' all-time rushing list and he's 361 yards shy of third place (Christian Okoye, 4,897 yards) and 1,536 yards shy of tying all-time leader
Priest Holmes
(6,070). The 5-foot-11, 199-pound Charles is a capable between-the-tackles runner, but he's also a big-play threat, having recorded four touchdown runs of 80 or more yards in his career.
QB Alex Smith:
He may not be a dynamic passer, but he has been careful with the football. Since 2010, Smith has thrown the fewest interceptions (20) among quarterbacks who have thrown at least 1,000 passes. That's four fewer than
Tom Brady
, five fewer than
Aaron Rodgers
, and seven fewer than
Ben Roethlisberger
. One of the Chiefs' biggest issues last season was turnovers. Kansas City turned the ball over 37 times, including 20 interceptions by Chiefs quarterbacks.
WR Dwayne Bowe:
Bowe is one of the league's most dangerous receivers but was hurt last season by inconsistent quarterback play. He caught 59 passes for 801 yards and three touchdowns in 13 games, which were his lowest numbers since he caught 47 passes for 589 yards in 11 games in 2009. He'll be a tough player for the Jaguars' secondary to handle, especially considering the Jaguars will be starting a pair of rookies in cornerback
Dwayne Gratz
and safety Johnathan Cyprien.
THREE PLAYERS TO KNOW ON DEFENSE
OLB Justin Houston:
The third-year player from Georgia had a team-high 10 sacks to go along with 66 tackles last season. He emerged as one of the league's top young defenders and was voted to the Pro Bowl. The Chiefs want to pressure the quarterback more this season and Houston is a big part of that plan, but he's also athletic enough to drop into pass coverage. He'll likely be matched up against Jaguars tight end
Marcedes Lewis
.
S Eric Berry:
Berry is a Pro Bowler who will sometimes be used as a linebacker in Sutton's defensive scheme. He bounced back last season with 86 tackles and 10 passes defensed after missing all but one game of the 2011 season with a torn ACL. Expect Berry to be all over the place as the Chiefs try to take advantage of the athleticism and playmaking ability of one of the league's top young defenders.
OLB Tamba Hali:
Nobody has been more reliable and consistent for the Chiefs than Hali, who has missed just one game in eight seasons. Although his sack production has slipped the past two seasons (12.0 in 2011 and 9.0 last season) from 14.5 in 2010, he is still a solid pass rusher off the edge and he was voted to the Pro Bowl last season. He'll be matched up against Jaguars left tackle
Eugene Monroe
, who is coming into his own as one of the league's better tackles.
ETC.
Kansas City has lost six of its last seven season openers. … The Chiefs' special teams were impressive during the preseason. They blocked two kicks and returned two kickoffs for touchdowns. Kicker
Ryan Succop
made all nine of his field goal attempts. … The Chiefs have 30 new players on the 53-man roster, but among the 23 returning players are six Pro Bowlers from 2012. … Punter
Dustin Colquitt
put 45 punts inside the opponents' 20-yard line last season.