Jacksonville Jaguars:

Tony Boselli
June, 27, 2014
Jun 27
8:00
AM ET
Was Tony Boselli the best player taken in the first round in 1995? Or was it Warren Sapp?
That's a debate that NFL.com's Chase Goodbread started as part of his feature on the
best and worst first-round draft picks of the 1990s
. Goodbread picked two players in each category for readers to debate as part of the NFL Network celebrating '90s week. Here is Goodbread's quick take on each player:
Boselli: The cornerstone draft pick of the then-expansion Jacksonville Jaguars (No. 2 overall), Boselli was one of the best left tackles in the NFL right from his rookie year.

Sapp: Sapp was chosen at No. 12 by the Buccaneers, and went on to a Hall of Fame career with 96.5 career sacks and seven Pro Bowl selections.
Here are some additional pieces of Jaguars-related content from around the Web in our Reading the Coverage feature:
The Sporting News' Vinnie Iyer listed a
secret weapon for every team
and picked cornerback Dwayne Gratz for the Jaguars.
The Raiders'
future in Oakland is in doubt again
after the A's signed a 10-year lease, writes The Sporting News' David Steele.
May, 27, 2014
May 27
8:59
AM ET
It's getting close to the time when the NFL will announce which team will be featured on "Hark Knocks," the HBO series that documents everything that happens during a team's training camp and preseason. The Jaguars appear to be one of eight finalists, writes NFL.com's Dan Hanzus.
Hanzus writes that he has no inside knowledge of NFL commissioner Roger Goodell's thinking, but here are the top eight teams he believes are under consideration: Jaguars, Raiders, Steelers, Bills, Cardinals, Giants, Rams and Bears. Hanzus believes the Bears are the most likely candidate because of quarterback Jay Cutler and his wife, Kristin Cavallari, who appeared on TV shows "Laguna Beach" and "The Hills."
Here are some additional pieces of Jaguars-related content from around the Web in our Reading the Coverage feature:
The Florida Times-Union's Vito Stellino writes that running back Storm Johnson likes to think he's the type of player who can
put the focus back on the running game
.
NFL.com's Chris Wesseling
projects the Jaguars' starting lineup
.
CBSSports.com's Larry Hartstein writes that three-receiver formations have
become standard in today's NFL
.
Former Jaguars offensive tackle Tony Boselli told CBS Sports radio that he
doesn't see how it's logical
for former players to file a lawsuit against the NFL since they knew the risk.
May, 24, 2014
May 24
8:00
AM ET
Got questions about the
Jacksonville Jaguars
? I'll try to answer a representative selection of them every Saturday. Submit your questions via Twitter to
@ESPNdirocco
.
.
May, 23, 2014
May 23
8:00
AM ET
If you're making a trip to Las Vegas anytime soon, you might want to put some money on the Jacksonville Jaguars.
The LVH sports book has set the Jaguars' over/under victory total at 4.5 and CBSSports.com's Will Brinson is yet another writer who sees it as a
no-brainer to take the over
.
Here's part of his reasoning:
"... Jacksonville says they'll start Chad Henne over Blake Bortles, but come on. Marqise Lee and Allen Robinson will make an impact on the passing game and Toby Gerhart's a sleeper for 1,000 yards this season. The defense is full of youth and is only getting better with guys like Dwayne Gratz and Johnathan Cyprien. The Jags are a long way from being a Super Bowl contender but they're better than a five-win team next year."
As an added bonus, Brinson throws out a #DUVAL, too.
Here are some additional pieces of Jaguars-related content from around the Web in our Reading the Coverage feature:
SI.com's Chris Burke doesn't believe the Jaguars
are blowing smoke
when they say the plan is for Bortles to sit his rookie season. He also has the Jaguars 28th in his
post-draft power rankings
.
Former Jaguars offensive tackle Tony Boselli
has been elected to the College Football Hall of Fame
, writes The Florida Times-Union's Gene Frenette.
May, 6, 2014
May 6
2:20
PM ET
JACKSONVILLE, Fla. -- The
Jacksonville Jaguars
have a new voice.
Brian Sexton, who has been the team's play-by-play announcer on the radio since the franchise's inception, is leaving the radio booth to take a role with the team's website. Sexton will be a writer, reporter, developer and editor of content for Jaguars.com and the team's social media platforms. Sexton has been in the booth for all 392 games in franchise history, including pre- and postseason.
"I'm thrilled about returning to the Jaguars and am excited for this new opportunity," Sexton said in a statement. This is a career change for me and I welcome the challenge of helping to grow the Jaguars' fan base through digital and social efforts. They've got a great group in place and together we want to help create more Jaguars fans around the world and engage with them more deeply with even more great content."
Replacing Sexton in the booth is longtime Jacksonville sports radio talk show host Frank Frangie, who has done college play-by-play for the past seven seasons for Touchdown Radio. Analysts Jeff Lageman and Tony Boselli will be in the booth with Frangie. Rick Ballou, who has done an afternoon talk show with Frangie for the past five and a half years on 1010XL, will be a sideline reporter.
The Jaguars' official radio station for its first 19 seasons was WOKV (690 AM) but the team announced in March that it made the switch to 1010XL.
May, 1, 2014
May 1
8:20
AM ET
Which is the best draft class in Jacksonville Jaguars history?
NFL.com's
Chris Wesseling picked the best class for each AFC team and he writes that while there's no obvious answer, he'd pick the first draft in franchise history.
The Jaguars' 1995 draft produced offensive tackle Tony Boselli, a member of the 1990s all-decade team and arguably the best player in franchise history, as well as multiyear starters in running back James Stewart, linebacker Bryan Schwartz, safety Chris Hudson and guard Brian DeMarco.
The '95 draft also was responsible for eventually netting another of the greatest players in franchise history. The team's fourth-round pick in '95 was quarterback Rob Johnson, who was eventually traded to Buffalo for a first-round pick and the Jaguars used that selection to take running back Fred Taylor.
Here are some additional pieces of Jaguars-related content from around the Web in our Reading the Coverage feature:
The Florida Times-Union's Ryan O'Halloran writes that the Jaguars' projected 2014 offensive line is going to
look a lot different than the one that ended the 2013 season
.
Here are the three minicamp practices that are
open to the public
.
CBSSports.com's Pete Prisco has the Jaguars taking linebacker Khalil Mack in his
latest mock draft
.
Jaguars.com's John Oehser writes that Mike Brewster is
confident he'll get the job done at center
.
Sports Illustrated's Chris Burke and Doug Farrar did a mock draft on Twitter and
predicted the Jaguars would take
quarterback Teddy Bridgewater.
April, 15, 2014
Apr 15
3:30
PM ET
JACKSONVILLE, Fla. -- The upcoming NFL draft will be the 20th in
Jacksonville Jaguars
history, not counting the expansion draft.
To commemorate that milestone, I'm looking back at each draft and giving you the best and worst selections in each round. Today is the first round.
These rankings are based on what the player did with the Jaguars. If they failed to produce with the Jaguars but had success somewhere else -- whether they left as free agents, were cut and caught on somewhere else, or traded -- that's a negative.
I'm expecting some disagreement, which is fine. Your feedback is welcome (click the email link at the bottom), and I'm going to post some of the best comments (read: those without profanity) on April 16.
Here we go ...
Round 1: Best pick
[+] Enlarge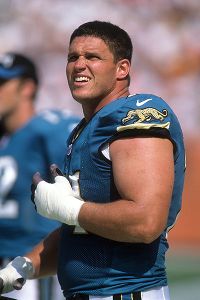 Matthew Emmons/USA TODAY SportsTony Boselli made five pro Bowls during his seven-season NFL career.
The first pick the Jaguars ever made still remains their best.
Tom Coughlin selected offensive tackle
Tony Boselli
with the No. 2 overall pick in the 1995 draft and Boselli became one of the cornerstones of the franchise's surprising early success. He went on to make five Pro Bowls and was voted to the All-Pro team three times in his seven-year career with the Jaguars.
Boselli started 12 games as a rookie and all 16 in his second season. By his third season, he was regarded as one of the best tackles in the game. That soon changed into him being regarded as the best tackle in the game. Unfortunately, a shoulder injury cut short a career that could have ended with Boselli being the first Jaguars player inducted into the Hall of Fame.
Honorable mention
RB
Fred Taylor
(1998) holds Jaguars career records in rushing yards (11,271) and attempts (2,428) and single-game records in yards (234) and attempts (37). He is currently 15th on the NFL's all-time rushing list.
LB
Kevin Hardy
(1996) ranks fourth on the Jaguars' all-time sack list (28.5) and fourth in team history with 789 tackles. He had 10.5 sacks and was voted to the All-Pro team and the Pro Bowl in 1999.
DT
John Henderson
(2002) is third on the Jaguars' all-time sack list (29), which is a significant achievement for a defensive tackle. He also ranks fifth in team history in tackles (563) and is a two-time Pro Bowler.
Round 1: Worst pick
The Jaguars took receiver R. Jay Soward with the 29th overall pick in 2000. It turned out to be the biggest bust in team history.
Soward eventually admitted that he battled alcohol issues throughout his career and smoked marijuana regularly while he was at USC. That's why his NFL career ended with just 14 receptions for 154 yards and a touchdown, three carries for 28 yards, and 18 punt and kickoff returns.
Soward struggled just getting to practices and meetings on time. Coughlin sent limos to pick Soward up to make sure he made it on time. He was suspended multiple times for violating the league's substance abuse policy.
Honorable mention
DE
Derrick Harvey
(2008) never came close to living up to the hype of being the eighth overall pick. He was an elite pass-rusher at Florida but managed just eight sacks in his three seasons with the Jaguars.
QB
Blaine Gabbert
(2011) was 5-22 as a starter and threw 22 touchdown passes and 24 interceptions in 28 career games. The No. 10 overall pick also couldn't stay healthy. He missed games because of injuries to his shoulder, forearm (the final six games of the 2012 season), thumb, hamstring, and a cut on his hand. He failed to finish six of his last 10 starts (including preseason) because of those injuries.
WR
Justin Blackmon
(2012) has already violated the league's substance abuse policy three times in his first two seasons and is currently suspended indefinitely.
April, 9, 2014
Apr 9
6:45
PM ET
JACKSONVILLE, Fla. --
Jacksonville Jaguars
general manager David Caldwell is close to putting together what could become a pretty good offensive line.
Provided the
Cleveland Browns
don't match whatever offer the Jaguars are expected to make to center
Alex Mack
on Friday, of course.
Mack
If the Jaguars are able to land the Pro Bowler, Caldwell will have put together a group of players that has a chance to become the team's best offensive line in more than a decade. The 6-foot-4, 311-pound Mack is a significant upgrade from
Brad Meester
, who retired after the 2013 season, physically and has shown he's adept at handling the myriad of disguised fronts and looks defenses are using.
The Jaguars added Pro Bowler
Zane Beadles
(6-4, 305) in free agency and installed him as the starter at left guard, lining up alongside second-year tackle
Luke Joeckel
, the No. 2 overall pick in 2013. Joeckel (6-6, 306) played in only five games, four at right tackle and less than a half at left tackle. He did show a lot of promise in the short time he was on the left side, keeping
St. Louis Rams
defensive end
Robert Quinn
, who had 19 sacks last season, at bay.
When Joeckel moved from right tackle to left tackle following
Eugene Monroe
's trade to Baltimore, first-year player
Austin Pasztor
stepped into the starting job at right tackle and held onto the job for the rest of the season. The coaching staff likes the 6-7, 308-pounder and is excited about his potential as a long-term starter.
The only question mark is what the team will do at right guard. The Jaguars released
Uche Nwaneri
last month and could move left guard
Will Rackley
, who started 12 games last season, into that spot. The Jaguars also could try Mike Brewster,
Jacques McClendon
or
Cameron Bradfield
there as well, or draft a guard in the middle rounds.
Another possibility -- which seems unlikely at this point -- would be for the Jaguars to draft
Greg Robinson
or
Jake Matthews
at No. 3 and slide Pasztor to right guard.
Even taking the uncertainty at right guard into consideration, the Jaguars' new-look line has the potential to be pretty formidable over the next several seasons, as long as Joeckel continues to develop and Mack and Beadles continue to play at a Pro Bowl level.
The Jaguars haven't had a truly dominant offensive line since the 1999 season. That group was anchored by left tackle
Tony Boselli
, generally recognized as the best left tackle in the game at the time, and right tackle
Leon Searcy
.
Ben Coleman
,
Zach Wiegert
and
Rich Tylski
were the guards and
John Wade
started every game at center.
The '99 team didn't set any rushing records but long-time Jaguars observers consider that the best offensive line in team history. The Jaguars did go 14-2 that season and lost to Tennessee in the AFC Championship game.
The potential lineup in 2014 and beyond has a chance to be better than any group the Jaguars have had in the last decade. At the very least it's pretty much a guarantee that newly-acquired running back
Toby Gerhart
is going to be spending a large amount of time running behind the left side.
October, 2, 2013
10/02/13
8:00
AM ET
JACKSONVILLE, Fla. -- The Jacksonville Jaguars got a little more help for their rebuilding project.
GM Dave Caldwell
traded left tackle Eugene Monroe to the Baltimore Ravens
on Tuesday night for three third-day draft picks, making the first of what is surely to be several personnel moves involving one of the team's most high-profile players. According to Ryan O'Halloran of the Florida Times-Union, the
Jaguars will now have 11 picks
in the 2014 draft.
The trade means rookie first-round pick Luke Joeckel will move from right tackle to left tackle, the position he played at Texas A&M. Only nine of former general manager Gene Smith's 24 draft picks
remain with the team
.
Monroe, who is in the final year of his contract, told O'Halloran and the Associated Press that he was looking forward to a fresh start and that he had no ill feelings toward the Jaguars or Caldwell.
While the trade is certainly beneficial for the Jaguars, it's also a
good deal for the Ravens
, writes ESPN Ravens reporter Jamison Hensley. Their offensive line has struggled and Monroe is a significant upgrade from Bryant McKinnie.
The T-U's Hays Carlyon
weighs in on the trade
and WJXT TV-4 sports director Sam Kouvaris and Cole Pepper discuss which player could
potentially be next
.
Here are some other pieces of Jaguars content from around the web in our daily Reading the Coverage feature:
The Jaguars will
induct former quarterback Mark Brunell into the Pride of the Jaguars
. He joins former offensive tackle Tony Boselli, former running back Fred Taylor and former owners Wayne and Delores Weaver in the team's hall of fame.
O'Halloran provides a statistical recap of the first month of the season in his weekly
Inside the Game
feature.
Here's a roundup of items from this blog: a
scouting report
on the St. Louis Rams; the Jaguars are
No. 32 (again)
in the ESPN.com NFL Power Rankings; the weekly ranking of the
Jaguars' top 10 playmakers
, which this time includes a special guest.
October, 1, 2013
10/01/13
1:15
PM ET
JACKSONVILLE, Fla. -- Quarterback Mark Brunell will be back on the field with the Jaguars one more time.

The team will honor him at halftime of the Dec. 15 game against Buffalo at EverBank Field as the newest member of the Pride of the Jaguars. He joins offensive tackle Tony Boselli, running back Fred Taylor, and previous owners Wayne and Delores Weaver in the organization's hall of fame.
"This is real special," Brunell said Tuesday. "The passing records, they get broken eventually. The other individual awards, Pro bowls and those things, big games, sometimes get forgotten. But the opportunity to be on the Pride, that goes on. That lives on."
Brunell played nine years in Jacksonville (1995-2003) and still owns or shares 23 franchise passing records, including career passing yards (25,698), single-season passing yards (4,367 in 1996), single-game passing yards (432 vs. New England in 1996), touchdown passes (144), and 300-yard passing games (six).
He led the NFL in passing in 1996 and helped guide the Jaguars on an improbable playoff run to the AFC Championship Game in just the franchise's second season. Brunell led the Jaguars to a franchise-best 14-2 regular season and another appearance in the AFC title game in 1999. He is a three-time Pro Bowler and was the game's MVP in 1997.
"I was very fortunate," Brunell said. "I'm a firm believer that to do well as a quarterback in the NFL you've got to have good people around you. From the first day that I stepped foot in Jacksonville I was very thankful that I had very good people around me, starting with the head coach in Tom Coughlin, a great coaching staff, and like I said, great teammates like Tony, Fred, and the list goes on and on."
This will mark the third consecutive season in which the team has inducted someone into the Pride of the Jaguars. Boselli was the first player inducted in 2006, followed by the Weavers in 2011 and Taylor last season.
"It has never been a question of whether or not Mark belonged there," Jaguars president Mark Lamping said. "It was only a question of when."