Jacksonville Jaguars:

Vernon Davis
February, 25, 2014
Feb 25
8:00
AM ET
Is running back Maurice Jones-Drew
heading to San Francisco
?
The second-leading rusher in Jaguars history is due to become a free agent in March and GM David Caldwell said he wants Jones-Drew to return but that Jones-Drew has earned the right to test the market. The Florida Times-Union's Vito Stellino, citing a Givemesport.com report, writes that San Francisco tight end Vernon Davis posted a photo of himself and Jones-Drew on Instagram and said that the two were discussing the future.
Jones-Drew grew up in Antioch, Calif., and played at UCLA. He wants at least a three-year contract and said just before the season ended that his decision would come down to money.
Here are some additional pieces of Jaguars-related content from around the Web in our Reading the Coverage feature:
Todd McShay, Steve Muench and Kevin Weidl of Scouts Inc.
break down Monday's action at the NFL combine

and McShay gives his thoughts on whether Jadeveon Clowney will be the No. 1 overall selection in the upcoming draft.
ESPN Steelers reporter Scott Brown writes that nose tackle Louis Nix III, a former Raines High School standout,
knows how to entertain reporters
.
Here's part 1 of my series on
free agency
, as well as the first look at Jaguars
free agents
.
October, 26, 2013
10/26/13
8:00
AM ET
JACKSONVILLE, Fla. -- Here are five things to watch in Sunday's
Jacksonville Jaguars
-
San Francisco 49ers
game at Wembley Stadium in London:
Weather:
According to The Weather Channel's web site, the forecast for Sunday is a high of 59 degrees with a 60 percent chance of rain. The bigger problem is the 23-mph winds, because that certainly impacts the passing game. The Jaguars are last in the NFL in rushing (63.0 yards per game) while the 49ers are third (143.3 yards per game). The Jaguars are also last in the NFL in rush defense (153.3 yards per game). If this turns into a ground-and-pound game because of the wind, that's a huge advantage for the 49ers.
Davis
Tight ends:
It seems like I write about this every week with the Jaguars, but it's certainly an issue again because they're facing
Vernon Davis
. Tight ends have caught 42 passes for 401 yards and five touchdowns against the Jaguars this season. Davis is by far the best they'll have played. What makes him so tough is he's a big-play machine. Eight of his 26 catches have been for 20 or more yards, and he's averaging 17.9 yards per reception. He also has six touchdown catches. It's going to be a tough day for linebacker
Geno Hayes
and safeties
Johnathan Cyprien
and
Josh Evans
.
Emotion meter:
Jaguars coach Gus Bradley said the team came out flat last week, and for the first time this season showed a lack of effort. How will the players respond? There's obviously a sentiment of wanting to play hard for Bradley because of the death of his father, but the players also would like to redeem themselves for the poor performance against San Diego. The Jaguars had shown progress in the two previous games, and last week's showing wasted that.
More MoJo?
Maurice Jones-Drew
touched the ball just 11 times last Sunday despite offensive coordinator Jedd Fisch saying he wants to get Jones-Drew 20-plus touches each game. Part of the problem was the way the game unfolded. San Diego's long drives, helped by converting on their first six third-down attempts, chewed up clock and the Jaguars had the ball just twice in the first half. Expect a bigger workload for Jones-Drew, especially if the weather limits the passing game.
Henne time:
The Jaguars have opted to go with
Chad Henne
over
Blaine Gabbert
(for this week, at least). Henne has played solidly the past two weeks, throwing for more than 300 yards against Denver and San Diego. However, Henne has his own issues with consistency, and this is a game where it might be tough to get anything done through the air.
October, 25, 2013
10/25/13
1:00
PM ET
JACKSONVILLE, Fla. -- Looking for some help with your fantasy football lineup? Every Friday I'll give you my opinions on which
Jacksonville Jaguars
players to play and sit, as well as which of the opposing players might be a good play against the Jags. For more fantasy football advice, check out ESPN.com's
fantasy football page
.
Jaguars
QB Chad Henne:
He has had back-to-back 300-yard games and it's likely the Jaguars will be behind and will need to throw a lot to keep up. The only thing about Henne is that while he throws for a lot of yards he doesn't throw for a lot of touchdowns -- only two so far. The other issue to consider is the weather: It's supposed to be rainy with winds up to 20 mph.
Verdict
: He's a good option if your league allows two QBs. Otherwise, sit him.
RB Maurice Jones-Drew:
He touched the ball only 11 times last week, but he set a season-high with a per-carry average of 4.1 yards. He seems to be running the ball better and the offensive line is becoming more comfortable with the zone blocking scheme. But this'll likely be another game in which the Jaguars are forced to throw to keep up.
Verdict
: Sit him.
WR Justin Blackmon:
He has had another week to nurse the minor hamstring and groin injuries he played through last week. The Chargers bracketed him to try and contain him. Expect the 49ers to do the same.
Verdict
: He's still a legitimate No. 1 fantasy receiver so play him.
WR Cecil Shorts:
He also is dealing with a shoulder injury but definitely will play. He should benefit from the extra attention paid to Blackmon.
Verdict
: Use him as a No. 2 or 3 receiver.
TE Marcedes Lewis:
He had just one catch last week, but it was a 31-yard catch-and-run that showed how dangerous he can be. Don't expect big numbers out of Lewis, who inexplicably wasn't targeted in the red zone.
Verdict
: Sit him.
K Josh Scobee:
The weather expected at Wembley Stadium isn't exactly ideal for kickers: rain and 20 mph winds, according to an early forecast.
Verdict
: Scobee has hit 31 consecutive field goals in October but he's not a good play this week. Sit him.
Defense/special teams:
The Jaguars are last in the NFL in rush defense and they'll be facing
Frank Gore
. They've had trouble with tight ends and they'll be facing one of the league's best in
Vernon Davis
. The only positive is that
Ace Sanders
returns as the punt returner.
Verdict
: Sit 'em.
49ers
QB Colin Kaepernick:
The 49ers used more read-option last week than they had all season, but the expectation is that won't be the case on Sunday. Kaepernick still has work to do as a passer (he's only completing 56.6 percent of his passes and has only thrown for eight touchdowns) and the 49ers may ground-and-pound because of the weather.
Verdict
: He's a solid play if your league allows two quarterbacks in your lineup. Otherwise, sit him.
RB Frank Gore:
He's fourth in the NFL in rushing (547 yards) and has rushed for five touchdowns. The Jaguars are last in the NFL in rush defense (153.3 yards per game).
Verdict
: This is a no-brainer.
WR Anquan Boldin:
He had 13 of his 34 catches in Week 1 but he's still the 49ers' top outside target. The Jaguars will likely play umbrella coverage so Boldin could feast on the short and intermediate routes.
Verdict
: Play him.
TE Vernon Davis:
Tight ends have hurt the Jaguars for 42 catches for 401 yards and five touchdowns this season and Davis is the best one they've played to date. Eight of his 26 catches have gone for 20 or more yards and he leads the 49ers with six touchdown catches.
Verdict
: Gleefully play him.
K Phil Dawson:
Dawson has had a solid season (9-for-12 on field goal attempts) but his status is the same as Scobee's. The weather will be a factor.
Verdict
: Sit him.
Defense/special teams:
What's not to like about this matchup? The Jaguars have given up a league-high 28 sacks and are rushing for a league-low 63.0 yards per game.
Verdict
: Play them.
October, 24, 2013
10/24/13
12:00
PM ET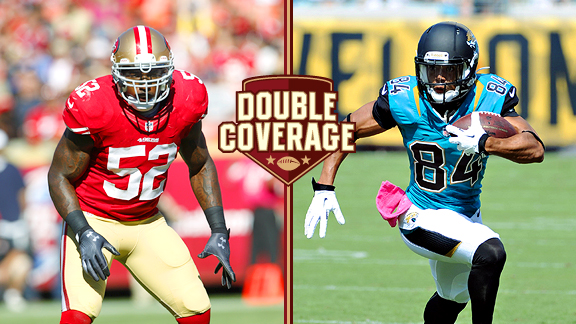 Getty Images, USA Today SportsPatrick Willis' 49ers meet Cecil Shorts' Jaguars in the second NFL game in London this season.
JACKSONVILLE, Fla. -- The
San Francisco 49ers
have righted the ship after a shaky start. The
Jacksonville Jaguars
are still sinking.
The teams going in opposite directions will meet Sunday in London's Wembley Stadium in the second of two NFL games being played in the United Kingdom this season.
The 49ers (5-2) have won four games in a row -- and scored at least 31 points in each of those games -- since starting the season 1-2. The Jaguars are 0-7 and are the first team since the 1984 Houston Oilers to lose their first seven games by double digits.
That makes Sunday's game look like a giant mismatch, yet the Jaguars were 28-point underdogs to the
Denver Broncos
two weeks ago but lost by only 16 points -- and trailed by just two at halftime.
ESPN.com Jaguars reporter Michael DiRocco and 49ers reporter Bill Williamson break down the matchup:
DiRocco:
The 49ers used the read-option the most they have all season against Tennessee in Week 7. Will that be a bigger part of the offense again as the season progresses?
Williamson:
Mike, I think it is going to be a week-to-week situation. The 49ers used the read-option seven times last week after using it a total of nine in the first six games. The 49ers saw they could exploit Tennessee's defense using it. I think we will see it again, but probably in more challenging games and only in certain situations, when the 49ers are confident it will work. We could maybe see it some in London, but I have a feeling it will be more like the first six weeks of the season.
Mike, if the 49ers do run a lot of read-option offense, do you think the Jaguars can handle it?
DiRocco:
Probably not. The Jaguars are last in the NFL in rushing defense (153.3 yards per game) and have given up a league-high nine rushing touchdowns. The defense's biggest problem against the rush is that it has given up a lot of explosive plays. Jacksonville has allowed an NFL-worst 10 rushing plays of 20 or more yards. Stopping the read-option is assignment football and the Jaguars' ends have not been as disciplined as needed. For example, Oakland's
Terrelle Pryor
ran for 50 yards in Week 2, including a 27-yard run in which the entire defensive front bit on the inside fake.
Bill, the Jaguars have had trouble with tight ends all season and now they face
Vernon Davis
. Who is the last team that's shut him down how?
Williamson:
Davis hurt his hamstring late in the Seattle game in Week 2. He was pretty well shut down in that game before getting hurt. He missed Week 3 against the Colts and then came back against the Rams. He's been good and he is healthy. If the Jaguars have trouble against tight ends, the 49ers will exploit it. Davis and quarterback
Colin Kaepernick
have a great chemistry going this season. The 49ers' coaching staff is great at exploiting weaknesses.
Mike, do you seeing this being a big problem for Jacksonville?
DiRocco:
Absolutely. Tight ends have combined to catch 42 passes for 401 yards and five touchdowns against Jacksonville this season. Depending on the defense called, the Jaguars will either have a safety or linebacker on the tight end. At times, the job has fallen to middle linebacker
Paul Posluszny
, who is very good against the run but not fast or quick enough in pass coverage. The Jaguars won't use the approach New England did against New Orleans standout
Jimmy Graham
-- the Patriots put their best corner,
Aqib Talib
, on him -- so I'd expect Davis to have chances to exploit some matchups with linebackers on Sunday.
Speaking of exploitation, the
Anquan Boldin
trade looked like a steal in Week 1. How is it regarded now?
Williamson:
Still, unabashed thievery. Sure, Boldin had 13 catches in the first week and a combined 21 catches in the following six. But the 49ers would be in trouble without Boldin. He had three circus catches at Tennessee and he's been the team's only reliable wide receiver with
Michael Crabtree
and
Mario Manningham
out. The 49ers would not be 5-2 without Boldin.
Mike, do you think the Jaguars will keep him in check Sunday?
DiRocco:
The Jaguars have done a solid job the past two weeks of playing umbrella coverage and making sure they don't give up deep throws. That does leave the short and intermediate routes open, though, and that's where Boldin thrives. He's a physical receiver and the Jaguars don't yet have the kind of personnel to match up with him. Coach Gus Bradley wants to build a secondary similar to the one he helped build in Seattle, which includes big, physical corners. The Jaguars still have work to do there, although rookie third-round pick
Dwayne Gratz
(5-foot-11, 201 pounds) is finally back from his high-ankle sprain.
.
October, 22, 2013
10/22/13
5:30
PM ET
JACKSONVILLE, Fla. -- Remember when everyone was asking what was wrong with the
San Francisco 49ers
?
It was exactly a month ago, after they lost 27-7 to the
Indianapolis Colts
at home and dropped to 1-2. They had scored a total of 10 points in back-to-back losses and were beaten by a combined margin of 46 points.

The answer, it turns out, was nothing.
The 49ers have won four consecutive games since then by an average of 20.3 points. They haven't scored fewer than 31 points or given up more than 20 in any of those games, either.
Now they head to London as 17-point favorites over the winless
Jacksonville Jaguars
.
Kickoff is set for 1 p.m. ET and the game will be televised on Fox.
Here's a look at the 49ers:
Record:
5-2.
Last week:
Beat Tennessee 31-17.
Coach:
Jim Harbaugh
, third season (32-11-1).
Offensive coordinator:
Greg Roman.
Defensive coordinator:
Vic Fangio.
Series record:
Jaguars lead 2-1.
THREE PLAYERS TO KNOW ON OFFENSE
RB Frank Gore:
He's fourth in the NFL in rushing (547 yards) and tied for fifth with five rushing touchdowns. However, he tops the NFL with seven runs of 20 or more yards. Only two other people have more than four:
Terrelle Pryor
and
Alfred Morris
each have five.
TE Vernon Davis:
Davis missed time with a hamstring injury but has still caught 26 passes for 466 yards and six touchdowns. He's averaging a team-best 17.9 yards per reception, too, which shows just how much of a downfield threat he has been this season. He has eight catches of 20 or more yards, including a 64-yarder.
QB Colin Kaepernick:
Kaepernick has unofficially been a quarterback for a full season, having started the 49ers' last 17 games (including postseason). When he hasn't played well, the 49ers haven't won. He has eight touchdown passes and one interception in the five victories and no touchdown passes and four interceptions in the two losses.
THREE PLAYERS TO KNOW ON DEFENSE
LB NaVorro Bowman:
He leads the team with 59 tackles and also has two sacks, two forced fumbles, and one fumble recovery. He has been the 49ers' most consistent defensive player this season, especially with defensive end
Aldon Smith
out and linebacker
Patrick Willis
also missing time with an injury.
LB Patrick Willis:
He's a turnover-causing machine, having forced 15 fumbles and intercepting seven passes in his career.
S Eric Reid:
Reid is one of the candidates for Defensive Rookie of the Year. The No. 18 overall selection has knocked down five passes and intercepted three.
ETC.
Defensive tackle
Lawrence Okoye
, who is out for the season with a knee injury, is the British record holder in the discus and represented the United Kingdom in the 2012 summer Olympics. ... San Francisco has forced 12 turnovers during its four-game winning streak and has scored points off each one: eight touchdowns and four field goals. ... Kaepernick had a total QBR of 99.0 against Tennessee last Sunday. That's one point shy of a perfect rating and the highest mark by any quarterback this season. ... The 49ers and Jaguars haven't played since 2009, which was the 49ers' lone victory in the series (20-3 in Candlestick Park). ... The team flew directly to London immediately after their victory over Tennessee in Nashville.