April, 22, 2014
Apr 22
9:11
PM ET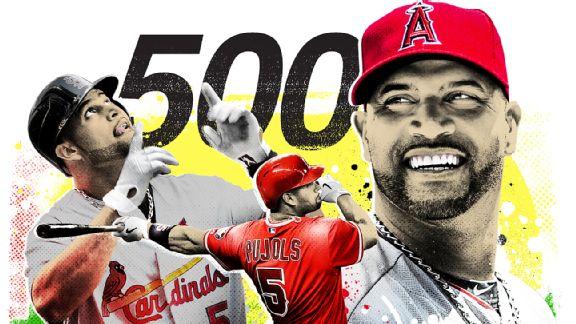 There may be 25 other members of the 500 Homer Club. But there's only one
Albert Pujols
. Just because Sir Albert had two rough, injury-riddled seasons after arriving in scenic Orange County, did we all get amnesia or something? How did we somehow seem to forget what an amazing and historic career this man has had?
Well, that's the best part of what happened Tuesday night in Washington That's the best part about round numbers like 500 home runs. They remind us to stop and pay attention. They remind us to take stock of the man who just met the milestone. And when we take stock of Albert Pujols and the path that led him to home run No. 500, you know what we find?
We find a guy who did so much more than just make home run trots. That's what.
How does Albert compare with the rest of that 500 Homer Club? It's an incredible thing to behold. So let's take a look:
The .300/.400/500/.600 Club
This is one of my favorite sets of numbers, because it provides us with one of the most exalted group of hitters who ever lived. You need:
.300 batting average or better.
.400 on-base percentage or better.
500 home runs or more.
.600 slugging percentage or better.
Now here are the three men in history who get to hang out in this clubhouse:
Ted Williams .344/.482/521/.634
Babe Ruth .342/.474/714/.690
Jimmie Foxx .325/.428/534/.609
And that's all, folks. Ever heard of them?
[+] Enlarge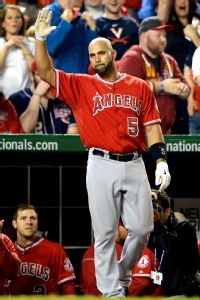 Patrick Smith/Getty ImagesPujols took a curtain call after hitting No. 500.
Well, the truth is that Albert doesn't quite make that cut. But only by one-thousandth of a percentage point. Here's his personal slash line: .321/.409/500/.599.
Uh, that'll still work. Because here's the thing: Even if we lowered the slugging percentage cutoff to below .600, to whatever The Pujols Line is at any given moment, there would still just be those three men and Albert.
So maybe the .300/.400/500/.599 Club doesn't have quite the same ring to it as .300/.400/.500/.600. But it's just as rarified a group.
Now one more thing. I understand that Williams, Ruth and Foxx all had those numbers at the end of their careers, not in the middle. But I've taken a look at the entire 500 Homer Club. And
nobody
except those three had Pujols' slash line at the time of their 500th. Not even
Barry Bonds
, who finished his career at .298/.444/762/.607.
So the moral of this story remains the same. Lots of men have hit baseballs over many, many fences. Only the greatest hitters who ever lived have been the all-around offensive forces that Albert Pujols has been. And that's a fact.
Not Your Average 500 HR Man
But suppose we take all those other numbers out of this and just focus on batting average -- which isn't a measure of power at all, but merely of a man's ability to hit baseballs where nobody with a glove is standing.
At .321, Pujols has the fourth-highest average in the entire 500-Homer Club -- trailing only those same three men from the previous list: Williams (.344), Ruth (.342) and Foxx (.325).
And just to answer the next logical question, that ranking doesn't change, even if we take final career average out of the equation. He still owns the fourth-best batting average, at the time of his 500th homer, in history. The next highest, according to Baseball-Reference.com, is .314 -- by Willie Mays, Hank Aaron and
Manny Ramirez
.
So is it safe to say there's nothing "average" about Albert's average, except that word itself?
The Most Striking Stat Of All
Wait. We almost "missed" the coolest stat in Albert's entire collection. And that's that this man has hardly "missed" at all, especially compared with the rest of his generation: 500 home runs -- but only 843 strikeouts.
In an age where strikeouts have become more common than the seventh-inning stretch, how astonishing is that stat? Well, let's tell you exactly how astonishing. That comes to 1.69 strikeouts for every home run. And you know how many members of the 500 Homer Club can beat that? Exactly one: Ted Williams (1.36).
Now we know Ted, of course, was a freak. But if we invite in the rest of that 500-homer group, from across the eras, we'd still find only three others with ratios better than two strikeouts per homer. Here's that top five, which, I'm guessing, again won't require you to Google any names:
Whoa. But what do you say, just for further perspective, that we compare Pujols with the other big sluggers of his time. The next man down on the active career homer list is a fellow named Adam Dunn. This isn't fair. But for amusement purposes only, here's how Dunn stacks up against Albert:
Heh-heh-heh. Get the picture? But even if we take Dunn and the suspended-in-animation
Alex Rodriguez
(3.17) out of the conversation, Pujols is still whiffing about half as much as the other active members of the 400 Homer Club -- if that:
So in a world where every other masher roaming the planet is shopping at Kmart two or three times a day, Albert Pujols remains a mind-warping anomaly. He still has never struck out 100 times in a season in his career -- 500 homers later.
Five More Fun Pujols 500 HR Facts
• At 34 years, 96 days old, Pujols is the third-youngest player in history to reach 500 homers, trailing only A-Rod (32 years, 8 days) and Foxx (32 years, 337 days).
• Just seven men in history reached 500 homers in fewer at-bats than the 7,390 it took Pujols:
Mark McGwire
(5,487), Ruth (5,801), Harmon Killebrew (6,671),
Sammy Sosa
(7,036), Foxx (7,074), Mickey Mantle (7,300) and Mike Schmidt (7,331).
• Only six other hitters whose primary position was first base have hit 500 homers: McGwire, Foxx, Willie McCovey,
Rafael Palmeiro
, Eddie Murray and
Jim Thome
.
• Pujols is the 14th right-handed hitter to join the 500 Home Run Club. He'd need another 34 to crash the top 10.
• The pitcher who has allowed the most home runs to Pujols? That would be
Ryan Dempster
(8). The pitcher who has faced him the most times without ever serving up a homer? That would be
Bud Norris
(*41*). The Cy Young who had nightmares about him? That would be
Randy Johnson
, against whom Pujols hit .452, with six homers. And the active pitcher who should never be allowed to face Albert? That would be
Kevin Slowey
(two plate appearances, two homers).