Jayson Stark:

Boston Red Sox
September, 18, 2014
Sep 18
2:41
PM ET
I can remember when it used to be a compliment to be called "the best team in baseball." Ha. Not anymore.
Now, all of a sudden, it's an indication you're about to roar off a cliff -- in about the next 20 minutes.
Which brings us to the latest edition of our ever-popular September History Watch. Our subjects: The A's and Red Sox -- two teams we were referring to, not so long ago, as "the best team in baseball," but now cause us to ask:
What the heck happened?
Where do their unbelievable falls rank among the most historic in baseball? Take a look.
The collapse of the mighty A's
On Aug. 10, with just 45 games to play, the A's still led the Angels by four games in the AL West. You can
look it up
. Boy, those were the days.
But we woke up Thursday morning to video montages of the Angels spraying champagne -- and the A's trying to figure out how they managed to drop 15.5 games in the standings sooooo quickly.
[+] Enlarge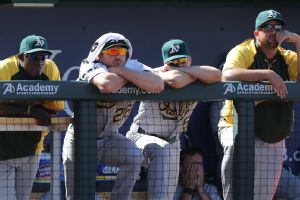 AP Photo/Ed ZurgaThe tumbling A's lost 17 of 29 games last month.
So how rare is it for a first-place team to plummet that far in the standings in the final weeks of the season? I ran that topic past the Elias Sports Bureau. Here's what it reported:
• Just eight other first-place teams since 1900 have lost 15 games or more in the standings at any point in August. They include three of the most infamous collapsers in history: the 1969 and '77 Cubs, and the 1914
New York Giants
.
• Three of those teams actually dropped by at least 18 games in the standings once they began tumbling: the '77 Cubs (22.5, in the final 58 games), the 1905 Cleveland Naps (19.5, in the final 65 games) and the 1977 Twins (18.0, in the final 42 games).
• But wait. Only three of those teams held an August lead, at any point, that was as large as Oakland's, or larger -- the 1969 Cubs (9.0 ahead), the 1914 Giants (up 6.5) and a 1977 White Sox team (led by 4.5 on Aug. 1) that crumbled in sync with those '77 Twins, in the most historic parallel swan dives in history. So we've just narrowed the field dramatically.
• And when we look at just those teams' final 45 games, it turns out there's really only one team that parallels the fall of these A's. And anybody who was (A) alive in the '60s and (B) living in Chicago could tell you all about it. Only those '69 Cubs went into the final 45 games with a hefty lead (plus-9.0) -- and then dropped 17 games in the standings, finished 8 behind the Mets and broke 4 million hearts.
None of the other teams on this list led by more than half a game with 45 games left in the season. So if the A's lose a couple of more games in the standings in the next week and a half, uh-ohhhhh. That means they'd actually
surpass
the collapse of the '69 Cubs, a team that scarred its fans for life. Hard to do.
But as my buddy Buster Olney has argued, if this Oakland team not only loses its division but misses out on
both
wild-card slots, that would be the worst collapse in history, by pretty much any standard.
We wouldn't wish that on anybody. But it's still scary. And now here's something that's just as scary:
The 111-loss team that zoomed by the World Series champs
A mere 11 months ago, the 2013 baseball season ended with the
Boston Red Sox
partying in Fenway Park -- and the
Houston Astros
gearing up to make the first pick in the draft.
The Red Sox were (ahem) "the best team in baseball." The Astros had just lost 111 games -- a loss total matched or exceeded by only 12 other teams in the World Series era (1903-present).
But then "next year" arrived. By which we actually mean "this year." And a funny thing happened. It was shrewdly detected by my friend Gar Ryness (aka The Batting Stance Guy) in a tweet a few days ago:
"Told you Astros would have more wins than RedSox."
--liars

— Batting Stance Guy (@BattingStanceG) September 12, 2014
And that got me to thinking, which is always a dangerous development:
Has there ever been a team that lost 111 games or more one year and then won more games than the defending World Series champs the next?
Well, here's your answer: No. Not even close.
If we exempt the 1904 Senators team that lost 113 in a season when there was no World Series, there have been 11 other teams that lost at least 111 times in a season when a World Series was played. Here's how they fared the next year:
• Eight of them finished more than 20 games behind the defending champs.
• Four of them finished at least 35 games behind the defending champs.
• Two of them -- Pinky May's 1942 Phillies (61 back of the Yankees) and Choo-Choo Coleman's 1963 Mets (53 behind the Yankees) -- actually finished more than 50 games behind the defending champs.
• Their average finish was 31 games back of the champs.
• And the closest any of them came to catching, let alone outwinning, the reigning champs was 11 games, the margin that Dmitri Young's 2004 Tigers finished behind the Marlins.
But now let's check our handy-dandy
ESPN standings page
for this season. And what do we find? We find this amazing news:
The Red Sox have won 66 games.
The Astros have won 67 games.
And they each have 10 to play.
Wow.
I've chronicled many wild and crazy developments over the years in the September History Watch. But I'm pretty sure I've never been more riveted by any of them than I am by the thought of how this one will turn out.
A 111-loss team outwinning the team that just finished parading through the confetti? This might be the best race in baseball.
March, 11, 2014
Mar 11
5:24
PM ET
SARASOTA, Fla. -- Who knew
Will Middlebrooks
had a little Ozzie Smith in him? Not to mention a little Steve Nash.
But in the second inning of the Red Sox's 6-5 split-squad win over the Orioles on Tuesday, Middlebrooks pulled off a Web Gem glove-flip trick even his teammates didn't know he had in him.
With no outs,
J.J. Hardy
on first,
Matt Wieters
up, the Red Sox in a shift, and Middlebrooks playing just to the left of second base, Middlebrooks charged a Wieters chopper up the middle and forced out Hardy at second, with a blind, no-look flip to shortstop Deven Marrero.
Cue the video machines.
"Goes back to my high school days, playing a little shortstop," the Red Sox third baseman said nonchalantly afterward.
So does that mean he was a noted glove-flipper back then?
"No, no, no, no, no," he laughed. "My dad, he's here right now. He's probably going to get on me for trying to be a pretty boy. But that was my only play. And it was fun. It was fun to go out there and do that."
If Middlebrooks has been storing away this latent glove-flipping talent, it seems almost tragic to have wasted it over at third base these last few years. But if he's depressed about not being able to showcase that act, he isn't stressing over it.
"It's going to be a long glove-flip over there," he quipped. "So I tend to just throw it."
Yeah, well, that works, too. And whatever works for Middlebrooks out at third base these days, the Red Sox are all for. He's put in long hours already this spring, working with legendary infield instructor Brian Butterfield, after a 2013 season in which only 17 of 59 big league third basemen (with at least 80 games at third) cost their team more runs in the field than he did, according to FanGraphs.
And that glove-flip play reflects some of the self-assurance that Middlebrooks has built back with all that work this spring, he said.
"I thought about it afterwards," Middlebrooks said, on a day when he also hit his second home run of the spring. "I didn't even think about that play. I just did it. That just goes back to [Butterfield] and these coaches, who have got that confidence in my defense back."
And let's just say his manager noticed.
"He's not taken his defense to the plate or vice versa," said manager John Farrell. "He's responded favorably. His work ethic has been outstanding since we've come to Florida. He's putting in the required time and energy on all phases of the game."
Farrell was critical of Middlebrooks last week after a game in which he made two misplays at third. But unless
Stephen Drew
comes marching into Fort Myers in the next 20 minutes -- and that isn't likely -- Will Middlebrooks pretty much has this job locked up. Now the Red Sox just need him to restore the promise of his eye-opening rookie season in 2012.
"He's our third baseman," Farrell said. "He's got a profile of skills that you're not going to find many places. He profiles the position well, and it's our job to continue to have that confidence grow and address any deficiencies that might exist."
March, 11, 2014
Mar 11
4:55
PM ET
SARASOTA, Fla. -- Leave it to the Red Sox to search for a cure for the hangover.
No, not that kind of hangover.
We're talking about the dreaded World Series hangover, the kind that afflicts teams that play deep into October and pitchers who obliterate their career highs in innings pitched in a quest to ride on a parade float. Or in this case, a duck boat.
Anyone who doesn't think those October hangovers are real can give the 2012-13 Giants rotation a call. Then again, it doesn't matter if the rest of the planet thinks those hangovers are real because the Red Sox think they're real. So they have taken steps to let their starting pitchers ease into the spring instead of roaring right into Fort Myers as if October had never happened.
[+] Enlarge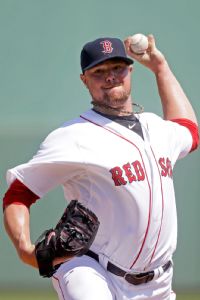 AP Photo/Gerald HerbertJon Lester tossed three scoreless innings in Monday's spring debut.
Jon Lester
just made his first start of the spring on Monday, in his team's 12th game of the spring.
Clay Buchholz
debuted the day before. On Tuesday, it was
John Lackey
's turn to finally get into a game.
Jake Peavy
will etch his name into Grapefruit League annals Thursday, although he had some fishhook complications to account for some of this delay.
And the plan is for all of these men to make just four spring starts instead of the usual five, or even six.
None of this is a coincidence. None of this just worked out this way. It's merely the Red Sox doing what they can to allow men who bore a heavy workload last fall to recover as best they can before the marathon begins again in a few weeks.
"It's only one [missed] start," said manager John Farrell on Tuesday, before his team's split-squad game against the Orioles in Sarasota. "There's been a lot made of it. But we're not shortcutting their foundation. We're just taking a different approach of a little bit less intensity early rather than jumping a guy right into the early part of the game schedule."
Instead of a two-inning start on Feb. 26 or in the first week of March, the Red Sox tried to create opportunities for their starters to build up their arms and their pitch counts without the intensity of actual games, allowing them to throw simulated games instead, in more controlled environments.
"Inevitably, a pitcher goes out there [in spring training] and his reference point is last year's midseason form," Farrell said. "So this way it's a chance for those guys to go out there and get their deliveries right and build pitch counts in a more controlled setting. And that's why we've seen Buchholz come out and throw his three innings the other day [in his first start], and Lester yesterday, because they've been able to do enough work to get themselves physically in good shape, but to build that up in a less pressurized setting."
But this approach didn't just begin when those four pitchers arrived in spring training. It actually goes back to last winter, when the Red Sox mapped out offseason throwing programs and pushed everyone's start date back three weeks.
"I view pitchers just like thoroughbred race horses," the manager said. "You know, after a racing season, they turn them out on the farm and just let them naturally rebuild. Whether it's right, wrong or indifferent, that's my thought and opinion. You have to give them time to naturally recover.
"So if that pushes the calendar back a little bit, you adjust at the outset and then just gradually build up. The volume of throws isn't going to change. Maybe just gradually a little bit of increase in intensity."
All pitchers, of course, are creatures of habit and routine. Doing it this way means new habits and new routines. So "sure," Farrell said, "they all have questions."
"But they all recognize, too, that they [logged a heavy workload]," he said. "Lester threw the most innings of his career last year [248, counting the postseason]. John Lackey, after a year missed with Tommy John [surgery], he's up over 200 innings [to 215 1/3], and that's a year-to-year big jump. So we just felt like [the best way to do this was to] include them in the process, explain what our situation is and, yeah, it's a little bit of an adjustment on their part. But ultimately, they see the reasons for it and buy in."
This may not seem like revolutionary stuff, but it's important stuff, because no one on the outside, Farrell said, can appreciate the grind October has become, now that it's four grueling weeks long.
"I don't know if you can," the manager said, "until you actually go through it."