Jayson Stark:

Detroit Tigers
December, 5, 2014
12/05/14
1:28
PM ET
One of these days, one of these weeks, one of these months,
Max Scherzer
will find a team to pitch for. It might be Christmas Eve. It might be Valentine's Day. It might be in the middle of a spring training game.
But one of these days …
The question, though, is which of these days. And that's a question I love to pose to executives and agents around baseball every year as we head into the winter meetings:
How'd you like to pick a date when the marquee free agents will sign?
That got tricky this winter, with free-agent hitters flying off the board faster than I could compile predictions. So I decided to confine this year's survey to just the big three of free-agent starting pitchers -- Scherzer,
Jon Lester
and
James Shields
. And the results were as intriguing as ever.
Nine baseball men took part in this year's survey. Here's how they saw it:
And now a quick breakdown:
Jon Lester
Obviously, he's nearing a decision. So in the decade I've been doing this, I've never had such unanimous agreement on when any free agent would sign. Not only was next Wednesday the
average
of these picks, it was the exact date selected by nearly half the group.
So what was more interesting were the predictions (all optional) for where Lester will sign. The six panelists willing to cast a vote (several of them split) broke down like this:
Red Sox 3
Cubs 2
Dodgers .5
Giants .5
In other words, they don't know, either. It's great to learn that this sort of thing represents as big a guessing game inside baseball as it does for the rest of the continent.
Max Scherzer
Now
this
was fun. An AL exec guessed a St. Patrick's Day signing by the Cubs. An NL exec predicted a March 4 signing by the Nationals. Another NL exec made Scherzer the winner of his annual "Halftime of the Super Bowl" prediction (but to no team in particular). And only one of the nine panelists picked a date earlier than a month from now. So clearly, Scherzer is going nowhere fast. Literally.
But where is he going? If you truly want to get analytical, if Scherzer really does wait until spring training for somebody's ace to get hurt, he almost has to be a Yankee, right? The odds of
Masahiro Tanaka
or
CC Sabathia
walking off a mound in midinning are certainly not minuscule. And what other team besides the Yankees could find $175 million or so stuffed in a mattress for use on an emergency sign-an-ace fund?
Well, it was just that sort of thinking that drove the confused selections of the five panelists willing to take a guess on where Scherzer will wind up. The voting:
Yankees 2.83*
Nationals 1.33
Cubs .5
Tigers .33
(* one vote split two ways, another split three ways)
One GM described this derby as "fascinating," even to him. But it was good to know that these folks think this is just as entertaining as the rest of us do. Most amusing prediction: The exec who picked March 4 guessed a signing by Washington -- "but if Tanaka gets hurt, it'll be the Yankees for $50 million a year."
James Shields
How linked is Shields' timetable to Lester's? So closely that one exec even predicted Lester's signing date would be "two days after Lester," to a club that misses out on Plan A. (Guess who?) And they all picked dates within two weeks of one another -- with four panelists predicting Shields will choose a team before the end of the meetings.
What nobody seemed to have a feel for was which team that will be. Three predicted a reunion with Joe Maddon in Chicago if the Cubs miss out on Lester. One guessed Shields could reunite with Andrew Friedman in L.A. A fifth picked the Red Sox if they get shut out on Lester. And a sixth took the Cardinals, just on a hunch.
So ultimately, that's what all of this is, you understand. Just a bunch of hunches from people who do this for a living and still find the prediction business to be highly overrated -- but entertaining all the same.
April, 7, 2014
4/07/14
2:20
PM ET
"If he stays healthy, I don't see any reason why he can't be the best hitter of all time."

-- Justin Verlander, on Miguel Cabrera
The Best Hitter of All Time, huh?
[+] Enlarge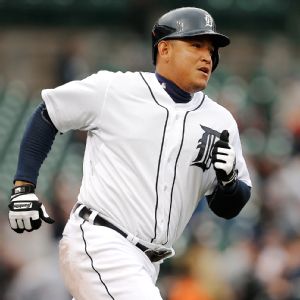 AP Photo/Paul SancyaMiguel Cabrera, who has 2,002 hits and 366 career homers, is playing in his 12th season in the majors.
Justin Verlander uttered those words 10 days ago, on the day Miguel Cabrera signed the biggest contract in the history of North American professional sports -- and only a week before Cabrera joined the prestigious 2,000 Hit Club.
At the age of (gulp) 30.
So let's think about this, seriously. Is it actually possible that Miguel Cabrera could wind up some day as The Best Hitter of All Time?
Well, there are a bunch of ways to look at that, obviously. So let's consider a few.
Can he catch Pete Rose?
That was
Torii Hunter
's prediction on the day Cabrera signed that contract: "Pete Rose? He can definitely get there -- and with power," Hunter said.
Uh, wait a second. Miggy turns 31 in a week and a half, and he isn't even halfway to Rose yet, you know. He'd still need another 2,254 hits to get to 4,256. And you don't exactly need both hands and both feet to count up the men who have gotten that many hits after reaching Cabrera's age.
That list contains precisely three names: Rose, Sam Rice and 19th-century hit factory Cap Anson. Miggy already has outhomered the three of them combined.
Here, according to baseball-reference.com's awesome Play Index, is your leaderboard in that department -- Most Career Hits, Starting With Age 31 Season:
1. Rose (1972-86), 2,532
2. Rice (1921-34), 2,350
3. Anson (1883-97), 2,272
4. Honus Wagner (1905-17), 2,043
5. Paul Molitor (1988-98), 1,988
Rose and Anson played to age 45. Rice hung around to age 44. Wagner stuck with it through age 43. Is Cabrera going to do that? Is he going to be healthy enough to do that? Is he going to be motivated enough to do that? Get back to us in a decade, OK?
Incidentally, here are the only six men in the division-play era to get within 500 hits of 2,200 after reaching Cabrera's age: Molitor,
Ichiro Suzuki
(1,824),
Omar Vizquel
(1,805),
Craig Biggio
(1,781), Carl Yastrzemski (1,716) and Dave Winfield (1,711).
For the record, Cabrera (366 homers) isn't even halfway to Bonds' home run total (762), or even halfway to Hank Aaron's 755, for that matter. Miggy would need 396 to catch Bonds, 389 to tie Aaron. You think that's happening? I don't.
Here are the only three men to hit 389 home runs or more starting with their age-31 season, according to the Play Index. You may have heard of them.
Bonds, 470
Babe Ruth, 405
Aaron, 389
What's interesting here is that the three greatest home run hitters of all time had about the same number of home runs at this age that Cabrera has -- or fewer. Aaron had exactly 366 through his age-30 season. Ruth had 309. Bonds had 308. So clearly, this isn't out of the question. But I'd still take the under. How 'bout you?
Can he catch Hank Aaron?
One more Cabrera prediction from Torii Hunter: "You're talking about a guy [who can get] 4,000 hits and 600-plus home runs. I mean, who does that? Is he human?"
So who does that? Nobody does that. Thanks for asking.
The only two members of the 4,000 Hit Club -- Rose and Ty Cobb -- hit 277 home runs
put together
. So the gold standard in the Lots and Lots of Hits and Homers Club is Aaron, naturally. You were expecting maybe
Juan Pierre
?
Aaron is the only player in history to finish with more than 3,500 hits (3,771) and more than 500 homers (755). And Stan Musial (3,630/475) and Yastrzemski (3,419/452) are the only other men to come close.
So here's the deal: To finish with Aaron's career numbers, Cabrera would need another 1,769 hits and another 389 home runs. Think that's easy enough? Guess again.
You know how many hitters have accumulated that many hits
and
homers after reaching Miggy's age? Not a one. Here's the 1,500-Hit/300-Homer From Age 31 On Club:
And that's that. Close calls: Bonds (1,499/470) and
Andres Galarraga
(1,503/293).
So what Cabrera would need to do, when you get right down to it, is to basically replicate the second half of Aaron's career -- only better. But in case you never noticed before, the first half of Cabera's career has been eerily similar to the first half of Aaron's career, if you pick the right columns on the old stat sheet anyway.
Check out their numbers, through their age-30 seasons (meaning Cabrera's stats this season aren't included, because he'll play most of this year at 31):
So is Miguel Cabrera really going to wind up as The Best Hitter of All Time? Don't bet the beach house on it. But the more you look at those Hank Aaron numbers, the more you think that fun little Justin Verlander prediction isn't as out of whack as you might have thought the first time you read it. Now is it?
Wild Pitches
Fun stuff from Week 1:
• "Injury" of the Week:
Carlos Gonzalez
had to leave the Rockies' game Wednesday in the sixth inning, after, um, swallowing his wad of chewing tobacco and, um, not feeling so hot. Just one more reason not to chew, kids.
• Special K of the Week:
Yu Darvish
became the fastest pitcher ever to reach 500 career strikeouts Sunday (doing it in 401.2 innings, in just his 62nd start). Best I can tell, the slowest, among all starters in the expansion era, was Vern Ruhle (1,405 innings, over 188 starts and 325 total trips to the mound).
• Box Score Symmetry of the Week: As loyal reader Brian Pollina pointed out, all eight Red Sox who played the full game Sunday went exactly 1 for 4. How cool was that? It's just the eighth time in the last 100 years any team has done that, by the way.
• Home Run Machine of the Week: The Diamondbacks are going to get hot and mess up this note. But just so you know, nobody has ever hit 50 home runs for a team that didn't win 50. But
Mark Trumbo
has five homers. And the Diamondbacks have two wins. Just sayin'.
• On the other hand …
Wade Miley
had a three-hit game for the D-backs on Sunday. He's a pitcher.
Allen Craig
has two hits all year (in 22 at-bats). He's one of the best hitters alive. Just sayin'.
• RBI Machine of the Week:
Chris Colabello
drove in six runs in a game.
Chipper Jones
never drove in six runs in a game. Ever.
• Hit Machine of the Week:
Emilio Bonifacio
had accumulated exactly one four-hit game since the 2009 All-Star break. He had a four-hit game and a five-hit game just in the first two games of this season. Baseball is awesome. Isn't it?
• Off the Hook Note of the Week:
Felix Hernandez
punched out 11 Angels in six innings on Opening Day, but was in line to be the losing pitcher when he departed. Then the Mariners did something miraculous: They scored two runs in the top of the seventh and turned him into the winning pitcher. Just so you know how tough it's been being Felix, he hadn't made a single start in which he left trailing and got a win out of it since Sept. 18, 2009. That was 136 starts ago, if you're counting.
• E-pidemic of the Week: As loyal reader Tom Wilson reports, the Rays'
Brandon Guyer
inspired a two-for-the-price-of-one sale Friday. Two swings. Two Rangers errors. In one at-bat. Here's how: First, he hit a foul popup that
Prince Fielder
dropped. That was one E. Then Guyer hit a chopper to third.
Adrian Beltre
bobbled it and threw late. That was E No. 2. Two errors on two swings. In one AB. You don't see that much.
• Ya Never Know Notes of the Week: OK, who saw this coming: The first multihomer game of the season came from
Alejandro De Aza
. …
Gio Gonzalez
hit a home run before the Yankees hit one. … And
Victor Martinez
stole a base before
Billy Hamilton
stole one. Gotta love baseball.
• Sprint Champ of the Week: Finally, scouts at Thursday's Mets-Nationals game clocked
Bartolo Colon
at 7.8 seconds "running" down the first-base line after a ground ball to short. And history was made. "Slowest time I've ever gotten since I've been doing this," said one scout. "But it really wouldn't shock me if he broke that record again before the season's over."
March, 26, 2014
3/26/14
6:39
PM ET
CLEARWATER, Fla. -- It's hard to remember now that when spring training started, we actually doubted
Justin Verlander
.
Bad idea.
He was coming off the dreaded "core surgery." He was behind the rest of the pitching staff. We wondered if he'd be ready for Opening Day. We wondered if he'd be the same guy.
Bad idea.
How could we ever have doubted? How could we ever have wondered? What were we thinking?
The Tigers' ace went to the mound Wednesday for his fourth start of spring training. It looked a lot like the other three. By which we mean: domination.
One soft hit allowed in 6 1/3 innings. Zero runs. One walk. Seven strikeouts. What else is new?
So in those four starts he made this spring, he never did get around to allowing a run. Not a one. In only one of the four starts did he even give up more than
one hit
.
[+] Enlarge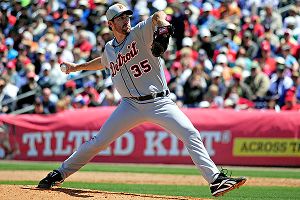 David Manning/USA TODAY SportsJustin Verlander, Detroit's Opening Day starter, didn't allow a single run in 20 innings this spring.
All told, he pitched 20 innings. He gave up eight hits. He struck out 17. Those poor, defenseless humans who had to bat against him hit .127.
So what would he have said, we asked him, if we'd told him going into spring training that he'd do all that this spring?
"Good," he said with a laugh.
So that was really what he expected of himself, even coming off surgery?
"It's what I always expect," he said simply.
Even after surgery, he never, ever doubted he could be the same guy?
"I don't think you can allow yourself to doubt," he said. "When doubt creeps in your mind, that leads to failure. You have to look on the optimistic side of things."
Do those words sum up the greatness of Justin Verlander, or what? Doubt and failure are incomprehensible to him. And unacceptable. It's what he is. It's who he is.
He's 31 now. He has a Cy Young award and MVP trophy in his hardware shop. He is in the second year of the second-largest contract ever awarded to a major league pitcher (seven years, $180 million). And he's determined to live up to it. This year. Every year.
When someone suggested Wednesday that for the Tigers to be great, he has to be what he's always been, Verlander made it obvious he never considered not being what he's always been.
"I don't think you go into the season with doubt," he said. "That's why I worked so hard. After surgery, I worked my butt off to get back. And this spring has been encouraging."
Encouraging? It's been amazing. He may not be whooshing the baseball up there at 100 mph anymore. But his command of everything in his repertoire has been ridiculous. He rolled up five of his seven strikeouts on off-speed stuff Wednesday. And he's been a strike-throwing machine all spring.
So if there were questions six weeks ago about whether surgery would limit him in any way, you don't hear those questions anymore. Not from Verlander. Not from his manager, Brad Ausmus, either.
"I don't think the surgery is going to have a major impact on his ability to pitch," Ausmus said. "I know I've spoken to him about it, and he's completely comfortable about it. He says he doesn't even think about it anymore. At one point, I was concerned about him making a pickoff throw to second. And I asked him about it. And he said, 'Oh, I'm fine.' He said, 'I don't even think about it.' ... Just the way he had to turn, I was concerned. But my concerns were immediately laid to rest."
A month ago, Ausmus had said he was convinced that if Verlander could just build up his pitch count this spring, he could "will himself to be Justin Verlander." And now, it's clear. That's exactly what he did.
Asked Wednesday about the strength of that will, Verlander smiled.
"I'm very competitive," he said. "I'm determined to pitch to my capability."
Well, 20 scoreless spring innings later, it's time to ask ourselves again: Why did we ever doubt him?
March, 22, 2014
3/22/14
4:02
PM ET
DUNEDIN, Fla. -- The latest blow was
Bruce Rondon
, now headed for a Tommy John surgery operating room near you and done for the season.
Before that was
Jose Iglesias
and those pesky stress fractures in both shins, which have put his 2014 season in peril.
And lest we forget, even before that was left fielder
Andy Dirks
, out for several months following back surgery last month.
Down they've all gone this spring for those injury-ravaged
Detroit Tigers
, one after another, all before their new manager, Brad Ausmus, got to manage a single game that counts.
It's left the Tigers calling around, hunting for last-minute reinforcements at all three spots. And it's creating doubts around the sport about the Tigers' seemingly perennial status as favorites in the AL Central.
But one thing it hasn't done, in case you're wondering, is cause the manager to wonder why he thought taking this managing job was such a great idea last winter.
[+] Enlarge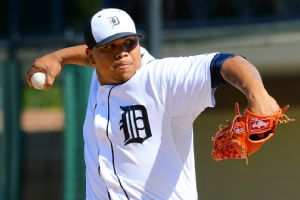 Mark Cunningham/MLB Photos/Getty ImagesReliever Bruce Rondon (Tommy John surgery) is the latest significant injury for the Tigers.
"No. No. No. Not at all," Ausmus said Saturday. "It's part of the game. You've got to roll with the punches a little bit. If I bury my head in my hands, it's not going to make Rondon or Iglesias come back any sooner. We've got to find a way to get through it. And, hopefully, we find some guys who step up and fill the voids."
That's what any manager would say at a time like this, of course, but finding actual answers to these questions is the hard part. And even with the season nine days away, Ausmus admits this is still a team that doesn't have those answers. So how big a concern are these latest injuries? Let's take a look:
Bottom of the order
: Two years ago,
Alex Avila
was the Tigers' primary No. 8 hitter.
Jhonny Peralta
was their most frequent No. 7 hitter. But the days when this team had that sort of lineup depth are over -- at least for now.
Barring a late trade or free-agent addition, the Tigers appear to be looking at a lower half of the order that includes some combination of Avila and
Austin Jackson
in the 5-6 slots, rookie third baseman
Nick Castellanos
in the No. 7 hole, followed by their left fielder (likely a
Rajai Davis
/
Don Kelly
/Tyler Collins combo plate for the moment) and the shortstop (tentatively looking like a hodgepodge of just acquired
Andrew Romine
, splitting time with either
Danny Worth
or
Hernan Perez
).
While Ausmus says that injuries haven't had a major impact on that lineup depth, "because Iglesias was going to hit ninth anyway," lineup depth "could be" a concern, he admitted.
Asked if he'd at least settled on Jackson and Avila mostly hitting fifth and sixth in some order, Ausmus replied: "That area of the lineup is probably the most in flux, really. There may be a situation where it changes, depending on who the opponent starter is. I would prefer that be a situation where someone hits in that spot, or those spots, and excels and we can leave them there. But they're not etched in stone."
Jackson has had a big spring (.442/.478/.767, with only four strikeouts in 46 plate appearances), but it's Avila (.263/.364/.316) whom Ausmus singled out as being a pivotal figure in the construction of this lineup.
"We'd like to see Alex bounce back," the manager said. "I think he's a much better hitter than he showed last year. … He's had some good at-bats [this spring]. He's had some normal spring training at-bats. He's had some good at-bats against left-handed hitters, which is good to see. I'm hoping that Alex bounces back."
One bright spot in that mix is Castellanos, who has hit. 373, with seven doubles and two home runs in 51 at-bats, and has had scouts raving all spring about his quick bat and polished approach. The hope was that the Tigers could hit him down in the order and keep the pressure off him offensively. But it wouldn't be a shock if they rewrote that script in a hurry if Castellanos keeps hitting.
The bullpen
: The Tigers were already poking around for bullpen help --– particularly an upgrade on
Phil Coke
as the primary situational left-hander -- even before Rondon went down. But other teams say they've stepped up that hunt in recent days, since Rondon blew out his elbow ligament with no warning whatsoever.
For the moment, the seventh and eighth innings would now appear to fall into the hands of
Al Alburquerque
(11 strikeouts and just one run in six innings this spring) and that ghost of Yankees past,
Joba Chamberlain
(3.00 ERA, but with a 1.83 WHIP and still-diminished velocity) this spring. But Ausmus says that will be a work in progress early on.
"You just deal with it," the manager said. "You can't dwell on it. You've got to find another solution. And the truth is, we're going to need someone to step up to fill the role, and we're not sure who that person is going to be. … It's like the 5- or 6-hole in the lineup: I hope someone grabs it and runs with it."
One name to watch
: 28-year-old right-hander
Evan Reed
, claimed off waivers from the
Miami Marlins
last April, who has hit 97 miles per hour and racked up 12 strikeouts, while allowing just three hits in 11⅓ innings this spring.
But the real good news has come from
Joe Nathan
, who hasn't allowed a run all spring and is being depended on more than ever to put an end to the Tigers' ninth-inning dramatics of the past couple of seasons.
So at least this team isn't looking for a closer anymore. But they're as likely to make some other addition -- a left-handed-hitting outfielder, another bullpen arm and possibly even shortstop
Stephen Drew
-- as any contender in baseball over this last week of spring training.
February, 24, 2014
2/24/14
10:15
AM ET
LAKELAND, Fla. --
Prince Fielder
is 2,000 miles away now. Being the observant guy he is,
Miguel Cabrera
has shrewdly noticed that.
And for the record, Cabrera says he has also noticed Prince's helpful contributions to his ever-growing trophy collection. And even to
Ryan Braun
's trophy collection, for that matter.
[+] Enlarge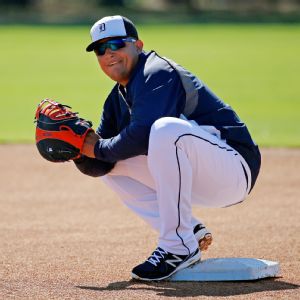 AP Photo/Gene J. PuskarWith the departure of Prince Fielder, Miguel Cabrera is back at first base after being the Tigers' regular third baseman the past two seasons.
So what does it say about the mammoth presence of Prince Fielder that the men hitting directly in front of him -- Cabrera in 2012 and '13 in Detroit, Braun in 2011 in Milwaukee -- all won MVP awards?
"He's got three MVPs," said Miguel Cabrera, with a soft laugh, of the man who spent the past two seasons cleaning up behind him. "Three MVPs … and a Triple Crown … and two batting championships."
Then Cabrera looked across his locker room and eyeballed the man who hit behind him before Fielder showed up in Motown, and who will hit fourth again this year now that Prince is no longer a crouching Tiger --
Victor Martinez
.
"And Victor," Cabrera added, with an even bigger laugh, "he's got one [batting title]."
In truth, of course, if you want to get all technical on us, Prince and Victor have combined for zero MVPs, zero Triple Crowns and zero batting titles. You can look that up. That math was merely a product of their amigo, Miggy, just being his usual magnanimous self.
But with Fielder gone -- traded to Texas over the winter in an eyeball-rattling deal for
Ian Kinsler
-- the issue of OMG, Who Hits Behind Cabrera Now hangs over the Tigers this spring, as Cabrera's first season of the post-Prince era approaches.
Fortunately, the new manager in town, Brad Ausmus, pretty much cleared up part of that question over the weekend. Ausmus said he's "95 percent" certain that Martinez would return to hitting cleanup behind Cabrera this season, just the way they lined up in 2011, in the final year of the pre-Prince era. So there ya go.
But now here's the bigger question:
How much does it even matter?
Maybe not so much. Or certainly not so much as you might think.
As my esteemed colleague, ESPN.com's Dave Schoenfield,
wrote recently
, there "just isn't evidence," in almost any of the really significant numbers in Cabrera's stats column, "that Prince Fielder made Miguel Cabrera a better hitter."
Wait. There isn't
any
evidence? Really?
That's a statement that seems impossible on the surface, even to the Tigers themselves. After all …
• In the two seasons in which Fielder hit behind Cabrera, their man Miggy won back-to-back MVPs and back-to-back batting titles.
• Cabrera's on-base percentage also went up 14 points (from .403 to .417) in those two seasons, compared to his previous years with the Tigers.
• Meanwhile, his slugging percentage zoomed upward nearly 50 points (from .571 to .620).
• His home runs per season (from 35 to 44) and RBIs per season (115 to 138) also were way up.
• And his intentional walks (54 over the two seasons before Prince, 36 in the two seasons with Prince) were down.
So if you attend that school where they teach the course, Lineup Protection Is a Myth 101, you should not be expecting any guest lectures any time soon from visiting professor David Dombrowski.
"I do not think it's a myth," said Dombrowski, the Tigers' president, general manager and CEO who understood all the ramifications of trading Fielder for Ian Kinsler this winter. "I'll tell you. I think sometimes, you can get too overly analytical.
"The reality is," Dombrowski went on, "when they're doing whatever [studies] they're doing, if you don't have a bat behind him that is at least a threat, the way they approach that guy -- even though they may pitch to him -- is significantly different."
You probably don't need us to survey the occupants of locker rooms from coast to coast to know that that belief is one that's shared by pretty much every player alive. But just to give you a sampling of what you'd find if you did survey those locker rooms, here's the take of always-thoughtful Tigers right fielder
Torii Hunter
:
"Now you can ask Miggy," Hunter said. "Miggy's going to hit .320 or .330, and he's going to hit 30 or 40-plus [homers] no matter what. So don't get it twisted. Even without Prince, he's a hitter. But there's gotta be something said for that, that three years in a row, Prince has hit behind three MVPs and one Triple Crown winner.
"

When Miguel comes up to hit, I guarantee you there are pitchers who are looking to see who's hitting behind him in situations. There are going to be times you pitch around him. There are going to be times when you can pitch to him. But there's never a game, or an at-bat, for Miguel that the pitcher doesn't look on deck to see who's coming up.

"

-- Wally Joyner, Tigers' hitting coach
"Now if anybody can get the Triple Crown [all by himself], it's going to be Miggy," Hunter said. "So I know you've got to be careful saying that Prince had a lot to do with Miggy, because Miggy's from another planet. But I still think it plays a little bit. I don't know what percentage, but it plays into it some."
OK then. Get the picture? Even players who are at least remotely skeptical of the concept of lineup protection still think there's
something
to it. But if you look past the circumstantial evidence in Cabrera's trophy case, there are really persuasive facts that say otherwise.
You'd think, for instance, that with a feared presence like Fielder behind him, Cabrera would have seen a lot more strikes over the past two years. Right?
Wrong. FanGraphs' Dave Cameron ran those numbers for us and found this:
Pitches in the strike zone to Cabrera from 2007-11: 46 percent.
Pitches in the strike zone to Cabrera in 2012-13: 46 percent.
You would also think, we're guessing, that Cabrera saw many more fastballs with Fielder hulking it up behind him. Nope. Not really, according to FanGraphs.
Fastballs thrown to Cabrera over his career: 59 percent.
Fastballs thrown to Cabrera in 2012-13: 59 percent.
OK, how about first-pitch strikes? They must have gone up in The Prince Years, correct? Sorry. Here's more from FanGraphs:
Cabrera's career first-pitch strike percentage: 58.6 percent.
Cabrera's first-pitch strike percentage in 2012-13: 58.9 percent.
So where's the evidence? It sure is difficult to find. But here's Torii Hunter's argument. It's one you'll never find on any stat sheet.
"The numbers don't lie, right? That's what they say," Hunter said. "But the numbers don't have a heart, or feelings, or adrenaline."
What he means by that is that the heart, the feelings and the mind are also part of this equation. And Torii Hunter should know, because he's the guy who hits in front of Miguel Cabrera, in the 2-hole.
"When I'm hitting in front of Miggy," Hunter said, "it gives me so much confidence that these guys have got to pitch to me, that I'm going to be able to hit. … There's a mental side of the game. And me hitting second [with Cabrera third] is more mental than anything.
"I can almost bet you that they're pitching me the same as when I was hitting fourth, fifth and sixth in Minnesota, and early on with the Angels. But now it's more mental, because I'm not trying to hit home runs. I'm just poking the ball to right, because I'm hitting second, because I know who's hitting behind me."
And that mental and psychological side of this story also applies to the pitcher, says Cabrera's new hitting coach, Wally Joyner.
"When Miguel comes up to hit, I guarantee you there are pitchers who are looking to see who's hitting behind him in situations," Joyner said. "There are going to be times you pitch around him. There are going to be times when you can pitch to him. But there's never a game, or an at-bat, for Miguel that the pitcher doesn't look on deck to see who's coming up."
But that's where Victor Martinez comes in. To the outside world, the idea of the gargantuan Fielder lurking on deck would seem far more intimidating than the presence of Martinez on deck. The Tigers, though, don't see it that way.
"I have no problem with Victor being behind him," Ausmus said. "And it gives you the advantage of Victor being a switch-hitter. … My guess is that last year, if there was a lefty on the mound, they would not want to give Miggy anything to hit and just pitch to Fielder, and go lefty-on-lefty. But you can't really do that with Victor."
The Tigers actually have all the data they need to know Martinez's "protection factor" is just as formidable as Fielder's -- because they tried it that way for a year, in 2011. And while it may have seemed as if Fielder had a major impact in 2012 -- seeing as how Cabrera won the Triple Crown and all -- in fact Cabrera's on-base percentage went
down
55 points that year (from .448 to .393) with Martinez no longer behind him.
"So people think they're not going to pitch to me with somebody else [besides Fielder] behind me, but it's not going to happen," Cabrera said, "because Victor is a great hitter with men in scoring position. He can drive in runs, too. So I think we don't have to worry about it."
Well, just so he knows, his bosses aren't worrying.
"Maybe if he had, let's just say, a .190 hitter hitting behind him on a consistent basis," Dombrowski mused, "Miggy would probably get to the point where he'd get a little frustrated. But that's not going to happen."
While he may not subscribe to the Lineup Protection Is Fiction newsletter, Dombrowski has thought about this a lot. And he's come to a conclusion that all of us, no matter where we stand on this issue, can't help but agree with.
Prince Fielder and Victor Martinez are excellent hitters, in any spot in any lineup -- "but they're not as good as Miggy," Dombrowski chuckled. "No offense to either one of them, but he's the best hitter in baseball."
So we can debate this question for the next six months. But Dave Dombrowski has it figured out better than anyone.
"In reality," he said, "the only person who could protect Miggy … is Miggy."
February, 22, 2014
2/22/14
3:19
PM ET
LAKELAND, Fla. -- If ever a man was born to coach
Jose Iglesias
, it was
Omar Vizquel
. If ever a young shortstop was born to be coached by Omar Vizquel, it was Jose Iglesias.
And now here they are, together in the spring training camp of the
Detroit Tigers
, where Vizquel still so looks so good when he takes an occasional ground ball that his manager,
Brad Ausmus
, joked Saturday that "Omar's our Plan B" at shortstop.
Later Vizquel said of Iglesias, "Everyone knows what kind of hands he has." So I couldn't help but ask Vizquel afterward: "Who has the better hands -- you or Iglesias?"
He smiled.
"It's still me," laughed Vizquel, whose three different seasons with five errors or fewer (and at least 130 games played) are as many as all the other shortstops in history combined.
And why did he vote for himself?
"I'm already done," said Vizquel, who is in his first year of coaching after a 24-year big league career. "And I've already proved what I can do. Now it's his turn."
Standing a few feet away was rookie third baseman
Nick Castellanos
.
"What was the answer to that question?" Castellanos asked.
"I said, 'Me,'" Vizquel told him. "I'm already gone. And I already did my thing. It's his turn to do it."
"You guys are different," Castellanos told him.
Vizquel's response: "It's just different styles of playing. I think his style is just a little bit more flashy than mine. Even though I was flashy, I have a different style of fielding the ball. But the end result is still the same. Make the out."
Oh, and there's one more way in which they're different, Vizquel chuckled: "He talks more than me."
February, 22, 2014
2/22/14
1:23
PM ET
LAKELAND, Fla. -- What people know, what people remember, is the October freeze frame that will live on forever:
Torii Hunter
, upside down in the Fenway Park bullpen, feet pointed toward the stars, as the most famous bullpen cop in history celebrates a
David Ortiz
grand slam.
What people don't know is the price the Detroit Tigers' right fielder paid for taking that tumble.
"It took me two months to get right from that," Hunter said Saturday. "Two months. That's something a lot of people don't know about. It hurt. I went to rehab. Did everything. Muscle tension. I had a lot of stuff going on.
"My lower back was locked up," he said. "I had to get soft tissue work for two months. Getting out of bed was tough."
Not all of those aches and pains were the result of just that one play, Hunter said. He already had laid the groundwork for that agony in the ALDS against Oakland, where "I beat myself up."
[+] Enlarge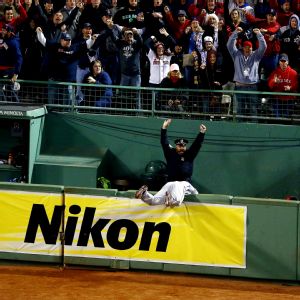 Al Bello/Getty ImagesTorii Hunter is fine with being remembered for flipping over Fenway Park's right-field wall on David Ortiz's grand slam, but don't ask him to autograph a photograph of that particular moment.
"But that play there, wow," he said, of his Fenway adventure. "I had a concussion. I had all kinds of pain. I got a cortisone shot. It was tough."
Hunter is fine now, he said, as he enters his second season with the Tigers and his 18th in the big leagues, at age 38. But hard as he tries, he can't seem to escape the world's fascination with his upside-down journey into the lore of October.
He's cool with the people who remember it as a spectacular effort to rob Big Papi of a game-tying grand slam. It's the people who think that was some sort of comedy show that get to him sometimes.
So, when fans shove photos of that play in front of him, hoping he'll autograph it, what they get back is a polite: "No thanks."
"I ain't going to sign that," Hunter said, affably but firmly. "A couple of people have tried. They said, 'Would you sign this?' I said, 'No. That ain't even me. That's my feet.' They think it's funny. It's funny to them. It's not funny to me. I was trying to win."
And most of all, that's what Hunter wants people to remember about that dramatic moment in postseason time. Yeah, Ortiz was the hero. But the man who toppled into the bullpen almost made an amazing play, one that might have changed the entire course of October events.
"Most people, the majority of people, people who know the game, they were like, 'Wow, that was a great effort,'" Hunter said. "A lot of guys don't even go for that ball. They just [pull] up.
"And a lot of people don't know I lost the ball. It was in the lights. The whole time, it was in the lights. And that's why I kind of overran it. Well, I don't know if I exactly overran it. Just, it was behind me, while it was in the lights. And I had to try and make an adjustment really quick with my body. I didn't pick it up until it was like five feet in front of me."
So, when it came time to make an instantaneous decision, Hunter never thought twice. He risked those two months of pain and rehab because a World Series trip was on the line. It was the only choice, he said.
"I could have just [given] up," he said, "because it was going over the fence regardless. But what the heck, man. I'm trying to win. I'm going to go all out."
Hunter knows there was one other byproduct of that play, though. It turned Steve Horgan, the bullpen cop, into an official, autograph-signing, picture-posing New England celebrity. And that's the one part of the Boston celebration Hunter says he has no problem with.
"That was awesome, man," Hunter said of Horgan. "You know, he's a fan. He's just rooting for his team. And it so happens, you get a snapshot of him, with the excitement, with my feet right next to him. But he's a good man. He's always smiling in the bullpen. You know, Steve, I'd met him before. But I had a chance to talk with him after that incident and really get to know him. I thought he was a great guy."
And now they're bonded forever, by one wild and crazy October moment, frozen in time by a click of a camera. And that click stands as a reminder that, when postseason paths collide, one man's jubilation can be another man's painful struggle just to get out of bed in the morning.
February, 14, 2014
2/14/14
12:53
PM ET
LAKELAND, Fla. --
Victor Martinez
reported to Tigers spring training this week with the pitchers and catchers, his catcher's mitt in his bag, his shin guards hanging in his locker. That didn't just happen because he missed Lakeland.
Miguel Cabrera
brought his third-base mitt to spring training even though he's now the Tigers' first baseman. That wasn't exactly a packing mishap, either.
The
Detroit Tigers
of 2014 may be rebooted, rebuilt and rearranged. But the new manager,
Brad Ausmus
, knows one thing about his team, now that
Prince Fielder
no longer occupies the No. 4 hole behind Cabrera:
Victor Martinez needs to play. And needs to be on Ausmus' lineup card, ideally sitting behind Cabrera, as much as possible.
And so, on the first day of spring training Friday, Ausmus said he'd already spoken to Martinez about catching more this spring (and summer), and that he'd talked to Cabrera about possibly moving back to third base at times so that Martinez could play a little at first.
[+] Enlarge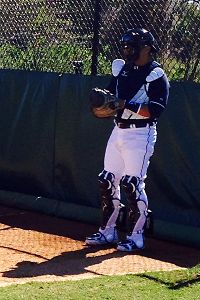 Courtesy of Jayson Stark The Tigers plan to use Victor Martinez at catcher and first base this season, which means Miguel Cabrera will see some action at third base.
"I actually called Victor -- this must have been early January, just after New Year's -- and asked him about catching," Ausmus said. "And he was thrilled about it. He was really excited when I asked him if he wanted to come down here with the pitchers and catchers. But there is a reason behind it. We play 10 games in National League parks. And the first road trip of the season is [to] L.A. and San Diego. And we can't not have Victor play for five straight games. So this gives us another option."
Last spring, when Martinez was coming off a missed season following reconstructive knee surgery, Jim Leyland didn't catch him at all. But during the season, stuff happened, as it always does. And Martinez wound up starting three games behind the plate, with minimal preparation. So this spring, both Martinez and his manager want to avoid a similar scenario.
"Like I told him, I appreciate that he got back to me and let me know that this year, I'm going to be doing more catching in spring training," Martinez said Friday. "Obviously, last year, I didn't do anything [in the spring] and it caught me by surprise. Not really a surprise because I still prepare myself. I always have the mindset that I always get ready, like I'm catching every day, even knowing that I'm not doing it. But then I had to catch during the season, and thank God, my body felt good. And that's the most important thing. My body feels great. And I like it."
As recently as 2010, Martinez was still primarily a catcher, playing 110 games there for the Red Sox. But due to physical issues, he has started just 29 games behind the plate, total, over the past three years. And when he was asked Friday morning if he still missed catching, Martinez only had to mull that one over for about half a second.
"Definitely," he said. "I like the challenge. You have to be in charge of everybody. Your teammates are watching you doing everything. You're back there, and you're just trying to help your team win."
So when Ausmus asked him if he was open to catching more this year, Martinez said he replied, "Definitely, 100 percent yes. … I might not have used the word, 'excited.' I might have used another word. But I think that the day I don't feel that way, I'm going to stop playing the game."
What the Tigers most want Martinez to do, though, is swing the bat. His career slash line is .303/.369/.464. And the last time he hit below .300 was 2009. So whatever it takes to keep his bat in the lineup, Ausmus said he's prepared to do -- including moving Cabrera back to third base once in a while.
"It's been talked about," the manager said. "Again, there will be some things [where] we'll have to see how they play out. But it's been discussed. And I actually even mentioned it to Miggy. And you know Miggy. He's a team guy. And he told me, 'Listen, I still have two gloves. Whatever you need.'
"So if, at the end of March, you see Miggy play third for a game, you don't have to immediately say that [Nick] Castellanos is in trouble, or [Steve] Lombardozzi is in trouble. It might be where we're just setting up options for these National League games, where we want to keep our big bats in the lineup."