Jayson Stark:

Miami Marlins
November, 18, 2014
Nov 18
5:30
PM ET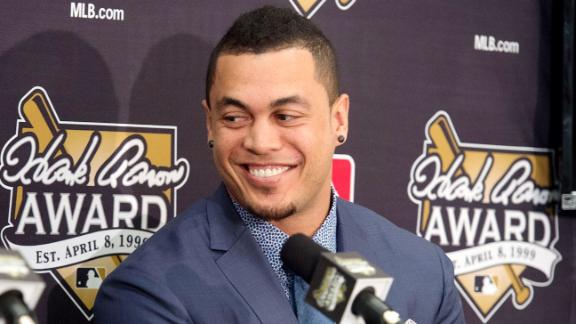 OK, now that you've all had time to vent about how crazy this
Giancarlo Stanton
contract is, here's my question:
What the heck is so crazy about it?
The more I look at the contract, the terms, the franchise, the player and the history of players like the great Giancarlo, the more sense it starts making. Seriously.
Let's begin with this: What choice did the Marlins have? They had to do this. Didn't they? Had to. Whatever it took. Outside of maybe giving the man his own salsa club on South Beach or something.
Imagine the soundtrack if they hadn't. Imagine the bludgeoning Jeffrey Loria would have taken for being too cheap to keep his latest "franchise player," just the way he waved adios to
Miguel Cabrera
and
Josh Beckett
and
Hanley Ramirez
. And if that's how this had turned out, the owner would have deserved every haymaker to the kisser that he took.
So if you're one of the people who's calling him insane now, that's fine. I get it. But it seems as if we all need to pick a side. We can't say he's wrong to pay this guy and keep this guy, and also say he'd have been just as wrong not to pay him and not to keep him.
And why is that? Because if the Marlins were going to keep Giancarlo Stanton, this was the deal.
He wasn't signing an extension for five years or seven years or nine years. He was signing only if he got this deal -- a lifetime deal, a historic deal, a build-it-around-me-or-I'm-gone deal.
There had to be a full no-trade clause. There had to be an opt-out at age 30. And there had to be commitment on both sides. So that all added up to this -- 13 years, 325 million Loria family dollars. Kaboom.
Is it too many years? Sure. No kidding. Is any baseball player really worth 325 million bucks? Of course not. Not in real-world dollars. But who said this has anything to do with the real world? It's the cost of doing business in a $9 billion industry.
[+] Enlarge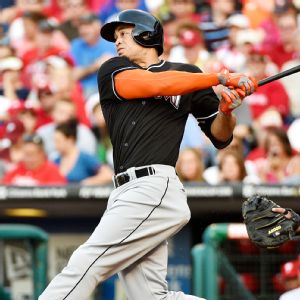 Derik Hamilton/Icon SMIGiancarlo Stanton led the National League in home runs (37) and was second in RBIs (105) in 2014.
But it's also obvious, just from the structure of this contract, that winning was Giancarlo Stanton's primary motivation. It had to have been. Why else would he say yes to a deal that pays him "only" $30 million over the first three years and "only" $117 million before his opt-out rights kick in after Year 6?
He clearly was told that at some point in the next three to six years, the Marlins will have a sweet new TV deal and a lot more revenue to pay for talent in the back end of the contract -- but they needed to free up dollars if they were going to spend on the front end. And he still responded by asking: "Where do I sign?"
So now he's put up on his end. It's time for the Marlins to put up on their end.
He invested in them. Now they'd better invest in him, and the team around him. Or they don't deserve to have a franchise. Period.
Never in Marlins history have they been better positioned to operate like a real baseball franchise than they are right now. They have the ballpark. They have the young talent base. They have two really bright, personable baseball men running the operation, in Michael Hill and Dan Jennings. They have a legit, charismatic 22-year-old ace to front the rotation, in
Jose Fernandez
, once he returns from Tommy John rehab in midseason.
And now they have Giancarlo Stanton -- wrapped up, signed up and fully engaged in doing what he can to make them great.
So they have no excuses this time. They'll tell us at the news conference Wednesday that we can stop yapping about how they unloaded Miggy, and broke up the World Series champs, and gashed the payroll by $60 million after 2012, because this is different.
Well, it is, actually. It
is
different. So it's time for them to do this right. Or else.
Look, we have no idea what the next 13 years will hold for Giancarlo Stanton. There isn't an Excel spreadsheet or a Ouija board on earth that can tell us, either.
But if you look at what baseball history tells us about players who have an age 20-to-24 career arc like this man, it's shocking, actually, how well they tend to age. Take a look:
• According to Lee Sinins' Complete Baseball Encyclopedia, Stanton is the fifth player in history to hit 100 more home runs than the average player in his league before his age-25 season. The other four -- Eddie Mathews, Jimmie Foxx, Mickey Mantle and Mel Ott -- all went on to join the 500-Homer Club and end up in the Hall of Fame.
• Stanton's career slugging percentage (.540) is 138 points above the league average. Of the 19 other players in history who outslugged their peers by that amount (or more) through age 24, the only ones who are eligible and never wound up in Cooperstown are Dick Allen and Hal Trosky. And by December, the Veterans Committee might lop Allen off that list.
• As ESPN Stats and Info's Justin Havens reports, Stanton is one of only three players in the live-ball era who have led the National League in slugging twice before their age-25 seasons. It's safe to say the others had careers that turned out OK. Willie Mays is one. Stan Musial is the other.
• And according to baseball-reference.com, Stanton has been worth 13.90 batting wins through his age-24 season. That ranks as 20th best among players in the live-ball era. There are 14 Hall-eligible players ahead of him. All but Allen wound up having a Hall of Fame career. And again, it's possible that in a few weeks, we can say Allen had one, too.
Now let's consider something else: Giancarlo Stanton is irreplaceable. In a sport where power has disappeared, this man is a human "Going, Going, Gone" highlight reel.
He's a special player and person, with a unique skill set for his era. And he just turned 25 years old. So for any franchise to lose a player like that would be worse than sad. It would be embarrassing.
Elsewhere on this site, Dan Szymborski used the fabled
ZIPS projection system
to look at the likely path of Stanton's next 13 seasons. His findings sure didn't make this deal look insane in any way.
ZIPS projected Stanton to be a guy who will still be worth three-plus wins a year through the first nine seasons of this deal and still be a threat to hit 20 homers a year through Year 11 -- meaning he's likely to give the Marlins $316 million worth of production over the next 13 seasons.
And that doesn't even factor in what his presence could mean to the franchise as it negotiates its next TV deal, or how just this signing could enhance its credibility with a long-skeptical fan base.
So tell me again then, please, why this contract is "crazy." To me, it's the thought of pushing a player like this out the door that seems way more insane than doing what it took to keep him.
April, 22, 2014
Apr 22
11:31
AM ET
The latest episode of baseball's most entertaining reality show -- the Amazing Ace, starring the one, the only, the relentlessly effervescent
Jose Fernandez
-- will roll into Atlanta on Tuesday night.
If you have a dish, a cable box, a laptop, an iPhone or some other mobile device that can reel in this must-see slice of baseball life, here's our advice: Carve out the time and watch this guy do his thing.
There's nothing like it -- because there's no one quite like Jose Fernandez appearing on any big league mound in North America these days.
"He's probably the best pitcher I've ever seen," said his Marlins teammate, closer
Steve Cishek
. "The most competitive, for sure. He's a lot of fun to watch."
We should probably mention that the opposition doesn't always agree with the "fun" part of that review. You can ask
Brian McCann
all about it some day. But when the rest of us lay eyes on the Marlins' mesmerizing, 21-year-old ace, here's what we see:
Energy. Confidence. An irrepressible joy in doing what he does. And,
ohbytheway
, maybe the best stuff in baseball.
So we asked the men around him to tell us their favorite stories of a guy who, just 32 starts into his career, already has ripped off 26 starts allowing two earned runs or fewer (including 13 in a row at one point). And 27 starts allowing five hits or fewer (including 17 in a row). And five double-figure strikeout games (including back-to-back 13-K and 14-K games last summer).
Here are some of those tales:
[+] Enlarge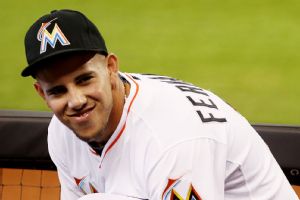 Marc Serota/Getty ImagesLook out, LeBron. Jose Fernandez is becoming a beloved figure in South Florida.
Jose the base stealer
After Fernandez reached base in a recent start against the Brewers, Marlins manager
Mike Redmond
saw his ace dancing off second, acting like a guy ready to burst into a
Billy Hamilton
impression any minute.
"He was on second, and he started to fake like he was going to steal third," Redmond said. "And I said, 'Wait. When a guy's hitting, you've got to stay put out there.' And he was like, 'Well, I was going to steal third. They're giving it to me, and I'm just going to take it.' And this was with two outs. So I said, 'That's not your job. You're not a base stealer.' And this is like in the middle of the game. We're sitting on the bench, and we're having this conversation, and I'm just laughing."
Is that an indication, we asked, that Fernandez thinks there's nothing he can't do?
"You have to be careful when you talk to him and say, 'You can't do something,'" Redmond chuckled, "because if you tell him, 'Hey, you can't throw this guy a changeup because he's really good at hitting a changeup,' he's going to want to throw him nothing but changeups to try and get him out, just to show you that he can really get him out with changeups.
"When we played the Rockies, we talked about not throwing [Justin] Morneau a lot of changeups. And he ended up throwing about six or seven changeups to him. … So you have to be careful of what you say he can't do."
The 92 mph changeup
When most guys throw a pitch 92 miles per hour, it's their fastball. Possibly their best fastball. When Jose Fernandez hits 92 on the gun, that's an
off-speed
pitch.
"There was one pitch," said his catcher,
Jarrod Saltalamacchia
, "where he was facing [Chase Headley] and he threw a changeup. And Headley went, 'Damn, that was a nasty sinker.' And I didn't want to tell him it was a changeup."
The more Saltalamacchia thought about that exchange, the funnier it got. But he still isn't sure whether he should be happy a hitter was that confused about that pitch or worried that his ace was throwing his changeup way too hard.
"I didn't know how to take that," Saltalamacchia admitted, "whether it was a compliment or a bad thing."
But either way, it did fit right in with Fernandez's whole approach to pitching -- and life.
"From the get-go, the guy is pedal on the metal, and he doesn't let up," Saltalamacchia said. "He's excited. You know how between innings, the umpires give you 2 minutes and 30 seconds [before resuming play]? Well, he's on the mound with like a minute and a half left. You're thinking, like, 'Take your time.' But he hits the gas pedal and he's going. You can't slow him down. You don't want to slow him down. It's just his tempo, and how he works."
The home run off a tee
And then there was the day that Fernandez sucked in a bunch of Marlins position players with a friendly wager -- that turned out to be (what else?) a giant setup.
"He kind of hustled some guys last year … betting them that he could hit a home run from home plate off a tee," Cishek said. "And everyone was like, 'There's no shot.' That's pretty tough to do, right? Now I don't know. I'm not a hitter. But I would imagine it's really hard to do, because all the hitters were like, 'There's no chance.'
"So he got people to jump in on it. And sure enough. First swing. Hit one out of our big park. We all just went nuts. Little did they know that he was practicing all day. … It was hilarious just watching him. I was watching him practicing, trying to figure out the angle and everything. So then, when he went in the locker room, to try and get people on board and they bit, it was great."
And what, we asked, was the moral to that story?
"Don't trust anything Jose says," Cishek said, laughing uproariously. "If he says he can do something, take his word for it."
The pregame show
When most pitchers are gearing up to start a game, they withdraw to their own silent planet. Not Jose Fernandez.
"He's unique," Redmond said. "He's not the kind of guy where you come in and he's sitting at his locker with his game face on and you can't talk to him. I mean, he's hitting in the cage, he's bunting in the cage, he's in my office, he's sitting on the couch, he's talking to me about a couple of hitters. Then he's out, and he's back in. He's joking with the guys. He's all over the place. So he's unique. I never played with a guy like that, man. And that's how he is every day. … Just that day that he gets the ball, he can't wait. He just really loves to pitch."
But when Fernandez pops into the manager's office before a start, Redmond confessed, he often isn't in there to talk about pitching.
"It could be about hitting," Redmond said. "He'll want to swing at the first pitch all the time, because he thinks that's the pitch that he should be hitting every time. So he'll be like, 'Come on, Red. You've got to turn me loose first pitch.'"
For the record, Fernandez has come to the plate eight times this year -- and swung at the first pitch in half those trips. He has put none of those hacks in play.
The award
Last January, Fernandez was invited to attend the New York baseball writers' dinner, to accept his NL Rookie of the Year award. So naturally, a delegation from the Marlins' front office went with him, and occupied a large table in the ballroom.
So as general manager Dan Jennings recalls it, after Fernandez accepted his award at the podium, he returned to his team's table and told everyone around him: "I want to be up there again next year, too."
And that, of course, could have meant only one thing. He was planning to win the Cy Young this time around. Right?
"Well, I don't think he'll be rookie of the year again," Jennings deadpanned. "He's got that box checked."
The fire
We tried to get a report on what opposing hitters say to their buddies on the Marlins after they reach base against Fernandez. But that turned out to be tougher than we'd envisioned.
"Every once in a while, somebody will say something like, 'That's the best stuff I've ever seen,'" said
Greg Dobbs
, who started 47 games at first for the Marlins last year. "But there haven't been many [of those conversations] -- because there weren't very many guys who got over there. He doesn't give up many hits, you know."
Yeah, good point. Fernandez actually had a higher batting average last season (.220) than the hitters who faced him (.182). But as that shouting match with McCann last year illustrated, Fernandez's flamboyance has been known to light an occasional fire in the other dugout. So his teammates often have some explaining to do -- that their ace doesn't mean any harm. He merely has only one speed on his transmission.
"I don't want to change who he is or what he's doing, but he's young," Saltalamacchia said. "You can see that in the way he handles certain things. He wants to be great. There's nothing wrong with that. But sometimes you've got to understand what the situation is, and when to back off, and when to kind of get going. But right now, he's just kind of got that 100 miles an hour [pace]. And I can't say that's not a good thing, because it obviously works for him."
Cishek echoed that, shaking his head as he said: "Man, he's just in your face. The way he acts out there, he's really not trying to show people up. He just really wants to shut every single [hitter] he sees down. When he gives up a hit, he's mad at himself. For goodness sakes, if we're shagging in BP, he likes to power-shag out there. If he drops a ball, he's screaming at himself and everything. He's just a perfectionist."
So this is not a guy who even realizes he's firing up the opposition. He's just so talented, so confident and so driven, he expects to strike out about 20 every night.
"Oh, he definitely thinks he could," Cishek said. "I'm telling you. If he gives up a hit, say in the first inning, he's just blown away. He's like, 'Man, I can't believe I just gave up a hit.' That's what it seems like anyways."
You can understand, then, why he might rub a few hitters the wrong way. But he's becoming a more beloved figure in South Florida every time he goes out there. Look out, LeBron.
"My kids have been around him, this is the second year now," Redmond said. "And my boys woke up Opening Day and they were like, 'Dad, we can't wait to watch Jose pitch tonight.' We're talking about 13- and 11-year-old kids. And they couldn't wait.
"He's got a lot of people that love him. You see that when he pitches in Miami. The crowds are electric. A lot of people come out to watch him. Like I said last year, he brought a lot of excitement to Miami when we really needed it. And we still need that."
And one thing they've learned about Jose Fernandez in his first 32 trips to a big league mound: If it's excitement you're in need of, he's just the man you're looking for.
March, 24, 2014
Mar 24
5:45
PM ET
DUNEDIN, Fla. --
Jeff Keppinger
hit .412 last year in spring training.
Philip Humber
had a 1.73 ERA. You can file both of those under: "It's Only Spring Training."
But here are three star players whose spectacular springs have caught the attention of scouts and belong in another file: "The Real Deal."
Jose Bautista, OF | Toronto Blue Jays
He's your Grapefruit League home run leader (with five). He came into Monday leading the Grapefruit League in slugging (at .778). He's smoking every pitch he sees, at the rate of .356/.455/.778. And the more you see it, the more real it looks. That's great news for a guy whose 2013 season was marred by a hip injury.
"He's been locked in from day one," said one scout Monday, with zero hesitation, when the conversation turned to the Blue Jays' masher.
But by "locked in," we're not just talking about those baseballs Bautista has been pounding into the palm trees. We're talking about a return to the approach that made him one of baseball's most feared hitters in 2010-11, when he was whomping 97 home runs, with more walks (232) than strikeouts (227) and a 173 OPS+.
Over the past two years, as the strikeouts have inched upward and the walks have inched downward, Bautista has found himself seeing more junk and chasing it. So this spring, he's gone to work on fixing that glitch.
"Just working on staying on the ball a little bit longer," said his new hitting coach, Kevin Seitzer. "Sometimes, he can get vulnerable to the breaking stuff. He's a tremendous fastball hitter. So we're trying to make a few adjustments with his approach, to give him a little bit better chance, especially with two strikes. That's really the biggest time, when you don't want to just sell out to a fastball, to where you're vulnerable on the secondary stuff."
So what has stood out all spring is that Bautista has put up a series of tough at-bats, and has seemed intent on taking more pitches the other way when the right side of the infield is open, as it so often is in this shift-aholic age he now lives in.
"He's working on it right now," Seitzer said. "I told him, 'There are going to be points in time in the game where you've got that shift on, and we've got a guy on second base with two outs, and as good as you are at handling the bat and shooting that thing that way, just do it. It's a freebie right there.'"
And how conscious has Bautista been of perfecting that approach? In a game Saturday against the Tigers, he reached base four times -- on two walks and two singles to right. If he keeps that up, his hitting coach thinks he's headed for a tremendous year.
"He's very mentally tough," Seitzer said. "He's disciplined. He's put up these numbers before. And I don't see why he can't do it again."
Cliff Lee, LHP | Philadelphia Phillies
On the way to his first Opening Day start since he was in Cleveland, the Phillies left-hander has unfurled five excellent starts, including 11 eye-popping innings (allowing just six hits) against the Red Sox in his past two trips to the mound. Lee is also tied with
Lance Lynn
for the NL lead in spring strikeouts, with 19 in 19 2/3 innings.
Now it isn't exactly we-interrupt-this-program news that Cliff Lee can pitch a little. But again, this isn't about numbers. This is about approach, and some scouts and Phillies coaches worried that Lee was becoming too reliant on his fastball last season, despite his gaudy stats. That hasn't been the case this spring.
"He's back to mixing all his pitches, the way he needs to," said one scout. "He'd gotten too predictable. It was fastball, fastball, fastball, cutter, fastball, fastball. He's got to use his curve and his changeup more, and he can do it. Otherwise, his fastball is in the strike zone too much, and it gets hit."
"He's really used his change well this spring," said another scout. "I've seen that change a lot, and it's an important pitch for him."
Actually, according to FanGraphs, Lee threw that change on 15.9 percent of all pitches he tossed up there last season, the second-highest percentage of his career. But his curveball use has declined from nearly 11 percent in 2011 to just 7.8 percent last year.
Not coincidentally, Lee's success with that pitch has also declined. It was his best pitch in 2011, when opponents hit just .133/.165/.162 against it, with no homers allowed on any of the 367 curves he threw. But that opponent average has increased the past two seasons, to .193 in 2012 and .236 in 2013.
So this spring, says Phillies pitching coach Bob McClure, Lee has been "fairly deliberate about using his curveball a little bit more, depending on how it's feeling for him that day."
McClure said he and Lee "have talked about the perception the hitters have, of using that pitch as part of his arsenal. But the thing about the curveball is, it's a feel pitch. So I think if you throw a few early, you have it later in the game. So he's been mixing it in pretty well."
But McClure wants to make one other thing clear: Cliff Lee isn't broken. So nobody is trying to fix him.
"You look at his stats," McClure said with a laugh, "and it's hard to say to him, 'Hey, you need to completely change.' Are you kidding? But he might be able to use this pitch to offset [all those fastballs] a little bit, depending on the feel for it that he has that game."
Well, we've seen Lee do that before, with Cy Young results. So if he commits to it this year, it could lead him right back to that Cy Young conversation. And whether the Phillies are in a race or in July "sell" mode, a Cliff Lee Cy Young bid would be fine with them.
Jose Fernandez, RHP | Miami Marlins
All the Marlins' favorite phenom has done this spring is remind us how incredibly dominating he was last year, as a 20-year-old jumping all the way to the big leagues from the Class A Florida State League. So how dominating was he? Here's a little refresher course:
• Fernandez had a season last year that ranked No. 1 among all rookies in the live ball era, in adjusted ERA (177), opponent average (.182), opponent slugging (.265) and opponent OPS (.533). And yes, we said
all
rookies. Over the past nine decades. Yikes.
• Another way to look at it: His team went 18-10 when he pitched -- and a terrifying 44-90 when anyone else started.
• He was the first rookie starter with a WHIP under 1.00 (0.98) since baseball lowered the mound in 1969. Yeah, the first.
• And here's the topper: He actually had a higher batting average (.220) than the other teams' hitters had against him (.182). Ridiculous.
Well, nothing much has changed for Fernandez this spring. Opponents are hitting .196 against him. He's struck out 16 in 15 2/3 innings. And other than a three-run, four-hit fifth inning the Cardinals put together against him in his most recent start, he's allowed seven hits to the other 56 hitters he's faced, punching out 15 of them.
So what are we seeing here? We're seeing one of baseball's shooting stars ascend to a level very few pitchers ever reach. And he's 21 years old.
Clayton Kershaw
may have established himself as baseball's best starter. But is he the favorite to win yet another Cy Young this year? Not when he's pitching in the same league as Jose Fernandez.
When we casually observed to one scout who covers the Marlins that it wouldn't surprise us if Fernandez made a run at the Cy Young this season, the scout replied, just as casually: "I expect him to."
Wait, we asked. How can anyone
expect
Fernandez to win the Cy Young, when Clayton Kershaw is still alive and well?
"Look, Kershaw is what he is," the scout said. "He's great. But this kid is special."
Special enough that here's one thing we know for sure: His brilliant spring isn't a mirage. It's a portent of more awesome things to come.
March, 14, 2014
Mar 14
2:04
PM ET
LAKELAND, Fla. --
Giancarlo Stanton
's manager has never set out to lead the league in dramatic quotations. But when the subject turned to his right fielder, all of these blockbusters came out of Mike Redmond's mouth in a span of like 20 seconds:
"This guy really hasn't even scratched the surface of what he's going to be yet," the Marlins manager said of Stanton at one point Thursday.
"Giancarlo is going to have a big year," Redmond said a few sentences later.
And then there was this pronouncement, which kind of got our attention:
"This guy can be the best hitter in baseball," Redmond said, with an I'm not kidding, pal tone in his voice. "I know people talk about Miggy [Cabrera], and how he puts the ball in play and moves the ball around. But I'm telling you. This guy is going to have a big year this year. Big."
OK then. Can we start those fantasy drafts immediately, please?
Oh. And one more thing. You might want to know that what the manager sees in Giancarlo Stanton, his general manager also sees.
"We know he's got power," Dan Jennings said. "But this year ... with the focus he's brought this spring, the approach, I think you're going to see the whole package. He's high-energy and locked in."
Hmmm. The total package, huh? From a guy who is still only 24 years old, has already led his league in slugging (in 2012) and last season became just the ninth player in history to hit 100 home runs in the first 400 games of his career? Whew.
But now we interrupt this euphoria for this important message from a scout who ranks as one of Stanton's biggest fans and who has seen a lot of him this spring:
"I see what they see," the scout said. "I also think he might walk 200 times."
Unless the guys behind him rake up a storm, that is.
And those guys behind him, in case you're curious, would be two fellows who have joined the Marlins to witness the Giancarlo Stanton Show up close for the first time this spring -- ex-Pirates first baseman
Garrett Jones
and former Red Sox catcher
Jarrod Saltalamacchia
.
Or at least that's the order the manager is leaning toward at the moment.
"We're messing around with it," Redmond said. "But that's kind of how I envision it right now. I like it. It gives us a little depth behind Stanton. And it gives him a couple of other guys behind him who can put the ball in the seats."
On one hand, Jones and Saltalamacchia would be the first to tell you they're not going to be confused with, say,
David Ortiz
and
Mike Napoli
in those 4-5 slots. On the other hand, Jones did bop 27 homers and slug .516 as recently as two years ago. And Saltalamacchia did make 25 trots in only 405 at-bats himself in 2012.
So at the very least, they're an upgrade, theoretically, over
Logan Morrison
and
Justin Ruggiano
, the Marlins' most frequent occupants of the two spots behind Stanton last year. Wouldn't you think?
But then again, Jones and Saltalamacchia are also the latest, greatest reason to ask a question that goes kind of like this:
Can
anyone
"protect" Giancarlo Stanton? Really?
Sure, said another scout: "Miguel Cabrera could protect him maybe."
Right. Maybe. Even if you believe the whole concept of protection is a myth, Stanton feels like baseball's biggest exception -- anecdotally if not statistically, anyway.
Asked if any hitter in baseball could truly protect a guy with bigger power than anyone in the sport, who plays on a team that scored 340 fewer runs than the Red Sox last year and occupies the toughest park on earth in which to hit a home run, Jennings replied:
"I don't know how to answer that. If you look at last year, he only got five intentional passes. And I think that if you'd gone to him last year and asked him, he thought he was going to get pitched around a lot and he wouldn't get pitches to hit. But that wasn't the case."
Wait. But maybe it was. According to FanGraphs, Stanton was thrown fewer pitches in the strike zone last season (just 38.2 percent) than he'd seen at any time in his career. And only that perpetually hacking
Pablo Sandoval
(33.9 percent) saw a lower percentage among all hitters in either league, for that matter.
Stanton also chased fewer non-strikes (just 30.5 percent) than he had at any time in his career, and drew a career high 69 unintentional walks -- nearly twice as many as the year before (37).
So obviously, the Marlins needed some sort of veteran presence in back of him. And the two men they brought in are totally cool with taking on that responsibility.
"I've been in those situations where I've hit behind Big Papi," Saltalamacchia said. "I've hit behind a couple of pretty good hitters. And one thing those guys always told me to focus on was to just do what you can do, control what you can control, don't try to do too much. As a hitter, they know who's behind them. You should know, because that's how you're going to get pitched."
"He's definitely as powerful as they come," said Jones. "He's a huge threat, and he scares a lot of people. So to get the opportunity to hit behind him, I've got to make them regret pitching around him if they do."
Now we should probably mention here that Jones is hitting .125/.160/.250 this spring, with nine strikeouts and only three hits in 24 at-bats. And that Saltalamacchia's slash line isn't much better, at .158/.238/.316. But those numbers come with the standard it's-only-spring-training disclaimer.
Stanton, on the other hand, is a dazzling .375/.423/.708, with more extra-base hits (four) than strikeouts (three). And the other day in Port St. Lucie, he hit one of spring training's most insane homers, a shot so mammoth, it
clanked halfway up the batter's eye
-- of the field
behind
the one he was playing on.
"He's got the most power I've ever seen," Jones said. "His hands, for as big as he is, he's got a short, quick bat, and the ball just kind of explodes off his bat, like nobody I've ever seen. It almost makes you go, like, oh man. … I don't want to say it's intimidating, but it's pretty exciting to watch. You can try to compete with him, but it's pretty much impossible."
Uh, he's got that right. Fortunately, the Marlins aren't asking Jones to compete with the man hitting in front of him. All they ask is for him to do enough just to make the other team think about throwing The Mighty Giancarlo a strike every once in a while.
And if not, well, at least it could mean Garrett Jones will have a shot to drive in, oh, about 200 runs this year.
"There you go," Jones laughed. "If I could drive in 200, that would be awesome, too."