Jayson Stark:

Atlanta Braves
September, 18, 2013
9/18/13
10:58
AM ET
History in baseball comes in many shapes, many sizes, many colors, many forms. Those 2013
Atlanta Braves
are living proof.
On one hand, their closer,
Craig Kimbrel
, is on the verge of doing something
Mariano Rivera
has never done -- and, for that matter, something no pitcher in the history of baseball has ever done.
On the other hand, this is a first-place team that, amazingly, has two every-day players --
Dan Uggla
and
B.J. Upton
-- living life below the Mendoza Line. Many of you have asked me how rare that is for a team heading for October. Well, friends, the September History Watch has the answer. Read on …
Part I: The Closer
The Craig Kimbrel portion of this historical dissertation would have been a lot more impressive a few days ago, when the best closer in baseball was cruising along with an ERA under 1.00 (namely, 0.91).
Then this guy had to go and do something he hasn't done since he was like 14 years old -- get scored on in back-to-back outings. Which inflated his ERA all the way up to an unsightly 1.33.
[+] Enlarge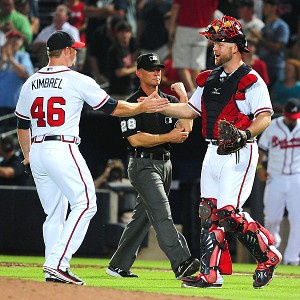 Scott Cunningham/Getty ImagesOver a span of 28 appearances from July 8 to Sept. 10, Craig Kimbrel allowed zero runs, walked five, struck out 41 and held opponents to a .115 BAA.
But it tells us a little something about how unhittable Kimbrel has been that, even after allowing four runs (three earned) over his past two trips to the mound, he's
still
on the road to history.
What kind of history, you ask? Take a look:
Kimbrel's ERA last year: 1.01. His ERA this year: 1.33.
And how many pitchers in the history of this fine sport have had back-to-back seasons in which they worked at least 60 innings and had ERAs that low?
That would be zero, ladies and gentlemen. Nada. Nary a one. Thanks for asking.
In fact, only two pitchers in history have ever had ERAs below 1.40 in two consecutive seasons of 60 innings or more. Perhaps you've heard of them.
One would be Walter Johnson.
Who did it as recently as, oh, a century ago.
Johnson's ERA in 1912: 1.39. His ERA in 1913: 1.14.
The other would be another Hall of Famer with an awesome nickname, Mordecai "Three Finger" Brown, who did this so long ago, it's possible those other two fingers hadn't even been invented yet.
Brown's ERA in 1906: 1.04. His ERA in 1907: 1.39.
OK, so the Big Train (715) and Three Finger Brown (510.1) threw slightly more innings over their two seasons Craig Kimbrel has over these two seasons (123.2). I get that. They have different jobs. So if you're about to bash out a tweet informing me those old-timers' feats were a way bigger deal, OK, fine. I'm not going to argue.
Just trying to make a point about the guy pitching in
this
century. And that point is: Nobody does this. No matter what their job is.
For slightly more perspective …
Here are the only other pitchers in history with ERAs under 1.50 in back-to-back seasons of 60 or more innings, according to Lee Sinins' indispensable Complete Baseball Encyclopedia:
Christy Mathewson, 1908-09 (1.43-1.14)

Ed Walsh, 1908-09-10 (1.42-1.41-1.27)

Three Finger Brown again, 1908-09 (1.47-1.31)

Walter Johnson again, 1918-19 (1.27-1.49)
Good group. Also an ancient group.
And here are the only other relief pitchers in modern history with ERAs under 1.75 in back-to-back seasons. Let's just say it won't take you an hour to read this list:
Hoyt Wilhelm, 1966-67-68 (1.66-1.31-1.73)

Tug McGraw, 1971-72 (1.70-1.70)
And then there's Craig Kimbrel. Who has blown away the numbers of everyone on all of those lists. Now all he has to do to finish this deal is go back to what he has been doing for most of the past three years -- i.e., striking out pretty much everyone he faces and then shaking hands a lot.
Part II: The Mendoza Brothers
But meanwhile, on the very same team, we have a slightly less glorious form of history unfolding, down there where you need a submarine to find it.
In other words, 20,000 leagues below the Mendoza Line.
[+] Enlarge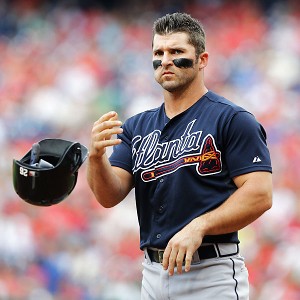 Chris Gardner/Getty ImagesDan Uggla is batting .143 (4-for-28) with five walks and 10 strikeouts this month.
Batting average this year of Braves second baseman Dan Uggla: .183. Batting average this year of Braves center fielder B.J. Upton: .188
Well, you don't see that much.
So how much
do
we see it? Two every-day players on one team hitting under .200? Excellent question. And the answer, according to baseball-reference.com's fabulous Play Index, is, um, never -- not in the live ball era, anyway.
Now if we keep going, back toward the beginning of time, we do find three other teams in the history of baseball that have had two regular position players with batting averages under .200 and at least 400 plate appearances apiece. So here they come:
1917 Cleveland Indians: Steve O'Neill (.184) and Joe "Doc" Evans (.190)

1901 Philadelphia Phillies: Bill Hallman (.184) and Monte Cross (.197)

1886 Baltimore Orioles: Milt Scott (.190) and Mike Muldoon (.199)
Boy. Quite a list. You should know that those 1886 Orioles played in the old American Association, famous for its then-daring decision to sell beer in the stands, and that the listing of Muldoon's name on their roster at baseball-reference.com is followed by a question mark, which is never a good sign. So who knows what to make of them?
You should also know that none of those teams finished in first place -- although those Indians (88-66) and Phillies (83-57) at least had winning records.
But even more important, you may have noticed that none of those teams had two players with averages that submerged not just below .200 but also below .190, as these Braves do. So this feat gets more unique by the paragraph.
Then again, when the Braves get around to playing baseball in October, all their averages will get reset to .000, and then Upton and Uggla will get to write a whole different story for themselves. Which is the cool thing about playing baseball for a team this good.
But in the meantime, all of us at the September History Watch would like to thank them for playing -- and making our latest foray into impressive historical research so eminently rewarding.
August, 8, 2013
8/08/13
3:34
PM ET
The past couple of days have reminded me of something I'd almost forgotten. There is life after A-Rod-Palooza.
There is a great baseball season going on out there, friends. So let's stop talking about that third baseman for the Yankees and start focusing on all the fabulous baseball stories that are roaring toward their dramatic conclusion.
And what stories do I have in mind? How about these Five Stories I'll Be Watching (Instead of That Guy):
[+] Enlarge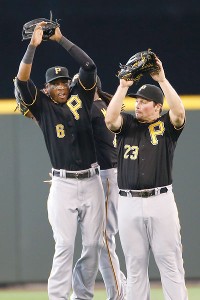 Otto Greule Jr/Getty ImagesIt's hard not to get excited about the Pirates.
1. The Pirates
The
Pittsburgh Pirates
are going to finish with a winning record, ladies and gentlemen. I have never felt more confident about saying that.
They are not going to have 10 pitchers undergo Tommy John surgery in the next 20 minutes. They are not going to lose 37 of their next 48 games. They are not going to reenact August and September of 2012, or August and September of 2011.
They're too good. They have the fourth-best run differential in the National League (plus-60). They've allowed the fewest runs in the major leagues (just 385) -- something they haven't accomplished over a full season since 1984. And opponents are hitting a ridiculous .229 against their pitching staff -- which would be the lowest average against any National League staff since Jim Deshaies' 1986 Astros.
I can't tell you these Pirates are going to win the World Series. I can't tell you they'll win any kind of postseason series. But they're still the best story in the major leagues. So let's just enjoy this ride. OK?
2. The races
The NL East race is over. The AL Central race feels like it's in guarded, but unstable, condition. And over in the NL West, the Dodgers have gained 14 .5 games in the standings on Arizona just in the past seven weeks. So we can see where that one is headed.
But the NL Central is shaping up as a must-see duel between the best offense in the National League (the Cardinals) and the best pitching staff (the Pirates) -- with nine riveting games left between these two teams. Sign me up for that.
And how about the AL West, where the Rangers just made a six-game Oakland lead disappear in a span of nine days. Those teams have two series left against each other. But the schedule, in general, favors Texas, which has the easiest remaining schedule of any AL contender, including 10 games left against their good friends from across the state, the Astros.
And then there's that AL East race, which has a chance to be the best of them all.
The Red Sox just became the first AL team to reach 70 wins -- and did it following a year where they didn't win 70 games all season. Think about that. Elias tells us they're the first AL team to pull off that trick (not counting strike-shortened seasons) since Harlond Clift's 1945 Senators, and (because those Senators got to 70 on the same day as the Tigers) the first to do it outright since George Herman Ruth's 1926 Yankees.
But then there are the Rays, owners of the best record in the whole sport over the past 81 games and a team so hot they just lost their first series in seven weeks. So pick against them at your peril.
And I'm not ready to write off the Orioles, who lead the major leagues in home runs and slugging, upgraded their pitching before the deadline and are currently on pace to become the first team in history to commit fewer than 50 errors in a 162-game season. (Heck, no one else in the expansion era has even finished a season with fewer than 60.) The Orioles have 16 games left against Boston and Tampa Bay. So stay tuned.
3. The awards
NL MVP:
Yadier Molina
was our midseason pick, but his knee issues are about to sabotage his MVP campaign. So are we ready for a starting pitcher (i.e.,
Clayton Kershaw
) to win this thing? Do guys like
Paul Goldschmidt
and
Joey Votto
have MVP finishes in them? And don't look now, but here comes
Andrew McCutchen
, whose credentials include this nugget: He,
Mike Trout
and
Carlos Gonzalez
are the only players in their league to rank in the top 10 in both stolen bases and slugging.
AL MVP:
Uh-oh. Here we go again. If you enjoyed that vintage, old-school/new-school
Miguel Cabrera
-versus-Mike Trout debate last year, get ready for Round 2. As Jared Cross wrote the other day, Trout has injected himself into what once looked like a Cabrera-
Chris Davis
MVP conversation by charging up those AL leaderboards. But if this keeps up, some great sabermetric minds are going to have to explain to the masses how it's possible that Trout leads Cabrera in offensive wins above replacement, but is trailing Cabrera overall because of (gulp) Cabrera's defense. Incredible, huh? But let's save that issue for another day.
AL Cy Young:
Felix Hernandez
can tell you all about how Cy Young voters have finally learned to de-emphasize wins. But let's see them try to factor out wins this year, when King Felix is leading the league in ERA but trying to make his case against a guy who is 16-1 (
Max Scherzer
) -- and first in his league in WHIP, lowest opponent average and lowest opponent OPS. Can't wait for that debate.
NL Cy Young:
With all due respect for the awesome seasons of
Adam Wainwright
,
Matt Harvey
,
Madison Bumgarner
,
Patrick Corbin
,
Francisco Liriano
,
Craig Kimbrel
, etc., all Kershaw does every five days is remind us that he's the best pitcher in baseball. Still. Just so you know, if Kershaw can finish with the ERA (1.91), WHIP (0.88) and opponent average (.188) he has now, the only pitchers in the live-ball era who have ever been in that neighborhood (or better) over a full season are Bob Gibson,
Greg Maddux
,
Pedro Martinez
, Sandy Koufax and Luis Tiant. Whoever they are.
Rookies of the Year:
In the AL,
Jose Iglesias
has a shot to become the first rookie of the year ever to get traded in midseason. But
Wil Myers
can screw up that claim to fame. And in the NL, this remains one of the wildest rookie-of-the-year free-for-alls ever, with
Jose Fernandez
,
Shelby Miller
,
Hyun-Jin Ryu
,
Julio Teheran
,
Evan Gattis
and
Yasiel Puig
all making cases for themselves that are going to require many, many Advil for the ROY electorate.
[+] Enlarge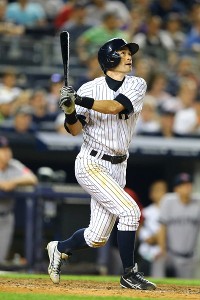 Al Bello/Getty ImagesIchiro Suzuki is about to enter some rarefied air.
4. The 4,000-hit man
The folks obsessed with a certain troubled third baseman may differ. But in my neighborhood, the most interesting story in Yankees Land this month revolves around a man who is chasing a number very few living humans have ever seen chased.
That man is
Ichiro Suzuki
. That number is 4,000.
And no, that isn't how many reporters from his homeland follow Ichiro around every day. It's the number of hits he's about to have on his permanent record if we count the 1,278 hits he spewed in his nine seasons in Japan.
At the moment, he finds himself just 11 hits away. And I hope you don't let that milestone go whooshing by you too quickly before you stop to think about what it means.
The last time we witnessed anyone getting his 4,000th hit was April 13, 1984, when Pete Rose collected No. 4,000 off Jerry Koosman, in a stadium we no longer find on the baseball map (the late, great Stade Olympique in Montreal).
Just for perspective's sake, the Hit King got that 4,000th hit in his 3,259th game. That's nearly 200 more than Ichiro has played (3,075) on both sides of the Pacific. Which means he's going to beat Rose to No. 4,000 by more than a full season. Wow.
The only other 4,000th hit ever? Ty Cobb got that one -- on July 18, 1927. So if you weren't hanging out at old Nevin Field in Detroit that day 86 years ago, you've never seen any American Leaguer do what Ichiro is about to do. Pretty mind-boggling feat -- on any continent.
5. History majors
Finally, here's just a taste of some of the historic pursuits you can keep your eye on over the next two months:
Chris Davis:
On pace for 58 home runs, 102 extra-base hits, 151 RBIs and 72 more extra-base hits than singles. There has never been a season like it.
Mike Trout:
He's leading the American League in walks. He's tied for the league lead in hits. And if he can wind up leading in both categories, he'd be only the fifth player since 1900 to do that in the same season. The others: Rogers Hornsby, Richie Ashburn, Carl Yastrzemski and Lenny Dykstra.
Joey Votto:
See that note above? How unreal would it be if two men finished first in their league in hits and walks in the same season? Well, Votto has a shot, too. He has a big lead in walks. He's three behind
Jean Segura
for the lead in hits. And Votto and
Shin-Soo Choo
have an outside chance to become the second set of NL teammates ever to reach base 300 times apiece (via hit, walk and HBP) in the same season. The other:
Jeff Bagwell
and
Craig Biggio
, for the 1997 Astros.
Miguel Cabrera:
And then there's Miggy. He might not win the Triple Crown for a second straight year. But if he can stay healthy enough to get on the field regularly, Cabrera still has a chance to do something no Triple Crown winner has ever done -- hit that trifecta one year and then have a better season the next year.
Here are Cabrera's numbers from last season, and his projected numbers for this season. This is truly amazing:
2012:
.330/.383/.606, 44 homers and 139 RBIs
2013:
.359/.453/.668, 48 homers and 148 RBIs
I chronicled this a few months ago, but here it is again just to help you digest this man's greatness: Only one Triple Crown winner in history (Ted Williams) ever drove in more runs the following year. Just two (Williams and Mickey Mantle) had a better batting average the next season. And none of them hit more home runs The Season After. But this guy could do all of the above.
So once again, we find ourselves drawn to the flat screen every time Miguel Cabrera starts marching toward home plate. And that beats watching A-Rod-Palooza every day of every week. Don't you think?
April, 29, 2013
4/29/13
1:21
PM ET
Strike One: Tigers TrifeKta
When was the last time any team had a threesome atop its rotation like the K Klub the
Detroit Tigers
run out there these days?
There's the Ace (
Justin Verlander
). He owns three strikeout titles just since the start of the 2009 season. He's also whiffed more hitters over the last seven seasons (1,356) than any pitcher alive.
Sanchez
Scherzer
Verlander
Then there's
Max Scherzer
. Last year he became the fourth qualifying starting pitcher in American League history to strike out more than 11 hitters per nine innings over a full season. Maybe you've heard of the others: Nolan Ryan,
Randy Johnson
and
Pedro Martinez
.
So we start with those two -- the most prodigious 1-2 whiff-a-matic duo in baseball. Which leads to this momentous question:
What were the odds that a Tigers pitcher would go out this season and set an all-time franchise record for most strikeouts in one game -- and it WOULDN'T be Verlander or Scherzer?
Well, it happened Friday night, when
Anibal Sanchez
headed for the mound and punched out 17
Atlanta Braves
in eight innings. Wow.
So what we have here is a rotation in which all three of those men are striking out more than a batter an inning this season:
Sanchez: 41 K's in 33.2 IP
Scherzer: 36 K's in 24 IP
Verlander: 33 K's in 32.1 IP
Amazing. But here's the most amazing part of all:
You know how many rotations in history have had three different starters pile up more than a strikeout an inning in a season in which all three qualified for the ERA title?
None. That's how many.
But wait. There's more. Other than last year's Tigers, no American League team in the entire division-play era has even had TWO qualifying starters who finished a season with more strikeouts than innings. Let alone three.
In fact, only two other AL teams in history have had two different starters who did that together in the same season:
1968 Indians: Sam McDowell (9.5 per 9 IP), Luis Tiant (9.2)
1965 Indians: Sam McDowell (10.7), Sonny Siebert (9.1)
Now obviously, there's a long, long way to go. But all three of these men have done this before. They just never had a chance to do it for the same team at the same time. And if they keep up this rate, we'll have some incredible strikeout history on our hands.
Unfortunately, for all the poor hitters out there.
Strike Two: Not So Special K's
Then there's the team that was on the other end of that 17-whiff masterpiece -- the Braves.
They keep telling us that strikeouts are overrated. And maybe they're right. We just know this:
[+] Enlarge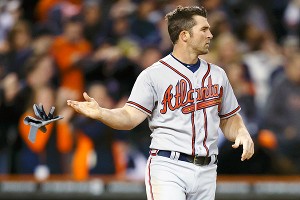 Rick Osentoski/USA TODAY SportsDan Uggla has struck out 31 times in 22 games so far this season.
They're on pace to strike out 1,512 times this year. While that wouldn't be a record -- thanks to the 2010 Diamondbacks, who punched out 1,529 times -- you should remember that no other team in history has ever struck out even 1,400 times.
But here's the other pace the Braves are on which WOULD be historic:
Projected strikeouts this season at this rate: 1,512
Projected hits this season at this rate: 1,316
That comes to an incredible 196 more strikeouts than hits. And no team in history has ever had a strikeout/hits ratio that was that out of whack. Here's that leaderboard:
163: 2010 Diamondbacks (1,529 K's, 1,366 hits)
89: 2012 Astros (1,365 K's, 1,276 hits)
72: 2012 A's (1,387 K's, 1,315 hits)
42: 2011 Padres (1,326 K's, 1,284 hits)
41: 2012 Pirates (1,354 K's, 1,313 hits)
Of course, if you peruse that list closely, you'll notice something. All of those teams have joined that More Strikeouts Than Hits Club just since 2010. And that's not an aberration. Of the nine teams in history that did more whiffing than hitting, only one (the 2001 Brewers) did it BEFORE 2010.
So strikeouts -- and lots of them -- are clearly a more prevalent, and accepted, part of the game than they've ever been. But only one team (last year's A's) has ever made the postseason in a year in which its hitters had more strikeouts than hits. And that 2010 Diamondbacks team at the top of that list lost 97 games.
It's very possible none of that past history applies to these Braves, who are clearly one of the most talented teams in the game and still lead the major leagues in home runs. But even if strikeouts are indeed overrated -- especially if you hit enough homers and score enough runs -- we don't know yet exactly how overrated they are.
But the 2013 Braves look like a team that could spend the next five months helping us figure it out.
Strike Three: In Other News …
• Verlander, Scherzer and Sanchez give the Tigers three starters who have all struck out at least 14 hitters in a game. The only other rotation in the big leagues that can make that claim: the Phillies (
Roy Halladay
,
Cliff Lee
,
Cole Hamels
).
• But all three of those Tigers pitchers have whiffed at least 14 in a game more than once. According to the Elias Sports Bureau, only four rotations in the last 20 seasons had three starters who fit that description. And it had been 12 years since we'd seen any rotation like that -- since the 2001 Diamondbacks (Randy Johnson,
Curt Schilling
, Bobby Witt) and 2001 Red Sox (Pedro Martinez,
Hideo Nomo
,
David Cone
).
• The Dodgers haven't struck out 17 times in a nine-inning game in the history of their franchise -- all 130 seasons worth. And three other teams -- the Royals, White Sox and Twins -- haven't struck out 17 times in any game in this millennium. But the Braves struck out 17 times in eight innings against Anibal Sanchez. And then added an 18th whiff in the ninth against reliever
Bruce Rondon
.
•
Bryce Harper
hit his ninth homer Saturday. He's the first player, 20 or younger, ever to hit nine home runs in April. If he makes a home run trot in any of the next two games, he'll become the fifth player in history to hit 10 home runs in any calendar month, at age 20 or younger. The others, according to Baseball-Reference.com's awesome Play Index: Willie Mays (10, in July 1951), Frank Robinson (11, in August 1956), Met Ott (11, in June 1929) and someone named
Mike Trout
(10, last July).
• Finally, we keep hearing that
David Ortiz
has a 20-game hitting streak going back to last season. What's much more notable is that he also has a 301-DAY hitting streak. Ortiz's streak dates all the way back to last July 2. And our favorite hit-streak guru, Trent McCotter, reports that, as best he can determine, that's the second-longest 20-game streak -- in days -- since 1900.
The longest: 323 days, by
Nomar Garciaparra
in 2000-01. He got a hit in his last 20 games in 2000, then needed wrist surgery the next spring and didn't get a chance to pick up his streak until the following July 29, when he extended it to 21 games in a row before it expired the next game.
Longest known hitting streak before 1900 (in days): 645 days, by Dick Higham from 1876 to '78. But the asterisk is that he spent all of 1877 with the Syracuse Stars of the International Association, which wasn't recognized as a "major" league. So technically, he had a 29-game hitting streak that was stretched out over nearly three years. Boy, it's always something, huh?
October, 3, 2012
10/03/12
12:50
PM ET
So here we sit, on the morning of the last day of the baseball season. And other than one game (Cardinals at Braves on Friday), we have no idea who is playing whom in
any
postseason series.
But it's not as complicated as it seems. Really. It all depends on what happens on the field Wednesday. So let's run through the various scenarios:
If the Yankees lose and the Orioles win
Then the AL East is tied (at 94-68), and the Yankees and Orioles have to play a tiebreaker game Thursday in Baltimore. The winner is the AL East champ. The loser is the wild-card team. But is it the "first" wild card or the "second" wild card? That depends on what happens in Oakland.
If the A's beat the Rangers
Then Oakland (94-68) wins the AL West, and Texas (93-69) is a wild-card team. But would the Rangers be the "first" wild card or the "second" wild card? That depends on what happens in the AL East:
If the Yankees and Orioles both win Wednesday, the Orioles (94-68) would host the Rangers (93-69) in the wild-card game Friday. Why? Because a Baltimore win Wednesday would give the Orioles the better record.
If the Orioles lose Wednesday and finish with the same record as Texas (93-69), the Rangers would host the wild-card game Friday because they won the season series from Baltimore.
If the Rangers lose and there's a tie for the AL East (at 94-68), the AL East loser hosts the Rangers in the wild-card game because either still would have more wins (94) than Texas (93).
If the Rangers beat the A's
Then the Rangers (94-68) win the AL West, and Oakland (93-67) is a wild card. But is it the "first" wild card or "second" wild card? Again, that depends on developments in the AL East.
If the Yankees and Orioles both win Wednesday, the Orioles would host the A's in the wild-card game because Baltimore would have one more regular-season win (94) than Oakland (93).
If the Yankees lose, the Orioles win, there's a tie for the AL East and Oakland loses to Texas, the loser of the AL East tiebreaker game hosts the A's. Again, the reason: The AL East loser still would have more wins (94) than Oakland (93).
If the Yankees, Orioles and A's all lose Wednesday, the Orioles and A's would finish with the same record (93-69). If that happens, the A's host the wild-card game Friday. Why? Because they won the season series.
Who's No. 1 in the AL?
If the Yankees win Wednesday
:
Then this is simple. They're the No. 1 seed in the AL. So their first Division Series game is Sunday
at
the winner of the wild-card game.
The AL West winner then would head for Detroit to start its Division Series on Saturday.
If there's a Yankees-Orioles tie
:
This gets trickier. Then there's a three-way tie for the best record in the AL (Yankees, Orioles and the AL West champ, all at 94-68).
Under that scenario, the AL East tiebreaker game would
not
be used to determine seeding, even though it is otherwise considered a regular-season game. So how would that seeding be sorted out? Here's the breakdown:
Yankees win the AL East, Rangers win the AL West: Yankees are the No. 1 seed and play the wild-card winner. Rangers are the No. 2 seed and play at Detroit. Why? Yankees won the season series.
Yankees win the AL East, A's win the AL West: A's are the No. 1 seed and play the wild-card survivor. Yankees are the No. 2 seed and face Detroit. Why? Yankees and A's split the season series, but A's had the better record in division games.
Orioles win the AL East, Rangers win the AL West: Rangers are the No. 1 seed and draw the wild-card winner. Orioles are the No. 2 seed and play Detroit. Why? Rangers won the season series.
Orioles win the AL East, A's win the AL West: A's are the No. 1 seed. Orioles are the No. 2 seed. Same LDS matchups. Why? Orioles won the season series.
If the Yankees and the Orioles both lose Wednesday
Then there's a tie for the best record between the Yankees and the AL West champ (at 93-69).
Under that scenario, the Yankees are the No. 1 seed if the Rangers win the West -- but the No. 2 seed if the A's win the West. Why? See the tiebreaker scenarios above.
Who's No. 1 in the NL?
The Reds and Nationals head into their games Wednesday with the same record (97-64). So ...
If the Reds win and the Nationals lose
Then the Reds are the No. 1 seed and play Sunday at the home of the wild-card survivor. And the Nationals are the No. 2 seed and play Saturday in San Francisco.
If the Nationals win and the Reds lose
Then the Nationals are the No. 1 seed and visit the wild-card winner Sunday. And the Reds are the No. 2 seed and start their Division Series on Saturday in San Francisco.
If the Nationals and Reds finish tied
Then the Nationals are the No. 1 seed. And the Reds are the No. 2 seed. (Same matchups as the Nationals win/Reds lose scenario above.) Why? Nationals won the season series.
It sounds insane. But it could have been worse, if
Raul Ibanez
hadn't hit that home run Tuesday to bring the Yankees back from the dead.
That would have created a nightmare scenario in which the Orioles, Yankees and the AL West loser could have finished in a three-way tie (at 93-69) -- forcing one of those teams to fly 2,500 miles, across three time zones, Thursday night to play the wild-card game Friday. But the good news is, that's one crazy possibility that's now officially defunct. Phew.
July, 27, 2012
7/27/12
5:34
PM ET
We interrupt these trade rumors for ... The Five Astounding Facts of the Week!
1
It isn't easy for any team to work its way into a sentence that includes the phrase, "Even the '62 Mets never did that." But here's to the 2012
Houston Astros
-- because they somehow have pulled that off. How? Well, they've played 25 games since June 28, and you know how many they've won?
Two
.

That's correct. They're 2-23. And here's all you need to know about that:
• Even Choo-Choo Coleman's pathetic '62 Mets never did that -- and they lost 120 games that season. Their worst 25-game stretch was "only" 3-22, in July and August.
• The last team to go 2-23 in any 25-game span of any season? That would be Jeff Stone's 1988 Orioles. But they cheated. They started that year by going 0-21. Then they only had to play .500 for four games to get to 2-23.
• Meanwhile, just one National League team in the last 77 years has had a 2-23 stretch (or worse). And that was Pancho Herrera's 1961 Phillies, who actually went through a 1-24 funk in July and August. But they also cheated. They lost 23 in a row at one point, the longest losing streak in modern history.
• Other than those Phillies, only two other NL teams have found a way to lose 23 of 25 at any point in any of the last 103 seasons -- Pinky Whitney's 1935 Boston Braves and Doc Hoblitzell's 1914 Reds.
• Finally, just one team in history ever went through a 25-game stretch without winning once. That was Chicken Wolf's 1889 Louisville Colonels, whose fabled 26-game losing streak in May and June is still the longest of all time.
2
It's now two whole weeks since we fired an exciting new
Adam Dunn
tidbit out there. So here's the latest, courtesy of loyal reader Ben Thomas:
Thomas noticed, astutely, that when the Big Donkey whomped his 30th home run this week, he reached 30 homers before he got to 30 singles. (He's still at 29.) And that was excellent work by Ben Thomas. His mistake was in doubting that had ever been done -- or is that "Dunn" -- before. Of course, it has -- but not much:
•
Mark McGwire
did it three times -- in 1996 (30 homers, 29 singles), 1998 (30 homers, 22 singles) and 2000 (30 homers, 26 singles).
•
Carlos Pena
also did it once in 2009 (30 homers, a mere 19 singles).
• And then there's our record holder -- the one, the only
Barry Bonds
in 2001. He hit his 30th homer that year on (gulp) June 4. And how many singles did he have at the time? Would you believe 12? Seriously.
3
The Cubs turned a double play last weekend that ought to be impossible -- the old 3-4-5 trick. Happened on a
Skip Schumaker
bunt (3-4 on your scorecard), where
Rafael Furcal
decided to go all the way from first to third, but didn't make it. (Hence, the 3-4-5.) So how many other 3-4-5 DPs have there been, if you don't count rundowns with a 3-4-5 in the middle? One of our most loyal readers, the great Trent McCotter, looked through every game since 1947 -- and couldn't find a single one.
Doolittle
4
Not all saves are created equal -- and A's rookie
Sean Doolittle
could tell you all about that. As longtime baseball writer Jeff Fletcher, the editor of Athletics Magazine, reports, Doolittle racked up his first career save last Saturday, against the Yankees. And all he had to do to record it was ... face
Alex Rodriguez
,
Robinson Cano
,
Mark Teixeira
and
Andruw Jones
-- four guys with a career total of 1,574 homers. So how many pitchers, since the invention of the modern save rule, have ever had to face four hitters with that many homers to get their first save? That would be none. Of course.
5
Finally, if you're still trying to digest
Tommy Hanson
's box-score line Wednesday, against the Marlins, hey, get in line. It's an all-time all-timer. Here goes:
5 IP, 3 H, 1 R, 1 ER, 7 BB, 7 K, 7 SB
So what's up with that?
• Hanson was the first pitcher in the live-ball era (starter or reliever) to pull off one of those slot-machine jackpot lines -- 7 (BB), 7 (K), 7 (SB). Ding-ding-ding-ding-ding.
• Hanson also became the first pitcher in the live-ball era (starter or reliever) to allow at least seven walks and seven stolen bases in one game, but give up only one run.
• Then again, the Marlins became the first team to steal seven bases in a nine-inning game and score only one run since Patsy Dougherty's 1909 White Sox. So the seven walks were just for show.
• Hanson also became only the second pitcher in the live-ball era to allow at least seven walks and seven stolen bases in a game and
win
it. The other:
Randy Johnson
, on July 29, 1989 (7 BB, 8 SB), against Oakland. But the Unit won a 14-6 game, so the degree of difficulty wasn't quite the same.
• And only two other starters in the live-ball era have allowed that many stolen bases (the heck with the walks) in a game they won -- the Padres' Stan Spencer (10 SB), on May 18, 2000, against the Marlins, and Mike Scott (7 SB), on May 28, 1989, against the Pirates.
But to do all of that in one game (in only five innings yet)? Now that's astounding.
May, 24, 2012
5/24/12
5:09
PM ET
This may sound familiar, but some things never change:
Two friends of
Roy Oswalt
say they still believe his preference is to play in Texas, Atlanta or St. Louis. But since there's no indication the Braves or Cardinals are interested, his challenge is likely to be trying to convince the Rangers to pay him the significant dollars he's hoping for.
An official of one club that looked into Oswalt reports: "He wants a ton of money to pitch half a season. But based on how he pitched last year, it wasn't like he was dominant. So he's not a guy who's going to wrap up the pennant for you. He'd be a nice guy to add to the bottom of the rotation. He's not a guy you're adding to the top of your rotation, at this stage. But [based on his asking price] he doesn't see it that way."
[+] Enlarge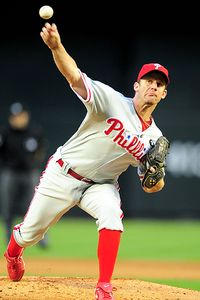 Mark J. Rebilas/US PresswireRoy Oswalt went 9-10 with a 3.69 ERA in 23 starts last season, averaging a career-low 6.0 strikeouts per nine innings.
The big reasons Oswalt would love to be a Ranger, according to his friends: (A) Geography, (B) no worries about run support, (C) no state income tax, (D) his relationship with Nolan Ryan and (E) lots of storylines for the media to center on besides him. But both friends stressed that money is an important factor, so if the Rangers don't make it worth his while, it's
not
a lock that Oswalt pitches in Texas -- or anywhere.
Oswalt has been linked to the Phillies and Red Sox. But both of those teams are right up against the luxury-tax threshold. So they're highly unlikely to dangle the kind of dollars he's looking for.
Meanwhile, one executive who speaks frequently with the Orioles' brass says: "Don't discount [reports on] Baltimore going after Oswalt. It wouldn't surprise me if they throw some money at him. They're getting serious about wanting to compete."
It's true that the Orioles are beginning to poke around in search of starting-pitching depth. But does Roy Oswalt really want to pitch for them? Feel free to re-read the first couple of sentences of this item, and we think you'll have your answer.
Almost from the day free agency began last winter, it has seemed as though Oswalt has had his eye trained on only a few clubs. And his problem now is virtually identical to his problems back in November, December, January and February:
Those clubs just aren't ready to write the monster check he has in mind.
August, 10, 2011
8/10/11
5:48
PM ET
Maybe you could make a case that Willy Taveras put together the most unlikely 30-game hitting streak in history. Or Benito Santiago. Or Jerome Walton.
But it's tough to beat
Dan Uggla
.
He's gotten a hit in 30 games in a row ... and he's still hitting .220!
Just try to comprehend this. And we can help you -- by presenting a list of just some of the noted sweet swingers with a higher batting average this year than Dan Uggla:
Zach Duke
(.294)
Alex Cora
(.229)
Nate McLouth
(.228)
Josh Bard
(.224)
Edwin Jackson
(.222)
And, of course,
Carlos Zambrano
(.333).
But hold on. There's more.
On the day this streak started (July 5), Dan Uggla was hitting .173. That was worse than
Russell Branyan
(.200) or
Jack Cust
(.215) or
Bill Hall
(.214) -- three guys who hit so badly, they got RELEASED.
It was worse than
Brandon Inge
(.196) or
Reid Brignac
(.187) or
Travis Snider
(.207) -- three guys who hit so badly they got sent to the minor leagues.
It was worse, in fact, than every player in the big leagues who had been to the plate 200 times except for one --
Adam Dunn
(.171).
And then, naturally, Dan Uggla decided to go and get a hit in 30 consecutive games.
Of course he did.
So where does his .220 average -- AFTER he'd hit in 30 in a row -- rank among the lowest batting averages in modern history by guys who had hitting streaks that long?
No. 1, of course. You were expecting maybe he got beaten out by Joe DiMaggio?
Our favorite streak guru, loyal reader Trent McCotter, sifted through all the 30-game hitting streaks since 1910. Here are the three lowest batting averages -- for the season -- he found among all those players, after their 30th game of that streak. There's one thing you may notice about this list:
Not only does Uggla win this competition -- nobody else is even in his zip code.
Uggla .220
Taveras (2006) .284
Jimmy Rollins
(2005) .287
This is the 36th 30-game hitting streak since 1910. And until Uggla came along, only three of the other 35 streakers finished Game 30 with a season average that was under .300 -- Taveras, Rollins and Santiago (1987), at .299. And Dan Uggla is at .220. Amazing.
Just for fun, want to know the highest averages after Game 30? Let's just say they're not very Uggla-esque:
Ty Cobb (1911) .451
Rico Carty (1970) .430
George Sisler (1922) .415
Sisler (1925) .415
George Brett (1980) .404
So what's the good news for Uggla, besides the streak itself? As loyal reader Scott Sukenick observed, at least he raised his batting average in 27 consecutive games (until a 1-for-5 game Sunday lowered it by micro-percentage points).
"That has got to be a record, right?" Sukenick asked. And the more we thought about it, the more we decided he had to be correct -- because even Taveras, who was hitting .258 at the start of his streak, would have seen his average go down if he went 1 for 4.
But the 11 times Uggla has gone 1-for-4 during this streak, his average went up after every one of them.
That can't possibly have happened before, right? But if you can find another example of a guy who raised his average more games in a row than that, operators -- as always -- are standing by.
Pass along anything you come up with to uselessinfodept@yahoo.com or tweet it at us, at @jaysonst. We never tire of hearing about the most unlikely 30-game hitting streak of all time. How the heck could we?
February, 28, 2011
2/28/11
8:07
PM ET
STRIKE ONE -- SAME AS THE OLD BOSS DEPT.
Elsewhere on this site, you can find a column I wrote on two Atlanta Braves managers -- past (Bobby Cox) and present (Fredi Gonzalez). (
Actually, it's right here
). But one topic I never got to in that column was that it wasn't just Cox who was lobbying hard for Gonzalez to succeed him.

Jones
It was also his players.
Chipper Jones
topped that list -- and admits it, saying: "I think I dropped enough hints to lay the groundwork."
I asked Jones what his impression was of the end of Gonzalez's managerial reign in Florida. And Jones implied heavily he thinks Florida Marlins owner Jeffrey Loria was essentially out to get his manager.
The Chipster then used Gonzalez's public benching of
Hanley Ramirez
last year (for not hustling) as evidence. The manager attracted widespread praise around baseball for taking that stand, you'll recall -- and got fired anyway shortly thereafter.
"No matter how much respect Fredi had around the game for the way he handled certain things, it didn't help his relationship with the owner," Jones said. "And that was unfortunate. Let me tell you something: Fredi handled things on the field exactly the way Bobby would have handled them. Exactly.
"Whether it's pulling your star player off the field, disciplining him, those things have to be done sometimes. And when Bobby pulled
Andruw Jones
off the field [in 1998], you didn't hear [owner] Ted Turner ripping the manager because he did it. Everybody thought that it was deserved. And that situation last year was no different."
But Jones isn't complaining, because Gonzalez's firing in Florida allowed the Braves to hire the guy he was desperately hoping they'd hire.
"The way I see it," he said, "we just got a younger version of Bobby."
STRIKE TWO -- IS COKE THE REAL THING DEPT.
For years, says Detroit Tigers general manager Dave Dombrowski, one of his most trusted special advisors, Dick Egan, used to tell him he should try to trade for a young Rangers left-handed reliever by the name of
C.J. Wilson
.

Coke
"He can start," Egan used to say of Wilson. "He's got enough pitches to start. I think he can be a good starting pitcher."
Well, as the world found out last season, C.J. Wilson can indeed be a top-of-the-rotation starter. Which explains why the Texas Rangers never showed any interest in dealing him -- to the Tigers or anyone else.
But that's not why Dombrowski found himself telling this story in the spring of 2011. He was telling it because, in December 2009, after the Tigers traded for another young left-handed reliever -- a fellow named
Phil Coke
-- Dick Egan was right back at it.
"When we got Phil Coke," Dombrowski said, "Dick had seen Phil Coke, and he said, 'Dave, I think we should start Phil Coke.' "
Well, it took the Tigers a year for Dick Egan to get his wish. But their game plan for 2011 is indeed to start Phil Coke -- and see if they can turn him into some version of The Next C.J. Wilson.
If Coke turns into anything close, the Tigers could have a special rotation, with Coke slotted behind
Justin Verlander
,
Max Scherzer
and
Rick Porcello
, with
Brad Penny
throwing well as the likely No. 5 starter, and with hot prospects Jacob Turner, Andy Oliver and Charlie Furbush just over the horizon.
Coke may have spent the past two seasons as an excellent left-handed specialist for the Yankees and Tigers. But he's a guy who had started for much of his career before that, who has three above-average pitches and who is adamant that this age of specialization we live in doesn't apply to him. Specialists, he said, are people you should find in a medical clinic, not a baseball clubhouse.
"Here's the thing with me," he said. "I can't stand being called a specialist. I hate that title, because I'm not out there to check your feet. I'm not out there to check your skin. I'm out there to get you out. I'm a baseball player. Specifically, I'm a pitcher. I'm not a specialist. I'm not a setup guy. I'm a guy who wants to get it done. And I don't care what my title is. I want to get it done.
"So a job change? [People act like] that should be a big deal. No. It's not. I've gone back and forth from starting to relieving my entire life. So it's not a big deal. But people wouldn't know that unless they ask that. But people don't ask that. People ask, 'How are you gonna handle it?' Well, probably like I have all my life."
And the numbers tell us, he's handled it just fine. Coke went 16-7, with a 2.77 ERA, as a starter in the Florida State League and the Eastern League in 2007-08. Then the Yankees converted him into a reliever, and he's handled that, too, with a 1.20 WHIP in 158 big-league appearances. If his transition back into the rotation goes as smoothly as Dick Egan expects, he could have a big impact -- both on the AL Central race and on fantasy drafts everywhere.
STRIKE THREE -- WHERE'S MY LOCKER DEPT.
When
Robb Quinlan
walked into the Philadelphia Phillies' clubhouse for the first time this spring, after signing a non-roster free-agent deal, he asked the usual question:
"Where's my locker?"
"It's over there," he was told.

Quinlan
So Quinlan headed for the area on the far side of the clubhouse where he thought he'd just been pointed, only to look up and find
Cliff Lee
,
Roy Halladay
,
Cole Hamels
and
Roy Oswalt
sitting there.
"I said, 'No way I'm over there,' " said Quinlan, who has played five positions in his career, none of which include pitching. "So I started walking to the other side of the room, and they said, 'Where are you going? You're over there.' "
So Quinlan looked again and found that, because his number was 37, his locker was located right next to those of Lee (33), Halladay (34) and Hamels (35). And Oswalt (44) is only a couple of lockers away himself.
Told this clearly implied that the Phillies view him as a candidate for the rotation, Quinlan just chuckled. But when I asked him which game in the first week of the season he expected to be pitching in, he couldn't help himself.
"I imagine I'll start the opener," he quipped. "I mean, who else in here would start?"