Jayson Stark:

Baltimore Orioles
August, 8, 2013
8/08/13
3:34
PM ET
The past couple of days have reminded me of something I'd almost forgotten. There is life after A-Rod-Palooza.
There is a great baseball season going on out there, friends. So let's stop talking about that third baseman for the Yankees and start focusing on all the fabulous baseball stories that are roaring toward their dramatic conclusion.
And what stories do I have in mind? How about these Five Stories I'll Be Watching (Instead of That Guy):
[+] Enlarge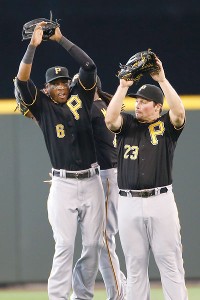 Otto Greule Jr/Getty ImagesIt's hard not to get excited about the Pirates.
1. The Pirates
The
Pittsburgh Pirates
are going to finish with a winning record, ladies and gentlemen. I have never felt more confident about saying that.
They are not going to have 10 pitchers undergo Tommy John surgery in the next 20 minutes. They are not going to lose 37 of their next 48 games. They are not going to reenact August and September of 2012, or August and September of 2011.
They're too good. They have the fourth-best run differential in the National League (plus-60). They've allowed the fewest runs in the major leagues (just 385) -- something they haven't accomplished over a full season since 1984. And opponents are hitting a ridiculous .229 against their pitching staff -- which would be the lowest average against any National League staff since Jim Deshaies' 1986 Astros.
I can't tell you these Pirates are going to win the World Series. I can't tell you they'll win any kind of postseason series. But they're still the best story in the major leagues. So let's just enjoy this ride. OK?
2. The races
The NL East race is over. The AL Central race feels like it's in guarded, but unstable, condition. And over in the NL West, the Dodgers have gained 14 .5 games in the standings on Arizona just in the past seven weeks. So we can see where that one is headed.
But the NL Central is shaping up as a must-see duel between the best offense in the National League (the Cardinals) and the best pitching staff (the Pirates) -- with nine riveting games left between these two teams. Sign me up for that.
And how about the AL West, where the Rangers just made a six-game Oakland lead disappear in a span of nine days. Those teams have two series left against each other. But the schedule, in general, favors Texas, which has the easiest remaining schedule of any AL contender, including 10 games left against their good friends from across the state, the Astros.
And then there's that AL East race, which has a chance to be the best of them all.
The Red Sox just became the first AL team to reach 70 wins -- and did it following a year where they didn't win 70 games all season. Think about that. Elias tells us they're the first AL team to pull off that trick (not counting strike-shortened seasons) since Harlond Clift's 1945 Senators, and (because those Senators got to 70 on the same day as the Tigers) the first to do it outright since George Herman Ruth's 1926 Yankees.
But then there are the Rays, owners of the best record in the whole sport over the past 81 games and a team so hot they just lost their first series in seven weeks. So pick against them at your peril.
And I'm not ready to write off the Orioles, who lead the major leagues in home runs and slugging, upgraded their pitching before the deadline and are currently on pace to become the first team in history to commit fewer than 50 errors in a 162-game season. (Heck, no one else in the expansion era has even finished a season with fewer than 60.) The Orioles have 16 games left against Boston and Tampa Bay. So stay tuned.
3. The awards
NL MVP:
Yadier Molina
was our midseason pick, but his knee issues are about to sabotage his MVP campaign. So are we ready for a starting pitcher (i.e.,
Clayton Kershaw
) to win this thing? Do guys like
Paul Goldschmidt
and
Joey Votto
have MVP finishes in them? And don't look now, but here comes
Andrew McCutchen
, whose credentials include this nugget: He,
Mike Trout
and
Carlos Gonzalez
are the only players in their league to rank in the top 10 in both stolen bases and slugging.
AL MVP:
Uh-oh. Here we go again. If you enjoyed that vintage, old-school/new-school
Miguel Cabrera
-versus-Mike Trout debate last year, get ready for Round 2. As Jared Cross wrote the other day, Trout has injected himself into what once looked like a Cabrera-
Chris Davis
MVP conversation by charging up those AL leaderboards. But if this keeps up, some great sabermetric minds are going to have to explain to the masses how it's possible that Trout leads Cabrera in offensive wins above replacement, but is trailing Cabrera overall because of (gulp) Cabrera's defense. Incredible, huh? But let's save that issue for another day.
AL Cy Young:
Felix Hernandez
can tell you all about how Cy Young voters have finally learned to de-emphasize wins. But let's see them try to factor out wins this year, when King Felix is leading the league in ERA but trying to make his case against a guy who is 16-1 (
Max Scherzer
) -- and first in his league in WHIP, lowest opponent average and lowest opponent OPS. Can't wait for that debate.
NL Cy Young:
With all due respect for the awesome seasons of
Adam Wainwright
,
Matt Harvey
,
Madison Bumgarner
,
Patrick Corbin
,
Francisco Liriano
,
Craig Kimbrel
, etc., all Kershaw does every five days is remind us that he's the best pitcher in baseball. Still. Just so you know, if Kershaw can finish with the ERA (1.91), WHIP (0.88) and opponent average (.188) he has now, the only pitchers in the live-ball era who have ever been in that neighborhood (or better) over a full season are Bob Gibson,
Greg Maddux
,
Pedro Martinez
, Sandy Koufax and Luis Tiant. Whoever they are.
Rookies of the Year:
In the AL,
Jose Iglesias
has a shot to become the first rookie of the year ever to get traded in midseason. But
Wil Myers
can screw up that claim to fame. And in the NL, this remains one of the wildest rookie-of-the-year free-for-alls ever, with
Jose Fernandez
,
Shelby Miller
,
Hyun-Jin Ryu
,
Julio Teheran
,
Evan Gattis
and
Yasiel Puig
all making cases for themselves that are going to require many, many Advil for the ROY electorate.
[+] Enlarge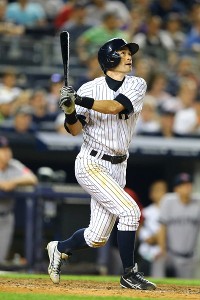 Al Bello/Getty ImagesIchiro Suzuki is about to enter some rarefied air.
4. The 4,000-hit man
The folks obsessed with a certain troubled third baseman may differ. But in my neighborhood, the most interesting story in Yankees Land this month revolves around a man who is chasing a number very few living humans have ever seen chased.
That man is
Ichiro Suzuki
. That number is 4,000.
And no, that isn't how many reporters from his homeland follow Ichiro around every day. It's the number of hits he's about to have on his permanent record if we count the 1,278 hits he spewed in his nine seasons in Japan.
At the moment, he finds himself just 11 hits away. And I hope you don't let that milestone go whooshing by you too quickly before you stop to think about what it means.
The last time we witnessed anyone getting his 4,000th hit was April 13, 1984, when Pete Rose collected No. 4,000 off Jerry Koosman, in a stadium we no longer find on the baseball map (the late, great Stade Olympique in Montreal).
Just for perspective's sake, the Hit King got that 4,000th hit in his 3,259th game. That's nearly 200 more than Ichiro has played (3,075) on both sides of the Pacific. Which means he's going to beat Rose to No. 4,000 by more than a full season. Wow.
The only other 4,000th hit ever? Ty Cobb got that one -- on July 18, 1927. So if you weren't hanging out at old Nevin Field in Detroit that day 86 years ago, you've never seen any American Leaguer do what Ichiro is about to do. Pretty mind-boggling feat -- on any continent.
5. History majors
Finally, here's just a taste of some of the historic pursuits you can keep your eye on over the next two months:
Chris Davis:
On pace for 58 home runs, 102 extra-base hits, 151 RBIs and 72 more extra-base hits than singles. There has never been a season like it.
Mike Trout:
He's leading the American League in walks. He's tied for the league lead in hits. And if he can wind up leading in both categories, he'd be only the fifth player since 1900 to do that in the same season. The others: Rogers Hornsby, Richie Ashburn, Carl Yastrzemski and Lenny Dykstra.
Joey Votto:
See that note above? How unreal would it be if two men finished first in their league in hits and walks in the same season? Well, Votto has a shot, too. He has a big lead in walks. He's three behind
Jean Segura
for the lead in hits. And Votto and
Shin-Soo Choo
have an outside chance to become the second set of NL teammates ever to reach base 300 times apiece (via hit, walk and HBP) in the same season. The other:
Jeff Bagwell
and
Craig Biggio
, for the 1997 Astros.
Miguel Cabrera:
And then there's Miggy. He might not win the Triple Crown for a second straight year. But if he can stay healthy enough to get on the field regularly, Cabrera still has a chance to do something no Triple Crown winner has ever done -- hit that trifecta one year and then have a better season the next year.
Here are Cabrera's numbers from last season, and his projected numbers for this season. This is truly amazing:
2012:
.330/.383/.606, 44 homers and 139 RBIs
2013:
.359/.453/.668, 48 homers and 148 RBIs
I chronicled this a few months ago, but here it is again just to help you digest this man's greatness: Only one Triple Crown winner in history (Ted Williams) ever drove in more runs the following year. Just two (Williams and Mickey Mantle) had a better batting average the next season. And none of them hit more home runs The Season After. But this guy could do all of the above.
So once again, we find ourselves drawn to the flat screen every time Miguel Cabrera starts marching toward home plate. And that beats watching A-Rod-Palooza every day of every week. Don't you think?
January, 19, 2013
1/19/13
11:52
AM ET


My favorite story from the annals of the late, great Earl Weaver:



I couldn't even tell you what year this was. Sometime in the late '70s. I just remember covering an Orioles-Red Sox series at Fenway Park. And things weren't going well for the Orioles at the time.



My recollection is that they had lost about five games in a row. But after this particular game, Weaver leaned back in the chair behind the desk in his office and announced:



"I'm not worried."



I found myself in a group of writers, sitting and standing around his office. Finally, someone asked: "Why aren't you worried?"



Earl looked at us and said, deadpan: "I've got a secret weapon."


Now let me assure you. Nothing gets the attention of any media horde faster than the term "secret weapon."



So our response, naturally, was: "A secret weapon? What's that?"



Earl looked at us, held up one finger and said, "I'll be right back." Then he walked out of the room -- and went to take a shower.



So now there we were, not sure what to do. Normally, we would head off into the locker room to talk to players. But two important phrases had just changed everything -- and placed some sort of magical spell on us.



First: "I'll be right back." Second: "secret weapon."



Hey, if a living legend is going to be "right back" -- any second, presumably -- and he's about to reveal his "secret weapon," would you leave?



Correct answer: of course you wouldn't.



So nobody moved ... until he finally returned ... after 15 minutes.



It felt like an hour.



So back in he marched and began buttoning his shirt, not saying a word. Whereupon we repeated the question that had cemented us in our place for the previous 15 minutes: "So, what's your secret weapon?"



Earl Weaver started laughing uproariously.



"Aw," he said, "there ain't no secret weapon. I just didn't want you guys to leave."



This was Earl Weaver. Relentlessly entertaining. A brilliant manager. And a one-of-a-kind baseball character who left his mark on everyone who knew him.



Somewhere up there, there's a throng of folks in heaven who are laughing their tails off -- at least the ones who weren't umpires.


October, 3, 2012
10/03/12
12:50
PM ET
So here we sit, on the morning of the last day of the baseball season. And other than one game (Cardinals at Braves on Friday), we have no idea who is playing whom in
any
postseason series.
But it's not as complicated as it seems. Really. It all depends on what happens on the field Wednesday. So let's run through the various scenarios:
If the Yankees lose and the Orioles win
Then the AL East is tied (at 94-68), and the Yankees and Orioles have to play a tiebreaker game Thursday in Baltimore. The winner is the AL East champ. The loser is the wild-card team. But is it the "first" wild card or the "second" wild card? That depends on what happens in Oakland.
If the A's beat the Rangers
Then Oakland (94-68) wins the AL West, and Texas (93-69) is a wild-card team. But would the Rangers be the "first" wild card or the "second" wild card? That depends on what happens in the AL East:
If the Yankees and Orioles both win Wednesday, the Orioles (94-68) would host the Rangers (93-69) in the wild-card game Friday. Why? Because a Baltimore win Wednesday would give the Orioles the better record.
If the Orioles lose Wednesday and finish with the same record as Texas (93-69), the Rangers would host the wild-card game Friday because they won the season series from Baltimore.
If the Rangers lose and there's a tie for the AL East (at 94-68), the AL East loser hosts the Rangers in the wild-card game because either still would have more wins (94) than Texas (93).
If the Rangers beat the A's
Then the Rangers (94-68) win the AL West, and Oakland (93-67) is a wild card. But is it the "first" wild card or "second" wild card? Again, that depends on developments in the AL East.
If the Yankees and Orioles both win Wednesday, the Orioles would host the A's in the wild-card game because Baltimore would have one more regular-season win (94) than Oakland (93).
If the Yankees lose, the Orioles win, there's a tie for the AL East and Oakland loses to Texas, the loser of the AL East tiebreaker game hosts the A's. Again, the reason: The AL East loser still would have more wins (94) than Oakland (93).
If the Yankees, Orioles and A's all lose Wednesday, the Orioles and A's would finish with the same record (93-69). If that happens, the A's host the wild-card game Friday. Why? Because they won the season series.
Who's No. 1 in the AL?
If the Yankees win Wednesday
:
Then this is simple. They're the No. 1 seed in the AL. So their first Division Series game is Sunday
at
the winner of the wild-card game.
The AL West winner then would head for Detroit to start its Division Series on Saturday.
If there's a Yankees-Orioles tie
:
This gets trickier. Then there's a three-way tie for the best record in the AL (Yankees, Orioles and the AL West champ, all at 94-68).
Under that scenario, the AL East tiebreaker game would
not
be used to determine seeding, even though it is otherwise considered a regular-season game. So how would that seeding be sorted out? Here's the breakdown:
Yankees win the AL East, Rangers win the AL West: Yankees are the No. 1 seed and play the wild-card winner. Rangers are the No. 2 seed and play at Detroit. Why? Yankees won the season series.
Yankees win the AL East, A's win the AL West: A's are the No. 1 seed and play the wild-card survivor. Yankees are the No. 2 seed and face Detroit. Why? Yankees and A's split the season series, but A's had the better record in division games.
Orioles win the AL East, Rangers win the AL West: Rangers are the No. 1 seed and draw the wild-card winner. Orioles are the No. 2 seed and play Detroit. Why? Rangers won the season series.
Orioles win the AL East, A's win the AL West: A's are the No. 1 seed. Orioles are the No. 2 seed. Same LDS matchups. Why? Orioles won the season series.
If the Yankees and the Orioles both lose Wednesday
Then there's a tie for the best record between the Yankees and the AL West champ (at 93-69).
Under that scenario, the Yankees are the No. 1 seed if the Rangers win the West -- but the No. 2 seed if the A's win the West. Why? See the tiebreaker scenarios above.
Who's No. 1 in the NL?
The Reds and Nationals head into their games Wednesday with the same record (97-64). So ...
If the Reds win and the Nationals lose
Then the Reds are the No. 1 seed and play Sunday at the home of the wild-card survivor. And the Nationals are the No. 2 seed and play Saturday in San Francisco.
If the Nationals win and the Reds lose
Then the Nationals are the No. 1 seed and visit the wild-card winner Sunday. And the Reds are the No. 2 seed and start their Division Series on Saturday in San Francisco.
If the Nationals and Reds finish tied
Then the Nationals are the No. 1 seed. And the Reds are the No. 2 seed. (Same matchups as the Nationals win/Reds lose scenario above.) Why? Nationals won the season series.
It sounds insane. But it could have been worse, if
Raul Ibanez
hadn't hit that home run Tuesday to bring the Yankees back from the dead.
That would have created a nightmare scenario in which the Orioles, Yankees and the AL West loser could have finished in a three-way tie (at 93-69) -- forcing one of those teams to fly 2,500 miles, across three time zones, Thursday night to play the wild-card game Friday. But the good news is, that's one crazy possibility that's now officially defunct. Phew.
September, 28, 2012
9/28/12
4:06
PM ET
Maybe we're easily astounded around here. But we never seem to run out of astounding facts for your reading enjoyment. So once again, our Useless Information Department now proudly presents the Five Astounding Facts of the Week:
1

An amazing thing happened Wednesday in Baltimore: In the fifth inning that night, the Orioles had a 20-year-old guy (
Manny Machado
) and a 42-year-old guy (
Jim Thome
) hit a home run
in the same inning
.
So how often have a 20-year-old and a 40-something-year-old homered in the same inning, you ask? Well, you can count all those times on one hand, according to the Sultan of Swat Stats, SABR home-run historian David Vincent. And we're talking some pretty cool names:
• April 19, 1958 (Giants): Orlando Cepeda (20) and Hank Sauer (41)
• May 14, 1971 (Giants): Chris Speier (20) and Willie Mays (40)
• May 26, 1971 (Giants): Speier (20) and Mays (40) again
• Sept. 14, 1990 (Mariners): Ken Griffey Jr. (20) and Sr. (40)
Thanks to loyal reader Aaron Cummins for spotting an error in the first edition of this opus -- by recalling the most magical instance of this ever, when those Griffeys went back-to-back.
2

Speaking of amazing home run feats, those never-a-dull-moment Oakland A's did something Saturday that we couldn't recall ever seeing: They hit three home runs in the 13th inning at Yankee Stadium -- and still lost.
Well, there's a good reason we couldn't recall ever seeing it. According to the Sultan, it's the first time in the history of baseball that any team had ever launched three home runs in any extra inning and not gotten a win out of it.
In fact, only 10 other teams have ever hit even two homers in an extra inning on the road and not won.
3

Another week, another astounding Astros feat coming right up. So here goes.
Despite the fact that the 2012 Astros have a better record in September (12-14) than the Pirates or White Sox -- and we salute them for that -- we regret to announce that their only shot of avoiding more dubious history is, basically, to run the table over the next week.
As you might recall, last year's Astros lost 106 games. Meanwhile, this year's Astros are already up to 106 themselves. So they seem almost certain to do something only three teams in history have ever done:
Lose 106 games one season -- then lose even more games the next year.
Here come the three teams that have pulled off that nearly impossible trick:
Bobby Higginson's 2002-03 Tigers (106, then 119)
Ed Kranepool's 1964-65 Mets (109, then 112)
Stuffy McInnis' 1915-16 A's (109, then 117)
One addendum: Other than the legendary 1962-63-64-65 Mets, no National League team has lost 106-plus in two straight seasons, in any order, since Pinky May's 1941-42 Phillies (111 losses, then a mere 109).
4
Rosario
Rookie Rockies catcher
Wilin Rosario
has had a heck of a year -- with the bat. But when he has strapped those shin guards on, he has carved out a whole different sort of history for himself.
In case you missed it, Rosario has also done a lot of missing it this season, with the glove anyway. He has now joined the rarefied 20-20 club: He has hit 27 home runs -- and had 20 passed balls.
So how tough is that? Well, over the last 50 years, only four other catchers have joined that 20-20 club -- and just two of them were guys who, like Rosario, didn't have the excuse of having a knuckleball pitcher on their staff. Here they are:

No-Knuckleball Divsion


Jody Davis, 1983 Cubs (24 HR, 21 PB)
Dick Dietz, 1970 Giants (22 HR, 25 PB)

Knuckleball-excuse Division


Jason Varitek, 1999 Red Sox (20 HR, 25 PB)
Earl Williams, 1972 Braves (28 HR, 28 PB)
Ah, fortunately for Rosario's future earning power, history shows us that chicks dig the long ball a lot more than they dig the passed ball.
5
Finally, it's time for two Astounding Box Score Lines of the Week, because it was impossible to pick just one:
• First, there's the mathematically impossible line of the week -- from always-entertaining Braves closer
Craig Kimbrel
, on Wednesday in Miami:
1 IP, 0 H, 0 R, 0 ER, 0 BB, 4 K
What's up with that: Kimbrel became only the fifth reliever ever to have a four-up, four-down, four-whiff inning (thanks to a strike-three wild pitch), and only the third to earn a save out of it. The others:
Kazuhiro Sasaki
(April 4, 2004) and
Mark Wohlers
(June 7, 1995).
Hefner
• And then there's Mets pitcher
Jeremy Hefner
. On the surface, his start Wednesday against the Pirates wouldn't seem to qualify for any award:
7 IP, 3 H, 0 R, 0 ER, 1 BB, 7 K
But now it's time to pair it with the start that preceded it, six days earlier against the Phillies:
0 IP, 6 H, 7 R, 7 ER, 1 BB, 0 K
Got that? In back-to-back starts, this guy had zero innings and seven runs and seven innings and zero runs. Think about it.
What's up with that: According to Baseball-Reference.com's fabulous Play Index, Hefner was the 22nd starting pitcher in the live-ball era to
allow at least seven runs in a start in which he forgot to get an out
. But he's the second in that group to go out in his next start that year and throw at least seven shutout innings. The other:
Ed Halicki of the 1976 Giants. On July 6 in St. Louis, he unfurled one of those attractive 0-5-7-7-2-0 lines -- but he followed it five days later by spinning a two-hit shutout at Wrigley Field.
It's the beautiful thing about baseball, right? There's always another game -- not to mention another Astounding Fact.
September, 25, 2012
9/25/12
12:13
PM ET
For some reason, nobody out there (except us) seems to be getting too worked up about baseball's worst October scheduling nightmares. But in a few days, let's just say that could change. Boy, could it ever.
What would happen, you ask, if the Yankees, Orioles, A's and Angels finish with the same record? Well, the World Series would be over by Thanksgiving. But that's about the only good news.
Here's how the American League's various tiebreaker scenarios would unfold:
Four-way tie
If the Yankees, Orioles, A's and Angels all tie, here's the craziness that scenario would set off:
The Yankees and Orioles would have to play off in Baltimore on the day after the season (Thursday, Oct. 4) to settle the AL East. Meanwhile, the Angels and A's would kick off the wild-card tiebreaker festivities by facing each other Thursday in Oakland. The winner of that game would be considered "the first wild-card team."

The loser of the AL East showdown would then live to play another day -- by facing the loser of that Angels-A's game somewhere or other, for the final wild-card slot. But where? Nobody would have any idea.
If the Orioles lose to the Yankees, they'd have to climb onto a plane, cross three time zones and play in either Oakland or Anaheim on Friday, because they lost the season series against both the A's (4-5) and Angels (2-7)..
But if it's the Yankees playing that wild-card game, it works the other way around. They would host either the Angels or the A's. So either way, both tiebreaker games would have to be day games Thursday, just to leave time for all the coast-to-coast travel possibilities -- and because nobody would even know which COAST Friday's game would be played on until after the Thursday games.
So got all that? No matter how the AL East turns out Thursday, somebody has to cross the country to play that wild-card game the next day. We just wouldn't know where until it's all played out.
And if the team that zips across the good old U.S.A. wins that wild-card game, it gets to scramble back onto the plane and fly back across those many time zones -- because it then hosts Games 1 and 2 of the Division Series.
Perfect.
Three-way tie
So what if only three of those clubs tie for that second wild-card spot? Depending on which teams tie, it gets just as nutty.
ORIOLES-ANGELS-A'S TIE
If these three teams end up deadlocked, the Angels would get to pick whether to play one road game or two home games. That's because they had the best head-to-head record among those three. We're guessing they'd opt to play just once. But they might want to reconsider, unless they want to risk another frequent-flier-mile extravaganza.

If they choose the one road game, then there's an A's-Orioles game Thursday, in Oakland. But if the Orioles win that one, it means (theoretically) that both the Angels and Orioles would have to fly to Baltimore for the wild-card game THE NEXT DAY. So would the Angels choose two home games over one road game? Interesting question.
YANKEES-ANGELS-A'S TIE
A similar mess presents itself if these three clubs tie. But this time it would be the Yankees who would have to decide whether to play two games at Yankee Stadium or one game on the West Coast. It wouldn't be an easy decision. Would it?
Say they pick the two home games. That creates major headaches for both of their potential opponents.
Then the Angels would be forced to play Wednesday in Seattle (their final game of the regular season) and that tiebreaker game Thursday in New York. And if the Yankees take care of business and win that game, the A's would have to jet east and play Friday in New York.
But suppose the Angels win that Thursday tiebreaker in New York? Hoo-boy. More insanity.

Then the Angels, after playing Wednesday in the Pacific time zone and Thursday in the Eastern time zone, would be scheduled, at least in theory, to play Friday back in the Pacific time zone in Oakland. But baseball would almost certainly step in and push that game back to Saturday.
Meanwhile, imagine the fate of the A's. They'd be sitting around in Oakland, watching the Yankees and Angels play -- not knowing whether they'd have a game in New York the next day or a home game against the Angels on Friday or Saturday.
But that scenario occurs only if the Yankees choose to roll the dice on two home games. If the Yankees choose to play one game, there's a whole different scenario.
If they go that route, at least the Yankees then would know for sure they'd be playing in California on Friday. They just wouldn't know
where
in California until the A's and Angels finish playing off in Oakland on Thursday, because the winner of that Thursday game would host the Friday game. So would they get on a plane and just circle over the desert until that game is over? They might have to.
And, of course, if the Yankees win Thursday, their first Division Series game would be (where else?) back in New York. Let's hope they enjoy airplane food.
YANKEES-ORIOLES-ANGELS TIE
This is another messy scenario -- of course!

First order of business: Decide the AL East. So the Yankees and Orioles would play Thursday in Baltimore. The winner is the AL East champ. The loser has to (you guessed it) rush to the airport and play Friday in Anaheim. Why? Because baseball for some reason decided to do it that way. So the loser of the division tiebreaker game is supposed to play at the home of the other team involved in this tie. So don't ask why. Maybe this formula was devised by the airline industry. You've got us.
And if that AL East team flies many time zones to the west and beats the Angels, you know by now where the Division Series begins. Back east. Obviously.
YANKEES-ORIOLES-A'S TIE
Same deal. Yankees and Orioles play in Baltimore on Thursday. Loser plays Friday in Oakland. Winner hosts Game 1 of the Division Series -- on one coast or the other.
And the moral of the story? Anybody got any good folk remedies for jet lag?
September, 21, 2012
9/21/12
1:24
PM ET
We may be running out of weeks in the season. But we never seem to run out of Five Astounding Facts. So the Useless Information Department proudly presents this week's edition:
1

We now know there will be at least one postseason game played in Washington, D.C. for the first time since the F.D.R. administration (1933). And friends, those 79-year postseason droughts don't come along real frequently. Or, to be more precise, a better term for "not real frequently" might be:
Never.
Yessir, this is the first baseball city on our glorious continent to go 79 years between postseason games (in the World Series era, anyway). And despite the slight technicality that they didn't actually have a team in D.C. for 33 of those years, it's still pretty amazing -- and historic:
• Longest previous gap between postseason games in any city during the World Series era: 41 years, by our friends in Cleveland (1954-95).
• And even though we're only talking 45 actual postseason-free seasons in a row (by three different franchises) in our nation's capital, that's still a record. Besides the Indians, the only other city to have even one franchise go 40 seasons between postseason games is the White Sox (1919-59). But the Cubs (we kid you not) played in five postseasons in that span. So the city of Chicago doesn't get credit for a 40-year drought. Sorry. Send all complaints to Ernie Banks. Or Minnie Minoso.
• Finally, here's a leader board we bet you've never seen -- Most Years Between Postseason Games in One City (World Series Era):

Washington 79 (1933-2012)
Cleveland 41 (1954-95)
Chicago 34 (1959-83)
Pittsburgh 33 (1927-60)
Boston 28 (1918-46)
Kansas City 27 (1985-rightthisminute)
Milwaukee 26 (1982-2008)
Philadelphia 26 (1950-76)

Just for the record, this list doesn't include cities like Montreal, which lost a team (after 22 straight postseason-free seasons) and never got one back. It spans only past droughts of more than 25 years, or droughts of current big league cities which are still in progress (see Kansas City). Either way, it's quite the list!
2
Meanwhile, 40 miles up I-95, the Orioles just keep on working overtime -- and winning. They've now won 15 consecutive extra-inning games, the second-longest streak in extras in history (behind only Lou Boudreau's 1949 Indians, who won 17 in a row). But that's not all ...

• These Orioles have now won eight games that lasted 12 innings or longer. Only two other AL teams have done that in the last 50 years -- Mike Gallego's 1988 A's and Andy Etchebarren's 1966 Orioles.
• This team is also 7-0 in games of 13 innings or longer. The only other team in the live-ball era to play to play that many games that long and win them all: Those '88 A's (8-0).
• The Orioles have also won all five games that have lasted 14 innings or more. The only team to match or beat that in the live-ball era? You guessed it. The '88 A's (6-0).
• This group also has now won a 15-inning game, a 17-inning game and an 18-inning game. The last AL team to win three games of 15-plus innings in the same year: Oscar Gamble's 1976 Yankees.
• And it isn't every team that can win a 17-inning game and an 18-inning game in the same year. Last team to win two games of 17 innings or more? Charlie Puleo's 1988 Braves.
• Oh, and one more thing: Thanks to all those extra innings,
Adam Jones
has now hit four home runs this season in the 11th inning or later. So we just had to ask the Sultan of Swat Stats, SABR home run historian David Vincent, how many other players in history have done that. The correct answer: Not a one. Of course!
3
White
The good news for Rockies pitcher
Alex White
is: He's hit a home run two starts in a row. The bad news is: He didn't win either game.
So how rare is that? Thanks for asking. Just three other pitchers have done it in the 40-season DH era:
Scott Karl (Brewers), June 6-11, 1999: HR vs.
Pedro Astacio
and Dan Perkins (loss and no-decision).
Sean Bergman (Astros), April 9-15, 1999: HR vs Scott Karl and
Chris Brock
(got two no-decisions).
And in the non-Scott Karl Division ...
Mike Corkins (Padres), May 23-28, 1973: HR vs. Andy Messersmith and Ernie McAnally (got two no-decisions).
4
Sometimes in baseball, miracles happen. Take Saturday in Kansas City, for instance. One minute, the Royals were getting shut out by
Zack Greinke
, 2-0, with one out in the ninth and nobody on. The next thing you knew, they'd somehow won this game, 3-2, without making another out.
Greinke would leave with a two-run lead and a runner on first. Then Angels closer
Ernesto Frieri
would do something you almost never see -- give up a game-tying homer and a walkoff homer to the only two hitters he faced (
Salvador Perez
and
Billy Butler
). So how often does
that
happen?
• Last reliever to serve up game-tying and walkoff bombs to the only two hitters he pitched to:
Danny Graves
, to
Sammy Sosa
and
Moises Alou
, on April 16, 2004, at Wrigley.
• Last reliever to enter with a lead of two runs or more and do that: Guillermo (Willie) Hernandez (in relief of Jack Morris), to the fun tag team of Cliff Johnson and Buck Martinez, on June 14, 1986, in Toronto.
5
Finally, has there ever been a team that had a more unlikely pair of first/ninth innings back-to-back than the Phillies just had in New York?
On Wednesday, they managed to win a game in which they hit a home run to lead off the game (
Jimmy Rollins
) and another home run with two outs in the ninth (
Ryan Howard
) -- but never scored in between.
The last time any team pulled that off? Sept. 2, 1983, when the fabled "Wheeze Kids" Phillies did it, with a leadoff home run by Joe Morgan and a walkoff slam by Ozzie Virgil Jr. (against Giants closer Gary Lavelle).
Then, on Thursday, the Phillies fired up an eight-run first inning and a seven-run ninth inning in the same game. And how many teams have ever had a game like that? That would be none, according to the Elias Sports Bureau. Ever.
This team ought to go into the framing business -- because in innings other than the first and ninth in those games, you know how many runs they scored? Exactly one.
August, 31, 2012
8/31/12
5:11
PM ET
Welcome to another edition of Five Astounding Facts:
1
Normally, our astounding facts of the week don't involve any 12-year-olds. But we're making an exception this week, because if you didn't watch the U.S. final of the Little League World Series, you missed one of the most amazing baseball games ever played. Among the stuff that happened was all this madness -- with big league comparisons, just for perspective:
• The team from Tennessee went into the bottom of the last inning, leading 15-5 -- and then gave up a 10-spot to California to tie the game.
Big league comparison:
The Elias Sports Bureau reports no team has ever scored 10 runs in the ninth inning to tie a major league game. And the last time a team scored nine in the ninth to tie, it happened on
the first day in the history of the American League
(April 25, 1901). So it has been a while.
• But after giving up 10 runs to blow that entire lead, that Tennessee juggernaut turned around and scored nine runs in the
next
half-inning.
Big league comparison:
There has never been a major league game in which teams scored 10 runs and nine runs, in either order, in consecutive half-innings. Hey, of course not.
• So in other words, what we had here was a team that gave up 10 runs in the bottom of the final inning and still won -- by eight (final score: 24-16).
Big league comparison:
Needless to say, there's never been anything like it in a major league game. Ever.
• And then there was this: How did the California team tie that game, after finding itself three runs down and one strike from going home? With back-to-back homers -- both of them with two outs and two strikes. That's how. (Take
that
,
David Freese
.)
Big league comparison:
According to the Sultan of Swat Stats, SABR home run historian David Vincent, there have been 10 major league games in which a team was three runs behind (or more) with two outs in the ninth inning, and then hit back-to-back homers to tie it. But in none of those games -- or, at least, in the eight for which we have pitch counts -- did both home runs come with two strikes. So there ya go.
Phew. Got all that? Hope so. We might be talking about a game played mostly by 12-year-olds. But there was nothing Little League about the historic stuff that went on in this game. Wouldn't you say?
And now ... back to The Show:
Davis
2
Has any player ever had a season quite like
Chris Davis
? Became the first American League position player since Rocky Colavito to win a game as a pitcher. ... Became the first position player to spin off two shutout innings and strike out two hitters since Matty Alou in 1965. ... Became (on the very same day) the third player in the live-ball era to strike out five times and hit into a double play. ... And now this:
Davis cranked up a three-homer game last Friday. And you know what that means? It means that since 1900, he's only the second position player to cram a three-homer game and a game where he was the winning pitcher into the same season. The other, according to ESPN's awesome Kernel collector, Doug Kern: Some guy named Babe Ruth, in 1930.
Teagarden
2A
But as one of our longtime baseball-writing heroes, Jim Henneman, reports, Davis might not have even had the most amazing season by an Oriole. How 'bout backup catcher
Taylor Teagarden
? He's 5-for-38 this season, with 17 strikeouts. And that's not good. But here are the five hits: a game-winning homer, a walkoff double, a game-tying homer, an RBI double and a single that started a four-run rally. So at least the guy knows how to pick his spots!
3
Repeat after us:
Jonathan Lucroy
has now driven in seven runs in a game
twice
this year. Among the players who have never even had one seven-RBI game:
Chipper Jones
,
Todd Helton
,
David Ortiz
,
Derek Jeter
,
Lance Berkman
,
Miguel Cabrera
,
Prince Fielder
and
David Wright
. What that says about the randomness of baseball -- and the randomness of RBIs -- we'll allow you to decide for yourself. But it's a beautiful sport. We'll tell you that.
4
There are only 30 major league teams. So it never ceases to amaze us how differently they're constructed. For instance, the Yankees now have eight different players on their team who have hit at least 200 home runs. ... And the Astros' entire active roster, before September call-ups, had hit 170 career home runs -- combined. How is that possible?

5
Finally, speaking of the Astros, it's hard to get through a week of Astounding Facts without a look at more of their Astrounding Facts. So here goes:
• Their loss Wednesday dropped them to 50 games under .500 (40-90). They also finished 50 under last season. So ... that makes them the third team in the 162-game-schedule era to drop 50 under in back-to-back seasons. The others: The 1962-63-64-65 Mets (who obviously did it in four straight seasons) and the 2002-03 Tigers.
• But that's not all. The Astros' loss Friday then got them to 52 under .500 -- before they'd even flipped the calendar to September. And how rare is that? Thanks for asking. In the past 50 years, since all teams began playing 162-game schedules, only one other non-expansion teams (plus three first-year expansion teams) have descended 52 games or more below Mount .500 before September. And here they are:
1962 Mets (67-under) *
2003 Tigers (67-under)
1969 Padres (55-under) *
1969 Expos (53-under) *
(* First season in franchise history.)
Hey, but it could be worse. Your all-time record-holders, the legendary 1899 Cleveland Spiders, actually fell 81 games below .500 heading into September. You know what their record was heading out of August? How about 19-100. Yikes. Almost makes these Astros look like the 2005 Astros. Almost.
July, 20, 2012
7/20/12
3:11
PM ET
Welcome to another edition of Five Astounding Facts:
1
What did
Matt Cain
just do that no other pitcher in history had ever done? In back-to-back trips to the mound, he started the All-Star Game, then faced a team he had thrown a perfect game against (the Astros). Seven other pitchers have started an All-Star Game and thrown a perfect game at some point in their careers. But none of them ever did
that
.

2
The Orioles find themselves a half-game out of a playoff spot at the moment -- which is kind of amazing, considering that their record this season in nine-inning games happens to be four games on the
wrong
side of .500 (38-42).
The good news is they're 10-2 when they go to extra innings, and those games count, too. But they should know this: No team has ever made it to the postseason in a year in which it had a losing record in games of nine innings (or less).
The closest any team ever came, according to the Elias Sports Bureau, was the 1981 Royals, who went 48-48 in regulation (and 2-5 in extra innings). But there's a big asterisk attached to that little nugget, because those Royals were under .500 for the season but made the playoffs only because the long midseason players' strike created a split-season format. So ...
What's the closest any team has ever come in a non-strike season? On the way to winning a World Series, Al Newman's 1987 Twins went a mere 76-75 in nine-inning games (or shorter) but padded that record by going 9-2 in overtime. Among the guys who drove in a game-winning run in extra innings for those '87 Twins: the artist who would later become Billy Beane.

3
Now that the Rockies have traded away
Jeremy Guthrie
, they've all but clinched this incredible distinction (as pointed out by loyal reader Jim Cartwright):
Not
one
pitcher on their roster is going to wind up pitching enough innings to qualify for the ERA title. (In fact, none qualified this season even
before
this trade, but Guthrie was at least close.)
The Elias Sports Bureau tells us that six teams have pulled off that bizarre claim to fame since 1996. The last one: the 2009 Indians, who had to trade
Cliff Lee
to make it possible.
But no National League team has made it through a season without a pitcher who threw at least 162 innings since the 1998 Cardinals.
Kent Mercker
missed qualifying that year by 1/3 IP, and
Todd Stottlemyre
missed by 2/3 IP. So any resemblance between that team and this team is purely a technicality. It will be a miracle if any Rockies pitcher comes within 30 innings of qualifying.

4
There aren't many nuttier ways to blow a lead with two outs in the ninth than the way the Giants did it last Saturday:
With their closer,
Santiago Casilla
, striking out what should have been the final hitter of the game ... only to have the tying run score on a surreal strikeout-wild pitch-E2 trifecta. (Pitch bounces away to allow the hitter to reach. Catcher
Hector Sanchez
then throws wild to first to allow the tying run to score from second. Yikes!)
So how rare is that? Here's what we learned from Elias:
• Last team to tie a game on a K-WP with two outs in the ninth: the Angels, on June 5, 2003, at Montreal. (
Rocky Biddle
wild pitch to
Jeff DaVanon
.
Chone Figgins
scores from third.)
• Last team to tie a game on a K-E2 with two outs in the ninth: the Twins, on July 31, 2003, against the Orioles. (
Jorge Julio
WP to
Michael Restovich
.
Brook Fordyce
throwing error allows
Doug Mientkiewicz
to score from second.)
Madness!
Cook
5
It's hard enough for any starting pitcher to make it through a start with zero strikeouts and zero walks. But
Aaron Cook
deserves some bonus points for doing that Monday -- against a team with noted strikeout-or-walk machine
Adam Dunn
in the lineup.
Then again, Aaron Cook is the master of this sort of thing:
• This was his second zero-walk, zero-strikeout start of the season (of five innings or more). The only other pitchers to have more than one start like that in a season in this millennium:
Mark Buehrle
(2010),
Paul Byrd
(three times in 2008),
Kyle Lohse
(2004) and
Greg Maddux
(2003).
• This makes
five
times Cook has had a start like that in his career. Only one other pitcher in the past 30 years can make that claim: Bill Gullickson.
• Cook has now made five starts this season -- and hasn't struck out or walked more than two hitters in any of them. How many pitchers since 1900 have ever done that in their first five starts of a season? Not a one, according to Elias.
• Cook added one more zero in that game Monday -- in the earned runs column. And as loyal reader Eric Orns reports, that makes him the second pitcher in this millennium to have a start that featured at least seven innings, no strikeouts, no walks and no earned runs. The other? None other than
Justin Verlander
, of all people, on May 17, 2006.
May, 24, 2012
5/24/12
7:53
PM ET
Davis
1
On Monday,
Chris Davis
homered against the Red Sox. Fifteen days earlier, he had been the winning pitcher in a game against the Red Sox. That made him just the second position player since World War II to hit a home run AND win a game on the mound against the same team in the same year. The other: Rocky Colavito, who beat the Tigers as a pitcher in the first game of an Aug. 25, 1968, doubleheader, then homered against them in Game 2.
2
When
Dan Haren
ripped off his first-ever 14-strikeout game Thursday, it made him and
Jered Weaver
the fourth set of current teammates who have each struck out at least 14 in a game. (Weaver whiffed 15 Blue Jays in April, 2011.) One of those sets, not so shockingly, is
Max Scherzer
(who just punched out 15 Pirates last Sunday) and
Justin Verlander
(14) of the Tigers. Another is the Pirates'
Erik Bedard
(15) and
A.J. Burnett
(14) -- although neither did it as a Pirate. The other set consists of three Phillies starters (
Cliff Lee
16,
Cole Hamels
15,
Roy Halladay
14). But other than Haren and Weaver, only Scherzer/Verlander and Lee/Halladay pulled this off WHILE they were teammates.
Moyer
3
Jamie Moyer
Note of the Week -- Part 1: The legendary Baltimore baseball writer Jim Henneman checked in to report that when
Giancarlo Stanton
whomped a mammoth grand slam off Moyer on Monday in Miami, it was the 43rd park in which Moyer had allowed a gopherball. Not surprisingly, according to the Sultan of Swat Stats, David Vincent, Moyer already held that record. Here's your leaderboard:
Jamie Moyer, 43 parks
Randy Johnson
, 41
Pedro Martinez
, 41
Javier Vazquez
, 41
4
Jamie Moyer Note of the Week -- Part 2: But that Stanton slam was even more historic for other reasons. It was the biggest age gap between a pitcher and a hitter who homered off him. Stanton was 22 years, 195 days old when he let it fly. Moyer was 49 years, 185 days old when he served it up. And if you're not calculating along at home, that made for a difference of 26 years, 355 days. The largest previous gaps, according to the Sultan:
Biggest grand-slam gap -- 21 years, 223 months: Boog Powell (age 21 years, 4 days) off Early Wynn (42 years, 227 days) on Aug. 21, 1962.
Biggest gap on any homer -- 26 years, 188 days: Ruben Sierra (20 years, 280 days) off Phil Niekro (47 years, 103 days) on July 13, 1986.

Berry
5
Tigers rookie
Quintin Berry
did something Wednesday you might never see again. The first hit of his career was (ready?) a BUNT DOUBLE. He lofted it over a charging first baseman (
Casey Kotchman
), past a scrambling second baseman (
Jason Kipnis
) and into right field for the goofiest double of the year. With the help of the Elias Sports Bureau and Baseball-Reference.com, we've determined: (A) It's the first bunt double by anybody since Oakland's
Cliff Pennington
got one April 8, 2010; (B) it's the 18th bunt double in the big leagues since 1988; and (C) it's the first by any hitter in all those years that went for his first major league hit. It's a good bet that nobody in history ever got hit No. 1 like that. But we can't verify that. If you can, drop us a note at uselessinfodept@yahoo.com, or tweet it at us, at @jaysonst. As always, operators are standing by.
May, 10, 2012
5/10/12
6:27
PM ET
No Rumblings and Grumblings this week, but the Astounding Facts keep on coming:
1 Way back this past October, in Game 3 of the World Series, Albert Pujols crashed three home runs into the Texas ozone -- and then he didn't homer again until this past Sunday. So if you count the postseason, he went 31 straight games (covering123 at-bats and 135 plate appearances) without hitting a home run. Over the past half-century, only one other player played more homerless games, covering more ABs and PAs, than that following a three-homer game. And no, it wasn't Mike Lansing, Jose Lopez or Adam Kennedy. So who was it? Well, with the help of the Sultan of Swat Stats, SABR home run historian David Vincent, we've determined that man was ... the great Roberto Clemente, of all people. He had a three-homer game Aug. 13, 1969, against the Giants, then didn't hit another home run until the following April 21. The gap in between: 49 games, 177 AB, 203 PA. So at least Albert is in distinguished company.



2 Elvis Andrus did something Tuesday only two other players have done: He was on base for all four bombs in Josh Hamilton's four-homer game. The only players in history who could relate to that: Gerald Perry, who got to trot home on all four of Mark Whiten's home runs Sept. 7, 1993, and Carl Furillo, who was along for Gil Hodges' four-homer ride Aug. 31, 1950.




[+] Enlarge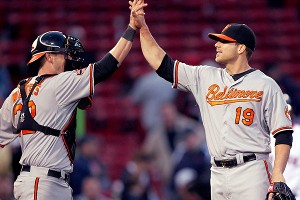 Greg M. Cooper-US PresswireChris Davis' fastball touched 90 mph. Who knew?
3
Box Score Line of the Week
: It feels like we've dissected everything about
Chris Davis
' trip to the pitcher's mound at Fenway Park on Sunday
except
his awesome box score line: 2 IP, 2 H, 0 R, 0 ER, 1 BB, 2 K. So anybody want to guess the last position player to spin at least two shutout innings, with at least two whiffs, in his big league pitching debut? That would be Mateo (Matty) Alou, who cranked out a spectacular 2-3-0-0-1-3 line against Pittsburgh on Aug. 26, 1965 -- and turned it into one of the most famous mystery-pitcher outings of all time by striking out Willie Stargell
twice
.
4
Couldn't decide which sweet-swinging Rockies pitcher to salute this week. So let's go two-deep with this note. Couldn't overlook
Jamie Moyer
, of course. Last weekend, when he singled against Atlanta's
Mike Minor
, Moyer became the fourth-oldest player in the live-ball era
to get a hit
. The three 50-somethings who beat him, according to Baseball-Reference.com's fabulous Play Index: Charlie O'Leary (at 58) in 1934, Nick Altrock (at 53) in 1929 and Minnie Minoso (at 50) in 1976. But what has fellow Rockies pitcher
Drew Pomeranz
done this year that no other pitcher in baseball has done? He's actually hit a home run. That's what. But it took until May 7 -- the deepest into any season the pitchers out there have gone without a home run trot since 1994. It took all the way until May 23 that year before Kevin Gross (not to be confused with Frank McCourt's favorite bankruptcy judge) finally homered.
5 Finally, you probably knew Ervin Santana ended one streak Wednesday (i.e., five straight starts in which his team got shut out). But he ended another one, too, that we just about guarantee you missed: Before that, the Angels were taking their desperation for a "W" a little too literally -- because they'd gotten six of those W's in a row from, well, a W. The winning pitchers in their six previous wins: C.J. Wilson, Jerome Williams, Jered Weaver, then Wilson, Williams and Weaver again. Is that some kind of record? Hey, you tell us. If you can find a longer streak of consecutive W's by a W, email us at uselessinfodept@yahoo.com or tweet us at @jaysonst. As always, trivia operators are standing by!


May, 7, 2012
5/07/12
2:10
PM ET
I'm playing hurt today. But even a fever and a flu bug couldn't stop me from weighing in on one of the craziest games of all time:
Orioles 9, Red Sox 6, in 17 insane innings, Sunday at Fenway Park.
• Whatever the heck went on over the first five hours of this game, it was the last inning and a half that made it an all-time classic. A position player (
Chris Davis
) got the win. Another position player (
Darnell McDonald
) got the loss. And I know what you're thinking: When's the last time any game came down to a duel between two different position players?
[+] Enlarge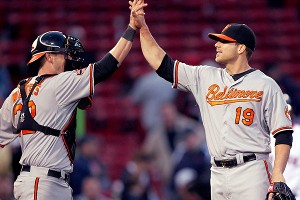 Greg M. Cooper-US PresswireChris Davis, right, pitched the final two innings to earn the win in the Orioles' 9-6 victory over the Red Sox in 17 innings on Sunday.
Well, it's not like you see it every day, not even in a 17-inning game. According to Stats LLC and the great Bill Chuck, of billy-ball.com fame, this was the first game in which each team used a position player to pitch IN RELIEF since Oct. 4, 1925, a Browns-Tigers game that ended with George Sisler pitching against Ty Cobb on
the final day of the season
.
• But neither Sisler nor Cobb got a win (or a loss) that day. So to find the last game in which the winning AND losing pitchers were both position players, the Elias Sports Bureau reports that you have to go all the way back to Sept. 28, 1902. That was also the final game of the season, so just to liven up their afternoon, the White Sox and Browns used nothing BUT position players (seven of them) to pitch that day. Your winning pitcher: Sam Mertes (White Sox). Your losing pitcher: Jesse Burkett (Browns). Neither of them ever pitched again.
• But Chris Davis had himself a day for the ages in other ways, too. Before he headed for the mound in the bottom of the 16th, he'd already struck out five times and grounded into a double play. And friends, that ain't easy. According to baseball-reference.com's indispensable Play Index, only two other players in the live ball era had ever crammed five whiffs and a GIDP into the same game:
Jim Thome
(July 2, 2004) and Bobby Darwin (May 12, 1972). And Davis was the first to do it
in a game his team won
, let alone a game that HE won.
• But to whiff five times in a game, go 0-for-8 and come out of it as the winning pitcher? Try pulling that off on your Xbox 360 sometime. According to Elias, Davis was the first player to go 0-for-8 and wind up as the winning pitcher since Rube Waddell won a 20-inning COMPLETE GAME (against the Red Sox) on July 4, 1905, and was the first to win a game in which he struck out five times since
Ted Lilly
did it on June 30, 2008.
• Ready for your complete list of American League position players to win a game as a pitcher in the division-play era? Here it comes: Chris Davis. And that's it.
Last AL position player to win a game as a pitcher: That would be Rocky Colavito, for the Yankees, on Aug. 25, 1968. Colavito, by the way, entered that game in the FOURTH inning.
Davis was just the third position player, total, to win a game as a pitcher in the division-play era. The others were both National Leaguers:
Wilson Valdez
(last May 25, for the Phillies) and Brent Mayne (Aug. 22, 2000, for the Rockies).
• OK, now this really gets fun. Chris Davis won a game this year before a guy I picked to win the National League Cy Young award --
Josh Johnson
. Anybody see that coming?
• In fact, was there anybody out there who predicted that Chris Davis would win a game before four different teams' Opening Day starters? Right. Thought so. Well, he has. Those four teams would be the Marlins (Johnson), Cubs (
Ryan Dempster
), Padres (
Edinson Volquez
) and Royals (
Bruce Chen
).
• And Davis now has AS MANY wins as four other Opening Day starters:
Yovani Gallardo
,
Johan Santana
,
Jon Lester
and
Justin Masterson
. Unbelievable.
• Had a bunch of people tweeting at me Sunday to ask if any player had ever started a game as the DH and wound up as the winning pitcher. The answer to that would be: No sirree. Chris Davis is the first, here in Year 40 of the DH era.
• Davis is also the first Orioles position player to wind up as a winning pitcher. The last to do that for the Orioles/Browns franchise? That would be the aforementioned George Sisler, for the 1916 Browns -- although Sisler pitched in 24 games in his career, and even once won a 1-0 game against Walter Johnson. So he was no Chris Davis!
• In case you didn't notice, there were several other guys who pitched in this game. In fact, there were 16 of them besides Davis and McDonald. And that made this the first American League game played before September in which 18 different pitchers stomped to the mound. The only other AL game to feature more pitchers: That Rays-Yankees game on the final day of last season (19), although that one was actually memorable for, well, other reasons.
• The two teams combined to throw 570 pitches in this game. That was the most in any American League game since another Red Sox extra-inning classic -- a 19-inning game against the White Sox on July 9, 2006.
•
J.J. Hardy
got five hits in this game for the first time in his career -- and got the fifth of those hits off a position player (McDonald). On the other end of that scale,
Adrian Gonzalez
went 0-for-8 and ended his day by striking out against a position player (Davis).
• Finally, the Orioles grounded into six double plays in this game -- and won. That might seem like a rarity, too. But guess what: Dating back to 1990, 12 teams have hit into six double plays in one game, and incredibly, eight of them have won. Over the previous 42 seasons, teams that did that went just 1-10. So go figure. But it all fit right in to the developments on this wacky day. Wouldn't you say?
September, 14, 2011
9/14/11
4:00
PM ET
Two weeks left 'til the finish line, and our September History Watch rampages ever onward:
Strike One -- The Life Of Brian Dept.
It doesn't seem so long ago that
Brian Matusz
was one of the Orioles' brightest hopes for a better tomorrow. Heck, it was only about five months ago, right? Now, though, Matusz finds himself closing in on a feat we always hesitate to describe in terminology like this:
One of the worst seasons of modern times.
With two weeks to go before he can finally put this mess in the rearview mirror, Matusz's big league stat line for the season looks like this:
1-7, with a 9.84 ERA. And a .364 opponents' batting average. And a .679 opponents' slugging percentage. And a 2.02 WHIP.
And then there's this:
Ten starts, zero quality starts. Yikes.
So where do these numbers fit in the context of modern history? Glad you asked. Here's where:
• That .679 slugging percentage? It means he's essentially turned every hitter in the entire sport into Babe Ruth (.690 career SLG). But even worse, it would go down as the highest opponent slugging percentage of ANY pitcher in the live-ball era among guys who worked at least 40 innings in a season. The current record: .673, by
Edgar Gonzalez
in
2004
.
• That 2.02 WHIP? That would be the highest by any starting pitcher since
Aaron Myette
rolled up a 2.17 WHIP for the Rangers in 2002.
• That .364 average? It means Matusz has essentially transformed every hitter he's faced into Ty Cobb (.366 career average). And it would rank as
the fifth-worst opponent average by any starter in the division-play era
.
• Those zero quality starts? According to the Elias Sports Bureau, Matusz would become just the sixth pitcher in the division-play era to make at least 10 starts in a season and not throw a quality start in any of them. The only three pitchers with more than 10 QS-free starts: Steve Trout (13 in 1988),
Ron Villone
(12 in 2001) and Steve Comer (11 in 1980).
• Finally, that 9.84 ERA? That would rank as the fifth highest in the live-ball era among pitchers
who have thrown this many innings
.
So what's the only good news here? It's that the pitcher who is No. 1 on that highest-ERA list happens to be to a fellow named
Roy Halladay
(10.64 in 2000). And whatever happened to him anyway? Heh-heh-heh. That's a question we recommend Brian Matusz ask himself at least six times a day all winter. And for the rest of his career.
Strike Two -- A.J.W.P. Initialization Dept.
Mariano Rivera
wasn't the only Yankee who closed in on history Tuesday night. So did
A.J. Burnett
.
It's really about time A.J. changed his initials to W.P., don't you think? He busted out two more wild pitches Tuesday, giving him 25 for the season -- the most in the history of the Yankees. But he has much more prestigious W.P. history in his sights now than that. Such as ...
• Those 25 wild pitches are already the fifth most by any pitcher in any season since 1900, and the third most in the live-ball era. The modern record is 30, by Red Ames in 1905. But the only pitchers ahead of Burnett in the live-ball era are well within reach. There's Tony Cloninger, who threw 27 in 1966. And there's Juan Guzman, who threw 25 in 1993. So with potentially three more starts, Burnett could topple all those numbers.
• But that's not all. Tuesday marked the seventh time this year A.J. has thrown at least two W.P.s in one game. Yeah, the seventh. Which means he has more multi-W.P. games this year than
Jose Bautista
has multihomer games, than
Jorge Posada
has multi-RBI games, than
Pudge Rodriguez
has multihit games. But that's STILL not all.
• Burnett needs just one more multi-W.P. game to tie Juan Guzman's record for most in any season in the live-ball era. Guzman threw eight in 1993. The
only two other pitchers in all those years with seven
were Earl Wilson in 1963 and somebody named Nolan Ryan in 1977.
So A.J.'s dance with history might not be quite as glamorous as his buddy Mariano's. But if he's located in the same sentence as Nolan Ryan, he obviously has nothing to be ashamed of.
Strike Three -- Useless Info Dept.
In other news ...
• Meanwhile on the Near-History Watch, we regret to report that Arizona's
Henry Blanco
just torpedoed his own rendezvous with history. He'd hit exactly six home runs in six different seasons heading into this year. And guess how many he'd hit this season before last weekend? Right you are. Six. That inspired loyal reader Bill Bell to ask what the record is for most seasons hitting exactly the same number of homers. Well, that record, if you toss out the zeroes and ones and twos, is seven, by long-lost slugger Slammin' Sam Wise, who hit precisely four home runs seven different times in the 1880s. Our man Henry Blanco was a mere 2.5 weeks away from tying this prestigious mark -- until he went and hit No. 7 on Sunday. Oh, well.

Sandoval
• Another historic near-miss: Those sweet-swinging Giants were in danger of becoming the first team since the 1983 Reds to go through a whole season without anybody driving in 60 runs. But
Pablo Sandoval
saved them from that fate with a five-RBIs-in-three-games outburst this week. So he's at 61. Phew.
• The Mariners also had a shot at that one -- until
Miguel Olivo
drove in No. 60 on Tuesday. So that'll do it on the 60-RBI Watch 'til next year.
• Finally, as the Elias Sports Bureau told us this week, the Phillies just found themselves playing a team (Houston) that was 46.5 games behind them in the standings for the first time in any Phillies season since Sept. 14, 1899. That day, they were 81-47 and facing the legendary Cleveland Spiders, who were 19-115 at the time. Ah, but here's the difference. That Phillies team swept that series. This Phillies team LOST this series in Houston.
So what's the last time any team lost a series to a club it led in the standings by that many games? According to Elias, it happened to the 2003 Twins (89-69) in the final series of the season, when they lost three of four to a Tigers team (40-118) that was trying to avoid joining the '62 Mets as the only teams in modern history to lose 120 times in one season.
Ah, but that Twins team had already clinched first place and had nothing to play for. So if we look just at series where both teams had something at stake, this was the first time since the 1979 Orioles (94-47) lost two of three to the Blue Jays (44-98) from Sept. 11-13. That gap: 50.5 games.
How'd that happen? And how'd this happen? Easy. Baseball. Explains everything, doesn't it?