Jayson Stark:

Buck Showalter
February, 21, 2014
Feb 21
10:45
AM ET
SARASOTA, Fla. -- Odds and ends from Orioles camp:
• So which
Ubaldo Jimenez
did the Orioles just sign?
Was it that guy who ripped off a 1.82 ERA in his 13 starts after the All-Star break last year -- the second-best ERA in baseball behind only
Clayton Kershaw
?
Or was it that other guy -- the Ubaldo Jimenez who had a 5.10 ERA in his first 61 starts with the Indians, with 175 walks in 340.2 innings?
The Orioles are well aware that this is a pitcher who has a complicated delivery and a history of losing that delivery. But they've just bet $50 million that they can fix those issues.
"I have a lot of confidence in the kid," said the Orioles' executive vice president of baseball operations, Dan Duquette. "But I also have a lot of confidence in the leadership of our team, in Buck [Showalter] and [new pitching coach] Dave Wallace.
"Dave Wallace is a pro. You go back and look at his record in L.A., New York and Boston. He gets the most out of his pitching staffs. He's very good with starting pitchers. So I think we have a reasonable chance to get good performance from Ubaldo."
• Another potentially important Dave Wallace connection is his history in Los Angeles with the Martinez brothers -- Pedro and Ramon. Wallace was their pitching coach with the Dodgers. Duquette was Pedro's general manager in Montreal and Boston. And Jimenez has the same agent (Fernando Cuza) as the Martinez brothers.
So Duquette made a point Thursday of pointing out that Cuza "saw how Dave Wallace worked very efficiently with Ramon and
Pedro Martinez
, and particularly Ramon, who's built very similarly to Ubaldo and has a similar type delivery and an excellent changeup. I think Fernando saw the obvious possibilities of Ubaldo working with Dave, and making the same kind of adjustments that Ramon made and having the same type of success."
Cuza confirmed that, saying, "The Dave Wallace connection was important. … And Dave speaks perfect Spanish. He knows the culture. He's worked with some of the best Dominican pitchers in the history of baseball. So I think, in this environment, Ubaldo is going to be able to really thrive."
• Duquette made repeated references to the fact that Jimenez has started at least 30 games in each of the last six seasons. For the record, he's one of 10 right-handers in baseball who have done that. The others:
Justin Verlander
,
Felix Hernandez
,
James Shields
,
Matt Cain
,
Tim Lincecum
,
Bronson Arroyo
,
A.J. Burnett
,
Dan Haren
and
Edwin Jackson
.
• Yes, Jimenez really said he's looking forward to facing all those tough lineups in the AL East. Which is interesting, considering that he has a 5.86 career ERA against the rest of the division -- and that he's 2-5, 8.78 lifetime against the Red Sox and Yankees.
Here's what he said, for the record: "It's a big challenge every five days. It's not easy. It's the toughest division in baseball. So you have to try to bring your A-game every time you pitch. But I like challenges."
Showalter's response after listening to that answer: "I don't want to see that on the bulletin boards now tomorrow, that he's looking forward to pitching against the AL East. He's looking forward to the CHALLENGE."
•
Adam Jones
, on whether the Orioles' window to win is right now, with
Nick Markakis
and
J.J. Hardy
a year away from free agency and
Matt Wieters
and
Chris Davis
two years away: "That's the economic part of baseball. And I didn't major in economics, so I have no idea how it's going to work. In a perfect world, we're going to lock everybody up for five or six years. In reality, it's not going to be like that. … But the important part is that right now, we've got guys here who want to be here. And hopefully, they're here for a long time. But I don't know if they will, because it's a business."
February, 21, 2014
Feb 21
10:44
AM ET
SARASOTA, Fla. -- As he writhed in pain near the first-base bag in Tampa Bay last Sept. 23, there was no voice in Manny Machado's head telling him everything was going to be fine.
"Oh, no. I thought I was done," the best 21-year-old third baseman in baseball admitted Thursday. "My first thought was, 'There goes my career. There goes my knee. It's going to be tough to come back from this.'"
But luckily for Machado, and luckily for the
Baltimore Orioles
, this wasn't The End for one of baseball's brightest stars. Miraculously, his left ACL wasn't torn. Miraculously, this was "just" a tear of the medial patellofemoral ligament, which could be repaired arthroscopically instead of with major reconstructive surgery.
And even more miraculously, five months later, Machado is trotting around the Orioles' spring training complex, taking batting practice and fielding ground balls. And he never would have thought that would be possible, either, he said.
Oh, he isn't running full speed yet. He isn't running the bases yet. There are still drills that either his medical staff or his manager won't allow him to do.
[+] Enlarge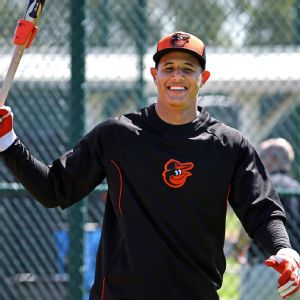 AP Photo/Gene J. PuskarHe's getting there, but Manny Machado isn't ready for fullspeed action just yet.
But if you thought you heard a big whooshing sound in the south this week, that was just the folks who run the Orioles exhaling, now that they know that almost none of all the dark scenarios they feared last September is likely to happen.
One of these weeks, one of these months,
Manny Machado
will be back on his road to stardom. Just don't mention that ever-popular expression, "Opening Day," around the Orioles. Any of them.
Asked Thursday where starting on Opening Day ranks on his list of spring goals, Machado had a telling answer:
"Last," he said. "That's at the bottom of my list. It's not even on my list, to be honest."
And not surprisingly, that's exactly what his manager wanted to hear.
"He's certainly heard it enough from me, and from the doctors, I'm sure -- that when we get it, we want to get it right the first time," Buck Showalter said. "My biggest goal with him this year is not to have any setbacks. I don't want to have any setbacks this spring.
"And believe me, our infield coaches, our strength-and-conditioning guys and everybody, they've heard that a lot. I don't want to hear about setbacks. And I don't want to hear about him being ahead or behind schedule. You'll never hear somebody say, 'This guy's on schedule.' There is none. The schedule is what it is. When he's there, he's there. And he's worth waiting on, to be right, because I don't want him to have any doubt in his mind that he's ready."
So Machado's most important date next month isn't March 31. It's March 15, the day he's scheduled to visit his surgeon, Dr. Neal ElAttrache, in California. And it won't be until at least that point that he can resume full baseball activities.
It's still possible, said Dan Duquette, the Orioles' executive vice president of baseball operations, that Machado could be cleared to play Opening Day. But until then, they're all taking this day by day.
"When I'm ready, I'm going to be ready," Machado said. "And everybody's going to know it. And that's when I'm going to be out there with the team, whether it's Opening Day or sometime in April."
In the meantime, Machado says he's erased the "freak" play on which he got hurt, while simply turning first base, from the DVR in his mind.
"It's gone," he laughed. "I've got some new memories in there. Now I'm just trying to get back out there. That's the most important one."