Jayson Stark:

Cincinnati Reds
August, 8, 2013
8/08/13
3:34
PM ET
The past couple of days have reminded me of something I'd almost forgotten. There is life after A-Rod-Palooza.
There is a great baseball season going on out there, friends. So let's stop talking about that third baseman for the Yankees and start focusing on all the fabulous baseball stories that are roaring toward their dramatic conclusion.
And what stories do I have in mind? How about these Five Stories I'll Be Watching (Instead of That Guy):
[+] Enlarge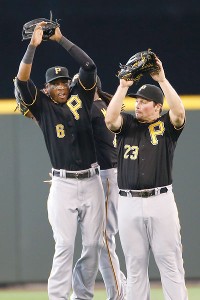 Otto Greule Jr/Getty ImagesIt's hard not to get excited about the Pirates.
1. The Pirates
The
Pittsburgh Pirates
are going to finish with a winning record, ladies and gentlemen. I have never felt more confident about saying that.
They are not going to have 10 pitchers undergo Tommy John surgery in the next 20 minutes. They are not going to lose 37 of their next 48 games. They are not going to reenact August and September of 2012, or August and September of 2011.
They're too good. They have the fourth-best run differential in the National League (plus-60). They've allowed the fewest runs in the major leagues (just 385) -- something they haven't accomplished over a full season since 1984. And opponents are hitting a ridiculous .229 against their pitching staff -- which would be the lowest average against any National League staff since Jim Deshaies' 1986 Astros.
I can't tell you these Pirates are going to win the World Series. I can't tell you they'll win any kind of postseason series. But they're still the best story in the major leagues. So let's just enjoy this ride. OK?
2. The races
The NL East race is over. The AL Central race feels like it's in guarded, but unstable, condition. And over in the NL West, the Dodgers have gained 14 .5 games in the standings on Arizona just in the past seven weeks. So we can see where that one is headed.
But the NL Central is shaping up as a must-see duel between the best offense in the National League (the Cardinals) and the best pitching staff (the Pirates) -- with nine riveting games left between these two teams. Sign me up for that.
And how about the AL West, where the Rangers just made a six-game Oakland lead disappear in a span of nine days. Those teams have two series left against each other. But the schedule, in general, favors Texas, which has the easiest remaining schedule of any AL contender, including 10 games left against their good friends from across the state, the Astros.
And then there's that AL East race, which has a chance to be the best of them all.
The Red Sox just became the first AL team to reach 70 wins -- and did it following a year where they didn't win 70 games all season. Think about that. Elias tells us they're the first AL team to pull off that trick (not counting strike-shortened seasons) since Harlond Clift's 1945 Senators, and (because those Senators got to 70 on the same day as the Tigers) the first to do it outright since George Herman Ruth's 1926 Yankees.
But then there are the Rays, owners of the best record in the whole sport over the past 81 games and a team so hot they just lost their first series in seven weeks. So pick against them at your peril.
And I'm not ready to write off the Orioles, who lead the major leagues in home runs and slugging, upgraded their pitching before the deadline and are currently on pace to become the first team in history to commit fewer than 50 errors in a 162-game season. (Heck, no one else in the expansion era has even finished a season with fewer than 60.) The Orioles have 16 games left against Boston and Tampa Bay. So stay tuned.
3. The awards
NL MVP:
Yadier Molina
was our midseason pick, but his knee issues are about to sabotage his MVP campaign. So are we ready for a starting pitcher (i.e.,
Clayton Kershaw
) to win this thing? Do guys like
Paul Goldschmidt
and
Joey Votto
have MVP finishes in them? And don't look now, but here comes
Andrew McCutchen
, whose credentials include this nugget: He,
Mike Trout
and
Carlos Gonzalez
are the only players in their league to rank in the top 10 in both stolen bases and slugging.
AL MVP:
Uh-oh. Here we go again. If you enjoyed that vintage, old-school/new-school
Miguel Cabrera
-versus-Mike Trout debate last year, get ready for Round 2. As Jared Cross wrote the other day, Trout has injected himself into what once looked like a Cabrera-
Chris Davis
MVP conversation by charging up those AL leaderboards. But if this keeps up, some great sabermetric minds are going to have to explain to the masses how it's possible that Trout leads Cabrera in offensive wins above replacement, but is trailing Cabrera overall because of (gulp) Cabrera's defense. Incredible, huh? But let's save that issue for another day.
AL Cy Young:
Felix Hernandez
can tell you all about how Cy Young voters have finally learned to de-emphasize wins. But let's see them try to factor out wins this year, when King Felix is leading the league in ERA but trying to make his case against a guy who is 16-1 (
Max Scherzer
) -- and first in his league in WHIP, lowest opponent average and lowest opponent OPS. Can't wait for that debate.
NL Cy Young:
With all due respect for the awesome seasons of
Adam Wainwright
,
Matt Harvey
,
Madison Bumgarner
,
Patrick Corbin
,
Francisco Liriano
,
Craig Kimbrel
, etc., all Kershaw does every five days is remind us that he's the best pitcher in baseball. Still. Just so you know, if Kershaw can finish with the ERA (1.91), WHIP (0.88) and opponent average (.188) he has now, the only pitchers in the live-ball era who have ever been in that neighborhood (or better) over a full season are Bob Gibson,
Greg Maddux
,
Pedro Martinez
, Sandy Koufax and Luis Tiant. Whoever they are.
Rookies of the Year:
In the AL,
Jose Iglesias
has a shot to become the first rookie of the year ever to get traded in midseason. But
Wil Myers
can screw up that claim to fame. And in the NL, this remains one of the wildest rookie-of-the-year free-for-alls ever, with
Jose Fernandez
,
Shelby Miller
,
Hyun-Jin Ryu
,
Julio Teheran
,
Evan Gattis
and
Yasiel Puig
all making cases for themselves that are going to require many, many Advil for the ROY electorate.
[+] Enlarge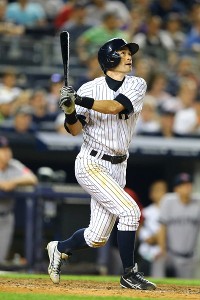 Al Bello/Getty ImagesIchiro Suzuki is about to enter some rarefied air.
4. The 4,000-hit man
The folks obsessed with a certain troubled third baseman may differ. But in my neighborhood, the most interesting story in Yankees Land this month revolves around a man who is chasing a number very few living humans have ever seen chased.
That man is
Ichiro Suzuki
. That number is 4,000.
And no, that isn't how many reporters from his homeland follow Ichiro around every day. It's the number of hits he's about to have on his permanent record if we count the 1,278 hits he spewed in his nine seasons in Japan.
At the moment, he finds himself just 11 hits away. And I hope you don't let that milestone go whooshing by you too quickly before you stop to think about what it means.
The last time we witnessed anyone getting his 4,000th hit was April 13, 1984, when Pete Rose collected No. 4,000 off Jerry Koosman, in a stadium we no longer find on the baseball map (the late, great Stade Olympique in Montreal).
Just for perspective's sake, the Hit King got that 4,000th hit in his 3,259th game. That's nearly 200 more than Ichiro has played (3,075) on both sides of the Pacific. Which means he's going to beat Rose to No. 4,000 by more than a full season. Wow.
The only other 4,000th hit ever? Ty Cobb got that one -- on July 18, 1927. So if you weren't hanging out at old Nevin Field in Detroit that day 86 years ago, you've never seen any American Leaguer do what Ichiro is about to do. Pretty mind-boggling feat -- on any continent.
5. History majors
Finally, here's just a taste of some of the historic pursuits you can keep your eye on over the next two months:
Chris Davis:
On pace for 58 home runs, 102 extra-base hits, 151 RBIs and 72 more extra-base hits than singles. There has never been a season like it.
Mike Trout:
He's leading the American League in walks. He's tied for the league lead in hits. And if he can wind up leading in both categories, he'd be only the fifth player since 1900 to do that in the same season. The others: Rogers Hornsby, Richie Ashburn, Carl Yastrzemski and Lenny Dykstra.
Joey Votto:
See that note above? How unreal would it be if two men finished first in their league in hits and walks in the same season? Well, Votto has a shot, too. He has a big lead in walks. He's three behind
Jean Segura
for the lead in hits. And Votto and
Shin-Soo Choo
have an outside chance to become the second set of NL teammates ever to reach base 300 times apiece (via hit, walk and HBP) in the same season. The other:
Jeff Bagwell
and
Craig Biggio
, for the 1997 Astros.
Miguel Cabrera:
And then there's Miggy. He might not win the Triple Crown for a second straight year. But if he can stay healthy enough to get on the field regularly, Cabrera still has a chance to do something no Triple Crown winner has ever done -- hit that trifecta one year and then have a better season the next year.
Here are Cabrera's numbers from last season, and his projected numbers for this season. This is truly amazing:
2012:
.330/.383/.606, 44 homers and 139 RBIs
2013:
.359/.453/.668, 48 homers and 148 RBIs
I chronicled this a few months ago, but here it is again just to help you digest this man's greatness: Only one Triple Crown winner in history (Ted Williams) ever drove in more runs the following year. Just two (Williams and Mickey Mantle) had a better batting average the next season. And none of them hit more home runs The Season After. But this guy could do all of the above.
So once again, we find ourselves drawn to the flat screen every time Miguel Cabrera starts marching toward home plate. And that beats watching A-Rod-Palooza every day of every week. Don't you think?
July, 3, 2013
7/03/13
2:53
PM ET
Homer Bailey
has pitched two no-hitters. Meanwhile …
Clayton Kershaw
,
CC Sabathia
,
David Price
,
Cliff Lee
,
Adam Wainwright
and
Zack Greinke
have combined to pitch zero no-hitters.
Baseball is a beautiful sport, ladies and gentlemen.
And on that note, our Useless Homer Bailey Information Department presents seven things you need to know about the latest member of the Two No-Hitter Club:
[+] Enlarge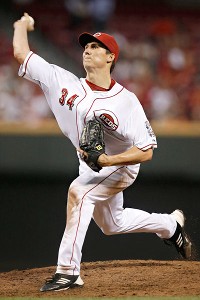 AP Photo/Al BehrmanHomer Bailey struck out nine and walked one while throwing 109 pitches in his no-hitter against the Giants on Tuesday.
1. As we bet you've heard someplace, Bailey threw the final no-hitter of 2012 and the first no-hitter of 2013. Fun feat. He should know that only two other men pitched the last no-hitter of one season, then twirled the first no-no of the following season. Here they come:
Nolan Ryan 1974-75
Warren Spahn 1960-61
And now Homer Bailey. Pretty cool group!
2. In between his no-hitters, Bailey won exactly four games. Our friends at the Elias Sports Bureau tell us that only three pitchers in history beat him in the Fewest Wins Between No-Hitters standings (including wins in relief):
0: Johnny Vander Meer (1938)
2: Warren Spahn (1960-61)
3: Virgil Trucks (1952)
3. Another amazing Homer Bailey claim to fame: He now has thrown more no-hitters (two) than shutouts in which he allowed a hit (one). You won't be shocked to learn that no one else with multiple no-hitters has ever done that.
Fewest non-no-hit shutouts by pitchers with two-plus no-hitters since 1900:
Bailey, 1
Justin Verlander
, 4
Steve Busby, 5
Mark Buehrle
, 6
Hideo Nomo, 7
On the other hand, Walter Johnson also threw two no-hitters -- and 108 other shutouts. Second on that list: Christy Mathewson (two no-hitters and 77 other shutouts). So what are the odds that those guys would have pitched the same number of no-hitters as Homer Bailey? Off the charts, we'd say.
4. Bet you didn't know that while Bailey was firing his two no-hitters,
no
other Reds right-hander has pitched a no-hitter since Tom Seaver. In 1978. In between, 114 other right-handers have started games for the Reds – from Jose Rijo to
Johnny Cueto
, from Mario Soto to John Denny, from
Aaron Harang
to Fred Toliver -- and combined for zero no-hitters. While Homer Bailey was pitching two of them. Tremendous.
5. How amazing is it for any pitcher to cram two no-hitters into the first 43 wins of his career? Elias reports that only three pitchers in history have fired two no-hitters "faster" than that -- Vander Meer (two in his first 10 wins), Don Wilson (26) and Busby (28).
6. As dazzling as Bailey's stuff clearly is, opposing hitters he has faced in his career are batting .262 against him -- an average that wouldn't quite be a synonym for "unhittable." In fact, that's the second-highest opponent average against any pitcher since 1900 who has thrown multiple no-hitters. Guess who's first:
Mark Buehrle, .272
Homer Bailey, .262
Bob Forsch, .261
Pud Galvin, .261
Ken Holtzman, .255
Bill Stoneman, .253
Steve Busby, .253
7. Finally, you think the Giants have seen enough of Homer Bailey to last them about a decade? Last October, they faced him in Game 3 of the NLDS and got
one
hit against him in seven innings. Nine months later, they managed to beat that by getting
no
hits against him the next time around.
So here's his insane line in those two starts:
16 IP, 1 H, 0 R, 0 ER, 2 BB, 19 K
Just so you know, according to Elias, only three pitchers since 1900 have made consecutive regular-season starts against the same team, and thrown a no-hitter in one of them, plus at least seven one-hit or no-hit innings in the other:
• Dazzy Vance (Dodgers) versus Phillies:
CG one-hitter (Sept. 8, 1925) and no-hitter (Sept. 13, 1925)
• Tom Hughes (Braves) versus Pirates:
8-inning one-hitter (July 16, 1915) and no-hitter (June 15, 1916)
• Smoky Joe Wood (Red Sox) versus Browns:
CG one-hitter (July 7, 1911) and no-hitter (July 29, 1911)
To be clear, it wouldn't be quite accurate to say Bailey is the fourth pitcher to do this, because one of his starts came in the postseason. But that's a technicality the Giants wouldn't find real uplifting.
"We've got one hit off him in 16 innings," Giants manager Bruce Bochy said Tuesday night, in that eloquent way of his. "I'd say he's got our number."
October, 3, 2012
10/03/12
12:50
PM ET
So here we sit, on the morning of the last day of the baseball season. And other than one game (Cardinals at Braves on Friday), we have no idea who is playing whom in
any
postseason series.
But it's not as complicated as it seems. Really. It all depends on what happens on the field Wednesday. So let's run through the various scenarios:
If the Yankees lose and the Orioles win
Then the AL East is tied (at 94-68), and the Yankees and Orioles have to play a tiebreaker game Thursday in Baltimore. The winner is the AL East champ. The loser is the wild-card team. But is it the "first" wild card or the "second" wild card? That depends on what happens in Oakland.
If the A's beat the Rangers
Then Oakland (94-68) wins the AL West, and Texas (93-69) is a wild-card team. But would the Rangers be the "first" wild card or the "second" wild card? That depends on what happens in the AL East:
If the Yankees and Orioles both win Wednesday, the Orioles (94-68) would host the Rangers (93-69) in the wild-card game Friday. Why? Because a Baltimore win Wednesday would give the Orioles the better record.
If the Orioles lose Wednesday and finish with the same record as Texas (93-69), the Rangers would host the wild-card game Friday because they won the season series from Baltimore.
If the Rangers lose and there's a tie for the AL East (at 94-68), the AL East loser hosts the Rangers in the wild-card game because either still would have more wins (94) than Texas (93).
If the Rangers beat the A's
Then the Rangers (94-68) win the AL West, and Oakland (93-67) is a wild card. But is it the "first" wild card or "second" wild card? Again, that depends on developments in the AL East.
If the Yankees and Orioles both win Wednesday, the Orioles would host the A's in the wild-card game because Baltimore would have one more regular-season win (94) than Oakland (93).
If the Yankees lose, the Orioles win, there's a tie for the AL East and Oakland loses to Texas, the loser of the AL East tiebreaker game hosts the A's. Again, the reason: The AL East loser still would have more wins (94) than Oakland (93).
If the Yankees, Orioles and A's all lose Wednesday, the Orioles and A's would finish with the same record (93-69). If that happens, the A's host the wild-card game Friday. Why? Because they won the season series.
Who's No. 1 in the AL?
If the Yankees win Wednesday
:
Then this is simple. They're the No. 1 seed in the AL. So their first Division Series game is Sunday
at
the winner of the wild-card game.
The AL West winner then would head for Detroit to start its Division Series on Saturday.
If there's a Yankees-Orioles tie
:
This gets trickier. Then there's a three-way tie for the best record in the AL (Yankees, Orioles and the AL West champ, all at 94-68).
Under that scenario, the AL East tiebreaker game would
not
be used to determine seeding, even though it is otherwise considered a regular-season game. So how would that seeding be sorted out? Here's the breakdown:
Yankees win the AL East, Rangers win the AL West: Yankees are the No. 1 seed and play the wild-card winner. Rangers are the No. 2 seed and play at Detroit. Why? Yankees won the season series.
Yankees win the AL East, A's win the AL West: A's are the No. 1 seed and play the wild-card survivor. Yankees are the No. 2 seed and face Detroit. Why? Yankees and A's split the season series, but A's had the better record in division games.
Orioles win the AL East, Rangers win the AL West: Rangers are the No. 1 seed and draw the wild-card winner. Orioles are the No. 2 seed and play Detroit. Why? Rangers won the season series.
Orioles win the AL East, A's win the AL West: A's are the No. 1 seed. Orioles are the No. 2 seed. Same LDS matchups. Why? Orioles won the season series.
If the Yankees and the Orioles both lose Wednesday
Then there's a tie for the best record between the Yankees and the AL West champ (at 93-69).
Under that scenario, the Yankees are the No. 1 seed if the Rangers win the West -- but the No. 2 seed if the A's win the West. Why? See the tiebreaker scenarios above.
Who's No. 1 in the NL?
The Reds and Nationals head into their games Wednesday with the same record (97-64). So ...
If the Reds win and the Nationals lose
Then the Reds are the No. 1 seed and play Sunday at the home of the wild-card survivor. And the Nationals are the No. 2 seed and play Saturday in San Francisco.
If the Nationals win and the Reds lose
Then the Nationals are the No. 1 seed and visit the wild-card winner Sunday. And the Reds are the No. 2 seed and start their Division Series on Saturday in San Francisco.
If the Nationals and Reds finish tied
Then the Nationals are the No. 1 seed. And the Reds are the No. 2 seed. (Same matchups as the Nationals win/Reds lose scenario above.) Why? Nationals won the season series.
It sounds insane. But it could have been worse, if
Raul Ibanez
hadn't hit that home run Tuesday to bring the Yankees back from the dead.
That would have created a nightmare scenario in which the Orioles, Yankees and the AL West loser could have finished in a three-way tie (at 93-69) -- forcing one of those teams to fly 2,500 miles, across three time zones, Thursday night to play the wild-card game Friday. But the good news is, that's one crazy possibility that's now officially defunct. Phew.
August, 16, 2012
8/16/12
7:03
PM ET
Welcome to another edition of Five Astounding Facts:
1
Thanks to the great
Felix Hernandez
, the Mariners just became the first team in 40 years (since the '72 Cubs) to throw two no-hitters in the same season that weren't started by the same pitcher. But we're going to climb to the peak of Mount Rainier and venture this guess:
You'll never find two no-hitters more different than these two. Here's why: The winning pitcher in their first no-hitter, that June 8 six-pitcher special, was their third reliever of the game,
Stephen Pryor
. And he got only ONE out. But he allowed more baserunners (via two walks) in his one-third of an inning than King Felix did in all nine innings he was out there. Try pulling that off on your next trip to the "MLB 2K12" Perfect Game Club. We dare you.
Hernandez
2
We've heard of some bizarre niches in sports, but specializing in getting no-hit? That's the Rays' bizarre claim to fame. They've now been on the wrong end of four no-hitters in the past four seasons -- by
Mark Buehrle
(2009),
Dallas Braden
(2010),
Edwin Jackson
(2010) and King Felix (2012).
So how many other teams since 1900 have gotten no-hit four times in four years? Not a one, of course. The A's did it four times in six years, from 1969 to '74, and the Phillies did it four times in five years TWICE (1960-64 and 1968-72).
And ohbytheway, just to put this in some sort of perspective, the Yankees have been no-hit four times in the past 95 seasons.
3
Then there's Safeco Field, rapidly becoming one of the great no-hit emporiums of modern times. This makes three no-hitters thrown at Safeco in just the past four months. So how does that compare to other parks out there? We'll tell you how:
• In Kansas City, Kauffman Field has hosted three no-hitters in its history -- in 40 seasons. Wrigley Field has been the site of ZERO no-hitters, by either team, in the past 40 seasons. And Shea Stadium was around for 45 seasons -- and hosted just two no-hitters. Then again, in a related development, the Mets played there.
4
In astounding non-no-hitter news, we saw something Tuesday that we'd never seen before: In one game that day (Reds-Mets), the only scoring came on a home run by the last hitter in the game (
Jay Bruce
). In the other (Marlins-Phillies), the only scoring came on a home run by the first hitter in the game (
Jimmy Rollins
).
Well, there was a good reason we couldn't remember ever having seen that. According to the Elias Sports Bureau, it was the first day in history to feature two games that met that description. Yep, that explains it!

Alvarez
5
Finally, if you have a big, shiny, yellow sombrero sitting around the house, you might want to ship it to the Pirates' favorite free hacker,
Pedro Alvarez
. He deserves it. On Wednesday, he racked up his third career "golden sombrero" (going 0-for-4 with four strikeouts). But what made this one special was that it came in a game he didn't even start. (He entered after a
Neil Walker
injury in the first inning.) So how hard is THAT? Glad you asked.
According to Baseball-Reference.com's indispensable Play Index, here is
Alvarez's place in golden sombrero history
:
• He's the first position player to pull off a sombrero in a game he didn't start in 41 years -- since White Sox catcher Tom Egan did it (after pinch hitting for the pitcher) on Aug. 21, 1971.
• He's the first National League position player to do it in 67 years -- since Brooklyn Dodgers shortstop Eddie Basinski went sombrero shopping in a 15-inning game Aug. 13, 1945.
• He's the first NL position player to do it in a nine-inning game in nearly 80 years -- since New York Giants third baseman Johnny Vergez spun a slightly tainted sombrero (by a walk) on July 7, 1934.
• And he's just the fifth position player, period, to earn a sombrero, without starting the game, in the live-ball era.
This means, when you think it through, what Pedro Alvarez did Wednesday was actually more rare than what Felix Hernandez did. Who knew?
August, 13, 2012
8/13/12
3:49
PM ET
If the season ended today (which remains highly unlikely), I regret to inform the Knuckleballer Fan Club that the 2012 National League Cy Young Award winner shouldn't be
R.A. Dickey
.
It also wouldn't be
Johnny Cueto
. Or
Jordan Zimmermann
. Or
Ryan Vogelsong
. Or anyone else whose job description includes the words "starting pitcher."
No, sir. The NL Cy Young winner should be the one, the only,
Aroldis Chapman
.
I have voted in a half-dozen Cy Young elections over the years. I have to pick a winner -- for column-writing and air-time-filling purposes -- every season. So I understand that our mission statement as Cy Young voters is simple. We just need to answer one uncomplicated question:
Who has been the most dominant pitcher in this league?
Friends, if that's the question, how is there any answer this year besides Chapman?
If you talk to hitters about the pitchers in this Cy Young field, they'll tell you that they admire Dickey. They respect Cueto. They have no fun facing Zimmermann. They have no interest whatsoever in hitting against the other lights-out closer candidate,
Craig Kimbrel
. But you know what they think about Chapman? I can sum it up in one word:
Fear.
"A lot of guys nowadays throw 100 [mph],"
Skip Schumaker
said, "but I've never seen anybody with a fastball like his.
Schumaker
"For one thing," he said, looking up at a visitor who was approximately a foot and a half away, "when you face him, it feels like [he is as far away as] me to you. Then he winds up, and he's all herky-jerky. He's big. He's tall. He's throwing elbows and knees at you. And even though you're sitting dead-red fastball, it's just like it's by you, before you can even think about it. I've never seen a fastball explode like that. Ever. It's just ridiculous."
"Ridiculous" is an excellent word to describe the numbers Chapman is piling up this year.
• Start with this one: 106 strikeouts, 25 hits. Unless something bizarre happens, this man's numbers project out to make him the first relief pitcher in history with 110 more strikeouts than hits. Crazy.
• Then there's this: This fellow is averaging nearly 17 strikeouts per nine innings (16.74, to be exact). How many other pitchers in history have done that? None, of course.
• OK, next up: The batting average of the 216 hitters who have had the misfortune to step into the box against Chapman this year is an insane .127. Want to guess how many pitchers in the live-ball era have proved to be that unhittable in any season of 50 innings or more? Not a one. (The record is .133 against
Eric Gagne
in his ultra-dominating Cy Young season in 2003.)
• Meanwhile, talk about dominating his league: Chapman's ERA against the NL this year -- in 47 trips to the mound -- is (ready for this?) 0.17. That's 51 2/3 innings,
one
earned run. NL hitters have batted .099 against him (17-for-172). He has faced 190 hitters in his own league. Just 34 have reached base.
• Then there are all the strikeouts. Do you realize this guy is piling up more than four strikeouts for every hit he allows (4.24, to be precise)? Once again, nobody has ever done that in a year in which he pitched this many innings. Only Gagne in 2003 (3.7) and
Billy Wagner
in 1999 (3.5) have even approached it.
• Bet you didn't know that Chapman has more strikeouts than the Opening Day starters for 11 teams ... or that he has struck out more hitters than two pitchers who made the All-Star team (
Matt Harrison
,
Wade Miley
), as well as Vogelsong ... or that he would lead four teams in strikeouts (A's, Royals, Blue Jays, Rockies).
Weaver
• Ah, here's the clincher: I hear lots of people refer to
Jered Weaver
as the favorite for the American League Cy Young Award. But guess what? Chapman has racked up exactly as many strikeouts this season as Weaver has -- in 81 fewer innings.
Wow. What makes all this especially incredible is that everybody knows what's coming. And it's still hopeless.
"The guy throws fastballs," Schumaker said. "That's pretty much it. I mean, he mixes in sliders every once in a while, but when you're up there, you're getting his fastball. Everyone knows it. And not only are they not hitting it, they're not even putting it in play."
Want to talk domination? This guy has thrown 964 pitches this year. Only 9.9 percent of them (95) have been put in play. You have got to be kidding.
Yet I wouldn't bet my lunch money that Chapman is going to win this award. You know why? Because the Cy Young has turned into a starting pitcher's award, almost without exception. One reliever (Gagne) has won it in the past 20 years.
A couple of years ago, I made a proposal to the Baseball Writers' Association of America that we add a new award to honor the best relief pitcher in each league.
Not because I think relief pitchers are a bunch of great dudes with cool beards and funny quotes who need to fill up their trophy cases. It's because over the past two decades, the writers have pretty much decided not to vote for them. For anything.
Cy Young. MVP. Senator. Congressman. ESPY Award. Anything.
It's gotten so absurd that the great
Mariano Rivera
, one of the most dominating, difference-making players of modern times, has never won any of our awards. He has never even come close. How incomprehensible is that?
If we couldn't find an award that even a relief pitcher as great as Rivera could win, it seemed it was about time to invent one. But that proposal was voted down, naturally.
And you know what I was told by the folks who opposed it?
That if I thought a relief pitcher was so good, so dominant, that he deserved the Cy Young Award, then
just vote for him
.
You know what? I thought that was such great advice that I'm now advising voters everywhere to do exactly that.
Aroldis Chapman Cy Young fever. Catch it. Please.
June, 16, 2012
6/16/12
9:36
AM ET
Welcome to another edition of Five Astounding Facts, which includes a bonus no-hitter section.
[+] Enlarge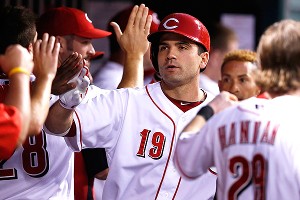 Joe Robbins/Getty ImagesWith 52 walks in 63 games, Votto has a major league-best .484 on-base percentage.
1
The human Astounding Fact,
Joey Votto
, went into the weekend on a pace for 201 hits and an incredible 136 walks. If he can keep that up, he'll be in ridiculously rarified territory -- because only one player in history has ever drawn that many walks in a 200-hit season. And I'm betting you've heard of him:
Babe Ruth, 1923:
170 walks, 205 hits
Babe Ruth, 1921:
145 walks, 204 hits
Babe Ruth, 1924:
142 walks, 200 hits
1A
But suppose Votto slides to "only" 120 walks. Still almost equally amazing. Just one other player since 1900, besides the Bambino, walked that many times in a 200-hit season. And that was Ruth's tag-team partner, Lou Gehrig (130 in 1936, then 127 the next year). And that's it. The only NL players since 1900 who ever topped 105 walks in a 200-hit season:
Todd Helton
(111 in 2003) and Stan Musial (107 in 1949). Un-be-friggin'-lievable.
2
The Blue Jays did something last Sunday that's nearly impossible -- especially for an American League team: Thanks to the miracle of interleague play, they had four different players get a hit out of the No. 9 hole in the same nine-inning game. And, incredibly, the starting pitcher,
Ricky Romero
, got none of them despite pitching four innings.
After Romero exited, three pinch-hitters --
Yan Gomes
,
Omar Vizquel
and
Mike McCoy
-- got a hit. And so did reliever
Carlos Villanueva
. So what was the last team to have four No. 9 hitters get a hit in the same nine-inning game without the starting pitcher joining the fun? How about the 2002 Expos. But what was the last AL team to do it in a nine-inning game? Would you believe it was Bob Feller's 1950 Indians? On June 2, Feller got knocked out in the first inning, after which three pinch-hitters and reliever Al Benton all got hits. Wild, huh?
3
After serving up a gopherball in his first 12 starts of the season,
Phil Hughes
finally stopped that astonishing streak Friday night. It was still tied for the second-longest streak of all time (behind Bert Blyleven's 17 in a row to start the 1987 season). But here's how hard it is to give up a homer 12 starts in a row at ANY point in a season:
In 2000, on the way to the only 48-gopherball season in National League history,
Jose Lima
never allowed a home run in more than seven starts in a row. And the man who has given up more home runs than any pitcher in history --
Jamie Moyer
-- is up to 522 career gopherballs without ever allowing a homer in more than 10 appearances in a row.
4
Cubs rookie
Adrian Cardenas
went into the weekend with five career hits -- all doubles. Which inspired loyal reader Rick Perlini to wonder: Has anyone ever kicked off a career with five consecutive doubles? Well, yes, as a matter of fact. Carlos Gonzalez's first SEVEN hits were doubles, back in 2008, according to the Elias Sports Bureau. But Gonzalez is the only other player since 1950 to roar out of the gates with a double streak this long. And no Cub had started his career with five straight extra-base hits of any sort since Frank Ernaga (2 homers, 2 triples and a double) in 1957. We regret to report that Ernaga got just two more extra-base hits the rest of his career.
5
And since it's impossible to get through one of these Five Astonishing Facts collections without an
Adam Dunn
nugget, how about this one: If the Big Donkey keeps whomping along at his current clip, he'd finish the season with 51 homers -- and a .227 batting average. He'd also blow away the records for lowest average by a 50-homer man (.260, by
Jose Bautista
) AND by a 40-homer man. So who holds that 40-homer record? Adam Dunn. Who else? He hit .234 in 2006, while bopping his standard 40 home runs on the nose.
Bonus no-hit section
We've seen two no-hitters -- Matt Cain's perfecto and the Mariners' six-pitcher no-hit extravaganza -- since the last edition of Five Astounding Facts. So here come a bunch of Astounding No-Hitter Facts:
Blanco
1
If you haven't seen
Gregor Blanco
's outrageous catch Wednesday to preserve Cain's perfecto, you need to visit our
Web Gems section right now!
But here's the really astounding addendum to that catch: No right fielder has caught a ball hit that hard to that part of ANY park during the last three seasons. Here's the breakdown, from Baseball Info Solutions:
There have been 32 fly balls hit -- anywhere in baseball -- since 2010, with that approximate hang time, to that approximate location on the field. Blanco was the first right fielder to catch any of them. And of the 13 balls hit in San Francisco to within 25 feet of that spot with that approximate hang time, five turned into triples, five more were doubles and only two were caught -- both by the center fielder. Holy schmoly.
2
But one reason there weren't a bunch of other great defensive plays in that game was ...
Matt Cain
practically let his defense take the night off. In fact, he was just the sixth pitcher in modern history to throw a no-hitter in which he piled up more strikeouts (14) than balls put in play (13). Nolan Ryan did that four times. Sandy Koufax did it twice. The only other pitchers since 1900 to do it:
Warren Spahn
, Sept. 16, 1960 (15-12)
Don Wilson
, June 18, 1967 (15-12)
3
Another cool Matt Cain claim to fame: If you'll recall, he pitched a game earlier this year (April 13) in which the only man to reach base was the opposing pitcher, the Pirates'
James McDonald
. And that, says loyal reader/researcher Trent McCotter, makes Cain only the second pitcher ever to throw a perfect game and a "nearly perfect game" (just one baserunner) in the same year. The other:
Roy Halladay
in 2010 (regular-season perfecto, one-walk postseason no-hitter).
Happ
4
Meanwhile, the opposing starter, the Astros'
J.A. Happ
, also made no-hit history. How? By giving up 11 hits and eight earned runs, while the guy he was pitching against was giving up zero hits and zero baserunners. The only other starter since 1900 to oppose a no-hit pitcher and allow that many hits and runs was Mike Caldwell (13 hits, 8 runs) on Sept. 2, 1972, while the Cubs' Milt Pappas was no-hitting the Padres. But two of the runs off Caldwell were unearned. So Happ is the first to give up that many hits and EARNED runs while his team was getting no-hit.
5
Out in Seattle,
Stephen Pryor
carved a bizarre place in no-hitter history himself. He was the winning pitcher in the Mariners' six-pitcher no-hit blockbuster even though he managed to allow more hitters (two) to reach base than he got outs (one). He struck out
Juan Rivera
for the final out of the seventh inning, then walked the first two hitters he faced in the eighth, and off he went. But since the Mariners scored in between the whiff and the two walks, presto -- Pryor became the winning pitcher.
That means he will go down as the first pitcher ever to get a win in a no-hitter while racking up only one of the 27 outs. He also set a record for fewest batters faced by a winning pitcher in a no-hitter (three). The old record-holder was
Ricardo Rincon
, of "Moneyball" fame, with four, in relief of
Francisco Cordero
in a 10-inning no-hitter by the Pirates on July 12, 1997.
6
In the EIGHTH inning of the Mariners' no-hitter, with the Dodgers six outs away from getting no-hit, L.A. manager Don Mattingly did something no manager had done in decades: He had
James Loney
lay down a sacrifice bunt -- during a no-hitter. So how rare is that? Glad you asked.
According to baseball-reference.com's awesome Play Index, it made the Dodgers the first team to drop a sac bunt at any point in a no-hitter in more than 20 years -- since Padres pitcher Greg Harris bunted in the third inning of a Braves combined no-hitter on Sept. 11, 1991. But ...
The last team to bunt that late in a no-hitter? The '91 Expos, who tried bunting
Delino DeShields
, also with six outs to go, in a Kevin Gross no-hitter on May 23, 1991. That didn't work out so hot, either.
We found only two other sac bunts, in the live-ball era, in the eighth inning or later of a no-hitter. They were laid down by the '65 Cubs against Jim Maloney (in a 0-0 game, at least) and by the '46 Yankees against Bob Feller (in the NINTH inning, down 1-0).
7
Finally, here's to Brian Runge and Ted Barrett. They've just become the first umpires to work three different no-hitters in the same year since 1968. They worked Phil Humber's perfect game on April 21, the six-pitcher no-no in Seattle and Cain's perfecto Wednesday. Back in '68, an entire National League crew (Harry Wendelstedt, Bill Jackowski, Frank Secory and Ken Burkhart) umpired no-hitters by George Culver, Gaylord Perry and Ray Washburn.
Like Wendelstedt, Runge worked the plate in two of those no-hitters. But Runge has an even cooler spot in no-hit umpiring annals. He became just the third man to call balls and strikes in both a no-hitter and a perfect game in the same season. The others,
according to Retrosheet
: George (Foghorn) Bradley (in 1880) and Tommy Connolly (in 1908). Very cool.
September, 4, 2009
9/04/09
3:48
PM ET
Grab a loaf of bread. Raid your fridge. And hunker down for another eagerly awaited edition of the Generic Sandwich Awards. But first, it's the ...
Munchies Of The Week

Hamels
• The Phillies'
Cole Hamels
threw a complete-game two-hit shutout
and
stole a base Tuesday. And gang, you don't see that daily double much.
He's the first to do both since Scott Garrelts on June 16, 1990. But Garrelts' SB came on the back end of a double steal, so Hamels was the first to throw a shutout and pull off a straight steal since
Greg Maddux
did it (as a Cub) on June 18, 1988. Most amazing of all: Hamels was the first to pilfer a base during a two-hit shutout since ESPN's own Orel Hershiser two-hit the Padres and
stole third
on April 21, 1985.
• The Indians produced my favorite name-game moment of the year last Saturday. The winning pitcher in their game against Baltimore was named Perez (
Rafael
). And the guy who got the save was also named Perez (
Chris
). So how many times has that happened, you ask?
According to Retrosheet's Dave Smith, this was the 43rd game since the invention of the modern save rule in which the pitchers who got the win and the save had the same last name. And believe it or not, two different Indians conspired on the last one (
Scott
and
Jensen Lewis
last September). But this was the first time two Perezes ever pulled this off. If they're interested, they'll need to get cranking if they want to catch the leaders -- Dennis and Tippy Martinez (15 times).

Ramirez

Coghlan
• In case you missed this, the Marlins'
Chris Coghlan
and
Hanley Ramirez
had one of the great offensive months by teammates in more than a decade. Coghlan smoked 47 hits -- the most by an NL rookie in any month since Wally Moon in July 1954. And Ramirez had 45 hits, making these guys the first teammates with at least 45 hits apiece in a month since Dante Bichette (48) and ESPN hit machine Eric Young (47) did it in June 1996 for the Rockies. Thanks to the Marlins and Elias for those cool tidbits.
•
Jeff Francoeur
just did something you don't see much: He just recorded his 10th outfield assist -- for the fifth straight season. Of the 1,341 men who have played in the outfield over the past 20 seasons, only two ever had 10-assist streaks that long --
Vladimir Guerrero
(1999 to 2004) and
Kenny Lofton
(1992 to 1996).

Lee

Wainwright
• Here's a fun note from the always-inventive Bill Chuck of billy-ball.com: If
Adam Wainwright
wins the Cy Young, that would make two straight seasons in which a Cy Young award-winner was born on Aug. 30.
Cliff Lee
was cooperative enough to set up that possibility by winning last year.
• Finally, can't overlook the dominating mound artistry of Red Sox infielder
Nick Green
last week. He was the fourth mystery pitcher in the DH era to throw two hitless innings (joining
Cody McKay
in 2004, Chili Davis in 1993 and Doug Dascenzo in 1991). Green was also the first Red Sox mystery man to twirl two hitless innings since Eddie Lake, on May 17, 1944. And, since
Jonathan Van Every
also pitched for the Red Sox in April, this marks the first season since 1928 in which two position players headed for the mound for the Red Sox in the same year. But the two that year -- Doug Taitt and Jack Rothrock -- combined for a 13.50 ERA. Van Every and Green have faced 13 hitters this year and allowed zero runs. Which means their ERA is eight runs lower than
Daisuke Matsuzaka
's!
And on that note, the Sandwich Award envelopes please ...
The On A Roll Award -- Brandon Phillips
As
Corky Miller
, Manny Alexander and Mario Mendoza could attest, it's hard to hit in the big leagues.

Phillips
But as
Brandon Phillips
could attest, it's even harder to hit in the big leagues with a broken wrist. Or a fractured wrist. Or possibly none of the above.
I'll get to Phillips' ever-evolving medical diagnosis in a minute here. But the diagnosis of his swing lately is: En fuego condition.
Over the past week, the high-voltage Reds second baseman is hitting .560 (14 for 25), with two homers, two doubles and a .593 on-base percentage. Which is one of the primary reasons the Reds haven't sunk into the nearest river bed -- or, even worse, behind the Pirates -- lately.
But now comes the hard part -- the part in which we ask: How the heck is he doing this?
We don't need to call in Dr. Jack Shephard, Dr. Julius Hibbert or Dr. Benjamin Franklin "Hawkeye" Pierce to know that Phillips is hurting. He's been hurting since he got drilled in the left wrist by Washington's
J.D. Martin
on Aug. 15.
But we might need an X-ray technician to know where we go from here.
After Monday's doubleheader with the Pirates, Phillips told the media he'd been playing with a fractured wrist. But by the next day, he had a new diagnosis. Here's the version laid out by one of my sportswriting heroes, the Dayton Daily News' Hal McCoy:
"My wrist is not broken," Phillips said Tuesday. "I didn't mean to say broken. I know I didn't say broken. I said fractured. I didn't know fractured and broken were like the same thing.
"My wrist feels like it is fractured," he went on, not clarifying things a whole lot. "The last time I took an X-ray, it said nothing broken. Broken or fractured, basically is the same thing, so, well, it feels like it is broken, I mean fractured. Broken. It's the same thing."
OK, well this just in from Webster's New Century Dictionary: It's pretty close to the same thing. A fracture, according to Webster's, is "any break in a bone, which may be complete or incomplete." In the sportswriting business, we commonly refer to fractures as partially broken bones. But then again, all of us in the sportswriting business keep forgetting to graduate from medical school on a regular basis.
So let's settle on this: Phillips' wrist hurts. But he keeps playing. And he keeps hitting. So all we really need to know is: How come he's still playing when his team has less than a 0.01 percent chance of making the playoffs, according to our friends at coolstandings.com?
"I could go on the DL and sit in the clubhouse and eat all the snacks," Phillips said. "But I'm not that type of person."
And frankly, the Sandwich Awards committee admires that. So we'll present Phillips this award -- even though he might actually need a cast and a sling slightly more than a Sandwich Award.
The Cold Cuts Award -- Raul Ibanez
Raul Ibanez
isn't swinging the bat real well these days. But he made what the Sandwich Awards committee believes to be important baseball history the other day:

Ibanez
He actually quoted Shakespeare after a game.
Unfortunately, he didn't quite quote him correctly. But hey, it was worth a shot.
OK, first let's explain how the Phillies' left fielder got himself into this blog.
Over his first 50 games as Phillie, he was insanely hot (.340/.716 SLUG/1.115 OPS, 19 HR, 51 RBIs). But then he hurt his groin. And "hot" wouldn't be the term you'd use to describe him anymore.
He's 0 for his past 13, 1 for his past 24 and -- since Aug. 9 -- a frigid 9 for his past 83 (.122), with 25 strikeouts. And that's how he descended into Cold Cut Award territory.
But Ibanez then guaranteed himself a place in this blog on Sunday by rolling out this tremendous quote: "I think it was Shakespeare that said, 'If my head is bloody but unbowed, keep fighting.'"
All right, so it turned out to be British poet William Ernest Henley who said that. But if it weren't for the important invention of Google, I can pretty much guarantee no one in the sports media would have noticed for decades.
Since we did, though, I considered it my official duty to report that citation glitch to Ibanez himself. He then confessed he didn't dig up that quote on his own. He got it from famed sports psychologist Harvey Dorfman, whom Ibanez has been working with for years.
"Harvey told me that a long time ago -- like 10 years ago," Ibanez said. "I always say that to myself."
Wait. He always says that to himself -- "if my head is bloody but unbowed, keep fighting?" Whoah. Who cares if it was Shakespeare or Henley? How cool is Ibanez anyway? There can't possibly be another player in baseball who hears old British poets in his head when he's in a slump. Can there?
Of course, Ibanez's big issue is finding a way out of this funk. But he said: "You know what? It's been worse. And it's so much better when the team is winning, and you're on a first-place team, and you can leave those bad days behind easier."
Somewhere inside him, he said, he knows that guy who hit .340 for 50 games is still in there, and he'll be back -- because "it doesn't just jump out of your body and leave."
Asked if Shakespeare said that at any point, Ibanez chuckled and replied: "No. That was from Harvey, too."
Can We Box That Up For You Award -- Rangers-Jays
One of the craziest games in the history of baseball took place last Monday in Texas (Blue Jays 18, Rangers 10). So how can the Sandwich Award committee not delve into the box score for a quick recap of the nuttiness?

Holland
Holland-Aise:
First, the starting pitcher who made all this possible -- heretofore-dazzling Rangers rookie
Derek Holland
. His line looked like this:
3 IP, 7 H, 10 R, 10 ER, 3 BB, 1 K, 2 HR, 1 HBP, 71 pitches to get nine outs.
Just when you thought Holland's light had gone on, he found himself in this mess. In five starts between July 30 and Aug. 20, he only allowed eight runs (seven earned) in 34 innings. And then he gave up 10 runs in
three
innings? What's up with that?
Believe it or not, Holland is only the third Rangers pitcher in the '00s to allow double-digit runs in a game. Only the Indians (none), Twins (none), Yankees (two), Phillies (two), Cubs (two), Dodgers (two) and Blue Jays (two) have had fewer games like that. But clearly, this isn't a Texas thing. The Astros have had 13.
What's my line:
But now the really entertaining portion of that box score -- the line score. Which went like this:
TOR 501 410 007
TEX 000 072 100
So let's recap: The Blue Jays scored 10 unanswered runs, then gave up 10 unanswered runs, then scored seven more unanswered runs?
Yep, that's what they did, all right. And according to the Elias Sports Bureau, that created all these historic developments:
• The Rangers were the first team to lose a game in which they scored 10 unanswered runs since way, way, way back on May 25 of this year -- when the Rays lost a game to Cleveland that they once led 10-0.
• But hang on. There's more. The Rangers were the first team to score 10 unanswered runs in a game they
never led
since the Royals did it on Sept. 4, 2002, in a 12-11 loss to Oakland. They trailed 11-0, then tied it at 11-11, and then lost.
• OK, now the really good stuff. This was the first game since the famed Phillies-Cubs 23-22 game on May 17, 1979, in which one team scored at least 10 straight runs at one point, scored at least seven in a row at another point and also gave up at least 10 straight runs.
• And finally, here's the most amazing development of all: How many other teams in history have ever scored 10 unanswered runs in a game and still lost by at least
eight
runs? Just one -- and it happened on May 12, 1887, when Oyster Burns' old Baltimore Orioles of the American Association did it in a 22-14 loss to Chicken Wolf's Louisville Colonels. Sorry. No video available of that game. But it's worth (what else?) a chicken-sandwich award.