March, 24, 2014
Mar 24
5:45
PM ET
DUNEDIN, Fla. --
Jeff Keppinger
hit .412 last year in spring training.
Philip Humber
had a 1.73 ERA. You can file both of those under: "It's Only Spring Training."
But here are three star players whose spectacular springs have caught the attention of scouts and belong in another file: "The Real Deal."
Jose Bautista, OF | Toronto Blue Jays
He's your Grapefruit League home run leader (with five). He came into Monday leading the Grapefruit League in slugging (at .778). He's smoking every pitch he sees, at the rate of .356/.455/.778. And the more you see it, the more real it looks. That's great news for a guy whose 2013 season was marred by a hip injury.
"He's been locked in from day one," said one scout Monday, with zero hesitation, when the conversation turned to the Blue Jays' masher.
But by "locked in," we're not just talking about those baseballs Bautista has been pounding into the palm trees. We're talking about a return to the approach that made him one of baseball's most feared hitters in 2010-11, when he was whomping 97 home runs, with more walks (232) than strikeouts (227) and a 173 OPS+.
Over the past two years, as the strikeouts have inched upward and the walks have inched downward, Bautista has found himself seeing more junk and chasing it. So this spring, he's gone to work on fixing that glitch.
"Just working on staying on the ball a little bit longer," said his new hitting coach, Kevin Seitzer. "Sometimes, he can get vulnerable to the breaking stuff. He's a tremendous fastball hitter. So we're trying to make a few adjustments with his approach, to give him a little bit better chance, especially with two strikes. That's really the biggest time, when you don't want to just sell out to a fastball, to where you're vulnerable on the secondary stuff."
So what has stood out all spring is that Bautista has put up a series of tough at-bats, and has seemed intent on taking more pitches the other way when the right side of the infield is open, as it so often is in this shift-aholic age he now lives in.
"He's working on it right now," Seitzer said. "I told him, 'There are going to be points in time in the game where you've got that shift on, and we've got a guy on second base with two outs, and as good as you are at handling the bat and shooting that thing that way, just do it. It's a freebie right there.'"
And how conscious has Bautista been of perfecting that approach? In a game Saturday against the Tigers, he reached base four times -- on two walks and two singles to right. If he keeps that up, his hitting coach thinks he's headed for a tremendous year.
"He's very mentally tough," Seitzer said. "He's disciplined. He's put up these numbers before. And I don't see why he can't do it again."
Cliff Lee, LHP | Philadelphia Phillies
On the way to his first Opening Day start since he was in Cleveland, the Phillies left-hander has unfurled five excellent starts, including 11 eye-popping innings (allowing just six hits) against the Red Sox in his past two trips to the mound. Lee is also tied with
Lance Lynn
for the NL lead in spring strikeouts, with 19 in 19 2/3 innings.
Now it isn't exactly we-interrupt-this-program news that Cliff Lee can pitch a little. But again, this isn't about numbers. This is about approach, and some scouts and Phillies coaches worried that Lee was becoming too reliant on his fastball last season, despite his gaudy stats. That hasn't been the case this spring.
"He's back to mixing all his pitches, the way he needs to," said one scout. "He'd gotten too predictable. It was fastball, fastball, fastball, cutter, fastball, fastball. He's got to use his curve and his changeup more, and he can do it. Otherwise, his fastball is in the strike zone too much, and it gets hit."
"He's really used his change well this spring," said another scout. "I've seen that change a lot, and it's an important pitch for him."
Actually, according to FanGraphs, Lee threw that change on 15.9 percent of all pitches he tossed up there last season, the second-highest percentage of his career. But his curveball use has declined from nearly 11 percent in 2011 to just 7.8 percent last year.
Not coincidentally, Lee's success with that pitch has also declined. It was his best pitch in 2011, when opponents hit just .133/.165/.162 against it, with no homers allowed on any of the 367 curves he threw. But that opponent average has increased the past two seasons, to .193 in 2012 and .236 in 2013.
So this spring, says Phillies pitching coach Bob McClure, Lee has been "fairly deliberate about using his curveball a little bit more, depending on how it's feeling for him that day."
McClure said he and Lee "have talked about the perception the hitters have, of using that pitch as part of his arsenal. But the thing about the curveball is, it's a feel pitch. So I think if you throw a few early, you have it later in the game. So he's been mixing it in pretty well."
But McClure wants to make one other thing clear: Cliff Lee isn't broken. So nobody is trying to fix him.
"You look at his stats," McClure said with a laugh, "and it's hard to say to him, 'Hey, you need to completely change.' Are you kidding? But he might be able to use this pitch to offset [all those fastballs] a little bit, depending on the feel for it that he has that game."
Well, we've seen Lee do that before, with Cy Young results. So if he commits to it this year, it could lead him right back to that Cy Young conversation. And whether the Phillies are in a race or in July "sell" mode, a Cliff Lee Cy Young bid would be fine with them.
Jose Fernandez, RHP | Miami Marlins
All the Marlins' favorite phenom has done this spring is remind us how incredibly dominating he was last year, as a 20-year-old jumping all the way to the big leagues from the Class A Florida State League. So how dominating was he? Here's a little refresher course:
• Fernandez had a season last year that ranked No. 1 among all rookies in the live ball era, in adjusted ERA (177), opponent average (.182), opponent slugging (.265) and opponent OPS (.533). And yes, we said
all
rookies. Over the past nine decades. Yikes.
• Another way to look at it: His team went 18-10 when he pitched -- and a terrifying 44-90 when anyone else started.
• He was the first rookie starter with a WHIP under 1.00 (0.98) since baseball lowered the mound in 1969. Yeah, the first.
• And here's the topper: He actually had a higher batting average (.220) than the other teams' hitters had against him (.182). Ridiculous.
Well, nothing much has changed for Fernandez this spring. Opponents are hitting .196 against him. He's struck out 16 in 15 2/3 innings. And other than a three-run, four-hit fifth inning the Cardinals put together against him in his most recent start, he's allowed seven hits to the other 56 hitters he's faced, punching out 15 of them.
So what are we seeing here? We're seeing one of baseball's shooting stars ascend to a level very few pitchers ever reach. And he's 21 years old.
Clayton Kershaw
may have established himself as baseball's best starter. But is he the favorite to win yet another Cy Young this year? Not when he's pitching in the same league as Jose Fernandez.
When we casually observed to one scout who covers the Marlins that it wouldn't surprise us if Fernandez made a run at the Cy Young this season, the scout replied, just as casually: "I expect him to."
Wait, we asked. How can anyone
expect
Fernandez to win the Cy Young, when Clayton Kershaw is still alive and well?
"Look, Kershaw is what he is," the scout said. "He's great. But this kid is special."
Special enough that here's one thing we know for sure: His brilliant spring isn't a mirage. It's a portent of more awesome things to come.
July, 6, 2012
7/06/12
3:19
PM ET
Welcome to another edition of Five Astounding Facts:
1
Ervin Santana
started against the Indians on the Fourth of July, and once again, it didn't work out too enjoyably. Four outs -- and eight runs -- later, he was done for the day. And his lifetime record against the Indians dropped to 1-8. But here's the bizarre part: The one win was -- what else? -- a no-hitter (last July 27). So loyal reader Eric Knight just had to ask: Has any pitcher ever had a worse lifetime record against a team he no-hit? And the answer, according to the Elias Sports Bureau, is: of course not! The runner-up:
Matt Garza
, 1-6 (with a no-hitter) against the Tigers./p>
2
After 13 straight starts this year without a win,
Cliff Lee
finally got one in his 14th try -- ending the second-longest winless streak to begin a season by any former Cy Young winner (behind Vida Blue's 14-start streak in 1983) -- it's time to do the math. How many pitchers won a game this year before the third-highest-paid pitcher in baseball? Would you believe 279 -- including a DH (
Chris Davis
), a guy who hadn't won in eight years (
Travis Blackley
), a fellow who once quit baseball for six years (
Tom Wilhelmsen
) and a man whose only win over the previous two years was in an independent league (
Kip Wells
). True story. It's a funny game, huh?
3
Unless Chase Headley gets his home run mojo going this weekend, he's going to (ahem) head into the All-Star break as the Padres' 2012 home run leader ... with EIGHT. So how rare is it for a team to make it all the way to the All-Star break without anybody on the roster hitting 10 homers? The Sultan of Swat Stats, SABR home run historian David Vincent, reports this would be just the fourth time it's happened, in a nonstrike season, in the wild-card era -- but, mysteriously, the third year in a row. The others:
Aubrey Huff
-- 2011 Giants (8)
Milton Bradley
-- 2010 Mariners (8)
Terry Steinbach -- 1997 Twins (8)
4
The Rangers own the best run differential in baseball (plus-81). But think how huge that gap might be if they also weren't the only team to give up 19 runs or more in two different games this season. They allowed 19 to the White Sox on Tuesday, just five weeks after somehow letting the Mariners score three touchdowns on them (in a 21-8 game). So here's all you need to know about that:
• The last team to give up 19 or more twice in the same season and go on to win the World Series? That would be Mule Haas' 1930 Philadelphia Athletics.
• Only three other teams in history have ever led their league in run differential in a season in which they allowed at least 19 runs more than once. Those three, according to Elias: Shawn Chacon's 2006 Yankees (twice), Deacon Phillippe's 1900 Pirates (twice) and Sadie McMahon's 1894
Baltimore Orioles
(who did it four times, but still wound up outscoring their opposition by 352 runs).
• And, as loyal reader Warren Leunig pointed out, Tuesday was the second time this year that the Rangers had fallen behind in a game 17-0 (or worse). And that's tough, even for the Cowboys. The 2002 Indians were the last team to fall 17 behind (by any score) twice in the same season. But no team had dropped into two different 17-0 holes in the same year, according to Elias, since Al Santorini's 1969 Padres. That team went on to lose 110 games. I'm betting this Rangers team will have a slightly better fate.
5
Finally, it isn't often that you can wake up in the morning in San Francisco, flip on the TV and find a member of the Giants making a home run trot before 8:30 a.m. But it happened Wednesday, when
Pablo Sandoval
went deep at 11:21 a.m. in Washington, D.C. -- but 8:21 a.m. California time. That meant it was possible to watch the Panda round the bases, then flip back to ABC and still catch BeBe Winans crooning away on "Good Morning America!" But that's not all it meant.
ESPN Stats & Info Kernel collector Doug Kern reports that Sandoval's 11:21 local-time home run was the earliest anybody in baseball had homered since a
David Ortiz
Patriots Day bomb in Boston that also left the park at 11:21 in 2006. But as best we can tell, if you don't count games in Japan or on other distant continents, this may have been the first time any player on ANY West Coast team had ever homered before 8:30 a.m. back home.
Since baseball expanded to California in 1958, the only other known instance of East Coast teams starting a game against one of those teams at 11 a.m. or earlier is the Red Sox, on Patriots Day. And no California team had ever homered that early in the day in any of those games. So there ya go. The question of the morning at Fisherman's Wharf just had to be:
"What are you having for breakfast today?"
"How 'bout oatmeal, fruit and a Panda home run trot?"
April, 19, 2012
4/19/12
10:44
AM ET
From the 8,000 tweets and emails I got before breakfast, apparently America has an incredible fascination with that doughnut shop that
Matt Cain
and
Cliff Lee
opened Wednesday night in San Francisco.
Lee went: 000 000 000 0.
Cain put up his second consecutive 000 000 000.
And since they did it on the same night in the same ballpark, we've got ourselves some very cool notes. So thanks to the miracle of the baseball-reference.com Play Index, here are all the gems I could round up on short notice:
• How rare is it for one starter in a game to rip off 10 shutout innings while the other throws nine? It's only the second game like that in this millennium. Here's the other:
Sept. 6, 2003 (Tigers-Blue Jays):
Roy Halladay
vs.
Nate Cornejo
. Halladay went 10. Cornejo went nine. The Blue Jays won 1-0 in 10. Halladay got a 10-inning shutout out of it.
[+] Enlarge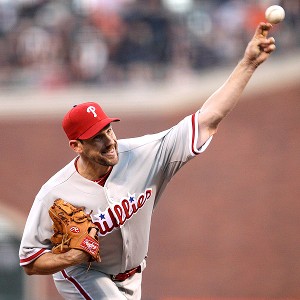 AP Photo/Marcio Jose SanchezAcquiring Cliff Lee would've given the Indians a big boost in their pursuit of a playoff spot.
• The previous five games in which one starter went at least 10 shutout innings and the other starter put up at least nine zeros:
Aug. 28, 1999 (Braves-Cards):
Kevin Millwood
(10) vs.
Darren Oliver
(9); Sept. 20, 1998 (Rockies-Padres): Darryl Kile (10) vs.
Kevin Brown
(9); June 11, 1991 (Astros-Phillies): Mark Portugal (10) vs. Pat Combs (9); Aug. 1, 1990 (A's-Mariners): Dave Stewart (11) vs. Erik Hanson (10);
5/22/90 (Cubs-Reds): Mike Bielecki (10) vs. Tom Browning (9).
• The last game like that before Wednesday's in which the pitcher throwing the most shutout innings saw his team lose:
Aug. 30, 1989 (Cards-Reds): Jose DeLeon (11) vs. Rick Mahler (10). But DeLeon's Cardinals lost 2-0 in 13 innings.
• Last pitcher before Lee to throw 10 shutout innings in any game:
Mark Mulder
(Cardinals), on April 23, 2005 -- a 10-inning 1-0 win over the Astros.
• Last pitcher before Lee to throw 10 shutout innings and get nothing but a no-decision to show for it: Millwood, in that Aug. 28, 1999, game.
• Last pitcher before Lee to throw 10 shutout innings and not have his team win:
Bret Saberhagen
(Mets), on July 15, 1994, in a 14-inning loss to the Padres.
• Last Phillies pitcher to spin off at least 10 shutout innings: Steve Carlton, against the Expos on Sept. 21, 1981 -- a game the Expos won 1-0 in 17 innings.
• Last pitcher to throw at least 10 shutout innings against the Giants: Joe Niekro, on June 8, 1983 -- a game the Giants lost 1-0 in 11 innings.
• Last time the Giants won a game in which the opposing starter threw at least 10 shutout innings: Aug. 19, 1968. Jerry Koosman threw 12 zeros up there against them at Shea Stadium. But Bob Bolin hung 11 bagels for the Giants. And the Giants wound up winning 1-0 in 17 innings.
And let's not forget the history Matt Cain could have made. As streak guru Trent McCotter reports, if the Giants had won this game in nine, it would have given Cain a complete-game one-hitter and a complete-game two-hitter in back-to-back starts.
• Last pitcher to throw a nine-inning one-hitter followed by a nine-inning two-hitter:
Bobby Witt
, on June 23 and 28, 1994.
• Last National League pitcher to do it: Claude Osteen, on June 17 and 21, 1965.
• No Giants pitcher in the live-ball era has ever done it, either in New York or on the Left Coast.
• Finally, the last pitcher to allow a total of only
four
baserunners (or fewer) over back-to-back nine-inning starts: Woodie Fryman of the Pirates, on June 26 and July 1, 1966.
All those fabulous tidbits erupted out of one incredible evening at AT&T Park. Is baseball a tremendous sport or what?