Jayson Stark:

Felix Hernandez
July, 26, 2014
Jul 26
10:00
AM ET
Greg Maddux
and
Tom Glavine
, 300-win teammates, will enter the Hall of Fame together Sunday. And as cool Cooperstown scenes go, you can't beat that one. But it's also a scene that might cause you to ask:
Who are the next Maddux and Glavine?
Hmmm. Good question.
And it's one I've been thinking about for weeks, ever since a veteran player asked me earlier this season: "Are there any starting pitchers in the game
right now
who you think are already Hall of Famers?"
And the honest answer, shockingly, is no. Am I missing anyone or anything?
It may be the Age of the Pitcher. And the planet may be as populated as it's ever been by pitchers with spectacular stuff and picturesque ERAs. But are any of them Hall of Famers
right now
?
I don't see it. Do you?
If we'd asked this question a year ago, there would have been an easy answer:
Roy Halladay
. Ten consecutive years of domination. Two Cy Youngs. Two no-hitters. Case closed.
And
Andy Pettitte
was at least in the argument. Eighteen seasons. Not a single losing season. Those 256 wins. And all those Octobers. An excellent candidate, although one with a high ERA (3.85) and an HGH asterisk.
But without those two around to debate, is there a single active pitcher who has done enough, won enough, dominated enough to carve a plaque in Cooperstown?
Tim Hudson
?
Mark Buehrle
?
CC Sabathia
?
Johan Santana
(if we can even define him as "active")?
I don't think so. No telling how that might change if CC bounces back or Hudson keeps on doing his thing deep into his 40s. But are they Hall of Famers
right now
? Sorry. Not for me.
And since the Hall opened its doors nearly 80 years ago, there can't have been more than a handful of times when we could ever have said that.
But that doesn't mean there aren't pitchers in our midst right now who are headed for Cooperstown. They're just not there yet. So here's how I'd rank the guys with the best shot:
[+] Enlarge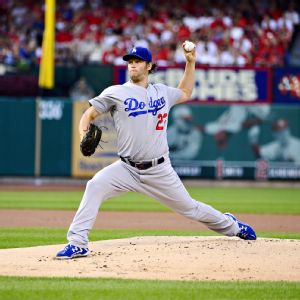 Jeff Curry/USA TODAY SportsClayton Kershaw currently leads the majors with a 1.92 ERA.
It wasn't easy trying to figure out whether to place Kershaw or
Felix Hernandez
first on this list. But it's hard to go wrong ranking the Best Pitcher in Baseball at No. 1 on any list. So if you don't believe this guy is on a Hall of Fame track, um, you've been watching too many NFL training camp two-a-days.
Two Cy Youngs. Probably should have won a third. And very possibly headed for another one this year, which would give him four top-two finishes in a row. Kershaw also had ripped off six straight seasons with an Adjusted ERA over 130 before he'd even turned 26. Which made him just the third starter with that many seasons that dominating (30 percent better than league average), at that age, in modern history. You may have heard of the other two: Walter Johnson and Christy Mathewson.
Bill James' Hall of Fame tracker gives Kershaw 27 HOF points already, through age 25. That's more points than any active player that young (or younger) at any position -- and also as many as Felix, who is two years older. Sounds like a fine tie-breaker to me.
2) Felix Hernandez
Still only 28 years old, with one Cy Young trophy in his den, a second in his sights this year, two more top-four Cy Young finishes and 121 wins, while pitching every season of his career for non-playoff teams.
Felix obviously isn't there yet. And playing for one of the most offensively challenged teams in history over the last few years is going to hurt him with the win-centric crowd. But he ranks third among all active pitchers in ERA (3.11), third in FIP (Fielding Independent Pitching) and fourth in Adjusted ERA (130).
You can also make an argument he's pitching better now than he's ever pitched. So his arrow keeps pointing upward, if he can just stay healthy. Did you know that going into this year, he'd already accumulated more of those Bill James HOF points (27) than Buehrle (25), a man with 196 wins?
[+] Enlarge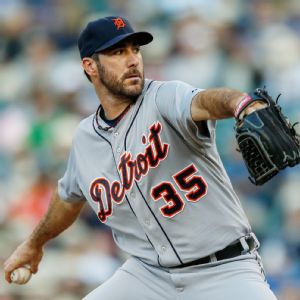 Otto Greule Jr/Getty ImagesJustin Verlander has pitched 200 or more innings in each of the past seven seasons.
Guess who entered this season with more of those Bill James HOF points than any active starter? Verlander's the man, with 50. And James has written often that it takes 70 to get a guy into the Hall of Fame argument and 100 to make him a lock. So when any player reaches 50 points by age 30, as Verlander had, he's well on his way.
I think Verlander has all the hardware he needs already -- an MVP, Cy Young and Rookie of the Year award to call his own, plus three other top-five Cy Young finishes and six All-Star appearances already. So he's put himself in perfect position -- as long as this season turns into just a blip on his radar screen.
If it turns out to be an indicator he's already in his decline phase, on the other hand, it's been a fun ride. Just not one that's leading him to upstate New York.
4) CC Sabathia
If CC's deteriorating knee cartilage is going to make it impossible for him to ever be the same again, it's hard to see how he makes it onto that Cooperstown stage -- even with 208 wins, a Cy Young, four more top-five Cy Young finishes and 13 straight seasons of incredible durability and dependability.
He came into the season with 43 HOF points. He's 34 years old. And he probably needed only two or three more good to excellent seasons to seal his case. But does he have
any
good seasons left? Only his orthopedist knows for sure.
5) Tim Hudson
I'm including Hudson on this list because I admire his body of work and the tenacious way he's gone about competing and reinventing himself through the years. He's also your official Active Wins Leader (213). And he's 95 games over .500 (213-118), which places him in the top 10 in winning percentage (.638) among all 100-game winners in the last half-century.
There are still voters who weigh stuff like that heavily. Unfortunately, if you look beyond that won-lost column, you have a guy who has never won a Cy Young (but did finish second once), has made just four All-Star teams in 16 seasons, and whose 6.1 strikeouts per nine innings don't allow him to fit the modern definition of "domination."
Bill James had awarded Hudson 33 HOF points coming into this season. And that ranked him fourth among active pitchers (behind Verlander's 50, CC's 43 and
Cliff Lee
's 36). At age 39, there's almost no shot he can climb high enough to reach the Cooperstown stars. But neither can Lee, who is a few weeks away from turning 36. And Hudson actually has a significantly higher Adjused ERA (124) than Lee does (118). So he at least ought to land in the top five.
My Next Five
6) Cliff Lee
7)
Adam Wainwright
8)
David Price
9)
Tim Lincecum
10)
Chris Sale
Want to make your case for Buehrle,
Zack Greinke
or even
Jose Fernandez
? Go ahead. Disagree with any of this? Tweet at me. Email me. Curse at me. That's the fun of debates like this. Especially on weekends like this one, when we get to type that magical dateline, COOPERSTOWN, N.Y.
August, 8, 2013
8/08/13
3:34
PM ET
The past couple of days have reminded me of something I'd almost forgotten. There is life after A-Rod-Palooza.
There is a great baseball season going on out there, friends. So let's stop talking about that third baseman for the Yankees and start focusing on all the fabulous baseball stories that are roaring toward their dramatic conclusion.
And what stories do I have in mind? How about these Five Stories I'll Be Watching (Instead of That Guy):
[+] Enlarge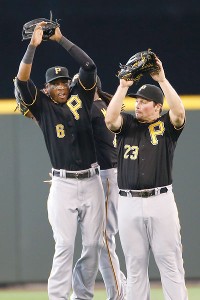 Otto Greule Jr/Getty ImagesIt's hard not to get excited about the Pirates.
1. The Pirates
The
Pittsburgh Pirates
are going to finish with a winning record, ladies and gentlemen. I have never felt more confident about saying that.
They are not going to have 10 pitchers undergo Tommy John surgery in the next 20 minutes. They are not going to lose 37 of their next 48 games. They are not going to reenact August and September of 2012, or August and September of 2011.
They're too good. They have the fourth-best run differential in the National League (plus-60). They've allowed the fewest runs in the major leagues (just 385) -- something they haven't accomplished over a full season since 1984. And opponents are hitting a ridiculous .229 against their pitching staff -- which would be the lowest average against any National League staff since Jim Deshaies' 1986 Astros.
I can't tell you these Pirates are going to win the World Series. I can't tell you they'll win any kind of postseason series. But they're still the best story in the major leagues. So let's just enjoy this ride. OK?
2. The races
The NL East race is over. The AL Central race feels like it's in guarded, but unstable, condition. And over in the NL West, the Dodgers have gained 14 .5 games in the standings on Arizona just in the past seven weeks. So we can see where that one is headed.
But the NL Central is shaping up as a must-see duel between the best offense in the National League (the Cardinals) and the best pitching staff (the Pirates) -- with nine riveting games left between these two teams. Sign me up for that.
And how about the AL West, where the Rangers just made a six-game Oakland lead disappear in a span of nine days. Those teams have two series left against each other. But the schedule, in general, favors Texas, which has the easiest remaining schedule of any AL contender, including 10 games left against their good friends from across the state, the Astros.
And then there's that AL East race, which has a chance to be the best of them all.
The Red Sox just became the first AL team to reach 70 wins -- and did it following a year where they didn't win 70 games all season. Think about that. Elias tells us they're the first AL team to pull off that trick (not counting strike-shortened seasons) since Harlond Clift's 1945 Senators, and (because those Senators got to 70 on the same day as the Tigers) the first to do it outright since George Herman Ruth's 1926 Yankees.
But then there are the Rays, owners of the best record in the whole sport over the past 81 games and a team so hot they just lost their first series in seven weeks. So pick against them at your peril.
And I'm not ready to write off the Orioles, who lead the major leagues in home runs and slugging, upgraded their pitching before the deadline and are currently on pace to become the first team in history to commit fewer than 50 errors in a 162-game season. (Heck, no one else in the expansion era has even finished a season with fewer than 60.) The Orioles have 16 games left against Boston and Tampa Bay. So stay tuned.
3. The awards
NL MVP:
Yadier Molina
was our midseason pick, but his knee issues are about to sabotage his MVP campaign. So are we ready for a starting pitcher (i.e.,
Clayton Kershaw
) to win this thing? Do guys like
Paul Goldschmidt
and
Joey Votto
have MVP finishes in them? And don't look now, but here comes
Andrew McCutchen
, whose credentials include this nugget: He,
Mike Trout
and
Carlos Gonzalez
are the only players in their league to rank in the top 10 in both stolen bases and slugging.
AL MVP:
Uh-oh. Here we go again. If you enjoyed that vintage, old-school/new-school
Miguel Cabrera
-versus-Mike Trout debate last year, get ready for Round 2. As Jared Cross wrote the other day, Trout has injected himself into what once looked like a Cabrera-
Chris Davis
MVP conversation by charging up those AL leaderboards. But if this keeps up, some great sabermetric minds are going to have to explain to the masses how it's possible that Trout leads Cabrera in offensive wins above replacement, but is trailing Cabrera overall because of (gulp) Cabrera's defense. Incredible, huh? But let's save that issue for another day.
AL Cy Young:
Felix Hernandez
can tell you all about how Cy Young voters have finally learned to de-emphasize wins. But let's see them try to factor out wins this year, when King Felix is leading the league in ERA but trying to make his case against a guy who is 16-1 (
Max Scherzer
) -- and first in his league in WHIP, lowest opponent average and lowest opponent OPS. Can't wait for that debate.
NL Cy Young:
With all due respect for the awesome seasons of
Adam Wainwright
,
Matt Harvey
,
Madison Bumgarner
,
Patrick Corbin
,
Francisco Liriano
,
Craig Kimbrel
, etc., all Kershaw does every five days is remind us that he's the best pitcher in baseball. Still. Just so you know, if Kershaw can finish with the ERA (1.91), WHIP (0.88) and opponent average (.188) he has now, the only pitchers in the live-ball era who have ever been in that neighborhood (or better) over a full season are Bob Gibson,
Greg Maddux
,
Pedro Martinez
, Sandy Koufax and Luis Tiant. Whoever they are.
Rookies of the Year:
In the AL,
Jose Iglesias
has a shot to become the first rookie of the year ever to get traded in midseason. But
Wil Myers
can screw up that claim to fame. And in the NL, this remains one of the wildest rookie-of-the-year free-for-alls ever, with
Jose Fernandez
,
Shelby Miller
,
Hyun-Jin Ryu
,
Julio Teheran
,
Evan Gattis
and
Yasiel Puig
all making cases for themselves that are going to require many, many Advil for the ROY electorate.
[+] Enlarge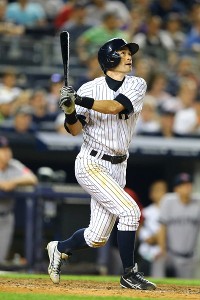 Al Bello/Getty ImagesIchiro Suzuki is about to enter some rarefied air.
4. The 4,000-hit man
The folks obsessed with a certain troubled third baseman may differ. But in my neighborhood, the most interesting story in Yankees Land this month revolves around a man who is chasing a number very few living humans have ever seen chased.
That man is
Ichiro Suzuki
. That number is 4,000.
And no, that isn't how many reporters from his homeland follow Ichiro around every day. It's the number of hits he's about to have on his permanent record if we count the 1,278 hits he spewed in his nine seasons in Japan.
At the moment, he finds himself just 11 hits away. And I hope you don't let that milestone go whooshing by you too quickly before you stop to think about what it means.
The last time we witnessed anyone getting his 4,000th hit was April 13, 1984, when Pete Rose collected No. 4,000 off Jerry Koosman, in a stadium we no longer find on the baseball map (the late, great Stade Olympique in Montreal).
Just for perspective's sake, the Hit King got that 4,000th hit in his 3,259th game. That's nearly 200 more than Ichiro has played (3,075) on both sides of the Pacific. Which means he's going to beat Rose to No. 4,000 by more than a full season. Wow.
The only other 4,000th hit ever? Ty Cobb got that one -- on July 18, 1927. So if you weren't hanging out at old Nevin Field in Detroit that day 86 years ago, you've never seen any American Leaguer do what Ichiro is about to do. Pretty mind-boggling feat -- on any continent.
5. History majors
Finally, here's just a taste of some of the historic pursuits you can keep your eye on over the next two months:
Chris Davis:
On pace for 58 home runs, 102 extra-base hits, 151 RBIs and 72 more extra-base hits than singles. There has never been a season like it.
Mike Trout:
He's leading the American League in walks. He's tied for the league lead in hits. And if he can wind up leading in both categories, he'd be only the fifth player since 1900 to do that in the same season. The others: Rogers Hornsby, Richie Ashburn, Carl Yastrzemski and Lenny Dykstra.
Joey Votto:
See that note above? How unreal would it be if two men finished first in their league in hits and walks in the same season? Well, Votto has a shot, too. He has a big lead in walks. He's three behind
Jean Segura
for the lead in hits. And Votto and
Shin-Soo Choo
have an outside chance to become the second set of NL teammates ever to reach base 300 times apiece (via hit, walk and HBP) in the same season. The other:
Jeff Bagwell
and
Craig Biggio
, for the 1997 Astros.
Miguel Cabrera:
And then there's Miggy. He might not win the Triple Crown for a second straight year. But if he can stay healthy enough to get on the field regularly, Cabrera still has a chance to do something no Triple Crown winner has ever done -- hit that trifecta one year and then have a better season the next year.
Here are Cabrera's numbers from last season, and his projected numbers for this season. This is truly amazing:
2012:
.330/.383/.606, 44 homers and 139 RBIs
2013:
.359/.453/.668, 48 homers and 148 RBIs
I chronicled this a few months ago, but here it is again just to help you digest this man's greatness: Only one Triple Crown winner in history (Ted Williams) ever drove in more runs the following year. Just two (Williams and Mickey Mantle) had a better batting average the next season. And none of them hit more home runs The Season After. But this guy could do all of the above.
So once again, we find ourselves drawn to the flat screen every time Miguel Cabrera starts marching toward home plate. And that beats watching A-Rod-Palooza every day of every week. Don't you think?
August, 16, 2012
8/16/12
7:03
PM ET
Welcome to another edition of Five Astounding Facts:
1
Thanks to the great
Felix Hernandez
, the Mariners just became the first team in 40 years (since the '72 Cubs) to throw two no-hitters in the same season that weren't started by the same pitcher. But we're going to climb to the peak of Mount Rainier and venture this guess:
You'll never find two no-hitters more different than these two. Here's why: The winning pitcher in their first no-hitter, that June 8 six-pitcher special, was their third reliever of the game,
Stephen Pryor
. And he got only ONE out. But he allowed more baserunners (via two walks) in his one-third of an inning than King Felix did in all nine innings he was out there. Try pulling that off on your next trip to the "MLB 2K12" Perfect Game Club. We dare you.
Hernandez
2
We've heard of some bizarre niches in sports, but specializing in getting no-hit? That's the Rays' bizarre claim to fame. They've now been on the wrong end of four no-hitters in the past four seasons -- by
Mark Buehrle
(2009),
Dallas Braden
(2010),
Edwin Jackson
(2010) and King Felix (2012).
So how many other teams since 1900 have gotten no-hit four times in four years? Not a one, of course. The A's did it four times in six years, from 1969 to '74, and the Phillies did it four times in five years TWICE (1960-64 and 1968-72).
And ohbytheway, just to put this in some sort of perspective, the Yankees have been no-hit four times in the past 95 seasons.
3
Then there's Safeco Field, rapidly becoming one of the great no-hit emporiums of modern times. This makes three no-hitters thrown at Safeco in just the past four months. So how does that compare to other parks out there? We'll tell you how:
• In Kansas City, Kauffman Field has hosted three no-hitters in its history -- in 40 seasons. Wrigley Field has been the site of ZERO no-hitters, by either team, in the past 40 seasons. And Shea Stadium was around for 45 seasons -- and hosted just two no-hitters. Then again, in a related development, the Mets played there.
4
In astounding non-no-hitter news, we saw something Tuesday that we'd never seen before: In one game that day (Reds-Mets), the only scoring came on a home run by the last hitter in the game (
Jay Bruce
). In the other (Marlins-Phillies), the only scoring came on a home run by the first hitter in the game (
Jimmy Rollins
).
Well, there was a good reason we couldn't remember ever having seen that. According to the Elias Sports Bureau, it was the first day in history to feature two games that met that description. Yep, that explains it!

Alvarez
5
Finally, if you have a big, shiny, yellow sombrero sitting around the house, you might want to ship it to the Pirates' favorite free hacker,
Pedro Alvarez
. He deserves it. On Wednesday, he racked up his third career "golden sombrero" (going 0-for-4 with four strikeouts). But what made this one special was that it came in a game he didn't even start. (He entered after a
Neil Walker
injury in the first inning.) So how hard is THAT? Glad you asked.
According to Baseball-Reference.com's indispensable Play Index, here is
Alvarez's place in golden sombrero history
:
• He's the first position player to pull off a sombrero in a game he didn't start in 41 years -- since White Sox catcher Tom Egan did it (after pinch hitting for the pitcher) on Aug. 21, 1971.
• He's the first National League position player to do it in 67 years -- since Brooklyn Dodgers shortstop Eddie Basinski went sombrero shopping in a 15-inning game Aug. 13, 1945.
• He's the first NL position player to do it in a nine-inning game in nearly 80 years -- since New York Giants third baseman Johnny Vergez spun a slightly tainted sombrero (by a walk) on July 7, 1934.
• And he's just the fifth position player, period, to earn a sombrero, without starting the game, in the live-ball era.
This means, when you think it through, what Pedro Alvarez did Wednesday was actually more rare than what Felix Hernandez did. Who knew?
November, 19, 2010
11/19/10
8:46
AM ET
I never get tired of explaining to people why
Felix Hernandez
was the right choice for the AL Cy Young Award. So here come five of my favorite Felix tidbits:
1. It's not enough to say that King Felix got crummy run support. He got
historically
crummy run support. According to the Elias Sports Bureau, he had A) the worst run support of any pitcher in baseball, B) the worst run support of any pitcher in this millennium and C) the worst run support by an AL pitcher with an ERA under 2.50 since Jon Matlack in 1978. Now that's crumminess!
2. I keep hearing the skeptics say the guy should have found ways to win more than 13 games. Uh, how exactly? In seven of his last 14 starts, he left in the seventh inning or later in games his team scored
zero
runs for him. So how exactly was he supposed to find a way to win those games? I guess the argument is, he should have stayed out there longer. But guess what? He faced more hitters (1,001) than any pitcher in the big leagues. Was he supposed to stay out there until he faced 2,000?
3. Then there's that other fun argument: Yeah, but King Felix didn't have to face the Yankees and Red Sox all the time like
David Price
did. True. But in the four starts in which he did face the Yankees and Red Sox, do you know what his ERA was? How about 0.54. Price's ERA in seven starts against New York and Boston was 3.61.
4. But, as one of my Twitter buddies pointed out, the world is indeed larger than the Yankees and Red Sox. Good point. So here's more: In 22 starts against teams with winning records, Hernandez had a 2.26 ERA. Price's ERA in 21 starts against teams that were .500 or better: 2.67.
CC Sabathia
's: 3.32.
5. Finally, I don't think it's dawned on people how great this guy was. Among Hernandez's many, many great feats, this one jumped off the screen at me: He ripped off 30 quality starts. No AL pitcher had thrown that many quality starts in a season in 21 years -- since Bret Saberhagen also racked up 30 in 1989. Know the last AL pitcher with more quality starts? That was Catfish Hunter, in 1974 (with 31). That was so long ago, King Felix was 12 years away from making his debut on Planet Earth.
So years like this don't come along too often, friends. And when they do, the least we can do to celebrate them is give the guy responsible the Cy Young Award. Don't you think?