Jayson Stark:

Houston Astros
September, 23, 2013
9/23/13
12:46
PM ET
Here at the September History Watch, we'd like to thank the
Houston Astros
for supplying us so much rich, historic material these past three seasons, simply by, well, losing a lot. As in really, really a lot.
We're well aware that one of these years, given the monster farm system they're building, they're not going to be furnishing us these sorts of insane numbers anymore. So some day, when they win the AL West like eight years in a row, we promise we'll be jumping all over that historic development, too, naturally.
But for now, we take our History Watch developments however they come along. And suffice it to say that no team on the planet is making history like these Astros. So fasten your seat belts. Here we go:
[+] Enlarge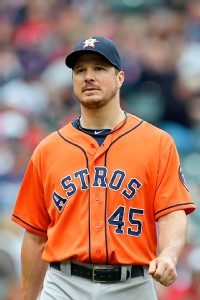 AP Photo/Mark DuncanAs you can imagine, it's been an awful long year for Erik Bedard and the Astros.
•
The 106-loss watch:
At 51-105, they've already become the fifth team in the past half-century, and the 11th since 1900, to lose at least 100 games three seasons in a row. But next up is a milestone only Casey Stengel and Choo-Choo Coleman can truly appreciate. If the Astros lose just one more time this season, they'd become only the second team ever -- and first non-expansion team -- to lose at least 106 games three years in a row. The other was Casey and Choo-Choo's legendary 1962-65 Mets, who did that in the first four years of their existence. The Astros' magic number to avoid hanging out with that crew is six -- because they'd need to go 6-0 to finish with "only" 105 losses. The good news: They did win six in a row once this year (May 29-June 3). The bad news: That's their only six-game winning streak in their past 500 games.
•
Crazy 108's:
But here's an even bigger number to watch: If the Astros don't go at least 4-2, they'd carve out a niche in the history books all their own -- by not just losing 106-plus three years in a row, but by losing 106 the first year and then losing
more
games than that in each of the next two years. They went 56-106 two years ago. They went 55-107 last year. So this is a bigger week for this team than you realized. Right?
•
Viva la (run) difference:
Perhaps you've noticed this trend: When you lose in triple digits, you tend to give up a lot more runs than you score. And so, for the second straight year, the Astros are almost certainly going to have a run differential of over 200. (They're at minus-215 at the moment.) So barring a week of blowout wins, they're about to become just the fifth franchise to reach minus-200 in back-to-back seasons since the advent of the 162-game schedule. The others: Dmitri Young's 2002-03 Tigers, Runelvys Hernandez's 2005-06 Royals, Johnny Grubb's 1973-74 Padres and (here they come again) those 1962-63-64-65 Mets.
•
Attention Kmart shoppers:
It has been another sweltering summer in Houston, but hey, at least there's a breeze. And for that, Houstonians can thank the Astros, who already have struck out 1,468 times this season. One thing that has meant is: They broke the American League record for most whiffs (1,387, by the 2012 A's) with more than two weeks left in the season. And next up, there can't possibly be a more dramatic record chase anywhere this week than the Astros' "pursuit" of the major league record for most K's in a season.
Mark Reynolds
' 2010 Diamondbacks hold that one, with 1,529. The Astros' current pace: 1,524. The potential X factor: How many times will they punch out against
Yu Darvish
on Tuesday night?
•
Play the percentages:
Either way, here's one strikeout record these Astros are almost guaranteed to break: They're about to become the first team in history to strike out in more than 25 percent of their plate appearances in a season. They're currently at 25.3 percent. Those 2010 Diamondbacks whiffed in "only" 24.7 percent of their trips to the dish. Just to put that in perspective, only five qualifying starting pitchers in the entire AL have struck out 25 percent (or more) of the hitters they've faced this year: Darvish,
Max Scherzer
,
Anibal Sanchez
,
Felix Hernandez
and
Chris Sale
. And the Astros do that, basically, every night. Against everybody.
•
Don't walk this way:
But maybe the Astros' most amazing strikeout feat of all is this: They're going to become the first team to punch out 1,000 more times than they walk (Current numbers: 1,468 strikeouts, 409 walks). And that, friends, is really tough to do. The old record (940) was held by -- who else? -- those 2010 Diamondbacks. But what about the AL record, you ask? These Astros look as though they're going to wipe out that one (845, by the 2011 Mariners) by more than 200. Crazy, huh?
In other news:
Finally, here's one more barrage of funky Astros numbers to chew on, in no particular order:
• When the Indians swept them this weekend, it marked the 16th time the Astros have been swept in a series this year. For what it's worth, the A's have only been swept in three series all year -- just one of which has come in their past 120 games.
Keuchel
Harrell
• Is it possible no pitcher on this team is even going to win
seven
games this season? Uh, yes it is. Their leading winners as we speak are
Lucas Harrell
(6-16) and
Dallas Keuchel
(6-9). A mere nine years ago,
Roger Clemens
had racked up seven wins for this team by May 11!
• And now, let's pour another bowl of Special K. Astros hitters are now up to 76 double-digit strikeout games. No AL team in history had ever even had 60 in one year. The previous major league record: 73 (by those 2010 Diamondbacks).
• A breakdown of this team's most prolific strikeout games: They've piled up 18 whiffs in one game, 16 in another, 15 in four games, 14 in six games, 13 in six more and 12 in 21 games. Their 12 games of 14 or more? That would be -- you guessed it -- yet another record. That's two more than those 2010 D-backs.
• And, finally, there's this: The Astros have gone 18-70 this season against teams that are .500 or better, according to baseball-reference.com. That comes out to a winning percentage of (yikes!) .205, a number that has been topped (or is that bottomed?) by only two other teams in the live ball era -- Fred Frankhouse's 1935 Boston Braves (14-73, .161) and Arnie Portocarrero's 1954 Philadelphia A's (13-53, .197). With six games left against the Rangers and Yankees, we're calculating these Astros only need to find a way to win one of them to avoid rising (or is that falling?) to second on that list. Can they do it? Of course they can. They've already lost nine games in a row. They've never lost 15 in a row in the history of the franchise. So there ya go.
August, 8, 2013
8/08/13
3:34
PM ET
The past couple of days have reminded me of something I'd almost forgotten. There is life after A-Rod-Palooza.
There is a great baseball season going on out there, friends. So let's stop talking about that third baseman for the Yankees and start focusing on all the fabulous baseball stories that are roaring toward their dramatic conclusion.
And what stories do I have in mind? How about these Five Stories I'll Be Watching (Instead of That Guy):
[+] Enlarge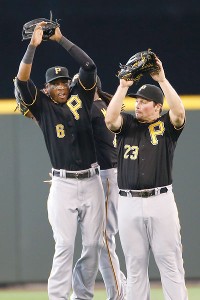 Otto Greule Jr/Getty ImagesIt's hard not to get excited about the Pirates.
1. The Pirates
The
Pittsburgh Pirates
are going to finish with a winning record, ladies and gentlemen. I have never felt more confident about saying that.
They are not going to have 10 pitchers undergo Tommy John surgery in the next 20 minutes. They are not going to lose 37 of their next 48 games. They are not going to reenact August and September of 2012, or August and September of 2011.
They're too good. They have the fourth-best run differential in the National League (plus-60). They've allowed the fewest runs in the major leagues (just 385) -- something they haven't accomplished over a full season since 1984. And opponents are hitting a ridiculous .229 against their pitching staff -- which would be the lowest average against any National League staff since Jim Deshaies' 1986 Astros.
I can't tell you these Pirates are going to win the World Series. I can't tell you they'll win any kind of postseason series. But they're still the best story in the major leagues. So let's just enjoy this ride. OK?
2. The races
The NL East race is over. The AL Central race feels like it's in guarded, but unstable, condition. And over in the NL West, the Dodgers have gained 14 .5 games in the standings on Arizona just in the past seven weeks. So we can see where that one is headed.
But the NL Central is shaping up as a must-see duel between the best offense in the National League (the Cardinals) and the best pitching staff (the Pirates) -- with nine riveting games left between these two teams. Sign me up for that.
And how about the AL West, where the Rangers just made a six-game Oakland lead disappear in a span of nine days. Those teams have two series left against each other. But the schedule, in general, favors Texas, which has the easiest remaining schedule of any AL contender, including 10 games left against their good friends from across the state, the Astros.
And then there's that AL East race, which has a chance to be the best of them all.
The Red Sox just became the first AL team to reach 70 wins -- and did it following a year where they didn't win 70 games all season. Think about that. Elias tells us they're the first AL team to pull off that trick (not counting strike-shortened seasons) since Harlond Clift's 1945 Senators, and (because those Senators got to 70 on the same day as the Tigers) the first to do it outright since George Herman Ruth's 1926 Yankees.
But then there are the Rays, owners of the best record in the whole sport over the past 81 games and a team so hot they just lost their first series in seven weeks. So pick against them at your peril.
And I'm not ready to write off the Orioles, who lead the major leagues in home runs and slugging, upgraded their pitching before the deadline and are currently on pace to become the first team in history to commit fewer than 50 errors in a 162-game season. (Heck, no one else in the expansion era has even finished a season with fewer than 60.) The Orioles have 16 games left against Boston and Tampa Bay. So stay tuned.
3. The awards
NL MVP:
Yadier Molina
was our midseason pick, but his knee issues are about to sabotage his MVP campaign. So are we ready for a starting pitcher (i.e.,
Clayton Kershaw
) to win this thing? Do guys like
Paul Goldschmidt
and
Joey Votto
have MVP finishes in them? And don't look now, but here comes
Andrew McCutchen
, whose credentials include this nugget: He,
Mike Trout
and
Carlos Gonzalez
are the only players in their league to rank in the top 10 in both stolen bases and slugging.
AL MVP:
Uh-oh. Here we go again. If you enjoyed that vintage, old-school/new-school
Miguel Cabrera
-versus-Mike Trout debate last year, get ready for Round 2. As Jared Cross wrote the other day, Trout has injected himself into what once looked like a Cabrera-
Chris Davis
MVP conversation by charging up those AL leaderboards. But if this keeps up, some great sabermetric minds are going to have to explain to the masses how it's possible that Trout leads Cabrera in offensive wins above replacement, but is trailing Cabrera overall because of (gulp) Cabrera's defense. Incredible, huh? But let's save that issue for another day.
AL Cy Young:
Felix Hernandez
can tell you all about how Cy Young voters have finally learned to de-emphasize wins. But let's see them try to factor out wins this year, when King Felix is leading the league in ERA but trying to make his case against a guy who is 16-1 (
Max Scherzer
) -- and first in his league in WHIP, lowest opponent average and lowest opponent OPS. Can't wait for that debate.
NL Cy Young:
With all due respect for the awesome seasons of
Adam Wainwright
,
Matt Harvey
,
Madison Bumgarner
,
Patrick Corbin
,
Francisco Liriano
,
Craig Kimbrel
, etc., all Kershaw does every five days is remind us that he's the best pitcher in baseball. Still. Just so you know, if Kershaw can finish with the ERA (1.91), WHIP (0.88) and opponent average (.188) he has now, the only pitchers in the live-ball era who have ever been in that neighborhood (or better) over a full season are Bob Gibson,
Greg Maddux
,
Pedro Martinez
, Sandy Koufax and Luis Tiant. Whoever they are.
Rookies of the Year:
In the AL,
Jose Iglesias
has a shot to become the first rookie of the year ever to get traded in midseason. But
Wil Myers
can screw up that claim to fame. And in the NL, this remains one of the wildest rookie-of-the-year free-for-alls ever, with
Jose Fernandez
,
Shelby Miller
,
Hyun-Jin Ryu
,
Julio Teheran
,
Evan Gattis
and
Yasiel Puig
all making cases for themselves that are going to require many, many Advil for the ROY electorate.
[+] Enlarge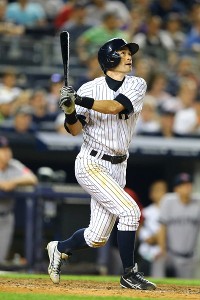 Al Bello/Getty ImagesIchiro Suzuki is about to enter some rarefied air.
4. The 4,000-hit man
The folks obsessed with a certain troubled third baseman may differ. But in my neighborhood, the most interesting story in Yankees Land this month revolves around a man who is chasing a number very few living humans have ever seen chased.
That man is
Ichiro Suzuki
. That number is 4,000.
And no, that isn't how many reporters from his homeland follow Ichiro around every day. It's the number of hits he's about to have on his permanent record if we count the 1,278 hits he spewed in his nine seasons in Japan.
At the moment, he finds himself just 11 hits away. And I hope you don't let that milestone go whooshing by you too quickly before you stop to think about what it means.
The last time we witnessed anyone getting his 4,000th hit was April 13, 1984, when Pete Rose collected No. 4,000 off Jerry Koosman, in a stadium we no longer find on the baseball map (the late, great Stade Olympique in Montreal).
Just for perspective's sake, the Hit King got that 4,000th hit in his 3,259th game. That's nearly 200 more than Ichiro has played (3,075) on both sides of the Pacific. Which means he's going to beat Rose to No. 4,000 by more than a full season. Wow.
The only other 4,000th hit ever? Ty Cobb got that one -- on July 18, 1927. So if you weren't hanging out at old Nevin Field in Detroit that day 86 years ago, you've never seen any American Leaguer do what Ichiro is about to do. Pretty mind-boggling feat -- on any continent.
5. History majors
Finally, here's just a taste of some of the historic pursuits you can keep your eye on over the next two months:
Chris Davis:
On pace for 58 home runs, 102 extra-base hits, 151 RBIs and 72 more extra-base hits than singles. There has never been a season like it.
Mike Trout:
He's leading the American League in walks. He's tied for the league lead in hits. And if he can wind up leading in both categories, he'd be only the fifth player since 1900 to do that in the same season. The others: Rogers Hornsby, Richie Ashburn, Carl Yastrzemski and Lenny Dykstra.
Joey Votto:
See that note above? How unreal would it be if two men finished first in their league in hits and walks in the same season? Well, Votto has a shot, too. He has a big lead in walks. He's three behind
Jean Segura
for the lead in hits. And Votto and
Shin-Soo Choo
have an outside chance to become the second set of NL teammates ever to reach base 300 times apiece (via hit, walk and HBP) in the same season. The other:
Jeff Bagwell
and
Craig Biggio
, for the 1997 Astros.
Miguel Cabrera:
And then there's Miggy. He might not win the Triple Crown for a second straight year. But if he can stay healthy enough to get on the field regularly, Cabrera still has a chance to do something no Triple Crown winner has ever done -- hit that trifecta one year and then have a better season the next year.
Here are Cabrera's numbers from last season, and his projected numbers for this season. This is truly amazing:
2012:
.330/.383/.606, 44 homers and 139 RBIs
2013:
.359/.453/.668, 48 homers and 148 RBIs
I chronicled this a few months ago, but here it is again just to help you digest this man's greatness: Only one Triple Crown winner in history (Ted Williams) ever drove in more runs the following year. Just two (Williams and Mickey Mantle) had a better batting average the next season. And none of them hit more home runs The Season After. But this guy could do all of the above.
So once again, we find ourselves drawn to the flat screen every time Miguel Cabrera starts marching toward home plate. And that beats watching A-Rod-Palooza every day of every week. Don't you think?
April, 9, 2013
4/09/13
12:44
PM ET
According to Kmart.com, there are no longer any Kmarts in the entire Houston metropolitan area.
Hey, that's funny. Our ESPN.com
stats page
begs to differ.
That stats page tells us the
Houston Astros
have spent this season erecting the kind of Kmart superstore never before witnessed in this great sport of ours. And let's just say it has captured our attention.
At their current rate, the Astros are going to strike out almost 1,900 times this year, friends. And yessir, I said 1,900.
Yeah, I know that's after only seven games. Yeah, I know that's (all together now) "a small sample." Yeah, yeah. I know this can't possibly be sustainable. Uh, I think.
But when I mentioned to a scout friend, on Tuesday morning, that the Astros were on this crazy pace to whiff 1,900 times, his first reaction wasn't to tell me: "Calm down, man. It's only seven games."
His first reaction was "I think they have a very good chance of doing that."
[+] Enlarge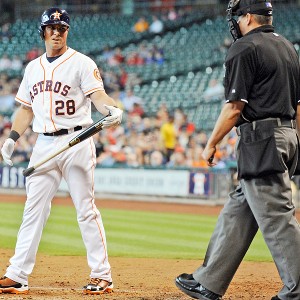 AP Photo/Pat SullivanHouston's Rick Ankiel has a dozen strikeouts in 14 plate appearances this season.
OK, no they don't. They can't. Possibly. Do. That. Can they?
Only one team in baseball -- the 2010 Diamondbacks -- has ever struck out 1,400 times in a season. At this rate, the Astros are going to blow by the 1,400-K mark by Aug. 14.
So I'm confident. That's. Not. Going. To. Happen.
But even if we confine this discussion to what's already happened, the Astros' strikeout rate boggles the mind. Totally. Ready? Here we go:
• The Astros have already whiffed at least 13 times in five of their first seven games. Meanwhile, across the beautiful state of Texas, the Rangers have whiffed 13 times (or more) in five games -- in the last
three years
(almost). Exact count: five times in their last 470 games, dating back to April 30, 2010.
• At one point this weekend, the Astros were averaging 14 strikeouts a game. Meanwhile, the Dodgers hadn't struck out 14 times in any game in their last 344 games (also dating back to 2010).
• As armchair historian Jeff Sullivan (@based_ball) pointed out on Twitter last night,
Tony Gwynn
once struck out just 86 times in five years (covering 2,653 plate appearances). The Astros have already struck out 82 times this season in a mere seven games (covering 239 plate appearances).
• As folks on Twitter keep observing, watching the Astros this year is like watching a lineup of nine
Mark Reynolds
. But in fact, that's not quite true. When Reynolds set the all-time strikeout record of 223 in 2009, he punched out in an incredible 32.5 percent of his trips to the plate. But the 2013 Astros are somehow whiffing at a higher rate than that (34.3 percent) as a team. Ought to be impossible. Shouldn't it?
• Once upon a time, Enos Cabell's 1976 Astros struck out 719 times during an entire season. At this clip, this year's Astros are going to blow by that team's total on June 7.
• Finally, only four players in the American League have struck out 12 times already. But guess what? Three of them are Astros:
Brett Wallace
(13 times in 17 at-bats),
Chris Carter
(13 times in 26 at-bats) and
Rick Ankiel
(12 times in 13 at-bats since his Opening Day pinch homer). As our friend Dave Cameron of FanGraphs tweeted last night, these are Ankiel's 13 plate appearances since that homer: K, K, K, lineout, K, K, K, K, K, K, K, K, K. Not a good trend.
OK, now that I've got all that out of the way, let's put this in a different perspective:
As Buster Olney and I discussed on today's
Baseball Tonight podcast
, we don't mention these things because we have any sort of anti-Astros agenda or because we're looking to demean or make fun of anyone.
We mention these things for one reason: Because they're
unprecedented
.
When stuff happens in baseball that has never happened before -- in 138 seasons -- we're supposed to pay attention. That's what we do for a living.
We both have a lot of respect for the people running this team, and we recognize what they're trying to build and how they're trying to build it. But between now and when the Astros get good, one thing is pretty clear:
They're going to construct a Kmart of epic proportions.
In other news ...
• The Astros don't have the only lineup that is off to a start we could describe as historically grim. How 'bout those Pirates? Through seven games, they're batting .126 -- as a team. Checked with the Elias Sports Bureau and learned this:
How many other clubs since 1900 have had a team average that low through their first seven games? Not a one. Not in the dead-ball era. Not in the live-ball era. Not in the Bob Gibson 1.12 ERA era. Or any other era.
The previous low: .144, by Whitey Alperman's 1907 Brooklyn Dodgers and Shane Halter's 2003 Tigers.
• On Sunday, the two reigning Cy Youngs --
David Price
and
R.A. Dickey
-- each started games that their teams lost 13-zip. This caused loyal reader Evan Jones to ask if two Cy Youngs had ever started games that turned into losses that lopsided on the same day. The answer is amazing.
Not only had that never happened to two Cy Youngs on the same day before, according to Elias. It had happened only once in the history of the Cy Young Award. That was July 26, 2010, when
Zack Greinke
started for the Royals against the Twins and his team wound up losing 19-1.
• More on that crazy outbreak of 13-0 games: SweetSpot blogger Diane Firstman (@dianagram) reports that there had been only two days in history that featured two shutouts that lopsided: June 9, 1915 (Tigers over Red Sox 15-0 and White Sox over Yankees 13-0) and Aug. 8 of last season (Giants over Cardinals 15-0 and Marlins over Mets 13-0).
• Finally, yet one more related tidbit: In his first two starts this season,
Justin Masterson
beat
both
incumbent Cy Youngs, out-twirling Dickey in his first start and Price in his second. So how many other pitchers had ever done that in their first two starts of any season? That would be zero. In fact, just two pitchers had ever beaten both defending Cy Youngs at any point in the same season before (Bruce Hurst in 1989,
Shane Reynolds
in 2003), according to Elias.
But that's not all. Before those two starts, Masterson had made only one start in his whole career in which he defeated a pitcher who had ever won a Cy Young (last May 24, against
Justin Verlander
). So let's see now. That came to one win like that in his previous 121 starts (and 39 wins). And then two in a row. Of course!
April, 3, 2013
4/03/13
2:46
PM ET
As you watched
Yu Darvish
carve up the Astros on Tuesday night, did it enter your mind at all:
Could this team get no-hit like six times this year?
Baseball Prospectus projects that this Astros lineup
is going to hit .236/.303/.385 this year
. And friends, that's hard to do in this day and age.
Over the past 20 years, only one National League team has matched or submerged beneath that slash line. And that would be ...
Last year's Astros (.236/.302/.371).
Who were only no-hit once all season, for what it's worth (by
Matt Cain
). So take the under.
On the other hand, the Astros now play in a division that includes
Felix Hernandez
,
Jered Weaver
,
Jarrod Parker
,
Brett Anderson
and a whole parade of other live arms. And they're now in the same league as
Justin Verlander
,
Max Scherzer
,
David Price
,
Chris Sale
,
Jon Lester
and
CC Sabathia
. Among others.
[+] Enlarge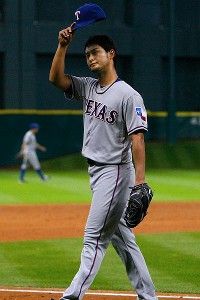 AP Photo/Karen Warren/Houston ChronicleThe Astros were no match for Yu Darvish, who fanned 14 of 27 batters.
So just for future reference, it looks like, while they're lined up to miss King Felix next week, they'll then run into Weaver the following weekend. And, a week or so after that, they'll kick off a stretch in which they face the Mariners, Red Sox, Yankees, Tigers, Angels, Rangers and then Tigers again, in that order. So don't shut down that No-Hitter Watch quite yet.
In other Darvish tidbits ...
• We tend to think of no-hitters and perfect games as being, for the most part, random and flukish occurrences. But that wouldn't describe this game. In fact, there has never been a pitcher who was as dominant as Darvish was Tuesday who had his perfecto broken up with two outs in the ninth. Never.
Until
Marwin Gonzalez
bounced that single up the middle, Darvish had thrown 109 pitches and the Astros had only put 12 of them in play all night -- meaning they'd accumulated more strikeouts (14) than fair balls (12). Amazing.
According to Joe Taxiera's invaluable stat/record book, "A Unique Look at Big League Baseball," Darvish was the 11th pitcher in history to have a perfect game broken up with two outs in the ninth. Not one of the previous 10 had struck out at least 14 of the first 26 hitters. And only two of those 10 reached double figures in whiffs:
Mike Mussina
of the Yankees (13), on Sept. 2, 2001, against the Red Sox.
Dave Stieb of the Blue Jays (11), on Aug. 4, 1989, against the Yankees.
So this was, officially, the most overpowering brush with perfection ever witnessed.
• Another oddity: The Astros spent 50 years in the National League and never once got no-hit in a game played in Houston. Then they almost got no-hit in their
second
game there in the American League.
• And here's one more: Until last season (when Cain did it), we'd only had one perfect game pitched in history in which a pitcher piled up 14 strikeouts or more. Sandy Koufax pitched that one, on Sept. 9, 1965. Then we almost had two of those games bust out in 9.5 months -- against the same team. Crazy.
• OK, how about yet one more: Had the Astros been the victims of a perfect game, at least they would have had the (ahem) perfect solution for how to respond the next day -- by starting a pitcher who has
pitched
a perfect game (Wednesday's Astros starter:
Philip Humber
, who threw one last year).
• So how dominating was Darvish in this game? He got the Astros to swing and miss 27 times. As ESPN Stats & Info reported, only one pitcher in the last five years has gotten more swings and misses in any start:
Francisco Liriano
(30), against Oakland last year.
• Just for comparison's sake, that's three more swings and misses against Darvish
in one night
than
Aaron Cook
has induced in his last eight starts
combined
. Cook in those eight starts, according to PitchFX: 540 pitches, 24 swings that missed.
• A cool note from the Elias Sports Bureau: Had Darvish gotten that 27th out, he would have been the first pitcher ever to twirl a perfect game in his first start of any season.
• Fun question from Twitter follower Jorge J. Muniz Ortiz: Would Darvish have had the shortest first name of any pitcher ever to pitch a perfect game? And the answer is: Nope -- with an asterisk. A fellow named Cy Young pitched the first perfecto in modern history on May 5, 1904. However ...
As you Cy Young aficionados know, Young's real first name was Denton. So if we disallow nicknames, Darvish would have broken the record shared by
Roy Halladay
, Len Barker, Jim Bunning, Don Larsen and Lee Richmond. Oh, well.
• And one more thing that would have made this perfect game particularly amazing: To throw a perfect game, you need to walk nobody, correct? Well, this was the 31st start of Darvish's big league career. You know how many times he walked zero in the other 30 starts?
That would be none. Of course!
September, 14, 2012
9/14/12
12:31
PM ET
Here we go again. It's time for another edition of the Five Astounding Facts of the Week:
1

If you live in our nation's capital, or thereabouts, we advise you to stare long and hard at those standings today -- because you'll be taking in a sight that folks in Washington haven't witnessed since the early days of the Franklin D. Roosevelt administration:
The Nationals are 35 games over .500.
It's the first time a team from D.C. has reached those heights since 1933 -- and, incredibly, only the fourth time ever. The only other seasons where that happened? That would be 1930 and 1925. Anybody got a number for Walter Johnson? We need to get his joyful reaction.
2
When
B.J. Upton
launched three home runs against the Rangers last Sunday, he wasn't merely the first Upton brother to make three trots in one game. He was also ...

Upton
• Only the seventh American Leaguer in the live-ball era to go deep three times as a leadoff hitter -- and the first since a guy from Oakland who was
not
named
Rickey Henderson
(
Ernie Young
, on May 10, 1996).
• The third man in this millennium to hit three home runs (or more) in a game where the team he was playing didn't even get
three hits
. The others:
Jonny Gomes
(against the Nationals) on Aug. 13, 2009 and
Geoff Jenkins
(against the Padres) on May 21, 2003.
3
Something else happened in that game that got the attention of loyal reader Michael Young (no, not
that
Michael Young). Rangers reliever
Yoshinori Tateyama
compiled one of those box-score oddities that makes laptops explode all around the globe:
Tateyama
One inning pitched -- but only two pitches thrown.
How'd that happen? Simple. Tateyama arrived in the eighth inning with a runner on first, then got a
Jose Molina
double-play ball on his first pitch, and an Upton groundout on his second pitch.
What's up with that: According to baseball-reference.com's
awesome Play Index
, Tateyama was the first pitcher to get three outs on two pitches in over four years -- since
Bobby Jenks
did it on April 15, 2008.
But as Young pointed out, this two-pitch inning was extra efficient, because the pitcher who preceded Tateyama (
Martin Perez
) only threw one pitch in the inning himself. So what was the last tag team to combine on an inning like that? How 'bout the unforgettable Mets duo of Dwight Gooden and Anthony Young, who did it in the eighth inning of a July 21, 1993 game in San Diego. Who knew!
4
Rosario
Rockies catcher
Wilin Rosario
did something Sunday that's almost unheard of -- without the assistance of somebody like
Tim Wakefield
or a Niekro brother, that is:
Rosario racked up not one, not two, not three, but
four
passed balls in one game Sunday -- without a single knuckleballer throwing a pitch.
So how rare is that? Well, the Elias Sports Bureau reports that there have been 15 other games since 1980 in which a catcher had at least four passed balls -- but only two of them took place without a knuckleball being thrown. The others:
• Jerry Goff (Astros) on May 12, 1996 -- a six-PB extravaganza in which Goff hooked up with three non-knuckleballers (
Mike Hampton
,
Jeff Tabaka
and Anthony Young) for two passed balls apiece.
• Dave Nilsson (Brewers) on July 17, 1993 -- a game in which Nilsson and Jaime Navarro combined for four PBs in five innings.
And what's the most astounding part of all? Anthony Young has now worked his way into this blog twice -- and neither note had anything to do with his fabled 27-game losing streak. Who would have thought that was possible?
5


Finally, if there are two teams this season that our Five Astounding Facts private eyes are especially grateful to have around, it's those amazing Oakland A's and the equally amazing
Houston Astros
-- for different reasons, of course. And now (ta-taaaa) we've found a way to combine them in the same Astounding Fact! Ready? Here it comes:
The A's just won 12 road games
in a row
!
The Astros, meanwhile, have also won 12 times on the road
in their past 61 games
(away from home sweet Minute Maid).
Ladies and gentlemen, even the Five Astounding Facts crew couldn't make this stuff up.
August, 31, 2012
8/31/12
5:11
PM ET
Welcome to another edition of Five Astounding Facts:
1
Normally, our astounding facts of the week don't involve any 12-year-olds. But we're making an exception this week, because if you didn't watch the U.S. final of the Little League World Series, you missed one of the most amazing baseball games ever played. Among the stuff that happened was all this madness -- with big league comparisons, just for perspective:
• The team from Tennessee went into the bottom of the last inning, leading 15-5 -- and then gave up a 10-spot to California to tie the game.
Big league comparison:
The Elias Sports Bureau reports no team has ever scored 10 runs in the ninth inning to tie a major league game. And the last time a team scored nine in the ninth to tie, it happened on
the first day in the history of the American League
(April 25, 1901). So it has been a while.
• But after giving up 10 runs to blow that entire lead, that Tennessee juggernaut turned around and scored nine runs in the
next
half-inning.
Big league comparison:
There has never been a major league game in which teams scored 10 runs and nine runs, in either order, in consecutive half-innings. Hey, of course not.
• So in other words, what we had here was a team that gave up 10 runs in the bottom of the final inning and still won -- by eight (final score: 24-16).
Big league comparison:
Needless to say, there's never been anything like it in a major league game. Ever.
• And then there was this: How did the California team tie that game, after finding itself three runs down and one strike from going home? With back-to-back homers -- both of them with two outs and two strikes. That's how. (Take
that
,
David Freese
.)
Big league comparison:
According to the Sultan of Swat Stats, SABR home run historian David Vincent, there have been 10 major league games in which a team was three runs behind (or more) with two outs in the ninth inning, and then hit back-to-back homers to tie it. But in none of those games -- or, at least, in the eight for which we have pitch counts -- did both home runs come with two strikes. So there ya go.
Phew. Got all that? Hope so. We might be talking about a game played mostly by 12-year-olds. But there was nothing Little League about the historic stuff that went on in this game. Wouldn't you say?
And now ... back to The Show:
Davis
2
Has any player ever had a season quite like
Chris Davis
? Became the first American League position player since Rocky Colavito to win a game as a pitcher. ... Became the first position player to spin off two shutout innings and strike out two hitters since Matty Alou in 1965. ... Became (on the very same day) the third player in the live-ball era to strike out five times and hit into a double play. ... And now this:
Davis cranked up a three-homer game last Friday. And you know what that means? It means that since 1900, he's only the second position player to cram a three-homer game and a game where he was the winning pitcher into the same season. The other, according to ESPN's awesome Kernel collector, Doug Kern: Some guy named Babe Ruth, in 1930.
Teagarden
2A
But as one of our longtime baseball-writing heroes, Jim Henneman, reports, Davis might not have even had the most amazing season by an Oriole. How 'bout backup catcher
Taylor Teagarden
? He's 5-for-38 this season, with 17 strikeouts. And that's not good. But here are the five hits: a game-winning homer, a walkoff double, a game-tying homer, an RBI double and a single that started a four-run rally. So at least the guy knows how to pick his spots!
3
Repeat after us:
Jonathan Lucroy
has now driven in seven runs in a game
twice
this year. Among the players who have never even had one seven-RBI game:
Chipper Jones
,
Todd Helton
,
David Ortiz
,
Derek Jeter
,
Lance Berkman
,
Miguel Cabrera
,
Prince Fielder
and
David Wright
. What that says about the randomness of baseball -- and the randomness of RBIs -- we'll allow you to decide for yourself. But it's a beautiful sport. We'll tell you that.
4
There are only 30 major league teams. So it never ceases to amaze us how differently they're constructed. For instance, the Yankees now have eight different players on their team who have hit at least 200 home runs. ... And the Astros' entire active roster, before September call-ups, had hit 170 career home runs -- combined. How is that possible?

5
Finally, speaking of the Astros, it's hard to get through a week of Astounding Facts without a look at more of their Astrounding Facts. So here goes:
• Their loss Wednesday dropped them to 50 games under .500 (40-90). They also finished 50 under last season. So ... that makes them the third team in the 162-game-schedule era to drop 50 under in back-to-back seasons. The others: The 1962-63-64-65 Mets (who obviously did it in four straight seasons) and the 2002-03 Tigers.
• But that's not all. The Astros' loss Friday then got them to 52 under .500 -- before they'd even flipped the calendar to September. And how rare is that? Thanks for asking. In the past 50 years, since all teams began playing 162-game schedules, only one other non-expansion teams (plus three first-year expansion teams) have descended 52 games or more below Mount .500 before September. And here they are:
1962 Mets (67-under) *
2003 Tigers (67-under)
1969 Padres (55-under) *
1969 Expos (53-under) *
(* First season in franchise history.)
Hey, but it could be worse. Your all-time record-holders, the legendary 1899 Cleveland Spiders, actually fell 81 games below .500 heading into September. You know what their record was heading out of August? How about 19-100. Yikes. Almost makes these Astros look like the 2005 Astros. Almost.
August, 25, 2012
8/25/12
7:59
AM ET
Roger Clemens
continues to downplay the idea that his fun little comeback start in the Atlantic League this weekend is going to lead him to the big leagues. But go back and check the transcript of his news conference and listen to
his appearance on the Scott Van Pelt Show
. Never once does Clemens say anything to the effect of: "I'm only going to pitch in this one game, just for some chuckles, and that'll be it." Never.
So, it's no wonder two baseball men who know Clemens and new Astros owner Jim Crane told me this week: Don't be shocked if the Rocket
winds up on the mound in Houston in September
.
"Jim Crane and all those guys [in the Astros front office] underestimated how bad all this losing would make them look in the community," said one of those men. "They're taking a lot of heat, and they're looking for any kind of lifesaver, anything that could give people a reason to come to the ballpark and smile for a night. And who better to do that, in that town, than the Rocket?"
Other circumstantial evidence: The Astros have plummeted to last in the league in attendance. They're on pace to draw about 1.3 million fewer customers than they drew just five years ago. Clemens has a personal-services deal with the Astros that has yet to be exercised. And Crane and Clemens are friendly enough that they play golf together and were said, by one source, to have attended the All-Star Game together.
So you think this can't possibly happen? Think again.
August, 10, 2012
8/10/12
2:18
PM ET
Welcome to another edition of Five Astounding Facts:
1
I might have to create my own category for the Astros. They're not just astounding anymore. They're
Astrounding
. But they're also in the midst of a gravitational plunge unlike anything most living humans have ever witnessed:
• In their last 38 games, these Astros are 4-34. I'm shocked to report that no National League team has endured a 38-game stretch that grim since the legendary 1899 Cleveland Spiders finished their season with an attractive 1-40 debacle. And any team that winds up in the same sentence as those Spiders needs to ingest a lot of Tylenol immediately.

• The only other teams in modern history to win no more than four times in any 38-game stretch? Clyde Vollmer's 1949 Washington Senators (4-34) and Whitey Witt's 1916 Philadelphia Athletics (2-36). And that's it.
• At least the 'Stros won't leave home again until Monday. And why is that such good news? Uh, they're 2-24 on the road since June 14. That's why. They're also 6-37 since they won in Pittsburgh on May 11, and 11-46 away from Houston for the season. Trouble Ahead Alert: They'll need to get cranking if they want to avoid the record for fewest road wins in a 162-game season. Which is 17, by Rod Kanehl's 1963 Mets and
Lastings Milledge
's 2010 Pirates. Think this team has a 7-17 stretch in it? It had better!
2
Speaking of teams that clearly have jet-lag issues, how 'bout those Cubs? By getting swept in San Diego this weekend, they've clinched quite the spectacular feat:
They went 0-for-the-West Coast this season (0-10).
Did you know that, since the Dodgers and Giants headed west in 1958, only one other team has ever done that? True story. That, according to the Elias Sports Bureau, would be Blue Moon Odom's 1967 Kansas City Athletics. They went 0-9 on the Left Coast that year (all against the Angels) and then figured out a tremendous way to avoid duplicating that feat: They moved to Oakland immediately.
Baxter
3
After Mets count-working machine
Mike Baxter
walked five times against the Padres on Saturday -- against five different pitchers -- loyal reader Evan Jones wondered: When was the last time anybody did THAT in a nine-inning game? The answer, according to Elias, was 40 years ago, on Sept. 16, 1972, when Elrod Hendricks did it (as a Cub) AGAINST the Mets.
Hendricks walked against Tom Seaver in the third inning, Brent Strom in the fourth, Hank Webb in the fifth, Bob Rauch in the seventh and Danny Frisella in the eighth. But there was a lot more walking where that came from. Mets pitchers walked 15 hitters that day -- for the first (and only) time in the history of the franchise, in a nine-inning game.
4
When
Gio Gonzalez
went deep in Houston on Wednesday, it made him the third Nationals pitcher to hit a home run this year (joining
Stephen Strasburg
and
Jordan Zimmermann
). In one of those fabulous coincidences that only the Five Astounding Facts crew seems to get worked up about, all three of those pitchers also have rolled up at least one double-figure strikeout game this year. And that makes the Nationals the fourth team in this millennium to have three different pitchers pull off that cool little daily double. The others, according to Elias:
• The 2005 Marlins (
Dontrelle Willis
,
Josh Beckett
,
A.J. Burnett
).
• The 2003 Cubs (
Carlos Zambrano
,
Kerry Wood
,
Mark Prior
).
• The 2002 Dodgers (
Kevin Brown
,
Hideo Nomo
,
Odalis Perez
).
Gonzalez
Two addendums here:
A.
If
Edwin Jackson
(one career homer, five career double-digit strikeout games) feels like joining this fun, he could make the Nationals the first team in the DH era to have four pitchers do this in the same year.
And
B.
Besides homering Wednesday, Gonzalez also threw a complete game. And that made him the first pitcher from Washington to hit a home run and go the distance in the same game since Mike McCormick did it for the late great Washington Senators against the White Sox on June 28, 1966.
5
Finally, the Angels did something Wednesday that no visiting team had ever done: They hit five home runs in one game at The Coliseum in Oakland -- and lost. The previous 15 teams to hit that many bombs in Oakland all won. And even the A's have lost only twice in franchise history when they hit at least five homers in a game at The Coliseum -- in 45 seasons. Hard to do, friends. Hard to do.
July, 27, 2012
7/27/12
5:34
PM ET
We interrupt these trade rumors for ... The Five Astounding Facts of the Week!
1
It isn't easy for any team to work its way into a sentence that includes the phrase, "Even the '62 Mets never did that." But here's to the 2012
Houston Astros
-- because they somehow have pulled that off. How? Well, they've played 25 games since June 28, and you know how many they've won?
Two
.

That's correct. They're 2-23. And here's all you need to know about that:
• Even Choo-Choo Coleman's pathetic '62 Mets never did that -- and they lost 120 games that season. Their worst 25-game stretch was "only" 3-22, in July and August.
• The last team to go 2-23 in any 25-game span of any season? That would be Jeff Stone's 1988 Orioles. But they cheated. They started that year by going 0-21. Then they only had to play .500 for four games to get to 2-23.
• Meanwhile, just one National League team in the last 77 years has had a 2-23 stretch (or worse). And that was Pancho Herrera's 1961 Phillies, who actually went through a 1-24 funk in July and August. But they also cheated. They lost 23 in a row at one point, the longest losing streak in modern history.
• Other than those Phillies, only two other NL teams have found a way to lose 23 of 25 at any point in any of the last 103 seasons -- Pinky Whitney's 1935 Boston Braves and Doc Hoblitzell's 1914 Reds.
• Finally, just one team in history ever went through a 25-game stretch without winning once. That was Chicken Wolf's 1889 Louisville Colonels, whose fabled 26-game losing streak in May and June is still the longest of all time.
2
It's now two whole weeks since we fired an exciting new
Adam Dunn
tidbit out there. So here's the latest, courtesy of loyal reader Ben Thomas:
Thomas noticed, astutely, that when the Big Donkey whomped his 30th home run this week, he reached 30 homers before he got to 30 singles. (He's still at 29.) And that was excellent work by Ben Thomas. His mistake was in doubting that had ever been done -- or is that "Dunn" -- before. Of course, it has -- but not much:
•
Mark McGwire
did it three times -- in 1996 (30 homers, 29 singles), 1998 (30 homers, 22 singles) and 2000 (30 homers, 26 singles).
•
Carlos Pena
also did it once in 2009 (30 homers, a mere 19 singles).
• And then there's our record holder -- the one, the only
Barry Bonds
in 2001. He hit his 30th homer that year on (gulp) June 4. And how many singles did he have at the time? Would you believe 12? Seriously.
3
The Cubs turned a double play last weekend that ought to be impossible -- the old 3-4-5 trick. Happened on a
Skip Schumaker
bunt (3-4 on your scorecard), where
Rafael Furcal
decided to go all the way from first to third, but didn't make it. (Hence, the 3-4-5.) So how many other 3-4-5 DPs have there been, if you don't count rundowns with a 3-4-5 in the middle? One of our most loyal readers, the great Trent McCotter, looked through every game since 1947 -- and couldn't find a single one.
Doolittle
4
Not all saves are created equal -- and A's rookie
Sean Doolittle
could tell you all about that. As longtime baseball writer Jeff Fletcher, the editor of Athletics Magazine, reports, Doolittle racked up his first career save last Saturday, against the Yankees. And all he had to do to record it was ... face
Alex Rodriguez
,
Robinson Cano
,
Mark Teixeira
and
Andruw Jones
-- four guys with a career total of 1,574 homers. So how many pitchers, since the invention of the modern save rule, have ever had to face four hitters with that many homers to get their first save? That would be none. Of course.
5
Finally, if you're still trying to digest
Tommy Hanson
's box-score line Wednesday, against the Marlins, hey, get in line. It's an all-time all-timer. Here goes:
5 IP, 3 H, 1 R, 1 ER, 7 BB, 7 K, 7 SB
So what's up with that?
• Hanson was the first pitcher in the live-ball era (starter or reliever) to pull off one of those slot-machine jackpot lines -- 7 (BB), 7 (K), 7 (SB). Ding-ding-ding-ding-ding.
• Hanson also became the first pitcher in the live-ball era (starter or reliever) to allow at least seven walks and seven stolen bases in one game, but give up only one run.
• Then again, the Marlins became the first team to steal seven bases in a nine-inning game and score only one run since Patsy Dougherty's 1909 White Sox. So the seven walks were just for show.
• Hanson also became only the second pitcher in the live-ball era to allow at least seven walks and seven stolen bases in a game and
win
it. The other:
Randy Johnson
, on July 29, 1989 (7 BB, 8 SB), against Oakland. But the Unit won a 14-6 game, so the degree of difficulty wasn't quite the same.
• And only two other starters in the live-ball era have allowed that many stolen bases (the heck with the walks) in a game they won -- the Padres' Stan Spencer (10 SB), on May 18, 2000, against the Marlins, and Mike Scott (7 SB), on May 28, 1989, against the Pirates.
But to do all of that in one game (in only five innings yet)? Now that's astounding.