Jayson Stark:

Milwaukee Brewers
August, 8, 2013
8/08/13
3:34
PM ET
The past couple of days have reminded me of something I'd almost forgotten. There is life after A-Rod-Palooza.
There is a great baseball season going on out there, friends. So let's stop talking about that third baseman for the Yankees and start focusing on all the fabulous baseball stories that are roaring toward their dramatic conclusion.
And what stories do I have in mind? How about these Five Stories I'll Be Watching (Instead of That Guy):
[+] Enlarge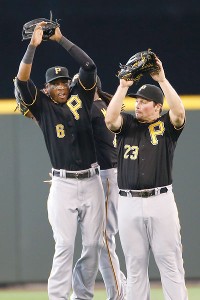 Otto Greule Jr/Getty ImagesIt's hard not to get excited about the Pirates.
1. The Pirates
The
Pittsburgh Pirates
are going to finish with a winning record, ladies and gentlemen. I have never felt more confident about saying that.
They are not going to have 10 pitchers undergo Tommy John surgery in the next 20 minutes. They are not going to lose 37 of their next 48 games. They are not going to reenact August and September of 2012, or August and September of 2011.
They're too good. They have the fourth-best run differential in the National League (plus-60). They've allowed the fewest runs in the major leagues (just 385) -- something they haven't accomplished over a full season since 1984. And opponents are hitting a ridiculous .229 against their pitching staff -- which would be the lowest average against any National League staff since Jim Deshaies' 1986 Astros.
I can't tell you these Pirates are going to win the World Series. I can't tell you they'll win any kind of postseason series. But they're still the best story in the major leagues. So let's just enjoy this ride. OK?
2. The races
The NL East race is over. The AL Central race feels like it's in guarded, but unstable, condition. And over in the NL West, the Dodgers have gained 14 .5 games in the standings on Arizona just in the past seven weeks. So we can see where that one is headed.
But the NL Central is shaping up as a must-see duel between the best offense in the National League (the Cardinals) and the best pitching staff (the Pirates) -- with nine riveting games left between these two teams. Sign me up for that.
And how about the AL West, where the Rangers just made a six-game Oakland lead disappear in a span of nine days. Those teams have two series left against each other. But the schedule, in general, favors Texas, which has the easiest remaining schedule of any AL contender, including 10 games left against their good friends from across the state, the Astros.
And then there's that AL East race, which has a chance to be the best of them all.
The Red Sox just became the first AL team to reach 70 wins -- and did it following a year where they didn't win 70 games all season. Think about that. Elias tells us they're the first AL team to pull off that trick (not counting strike-shortened seasons) since Harlond Clift's 1945 Senators, and (because those Senators got to 70 on the same day as the Tigers) the first to do it outright since George Herman Ruth's 1926 Yankees.
But then there are the Rays, owners of the best record in the whole sport over the past 81 games and a team so hot they just lost their first series in seven weeks. So pick against them at your peril.
And I'm not ready to write off the Orioles, who lead the major leagues in home runs and slugging, upgraded their pitching before the deadline and are currently on pace to become the first team in history to commit fewer than 50 errors in a 162-game season. (Heck, no one else in the expansion era has even finished a season with fewer than 60.) The Orioles have 16 games left against Boston and Tampa Bay. So stay tuned.
3. The awards
NL MVP:
Yadier Molina
was our midseason pick, but his knee issues are about to sabotage his MVP campaign. So are we ready for a starting pitcher (i.e.,
Clayton Kershaw
) to win this thing? Do guys like
Paul Goldschmidt
and
Joey Votto
have MVP finishes in them? And don't look now, but here comes
Andrew McCutchen
, whose credentials include this nugget: He,
Mike Trout
and
Carlos Gonzalez
are the only players in their league to rank in the top 10 in both stolen bases and slugging.
AL MVP:
Uh-oh. Here we go again. If you enjoyed that vintage, old-school/new-school
Miguel Cabrera
-versus-Mike Trout debate last year, get ready for Round 2. As Jared Cross wrote the other day, Trout has injected himself into what once looked like a Cabrera-
Chris Davis
MVP conversation by charging up those AL leaderboards. But if this keeps up, some great sabermetric minds are going to have to explain to the masses how it's possible that Trout leads Cabrera in offensive wins above replacement, but is trailing Cabrera overall because of (gulp) Cabrera's defense. Incredible, huh? But let's save that issue for another day.
AL Cy Young:
Felix Hernandez
can tell you all about how Cy Young voters have finally learned to de-emphasize wins. But let's see them try to factor out wins this year, when King Felix is leading the league in ERA but trying to make his case against a guy who is 16-1 (
Max Scherzer
) -- and first in his league in WHIP, lowest opponent average and lowest opponent OPS. Can't wait for that debate.
NL Cy Young:
With all due respect for the awesome seasons of
Adam Wainwright
,
Matt Harvey
,
Madison Bumgarner
,
Patrick Corbin
,
Francisco Liriano
,
Craig Kimbrel
, etc., all Kershaw does every five days is remind us that he's the best pitcher in baseball. Still. Just so you know, if Kershaw can finish with the ERA (1.91), WHIP (0.88) and opponent average (.188) he has now, the only pitchers in the live-ball era who have ever been in that neighborhood (or better) over a full season are Bob Gibson,
Greg Maddux
,
Pedro Martinez
, Sandy Koufax and Luis Tiant. Whoever they are.
Rookies of the Year:
In the AL,
Jose Iglesias
has a shot to become the first rookie of the year ever to get traded in midseason. But
Wil Myers
can screw up that claim to fame. And in the NL, this remains one of the wildest rookie-of-the-year free-for-alls ever, with
Jose Fernandez
,
Shelby Miller
,
Hyun-Jin Ryu
,
Julio Teheran
,
Evan Gattis
and
Yasiel Puig
all making cases for themselves that are going to require many, many Advil for the ROY electorate.
[+] Enlarge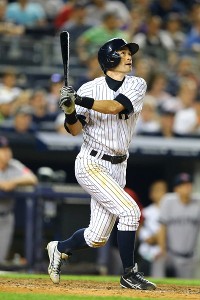 Al Bello/Getty ImagesIchiro Suzuki is about to enter some rarefied air.
4. The 4,000-hit man
The folks obsessed with a certain troubled third baseman may differ. But in my neighborhood, the most interesting story in Yankees Land this month revolves around a man who is chasing a number very few living humans have ever seen chased.
That man is
Ichiro Suzuki
. That number is 4,000.
And no, that isn't how many reporters from his homeland follow Ichiro around every day. It's the number of hits he's about to have on his permanent record if we count the 1,278 hits he spewed in his nine seasons in Japan.
At the moment, he finds himself just 11 hits away. And I hope you don't let that milestone go whooshing by you too quickly before you stop to think about what it means.
The last time we witnessed anyone getting his 4,000th hit was April 13, 1984, when Pete Rose collected No. 4,000 off Jerry Koosman, in a stadium we no longer find on the baseball map (the late, great Stade Olympique in Montreal).
Just for perspective's sake, the Hit King got that 4,000th hit in his 3,259th game. That's nearly 200 more than Ichiro has played (3,075) on both sides of the Pacific. Which means he's going to beat Rose to No. 4,000 by more than a full season. Wow.
The only other 4,000th hit ever? Ty Cobb got that one -- on July 18, 1927. So if you weren't hanging out at old Nevin Field in Detroit that day 86 years ago, you've never seen any American Leaguer do what Ichiro is about to do. Pretty mind-boggling feat -- on any continent.
5. History majors
Finally, here's just a taste of some of the historic pursuits you can keep your eye on over the next two months:
Chris Davis:
On pace for 58 home runs, 102 extra-base hits, 151 RBIs and 72 more extra-base hits than singles. There has never been a season like it.
Mike Trout:
He's leading the American League in walks. He's tied for the league lead in hits. And if he can wind up leading in both categories, he'd be only the fifth player since 1900 to do that in the same season. The others: Rogers Hornsby, Richie Ashburn, Carl Yastrzemski and Lenny Dykstra.
Joey Votto:
See that note above? How unreal would it be if two men finished first in their league in hits and walks in the same season? Well, Votto has a shot, too. He has a big lead in walks. He's three behind
Jean Segura
for the lead in hits. And Votto and
Shin-Soo Choo
have an outside chance to become the second set of NL teammates ever to reach base 300 times apiece (via hit, walk and HBP) in the same season. The other:
Jeff Bagwell
and
Craig Biggio
, for the 1997 Astros.
Miguel Cabrera:
And then there's Miggy. He might not win the Triple Crown for a second straight year. But if he can stay healthy enough to get on the field regularly, Cabrera still has a chance to do something no Triple Crown winner has ever done -- hit that trifecta one year and then have a better season the next year.
Here are Cabrera's numbers from last season, and his projected numbers for this season. This is truly amazing:
2012:
.330/.383/.606, 44 homers and 139 RBIs
2013:
.359/.453/.668, 48 homers and 148 RBIs
I chronicled this a few months ago, but here it is again just to help you digest this man's greatness: Only one Triple Crown winner in history (Ted Williams) ever drove in more runs the following year. Just two (Williams and Mickey Mantle) had a better batting average the next season. And none of them hit more home runs The Season After. But this guy could do all of the above.
So once again, we find ourselves drawn to the flat screen every time Miguel Cabrera starts marching toward home plate. And that beats watching A-Rod-Palooza every day of every week. Don't you think?
April, 25, 2013
4/25/13
10:42
AM ET
It's now official.
Jean Segura
has "stolen" first base for the last time.
And so, for that matter, has everyone else.
This is it, friends -- the third and final episode of our Jean Segura baserunning trilogy, soon not to be made into a major motion picture.
Major League Baseball's baseball operations department has sent out what was described to us as a "clarification" memo to all its umpires. The gist of it is that, in the future, baserunning adventures like Segura's now-legendary backwards trip around the infield last Friday should end with a slightly different outcome than his did.
By which we mean: He should have been called out!
Never saw that coming. Did you?
Well, you did if you were reading this blog Sunday afternoon. We kind of foreshadowed it here then. But let's recap.
It was Friday night. The Brewers shortstop had just stolen second base. Then, with runners on first and second, he took off to try to steal third, wound up in a rundown and somehow, finally, when the dust had settled, found himself all the way back on first. (For more of the wacky details, you might want to
click here
.)
Impossible, you say? Well, that's not what the umpires said at the time.
They cited an addendum to ever-popular MLB rule 7:08(i), which appears to allow a runner who has been decoyed or become otherwise confused to scramble all the way back to first, even if he has already passed second.
Oops. Wrong rule.
We all know that now, and so do the umpires. The clarification tells them that not just one other rule, but two, should have superseded that one. And both of those rules would have led to the same outcome.
By which we mean again (let's all sing it together):
OUT
.
Those two rules are these:
• Rule 7:01 says a runner can't settle in at one base and then return to a previous base once the pitcher "assumes his pitching position." In other words, a runner on second can't go back to first for
any
reason once the pitcher has thrown a pitch -- let alone several, as happened in Segura's case.
• Then there's Rule 7:08(a), which includes a specific comment about a fellow like Segura, who thought he was out, was on his way to the dugout, then found out he was safe and pulled into first for safekeeping. That comment reads like this:
"Any runner after reaching first base who leaves the base path heading for his dugout or his position believing that there is no further play, may be declared out if the umpire judges the act of the runner to be considered abandoning his efforts to run the bases."
So what's that mean? It means, in Segura's case, he should have been called out because he "abandoned his effort" to keep running the bases when he left second base "and started towards the first base line."
All righty then. Got all that? Sure hope so. There's going to be a quiz.
But at least we'll also get another quiz out of this circus that goes like this:
Who's the only player in the past 60 years to steal a base and get thrown out stealing the same base in a span of five pitches?
The answer to that one is Jean Segura, of course. But it sure is a good thing he didn't go on to steal second twice and then score the winning run. Right?
If he had, we're guessing we'd have a lot more than a memo of clarification on our hands.
April, 21, 2013
4/21/13
4:02
PM ET
Just when you thought you'd heard the last of
Jean Segura
's excellent
baserunning adventure from Friday night
, this just in:
It's getting even more confusing!
Remember all that talk about how, as crazy as it sounded, the umpires made the right ruling when they allowed the Brewers' ever-energetic shortstop to "steal" first base?
[+] Enlarge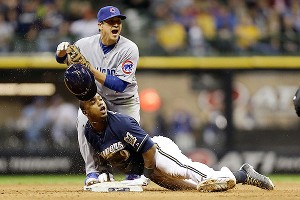 Mike McGinnis/Getty ImagesJean Segura's adventure on the basepaths on Friday night against the Cubs was quite entertaining.
Uh, now we're not so sure of that anymore.
I got a call Sunday from a friend of mine, whom I could best describe as a guy who has spent way more time than most of us studying the baseball rule book.
His adamant take on this was: There's no way Segura ever should have been allowed to go back to first base after he'd already made it to second base.
No. Way.
And why is that?
Rule 7:01 is why
.
Ah, good old Rule 7:01. Forgot about that one, didn't you?
So what's so interesting about the introduction of Rule 7:01 into this fun debate? Glad you asked.
It's interesting because that isn't the rule the umpiring crew originally applied Friday when Segura broke off second to try to steal third, got caught in a rundown, and eventually rambled all the way back to first. (For more of the details, feel free to click on Saturday's
blog-a-thon on that topic
.)
The rule the umpires cited at the time was an addendum to 7:08(i), which allows runners to return to a previous base in instances where they've been faked out by the fielders or weren't sure whether a ball was caught or trapped. That sort of thing.
I've read that rule a bunch of times. It looks to me as if there's a logical case to be made for what that rule applies to this crazy play.
But here's why it isn't, according to my friend:
The rule he pointed out -- 7:01 -- clearly says that once the next pitch is thrown, or, to be technical, once the pitcher "assumes his pitching position" after the runner has safely reached any base, that runner "may not return to a previously occupied base."
Period. End of story.
So if you apply that rule literally, once Segura stole second earlier in the inning, there weren't any circumstances -- A-N-Y -- that would allow him to go back to first.
That other rule -- 7:08(i) -- is only supposed to be used on continuous plays, my friend contended. This would be an example:
A runner is on first base. He is running with the pitch. He pulls into second -- maybe even rounds second -- and then realizes he has to get back to first. Rule 7:08(i) would allow that -- even if he gets stuck in a rundown between second and third along the way.
But that rule was never meant to apply to two different plays, he said. So once Segura found himself in his own rundown between second and third, second base was as far in reverse as he should have been allowed to travel.
Got that?
Major League Baseball isn't done sorting out this play, from what I understand. It's still trying to figure out how to score it, compute it and explain to its computers how a runner on second base wound up back on first base three pitches later.
So now here's one more thing the proper authorities can look into:
Would a different reading of the rule book have turned that whole madcap sequence of events into one gigantic (but highly entertaining) moot point?
I don't know the answer myself anymore. But I'll keep checking, because, clearly, I'm obsessed with Jean Segura-palooza. So all I can tell you is: Stay tuned. We may not have heard the last of this. Still.
April, 20, 2013
4/20/13
2:41
PM ET
I think we just found baseball's version of Leon Lett.
I'm talking about Brewers shortstop
Jean Segura
, who, like the mixed-up grandma who made a U-turn on a one-way street, performed an act of baserunning madness Friday that he'll be seeing, on scoreboard video-screen blooper reels, for the rest of his life.
To even try to
describe this adventure
is almost as challenging as actually doing it. And all the jumbled online play-by-play accounts out there are living proof.
But here's the simplest way to sum it up:
This guy stole second. Then he tried to steal third but somehow wound up on first. Then he got thrown out trying to steal second again. All in a span of five pitches.
Just try that on your PlayStation sometime. Excellent chance smoke starts pouring out of it within seconds.
[+] Enlarge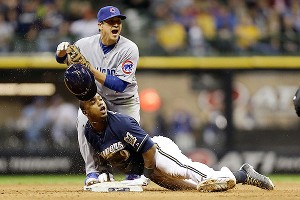 Mike McGinnis/Getty Images Jean Segura stole second base in the eighth inning Friday night against the Cubs, but the Brewers' shortstop wouldn't stay there for long.
"Bizarre," umpire Tom Hallion told Brewers.com's Adam McCalvy. "Technically, he stole second, stole first then got thrown out stealing second."
Well, "technically" he didn't, because that's impossible. Here's what actually happened:
On a 2-2 pitch to
Ryan Braun
in the eighth inning of the Brewers' 5-4 win over the Cubs, Segura stole second. On the next pitch, Braun walked. So far, pretty standard stuff. But not for long.
Three pitches after that, Segura broke for third. But his first mistake was that he forgot to wait until pitcher
Shawn Camp
actually delivered the ball.
Camp whirled and got Segura hung up between second and third. That led Braun to follow Baseball 101 protocol and roar into second base. Which was proper and cool -- until Segura scrambled back to the bag to join him.
The Cubs started tagging everyone in the vicinity, and the rules say it was Braun who was out. But that was news to Segura, who thought he was the one who was out. So he started trotting toward the dugout.
Along the way, though, he got the memo that he wasn't out after all. So he pulled back into first base. And first-base coach Garth Iorg wouldn't let him leave.
Not until two pitches later, anyway -- when Segura burst toward second again and, in Take 2, was thrown out.
So there you have it -- a man who stole second and was caught stealing second in the same inning.
Without his team batting around.
Spiced up by a whole lot of mad sprinting around the infield in between.
"If I was him, I would've stole again too," Cubs second baseman
Darwin Barney
told MLB.com's Carrie Muskat. "I don't think anyone has ever stole second twice in the same inning in the same at-bat. That would've been history there. Luckily for us, that didn't happen."
But whatever happened, this goofy baserunning extravaganza raises lots and lots of questions. Let's try to answer them as best we can.
Was this actually legal?
The answer, amazingly, is yes.
"Some people are saying he violated the rules by running the bases backward, but he really didn't," said Retrosheet founder Dave Smith.
Incredibly, that's true. Yes, there is a rule in the books -- good old Rule 7:08(i) -- that prohibits runners from running the bases backward "for the purpose of confusing the defense or making a travesty of the game."
But there's an addendum to that rule that separates Segura's brand of travesty from players who are intentionally riding in reverse. That addendum allows runners who innocently get decoyed or confused to run in pretty much any direction, at their own risk. You can check it out
here
.
So that's Jean Segura. Even he wasn't sure how he wound up on first. He sure didn't mean to find himself back there. So he's covered.
"What's unbelievable," Smith said, "is that very few major league players know the rule or know what they're supposed to do if two guys wind up on the same base. If I were a coach, I'd say, 'Stand on that base until the umpire picks you up and tells you you're out.'"
How the heck do you score that?
This is almost a trick question. The stolen base of second -- that's easy. The rest? Good luck.
[+] Enlarge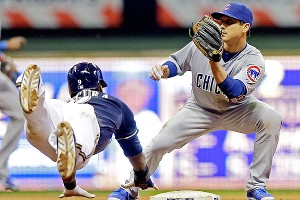 AP Photo/Morry GashAfter a mad dash that somehow brought him back to first base, Segura was unsuccessful in his second attempt at stealing second.
The part where a runner on second base finishes the next play on first base? It's not possible to score that without crashing every computer in America.
"There's no way to do that," longtime official scorer and SABR historian David Vincent said Saturday. "Not covered in the rules. A runner on second base going to first base? That's impossible."
Now obviously it's not "impossible," because it really happened. But tell that to the computer programmers of America.
"All the computer software -- none of it will handle that," Vincent said. "You don't run the bases [from] second to first. Any software that processes play-by-play won't accept that."
So because it's theoretically impossible, the official box score of this game listed Segura as having been thrown out stealing third -- even though he slid into second. Huh?
"That's because the play-by-play listed him as staying at second base [because it couldn't compute that he was actually on first]," Vincent said. "So then he had to be caught stealing third. But that never happened. So that has to get changed."
Right. But that's not all. The official box score and play-by-play also said that Braun got caught stealing second.
"That's not right either," Vincent said. "He was just out trying to advance to second base on a play being made on somebody else. So I'm pretty sure that has to get changed too."
Amazing the havoc one madcap baserunner can wreak on this sport, isn't it? But that is why we love it.
Has this ever happened before?
Sorry. Can't answer that one. Not yet. But we're working on it.
There is lots of precedent for a player stealing a base and getting thrown out stealing the same base in the same inning, Smith said. But normally his team bats around in between.
Having it all happen in a span of five pitches? Good chance that's never happened. I'll keep you posted.
Closest goofy parallel I could find -- three years ago,
Michael Bourn
pulled off this goofy daily double: On back-to-back pitches, he stole third base, after getting
caught stealing
third base.
How? Like Segura, he got caught in a rundown between second and third. Except he got back to second thanks to a dropped throw. On the next pitch, he took off for third again and made it. So it was scored "Caught Stealing - E1" and then "SB."
That, according to the Elias Sports Bureau, was the last instance of a player stealing a base and getting caught stealing the same base in the same inning. At the time, I thought that was the wildest base-stealing adventure I'd ever run across.
But along came Jean Segura, the baseball equivalent of the clock that ticked counter-clockwise. And he's now carved out a category totally unto himself.
Segura's Excellent Adventure, Part II
Welcome back to the
Jean Segura
Baserunning Camp. Told you we weren't done.
With the help of Dave Smith and his fabulous Retrosheet files, we've finally, officially, determined that this man has pulled off a feat every bit as unique as we thought it was.
Ready for the awesome details? Here we go.
We checked every game played in the last 63 seasons (from 1951 on) and found six other players who stole a base and got caught stealing the same base in the same inning. But guess what? Nobody did what Segura did.
Of course they didn't. How could they?
The bat-around crowd:
Two guys pulled this off because their teams batted around between the SB and the CS ...
•
Damion Easley
(Tigers), Aug. 10, 1996 (second base)
• Gary Redus (Reds), June 2, 1985 (second base)
Fun feat. But not Segura-esque fun.
The E for effort crowd:
Four others were caught stealing and later stole the same base in the same inning, without a bat-around. But there were two big differences between what they did and what Segura did: A) Those four were "caught," but they weren't actually "out" because they all got back to their original base on an error. And B) they sure as heck didn't get into position to try it again because they went from third to first. Only one man in modern times was that innovative. But we don't want to overlook that other foursome. Here they are:
•
Michael Bourn
(Astros), Aug. 10, 2011 (third base)
•
Jerry Hairston Jr.
(Reds), May 17, 2008 (second base)
•
Carlos Beltran
(Royals), May 7, 2004 (second base)
•
Reggie Sanders
(Reds), Aug. 20, 1996 (second base)
The man who stole first base
We should mention that, once upon a time, unbeknownst to Segura, it was actually legal to steal first base. Even if you were standing on second base at the time. According to the Hall of Fame, only two men in history are known to have done it.
One was Fred Tenney of the old Boston Beaneaters. According to an old ESPN The Magazine blurb, he did it "around 1900." Hey, close enough.
The other was the legendary Germany Schaefer of the Tigers. In a famous game on Sept. 4, 1908, the Tigers had runners on first and third, with Schaefer on first. Their this-trick-never-fails strategy was to have Schaefer break for second, draw a throw and allow the runner to score from third.
So off he went. No throw. Undaunted, he took off back to first. Still no throw. You know what happened next? He broke for second again. Still no throw. So he stole the same base twice. In one at-bat. Top that, Jean Segura!
Schaefer's antics inspired two developments: A) A book by the great Eric Nadel titled "The Man Who Stole First Base," and B) the aforementioned "travesty of the game rule," which basically bans runners from stealing first -- unless they get as bamboozled as Segura. In which case, the rule is titled "Aw, What The Heck."
What it means
Finally, one more question I know you all had: Is it possible this amazing feat could change baseball in any meaningful way?
I ran that one past former Brewers third-base coach Rich Donnelly. He had the perfect plan:
Once a year, he proposed, baseball should liven things up by having
everybody
run the bases backward. Hitters would run to third instead of first. And then they'd just keep going, left to right instead of right to left. Hmm, why not?
"What the heck difference would it make?" asked Donnelly, now the manager of the Mets' Brooklyn Cyclones minor league team. "They're still going to wind up in the same place, right?
"Who said that when you hit the ball you have to go to first? Abner Doubleday? No, he didn't. The important thing is you have to get home.
"It's like when we were teenagers," Donnelly concluded. "All your parents said was 'You have to be home.' They didn't say which way you had to go, did they?"
Well, no they didn't, as a matter of fact. So see what Segura started? Pretty soon, this whole sport will be turned upside down.
September, 13, 2012
9/13/12
10:12
AM ET
September History Watch: Brewers/Phillies Edition
Do you believe in reincarnation?
Evidently, the Brewers and Phillies do. They were done. They were dead. They were defunct. They were history.
And now, whaddaya know, they're breathing again -- and sitting on a chance to
make
history.
What kind of history, you ask? The September History Watch is happy to fill you in:
• The Brewers were 13 games back in the second-wild-card race on Aug. 6. Want to know how many teams in history have ever been that far out in a race for any postseason spot on Aug. 6 or later and lived to play a postseason game? Exactly one: Bobby Thomson's 1951 "Giants Win the Pennant" Giants, who were 13 behind the Dodgers as late as Aug. 11. Heard of them?
• So how many teams have ever been 13 or more games out in any race, at any point in August and scrambled their way into the postseason? Thanks for asking. The answer: Just two -- those '51 Giants and Edgar Martinez's 1995 Mariners, who were 13 back of the Angels as late as Aug. 2.
• But wait. The Phillies can top that. They were 13.5 out in that very same race, for that very same second-wild-card spot, on Aug. 8. So if they make the playoffs, they'll be in totally uncharted territory -- because no team has ever trailed by that many games on Aug. 8 or later and made it to the postseason.
• And if the Phillies somehow complete this comeback, they'd be only the third team in history to play a postseason game after trailing by 13.5 games at
any
point in a season. Anybody remember the other two teams? That would be Possum Whitted's 1914 "Miracle" Braves (15 back on July 5) and Reginald M. Jackson's 1978 Yankees (14 out on July 19).
• But hold on. We're still not through. The Phillies were 10 games behind the Cardinals as recently as Aug. 29. (Yep, that was 15 games ago.) So how many teams have ever trailed by double digits as late in the calendar year as Aug. 29 and survived to play in the postseason? Not a one. Here's that leaderboard:
2011 Cardinals -- 10 out on Aug. 27*
1995 Mariners -- 10.5 out on Aug. 25
1964 Cardinals -- 10 out on Aug. 24
* in wild-card race

• The Brewers, meanwhile, were 12.5 games out in that race on Aug. 19. So they could become just the second team to reach the postseason after being that far back on Aug. 19 or later. The other? Those 1995 Mariners, who were still 12.5 behind as late as Aug. 20.
• Finally, there's one more historic possibility for this Phillies team. On July 13, the day after the All-Star break, this group dropped to 14 games under .500 (37-51). And if you're counting up the list of teams to make the postseason after descending that deep into the canyon below Mount .500, you won't need many fingers. Here they come:
1914 Braves (16 under)
1974 Pirates (14 under)
And that's it. Now, it's true that neither of those teams was that far below .500 in the second half of the season. So that's more uncharted territory. But it's also true that neither of them had a carrot known as the second wild card to chase, either.
So we need to acknowledge that not all history is created equal, when you're comparing eras with 10 postseason slots to eras with two or four. And acknowledge it we do. In fact, we just did.
But fortunately for humanity, us September History Watchers are here to chart the pursuit of history in all its shapes, sizes and permutations. And just because the kind of history the Brewers and Phillies are chasing isn't quite the kind of history the Bobby Thomson Giants were chasing doesn't mean it isn't just about as hard to comprehend. Right?
September, 12, 2012
9/12/12
11:40
AM ET
As you stare at the
National League standings
Wednesday morning, you can have only one thought:
Bud Selig is a genius.
And why is that? Because there is only one race that's saving this entire league from being declared by the surgeon general to be officially irrelevant. And guess which race that is:
Why, it's the race for that newfangled second wild card. Of course!
The Reds lead the NL Central by 10.5 games. The Nationals lead the East by 7.5. The Giants lead the West by 6. And if MLB had only one wild-card team advancing to October, the Braves would hold a 5.5-game lead for that spot.
Ah, but add in that second wild card, and it transforms the interest level in this league's stretch drive from, "When's the season premiere of 'How I Met Your Mother'?" to "Wow, this wild-card race is awesome."
Five teams within four games? Six teams within five games? The Brewers and Phillies back from the dead? You just can't beat that, ladies and gentlemen.
And it's all because the commissioner pushed every button on his all-powerful "I'm the commissioner" remote to make this happen THIS year instead of taking the advice of, oh, every other single human in baseball and waiting a year.
So Bud, thanks. Thanks for the fun.
But now this important message ...
In three weeks, we might not be proclaiming the commish to be quite the visionary genius he appears to be at this precise moment in time.
In three weeks, you see, we might be looking at the first week of the postseason and asking, "Holy schmoly, what was Bud thinking?"
That's because those tiebreaker possibilities are mounting. And if any of them actually happens, a total scheduling fiasco would ensue.
In
last week's Rumblings and Grumblings
, we laid out the mess that even a two-way tie between the Cardinals and Dodgers could splatter over the October landscape. But now, as the Cardinals (4-10 in their past 14 games) and Dodgers (5-10 in their past 15 games) keep plummeting back toward the pack, it's time to consider the wildness that just about any three-way tie would create.
Let's lay out just one potential scenario for you.
Say the Cardinals, Dodgers and Brewers all tie. Thanks to rules way too convoluted to run through here, the Brewers, at least for the moment, would get to pick the format of a three-way tiebreaker. They could choose to play two home games to decide that spot or one road game. And we'd guess they'd opt to play once, not twice. So ...
On the day after the end of the season (Thursday, Oct. 4), the Cardinals and Dodgers would play a tiebreaker game. That game, for now, would be played in Los Angeles (because the Dodgers lead that season series 4-3 heading into the four-game series between those teams in L.A. this weekend).
So that would set up this potential schedule:
Thursday: Cardinals at Dodgers
Friday: Brewers at Cardinals, or Brewers at Dodgers
Saturday: Winner of tiebreaker at Braves
Sunday: Wild-card survivor hosts Reds or Nationals
But wait. That's just the schedule that baseball would LIKE to see happen. But because of the absurd travel that could be involved, there's an excellent chance that schedule wouldn't be permitted to happen by the proper authorities.
For instance, if the Cardinals play a night game in St. Louis on Wednesday to finish the regular season as currently scheduled, they would then have to play a night game in L.A. on Thursday. So if they win, the powers that be wouldn't allow them to travel all night and play the Brewers later that day in St. Louis.
And that means the Friday tiebreaker game would get pushed back to Saturday. And the wild-card game (which was supposed to be played FRIDAY) then wouldn't get played until SUNDAY. And the Division Series (which was supposed to start Sunday) then wouldn't begin until MONDAY.
There would be a similar fiasco if the Dodgers win that Thursday game. They would then host the Brewers on Friday. But would MLB then force them to fly 2,220 miles and play that wild-card game in Atlanta on Saturday? Doubtful. So that, too, would result in a Sunday wild-card showdown.
But hang on. It gets more complicated. Remember, nobody would know what city that Division Series would start in until the wild-card game was over -- meaning the No. 1 seed, the Nationals or Reds, would have to sit around Sunday, potentially not knowing whether they were playing Game 1 in the Eastern time zone (if the Braves win) or the Pacific time zone (if the Dodgers win) THE NEXT DAY.
And because the schedule would already be so massively backed up, it's possible the Division Series then might have to be played with no travel days, meaning teams might have to use all five of their starting pitchers. Beautiful.
Now, not every three-way-tie scenario would get quite that complicated. But under any circumstances, trying to jam multiple tiebreaker games into an overcrowded schedule would not be pretty.
Here, for entertainment purposes, are some other possibilities:
Cardinals-Dodgers-Phillies tie
The Dodgers (9-5) have the best head-to-head record, for now. So here's the most likely schedule if these teams tie:
Thursday: Cardinals at Phillies
Friday: Dodgers at Cardinals-Phillies winner
Saturday or Sunday: Winner at Braves
Cardinals-Dodgers-Pirates tie
The Dodgers (10-4) have the best head-to-head record among these teams. So here's their most likely scenario:
Thursday: Cardinals at Pirates
Friday: Dodgers at Cardinals-Pirates winner
Saturday or Sunday: Winner at Braves
Cardinals-Pirates-Phillies tie
The Phillies (8-6) win the head-to-head battle. So their most likely schedule:
Thursday: Cardinals at Pirates
Friday: Phillies at Cardinals-Pirates winner
Saturday: Winner at Braves
Cardinals-Phillies-Brewers tie
The Phillies (10-4) are the head-to-head winner. So here's how these three would be likely to line up:
Thursday: Brewers at Cardinals
Friday: Phillies at Cardinals-Brewers winner
Saturday: Winner at Braves
We could go on here. But you get the idea. If there's any kind of two-way tie, the schedule makers would be scrambling. But if there's any potential three-way tie, there won't be enough Tylenol in the world to get them through that mess.
And what if there's a four-way tie? Or a five-way tie? Or a six-way tie? Aw, what the heck. We're still guaranteed to get the World Series over with before Thanksgiving.
June, 2, 2012
6/02/12
9:24
AM ET
This could have been the most important weekend of
Ryan Braun
's entire baseball career.
In a different world, in a
what-if
parallel universe, this could have been the weekend (starting Thursday night, actually) when Braun finally was allowed to play baseball again, after the expiration of his 50-game suspension for You-Know-What.
[+] Enlarge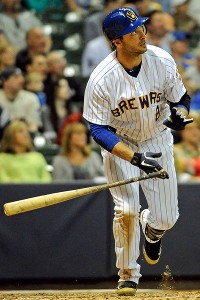 Benny Sieu/US PresswireControversy aside, Ryan Braun continues to post MVP-worthy numbers.
Imagine that.
OK, now stop imagining that, because that isn't how it all worked out, of course. That isn't the world, that isn't the universe, that Braun has spent his 2012 season playing baseball in.
Instead, he's been out there from Day One -- Achilles tendons permitting. And it's been fascinating to watch him.
His suspension may have been overturned, his positive test erased from his permanent record. But if the reviews that come wafting down on him from the left-field seats mean anything, America doesn't believe his pleas of innocence.
I understand the reasons for that. I'm sure he does, too. But here's a question for all of us to ponder:
If he's so guilty, if the recipe for his MVP season was fueled by artificial ingredients, wouldn't we be seeing the evidence on the field, here in his post-positive-test life?
That would be a logical conclusion. Wouldn't it?
Well, it sure is interesting, then, that the Braun of 2012 has been a virtually identical player to the Braun of 2011. Take a look at his first 49 games in each of the last two seasons:
If there's a different player in there this year than last, I haven't detected it. And I'm not alone.
"I haven't seen anything about this guy change," one NL scout said. "I don't see any difference in his swing. I don't see any difference in the effort in his swing. I don't see any difference in his speed. I don't see any difference in his gait. I don't see any difference in his size. I saw him as a 20-year-old, as a 22-year-old and now. And I don't see anything different."
Now I know what lots of you are thinking: He's taking something undetectable.
OK, maybe he is. But it sure was detectable last October, right? So did he take something undetectable all of last season, then switch to something more detectable (reportedly, a synthetic testosterone) in the postseason? You've got me.
The point of this is, none of us have any way of knowing all the details of Braun's case. We know he's been screaming, from the beginning, that he's innocent. We know a bunch of his friends have said stuff to the effect that "If you knew the real story, you'd believe him."
But we also know the powers that be at Major League Baseball believe none of it, that they fired their longtime arbitrator, Shyam Das, over his ruling on this affair, and that they're infuriated that Braun has been allowed to play baseball these last two months.
So you're free to think whatever you want to think about Ryan Braun. This is America. And that's the American way.
But whatever happened or didn't happen last year after his test came back positive, the facts of 2012 are there for all of us to see. And those facts say this is exactly the same player now as the guy we were watching before that test.
And I'm betting that's a development most people never saw coming.
October, 16, 2011
10/16/11
11:33
AM ET
MILWAUKEE -- Game 6 of the NLCS is just hours away. Here are a few tidbits to get you stoked for a huge game:
• Brewers manager Ron Roenicke has never wavered. He will start
Shaun Marcum
in Game 6 even though Marcum's ERA in his past six starts is a gruesome 8.18 (30 earned runs in 33 innings).
So how unusual is it for a team down to its last game to start a pitcher with an ERA that hefty? We asked the Elias Sports Bureau. It reports that only one other pitcher in postseason history has started a potential elimination game after compiling an ERA over 8.00 in his previous six starts.
So who might that have been? It was a fellow named
Derek Lowe
, whom the Red Sox started in Game 4 of the 2004 ALCS, when they were down 3-0 against the Yankees.
Lowe came into that game with an 8.34 ERA in his previous six starts, not counting a relief appearance earlier in the postseason. But guess what? It worked out fine.
[+] Enlarge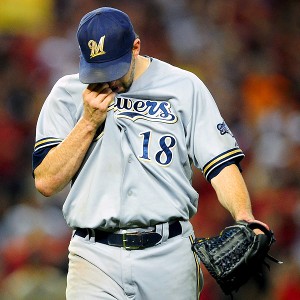 Mark J. Rebilas/US PresswireThe Brewers just need Shaun Marcum to be good in Game 6. They don't need him to be great.
Lowe pitched into the sixth inning and left with a 3-2 lead after 5 1/3 innings. Even though his bullpen couldn't hold that lead, his team went on to win in 12 innings thanks (as you might recall) to
Dave Roberts
and
David Ortiz
.
So all Marcum has to do Sunday is follow the Derek Lowe playbook -- as long as his manager promises to follow the Terry Francona playbook and get him the heck out of there at the first sign of trouble.
• If you missed Friday's column about how Tony La Russa is making his starting rotation seem just about irrelevant,
you can check it out here
.
That column was a tale of a manager who can't wait to start waving for his bullpen, even though it means his starters have averaged only slightly more than 13 outs per start in this series. And if this keeps up, La Russa is heading for bullpen-manipulation levels never before witnessed by October-kind.
All he has to do in Game 6 is hook
Edwin Jackson
early, and he could put the Cardinals in position to do something almost incomprehensible:
Their relief pitchers could wind up getting more outs in this series than their starters -- and they still could wind up (gulp) winning the series.
Now THAT is tough to do -- but not impossible. Elias reports that one team in postseason history has pulled it off in a best-of-seven series. That was Chuck Tanner's 1979 Pirates, in their come-from-behind World Series ambush of the Orioles.
But Tanner made just 17 pitching changes in those seven games -- an average of 2.4 per game. La Russa has made 23 pitching changes in the first five games of this series -- an average of 4.6 per game. So even Tanner never mixed and matched like this. Has anybody?
If we drop the bar down to best-of-five series, five teams have won a series while getting more outs from their bullpen than their starters (though, again, with a lot fewer pitching changes). And you'll never guess who the manager was of the last team to do it. It was someone named Tony La Russa, naturally -- with the 2000 Cardinals in a five-game NL Division Series win over Arizona.
At the moment, Cardinals starters have gotten 67 outs in this series. Their relievers have gotten 65 outs. So if Jackson goes four innings or fewer in Game 6, the bullpen could surge into the lead. How 'bout that for drama?
• Here's another challenge we'd like to dangle in front of La Russa: If he keeps going to that bullpen at his current pace and this series goes seven games, he's in position to set the record for most pitching changes by any manager in any postseason series in history. Here's that wild leaderboard:
2004 Red Sox (Francona) -- 30 pitching changes in seven ALCS games.
2004 Yankees (Joe Torre) -- 26 pitching changes in the same ALCS.
2002 Giants (Dusty Baker) -- 26 pitching changes in seven World Series games.
2011 Rangers (Ron Washington) -- 25 pitching changes in six ALCS games.
1997 Indians (Mike Hargrove) -- 25 pitching changes in seven World Series games.
1996 Cardinals (La Russa) -- 25 pitching changes in seven NLCS games.
But here's where this gets interesting. Only two of those teams actually won those series -- the 2004 Red Sox and 2011 Rangers. But both had their numbers padded by two long, extra-inning games.
So if we eliminate all extra innings AND the Cardinals win this NLCS, La Russa already has made enough moves to clinch the record for most pitching changes by a winning manager, assuming his team wins the series. And if he gets to 27, which ought to be a piece of cake, he can set the record for most changes in any series that didn't include extra-inning games, regardless of the outcome.
In other words, if you think you're watching a guy manage up a storm, you're absolutely correct.
• We spoke to some scouts after Game 5, and they weren't too upbeat about Zack Greinke's performance or body language. One review: "He just didn't have the look of a guy who went out there and said, 'We're gonna win this game and win this series, and I'm gonna make sure of it.'"
Obviously, because his team made four errors, not all that happened in that game was Greinke's fault. But he still has a 6.48 ERA in his three starts in this postseason. And according to Elias, that would be the second-worst ERA in any postseason in history by a former Cy Young Award winner who pitched at least 15 innings.
No. 1 on that list: Vida Blue (7.00 in 1973). The previous runner-up: Mike Cuellar (5.74 in 1970).
• But at least Greinke propelled himself into the No. 1 spot on one list Friday: He threw the slowest pitch of this postseason, according to Pitch f/x data compiled by loyal reader Trent McCotter. That pitch was a 64.4 mph curveball to
Lance Berkman
in the fifth inning.
Greinke also has thrown the second-, third-, fourth-, fifth- and sixth-slowest pitches of this postseason -- curveballs clocked between 64.4 mph and 66.1. And it's his teammate,
Randy Wolf
, who holds the No. 7 spot, with a 66.2 mph breaking ball to
Nick Punto
on Thursday night.
Greinke and Wolf also had fastballs clocked in the 90s in their starts, but Greinke maxed out at 95.4. That 31 mph differential between pitches is the largest of any pitcher in this postseason.
• Octavio Dotel's huge fifth-inning strikeout of
Ryan Braun
on Friday gave Braun eight career whiffs against Dotel in 10 at-bats. How amazing is that? Only two active STARTING pitchers have struck out Braun eight times or more --
Carlos Zambrano
(14) and
Adam Wainwright
(eight). The only other active reliever who has whiffed Braun more than four times? It's the Reds'
Nick Masset
(seven in 12 at-bats).
• Finally, the Brewers may need to win Games 6 and 7 if they want to salvage this series, but the odds of that happening aren't as long as you might think.
Since the LCS became a best-of-seven series in 1985, 15 teams have headed home for the final two games trailing in the series 3-2 -- and five of them have come back to win the series.
If we include the World Series, 32 teams have been home for Games 6 and 7 of a seven-game series, needing to win both -- and 12 of those 32 have done exactly that.
And if we look at all 31 teams that have trailed an LCS 3-2, regardless of where the final two games were played, nine of those 31 teams still won the series.
And guess what? None of those teams -- in the division-play era, at least -- had a home record as good as these Brewers (57-24). So ya never know.
October, 12, 2011
10/12/11
11:24
AM ET
ST. LOUIS -- The increasingly fascinating National League Championship Series gets rolling again Wednesday night. So here's some fodder to ponder as we await
Chris Carpenter
versus
Yovani Gallardo
:
Strike One: What The Heck Is Brewing On The Road Dept.
Here's a fun little Brewers fact for you: Never in the history of the franchise have the
Milwaukee Brewers
won a postseason series in which they lost even one game at home.
OK, OK. They've won only two postseason series in 42 years, so it's kind of a small sample size. But let the record show that in both of those series -- the 1982 ALCS and the 2011 NLDS -- they won all their home games and lost all their road games.
Well, as misleading as that fun fact may appear, there are two reasons it's now relevant to this series:
• Since the Brewers lost Game 2 at home to even this NLCS at a game apiece, they now have no choice but to win a game or two in St. Louis if they still have interest in playing in the World Series, which we're thinking they do.
• They weren't what you'd call the ultimate road warriors during the regular season, going just 39-42 away from home.
It isn't easy, you know, to win a division handily when you have so many issues on the road. In fact, it still amazes us that the Brewers won the Central by six games, even in a year when they won fewer road games than the Mets or Marlins and, more significantly, won only two road series all season against teams that finished above .500.
The Brewers more than made up for those issues at home, fortunately. They had the best home record (57-24) in baseball -- and that doesn't even begin to describe what life was like at Miller Park this season.
In the division-play era, only three National League teams have won more games at home in any season than the Brewers won this year -- the 1975 Big Red Machine (64-17), the 1977 Phillies (60-21) and the 1977 Pirates (58-23). So the point is, we've seen few more foreboding places to play (non-Yankee Stadium Division) in the past 40 years.
But because of that home-field dominance, the disparity between the Brewers' home record and road record -- in particular, their offense's 107-point difference in home/road OPS -- has become a source of great intrigue around the game.
"I'll admit, it made you wonder if something funny was going on," said an official of one NL Central team. "But we never could find anything. And believe me, we looked."
Yet only one NL manager voiced any public conspiracy theories about that disparity. And what are the odds it happened to be Tony La Russa, of all people?
La Russa tossed out some pointed comments in midseason about how the lighting in Miller Park was different when the home team was hitting than when the road team was up. But nothing was proved, and nothing much came of it.
Brewers GM Doug Melvin dismissed that talk in a hurry this week, saying: "Whenever a team hits well at home and has the kind of home record we have, there are always going to be conspiracy theories. Toronto was the same way this year, wasn't it? ... We don't have anything to hide here. We've got a good offensive club. And our road record was much better from about July 15 on."
Now THAT is an important point -- and one that plays into how we view these next three games in St. Louis. After July 15, the Brewers went 23-11 on the road (after starting off just 16-31 in their first 47 games). And although it's true that the surge included a 14-2 record in Houston, Pittsburgh, Cincinnati and New York, it's also true that, in the middle of all that, the Brewers won a big series in St. Louis in August.
Even more important, though, their players felt as though they developed a different mentality on the road down the stretch.
"That mentality -- that's the key," said
Jerry Hairston Jr.
, who joined this merry band at the trade deadline just in time to watch those road troubles begin to melt away. "I know that was an issue earlier in the season, but we got better as a team in the second half of the season. We felt like we could win anywhere. We made a conscious effort to be better on the road. And we have been."
Hairston said the leaders in this clubhouse -- guys like
Ryan Braun
and
Prince Fielder
-- spoke openly about making that effort, telling their teammates: "We've got to be better on the road." They also talked management into relaxing the suits-and-ties-on-the-plane rules in an attempt to loosen the atmosphere. That also seemed to work, miraculously enough -- until last week, anyway,
"We wore suits in Arizona [in the NLDS]," Hairston reported. "And that didn't work out too well."
No word on how that will affect their dress code this week. But the Brewers understand that no matter what their attire, they need to find a way to win a game or two in St. Louis in the next three days.
"No question, we have to get it done here," Hairston said. "I don't care if we win 2-1 or 15-14. It doesn't matter. A win's a win. And we've got to figure out a way to win."
Strike Two -- Who Kidnapped Cinderella Dept.
It's time for this important announcement: The Cardinals would like to ban all usage of the term "Cinderellas" to describe them in pretty much every one of the 1.3 million tales floating around about their unlikely journey to this postseason.
Yeah, they were hopelessly behind a month and a half ago. Yeah, the chances of their still being here, playing in October, were once right up there -- or down there -- with the chances of Florida Atlantic winning the BCS. But that doesn't mean this is some ragtag team that somehow stumbled into the playoffs because everybody else was collapsing around it. No, sir. This team made the playoffs because it filled its holes and played great.
"I think people on the outside view this team as sort of a Cinderella story,"
Lance Berkman
said. "But we look at it as, 'This is where we were supposed to be at the beginning of the season.' When I signed here -- of course, this was before [Adam] Wainwright blew his elbow out -- I signed here thinking this team could easily win the World Series. That's how good I thought we were. ...
"




So this is NOT a Cinderella story. You look at our lineup, and it's almost an American League lineup in the National League.



"


-- Cardinals outfielder Lance Berkman


"So this is NOT a Cinderella story. You look at our lineup, and it's almost an American League lineup in the National League. You've got a legitimate ace in [Chris] Carpenter and a great supporting staff around him. And they've solidified our bullpen. So we feel really good about where we're at."

But that Cinderella stuff isn't the only misconception the Cardinals players would like to clear up about this series. They're also not in favor of hearing people theorize that they have nothing to lose just because of where they came from.

After all, when your team is three wins from the World Series, how can you possibly believe that you're a team with "nothing" to lose anymore?

"I think that's wrong," infielder Nick Punto said. "I think there's a lot at stake. I've been playing 11 years now, and my biggest goal has always been to be world champions. And now that goal is within sight.

"Maybe we weren't supposed to beat the Phillies, and we weren't supposed to catch the Braves. But we did. And now that we've advanced this far, I think it's silly for people to be suggesting we're not supposed to advance again or win this series. We think we can win. And that's what we're here to do."


Strike Three -- Taking Offense Dept.
Finally, not many people have caught on, but the road to postseason glory has taken a different twist all of a sudden.
And it was Brewers GM Doug Melvin who pointed it out to us.
[+] Enlarge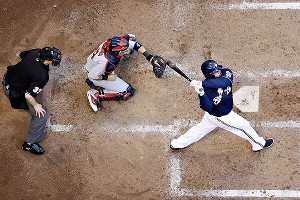 AP Photo/Matt SlocumOffenses, not pitching, could be the key to success in this postseason.
"Everybody thinks pitching gets you in [to the playoffs]," Melvin said. "But this year, it looks like it's offense."
Check your
ESPN.com team stats page
, and it turns out he's right.
Of the top five teams in ERA this season, how many of them made the playoffs? Just one -- the Phillies (who ranked first).
But of the top five teams in OPS, how many made it? How about four (not to mention five of the top six and six of the top nine).
Naturally, we wondered whether there was more to that. So with the help of the Elias Sports Bureau, we looked at the postseason fields from every season in the wild-card era. And here's what we found:
What happened this season was a first. Never happened.
In other words, this was the only season in all that time when just one team that ranked in the top five in ERA made the postseason. But when we looked closer, we discovered this was the continuation of a trend that began a couple of years ago.
In the first 14 seasons of the wild-card era, there had never been any season in which fewer than three of the top five ERA leaders made the postseason. But in each of the two seasons before this one, just two of the top five in ERA won a playoff spot.
Not coincidentally, the playoff field also began tilting toward offense a few years back. Only once in the first dozen seasons of the wild-card era did at least four of the top OPS leaders make the playoffs. But it has now happened three times since 2007.
So what does that tell us? That it might be time for teams to re-evaluate the formula that gets you here. Unless there's something we're missing, it appears the moral of this story goes like this:
In the age of offense, it's the teams with the best pitching that separate themselves from the pack. But nowadays, in the age of the pitcher, it appears to be the opposite: The clubs with the best lineups emerge in the end.
Now, it may very well be too soon to draw any firm conclusions on this. But it's verrrry interesting. And it's definitely something for GMs everywhere to think about.
October, 2, 2011
10/02/11
12:56
PM ET
Here's a little nugget you should file away, because it's going to come up again during this postseason.
It looks at the perils of starting pitchers working on short rest when the games mean the most.
We're taking that look because on Sunday, two teams -- the Brewers (with
Zack Greinke
) and Cardinals (with
Chris Carpenter
) -- will start maybe their most important pitchers on three days' rest.

Carpenter

Greinke
They wouldn't be the first teams to try this ploy this time of year. But here's what they should know going in:
It doesn't work a whole lot. And we have the numbers to prove it.
Since 2005, 21 pitchers have headed for the mound on short rest in the postseason. Here's how that's gone:
• Their combined ERA in those starts is 5.83.
• Their won-loss record is 5-8.
• Their teams have won only eight of those games.
Now here's the breakdown year by year.
That 2011 start you see above was made by
C.J. Wilson
the other day. He went out there in Game 1 against the Rays after a mini-start four days earlier (two IP, 38 pitches). Didn't work out so hot.
Meanwhile, the one win in 2010 might also be looked upon as slightly misleading. It came in a Game 1 World Series start by
Tim Lincecum
four days after an NLCS relief outing in which he recorded only one out and threw just 16 pitches.
You wouldn't have thought those 16 pitches would have affected Lincecum much. But he made what was, by far, his worst start in the final two months last year (5 2/3 IP, eight hits, four earned runs, only three strikeouts).
Then, if you keep going and take a look back at the three postseasons that preceded that, there's only one word for them: ugly. Yearly ERAs of 6.30, 6.00 and 20.77? Yikes.
Now remember, these aren't just any old pitchers who are making these starts. These are starts that almost always have been made by their teams' BEST pitchers -- guys they are looking to run out there as often as they can in the biggest games of the year.
So maybe this will all work out fine Sunday afternoon. Maybe Carpenter (who is coming off a complete game in Houston just four days ago and has NEVER pitched on short rest in his career) will look exactly like Chris Carpenter. Maybe Greinke (who is working on short rest for the second straight start after having done it only once in his career before that) will look exactly like Zack Greinke.
But recent history tells us these gambles rarely look as brilliant on the mound as they look on the drawing board. It will be interesting to see whether this is the October when that trend reverses.
Or not.