Jayson Stark:

New York Mets
February, 7, 2014
Feb 7
1:06
PM ET
I never got to see the late, great Ralph Kiner swing a bat. But I was lucky enough to spend many summer evenings listening to him speak into a microphone.
And it was hard to think of a better way to pass a few hours than that, on many levels.
Ralph Kiner was a beautiful man. Try to find anyone who ever met him who didn't love him, or love being around him. Anyone.
He had a story for every occasion. He saw the game on levels a lot of people didn't. And he had one of life's special gifts -- the ability to laugh at himself.
I'm especially grateful for that last gift because, as anyone who read my old Week in Review column in the Philadelphia Inquirer could tell you, I somehow became America's foremost collector of Ralph Kiner malapropism classics.
It became, after awhile, a weekly feature of that column, because, let's just say, there was never a shortage of those pearls to choose from.
Collecting them was a labor of love, and it didn't require much labor. I heard many of them myself. And Kiner fans sent them to me by the hundreds.
They were true treasures of American broadcasting. And the reason I felt free to relay them to the world was simple:
Ralph didn't mind.
Not one bit.
His good friend and old Mets broadcast partner Tim McCarver used to assure me of that on a regular basis. At one point, I got a phone call, out of the blue, from Danny Peary, an author who was writing a book
with
Ralph Kiner.
Peary's question (of course): What were my favorite Kinerisms?
After I relayed a few, I couldn't help but ask: "If you're writing a book
with
Ralph, why'd you call
me
?"
"Ralph told me to call you," he said, "because you have the best collection of these of anyone."
[+] Enlarge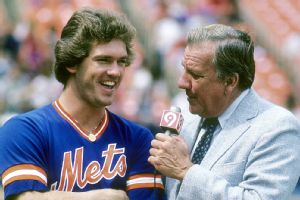 Focus on Sport/Getty ImagesRalph Kiner, pictured here interviewing Neil Allen, joined the Mets as a broadcaster in 1962.
So before I start reminiscing about some of the greatest Ralph Kiner gems of all time, I needed to make that clear.
Ralph Kiner understood those Kinerisms were part of his legend. And he was totally cool with that.
It was part of his unique charm. As my friend Chris Isidore observed in an email Thursday, after learning that
Kiner had died at age 91
, "It'd be nice if every announcer could be Vin Scully, spinning prose poetry in describing both the great and the mundane moments on the field. But failing that, we're best off with the Ralph Kiners and Phil Rizzutos of the world, former athletes with a knowledge of the game along with a trove of amusing anecdotes and a propensity for malaprops that made the hours of dead time during the game funny and enjoyable."
Exactly. There were many reasons to watch a Mets game with Ralph Kiner in the booth. But even Ralph himself knew what one of them was: There was a chance you were going to hear the English language used in ways never heard before.
So on that note, presented with total love and affection for a great man, here they come, some of my favorite Ralph Kinerisms:
The Name Game
Not only could Ralph mispronounce the names of players everywhere, he even got his own name wrong. Ask any earwitness who heard him call himself "Ralph Korner" or "Ron Kiner." But there were many more where they came from.
Dan Driessen came out "Diane Driessen." Gary Carter came out "Gary Cooper." Vince Coleman was "Gary Coleman." Dave Kingman was "Ed Kranepool." Milt May was "Mel Ott." And Ralph once called Dann Bilardello "Dann Bordello." Needless to say, I'm not touching that line.
One of my favorite Kiner/McCarver moments ever came after Ralph even referred to his pal McCarver as "Tim MacArthur" during a game. Whereupon, as they were heading for a commercial, McCarver deadpanned: "And like MacArthur, we shall return." Awesome.
Fun facts
Ralph the historian once said of Cincinnati's old Riverfront Stadium: "Baseball began right here in this very stadium, back in 1869."
Ralph the geographer once reported that veteran pitcher Keith Comstock was so well-traveled, "he's even been released by four different countries."
Ralph the calendar chronicler once told us that "Darryl Strawberry was voted player of the month for June 4 to June 10" and that David Cone could be "the pitcher of the year for the month of July."
And Ralph the college football fan once said that the Mets' hot-hitting Dave Magadan "does not have enough at-bats to qualify for the Big 10." Which was Northwestern's problem for years, right?
Ralph the sabermetrician revealed that all of switch-hitting Howard Johnson's early-season homers had "come left-handed as a left-handed batter," and that "all of Rick Aguilera's saves have come in relief appearances."
And, as thousands of you seemed to recall in the last 24 hours, Ralph the human greeting card marked his favorite holiday by telling all the dads out there: "And on this Father's Day, we again wish you all a happy birthday." Heck, why wouldn't we?
Simple physics
A bunch of people heard Ralph the weatherman try to explain one night why it's so hard to hit in cold weather. His premise was that cold could affect the distance a ball traveled by 25 feet:
"On a cold night," he said, "you have to hit the ball 25 feet farther. So, in other words, if the fence is 338 feet [away] and you hit the ball 338 feet, you'll be 25 feet short."
Which was, undoubtedly, news to the fence.
Great moments in music
I could go on like this for hours. But let's finish this tribute with one of Ralph's all-time all-timers, which was heard and relayed to me by more people than any Kinerism in history. And was recalled by many of you since you heard the news of Kiner's passing.
It emerged from the late innings of a 1993 spring training game between the Mets and Yankees. Ralph apparently left the booth between innings, only to discover upon his return that the Yankees had made some defensive changes. Only one trouble with that: He was on the air live and hadn't quite had a chance to note them all.
But he plowed in there anyway.
"I see the Yankees have made some changes in the outfield," he said. "They've put Bernie Williams in left field. And now playing center field is ... "
Hmmm. Good question. Who
was
playing center? Fortunately, he thought, the scoreboard had the answer.
Unfortunately, what he discovered up there wasn't the defensive changes. It was the results of fan balloting to decide which song would get played on the PA system before the next inning.
And the winner was ... Uh-oh.
"And in center field," Ralph said, finally, "that's John Fogerty."
Now none of us were in that booth, or the production truck, when that bulletin reverberated over the air waves. But there's a really, really good chance the next sound Ralph Kiner heard was: "Nooooo. That's Gerald Williams in center."
Message delivered. Message received. Well, sort of.
"Sorry," Ralph said. "Correction. That's Gerald Williams in center field -- and John Fogerty in right."
True story. No truth to the rumor that the song they wound up playing the next inning was "Help." But it would have been a great idea, because all of us who remember that gem could use some help -- to help us quit laughing nonstop. For the last 20 years.
That was Ralph Kiner. Still making us smile, even after he's gone. And we'll never forget him for it.
August, 8, 2013
8/08/13
3:34
PM ET
The past couple of days have reminded me of something I'd almost forgotten. There is life after A-Rod-Palooza.
There is a great baseball season going on out there, friends. So let's stop talking about that third baseman for the Yankees and start focusing on all the fabulous baseball stories that are roaring toward their dramatic conclusion.
And what stories do I have in mind? How about these Five Stories I'll Be Watching (Instead of That Guy):
[+] Enlarge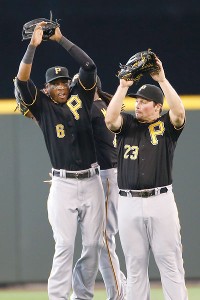 Otto Greule Jr/Getty ImagesIt's hard not to get excited about the Pirates.
1. The Pirates
The
Pittsburgh Pirates
are going to finish with a winning record, ladies and gentlemen. I have never felt more confident about saying that.
They are not going to have 10 pitchers undergo Tommy John surgery in the next 20 minutes. They are not going to lose 37 of their next 48 games. They are not going to reenact August and September of 2012, or August and September of 2011.
They're too good. They have the fourth-best run differential in the National League (plus-60). They've allowed the fewest runs in the major leagues (just 385) -- something they haven't accomplished over a full season since 1984. And opponents are hitting a ridiculous .229 against their pitching staff -- which would be the lowest average against any National League staff since Jim Deshaies' 1986 Astros.
I can't tell you these Pirates are going to win the World Series. I can't tell you they'll win any kind of postseason series. But they're still the best story in the major leagues. So let's just enjoy this ride. OK?
2. The races
The NL East race is over. The AL Central race feels like it's in guarded, but unstable, condition. And over in the NL West, the Dodgers have gained 14 .5 games in the standings on Arizona just in the past seven weeks. So we can see where that one is headed.
But the NL Central is shaping up as a must-see duel between the best offense in the National League (the Cardinals) and the best pitching staff (the Pirates) -- with nine riveting games left between these two teams. Sign me up for that.
And how about the AL West, where the Rangers just made a six-game Oakland lead disappear in a span of nine days. Those teams have two series left against each other. But the schedule, in general, favors Texas, which has the easiest remaining schedule of any AL contender, including 10 games left against their good friends from across the state, the Astros.
And then there's that AL East race, which has a chance to be the best of them all.
The Red Sox just became the first AL team to reach 70 wins -- and did it following a year where they didn't win 70 games all season. Think about that. Elias tells us they're the first AL team to pull off that trick (not counting strike-shortened seasons) since Harlond Clift's 1945 Senators, and (because those Senators got to 70 on the same day as the Tigers) the first to do it outright since George Herman Ruth's 1926 Yankees.
But then there are the Rays, owners of the best record in the whole sport over the past 81 games and a team so hot they just lost their first series in seven weeks. So pick against them at your peril.
And I'm not ready to write off the Orioles, who lead the major leagues in home runs and slugging, upgraded their pitching before the deadline and are currently on pace to become the first team in history to commit fewer than 50 errors in a 162-game season. (Heck, no one else in the expansion era has even finished a season with fewer than 60.) The Orioles have 16 games left against Boston and Tampa Bay. So stay tuned.
3. The awards
NL MVP:
Yadier Molina
was our midseason pick, but his knee issues are about to sabotage his MVP campaign. So are we ready for a starting pitcher (i.e.,
Clayton Kershaw
) to win this thing? Do guys like
Paul Goldschmidt
and
Joey Votto
have MVP finishes in them? And don't look now, but here comes
Andrew McCutchen
, whose credentials include this nugget: He,
Mike Trout
and
Carlos Gonzalez
are the only players in their league to rank in the top 10 in both stolen bases and slugging.
AL MVP:
Uh-oh. Here we go again. If you enjoyed that vintage, old-school/new-school
Miguel Cabrera
-versus-Mike Trout debate last year, get ready for Round 2. As Jared Cross wrote the other day, Trout has injected himself into what once looked like a Cabrera-
Chris Davis
MVP conversation by charging up those AL leaderboards. But if this keeps up, some great sabermetric minds are going to have to explain to the masses how it's possible that Trout leads Cabrera in offensive wins above replacement, but is trailing Cabrera overall because of (gulp) Cabrera's defense. Incredible, huh? But let's save that issue for another day.
AL Cy Young:
Felix Hernandez
can tell you all about how Cy Young voters have finally learned to de-emphasize wins. But let's see them try to factor out wins this year, when King Felix is leading the league in ERA but trying to make his case against a guy who is 16-1 (
Max Scherzer
) -- and first in his league in WHIP, lowest opponent average and lowest opponent OPS. Can't wait for that debate.
NL Cy Young:
With all due respect for the awesome seasons of
Adam Wainwright
,
Matt Harvey
,
Madison Bumgarner
,
Patrick Corbin
,
Francisco Liriano
,
Craig Kimbrel
, etc., all Kershaw does every five days is remind us that he's the best pitcher in baseball. Still. Just so you know, if Kershaw can finish with the ERA (1.91), WHIP (0.88) and opponent average (.188) he has now, the only pitchers in the live-ball era who have ever been in that neighborhood (or better) over a full season are Bob Gibson,
Greg Maddux
,
Pedro Martinez
, Sandy Koufax and Luis Tiant. Whoever they are.
Rookies of the Year:
In the AL,
Jose Iglesias
has a shot to become the first rookie of the year ever to get traded in midseason. But
Wil Myers
can screw up that claim to fame. And in the NL, this remains one of the wildest rookie-of-the-year free-for-alls ever, with
Jose Fernandez
,
Shelby Miller
,
Hyun-Jin Ryu
,
Julio Teheran
,
Evan Gattis
and
Yasiel Puig
all making cases for themselves that are going to require many, many Advil for the ROY electorate.
[+] Enlarge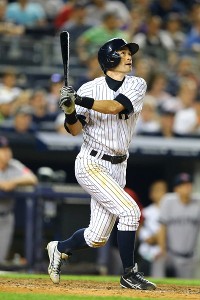 Al Bello/Getty ImagesIchiro Suzuki is about to enter some rarefied air.
4. The 4,000-hit man
The folks obsessed with a certain troubled third baseman may differ. But in my neighborhood, the most interesting story in Yankees Land this month revolves around a man who is chasing a number very few living humans have ever seen chased.
That man is
Ichiro Suzuki
. That number is 4,000.
And no, that isn't how many reporters from his homeland follow Ichiro around every day. It's the number of hits he's about to have on his permanent record if we count the 1,278 hits he spewed in his nine seasons in Japan.
At the moment, he finds himself just 11 hits away. And I hope you don't let that milestone go whooshing by you too quickly before you stop to think about what it means.
The last time we witnessed anyone getting his 4,000th hit was April 13, 1984, when Pete Rose collected No. 4,000 off Jerry Koosman, in a stadium we no longer find on the baseball map (the late, great Stade Olympique in Montreal).
Just for perspective's sake, the Hit King got that 4,000th hit in his 3,259th game. That's nearly 200 more than Ichiro has played (3,075) on both sides of the Pacific. Which means he's going to beat Rose to No. 4,000 by more than a full season. Wow.
The only other 4,000th hit ever? Ty Cobb got that one -- on July 18, 1927. So if you weren't hanging out at old Nevin Field in Detroit that day 86 years ago, you've never seen any American Leaguer do what Ichiro is about to do. Pretty mind-boggling feat -- on any continent.
5. History majors
Finally, here's just a taste of some of the historic pursuits you can keep your eye on over the next two months:
Chris Davis:
On pace for 58 home runs, 102 extra-base hits, 151 RBIs and 72 more extra-base hits than singles. There has never been a season like it.
Mike Trout:
He's leading the American League in walks. He's tied for the league lead in hits. And if he can wind up leading in both categories, he'd be only the fifth player since 1900 to do that in the same season. The others: Rogers Hornsby, Richie Ashburn, Carl Yastrzemski and Lenny Dykstra.
Joey Votto:
See that note above? How unreal would it be if two men finished first in their league in hits and walks in the same season? Well, Votto has a shot, too. He has a big lead in walks. He's three behind
Jean Segura
for the lead in hits. And Votto and
Shin-Soo Choo
have an outside chance to become the second set of NL teammates ever to reach base 300 times apiece (via hit, walk and HBP) in the same season. The other:
Jeff Bagwell
and
Craig Biggio
, for the 1997 Astros.
Miguel Cabrera:
And then there's Miggy. He might not win the Triple Crown for a second straight year. But if he can stay healthy enough to get on the field regularly, Cabrera still has a chance to do something no Triple Crown winner has ever done -- hit that trifecta one year and then have a better season the next year.
Here are Cabrera's numbers from last season, and his projected numbers for this season. This is truly amazing:
2012:
.330/.383/.606, 44 homers and 139 RBIs
2013:
.359/.453/.668, 48 homers and 148 RBIs
I chronicled this a few months ago, but here it is again just to help you digest this man's greatness: Only one Triple Crown winner in history (Ted Williams) ever drove in more runs the following year. Just two (Williams and Mickey Mantle) had a better batting average the next season. And none of them hit more home runs The Season After. But this guy could do all of the above.
So once again, we find ourselves drawn to the flat screen every time Miguel Cabrera starts marching toward home plate. And that beats watching A-Rod-Palooza every day of every week. Don't you think?
November, 30, 2012
11/30/12
3:00
PM ET
David Wright
was meant to be a Met, meant to be the face of the Mets.
We'll never know for sure how close he came to taking a different road this winter. But it doesn't matter now. It doesn't matter, because very late on a Thursday-night-turned-Friday-morning, David Wright and the Mets got a deal done that enriches both of them -- in more than just the old bank account.
But recognize this: The biggest deal in Mets history -- eight years, $138 million -- didn't have to happen. By many accounts, it almost didn't, in fact.
It almost blew up about 138 million times in the last 72 hours, after leaks started flying all over the media world about what the Mets were willing to offer the centerpiece of their franchise.

And even as those reports were suggesting the two sides were getting closer, Wright and his agents, Seth and Sam Levinson, found those bulletins so infuriating that they sought out the folks at MLBTradeRumors.com and publicly refuted the accuracy of EVERYTHING that was being reported.
But somewhere in between the spin and the denials, you know what we had here? We had two sides that deep down wanted this to happen. We had a player, in Wright, whose personal icons -- in life and in baseball -- were Derek Jeter and Chipper Jones, men whose stories will include one very special line:
Played his entire career for the same team.
And we had a general manager, in Sandy Alderson, who has never been a big fan of eight-year, nine-figure contracts -- but a GM who nevertheless recognized that this one was too important to the well-being of his franchise not to get hammered out.
And because we had two men who were able to hose down their emotions and grasp the big picture, they were able to overcome what was clearly a much larger gulf -- both in dollars and philosophy -- than those reports earlier this week were suggesting.
In most negotiations, when the gap is large and tempers are spiking, the stories don't end happily ever after. Fortunately, this one was different.
From what we gather, Alderson pushed to adjust the Mets' offer to be more in line with what he knew it would take to get his most important player signed. Toward a figure that would make Wright the highest-paid player in Mets history, and the second-higest-paid third baseman (behind Alex Rodriguez) in any team's history. And with much less deferred money than the Mets' original offers had reportedly included.
Meanwhile, on the other side of the table, Wright and his agents were able to put aside their concerns and focus on what really mattered -- on loyalty to the only franchise Wright had ever played for, or ever truly wanted to play for.
Was it possible there would have been more money out there if Wright had walked away and explored free agency? Absolutely. Maybe even likely. Could he have found another team in a sport with very few star-caliber third basemen that would have put him in a better position to win soon? No doubt.
Wright
But David Wright can also add and subtract. He knows the Mets are a year away from subtracting the $41.5 million in salaries due Johan Santana and Jason Bay next season. Meanwhile, they'll also be adding the $25 million extra per year that each team will be raking in from the new national TV deal, starting in 2014.
So that's $66.5 million in Monopoly money that the Mets should have to spend on their roster a year from now that they don't have now. And if they don't spend most of it or all of it, their third baseman -- not to mention their paying customers -- will have every right to be very, very unhappy.
It's impossible to know yet what assurances the Mets gave Wright that they won't be using those dollars to pay off their lawyer fees, their stadium debt or their Wilpon family holiday-party bills. But they obviously had the right answers to the questions their third baseman was asking this week. Otherwise there's an excellent chance this deal never would have gone down.
We know how much winning matters to this man. He has told friends on other teams numerous times how much it matters. But what drove this deal toward the finish line is this: David Wright doesn't merely want to win. He wants to win as a Met.
So in the end, he passed his loyalty test. And the Mets passed their credibility test. Both of them are better off because they did.
Wright was meant to be a Met, meant to be the face of the Mets. So here's a tip of the hat to everyone who made sure that's how this turned out. To a player who wanted to say he'd played every game of his career for the team that signed him. To his agents, the Levinsons, who wouldn't let this be just about the bottom line. To an ownership -- and yes, that means Fred and Jeff Wilpon -- that stepped up when it most needed to step up. And to a general manager, Alderson, who wouldn't let this deal die when it easily could have blown apart.
There haven't been many happy, uplifting tales in the life of this franchise since NLCS Game 7 in 2006. But this was one of them. And boy, it's about time.
August, 16, 2012
8/16/12
7:03
PM ET
Welcome to another edition of Five Astounding Facts:
1
Thanks to the great
Felix Hernandez
, the Mariners just became the first team in 40 years (since the '72 Cubs) to throw two no-hitters in the same season that weren't started by the same pitcher. But we're going to climb to the peak of Mount Rainier and venture this guess:
You'll never find two no-hitters more different than these two. Here's why: The winning pitcher in their first no-hitter, that June 8 six-pitcher special, was their third reliever of the game,
Stephen Pryor
. And he got only ONE out. But he allowed more baserunners (via two walks) in his one-third of an inning than King Felix did in all nine innings he was out there. Try pulling that off on your next trip to the "MLB 2K12" Perfect Game Club. We dare you.
Hernandez
2
We've heard of some bizarre niches in sports, but specializing in getting no-hit? That's the Rays' bizarre claim to fame. They've now been on the wrong end of four no-hitters in the past four seasons -- by
Mark Buehrle
(2009),
Dallas Braden
(2010),
Edwin Jackson
(2010) and King Felix (2012).
So how many other teams since 1900 have gotten no-hit four times in four years? Not a one, of course. The A's did it four times in six years, from 1969 to '74, and the Phillies did it four times in five years TWICE (1960-64 and 1968-72).
And ohbytheway, just to put this in some sort of perspective, the Yankees have been no-hit four times in the past 95 seasons.
3
Then there's Safeco Field, rapidly becoming one of the great no-hit emporiums of modern times. This makes three no-hitters thrown at Safeco in just the past four months. So how does that compare to other parks out there? We'll tell you how:
• In Kansas City, Kauffman Field has hosted three no-hitters in its history -- in 40 seasons. Wrigley Field has been the site of ZERO no-hitters, by either team, in the past 40 seasons. And Shea Stadium was around for 45 seasons -- and hosted just two no-hitters. Then again, in a related development, the Mets played there.
4
In astounding non-no-hitter news, we saw something Tuesday that we'd never seen before: In one game that day (Reds-Mets), the only scoring came on a home run by the last hitter in the game (
Jay Bruce
). In the other (Marlins-Phillies), the only scoring came on a home run by the first hitter in the game (
Jimmy Rollins
).
Well, there was a good reason we couldn't remember ever having seen that. According to the Elias Sports Bureau, it was the first day in history to feature two games that met that description. Yep, that explains it!

Alvarez
5
Finally, if you have a big, shiny, yellow sombrero sitting around the house, you might want to ship it to the Pirates' favorite free hacker,
Pedro Alvarez
. He deserves it. On Wednesday, he racked up his third career "golden sombrero" (going 0-for-4 with four strikeouts). But what made this one special was that it came in a game he didn't even start. (He entered after a
Neil Walker
injury in the first inning.) So how hard is THAT? Glad you asked.
According to Baseball-Reference.com's indispensable Play Index, here is
Alvarez's place in golden sombrero history
:
• He's the first position player to pull off a sombrero in a game he didn't start in 41 years -- since White Sox catcher Tom Egan did it (after pinch hitting for the pitcher) on Aug. 21, 1971.
• He's the first National League position player to do it in 67 years -- since Brooklyn Dodgers shortstop Eddie Basinski went sombrero shopping in a 15-inning game Aug. 13, 1945.
• He's the first NL position player to do it in a nine-inning game in nearly 80 years -- since New York Giants third baseman Johnny Vergez spun a slightly tainted sombrero (by a walk) on July 7, 1934.
• And he's just the fifth position player, period, to earn a sombrero, without starting the game, in the live-ball era.
This means, when you think it through, what Pedro Alvarez did Wednesday was actually more rare than what Felix Hernandez did. Who knew?
May, 19, 2012
5/19/12
11:47
AM ET
Now wasn't that special when Fred Wilpon tossed all those bouquets full of happy talk at
David Wright
this week?
He's now "a great young man," that David Wright, said the owner. And in case that .409 batting average didn't tip you off, he's also "playing like a superstar." And goshdarnit, if Fred Wilpon had another daughter, it sounded like he'd propose to his third baseman on the spot.
[+] Enlarge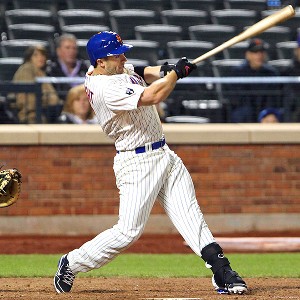 Anthony Gruppuso/US PresswireEntering Saturday, David Wright's .409 batting average leads the majors.
But the big question, naturally, is whether the Mets are going to keep this wonderful young eligible-bachelor superstar of theirs in Queens for the rest of his career. And Fred Wilpon's answer to that was a jovial: "Of course we really want him."
Well, that sure sounds upbeat -- until you take a step back and think this through from David Wright's perspective.
There's no way of knowing, obviously, how any sort of negotiations will turn out. But one thing we do know is the question that people on the outside keep asking. And it goes like this:
Why on earth would this guy possibly sign an extension with the Mets this summer or even this offseason?
Think about it from his end. He hasn't played a postseason game in six years. The Mets have cut their payroll by nearly $50 million over the last two years. Their farm system was
ranked No. 22 in baseball by Keith Law
and 24th by Baseball America. And then there's the business-is-business angle.
If Wright hits the free-agent market after 2013, at age 31, the only other third basemen out there will be
Michael Young
(at age 37),
Martin Prado
(just a year younger than Wright) and
Mark Reynolds
. Puts him in a pretty good bargaining position. Wouldn't you say?
"It's pretty simple," said one longtime baseball insider. "There are almost no [star-caliber] third basemen in the game. And there will be none in the marketplace."
So the bottom line is this: Other clubs would be shocked if the Mets can get Wright signed before he reaches free agency. Which means they'll have almost no choice but to actively explore trading him this winter.
Unless Fred Wilpon can find another daughter to marry him first, that is.
April, 19, 2010
4/19/10
1:05
PM ET
If you had 6.5 hours to kill Saturday, there are lots of ways you could have killed them. You could have flown from New York to London (volcanoes willing). You could have watched "Spider-Man 1, 2 and 3" back-to-back-to-back.
Or, of course, you could have dug in and watched the Mets and Cardinals try to score a run. All day. And all night.
All right, so it "only" took them 37 half-innings to figure out how to do that. But along the way, they gave us one of the craziest, most unforgettable baseball games of our lifetimes: Mets 2, Cardinals 1, in 20 insane innings.
So in honor of all those innings, here are our 20 favorite tidbits about those 20 innings of madness:

Santana
•
First inning:
We start with
Johan Santana
's sensational quote, to ESPNNew York.com's Adam Rubin: "We went through every single situation that you can imagine, that you can think of out there. ... And, at the end, you see a position player losing the game (
Joe Mather
), a closer (
Francisco Rodriguez
) winning the game and a starter (
Mike Pelfrey
) saving the game. I've never seen that before."
Well, there's a good reason he's never seen that before -- because
nobody
has ever seen that before. This was the first game since the dawn of the modern save rule in which a closer got the win, a starter got the save and a position player got the loss. Boy, what'll they think of next in this sport?
•
Second inning:
We want you to take a look at the line score of this game, because nobody has ever seen one like this, either:
NYM 000 000 000 000 000 000 11 -- 2
STL 000 000 000 000 000 000 10 -- 1
As our buddy David Vincent pointed out, this game started with 36 consecutive half-innings worth of zeroes -- after which, of course, these teams promptly scored in three half-innings in a row! Unprecedented.
There had never been a game in the history of baseball in which a team (in this case the Cardinals) forgot to score for 18 innings, got behind in the top of the 19th and then tied it in the bottom of the 19th.
The last team to score a tying run in the 19th inning of any game, according to the Elias Sports Bureau, was a team that doesn't even exist anymore, the 1969 Seattle Pilots (who did it in a 20-inning game against the Red Sox). But that wasn't a 0-0 game. So check that line score again. It's an all-timer.
•
Third inning:
Incomprehensible quick hits: The winning team (the Mets) went all 20 innings without getting a hit with a runner in scoring position (0 for 7). ... The Mets also somehow made it through all 20 innings without an extra-base hit -- and
won
. (Only two other teams in the last century pulled that off, according to Elias: the 1971 A's and 1940 Dodgers.) ... The winning pitcher (K-Rod) was the only guy on his team who gave up a run -- in 20 innings. ... The 341 pitches the Mets threw were the most by any team in any game since the Royals served up 345 pitches in an 18-inning marathon on June 6, 1991. ... And the hitter who drove in the game-winning run (
Jose Reyes
) was a man who went 0-for-7. Tough to do, friends.
•
Fourth inning:
As loyal reader Eric Orns points out, one of the Mets' relief pitchers --
Raul Valdes
-- got more hits in this game (one) than Jose Reyes,
Jeff Francoeur
,
Jason Bay
and
Fernando Tatis
combined
. Those four went 0-for-25. And Reyes, Bay and Francoeur all spun off scenic 0-for-7s, making the Mets the first team to have three players go 0-for-7 or worse in the same game since Warren Cromartie (0-for-8), Chris Speier (0-for-8) and Del Unser (0-for-7) did it for another defunct team, the Expos, on July 17, 1977.

Lopez
•
Fifth inning:
And you know the best part of that Raul Valdes hit? He got it off
Felipe Lopez
-- who, as you might have heard, normally plays the infield for a living. And only one day before that development, Lopez had hit a grand slam off Valdes. We haven't been able to find any other case of a guy hitting a grand slam off a pitcher one day, then giving up a hit to him the next day. But if you can track one down, send it along to uselessinfodept@yahoo.com.
•
Sixth inning:
Now that we've broached the subject of position players pitching, fasten your seat belts. We've got lots of fun facts on
that
topic coming. But we'll start here: The Cardinals got nine outs in this game from Lopez and Joe Mather, two fellows who had never gotten
any
outs before (for obvious reasons). The last team to get that many outs from position players turned pitchers, according to Elias: Also the Cardinals, on May 14, 1988, in the famed game in which Jose Oquendo pitched four innings of a 19-inning game against the Braves. So what were the odds that Oquendo would be the third-base coach in this game? Amazing.
•
Seventh inning:
Ah, but as you've no doubt detected, Oquendo was (and still is) just one guy. The last team to get nine outs or more outs from
multiple
mystery pitchers in one game, Elias reports, was the 1979 Brewers -- who rolled out Sal Bando for three innings, Jim Gantner for one and Buck Martinez for yet another inning in an 18-8 loss to the Royals on Aug. 29.
•
Eighth inning:
Meanwhile, we should just hand Lopez the Mystery Pitcher Cy Young right now -- for pitching a scoreless inning (the 18th) in his pitching debut. According to Elias, no pitcher had put a zero up there in a one-inning outing in a tie game and not gotten a win out of it since Cesar Tovar did it for the Twins on Sept. 22, 1968, but under very different circumstances. That was a game in which Tovar actually was the starting pitcher -- because he was allowed to play all nine positions by a triviology-minded manager who clearly had a vision he'd show up in blogs like this some day, Cal Ermer.

Mather
•
Ninth inning:
One more tidbit on that Lopez-Mather tag team: They made the Cardinals the first team to send two non-pitchers to the mound since July 20, 1990, when the Expos used Dave Martinez and Junior Noboa for an inning apiece in a wipeout against the Astros. But as our pal Tim Kurkjian told us Sunday on "Baseball Tonight," no team had done it in a non-blowout since 1945. And even that 1945 game comes attached with an asterisk, because the Phillies used Rene Monteagudo and Jimmie Foxx to eat up a combined
six
innings of an 8-5 loss to the Cubs on July 22. But Monteagudo pitched 14 times that year, and Foxx pitched nine times. So any resemblance between them and Felipe Lopez/Joe Mather is for entertainment purposes only.
•
10th inning:
Here's another morsel you can help us with. Mather pretty much did it all in this game. He pinch-hit, pitched, played the infield and played the outfield. We can't find the last man to do that. So if you can, operators are standing by at uselessinfodept@yahoo.com. But we do know Mather kept alive one of baseball's most bizarre streaks: This makes three straight years that a position player was the losing pitcher in a major league game that actually counted, in the real standings.
Josh Wilson
('09 Padres) and
Jamie Burke
('08 Mariners) were the pioneers in this streak. Before that, no position player had gotten hung with a loss since 1989 (Jeff Hamilton).
•
11th inning:
And now one final nugget about Joe Mather: He threw 38 pitches in this game, and, incredibly, none of the Cardinals'
real
relief pitchers threw more than that. Earlier,
Blake Hawksworth
had also thrown 38. We've been keeping track of mystery pitchers for a long, long time now. The last game we can find in which none of a team's real relievers threw more pitches than a position player who only got dragged in there out of desperation was that aforementioned Jose Oquendo Classic in 1988. Oquendo fired 65 pitches up there that day. The next-most thrown by any authentic Cardinals reliever was only 31, by Todd Worrell. Crazy.
•
12th inning:
Now let's move along to
Kyle Lohse
, who spent three innings playing left field in this game and even caught two fly balls along the way. Who's the last pitcher to record two putouts in a game in which he wasn't pitching? Fernando Valenzuela, in a 22-inning Dodgers-Astros game June 3, 1989. But Fernando cheated. He played first base in that game -- for two whole innings.
•
13th inning:
So obviously, with all those names showing up in this box score in all those nutty places, a whole lot of players got used in this game. In fact, Eric Orns reports, the 19 pitchers were the most ever dragged into any game played before September (when rosters inflate to 40).

Ludwick
•
14th inning:
One of the craziest moments in this entire game was
Ryan Ludwick
getting thrown out stealing in the 19th inning -- with
Albert Pujols
at the plate. Elias reports that Ludwick was the first player to get caught stealing that late (or later) in any game since the Wonder Dog, the great Rex Hudler, got nailed by Rick Dempsey in the 22nd inning of an Expos-Dodgers game Aug. 23, 1989. And the last player to get thrown out stealing in the 19th inning itself was the Pirates' Lee Lacy, on July 6, 1980.
•
15th inning:
Over on the Mets' side of this box score, loyal reader Daniel Friedman points out the fun little role reversal in the two-year business partnership of Mike Pelfrey and Francisco Rodriguez. Last year, Pelfrey won 10 games, and K-Rod saved eight of them. But this year, Pelfrey has won two games -- and K-Rod has saved neither of those games. But now Pelfrey has saved K-Rod's only win. How goofy is that!
•
16th inning:
In any game like this, it's mandatory to have at least one Molina brother involved. So how 'bout that
Yadier Molina
. He caught all 20 innings of this game for the Cardinals, then started again the next night. He's the first catcher to do that since Darren Daulton did it for the Phillies on July 7-8, 1993. But Daulton caught only five innings the next day, whereas Yadier went nine. And we haven't seen that happen in almost 30 years -- since Bob Boone and Jim Essian caught every pitch of a 20-inning Angels-Mariners game April 13, 1982, and then
both
of them came back to play all nine the next day. We're nominating them right now as honorary Molina brothers.
•
17th inning:
Ever heard of this? The Mets won a game in which exactly one of the first 37 hitters they sent to the plate got a hit, and they got
eight times
as many hits in extra innings (eight) as they got in regulation (one). Very, very hard to do.

Hawksworth

Motte
•
18th inning:
Thanks to the 12th-inning Tony La Russa double switch that left his pitcher hitting in the cleanup hole behind Pujols (and, in a related development, La Russa's fascinating decision not to send his backup catcher up to pinch-hit), the Cardinals wound up with pitchers batting with the bases loaded
twice
in extra innings.
Jason Motte
whiffed in the 12th, and Hawksworth did the same in the 14th. As Eric Orns reports, that's as many extra-inning, bases-loaded at-bats just by one team, in a tie game, as all the teams in baseball combined for last year in
all
games.
•
19th inning:
Tweet of the day -- from Late Show (and Twitter) genius @EricStangel: "Mets - Cardinals update ... President Obama has just dispatched FEMA to Busch Stadium"
•
20th inning:
Finally, we've had lots of loyal readers assuming this had to be the first day in history that saw both a 20-inning game and a no-hitter (by
Ubaldo Jimenez
). But nope. That would be incorrect. It's the second day like that, according to Elias. The other: April 27, 2003, when
Kevin Millwood
pitched a no-hitter for the Phillies and the Cardinals and Marlins went 20. So let's all repeat the two words that summed up this whole day. Ready? Here goes. 1-2-3 ... Who knew!
August, 24, 2009
8/24/09
5:01
PM ET
STRIKE ONE -- TRIFECTA DEPT.
So much bizarre stuff happened in Sunday's New York Mets-Philadelphia Phillies game at Citi Field, cyberspace barely has room to let us recap it all. But let's get to work on it anyway. Here goes:

Francoeur

Pagan
• The first Mets batter of this game (
Angel Pagan
) hit an inside-the-park homer. The last (
Jeff Francoeur
) hit into a triple play. So when was the last time any team did that? Good question. Between SABR's triple-play research and the indispensible retrosheet.org, all we know is that no team has done it in at least the past 74 seasons. Before 1936, who the heck knows? But here's what we do know: If it hasn't happened in about three-quarters of a century, it's definitely hard to do.
• According to ESPN's fabulous Stats & Information department, this was the first National League game to include any kind of inside-the-park homer and any kind of triple play (unassisted or otherwise) since Sept. 25, 1955. Eerily, that was another game in which the Phillies were playing a team in New York. It was a Phillies-Giants game that featured a Ted Kazanski inside-the-parker in the fifth inning and the Giants' Bobby Hofman lining into a ninth-inning triple play. But the triple play didn't just end the game. It also ended both teams' seasons.
• OK, now it's on to
Eric Bruntlett
, the man who rode his game-ending unassisted triple play into the history books. Before that trifecta, Bruntlett had had five balls hit to him at second base in the ninth inning this season -- and had only turned
one
of them into an out. That was an
Omir Santos
pop-up that he gathered in way back on May 2. Between that play and the triple play, Bruntlett had four ground balls hit to him, and they went: Infield single (July 1), E4 (Aug. 12), E4 (Sunday), infield single (Sunday). And then, on the next ball whacked at him, he turned an unassisted triple play. Amazing!

Bruntlett
• But here's a slightly more upbeat Eric Bruntlett note: He was the first player in the live-ball era to get three hits and record an unassisted TP in the same game.
• Loyal reader Evan Jones reports that Bruntlett was the first man to turn an unassisted triple play in which one of the outs involved a runner who had reached on his own error since
Randy Velarde
did it in 2000.
Shane Spencer
got to first on a Velarde error that day, then got tagged out by Velarde on the very next play.
• Here's a fun note from ESPN research guru Mark Simon: The Phillies turned the first triple play at Citi Field on Sunday. And which team once turned the first triple play at Shea Stadium? That would also be the Phillies -- a 1-6-3 TP on Aug. 15, 1964.
• Finally, is there some kind of unassisted triple-play epidemic we don't know about? Over the 72 seasons from 1928 through 1999, there were only three unassisted triple plays turned -- in more than 200,000 games. We've now seen one three years
in a row
(by Bruntlett this year,
Asdrubal Cabrera
last year and
Troy Tulowitzki
in 2007). If there's an inoculation that can prevent that, we're pretty sure Jeff Francoeur is interested.
STRIKE TWO -- YOU'RE JOSHING DEPT.
The madness this weekend wasn't confined to just one team from New York. The Yankees had a thrill-a-minute series at Fenway Park themselves. Among the highlights:
• When
Derek Jeter
led off Sunday's game with a home run against
Josh Beckett
, it marked the first time both New York teams had leadoff homers on the same day since Aug. 12, 1986. The two guys who did it then? Lenny Dykstra and Rickey Henderson.

Beckett
• And that bomb by Jeter launched an all-time nutty evening in the life of Beckett: eight innings, eight earned runs, five homers. As loyal reader Eli Rosenswaike reports, only one other pitcher in the past 55 years has had a line like that: Pat Hentgen, on June 25, 1997.
• So how'd that happen? Before this start, Beckett had given up seven earned runs at Fenway since May 23 (in 52 2/3 innings). Then he gave up eight in one night.
• Let the record show he was also the first Red Sox non-knuckleballer (i.e., the first pitcher not named
Tim Wakefield
) to allow five home runs in a start at Fenway since Dennis Eckersley on July 1, 1979.
• And that's not all. After allowing runs in each of the past five innings he pitched in his previous start, Beckett couldn't put a zero on the board until the sixth inning of this start. So that meant (A) he'd just joined
Jamie Moyer
as the only Red Sox pitchers in history to give up runs in each of the first five innings of a start at Fenway, and (B) Beckett had been scored on in 10 straight innings over two starts for the first time in his career. Before that, he'd been scored on in only 10 of his previous 56 innings.
• Finally, there were 58 runs scored in this series, which was wild enough. But, as the New York Post's Joel Sherman pointed out over the weekend, the three alumni of the 2003 Marlins who pitched in it -- Beckett,
A.J. Burnett
and
Brad Penny
-- were responsible for allowing nearly half of those runs. The combined line of those three guys: 17 IP, 28 H, 25 R, 25 ER, 3 BB, 15 K and 8 HR. Their combined ERA: 13.24. Where's Pro Player/Dolphins/Land Shark Stadium when you need it, anyway?
STRIKE THREE -- THAT'S A FIRST DEPT.
Meanwhile, in the rest of the nation ...

Smoltz
• In his very first game with the St. Louis Cardinals,
John Smoltz
struck out seven hitters in a row. So how often did he do that as a Brave? Never, of course -- in 708 trips to the mound covering a total of 3,395 innings.
• Joe Torre did something with his current closer,
Jonathan Broxton
, that he never did in the 11 seasons
Mariano Rivera
was his closer in New York -- yank his closer before the ninth inning even though (A) Broxton was healthy and (B) a save opportunity was still in effect. Torre brought Broxton into the eighth inning of Saturday's game against the Chicago Cubs with a 2-0 lead -- then took him out before the start of the ninth, with the save opportunity still in place, and let
George Sherrill
pitch the ninth. Back in New York, Torre waved for Rivera 489 times with a save on the line. But the only time the manager ever hooked him before the ninth inning, with a save still on the line, was July 20, 2002, when Rivera had to exit with shoulder tightness. Whereupon
Ramiro Mendoza
marched in and blew the save. Naturally.
•
Albert Pujols
has now had five 40-homer seasons. All Cardinals hitters in history not named Albert Pujols have combined for six -- two by
Mark McGwire
, two by
Jim Edmonds
, and one each by Johnny Mize and Rogers Hornsby.

Arroyo
• Finally, if you perused your league leaderboards last week, you'd have found something strange:
Bronson Arroyo
was tied for the NL lead in shutouts, with two. But he was also leading the league in runs allowed until
Manny Parra
passed him over the weekend. So how many pitchers have pulled off that weird double -- leading the league in shutouts
and
runs? Just two in the expansion era: Gaylord Perry in 1970 (NL) and
Jose Contreras
in 2007 (AL). Someone tell Arroyo there's nothing you can take at GNC that will make
that
possible, we're pretty sure.