Jayson Stark:

New York Yankees
August, 20, 2014
8/20/14
6:15
PM ET
There are many paths a team can travel to October, but in case you hadn't noticed, there are a few juggernauts out there trying to sneak into this postseason in ways almost no one has before them.
So who would those juggernauts be? Thanks for asking. Here they come:
The Royal power outage

The good news is, we know now that the
Royals
are going to outhomer
Nelson Cruz
this season. There were times a couple of months ago we weren't so sure.
But the bad news is, the Royals are still on pace to hit a mere 99.8 home runs this season. So maybe they finish with 100 homers. Maybe they don't. But if they don't, you should know that playoff teams that fail to hit 100 home runs are almost as rare as a day without a Kardashian headline.
Ready for the complete list of American League teams to reach the postseason without hitting 100 home runs in a 162-game season? Here goes:
• Amos Otis' 1978 Royals – 98
• Freddie Patek's 1976 Royals – 65
That's the entire list. And perhaps you'll notice a common theme there -- by which we mean "Royalty."
This is obviously either a Royals thing or a Royals/Kauffman Stadium thing, because the last American League team to appear in the postseason without A) playing in Kansas City or B) hitting 100 homers in a full season was Nellie Fox's 1959
Chicago White Sox
, and that is the only AL team to fit those criteria since Roy Cullenbine's 1945
Tigers
.
Will these Royals join that club? Well, if it means anything, they've actually outhomered the
Angels
(22-18) since the All-Star break and outhomered all but three teams in the American League during their sizzling August. But is this what they really are? Amos Otis and Freddie Patek eagerly await the answer to that question!
And one more thing: One additional amazing Royals note, passed along by Grantland's Rany Jazayerli: Twice this year, the Royals have fallen seven games behind in the AL Central and twice made up all seven games of that gap to take undisputed possession of first place. Only one other team in history has ever roared from at least seven games behind to occupy first place all by itself two different times in the same season: Dustan Mohr's 2003
Twins
(who caught -- who else? -- the Royals).
OBP-less in Seattle

Then there are the
Mariners
, one of the most offensively challenged contenders of modern times.
If the postseason had started Wednesday, they'd have been playing in it as the second wild-card team in the AL. But if you've watched them swing the bats this year, we're betting it definitely wouldn't come as a shock to hear that teams like this almost never show up on anybody's TV screen in October.
Here are just some of their offensive claims to "fame":
• Their .302 team on-base percentage entering Wednesday would be the third lowest by any team in postseason history. The only AL team with a lower OBP on that list -- Jiggs Donahue's 1906 White Sox (.301) -- played in the dead ball era. And the only NL team in this exclusive club -- Julian Javier's 1968
Cardinals
(.298) -- did it in a season in which the major league OBP was under .300 (.299). Amazing.
• The Mariners were also on pace to score just 643 runs this season. The last AL team to score that few runs, over a full season, and reach the postseason: Skeeter Webb's 1945 Tigers (633, in a 154-game season).
• But let's get away from the raw numbers and consider where the Mariners rank in their league. They're dead last in OPS (.677), and how many teams in history have ever finished last in their league in OPS and made it to the postseason? Exactly one, according to the Elias Sports Bureau: Todd Hollandsworth's 1996
Dodgers
(.701). Which means, obviously, that no AL team has ever done that.
• Finally, the Mariners also ranked last in the league in on-base percentage. Elias reports that just one AL team in history has ever done that and gotten to the postseason: Steve Balboni's 1985 Royals (.313).
Then again, that Royals team went on to win the World Series. So just because the Mariners might be trying to do this the hard way doesn't mean they're not allowed to dream. Right?
Viva la differential in the Bronx

But we sure can't overlook the
Yankees
. They're trying to take a route to the postseason that we're pretty sure Babe Ruth, Bill Dickey and even
Scott Brosius
would have probably had a hard time comprehending.
The 1927 Yankees once scored 376 more runs than they allowed. The 1936 Yankees scored 334 more runs than they allowed. The 1998 Yankees scored 309 runs more than they allowed.
The 2014 Yankees on the other hand? They've given up 40 more runs than they've scored. And if you're thinking you haven't seen a lot of teams with a minus-40 run differential playing October baseball, uh, good thinking.
According to Elias, exactly one team in history has ever had a run differential that out of whack and reached the postseason. That would be Ryan Klesko's 2005
Padres
(minus-42). So no AL team has ever done this.
And, just for the record, the worst run differential by any Yankees team that played in the postseason was plus-57, by the 2000 team. Hmmm. Mr. Steinbrenner, Mr. Torre and Mr. Berra, your thoughts?
In other news …
• The
Rangers
may not be heading for October, but they're heading for one of the most incredible achievements in pitching history. They're last in the American League in ERA -- but they're
first
in the league in shutouts (or at least tied with the
Rays
for first, anyway). So how many teams have ever led their league in shutouts (or tied for the lead) in a season in which they also had the worst ERA in their league?
None
, of course, according to Elias.
• The
Rockies
stopped dreaming of contending many weeks ago, but they've never stopped finding new starting pitchers to send to the mound. They're already up to 15 different pitchers who have started a game this season, from
Christian Friedrich
to
Jair Jurrjens
to
Yohan Flande
. And if they can find three more, they can tie the record for most starters trotted out there by any team in the division play era. That prestigious mark of 18 is shared by Rich Loiselle's 1996
Pirates
and Jason Grimsley's 1993
Indians
.
• And one more classic feat by a last-place team: The Red Sox might be last in the AL in runs scored, but they still have the league leader in RBIs,
David Ortiz
, which understandably prompted loyal reader Rick Malwitz to ask: Is that unprecedented? And the answer, according to Elias, is: not quite -- but almost. The only other team ever to pull that off? Wally Berger's 1935 Boston Braves. Big Papi had knocked in nearly 20 percent of the Red Sox's runs this season (92 of 480), but what Berger did in 1935 was even more incredible. He drove in 22.6 percent of the runs scored (130 of 575) by a team that lost 103 games. And that, friends, is a lot of Bergers to go.
January, 12, 2014
1/12/14
3:21
PM ET
So
Alex Rodriguez
is "100 percent certain" he'll be teeing it up in spring training next month?
Really?
What spring training is that?
The training camp of the Suspended For The Year All-Stars maybe. If he can find it. Or invent it.
But
New York Yankees
spring training? At George M. Steinbrenner Field?
Really?
I'd bet there's as good a chance of Babe Ruth and Lou Gehrig suiting up at Steinbrenner Field this spring as there is of A-Rod setting foot on that field.
I've had a chance to talk this weekend with several industry sources who are eminently familiar with both baseball's basic agreement and its joint drug agreement. None are convinced that those agreements clearly give a player like this, who has been suspended for the season, the right to show up for spring training as if everything was cool.
For one thing, the wording of the joint drug agreement, when it addresses suspended players attending spring training, couldn't possibly be more vague. It's so vague, in fact, that it wouldn't be a bad idea for somebody to file a grievance over it, just so we can figure out what the heck it does mean.
But pending further legalities, that agreement says only that the definition of a "game" for which those players are suspended does "not include spring training games, extended spring training games or affiliated Winter League games."
Nowhere, though, does that agreement specifically give suspended players the "right" to attend spring training or to play in spring training games.
And that wording is "intentionally vague," said one source, because it's designed to give both a team and a player who is suspended -- but who is
supposed to come back
during the season -- an opportunity to find a way to get that player in some semblance of game shape for the season to come.
But there is no precedent, obviously, for a player who is
not coming back at all
that season to saunter into spring training and ease right back into cutoff-and-relay drills, live BP and bus trips to Fort Myers, as if he were just one of the guys.
Think about that concept for a second. A-Rod as "one of the guys." At this point, the Yankees are more likely to consider
Kei Igawa
to be one of the guys than A-Rod.
Carl Pavano
is more one of the guys than A-Rod.
[+] Enlarge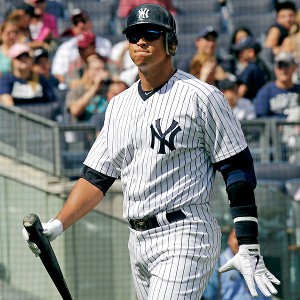 Tim Farrell/THE STAR-LEDGER/USA TODAY SportsA-Rod is not on the major league roster, so no need for him to be at major league camp.
So if this language is worded to provide mutual benefit for both parties, what exactly is in it for the Yankees to allow Rodriguez to march through that door?
As Andrew Marchand
reported Sunday
, even if A-Rod were able to demonstrate some legal right to attend spring training, there is no reason for the Yankees to permit him to attend major league spring training.
Why? Because major league spring training is for the major league roster. And thanks to that yearlong suspension, A-Rod is no longer on their major league roster.
So they could send him to minor league camp, I guess. Or point him toward some rehab facility in North Tampa. Or assign him to go pick honeybells at the Steinbrenner family's favorite citrus grove in Lake Alfred.
Remember, it's now their call, not his. Whatever the Yankees decide is imperative for him to do over the next year. In preparation for his heroic return in 2015, he has pretty much no choice. Or else, it's a violation of his contract.
And the last thing Rodriguez needs to do these days is risk any more of that $61 million the Yankees still owe him. Heck, he's got to be paying almost that much now in legal bills every month. Doesn't he?
A-Rod's side hinted Saturday, after the arbitrator's ruling, that he actually still needs to report to spring training. After all, the courts will be considering his impending lawsuit, which seeks a temporary restraining order preventing baseball from imposing the arbitrator's decision.
So what if the judge sides with him? Wouldn't he have to report, just in case?
Yeah. I guess. But lawyers familiar with these sorts of cases tell me two things: (1) He has next to no chance of winning, as Lester Munson wrote
on this site this weekend
. (2) The court is almost certain to issue a ruling in that case before spring training.
So unless something unforeseen happens, the only reason for this guy to arrive at spring training would be to -- what else? -- make sure we have enough A-Rod headlines next month to keep all our sites and networks from overheating.
But there is definitely no clause in the basic agreement guaranteeing any player the right to call as much attention to himself as humanly possible. So what's the point?
Now unfortunately, I can't tell you precisely where this story is leading after spring training. Nobody can.
Oh, there's an excellent chance we'll have more A-Rod trips ahead down to the nearest courtroom. And that's great news, because the media world and legal community just about depend on them for sustenance at this point.
There's also an excellent chance we'll have more A-Rod sightings on football sidelines, at posh Upper West Side dinner hot spots and in approximately 1.2 trillion TMZ/People/Page Six/Gawker headlines, because, well, just because.
But the next time you read one of those stories speculating on this fellow's spring training plans, feel free to chuckle to yourself. Or even laugh out loud.
Spring training? For Alex Rodriguez? At Steinbrenner Field? Right. And the Yankees will also be setting aside time next month to announce the date for the unveiling of
Kyle Farnsworth
's plaque in Monument Park.
December, 4, 2013
12/04/13
4:58
PM ET
By my calculations, the Braves, Brewers, Nationals, Pirates, Cubs, Diamondbacks and Astros have spent zero dollars in the big league free-agent market this winter.
And then there are the Yankees.
Who have already spent more money this winter than the Pentagon.
Or something like that.
[+] Enlarge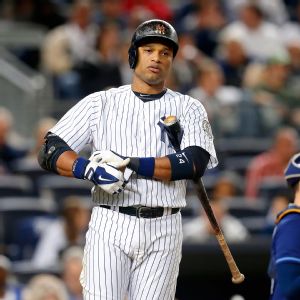 Jim McIsaac/Getty ImagesRobinson Cano has played an average of 160 games per season over the past seven years.
Assuming their $153 million deal with
Jacoby Ellsbury
gets finalized, that would make $238 million they've committed just to Ellsbury and their new catcher (
Brian McCann
).
With a $12 million deal for
Derek Jeter
, a $5 million deal for
Brendan Ryan
and a pending deal for about $3 million to
Kelly Johnson
still to come.
That's north of a quarter of a billion dollars down -- and many more to go, judging by how aggressive the Yankees have been in this marketplace.
So the question is: Do they have enough money left to pay
Robinson Cano
-- assuming he volunteers at some point to let them pay him -- and still stay under the hallowed $189 million luxury-tax threshold?
Excellent question.
The Yankees have been telling people they do -- as long as Cano agrees to return at their price.
But not everyone is so sure, including a couple of payroll experts I consulted. And in the end, naturally, it could all depend on
Alex Rodriguez
.
Doesn't everything?
So let's try to do this math and see how much money the Yankees really have left to spend.
We should start with a running tally, kept by the New York Post's Joel Sherman. He calls it the Luxury Tax Meter. It computes how much money the Yankees have already committed to next year. You can find it
here
.
By his arithmetic, the Yankees have $116.38 million committed for 2014, not including the approximately $21.857 million AAV in Ellsbury's contract because it still isn't official.
That number does include A-Rod's $27.5 million AAV, because no verdict on his suspension hearing will be rendered for another month or so. Can you stand the suspense?
So if we went by that figure, the Yankees would have $73.66 million left between them and another luxury-tax bill. But …
An official of one club says his team's estimates say the Yankees actually have around $10 million more than that to play with, because some contract values are calculated differently than others. So let's say there's a chance they could have as much as $83 million worth of wiggle room. But …
Now let's add in Ellsbury's deal, which shrinks that number by close to $22 million. Kelly Johnson's addition will mean we're deducting a total of $25 million.
So that leaves the Yankees between $48 million and $58 million. But …
We need to calculate in some other stuff. Such as …
•
Benefits payments:
They come to between $10 million and $11 million, and count against the luxury-tax figure.
•
Arbitration-eligible players:
The Yankees currently have five of them (
Brett Gardner
,
David Robertson
,
Ivan Nova
,
Shawn Kelley
and
Francisco Cervelli
). Those five would eat up another $16 million or so, according to estimates by baseball-reference.com.
•
Rest of the roster:
If the Yankees filled out the roster with a bunch of young guys (which isn't going to happen, obviously), that would come to another $5.5 million. But let's ignore that for now, since the Yankees have, um, bigger plans.
So benefits and arbitration would chew up another $26-27 million. Which would seem to leave them between $21 million and $31 million to spend on Cano,
Hiroki Kuroda
, a bullpen arm and another starter -- ideally, Masahiro Tanaka.
Is that doable? It's hard to see how.
Kuroda made $15 million in 2013. He's not going to take a pay cut.
Tanaka is going to be the highest-paid Japanese player ever, by all accounts. He'll certainly have an AAV north of
Yu Darvish
's $10 million a year.
The Yankees have already offered Cano a contract that would average out to between $24 million and $25 million a season, according to multiple reports.
So people on the outside say there's only one way the Yankees can afford Kuroda and Cano, let alone Tanaka, too. Guess what that might be.
Right you are, A-Rod fans. They'd need to have all or most of Rodriguez's 211-game suspension upheld, which would save them between $25 million and $27.5 million off the tax-threshold books next year.
Now that isn't how the Yankees see this. From what those of us on the outside gather, they believe they can afford Cano and Kuroda no matter what happens to A-Rod. And his verdict impacts only what grade of starting pitcher they can pursue.
But either their accountants must be doing excellent work, or they're more confident of seeing A-Rod's money disappear than they're letting on. Because the math doesn't add up, no matter how often I do it.
Then again, as my high school math teachers could tell you, it wouldn't be the first time.
September, 20, 2013
9/20/13
5:20
PM ET
Elsewhere on this site, my friend Wally Matthews tells us he'd love to get mixed up in a good, old-fashioned Hall of Fame debate on the candidacy of
Andy Pettitte
--
but he can't
.
Because of PEDs. Which render the whole conversation moot.
Well, I'll tell you what, Wally. I think we should have that debate anyway -- because as much as I respect and admire Andy Pettitte and all he's done, here's my take:
He's almost, but not quite, a Hall of Famer.
But that not-quite has zilch to do with PEDs. Zilch.
When I think about the career of Andy Pettitte, I think first of the most important quality in sports -- dependability.
When Joe Torre, Joe Girardi, Jimy Williams, Phil Garner and Buck Showalter sent this man to the mound in a game that mattered, they knew they could trust him. They knew no moment would be too big for him. They knew he'd find a way, somehow, to give them a chance to win.
But that doesn't make him a Hall of Famer.
I think, too, of Andy Pettitte's durability. Only nine left-handed pitchers in the expansion era started more games than he started (519). Only eight started at least 20 games in more different seasons than he did (16). And none of them could say what he can say -- that he never had a losing season, over this many seasons. Not one.
But that durability doesn't make him a Hall of Famer, either.
And obviously, I think of the special presence Andy Pettitte brought to October. No pitcher who ever lived made more postseason starts than he did (44), or won more postseason games than he did (19). He won the clinching game in six postseason series, including the clincher in all three rounds of the Yankees' last run to the Canyon of Heroes, in 2009. And that's a very special claim to fame.
But those October numbers, in and of themselves, don't make him a Hall of Famer, either.
Not. Quite.
Before we get into why not, let me repeat something I've said and written many times: It's never an insult to say any player was not quite a Hall of Famer.
Andy Pettitte was a really good pitcher for a really long time. He was a tremendous teammate, even a beloved teammate. And he deserves every standing ovation that's showered on him over the next week and a half.
But does he deserve a plaque in Cooperstown, even if we keep the PED discussion out of this? There will be voters who believe he does. But I'm not one of them.
True, we've elected other pitchers who fit that description: Really good for a really long time. I'll admit I've voted for Don Sutton. I've voted for Phil Niekro. I've cast a vote for other pitchers who probably match that definition in some people's minds, but never got elected.
But there are issues with Pettitte's candidacy that, as I look at him today, would stop me from voting for him.
I always look first, in any candidate, for some period of domination. But in Pettitte's case, here's what we find:
Only one top-three Cy Young finish.
Only five seasons -- out of 18 -- in which his ERA was under 3.50.
Just three All-Star teams.
Only two seasons -- again, out of 18 -- in which he finished in the top 10 in his league in WHIP.
A strikeout ratio of just 6.6 per nine innings, which would rank 152nd among all pitchers who worked at least 1,000 innings in the expansion era -- right behind Wayne Twitchell and Bruce Chen.
A 3.86 career ERA, which would be the highest of any pitcher in the Hall.
An adjusted ERA+ of 117, which ranks 180th all-time – behind a group that includes Mark Buehrle, C.J. Wilson and Carlos Zambrano.
On the other hand, we're talking about a guy with a .627 winning percentage, the ninth best of any left-hander in the expansion era. I get that.
We're talking about one of 26 pitchers in history who are 100 games or more over .500 (103, in Pettitte's case).
We're talking about a guy who pitched and won some massively important October baseball games, for a team where anything less than winning was unacceptable (although his career postseason ERA, of 3.81, doesn't spell d-o-m-i-n-a-t-i-o-n, either).
But is all that enough? I'll say this one more time: Not. Quite.
If you consult the rankings of starting pitchers, according to Jay Jaffe's awesome
JAWS system
, you'll find he places Pettitte as the 86th-best starting pitcher in history. True, 12 Hall of Famers rank behind him. But the group ahead of him includes
Kevin Appier
, Rick Reuschel and
Chuck Finley
.
Part of those computations involve a look at Pettitte's seven best seasons, as determined by his total wins above replacement in those seasons. But it turns out he sits at No. 165 on that list, tied with Tom Candiotti and Jack Taylor.
Now I don't minimize longevity. It's an underrated part of any candidate's qualifications. But even Pettitte's cumulative wins above replacement (60.2) rank him 60th all-time. For what it's worth, that's well behind
Mike Mussina
(83.0), Reuschel (70.0) and even
Kevin Brown
(68.3).
But I'm also a voter who doesn't believe in any magic numbers, in using any one stat or system, to determine how I vote and which players I vote for. So it's true, I vote for Jack Morris …
Whose career ERA (3.90) is higher than Pettitte's … whose JAWS ranking (159) is far worse than Pettitte's … who finished in the top three of only two Cy Young elections (one more than Pettitte).
But in part because of Morris' most underappreciated credentials -- his willingness to embrace acehood by taking the ball AND NEVER GIVING IT UP -- he outranks Pettitte in areas like these:
Top 10 finishes in WHIP: Morris 5, Pettitte 2
Top 10 finishes in wins above replacement: Morris 5, Pettitte 3
Top 10 finishes in innings pitched: Morris 9, Pettitte 2
Top 10 finishes in strikeouts: Morris 8, Pettitte 4
Top 10 finishes in complete games: Morris 10, Pettitte 4
Top 10 finishes in shutouts: Morris 8, Pettitte 4
Even though I vote for Morris, I've never tried to claim he's a slam-dunk Hall of Famer. He just happens to be a guy who resides slightly north of my personal line that divides players who make my cut and those who don't quite.
And Andy Pettitte sits just on the other side of that line.
Which means, to me, that as I stack him up against the other left-handed starters of his generation, he was no
Randy Johnson
. He wasn't
Johan Santana
at his peak. He wasn't
CC Sabathia
at his peak. And again, that's no insult.
What Andy Pettitte was, was one of my favorite pitchers to watch, and to deal with -- a total pro, a winner, a guy I'd have loved to play with or manage.
But you know what he wasn't? A Hall of Famer.
Not. Quite.
August, 8, 2013
8/08/13
3:34
PM ET
The past couple of days have reminded me of something I'd almost forgotten. There is life after A-Rod-Palooza.
There is a great baseball season going on out there, friends. So let's stop talking about that third baseman for the Yankees and start focusing on all the fabulous baseball stories that are roaring toward their dramatic conclusion.
And what stories do I have in mind? How about these Five Stories I'll Be Watching (Instead of That Guy):
[+] Enlarge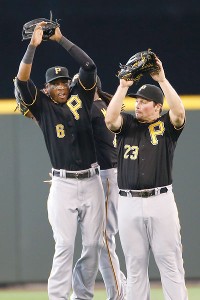 Otto Greule Jr/Getty ImagesIt's hard not to get excited about the Pirates.
1. The Pirates
The
Pittsburgh Pirates
are going to finish with a winning record, ladies and gentlemen. I have never felt more confident about saying that.
They are not going to have 10 pitchers undergo Tommy John surgery in the next 20 minutes. They are not going to lose 37 of their next 48 games. They are not going to reenact August and September of 2012, or August and September of 2011.
They're too good. They have the fourth-best run differential in the National League (plus-60). They've allowed the fewest runs in the major leagues (just 385) -- something they haven't accomplished over a full season since 1984. And opponents are hitting a ridiculous .229 against their pitching staff -- which would be the lowest average against any National League staff since Jim Deshaies' 1986 Astros.
I can't tell you these Pirates are going to win the World Series. I can't tell you they'll win any kind of postseason series. But they're still the best story in the major leagues. So let's just enjoy this ride. OK?
2. The races
The NL East race is over. The AL Central race feels like it's in guarded, but unstable, condition. And over in the NL West, the Dodgers have gained 14 .5 games in the standings on Arizona just in the past seven weeks. So we can see where that one is headed.
But the NL Central is shaping up as a must-see duel between the best offense in the National League (the Cardinals) and the best pitching staff (the Pirates) -- with nine riveting games left between these two teams. Sign me up for that.
And how about the AL West, where the Rangers just made a six-game Oakland lead disappear in a span of nine days. Those teams have two series left against each other. But the schedule, in general, favors Texas, which has the easiest remaining schedule of any AL contender, including 10 games left against their good friends from across the state, the Astros.
And then there's that AL East race, which has a chance to be the best of them all.
The Red Sox just became the first AL team to reach 70 wins -- and did it following a year where they didn't win 70 games all season. Think about that. Elias tells us they're the first AL team to pull off that trick (not counting strike-shortened seasons) since Harlond Clift's 1945 Senators, and (because those Senators got to 70 on the same day as the Tigers) the first to do it outright since George Herman Ruth's 1926 Yankees.
But then there are the Rays, owners of the best record in the whole sport over the past 81 games and a team so hot they just lost their first series in seven weeks. So pick against them at your peril.
And I'm not ready to write off the Orioles, who lead the major leagues in home runs and slugging, upgraded their pitching before the deadline and are currently on pace to become the first team in history to commit fewer than 50 errors in a 162-game season. (Heck, no one else in the expansion era has even finished a season with fewer than 60.) The Orioles have 16 games left against Boston and Tampa Bay. So stay tuned.
3. The awards
NL MVP:
Yadier Molina
was our midseason pick, but his knee issues are about to sabotage his MVP campaign. So are we ready for a starting pitcher (i.e.,
Clayton Kershaw
) to win this thing? Do guys like
Paul Goldschmidt
and
Joey Votto
have MVP finishes in them? And don't look now, but here comes
Andrew McCutchen
, whose credentials include this nugget: He,
Mike Trout
and
Carlos Gonzalez
are the only players in their league to rank in the top 10 in both stolen bases and slugging.
AL MVP:
Uh-oh. Here we go again. If you enjoyed that vintage, old-school/new-school
Miguel Cabrera
-versus-Mike Trout debate last year, get ready for Round 2. As Jared Cross wrote the other day, Trout has injected himself into what once looked like a Cabrera-
Chris Davis
MVP conversation by charging up those AL leaderboards. But if this keeps up, some great sabermetric minds are going to have to explain to the masses how it's possible that Trout leads Cabrera in offensive wins above replacement, but is trailing Cabrera overall because of (gulp) Cabrera's defense. Incredible, huh? But let's save that issue for another day.
AL Cy Young:
Felix Hernandez
can tell you all about how Cy Young voters have finally learned to de-emphasize wins. But let's see them try to factor out wins this year, when King Felix is leading the league in ERA but trying to make his case against a guy who is 16-1 (
Max Scherzer
) -- and first in his league in WHIP, lowest opponent average and lowest opponent OPS. Can't wait for that debate.
NL Cy Young:
With all due respect for the awesome seasons of
Adam Wainwright
,
Matt Harvey
,
Madison Bumgarner
,
Patrick Corbin
,
Francisco Liriano
,
Craig Kimbrel
, etc., all Kershaw does every five days is remind us that he's the best pitcher in baseball. Still. Just so you know, if Kershaw can finish with the ERA (1.91), WHIP (0.88) and opponent average (.188) he has now, the only pitchers in the live-ball era who have ever been in that neighborhood (or better) over a full season are Bob Gibson,
Greg Maddux
,
Pedro Martinez
, Sandy Koufax and Luis Tiant. Whoever they are.
Rookies of the Year:
In the AL,
Jose Iglesias
has a shot to become the first rookie of the year ever to get traded in midseason. But
Wil Myers
can screw up that claim to fame. And in the NL, this remains one of the wildest rookie-of-the-year free-for-alls ever, with
Jose Fernandez
,
Shelby Miller
,
Hyun-Jin Ryu
,
Julio Teheran
,
Evan Gattis
and
Yasiel Puig
all making cases for themselves that are going to require many, many Advil for the ROY electorate.
[+] Enlarge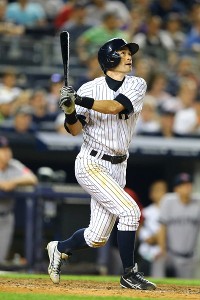 Al Bello/Getty ImagesIchiro Suzuki is about to enter some rarefied air.
4. The 4,000-hit man
The folks obsessed with a certain troubled third baseman may differ. But in my neighborhood, the most interesting story in Yankees Land this month revolves around a man who is chasing a number very few living humans have ever seen chased.
That man is
Ichiro Suzuki
. That number is 4,000.
And no, that isn't how many reporters from his homeland follow Ichiro around every day. It's the number of hits he's about to have on his permanent record if we count the 1,278 hits he spewed in his nine seasons in Japan.
At the moment, he finds himself just 11 hits away. And I hope you don't let that milestone go whooshing by you too quickly before you stop to think about what it means.
The last time we witnessed anyone getting his 4,000th hit was April 13, 1984, when Pete Rose collected No. 4,000 off Jerry Koosman, in a stadium we no longer find on the baseball map (the late, great Stade Olympique in Montreal).
Just for perspective's sake, the Hit King got that 4,000th hit in his 3,259th game. That's nearly 200 more than Ichiro has played (3,075) on both sides of the Pacific. Which means he's going to beat Rose to No. 4,000 by more than a full season. Wow.
The only other 4,000th hit ever? Ty Cobb got that one -- on July 18, 1927. So if you weren't hanging out at old Nevin Field in Detroit that day 86 years ago, you've never seen any American Leaguer do what Ichiro is about to do. Pretty mind-boggling feat -- on any continent.
5. History majors
Finally, here's just a taste of some of the historic pursuits you can keep your eye on over the next two months:
Chris Davis:
On pace for 58 home runs, 102 extra-base hits, 151 RBIs and 72 more extra-base hits than singles. There has never been a season like it.
Mike Trout:
He's leading the American League in walks. He's tied for the league lead in hits. And if he can wind up leading in both categories, he'd be only the fifth player since 1900 to do that in the same season. The others: Rogers Hornsby, Richie Ashburn, Carl Yastrzemski and Lenny Dykstra.
Joey Votto:
See that note above? How unreal would it be if two men finished first in their league in hits and walks in the same season? Well, Votto has a shot, too. He has a big lead in walks. He's three behind
Jean Segura
for the lead in hits. And Votto and
Shin-Soo Choo
have an outside chance to become the second set of NL teammates ever to reach base 300 times apiece (via hit, walk and HBP) in the same season. The other:
Jeff Bagwell
and
Craig Biggio
, for the 1997 Astros.
Miguel Cabrera:
And then there's Miggy. He might not win the Triple Crown for a second straight year. But if he can stay healthy enough to get on the field regularly, Cabrera still has a chance to do something no Triple Crown winner has ever done -- hit that trifecta one year and then have a better season the next year.
Here are Cabrera's numbers from last season, and his projected numbers for this season. This is truly amazing:
2012:
.330/.383/.606, 44 homers and 139 RBIs
2013:
.359/.453/.668, 48 homers and 148 RBIs
I chronicled this a few months ago, but here it is again just to help you digest this man's greatness: Only one Triple Crown winner in history (Ted Williams) ever drove in more runs the following year. Just two (Williams and Mickey Mantle) had a better batting average the next season. And none of them hit more home runs The Season After. But this guy could do all of the above.
So once again, we find ourselves drawn to the flat screen every time Miguel Cabrera starts marching toward home plate. And that beats watching A-Rod-Palooza every day of every week. Don't you think?
May, 29, 2013
5/29/13
11:29
AM ET
When 29 other closers blow a save, we file it under Stuff Happens.
When
Mariano Rivera
blows a save, it's An Event. Still. All these years and all these saves later.
So what happened at Citi Field on Tuesday, when the Greatest Closer Who Ever Lived blew a save in which he faced three hitters and retired none of them? Let's get to the bottom of this:
• The Elias Sports Bureau tells us this was the first time in Rivera's career he'd ever blown a save without retiring a hitter. Think about that. It took him only 700 save opportunities! You can make that 747 if you count the postseason, because it never happened there, either.
• Just to put that in perspective, another Yankees closer from a different era, Sparky Lyle, rolled up 12 blown saves in which he forgot to get an out. Twelve. (And I didn't even count the two years he pitched before the invention of the modern save rule.) And
Jesse Orosco
had 11 blown saves in his career in which he didn't retire a hitter. But Mariano Rivera? He had zero -- until Tuesday night.
[+] Enlarge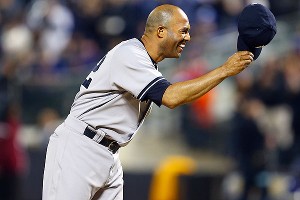 Elsa/Getty ImagesBefore blowing the save Tuesday against the Mets at Citi Field, Mariano Rivera threw out the ceremonial first pitch.
• So who's your current leader in the clubhouse now that Mariano is off that list?
Jonathan Papelbon
is up to 300 career save opportunities without a zero-out blown save -- 309 if you count October.
• But what made this night especially bizarre was that Rivera threw out the ceremonial first pitch, then gave it up on his last pitch. The guy who caught that first pitch was one-time Mets closer
John Franco
. For the record, he had four blown saves in which he didn't get anyone out.
• The Great Mariano had saved 18 games in a row before that blown save. Amazingly, that's the ninth streak in his career in which he converted at least 18 saves in a row. (And he had two other streaks of 17.) That'll work.
• Of Rivera's last 30 save opportunities against NL teams, he has blown only two -- both against the Mets, at Citi Field, with those two coming in his last two appearances there. And here's a factoid that will blow your mind:
As loyal reader Eric Orns reports, the Mets have now had
seven
consecutive hitters reach base when Rivera was on the mound over those two games -- although one of them (on July 3, 2011) wouldn't have been there without a
Ramiro Pena
error. Don't believe it? Here they come, the last seven Mets to face Rivera in those two appearances:
July 3, 2011
:
Jason Bay
-- walk
Lucas Duda
-- single
Ronny Paulino
-- RBI single
Ruben Tejada
-- reached on Pena error
Tuesday
:
Daniel Murphy
-- double
David Wright
-- RBI single
Lucas Duda -- RBI single
Amazin'.
Now remember, a guy reaching on an error doesn't count under the category of Mariano Rivera "allowing a runner to reach base." Only hits, walks and hit-by-pitches fall under that heading. Nevertheless, the most consecutive hitters who wound up on base against him, under any circumstances, when he's faced any other team? That would be just four. So seven in a row? Insanity!
Useless Information Dept.
In other news …
• The most top-secret great shortstop in baseball, the Brewers'
Jean Segura
, got six hits in a game Tuesday -- and his team still lost. He was the fourth player ever to get six hits in an interleague game, joining
Chone Figgins
,
Nomar Garciaparra
and
Cal Ripken Jr.
But how 'bout this:
Two of those four men (Segura and Garciaparra) did it in a game their team lost. But in non-interleague action, no National League hitter has gotten six hits in a game his team lost since Sept. 13, 1982, when San Diego's Joe Lefebvre did it in a loss to the Dodgers.
• Another Jean Segura oddity: Every one of those six hits was a single. Only 15 other players in the past 98 seasons have had a six-hit game in which all half-dozen of the hits were singles. And maybe those six-single games are overrated. Of the 10 men who have had a game like Segura's in the past 60 years, only four of them did it in a game their team won.
• You probably know that Segura was traded last July for
Zack Greinke
. You might not know that Segura could have a tough time claiming he's the best hitter in that trade. That's because Greinke is hitting .500 this year -- 10 at-bats, five hits. Top that!
• How many three-ball counts did
Cliff Lee
run in his eight innings against the Red Sox on Tuesday? That would be
none
. There have been a total of 1,536 games started by all the pitchers in the big leagues so far this season. There have been only two other games in which any starter worked eight innings or more and ran zero three-ball counts, according to Elias:
Brandon McCarthy
(against the Phillies) on May 12, and
Hisashi Iwakuma
(against the Rangers) -- just two days before Lee. Last pitcher to do it against those count-grinding Red Sox:
David Price
last Sept. 25.
•
Rick Porcello
became the fourth Tigers starter to roll up a double-figure strikeout game this season -- and it isn't even June yet. So when was the last time the Tigers have had that happen? Never, of course. But in case you hadn't noticed, they're not even the first staff to do that this year -- because the Cardinals beat them to it.
• Here's a little better perspective, though: This is the second straight season in which two different rotations have pulled this off before the end of May. (The Angels and Phillies did it before June last year.) But before that, according to Elias, only one team had done it in the previous 26 seasons combined. That team? You've heard of it. It was the 1986 Mets, with Dwight Gooden, Sid Fernandez, Ron Darling and Bobby Ojeda doing the double-digit whiffing.
• A fun tidbit from the Boston Globe's Pete Abraham:
David Ortiz
went 1,859 games over parts of 17 years without stealing third base. Then, naturally, he stole third twice in five games last week. Heck, of course he did.
• The Royals have now lost seven games in a row. As the great Rany Jazayerli reports, they've now had a losing streak that lasted
at least
six games in 10 seasons in a row -- before they flipped the calendar to June. They probably don't want to know that both the Giants and Rangers have now gone more than 400 games without having
any
six-game losing streaks.
• And one last nugget I've been meaning to pass along: In their May 20 loss to the Indians, the Mariners did something incredible: They hit game-tying or go-ahead homers in the eighth, ninth and 10th innings -- and still lost.
Only one other team in history has ever done that, according to the Sultan of Swat Stats, SABR home run historian David Vincent. The Tigers did it at Tampa Bay, on Aug. 3, 2008:
Gary Sheffield
game-tier in the eighth,
Curtis Granderson
game-tier in the ninth,
Miguel Cabrera
go-ahead homer in the 10th -- all of which was undone by a
Fernando Rodney
blown save in the bottom of the 10th. Oops!
May, 20, 2013
5/20/13
12:35
PM ET
When you're a 43-year-old baseball player, you're supposed to be raking your kids' Little League field.
Or working tirelessly to drive those par-5's in two.
Or keeping
Curt Schilling
and
Mark Mulder
company on the Baseball Tonight set.
Or ... you could be
Mariano Rivera
.
And be well on your way to going down in history as the greatest 43-year-old athlete in pretty much any sport.
Think about this, ladies and gentlemen. Mariano Rivera is older than
Benny Agbayani
-- and he's leading the American League in saves.
He's older than
Darren Dreifort
-- and he has a sub-1.00 WHIP (0.92).
He's older than
Rich Garces
-- and he's ripped off 16 saves in 16 opportunities.
He's older than Carlos Perez -- and those poor hitters who face him are batting .118 (2-for-17, with seven strikeouts) when, by some miracle, there's a runner in scoring position.
We could go on. But you get the JPEG. This man is greatness personified. Still. So it's time to appreciate what we're watching here, because this isn't supposed to happen.
Not to men who are 43 years old.
And especially not to 43-year-olds who are pitching on a reconstructed knee, after missing nearly an entire season.
We've been through the annals of the four major professional sports. We've looked at everyone in modern times who played those sports at this age or older. What we've concluded is:
This is pretty much impossible.
And pretty much unprecedented.
Take a look:
• In the NFL: No one this old ever started more than SIX games in a season. And the only guy this old to make a Pro Bowl was a KICKER (John Carney).
• In the NBA: Only one player this age or older ever even appeared in 20 games or more in a season. That was Robert Parish, who averaged about four points and two rebounds a game for the '96-97 Bulls.
• In the NHL: There was the Satchel Paige of hockey (Gordie Howe), who once scored 15 goals at age 51. And there was Mark Messier, who racked up 18 goals and made an All-Star team at 43. And there was Doug Harvey, who also made an All-Star team (as a defenseman) a few weeks after turning 44. But with all due respect to those men, there was no one like this.
And then there's baseball. Here's your basic Old Guy Hall of Fame in Mariano Rivera's sport:
• Knuckleball kings: Hoyt Wilhelm was an All-Star and saved 13 games at age 47. Pretty cool. And Phil Niekro went 17-4, made an All-Star team and got four second-place Cy Young votes at age 43, then made another All-Star team at age 45. Also excellent. But neither were quite The Very Best Alive at what they did.
• The Nolan Ryan phenomenon: The Ryan Express led his league in strikeouts and WHIP at age 43, and even got a 10th-place MVP vote. But seven pitchers got Cy Young votes that year. He wasn't one of them. Nevertheless, we'll nominate Ryan as the gold standard for dominance at age 43-plus. Heck, he was still spry enough to punch out Robin Ventura at age 45.
• The
Jamie Moyer
experience: Another category unto himself. Moyer went 16-7 for the 2008 Phillies at age 45 and started a World Series game. And his 64 wins after his 43rd birthday are the most all-time for a non-knuckleballer. He kept doing that thing he did until age 49. But you can decide for yourself whether the word "dominator" applies to him in any sense.
• The Jack Quinn saliva show: We have no idea how to categorize Quinn, a legalized spitballer who pitched until 50, won 18 games at age 45 and started a World Series game (in 1930) at 46. But according to the awesome book, "The Ballplayers," Quinn was "always vague about his birth date." So he deserves an asterisk just for that. Who did he think he was? Fausto Carmona?
• Position players: Did you know there has never been a single position player Rivera's age who even had a season worth TWO Wins Above Replacement? Nevertheless, we should at least tip our caps to Carlton Fisk for hitting 18 homers at 43, to Pete Rose for rolling up a .395 on-base percentage at 44 and to
Julio Franco
for just being Julio Franco. But no hitter this age ever led his league in any significant offensive category. So we see no equivalent to Mariano Rivera among any position player of modern times. None.
But now let's add in another factor that no spread sheet on earth can measure:
There's something that happens when Mariano Rivera just enters a game that very, very, very few people in sports have ever inspired:
That feeling that something special is taking place, and it's a privilege just to watch it.
It isn't only Yankees fans who feel it, either. It's the citizens of baseball. Almost all of them.
"I'm going to relish every chance I get to see him pitch," one scout was saying last week. "I actually used to leave when he came in, because once you see him one time, you know you're never going to change your report. But this year, I stayed to the end every time and sat in traffic, because I want to relish every chance I get to watch him pitch."
We remind you that scouts are people who watch about 2.8 trillion baseball games a year. On the average, seven pitchers show up on the mound in every one of them. If there was a word we'd use to describe how those scouts feel about most of those pitchers, "reverence" wouldn't be the first word we'd think of.
But it is when it comes to the Great Mariano.
"He's got the greatest delivery I've ever seen -- and it's held up for 43 years," said one longtime AL scout. "Everything just works so perfectly. It's like one of those great, antique autos that just keeps on going."
"I'm a pitching guy," said an NL scout, "who looks at pitchers and sees a whole generation of pitchers who can't maintain their deliveries. And this guy's delivery has been impeccable -- for 20 years. He never comes out of that delivery. And he throws strike after strike after strike. It's amazing."
The delivery. What will we remember about it when he's gone? The toe tap. The easy coil into the stretch. The left knee lifting to exactly the same spot, just north of the hip bone. The silky motion that takes him from stretch to release point in a millisecond. The perfect follow-through, everything pointing toward the target, nothing out of whack.
It's all so effortless, he could be playing catch on the beach. But no. This is the launch pad for maybe the single most devastating pitch in baseball history -- Mariano Rivera's cutter -- and has been for just about ever.
"I don't know if anyone in the history of the game consistently repeated his delivery for such a long period of time," said Orioles manager -- and Mariano Rivera's first big-league manager -- Buck Showalter.
And it's a delivery, said one scout, that has proven to be more than merely a means to sustain success. It's a statement about the man, not just the pitcher.
"To me, it's a reflection of who he is," the scout said. "You know how the old golfers used to talk about guys with great swings and easy actions? That holds true for him, too, I think. Easy and smooth. That's who he is. Those things go hand in hand when you're talking about the great ones."
And now here he is, at age 43, still as dominating as he ever was. Still destroying lumber, egos and batting averages, pitch after pitch after bat-eating pitch.
"He may be the best pitcher we have ever seen," said Blue Jays broadcaster Buck Martinez, "given that he masters the strike zone against the toughest hitters, only when the game's on the line, and does it with one pitch."
Has there ever been another pitcher, another baseball player, another athlete, in any of the four major sports who was still The Best There Is as he cruised into his mid-40s? We've looked and looked and looked. We're more convinced than ever:
There has never been anyone like this. And it's likely there never will be.
"It's the cycle of life," said one NL scout, "and how hard it is to stay on top. Once you've gotten there, it's easy to go down quick. But this guy got to the top and stayed there. For almost 20 years. I've never seen anything like it."
But that, of course, is because we've never seen anyone like the Great Mariano. And thankfully, the show continues. Same as it ever was. For at least another few months.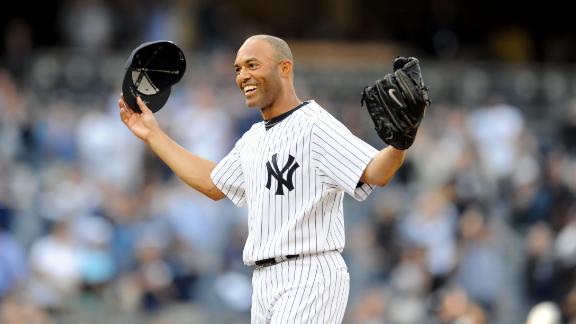 October, 3, 2012
10/03/12
12:50
PM ET
So here we sit, on the morning of the last day of the baseball season. And other than one game (Cardinals at Braves on Friday), we have no idea who is playing whom in
any
postseason series.
But it's not as complicated as it seems. Really. It all depends on what happens on the field Wednesday. So let's run through the various scenarios:
If the Yankees lose and the Orioles win
Then the AL East is tied (at 94-68), and the Yankees and Orioles have to play a tiebreaker game Thursday in Baltimore. The winner is the AL East champ. The loser is the wild-card team. But is it the "first" wild card or the "second" wild card? That depends on what happens in Oakland.
If the A's beat the Rangers
Then Oakland (94-68) wins the AL West, and Texas (93-69) is a wild-card team. But would the Rangers be the "first" wild card or the "second" wild card? That depends on what happens in the AL East:
If the Yankees and Orioles both win Wednesday, the Orioles (94-68) would host the Rangers (93-69) in the wild-card game Friday. Why? Because a Baltimore win Wednesday would give the Orioles the better record.
If the Orioles lose Wednesday and finish with the same record as Texas (93-69), the Rangers would host the wild-card game Friday because they won the season series from Baltimore.
If the Rangers lose and there's a tie for the AL East (at 94-68), the AL East loser hosts the Rangers in the wild-card game because either still would have more wins (94) than Texas (93).
If the Rangers beat the A's
Then the Rangers (94-68) win the AL West, and Oakland (93-67) is a wild card. But is it the "first" wild card or "second" wild card? Again, that depends on developments in the AL East.
If the Yankees and Orioles both win Wednesday, the Orioles would host the A's in the wild-card game because Baltimore would have one more regular-season win (94) than Oakland (93).
If the Yankees lose, the Orioles win, there's a tie for the AL East and Oakland loses to Texas, the loser of the AL East tiebreaker game hosts the A's. Again, the reason: The AL East loser still would have more wins (94) than Oakland (93).
If the Yankees, Orioles and A's all lose Wednesday, the Orioles and A's would finish with the same record (93-69). If that happens, the A's host the wild-card game Friday. Why? Because they won the season series.
Who's No. 1 in the AL?
If the Yankees win Wednesday
:
Then this is simple. They're the No. 1 seed in the AL. So their first Division Series game is Sunday
at
the winner of the wild-card game.
The AL West winner then would head for Detroit to start its Division Series on Saturday.
If there's a Yankees-Orioles tie
:
This gets trickier. Then there's a three-way tie for the best record in the AL (Yankees, Orioles and the AL West champ, all at 94-68).
Under that scenario, the AL East tiebreaker game would
not
be used to determine seeding, even though it is otherwise considered a regular-season game. So how would that seeding be sorted out? Here's the breakdown:
Yankees win the AL East, Rangers win the AL West: Yankees are the No. 1 seed and play the wild-card winner. Rangers are the No. 2 seed and play at Detroit. Why? Yankees won the season series.
Yankees win the AL East, A's win the AL West: A's are the No. 1 seed and play the wild-card survivor. Yankees are the No. 2 seed and face Detroit. Why? Yankees and A's split the season series, but A's had the better record in division games.
Orioles win the AL East, Rangers win the AL West: Rangers are the No. 1 seed and draw the wild-card winner. Orioles are the No. 2 seed and play Detroit. Why? Rangers won the season series.
Orioles win the AL East, A's win the AL West: A's are the No. 1 seed. Orioles are the No. 2 seed. Same LDS matchups. Why? Orioles won the season series.
If the Yankees and the Orioles both lose Wednesday
Then there's a tie for the best record between the Yankees and the AL West champ (at 93-69).
Under that scenario, the Yankees are the No. 1 seed if the Rangers win the West -- but the No. 2 seed if the A's win the West. Why? See the tiebreaker scenarios above.
Who's No. 1 in the NL?
The Reds and Nationals head into their games Wednesday with the same record (97-64). So ...
If the Reds win and the Nationals lose
Then the Reds are the No. 1 seed and play Sunday at the home of the wild-card survivor. And the Nationals are the No. 2 seed and play Saturday in San Francisco.
If the Nationals win and the Reds lose
Then the Nationals are the No. 1 seed and visit the wild-card winner Sunday. And the Reds are the No. 2 seed and start their Division Series on Saturday in San Francisco.
If the Nationals and Reds finish tied
Then the Nationals are the No. 1 seed. And the Reds are the No. 2 seed. (Same matchups as the Nationals win/Reds lose scenario above.) Why? Nationals won the season series.
It sounds insane. But it could have been worse, if
Raul Ibanez
hadn't hit that home run Tuesday to bring the Yankees back from the dead.
That would have created a nightmare scenario in which the Orioles, Yankees and the AL West loser could have finished in a three-way tie (at 93-69) -- forcing one of those teams to fly 2,500 miles, across three time zones, Thursday night to play the wild-card game Friday. But the good news is, that's one crazy possibility that's now officially defunct. Phew.
September, 25, 2012
9/25/12
12:13
PM ET
For some reason, nobody out there (except us) seems to be getting too worked up about baseball's worst October scheduling nightmares. But in a few days, let's just say that could change. Boy, could it ever.
What would happen, you ask, if the Yankees, Orioles, A's and Angels finish with the same record? Well, the World Series would be over by Thanksgiving. But that's about the only good news.
Here's how the American League's various tiebreaker scenarios would unfold:
Four-way tie
If the Yankees, Orioles, A's and Angels all tie, here's the craziness that scenario would set off:
The Yankees and Orioles would have to play off in Baltimore on the day after the season (Thursday, Oct. 4) to settle the AL East. Meanwhile, the Angels and A's would kick off the wild-card tiebreaker festivities by facing each other Thursday in Oakland. The winner of that game would be considered "the first wild-card team."

The loser of the AL East showdown would then live to play another day -- by facing the loser of that Angels-A's game somewhere or other, for the final wild-card slot. But where? Nobody would have any idea.
If the Orioles lose to the Yankees, they'd have to climb onto a plane, cross three time zones and play in either Oakland or Anaheim on Friday, because they lost the season series against both the A's (4-5) and Angels (2-7)..
But if it's the Yankees playing that wild-card game, it works the other way around. They would host either the Angels or the A's. So either way, both tiebreaker games would have to be day games Thursday, just to leave time for all the coast-to-coast travel possibilities -- and because nobody would even know which COAST Friday's game would be played on until after the Thursday games.
So got all that? No matter how the AL East turns out Thursday, somebody has to cross the country to play that wild-card game the next day. We just wouldn't know where until it's all played out.
And if the team that zips across the good old U.S.A. wins that wild-card game, it gets to scramble back onto the plane and fly back across those many time zones -- because it then hosts Games 1 and 2 of the Division Series.
Perfect.
Three-way tie
So what if only three of those clubs tie for that second wild-card spot? Depending on which teams tie, it gets just as nutty.
ORIOLES-ANGELS-A'S TIE
If these three teams end up deadlocked, the Angels would get to pick whether to play one road game or two home games. That's because they had the best head-to-head record among those three. We're guessing they'd opt to play just once. But they might want to reconsider, unless they want to risk another frequent-flier-mile extravaganza.

If they choose the one road game, then there's an A's-Orioles game Thursday, in Oakland. But if the Orioles win that one, it means (theoretically) that both the Angels and Orioles would have to fly to Baltimore for the wild-card game THE NEXT DAY. So would the Angels choose two home games over one road game? Interesting question.
YANKEES-ANGELS-A'S TIE
A similar mess presents itself if these three clubs tie. But this time it would be the Yankees who would have to decide whether to play two games at Yankee Stadium or one game on the West Coast. It wouldn't be an easy decision. Would it?
Say they pick the two home games. That creates major headaches for both of their potential opponents.
Then the Angels would be forced to play Wednesday in Seattle (their final game of the regular season) and that tiebreaker game Thursday in New York. And if the Yankees take care of business and win that game, the A's would have to jet east and play Friday in New York.
But suppose the Angels win that Thursday tiebreaker in New York? Hoo-boy. More insanity.

Then the Angels, after playing Wednesday in the Pacific time zone and Thursday in the Eastern time zone, would be scheduled, at least in theory, to play Friday back in the Pacific time zone in Oakland. But baseball would almost certainly step in and push that game back to Saturday.
Meanwhile, imagine the fate of the A's. They'd be sitting around in Oakland, watching the Yankees and Angels play -- not knowing whether they'd have a game in New York the next day or a home game against the Angels on Friday or Saturday.
But that scenario occurs only if the Yankees choose to roll the dice on two home games. If the Yankees choose to play one game, there's a whole different scenario.
If they go that route, at least the Yankees then would know for sure they'd be playing in California on Friday. They just wouldn't know
where
in California until the A's and Angels finish playing off in Oakland on Thursday, because the winner of that Thursday game would host the Friday game. So would they get on a plane and just circle over the desert until that game is over? They might have to.
And, of course, if the Yankees win Thursday, their first Division Series game would be (where else?) back in New York. Let's hope they enjoy airplane food.
YANKEES-ORIOLES-ANGELS TIE
This is another messy scenario -- of course!

First order of business: Decide the AL East. So the Yankees and Orioles would play Thursday in Baltimore. The winner is the AL East champ. The loser has to (you guessed it) rush to the airport and play Friday in Anaheim. Why? Because baseball for some reason decided to do it that way. So the loser of the division tiebreaker game is supposed to play at the home of the other team involved in this tie. So don't ask why. Maybe this formula was devised by the airline industry. You've got us.
And if that AL East team flies many time zones to the west and beats the Angels, you know by now where the Division Series begins. Back east. Obviously.
YANKEES-ORIOLES-A'S TIE
Same deal. Yankees and Orioles play in Baltimore on Thursday. Loser plays Friday in Oakland. Winner hosts Game 1 of the Division Series -- on one coast or the other.
And the moral of the story? Anybody got any good folk remedies for jet lag?
February, 9, 2012
2/09/12
8:42
PM ET
We think of spring training as a time when the palm trees sway in the breeze, when sunshine brings the boys of summer out of hibernation, when every team has hope -- or at least a convenient case of amnesia.
But this spring training, you won't just find those customary springtime dreams hanging in the tropical air. You can also expect to find some real, live, juicy trade rumors.
"I really think," said one NL executive this week, "there will be a little more [trade] activity in spring training than normal. You've got some interesting names out there -- and a lot of guys who are out of options who are decent players."
So who are those guys? Here's a list of five players whose names are already being floated -- and could legitimately get traded between now and Opening Day:
•
Joe Blanton

Blanton
If there's one thing the Philadelphia Phillies desperately want to avoid this year -- besides running into
Chris Carpenter
again in October -- it's writing a luxury-tax check. And more and more, it appears their only hope of escaping that fate is to trade Blanton, who will make $8.5 million this season.
So it was no shock to hear this week that they'd already begun calling around, letting other clubs know he was available. If they can move him before spring training and not have to eat a significant chunk of his salary, it might enable them to bring back
Roy Oswalt
-- although Oswalt's continuing quest for a contract that pays him in the neighborhood of $10 million could make that a moot point.
But teams that have spoken with the Phillies say they're looking to trade Blanton whether they pursue Oswalt or not, because moving him this spring would give them the financial flexibility to address other needs during the season and, with any luck, dodge the luxury-tax man.
There are rumblings that they have at least mild interest from teams, such as the Pittsburgh Pirates and Baltimore Orioles. Nevertheless, there's next to no chance they can deal Blanton before clubs get a chance to see him pitch this spring. After all, would you deal for a guy who just spent 127 days on the disabled list because of elbow trouble (and never did have surgery) without seeing him throw first?
Exactly. So we can almost guarantee this man will be a Rumor Central attraction all spring.
•
John Lannan

Lannan
Thanks to the miracle of arbitration, Lannan will make $5 million this season. And with the Washington Nationals' signing of
Edwin Jackson
, their trade for
Gio Gonzalez
and the return of
Stephen Strasburg
, they don't especially need the guy.
So the Nationals are already dangling Lannan to every team they think has even a remote need for a 27-year-old left-handed innings-eater. Among the clubs who appear to fit that mold: The aforementioned Pirates and Orioles, plus the Boston Red Sox and New York Mets.
It doesn't figure to be easy to build a market for a guy with a 1.42 career WHIP, a $5 million salary and zero winning seasons on the back of his baseball card. But when we asked an exec of one team that had spoken with the Nationals if they appeared committed to dealing Lannan this spring, his answer was: "100 percent."
•
A.J. Burnett

Burnett
All of a sudden, the New York Yankees have too many starting pitchers. What a concept. So if there's any prayer of moving Burnett, who has $33 million coming over the next two years, this team will jump at it.
The good news is that Burnett still has a live enough arm -- and four consecutive seasons of 32-plus starts -- to be intriguing. The bad news is that he'll make $16.5 million in each of the next two seasons. And he's the only qualifying starter in baseball who has racked up ERAs over 5.00 in each of the past two seasons.
But where is he going? The Yankees would never do business with the Red Sox or Mets. And while Burnett would seem like a fit in Baltimore (where he has family ties), the Orioles and Yankees have hooked up for precisely one trade of major league players in the past two decades.
So that appears to leave the Pirates, a team that seems to have legitimate interest in him. And the Yankees are said, according to sources, to have targeted
Garrett Jones
as an answer to their quest for a left-handed-hitting outfielder/DH type.
However, the Pirates have told several teams that inquired about Jones that they're not inclined to move him. And the Yankees have been telling other clubs they won't chew on a huge percentage of Burnett's salary if they don't get a useful player back. So this could easily drag on into spring training -- and beyond.
•
Bobby Abreu

Abreu
An executive of one NL team predicted recently: "There's no team in baseball more likely to make a deal this spring than the Angels."
It's not all
Albert Pujols
' fault, but Pujols' arrival did set off a ripple effect that leaves this team with too many first-base/outfield/DH guys to fit on one roster, let alone one baseball field. So somebody has to go, and Abreu sure seems like the most logical player to move -- if the Los Angeles Angels can find a team to take him.
That's especially the case if
Kendrys Morales
is healthy enough to DH, because that would wipe out Abreu's only real hope for playing time. The Angels don't have any need or any reason to play him in the outfield.
Ideally, they would love to trade him for more bullpen inventory. But an official of one club that spoke with them reports "they'd do it for a middling prospect, just to move the money" -- which happens to be $9 million, if you're ringing your personal cash register at home.
Abreu, who turns 38 next month, can still draw a walk, steal a base (going 21-for-26 last year) and slap a ball up the gap. But he slugged a career-low .364 last season. And one scout who has seen a lot of him said this week: "He doesn't drive the ball much anymore. He's not very good in the outfield. And he makes a ton of money. So I really don't think he'll have much of a market."
•
Jeff Niemann

Niemann
The Tampa Bay Rays have been listening to trade proposals for both Niemann and
Wade Davis
for months now. But they actually appear less likely to move either of them than they were three months ago. When the offseason began, they thought they might have no choice but to trade a pitcher to fill their offensive holes, because the prices on the free-agent market seemed likely to soar beyond the means of a team whose entire roster made less than half as much money last season ($39.1 million) as the Yankees' starting infield ($78.5 million).
But that's not how it worked out. The Rays were able to scrape up enough loose change in the piggy bank to sign
Carlos Pena
,
Luke Scott
and
Jeff Keppinger
. And now, teams that have spoken with them report they're back to telling other clubs they'll still listen -- but they're not actively looking to move any of their starting-pitching depth.
If they do trade any of their starters, though, Niemann figures to be the guy. He's about to turn 29 this month. He just took his team to arbitration. And he's become only a back-of-the-rotation or long-relief option for a club that can roll out
David Price
,
James Shields
,
Jeremy Hellickson
and everybody's favorite phenom,
Matt Moore
.
At $2.75 million, he's only getting pricey by the Rays' standards, not by the standards of clubs looking for pitching. So he's a guy well worth keeping an eye on this spring. And that shouldn't be too hard, considering he'll be the only 6-foot-9, 260-pound behemoth on the field.

Other names who could get traded:
Gavin Floyd
(White Sox),
Koji Uehara
(Rangers),
Jake Westbrook
or
Kyle McClellan
(Cardinals),
Mark Trumbo
(Angels),
Brandon Inge
(Tigers).
September, 19, 2011
9/19/11
4:44
PM ET
If you really needed to see
Mariano Rivera
break the "all-time" saves record to anoint him as The Greatest Closer ever, we need to ask you this question immediately:
What the heck have you been watching for the past decade and a half?
This man would have been The Greatest Closer Ever if he'd retired a week ago, or a year ago, or even five years ago.
He's a special man, with a special gift and a special pitch. And he's been riding that pitch and that gift to a level of dominance we shouldn't need a record -- any record -- to pay notice.
But sometimes these historic moments cause us to take a step back and admire men like this, and their unparalleled feats, in a whole new light. So let's do that now, as Three Strikes salutes the brilliance of Mariano Rivera:
Strike One -- Beyond Compare Dept.
There's no better way to measure any player than to compare him to his peers. Except in The Great Mariano's case, does he even have any peers?
He now has saved 602 regular-season baseball games. Not a single other active pitcher is within 100 of him. Or 200 of him. Or even 250 of him. Seriously.
The No. 2 active reliever in career saves is
Francisco Cordero
-- who is 279 saves behind, with 323.
So what does this mean? It means that Rivera has an incomprehensible 86.4 percent more saves than the CLOSEST active reliever. That's 86.4 percent.
And if your first thought is, "Has any other record-breaker in this sport towered over his "peers" quite like that?" We now have an answer:
No way.
We swapped a bunch of emails last week with loyal reader Chris Isidore on this topic -- and he got so fascinated, he went looking for somebody, anybody, who had a greater margin at the time he broke any other prestigious career record. And nobody turned up. Nobody.
• Babe Ruth? Nope. Back in 1921, when he set the career home-run record with his 139th, that was only 63.5 percent more homers than Home Run Baker (85), who ranked No. 2 at the time.
• Rickey Henderson? Sorry. When he swiped his 939th base in 1991, that was only 47.4 percent more at the time than Tim Raines (637). In fact, Lou Brock had a greater margin (50 percent) over Bert Campaneris 16 years earlier when he set the record Rickey eventually broke.
• Pete Rose? 'Fraid not. When he set the all-time hits record with his 4,190th in 1985, Rod Carew was at 3,030 (a 38.3-percent gap).
• Cy Young? Not even on the same radar screen. The all-time wins record was only 366 when Young broke it in 1903. So he was only 11 percent ahead of Kid Nichols, who was at 329.
In fact, Isidore found only one other gap that was higher than 38 percent. That was Walter Johnson's pad of 57.5 percent over Grover Cleveland Alexander when Johnson set the all-time strikeouts record in 1921.
Now we recognize it's almost laughable to use the term "all-time" to describe this saves record when, in fact, the save rule has only existed for about four decades. But all of Rivera's "peers" have been doing their thing in this same, save-crazed era he's been pitching in. And of the seven other active relievers with 200 saves or more, six are in their 30s and five are age 33 or older.
So it's hard to look at ANY other active pitcher in the game and think he has a realistic chance to break this record. And that, friends, is saying something.
Strike Two -- To The Whip
You know the biggest problem with this record? It's that it's causing us to celebrate a guy for compiling one of the most overrated stats in the history of Stat Land.
Not that saves are not particularly misleading in Mariano Rivera's case, but they can sure be dubious in general. So let's look elsewhere in our quest to define this man's greatness:
At WHIP, for instance.
Rivera has been pitching in the big leagues for 17 seasons now. And he's done something that ought to be impossible in this day and age. Check this out:
Innings pitched: 1,209
Baserunners (via hits and walks): 1,207
So what's his career WHIP? You can round it off to 1.00, but if you head far enough right of the decimal points, it's actually 0.9983. Loyal reader Aaron Heider has been tracking this for us for more than a year. And the more we think about it, the more we realize it's the most underappreciated stat on Rivera's whole encyclopedia page.
Try to comprehend this. Try to digest what it means to make more than 1,000 appearances, face more than 4,000 hitters and still somehow allow fewer baserunners than innings pitched.
Among all the pitchers who ever worked more than 1,000 innings in the big leagues -- and there have been more than 1,100 of them -- you know how many other men have had a lifetime WHIP of 1.00 or lower?
Exactly two
.
One was Addie Joss (0.97). He threw his last pitch in 1910.
The other was Big Ed Walsh (0.9996). He packed it in back in 1917.
In other words, this was achieved once by two guys who pitched, like, a century ago. And then NOBODY else did it -- until Mariano Rivera came along.
Only two pitchers from Rivera's approximate era have even come close --
Trevor Hoffman
(1.06) and
Pedro Martinez
(1.05). Might as well start chiseling their Hall of Fame plaques right now.
Even if we
lower the bar to 500 innings
, we can find only one other modern reliever with a WHIP in Rivera's area code -- the underrated
Billy Wagner
0.998 -- in 903 innings.
Next lowest by any active reliever: 1.108, by
Joe Nathan
(in 726 2/3 innings).
Next lowest by an active reliever with 1,000 innings or more: 1.304, by
Arthur Rhodes
.
Are we all in agreement that WHIP tells us infinitely more about any pitcher's level of dominance than his saves total? Of course, we are (meaning all those who disagree are now free to leave us and get back to work on their fantasy synchronized-swimming roster).
And if we are, isn't this debate officially over? Correct answer: Yessir.
Strike Three -- Useless Domination Dept.
In other news ...
• In 10 of Rivera's 17 seasons, he's had an ERA under 2.00. Next most by any relief pitcher in history (in seasons of 50 innings or more) is six, by Wagner and Hoyt Wilhelm. The only pitcher in any role with more seasons with a sub-2.00 ERA:
Walter Johnson (11)
.
• Rivera is headed for his eighth season with a WHIP lower than 1.00. The only other relief pitcher ever to do that: Wagner (also eight). The only starting pitcher in history
with more seasons under 1.00
: Johnson (nine).
• In all these years, Rivera has blown only 72 saves -- in 674 opportunities. That's two fewer blown saves than our old amigo
Dan Plesac
had in his entire career -- in 242 opportunities.
• In 15 trips to the postseason, Rivera has held the best hitters on the best teams on earth, in the most important games of his career, to this remarkable slash line: .176/.213/.229. When we went searching for any active hitter who hits like that, you know who we came up with?
Zach Duke
(.176/.205/.217). Yeah, he's a pitcher. When we confined that search only to active position players, we got
Drew Butera
(.172/.209/.252). In other words, when the Yankees have sent this man to the mound in October, he's turned EVERY hitter he's faced into the equivalent of a good-fielding, light-hitting back-up catcher, or a pitcher with a half-decent clue about what that piece of ash is used for. Unreal.
• Finally, there's one more modern stat that speaks volumes about any pitcher, and that's Adjusted ERA-Plus. And what's Rivera's Adjusted ERA-Plus for his career? How about 205 -- meaning he's pitched more than 50 percent better than your average pitcher. Just to put that in perspective, the only active starting pitcher who has ever had an Adjusted ERA-Plus that good just for one SEASON is
Zack Greinke
, who hit 205 on the nose in his 2009 Cy Young season. And the only active closers who have had more than TWO seasons with an Adjusted ERA-Plus that good are Nathan (with five) and
Jonathan Papelbon
(with three). Rivera? He's had 12. But if we head back to the career list, as Chris Isidore points out, the next best Adjusted ERA-Plus by any pitcher in history is 154 -- by Pedro Martinez. There are 575 pitchers within 50 points of Pedro -- but NOBODY within 50 points of Mariano Rivera.
So what most people are saluting at this historic moment is this man's save total. But what we prefer to salute is the astonishing career that produced all those saves. And friends, there has never been another career like it.
That's a case that should have been closed a long, long time ago -- long before this man collected Save No. 602, anyway.
July, 6, 2011
7/06/11
12:38
PM ET
As the
Derek Jeter
countdown ticks toward 3,000 hits, is it OK to change the subject?
Look, nobody loves debating whether this man is one of the most overrated or underrated players in history more than me. I did, after all, write a book about that once (shameless book-plug
link
). But there's other stuff to talk about.
And I would never dismiss the importance, to the Yankees, of the clear reality that Jeter isn't the same player he used to be. But there's other stuff to talk about besides that, too.
The reason is this: What Derek Jeter is now -- as a player, as a hitter -- has very little to do with how he got to the precipice of 3,000 hits.
You know what got him here? Greatness. That's what.
Pure, relentless, machine-like greatness. For a decade and a half. Nonstop.
Very, very, very few players -- and fewer shortstops -- have had the kind of career this man has had, where every season looked just about exactly like every other season. Until the last two, anyway. And that's what it takes to get a man into the 3,000-Hit Club.
But for some reason, as Jeter completes the journey to one of the most important milestones of modern times, we haven't focused enough on that aspect of Jeter's march to 3,000 hits. So let's change the subject, OK?
STRIKE ONE -- JUST 17 DEPT.
He arrived in the big leagues on May 29, 1995. He arrived to stay in September 1995. So this is only Jeter's 17th season in the major leagues. And you know how many players since 1900 have reached 3,000 hits in 17 seasons or fewer?
Just five -- and now him.
See if you've heard of these other five men:
Pete Rose, Stan Musial, Hank Aaron, Ty Cobb and Paul Waner.
And if you'd like to see how many hits some other great players had in their first 17 big league seasons, check out this
list at baseball-reference.com
. It was a list that really put this feat in perspective for me.
STRIKE TWO -- THE 190-HIT CLUB
Take a look at Jeter's
career numbers
. Now check out the hit column. Maybe Jeter didn't quite crank out 190 hits or more in every season of his career. But it was close.
He's done it 10 times already. And the list of players who have had 10 seasons of at least 190 hits since 1900 is another very cool group. Here it is, according to Lee Sinins' Complete Baseball Encyclopedia:
1. Pete Rose, 13
2. Ty Cobb, 12
T3. Stan Musial, 10
T3. Derek Jeter, 10
T3.
Ichiro Suzuki
, 10
If you're hanging around with those dudes, you could hit, friends. It's that simple.
But this guy wasn't just slapping singles for all those years. If you want to limit the list to seasons of 190 hits and a .400 slugging percentage, only Rose, Cobb, Musial and Jeter had at least 10 years like that.
And how many other players had at least 10 seasons with 190 hits, plus double figures in both home runs and stolen bases?
Not ONE.
Just Derek Jeter.
You could look it up.
STRIKE THREE -- IN SHORT ORDER DEPT.
Finally, there's one other thing we ought to mention: This man did all this as a shortstop.
My friend Brian Kenny got me to thinking this week how rare it is to inject that little subplot into the 3,000-hit conversation. So let's inject it right now.
How many members of the 3,000-Hit Club spent most of their careers as a shortstop? Precisely two -- Honus Wagner and Calvin E. Ripken Jr.
And while the list of shortstops with sustained stretches of offensive excellence is longer than that list, it isn't a whole lot longer.
There's no easy way to measure that sort of thing. But the statistic that comes closest is adjusted OPS-plus, because it adjusts the numbers for eras, ballparks, etc.
So through the miracle of the baseball-reference.com Play Index, I ran this list of most seasons with an adjusted OPS-plus of
110 or above by shortstops in modern history
.
No shortstop in history had more seasons like that than Wagner (13). But after him, the leader board looks like this:
Jeter 11
Arky Vaughan 11
Luke Appling 11
Barry Larkin
10
Wagner, Vaughan and Appling are already in the Hall of Fame. Larkin should be standing at the podium 12 months from now. And you know where Jeter is heading one of these years.
Brian Kenny and I also talked on his radio show about how many shortstops had a 10-season stretch you would rank above Jeter's 10 best seasons (1998-2007). The only names that even made it into the conversation were Wagner, Vaughan, Ripken and
Alex Rodriguez
. And A-Rod didn't really play 10 full seasons as a regular shortstop, so he probably shouldn't count.
Larkin was close, but didn't stay anywhere near as healthy. Alan Trammell and Robin Yount were slightly behind. Ernie Banks would have surpassed Jeter, but he didn't play 10 full seasons at short. Guys like Lou Boudreau, Vern Stephens and Joe Cronin were in there someplace. And then there was Ozzie Smith.
He wasn't in the same area code as Jeter offensively. And even if you factor in defense, there was no 10-year stretch in which the Wizard's wins above replacement total beat Jeter's greatest decade.
The way Derek Jeter played baseball over those 10 years doesn't resemble the kind of baseball he's playing now. That's indisputable.
But as this guy stands on the verge of becoming the first Yankee in history to accumulate 3,000 hits, it's time to take a step back and salute the career that made all this possible. Really.
We'll have plenty of time to debate what the rest of Derek Jeter's career will look like. Is it OK if we resume that debate once hit No. 3,001 arrives? Sure it is. Trust me on this.
February, 8, 2011
2/08/11
2:37
PM ET
STRIKE ONE -- NO AGONY OF DEFEAT DEPT.
The e-mails have been flying in since I wrote last week that I'd rate
Andy Pettitte
as Not Quite a Hall of Famer. As always, you folks have been doing your research!
An e-mailer I'll identify only as Gene wrote in with this amazing tidbit:
In the history of baseball, with one bizarre additional exception I'll mention in a bit, only two pitchers with 10 or more winning seasons have never had a losing season: Spud Chandler, and Andy Pettitte.

Chandler had exactly 10 winning seasons, Pettitte had 15; both had one season that were neither winning nor losing seasons, Chandler in '44 went 0 and 0, and Pettitte in '08 was 14-14.
Great little tidbit. And I tried my best to check this out. But here's the problem I ran into:
According to the fabulous 2011 edition of Lee Sinins' Complete Baseball Encyclopedia, 144 different pitchers have had at least 10 winning seasons -- if you don't care whether they were starters or relievers, or how much or little they pitched.
Now maybe there's somebody out there who has the time to check all 104 of them to see if they ever had a losing season. But I'm not one of those somebodies. So I decided to answer a slightly different question:
I concluded I needed a minimum number of starts. So I looked at all seasons in which a pitcher made three starts or more. And I learned something astounding.
Andy Pettitte is one of 20 starting pitchers in history who have had at least 15 winning seasons (of three starts or more). But ...
He's the ONLY pitcher in history with that many winning seasons but NO losing seasons.
Of the other 19 names on that list, just two of them only had one sub-.500 season -- Grover Cleveland Alexander (0-3, in his final season) and Eddie Plank (6-7, also in his final season). Then there was
Pedro Martinez
, who went 0-1 in just one start (plus one relief appearance) in his debut season of 1992 -- and didn't have another losing season until he went 5-6 for the 2008 Mets.
But Andy Pettitte? Not a one. The closest he came, aside from that 14-14 season, was an injury-riddled 6-4 year for the 2004 Astros. Pretty cool.
Now back to that original e-mail. Anybody want to guess that "bizarre exception" our man Gene was referring to? It was a guy named Babe Ruth. Perhaps you've heard of him.
Bet you didn't know that, if you establish absolutely no minimum for games pitched or started, the Babe had 10 winning seasons -- and no losing seasons, or even any seasons of exactly as many losses as wins.
Of course, he was only a full-time pitcher for five of those 10 seasons, and pitched just four times in another. But after he got to the Yankees, he still pitched in one or two games a year in four different seasons between 1920 and 1933 -- and never lost a game. Right, never. That included a COMPLETE-GAME win in 1933 -- at age 38.
I don't even think Pettitte's feat is as amazing as the Babe's, when you really think it through. And by the way, I also don't think it makes Pettitte a Hall of Famer. But I'll give him this: It's a heck of a claim to fame for us trivia-holics.
STRIKE TWO -- THE 200-100 CLUB
Loyal reader Kevin Pugliese also passed along a fascinating Andy Pettitte question:
It appears to me," he wrote, "that if your analysis of Pettitte is correct, he will become the first pitcher with 200+ wins and 100 more wins than losses to NOT get into the HOF. Is this something worth considering amongst all this Pettitte/HOF hoopla?
Well, it's definitely worth considering. But it's also not quite correct. In fact, according to the Complete Baseball Encyclopedia, there are eight 200-game winners who (A) have at least 100 more wins than losses, and (B) aren't in the Hall of Fame:
Now if you peruse this list, what do you find? First off, seven of the eight names on it aren't even eligible for the Hall yet because they all just retired. We'll get to them in a minute.
The exception is Caruthers, who played from 1884-93 (before the mound was 60 feet from home plate) and had several seasons when he played almost as many games in the outfield as he spent on the mound. The Veterans Committee has considered him but never elected him.
But what about the other seven names? The guess here is that Pettitte is NOT going to be the only pitcher in that group who doesn't wind up with a plaque.
Maddux, Glavine, Johnson and Pedro ought to be locks. But Clemens is in trouble -- in more ways than one. And Mussina is no sure thing himself.
So I think we just might be hauling this list out again in a couple of years. At the moment, as Kevin Pugliese points out, there are no eligible pitchers in that 200-100 Club whose careers began after 1900 and are not in the Hall of Fame. But by the time Pettitte's name shows up on the 2015 ballot, that doesn't figure to be true anymore.
At any rate, we should all get the message from both of these e-mails: Andy Pettitte might not have been a clear-cut Hall of Famer. But there's one thing his numbers definitely prove he was:
A winner.
STRIKE THREE -- PACK IT IN DEPT.
Finally, in an unrelated development, this is a note for Bud Selig. The commish, as you know, once owned the Brewers -- and still roots for the Packers. I was thinking of him the other day when the Packers won the Super Bowl. Here's why:
The Packers now have won 13 titles in their history.
The Brewers haven't even won 13 postseason GAMES in their history.
True story. The Brewers have been around since 1970. They've won no World Series -- and won a total of nine postseason games (out of 21 played).
Now let me say to all my friends and relatives in Wisconsin that I understand that could change this year. Gotta love what those Brewers have done with their rotation. Seriously.
But for now, I couldn't help but wonder: Is there any other market like this -- where the local pro football team has won more championships than the local baseball team has won postseason games?
My only qualification here was that the baseball team had to be in existence for at least as long as the Brewers. I then started combing through the records and came to this conclusion:
Nope.
The Rangers would have qualified -- until they ripped off eight postseason wins last year to pass the Cowboys (five titles). But that's it.
Of the 18 other teams that fit, the Expos/Nationals were the only other tough call. They've won five postseason games in their existence -- all while they played in Montreal. But those Montreal Alouettes have won seven Grey Cups -- five of them while the Expos were still in town, eh? So at best, this is a dead heat.
At least the Nationals and Redskins are tied -- at zero -- since the Nationals moved to D.C. Does that count?
But no matter how you break it down, Packers versus Brewers remains the most one-sided football/baseball mismatch in our land.
More titles for the Packers than postseason wins for the Brewers. Wow.
And if THAT doesn't inspire
Zack Greinke
to go about 27-2 this year, I don't know what will.