Jayson Stark:

Ryan Howard
March, 20, 2014
Mar 20
4:53
PM ET
CLEARWATER, Fla. -- If you just scanned headlines and listened to talk shows, you'd think the Phillies' biggest issue -- and possibly only issue -- this spring was their shortstop.
But here's a news bulletin from outside the bubble:
On the list of major Phillies spring training troubles, the furor, or whatever it is, over
Jimmy Rollins
' positive energy level wouldn't crack the top five.
"Most disappointing team I've seen all spring," said one longtime scout.
"Their whole spring has been a train wreck," said another.
"It's painful to watch that team," said a third. "That's an old team, and it plays like an old team."
Three weeks and 20 games into spring training, the Phillies had won five games (5-13-2) going into Thursday. They were hitting .215 as a team, with a .299 on-base percentage and 23 fewer extra-base hits than they'd allowed. It's only spring training, but there's nothing pretty about any of those numbers.
On the one hand, their manager said Thursday, he's "less concerned" than people probably think, only because this is "a veteran group" that "knows what it needs to do to get ready."
On the other hand, Ryne Sandberg said, "I think spring training is a time to set the tone for the season, and play the game the right way, and do things that would help you win a baseball game. And we've been on the slower end of accomplishing that side of it."
[+] Enlarge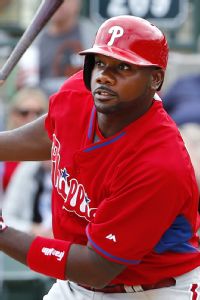 AP Photo/Gene J. PuskarRyan Howard had 15 strikeouts, three walks and one home run in his first 40 at-bats this spring.
He's hoping (with good reason) they're about to pick up that pace before they head north a week from now. But there's a lot that needs to be cleaned up on that front. So what
are
the Phillies' biggest issues? Here you go:
•
Ryan Howard
: The first baseman went into Thursday with 15 strikeouts and three walks in 40 at-bats, with one home run. The good news is, he'd raised his batting average to .275 with four singles in his past six at-bats. And Sandberg was upbeat about how Howard had shown "improvement over the last three or four games, with increased bat speed and more aggressiveness on balls in the strike zone."
But scouts and executives who have seen him aren't anywhere near that positive. The troubling reviews from those on the outside: "Just a guy who's out there flailing away," said one exec. … "A lot of at-bats, it looks like he's swinging in case he hits it," said a scout. … "Can't sit on his back leg to drive anything anymore," said another. … "Doesn't have any sense of what's a strike or what's a ball," said an NL exec. … Whew. Get the picture?
•
Jonathan Papelbon
: The closer has allowed seven runs in his past three outings, and that isn't even the worrisome part, according to scouts who have watched him.
"I don't know what's wrong with him, but it looks like he doesn't want to be out there," one scout said. "His fastball is 89-90 [mph]. His split does nothing. He's got no out-pitch. I know it's spring training, and maybe he's just trying to get ready. But his body language is awful. He's got no energy at all out there."
But Papelbon is only one worry in a bullpen with "not one guy you can really depend on," another scout said. So what would the Phillies do -- and where would they turn -- if Papelbon doesn't pick it up and take charge of the ninth inning? "I think that's actually likely, the way he's throwing," one scout said. "He doesn't have one above-average pitch right now."
•
Domonic Brown
: Brown was the Phillies' only position-player All-Star last year in a breakthrough, 27-homer season. But he has hit .171, with one extra-base hit and a .229 slugging percentage, this spring.
Even Sandberg admits that Brown has "had inconsistencies -- one week pretty good and the next week cooled off a little bit." The manager makes it clear that, on a team with five every-day players 34 or older, this team needs Brown's "energy and young legs."
But one concern is that Wally Joyner, the hitting coach who connected best with Brown last year, is in Detroit now. And one scout who noted that says: "I'm starting to worry that that first half last year was an aberration, and the real Domonic Brown is the confused guy we've seen this spring."
•
Chase Utley
: On one hand, Utley is clearly healthy. On the other, it took him until Thursday to finally thump an extra-base hit, in his 37th at-bat of the spring. He was hitting .167/.189/.167 before doubling off Toronto's
Esmil Rogers
in his first at-bat.
Of all the Phillies' slumpees, Utley concerns Sandberg the least -- not surprisingly. He's just a guy who's "still searching for his timing at home plate," the manager said. "But he's feeling good, and he's healthy."
One scout's view: "He's still their best player. But the Chase Utley of 2006, '07, '08, '09 -- we're not going to see that guy again."
•
Cole Hamels
: The highest-paid pitcher (and overall player) in franchise history still hasn't gotten into a game, and won't before the Phillies break camp. And at this point, he isn't likely to enter the rotation until the first week of May, if all goes well. Except that all hasn't gone well since November, when Hamels had to shut down his offseason throwing program because of shoulder tendinitis, and again for a week and a half after another flare-up nearly three weeks ago.
Things are finally trending better for Hamels, though, after three pain-free bullpen sessions in a row. He's scheduled to throw to hitters in live batting practice Saturday. And he could pitch in a first minor league or extended spring-training game in a week or so. "Things are going in a positive direction for Cole," Sandberg said. "And that's good." But the Phillies still don't have a good feel for whom they'll plug into the April rotation to replace him -- and that's not so good.
•
Jimmy Rollins
: How about we put aside all of the debate about Rollins' leadership, spring energy level and tradability. As he made clear Wednesday, he isn't going anywhere, because he isn't interested in going anywhere, and it's his call. So all that really matters is whether he can still be a productive player at age 35.
Well, he finally broke an 0-for-23 funk Wednesday, with his first hit since March 1. But as much as the manager has stressed hitting "line drives and ground balls and keeping a good stroke," Rollins hasn't been able to locate that stroke this spring at any point. "I've got him with 14 straight balls in the air," one scout said Thursday. "He's a popup machine."
But as for Rollins' issues with the manager, "too much has been made of that, in some regards," Sandberg said. "But I understand why it was. … What I wish I would have done [instead of no-commenting a question about Rollins' leadership qualities] was to highlight my expectations of Jimmy, and what he brings to this team, and the things that he needs to do to help us this year."
Well, believe it or not, no matter how much talk-show fodder the two of them have drummed up, spring training is never a reliable gauge of whether Rollins is going to do those things during the next six months. For that matter, we don't know for sure what it's telling us about where his team is going this year, either.
But we do know this: If April, May, June, July, August and September look anything like February and March for the 2014 Phillies, "it's going to be a long, long year," said one scout.
February, 26, 2014
Feb 26
5:18
PM ET
CLEARWATER, Fla. --
Ryan Howard
has heard the talk. Let's just say it hasn't been his favorite spring training story line of all time.
That story line goes kinda like this:
Ryan Howard -- part-time player … $25 million platoon player … yada, yada, yada.
Ouch.
"Yeah, I've heard people talk about that and about whatever," Howard said Wednesday, after drilling an RBI single against Blue Jays left-hander
J.A. Happ
in the Phillies' spring opener. "But I don't think about that. I'm not focused on it."
What he's focused on, though, is being anything but a platoon player, that .224/.300/.428 career slash line against left-handed pitching notwithstanding. No matter how logical that platoon-player stuff might seem to everyone else, the Phillies' first baseman has other plans.
And they involve spending the next six months (and beyond) as the cleanup hitter -- against everybody.
"Yeah, absolutely. That's my goal as a baseball player, or just myself, period," Howard told ESPN.com. "I want to be out there, playing against everybody. I don't want to have to sit against somebody because they don't think I can hit that guy or do this, or whatever. I want to be out there competing. If a guy gets me that day, he gets me that day. But next time he comes around, I'm trying to even the score."
[+] Enlarge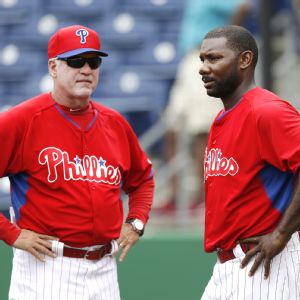 AP Photo/Charlie NeibergallRyan Howard has asked manager Ryne Sandberg to give him as many opportunities to face left-handed pitching as possible this spring.
Well, so far, so good. Counting the Phillies' intrasquad game Tuesday, Howard is 3-for-3 against left-handed pitching this spring, including a long home run to center field Tuesday. OK, so you can repeat after us: It's only spring training. Nevertheless, if he can keep on hitting 1.000 under the palm trees, he can put his favorite spring plot line to rest.
But if not -- and not would be a heavy favorite in Vegas, by the way -- then we probably haven't heard the last of this discussion.
It would be one thing, you see, if this talk was coming only from sabermetricians, talk-show geniuses and about 2 zillion people on Twitter. What makes it more interesting is that it's also come from Howard's manager (Ryne Sandberg) and general manager (Ruben Amaro Jr.).
Check out these pithy quotes from a radio interview Amaro did over the offseason:
"Ryan has never been a great hitter against left-handers," Amaro said. "But when he is in there and he does enough damage against right-handers it's tough to take him out of the lineup. Now, if we feel like he's not performing against the left-handers then we put someone else in there to hit. … If he proves to us that he cannot handle hitting left-handers, then Ryne may have to put someone else in there to hit against left-handers."
Sandberg, meanwhile, has voiced similar thoughts. So clearly, he is watching closely this spring. And here, he said Wednesday, is what he'll be looking for when Howard faces the left-handed portion of the population:
"I want to see if he can make them throw the ball off the plate," the manager said. "Be patient. Be relaxed in those situations. Get a good ball to hit. Make the pitcher come to him. I mean, I've said it before. I know he can hit balls in the strike zone, right-handed or left-handed pitching. So if it means being patient and taking walks, that's for the betterment of the team. And be a baserunner. Let the guy behind him hit."
But swinging at strikes has, increasingly, become an issue for Howard. According to FanGraphs, he's chased more pitches outside the strike zone in the last two seasons -- 37 percent in 2012, 34 percent last year -- than at any time in his career. So Howard concedes he needs to swing at more strikes, period.
"Righty or lefty, that's the name of the game, is getting good pitches and swinging at strikes," he said. "Hitters' strikes."
He also admits he has asked Sandberg to give him as many opportunities to face left-handed pitching as possible this spring.
"I just wanted to do it, just to be able to see it," he said. "To be able to see more [left-handers]. To start working on an approach. Just seeing left-handed breaking balls, left-handed pitches. Trying to work on picking up the ball sooner. And it's spring training, where you've got the opportunity to go out and do it. So why not do it?"
No matter how this turns out, though, Howard has come into spring training healthier than he's been at any time in three years. It's now 28 months since he blew out his Achilles. And after five months of intensive conditioning, it's finally healthy enough that it isn't an issue anymore. And neither is his arthroscopically repaired knee. So even he sees the difference in his health and agility between last spring and this spring.
"I can do everything," Howard said. "I mean, I was able to do everything last [spring]. But then once it kind of started nagging, it was tough going out there and trying to play on it. But this year, being able to go out there, having a full offseason to be able to do agility drills, lifting, everything I wanted to do this offseason as far as that area goes, actually getting back to running this offseason, and now doing everything that's asked of me in spring training. So yeah, that's probably the biggest difference between this year and last year -- being able to do everything that's been asked of me."
And so far, "everything" includes handling those guys who insist on pitching left-handed against him. But there are still five weeks until Opening Day. So this is one Ryan Howard plot line that won't be going away -- whether he's tired of it or not.
February, 22, 2012
2/22/12
5:45
PM ET
Strike One -- Howard's Real Achilles' Heel
Ryan Howard
spent 24 minutes Wednesday in the Phillies' camp, talking about his Achilles' heel. That would be the Achilles tendon he blew out on the final pitch of last October's National League Division Series.
But before Howard ever made it in front of the cameras and microphones, his manager, Charlie Manuel, spent nearly as much time dissecting Howard's other Achilles' heel.

Howard
That would be the one that drives Howard's many detractors insane.
And what would that be? Every darned year, dating back to when he hit .313/.425/.656 in 2006, this guy has negated much of what he does best by swinging at fewer and fewer strikes.
Here are the facts, courtesy of FanGraphs: From 2005 to '09, Howard's first five full seasons, he chased only about 26 percent of all pitches outside the strike zone. But over the past three years, he has hacked at almost one-third of all nonstrikes -- including 33.1 percent of the time in 2010 and 31.8 percent last year.
Want to know how that's worked out for him? You can probably guess. According to ESPN's pitch data, Howard batted a piddly .143 (31 for 217, with only four doubles and two homers) last season -- and slugged just .189 -- when he swung at pitches outside the strike zone.
But when he swung at strikes? Slightly different result. He hit .324 (110 for 340, with 26 doubles and 31 home runs) -- and slugged .679.
If we subtract strikeouts, those numbers inflate to .410, with an .862 slugging percentage inside the strike zone -- versus a .265 average and .350 slugging percentage on pitches he made contact with outside the zone.
Sooooo ... we don't need to call in Tom Emanski to tell us what this guy needs to work on once his other Achilles gets healed. Do we? It couldn't be more obvious if we slapped it on every billboard in Florida.
And Ryan Howard's manager knows it all too well.
"It's a matter of him getting more selective," Manuel said Wednesday. "When he first came up, he looked for balls he liked to hit. ... Then the pitchers studied him and let him get himself out."
The year Howard hit .300, "that was the most disciplined and selective he's ever been," Manuel said. And the manager thinks he could do that again if he rediscovers that level of selectivity.
But when Howard was asked if he thought he could hit .300 again, he had a fascinating response: "Personally," he said, "I feel like I hit .300 every year. I don't know how many hits get taken away every year by the shift. ... But I feel like sometimes I'm doing the same things [at the plate that he was doing when he hit .300] ... because I'm playing on a different field."
So is that true? Well, ESPN's pitch data shows he hit .107 last season (12 for 112) on ground balls to the right side. The only left-handed hitter with a lower average on pulled ground balls was
Prince Fielder
(10 for 101, .099). Both those guys are among the most shifted-on hitters in baseball. But guess what? Fielder still managed to overcome it and hit .299. Howard, meanwhile, batted .253.
So how big a disadvantage is Howard really at? He should know that the average left-handed hitter batted only .176 on ground balls to the right side.
Adrian Gonzalez
and
Joey Votto
, two guys who use the whole field, hit just .165 and .160, respectively.
We're talking, in other words, about only a handful of hits a year. We're not talking about the 28 additional hits Howard would have needed to be a .300 hitter last season. And we're certainly not talking about the shift alone being responsible for the nearly 60 points Howard has lost off his on-base percentage since 2006.
That isn't about the shift. That's about selectivity. But I think we already mentioned that, didn't we?
And so did Ryan Howard's manager.
Strike Two -- The Jay Hey Kid
The most fun I've had all spring was watching
Jason Heyward
take batting practice in the Braves' camp the other day. He made so many baseballs disappear over the right-field fence that when he was through,
Freddie Freeman
just looked at him and said, "Wow."

Heyward
Heyward's "wow" factor was missing in action last summer. Couldn't get healthy. Couldn't handle getting pounded inside. Couldn't even get himself on the lineup card down the stretch.
But he seems to have really connected with new hitting coach Greg Walker and assistant hitting coach Scott Fletcher. And Heyward's teammates are buzzing about how good he's looked since getting his retooled stroke dialed in under the new regime.
"That's what we've been shooting for since Jan. 1," said
Chipper Jones
, after Heyward's monster BP round. "When he came in [to start his offseason hitting] on Jan. 1, it was an event. And in a month and a half, he's gone from flat-out ugly to flat-out dangerous. It's good to see that 2010 Jay Hey back again. He's the pivot man. He's the swing man in our lineup. If he's that 30-home run, .280-.300 guy, our offense is going to take off."
You don't need to be a descendant of Hank Aaron to know Heyward needed to make some significant changes, because the league has clearly adjusted to him. Check out his first two months in the big leagues in 2010 -- and how he's fared since:
As reminiscent as his BP session this week was of the shows he put on in Florida back in the day in 2010, it doesn't tell us how Heyward is going to deal with the heat on the inner half which swallowed him alive last season. On hard stuff in, he hit .169 and slugged .237 in 2011. That's a gigantic change from the first half of his rookie year, when he hit .268 and slugged .518 versus the same pitches in that same zone.
Then again, as ESPN Stats & Info guru Mark Simon
detailed this month
, Heyward scuffled against just about any kind of pitching on the inner half last year. And that's something he's got to fix if he's ever going to make an impact in the big leagues.
"There are so many intangibles to sort out with this guy aside from health," said one scout. "Is he willing to get closer to the plate? Is he willing to make adjustments to his swing? Let's assume he'll be healthy, and that's a big 'if.' Is he willing to make the necessary changes to get back where he was in the first half of his rookie year -- because his first half was much different than his second half?"
So far, the Braves see a hitter who has made those changes. Now it's time to see if they lead to the kind of results that will bear out the Braves' decision not to go out and add a big bopper last winter, because they still believed Jason Heyward could be That Guy.
"We're not asking him to go out and win a triple crown," said his manager, Fredi Gonzalez. "We're just asking him to be the Jason Heyward we know he can be."
Strike Three -- In Other News Dept. ...
• With
Tim Wakefield
packing it in, it means we have a new leader among active pitchers in career wild pitches. That would be
A.J. Burnett
, who had closed to within 10 wild pitches of Wakefield (134-124) and no doubt would have passed him this season anyway, even if Wakefield had kept flutterballing all year.
• Amazing Coincidence Dept.: What were the odds of Burnett getting traded on the same day this month that Wakefield retired?
• As the legendary Bill Chuck reports, however, Burnett is never going to catch Wakefield in career passed balls induced. Wakefield's lead in the clubhouse: 253-16.
• The only five "active" pitchers (i.e., pitchers who can be tracked down in someone's spring training camp at the moment) who are even within 50 of Burnett in career wild pitches:
Miguel Batista
, 101
John Lackey
, 97
Jeff Suppan
, 89
Freddy Garcia
, 84
Jamey Wright
, 75
• If you missed the column I wrote the other day about the Cardinals' transition into Life After Tony And Albert (
detailed this month
), you missed this astounding fact:
The 2011-12 Cardinals are the first team in history to win a World Series one year, then return the next year without their manager and their leading home run hitter.
• Finally, speaking of the Cardinals, here's our Quote of the Week:
When Mike Matheny met with the media on his first day as the manager of the Cardinals, he did the entire session while leaning on a fungo bat. When he was asked if he actually planned to hit any fungoes, he quipped:
"I'm not too good at hitting fungoes. But when I was a player, I was real good at hitting it at people. So I think I'll be all right."