Jayson Stark:

San Francisco Giants
August, 8, 2013
8/08/13
3:34
PM ET
The past couple of days have reminded me of something I'd almost forgotten. There is life after A-Rod-Palooza.
There is a great baseball season going on out there, friends. So let's stop talking about that third baseman for the Yankees and start focusing on all the fabulous baseball stories that are roaring toward their dramatic conclusion.
And what stories do I have in mind? How about these Five Stories I'll Be Watching (Instead of That Guy):
[+] Enlarge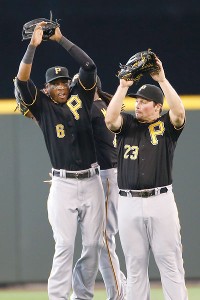 Otto Greule Jr/Getty ImagesIt's hard not to get excited about the Pirates.
1. The Pirates
The
Pittsburgh Pirates
are going to finish with a winning record, ladies and gentlemen. I have never felt more confident about saying that.
They are not going to have 10 pitchers undergo Tommy John surgery in the next 20 minutes. They are not going to lose 37 of their next 48 games. They are not going to reenact August and September of 2012, or August and September of 2011.
They're too good. They have the fourth-best run differential in the National League (plus-60). They've allowed the fewest runs in the major leagues (just 385) -- something they haven't accomplished over a full season since 1984. And opponents are hitting a ridiculous .229 against their pitching staff -- which would be the lowest average against any National League staff since Jim Deshaies' 1986 Astros.
I can't tell you these Pirates are going to win the World Series. I can't tell you they'll win any kind of postseason series. But they're still the best story in the major leagues. So let's just enjoy this ride. OK?
2. The races
The NL East race is over. The AL Central race feels like it's in guarded, but unstable, condition. And over in the NL West, the Dodgers have gained 14 .5 games in the standings on Arizona just in the past seven weeks. So we can see where that one is headed.
But the NL Central is shaping up as a must-see duel between the best offense in the National League (the Cardinals) and the best pitching staff (the Pirates) -- with nine riveting games left between these two teams. Sign me up for that.
And how about the AL West, where the Rangers just made a six-game Oakland lead disappear in a span of nine days. Those teams have two series left against each other. But the schedule, in general, favors Texas, which has the easiest remaining schedule of any AL contender, including 10 games left against their good friends from across the state, the Astros.
And then there's that AL East race, which has a chance to be the best of them all.
The Red Sox just became the first AL team to reach 70 wins -- and did it following a year where they didn't win 70 games all season. Think about that. Elias tells us they're the first AL team to pull off that trick (not counting strike-shortened seasons) since Harlond Clift's 1945 Senators, and (because those Senators got to 70 on the same day as the Tigers) the first to do it outright since George Herman Ruth's 1926 Yankees.
But then there are the Rays, owners of the best record in the whole sport over the past 81 games and a team so hot they just lost their first series in seven weeks. So pick against them at your peril.
And I'm not ready to write off the Orioles, who lead the major leagues in home runs and slugging, upgraded their pitching before the deadline and are currently on pace to become the first team in history to commit fewer than 50 errors in a 162-game season. (Heck, no one else in the expansion era has even finished a season with fewer than 60.) The Orioles have 16 games left against Boston and Tampa Bay. So stay tuned.
3. The awards
NL MVP:
Yadier Molina
was our midseason pick, but his knee issues are about to sabotage his MVP campaign. So are we ready for a starting pitcher (i.e.,
Clayton Kershaw
) to win this thing? Do guys like
Paul Goldschmidt
and
Joey Votto
have MVP finishes in them? And don't look now, but here comes
Andrew McCutchen
, whose credentials include this nugget: He,
Mike Trout
and
Carlos Gonzalez
are the only players in their league to rank in the top 10 in both stolen bases and slugging.
AL MVP:
Uh-oh. Here we go again. If you enjoyed that vintage, old-school/new-school
Miguel Cabrera
-versus-Mike Trout debate last year, get ready for Round 2. As Jared Cross wrote the other day, Trout has injected himself into what once looked like a Cabrera-
Chris Davis
MVP conversation by charging up those AL leaderboards. But if this keeps up, some great sabermetric minds are going to have to explain to the masses how it's possible that Trout leads Cabrera in offensive wins above replacement, but is trailing Cabrera overall because of (gulp) Cabrera's defense. Incredible, huh? But let's save that issue for another day.
AL Cy Young:
Felix Hernandez
can tell you all about how Cy Young voters have finally learned to de-emphasize wins. But let's see them try to factor out wins this year, when King Felix is leading the league in ERA but trying to make his case against a guy who is 16-1 (
Max Scherzer
) -- and first in his league in WHIP, lowest opponent average and lowest opponent OPS. Can't wait for that debate.
NL Cy Young:
With all due respect for the awesome seasons of
Adam Wainwright
,
Matt Harvey
,
Madison Bumgarner
,
Patrick Corbin
,
Francisco Liriano
,
Craig Kimbrel
, etc., all Kershaw does every five days is remind us that he's the best pitcher in baseball. Still. Just so you know, if Kershaw can finish with the ERA (1.91), WHIP (0.88) and opponent average (.188) he has now, the only pitchers in the live-ball era who have ever been in that neighborhood (or better) over a full season are Bob Gibson,
Greg Maddux
,
Pedro Martinez
, Sandy Koufax and Luis Tiant. Whoever they are.
Rookies of the Year:
In the AL,
Jose Iglesias
has a shot to become the first rookie of the year ever to get traded in midseason. But
Wil Myers
can screw up that claim to fame. And in the NL, this remains one of the wildest rookie-of-the-year free-for-alls ever, with
Jose Fernandez
,
Shelby Miller
,
Hyun-Jin Ryu
,
Julio Teheran
,
Evan Gattis
and
Yasiel Puig
all making cases for themselves that are going to require many, many Advil for the ROY electorate.
[+] Enlarge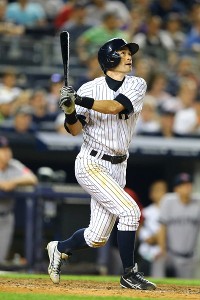 Al Bello/Getty ImagesIchiro Suzuki is about to enter some rarefied air.
4. The 4,000-hit man
The folks obsessed with a certain troubled third baseman may differ. But in my neighborhood, the most interesting story in Yankees Land this month revolves around a man who is chasing a number very few living humans have ever seen chased.
That man is
Ichiro Suzuki
. That number is 4,000.
And no, that isn't how many reporters from his homeland follow Ichiro around every day. It's the number of hits he's about to have on his permanent record if we count the 1,278 hits he spewed in his nine seasons in Japan.
At the moment, he finds himself just 11 hits away. And I hope you don't let that milestone go whooshing by you too quickly before you stop to think about what it means.
The last time we witnessed anyone getting his 4,000th hit was April 13, 1984, when Pete Rose collected No. 4,000 off Jerry Koosman, in a stadium we no longer find on the baseball map (the late, great Stade Olympique in Montreal).
Just for perspective's sake, the Hit King got that 4,000th hit in his 3,259th game. That's nearly 200 more than Ichiro has played (3,075) on both sides of the Pacific. Which means he's going to beat Rose to No. 4,000 by more than a full season. Wow.
The only other 4,000th hit ever? Ty Cobb got that one -- on July 18, 1927. So if you weren't hanging out at old Nevin Field in Detroit that day 86 years ago, you've never seen any American Leaguer do what Ichiro is about to do. Pretty mind-boggling feat -- on any continent.
5. History majors
Finally, here's just a taste of some of the historic pursuits you can keep your eye on over the next two months:
Chris Davis:
On pace for 58 home runs, 102 extra-base hits, 151 RBIs and 72 more extra-base hits than singles. There has never been a season like it.
Mike Trout:
He's leading the American League in walks. He's tied for the league lead in hits. And if he can wind up leading in both categories, he'd be only the fifth player since 1900 to do that in the same season. The others: Rogers Hornsby, Richie Ashburn, Carl Yastrzemski and Lenny Dykstra.
Joey Votto:
See that note above? How unreal would it be if two men finished first in their league in hits and walks in the same season? Well, Votto has a shot, too. He has a big lead in walks. He's three behind
Jean Segura
for the lead in hits. And Votto and
Shin-Soo Choo
have an outside chance to become the second set of NL teammates ever to reach base 300 times apiece (via hit, walk and HBP) in the same season. The other:
Jeff Bagwell
and
Craig Biggio
, for the 1997 Astros.
Miguel Cabrera:
And then there's Miggy. He might not win the Triple Crown for a second straight year. But if he can stay healthy enough to get on the field regularly, Cabrera still has a chance to do something no Triple Crown winner has ever done -- hit that trifecta one year and then have a better season the next year.
Here are Cabrera's numbers from last season, and his projected numbers for this season. This is truly amazing:
2012:
.330/.383/.606, 44 homers and 139 RBIs
2013:
.359/.453/.668, 48 homers and 148 RBIs
I chronicled this a few months ago, but here it is again just to help you digest this man's greatness: Only one Triple Crown winner in history (Ted Williams) ever drove in more runs the following year. Just two (Williams and Mickey Mantle) had a better batting average the next season. And none of them hit more home runs The Season After. But this guy could do all of the above.
So once again, we find ourselves drawn to the flat screen every time Miguel Cabrera starts marching toward home plate. And that beats watching A-Rod-Palooza every day of every week. Don't you think?
October, 3, 2012
10/03/12
12:50
PM ET
So here we sit, on the morning of the last day of the baseball season. And other than one game (Cardinals at Braves on Friday), we have no idea who is playing whom in
any
postseason series.
But it's not as complicated as it seems. Really. It all depends on what happens on the field Wednesday. So let's run through the various scenarios:
If the Yankees lose and the Orioles win
Then the AL East is tied (at 94-68), and the Yankees and Orioles have to play a tiebreaker game Thursday in Baltimore. The winner is the AL East champ. The loser is the wild-card team. But is it the "first" wild card or the "second" wild card? That depends on what happens in Oakland.
If the A's beat the Rangers
Then Oakland (94-68) wins the AL West, and Texas (93-69) is a wild-card team. But would the Rangers be the "first" wild card or the "second" wild card? That depends on what happens in the AL East:
If the Yankees and Orioles both win Wednesday, the Orioles (94-68) would host the Rangers (93-69) in the wild-card game Friday. Why? Because a Baltimore win Wednesday would give the Orioles the better record.
If the Orioles lose Wednesday and finish with the same record as Texas (93-69), the Rangers would host the wild-card game Friday because they won the season series from Baltimore.
If the Rangers lose and there's a tie for the AL East (at 94-68), the AL East loser hosts the Rangers in the wild-card game because either still would have more wins (94) than Texas (93).
If the Rangers beat the A's
Then the Rangers (94-68) win the AL West, and Oakland (93-67) is a wild card. But is it the "first" wild card or "second" wild card? Again, that depends on developments in the AL East.
If the Yankees and Orioles both win Wednesday, the Orioles would host the A's in the wild-card game because Baltimore would have one more regular-season win (94) than Oakland (93).
If the Yankees lose, the Orioles win, there's a tie for the AL East and Oakland loses to Texas, the loser of the AL East tiebreaker game hosts the A's. Again, the reason: The AL East loser still would have more wins (94) than Oakland (93).
If the Yankees, Orioles and A's all lose Wednesday, the Orioles and A's would finish with the same record (93-69). If that happens, the A's host the wild-card game Friday. Why? Because they won the season series.
Who's No. 1 in the AL?
If the Yankees win Wednesday
:
Then this is simple. They're the No. 1 seed in the AL. So their first Division Series game is Sunday
at
the winner of the wild-card game.
The AL West winner then would head for Detroit to start its Division Series on Saturday.
If there's a Yankees-Orioles tie
:
This gets trickier. Then there's a three-way tie for the best record in the AL (Yankees, Orioles and the AL West champ, all at 94-68).
Under that scenario, the AL East tiebreaker game would
not
be used to determine seeding, even though it is otherwise considered a regular-season game. So how would that seeding be sorted out? Here's the breakdown:
Yankees win the AL East, Rangers win the AL West: Yankees are the No. 1 seed and play the wild-card winner. Rangers are the No. 2 seed and play at Detroit. Why? Yankees won the season series.
Yankees win the AL East, A's win the AL West: A's are the No. 1 seed and play the wild-card survivor. Yankees are the No. 2 seed and face Detroit. Why? Yankees and A's split the season series, but A's had the better record in division games.
Orioles win the AL East, Rangers win the AL West: Rangers are the No. 1 seed and draw the wild-card winner. Orioles are the No. 2 seed and play Detroit. Why? Rangers won the season series.
Orioles win the AL East, A's win the AL West: A's are the No. 1 seed. Orioles are the No. 2 seed. Same LDS matchups. Why? Orioles won the season series.
If the Yankees and the Orioles both lose Wednesday
Then there's a tie for the best record between the Yankees and the AL West champ (at 93-69).
Under that scenario, the Yankees are the No. 1 seed if the Rangers win the West -- but the No. 2 seed if the A's win the West. Why? See the tiebreaker scenarios above.
Who's No. 1 in the NL?
The Reds and Nationals head into their games Wednesday with the same record (97-64). So ...
If the Reds win and the Nationals lose
Then the Reds are the No. 1 seed and play Sunday at the home of the wild-card survivor. And the Nationals are the No. 2 seed and play Saturday in San Francisco.
If the Nationals win and the Reds lose
Then the Nationals are the No. 1 seed and visit the wild-card winner Sunday. And the Reds are the No. 2 seed and start their Division Series on Saturday in San Francisco.
If the Nationals and Reds finish tied
Then the Nationals are the No. 1 seed. And the Reds are the No. 2 seed. (Same matchups as the Nationals win/Reds lose scenario above.) Why? Nationals won the season series.
It sounds insane. But it could have been worse, if
Raul Ibanez
hadn't hit that home run Tuesday to bring the Yankees back from the dead.
That would have created a nightmare scenario in which the Orioles, Yankees and the AL West loser could have finished in a three-way tie (at 93-69) -- forcing one of those teams to fly 2,500 miles, across three time zones, Thursday night to play the wild-card game Friday. But the good news is, that's one crazy possibility that's now officially defunct. Phew.
September, 20, 2012
9/20/12
12:24
PM ET
It's time now for the September History Watch crew to jump into the Wayback Machine and set the dial for AT&T Park in April of 2004.
We'll be visiting the Giants' first homestand of the 2004 season. And you know what we'll see?
We'll see the artist formerly known as Barry Lamar Bonds hit seven home runs in the Giants' first week at home all season. That's what.
And why would we want to bring up something as ancient as that, you wonder? Here's why:
Because people who have spent the 2012 season hanging out in that very same ballpark haven't seen any Giant hit seven home runs there
the whole darned season
. That's why. (Your team leader:
Buster Posey
, with six.)
[+] Enlarge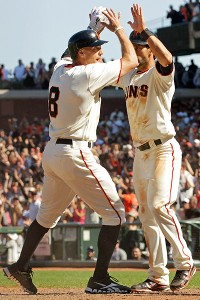 Cary Edmondson/US PRESSWIREAngel Pagan and the Giants have been outhomered at home, 49-23.
Yes, friends. The Giants are making home run history again this year. But this time, it sure isn't the same kind of home run history their old left fielder used to make. So let's take a look:
• How many home runs has this team hit at home this year? Would you believe 23? That's right. We said 23. According to the Sultan of Swat Stats, SABR home run historian David Vincent, only four teams have hit fewer than that (in a non-strike season) in the entire division-play era. And no National League team has hit fewer in any ballpark not named "The Astrodome":
There was Rafael Landestoy's 1979 Astros (15).
There was Doug Rader's 1971 Astros (18).
There was Jerry Mumphrey's 1984 Astros (18).
And there was Felix Fermin's 1991 Indians (22).
And that's all, folks.
• So when was the last time any Giants team hit this few home runs at home in any season? Believe it or not, that would be 1918, when Heinie Zimmerman's New York Giants whomped nine -- count 'em, nine -- homers at the Polo Grounds, where that 483-foot center field made AT&T Park feel like the Great American Small Park. But the good news is, if the Giants just hit one more, they'd pull even with Johnnie LeMaster's 1980 Giants, who made 24 trots at Candlestick. How's that for drama?
• Incidentally, you should also know this:
Fewest home runs at home in a season by any team in the 2000s -- 35, by the 2010 Mariners.
• And now this tidbit, for amusement purposes only:
Home runs at home this year:
• Now let's bear down on that Giants outfield. A dozen men have played in that outfield for this team this season. They've combined to come to the plate nearly 1,000 times. And they've hit a total of
six
home runs. Right. Six.
Have we mentioned that
Barry Bonds
hit more than that in the first
week
of the season in 2004? Oh, that's right. It's come up.
Not surprisingly, the Sultan reports that only three teams have gotten fewer homers than that from their outfielders in any non-strike season in the division-play era. Here they come:

Kevin Bass' 1984 Astros (4)

Jorge Orta's 1976 White Sox (5)

Casey Candaele's 1991 Astros (5)

Just for the record, 45 different outfielders have hit more than six homers at home this year all by themselves. No need to list them. You get the idea.
• Finally, before we send our Wayback Machine home, you know what happened on April 18, 2004? That Barry Bonds guy hit two home runs in a game at AT&T. That's what. And what's the big deal about that? Well, the big deal is, no Giants outfielder has hit more than two home runs in that park
all season
. (
Gregor Blanco
and the former
Melky Cabrera
share the lead, with two apiece.) And that, ladies and gentlemen, is hard to do.
Ready for the four teams in the division-play era that had no outfielder hit more than two homers at home all season (non-strike-year division)? Glad to help you out with that:


1974 Yankees -- Roy White (2)

1976 White Sox -- Chet Lemon (2)

1979 Astros -- Terry Puhl (2)

1984 Astros -- Terry Puhl (2)

So clearly, the Giants either need to bring in the fences or sign Terry Puhl immediately. But since neither of those options is real workable, they'll just have to spend their final eight home games giving our September History Watchers something deep and meaningful to pay attention to. And for that, we're eternally grateful. Of course we are!
August, 21, 2012
8/21/12
12:02
PM ET
How much money did Melky Cabrera cost himself by testing positive? We'll never know, obviously. But execs we surveyed saw Melky as probably the No. 2 outfielder on the free-agent market this winter, behind only
Josh Hamilton
, and a guy who was likely headed for a five-year deal that totaled somewhere between $60 million and $80 million.
So now what is he worth? We did hear one prediction that there might still be a three-year, $30 million deal out there for him. But that was clearly a minority view. One exec went as far as to say teams now had to ignore everything he's done the last two seasons and say instead: "Whatever type of hitter you thought he was before, you have to look at him as that type of hitter now. You can't trust that what he was the last two years, he'll ever be again."
Uh-oh. If that's the case, this guy just watched $50 million to $75 million fly out of his cash register -- because before last year, he was a .267 lifetime hitter with a .707 career OPS who hit eight or nine home runs a year, got non-tendered because of it and had to sign a one-year, $1.25 million contract with the Royals. He'll get more than that this winter, theoretically. But he won't be setting up future generations of Cabreras for life anymore. That's for sure.
July, 20, 2012
7/20/12
3:11
PM ET
Welcome to another edition of Five Astounding Facts:
1
What did
Matt Cain
just do that no other pitcher in history had ever done? In back-to-back trips to the mound, he started the All-Star Game, then faced a team he had thrown a perfect game against (the Astros). Seven other pitchers have started an All-Star Game and thrown a perfect game at some point in their careers. But none of them ever did
that
.

2
The Orioles find themselves a half-game out of a playoff spot at the moment -- which is kind of amazing, considering that their record this season in nine-inning games happens to be four games on the
wrong
side of .500 (38-42).
The good news is they're 10-2 when they go to extra innings, and those games count, too. But they should know this: No team has ever made it to the postseason in a year in which it had a losing record in games of nine innings (or less).
The closest any team ever came, according to the Elias Sports Bureau, was the 1981 Royals, who went 48-48 in regulation (and 2-5 in extra innings). But there's a big asterisk attached to that little nugget, because those Royals were under .500 for the season but made the playoffs only because the long midseason players' strike created a split-season format. So ...
What's the closest any team has ever come in a non-strike season? On the way to winning a World Series, Al Newman's 1987 Twins went a mere 76-75 in nine-inning games (or shorter) but padded that record by going 9-2 in overtime. Among the guys who drove in a game-winning run in extra innings for those '87 Twins: the artist who would later become Billy Beane.

3
Now that the Rockies have traded away
Jeremy Guthrie
, they've all but clinched this incredible distinction (as pointed out by loyal reader Jim Cartwright):
Not
one
pitcher on their roster is going to wind up pitching enough innings to qualify for the ERA title. (In fact, none qualified this season even
before
this trade, but Guthrie was at least close.)
The Elias Sports Bureau tells us that six teams have pulled off that bizarre claim to fame since 1996. The last one: the 2009 Indians, who had to trade
Cliff Lee
to make it possible.
But no National League team has made it through a season without a pitcher who threw at least 162 innings since the 1998 Cardinals.
Kent Mercker
missed qualifying that year by 1/3 IP, and
Todd Stottlemyre
missed by 2/3 IP. So any resemblance between that team and this team is purely a technicality. It will be a miracle if any Rockies pitcher comes within 30 innings of qualifying.

4
There aren't many nuttier ways to blow a lead with two outs in the ninth than the way the Giants did it last Saturday:
With their closer,
Santiago Casilla
, striking out what should have been the final hitter of the game ... only to have the tying run score on a surreal strikeout-wild pitch-E2 trifecta. (Pitch bounces away to allow the hitter to reach. Catcher
Hector Sanchez
then throws wild to first to allow the tying run to score from second. Yikes!)
So how rare is that? Here's what we learned from Elias:
• Last team to tie a game on a K-WP with two outs in the ninth: the Angels, on June 5, 2003, at Montreal. (
Rocky Biddle
wild pitch to
Jeff DaVanon
.
Chone Figgins
scores from third.)
• Last team to tie a game on a K-E2 with two outs in the ninth: the Twins, on July 31, 2003, against the Orioles. (
Jorge Julio
WP to
Michael Restovich
.
Brook Fordyce
throwing error allows
Doug Mientkiewicz
to score from second.)
Madness!
Cook
5
It's hard enough for any starting pitcher to make it through a start with zero strikeouts and zero walks. But
Aaron Cook
deserves some bonus points for doing that Monday -- against a team with noted strikeout-or-walk machine
Adam Dunn
in the lineup.
Then again, Aaron Cook is the master of this sort of thing:
• This was his second zero-walk, zero-strikeout start of the season (of five innings or more). The only other pitchers to have more than one start like that in a season in this millennium:
Mark Buehrle
(2010),
Paul Byrd
(three times in 2008),
Kyle Lohse
(2004) and
Greg Maddux
(2003).
• This makes
five
times Cook has had a start like that in his career. Only one other pitcher in the past 30 years can make that claim: Bill Gullickson.
• Cook has now made five starts this season -- and hasn't struck out or walked more than two hitters in any of them. How many pitchers since 1900 have ever done that in their first five starts of a season? Not a one, according to Elias.
• Cook added one more zero in that game Monday -- in the earned runs column. And as loyal reader Eric Orns reports, that makes him the second pitcher in this millennium to have a start that featured at least seven innings, no strikeouts, no walks and no earned runs. The other? None other than
Justin Verlander
, of all people, on May 17, 2006.
April, 19, 2012
4/19/12
10:44
AM ET
From the 8,000 tweets and emails I got before breakfast, apparently America has an incredible fascination with that doughnut shop that
Matt Cain
and
Cliff Lee
opened Wednesday night in San Francisco.
Lee went: 000 000 000 0.
Cain put up his second consecutive 000 000 000.
And since they did it on the same night in the same ballpark, we've got ourselves some very cool notes. So thanks to the miracle of the baseball-reference.com Play Index, here are all the gems I could round up on short notice:
• How rare is it for one starter in a game to rip off 10 shutout innings while the other throws nine? It's only the second game like that in this millennium. Here's the other:
Sept. 6, 2003 (Tigers-Blue Jays):
Roy Halladay
vs.
Nate Cornejo
. Halladay went 10. Cornejo went nine. The Blue Jays won 1-0 in 10. Halladay got a 10-inning shutout out of it.
[+] Enlarge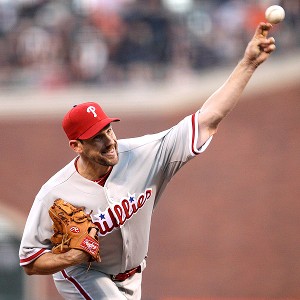 AP Photo/Marcio Jose SanchezAcquiring Cliff Lee would've given the Indians a big boost in their pursuit of a playoff spot.
• The previous five games in which one starter went at least 10 shutout innings and the other starter put up at least nine zeros:
Aug. 28, 1999 (Braves-Cards):
Kevin Millwood
(10) vs.
Darren Oliver
(9); Sept. 20, 1998 (Rockies-Padres): Darryl Kile (10) vs.
Kevin Brown
(9); June 11, 1991 (Astros-Phillies): Mark Portugal (10) vs. Pat Combs (9); Aug. 1, 1990 (A's-Mariners): Dave Stewart (11) vs. Erik Hanson (10);
5/22/90 (Cubs-Reds): Mike Bielecki (10) vs. Tom Browning (9).
• The last game like that before Wednesday's in which the pitcher throwing the most shutout innings saw his team lose:
Aug. 30, 1989 (Cards-Reds): Jose DeLeon (11) vs. Rick Mahler (10). But DeLeon's Cardinals lost 2-0 in 13 innings.
• Last pitcher before Lee to throw 10 shutout innings in any game:
Mark Mulder
(Cardinals), on April 23, 2005 -- a 10-inning 1-0 win over the Astros.
• Last pitcher before Lee to throw 10 shutout innings and get nothing but a no-decision to show for it: Millwood, in that Aug. 28, 1999, game.
• Last pitcher before Lee to throw 10 shutout innings and not have his team win:
Bret Saberhagen
(Mets), on July 15, 1994, in a 14-inning loss to the Padres.
• Last Phillies pitcher to spin off at least 10 shutout innings: Steve Carlton, against the Expos on Sept. 21, 1981 -- a game the Expos won 1-0 in 17 innings.
• Last pitcher to throw at least 10 shutout innings against the Giants: Joe Niekro, on June 8, 1983 -- a game the Giants lost 1-0 in 11 innings.
• Last time the Giants won a game in which the opposing starter threw at least 10 shutout innings: Aug. 19, 1968. Jerry Koosman threw 12 zeros up there against them at Shea Stadium. But Bob Bolin hung 11 bagels for the Giants. And the Giants wound up winning 1-0 in 17 innings.
And let's not forget the history Matt Cain could have made. As streak guru Trent McCotter reports, if the Giants had won this game in nine, it would have given Cain a complete-game one-hitter and a complete-game two-hitter in back-to-back starts.
• Last pitcher to throw a nine-inning one-hitter followed by a nine-inning two-hitter:
Bobby Witt
, on June 23 and 28, 1994.
• Last National League pitcher to do it: Claude Osteen, on June 17 and 21, 1965.
• No Giants pitcher in the live-ball era has ever done it, either in New York or on the Left Coast.
• Finally, the last pitcher to allow a total of only
four
baserunners (or fewer) over back-to-back nine-inning starts: Woodie Fryman of the Pirates, on June 26 and July 1, 1966.
All those fabulous tidbits erupted out of one incredible evening at AT&T Park. Is baseball a tremendous sport or what?
September, 7, 2011
9/07/11
12:13
PM ET
And the September History Watch goes on, with this shocking look at what's become of the offense of the still-defending champs.
Strike One -- They Left Their Bats On The Parade Floats Dept.
If life was just one big pitch-off, the 2011 Giants would still be headed for October, just like the champs who came before them.
But the powers that be in this sport continue to insist that these Giants have to hit, too. And that half of their equation isn't working out so hot.
Until now, though, we bet you never realized just how un-hot it was.

Well, here goes. The 2011 Giants are averaging a mind-boggling 3.39 runs per game. Which means that, if they keep this up, they're going to score a mere 550 runs this year. And friends, that's not good. But here's how really, really not good it is:
• Only three teams in the last quarter-century have scored 550 runs or fewer in any full season.
One was last year's historically inept Mariners, who scored 513 -- and lost 101 games.
The second was Jose Offerman's 1992 Dodgers, who scored 548, lost 99 games and had one player on the roster (Eric Karros) who drove in more than 39 runs.
The third was Jeff Stone's 1988 Orioles. That team scored exactly 550. It also lost 21 games in a row to kick off the season and finished up 54-107.
But to link these Giants with those teams makes it sound as if at least they have a little company. And that's misleading. Why? Because this is THE WORLD SERIES CHAMPIONS we're talking about. That's why.
And the fact is, no defending champs IN THE HISTORY OF BASEBALL have ever had as much trouble crossing home plate as this team.
If we ignore complications like labor debacles, you know the last team to win the World Series one year and score 550 runs or fewer the next year? That would be Nemo Leibold's 1918 White Sox. They scored a mere 457. But because of World War 1, their season was shortened to 124 games. So they scored 3.69 a game -- way more than these Giants.
If we look at "full" seasons, then, the only other defending champs that's even in this neighborhood was Doc Hoblitzell's 1916 Red Sox. They scored 550 on the nose. But that was in 156 games -- which computes to 3.53 a game. And you don't need a TI-84 to know that also would be considerably more than these Giants.
So if you catch our drift, by now you've figured this out. Barring a monumental offensive resurgence in the next three weeks, the 2011 Giants are going down in history -- by scoring fewer runs per game THAN ANY INCUMBENT WORLD SERIES WINNER EVER.
And again, that was EVER. In the live-ball era. In the dead-ball era. In any era. EVER.
Now it's still possible, technically, for them to avoid that fate. But by our calculations, they're going to have to score 91 runs in their last 20 games to do that -- a level of offensive eptitude they've reached in just one 20-game stretch all year (late June, early July). And if they don't reach it again, well, we have a feeling we won't be talking about Doc Hoblitzell and his 1916 Red Sox next year at this time -- or any year at this time.
Strike Two -- Zero Hero Dept.
You might recall that
Eugenio Velez
was a proud, if not necessarily integral, member of those 2010 Giants. Well, even though he's in L.A. now, whatever black offensive plague those Giants caught, he clearly has also contracted.
Only worse.
The Dodgers brought Velez to the big leagues in July. And every day that's gone by since has had one thing in common:
He hasn't gotten a hit in any of them.
He's now 0 for 30 for the year. And that inspired loyal reader Michael Kealey to ask: Has any position player ever gone hitless in a season when he had that many at-bats?
And the answer is ... yes -- but just barely.
Once upon a time, Hal Finney, a backup catcher for Pep Young's 1936 Pirates, went through his season of Zero Hero fame by going an action-unpacked 0 for 35. And for the last 75 years, he's barely been seriously challenged -- except by a bunch of pitchers who couldn't be held responsible.
Now, though, along comes Eugenio Velez, to pull within five at-bats of him. The good news for Velez is, he's made more contact during this streak than you'd think -- striking out in only seven of those 30 trips. The bad news is, that still makes his BABIP (Batting Average on Balls in Play) a picturesque .000.
We guess you could make a case he's therefore been "unlucky." But this just in: If he roars past the legendary Hal Finney, the Zero Hero judges will not be allowed to cite his BABIP luck factor. We're making that official announcement right now, because clearly, the Hal Finney countdown has a chance to consume all of us in these final, pennant-race-free weeks of another historic baseball season.
Strike Three -- Useless Info Dept.
In other news ...

Kottaras
• The first cycle of the season was authored by -- who else? --
George Kottaras
. Bet you didn't know he was only the second backup catcher in the live-ball era to hit for a cycle. The other: Buddy Rosar, who was Bill Dickey's backup on the 1940 Yankees.
• As loyal reader Chris Isidore reports, FIVE players have had multi-homer games this year before their 22nd birthday:
Jesus Montero
,
Eric Hosmer
,
Freddie Freeman
,
Mike Trout
and
Mike Stanton
. Last time that happened in any season: 1965, when the five who did it were Joe Morgan, Tony Conigliaro, Ed Kranepool, Ron Swoboda and Curt Blefary.
• The Red Sox have now won a 14-0 game, a 14-1 game and a 16-4 game IN Toronto this year. So how many times in the live-ball era have the Red Sox beaten the same team by at least 12 runs three times in one season? That would be never.
• In that 14-0 wipeout Tuesday, the Red Sox erupted for nine doubles and two homers. Last time they had at least nine doubles and two home runs in the same game: June 8, 1950, in a 29-4 squashing of the St. Louis Browns.
• Since arriving on this side of the Pacific,
Hiroki Kuroda
had made 112 starts for the Dodgers (counting the postseason) and never allowed more than two home runs in any of those games. Then, of course, he served up three in the first INNING Monday in Washington.

Herndon
• Box-score line of the week: A day after allowing three home runs in one inning, Phillies reliever
David Herndon
spun this classic Sunday in Florida: 3 2/3 IP, 4 H, 1 R, 1 ER, 7 BB, 5 intentional BB, 0 K, 1 HBP. According to baseball-reference.com's fabulous Play Index, he was the first reliever to issue five intentional walks in one game since Lynn McGlothen on July 19, 1975 and the second ever to do it in an outing that short. Even more impressive, Herndon was just the third reliever in the live-ball era to allow 12 baserunners in an outing that short and
still only give up ONE run
. Last to do it: Robin Roberts, on Sept. 10, 1957.
•
Vance Worley
has now made 20 career starts. The Phillies have won 17 of them. Want to guess the last team to go 17-3 in ANY pitcher's first 20 career starts. Good luck. According to the Elias Sports Bureau, the pitcher was -- ta-taaaa -- Bob Wickman, for the 1992-93 Yankees. You were expecting maybe Pedro Martinez?
• And the always-inventive Rany Jazayerli
reports
that if
Melky Cabrera
just hits one more double this year, the Royals will become the first team in the history of baseball to have all three outfielders (Cabrera,
Alex Gordon
and
Jeff Francoeur
) hit at least 40 doubles in the same season. Of course they will!
Remember, our September History Watch will be rocking all month. So feel free to send your own potential history makers to uselessinfodept@yahoo.com, or tweet them at us at @jaysonst.
November, 2, 2010
11/02/10
7:38
PM ET
The Rangers hit .190 against them. The Braves hit .175 against them. The Phillies hit .216 against them.
Boy, what a coincidence. Every offense that faced the Giants in this postseason went into a slump. Can't figure out how that happened.
"You know," said Giants pitching coach Dave Righetti, of the staff that won this World Series, "there are two sides to every game."
Right. Good point.
In fact, though, in most of the 15 games the Giants played this postseason, there was really only one side -- because their pitchers were so good, and so well-prepared for the lineups they spent October chewing up, that the other side barely had a chance.
What we've just witnessed is one of the great exhibitions of postseason pitching by any team since the postseason turned into its current multiround marathon state. So how great were these guys? Here's how great:
Over three rounds of postseason play, the Giants turned three lineups full of hitters good enough to get to October into a whole sport full of
Ryan Langerhans
. Combined batting average of the Giants' opponents in this postseason: .196. Since the wild-card era began in 1995, only one staff that had to play all three rounds has beaten that -- the
Randy Johnson
/
Curt Schilling
2001 Diamondbacks -- at .193.
But as good as the Giants' bullpen was all month, when we look back on this team, we'll have a tough time looking past the starters. The batting average against the Giants' rotation in those 15 games? How about .194. Of the 32 World Series teams in the wild-card era, the only rotation that topped that was -- yep, here they come again -- the 2001 Diamondbacks (.175).
Now let's get away from opponent average and check the ERA column. Again, the ERA of the Giants' rotation in this postseason was a remarkable 2.23. Just two World Series teams in the wild-card ERA -- and only one World Series winner -- ever did better. One was -- guess who? -- those '01 D-backs (1.94). The other was a team with one of the great rotations of modern times (but an epic bullpen glitch) -- the 1996 Braves (1.59).
But unlike the Unit-and-Schill Diamondbacks, these Giants were a staff whose domination ran four starters deep. They had five different postseason starts, by three different starters, in which they allowed no earned runs. And the only World Series team ever to get that many starts of zero earned runs, with that many pitchers contributing, was the '96 Braves of
John Smoltz
,
Greg Maddux
and
Tom Glavine
.
And the fourth starter,
Jonathan Sanchez
, combined with
Tim Lincecum
for a total of three double-figure strikeout games by Giants starters in this postseason. That's tied for the most by any World Series champ in history with -- ta-daaaa, the '01 Diamondbacks.
Seven times in 15 postseason starts, the Giants' starter gave up no more than one earned run -- and all four starters did that at least once. Only two World Series winners in history ever got that many starts that good by four different pitchers -- the '99 Yankees (7, by
Roger Clemens
,
Andy Pettitte
,
Orlando Hernandez
and
David Cone
) and '98 Yankees (7, by the same foursome).
Four different times, the Giants had a starting pitcher go at least seven shutout innings and give up no more than four hits. So how many rotations in postseason history had ever done that? None. The old record was three -- by the '01 Diamondbacks (Johnson, Schilling) and 1999 Yankees (Clemens, Cone, El Duque).
And they threw four shutouts in their 15 games -- tying the all-time record for a single postseason, held by the 1905 New York Giants and the 1998 Yankees.
Finally, all this was accomplished by four starting pitchers age 27 or younger. Last team to win a World Series without starting a single pitcher 28 or older: the 1973 Oakland A's of Vida Blue, Catfish Hunter and Ken Holtzman. But I found only one other World Series team in the division-play era to use four starters that young (and no other starters). That was the 2008 Rays (
James Shields
,
Matt Garza
,
Scott Kazmir
,
Andy Sonnanstine
).
So any more questions about how the Giants won this World Series? Not by this blogger!
Part 2 -- Nuggets, anyone?
And now, in other news, here come my nine favorite World Series tidbits:
1.
Juan Uribe
was the everyday shortstop on the 2005 White Sox team that wiped out an 88-year title drought. This fall, he started all but two postseason games for a Giants team that won for the first time in 56 years. According to the Elias Sports Bureau, he's the first player ever to be a regular for two different teams that ended droughts of more than a half-century. Rowand, who also played for those '05 White Sox, could have joined him, but started only three games in this postseason.
2.
Cody Ross
hit eighth for the Giants in their first game of the postseason -- and hit fourth in their last game of the postseason. He was just the third player in history to start in both the No. 4 hole and the No. 8 hole in the same postseason, according to Elias. The others: Frank White for the 1985 Royals, and
Eric Chavez
for the 2000 A's.
3. Another great Cody Ross claim to fame: He batted cleanup in a World Series game after never hitting cleanup in any regular-season game all year.
Jorge Posada
also did that for the 2001 Yankees. But before him, no one had done it since Pepper Martin, for the 1931 Cardinals.
4.
Cliff Lee
may have gone 0-2 in this World Series, but I'm still ranking him as the greatest midseason pitching acquisition in history. He won four games in last year's postseason after the Phillies traded for him. He won three games in this postseason after the Rangers traded for him. According to Elias, he's the first pitcher in history to win at least three postseason games for two different teams that traded for him in midseason. And the only other pitcher who ever won three games in any postseason after being acquired in midseason was
Jeff Weaver
, for the 2006 Cardinals. So what do Weaver and Lee have in common? The Mariners traded both of them.
5. More on Lee: Before he came along, only one other pitcher in history had ever won even
one
postseason game for two different teams that traded for him in-season. That was the original "hired gun," David Cone, who won one apiece for the '92 Blue Jays and '95 Yankees.
6. Did
Aubrey Huff
just lay down the most unprecedented sacrifice bunt in World Series history? Here's a "yes" vote on that. Huff had gone to the plate 6,112 times in his career and racked up 5,505 official regular-season at-bats without ever executing a successful sacrifice bunt -- and then laid down his first one ever during the winning rally in the last game of the World Series. Are you kidding me? Huff ranks No. 2 on the list of most career at-bats by active players who have never had a regular-season sac -- and three of the top four
started
Game 5 of this Series:
7. Speaking of Burrell, he made the kind of history in this World Series that nobody wants to make: In 15 trips to the plate, he put only
two
balls in play. In his other 13 plate appearances, he walked twice -- and struck out in the other 11. No player who got that many plate appearances in any World Series ever hit that few fair balls. The only hitter who ever came close?
David Justice
, who had nine strikeouts, two fair balls and a walk in 12 trips for the 2001 Yankees.
8. One more reason this Giants title was so improbable: They spent only 36 days all season in first place. According to Elias, if you don't count wild-card teams, that's the fewest days spent in first place by any team that won the World Series in a quarter-century -- since the 1985 Royals won after a season in which they were in first for only 30 days.
9. Finally, here's why I'd love to give up making any predictions again for the rest of my life:
Edgar Renteria
played 72 games this season and drove in three runs or more in none of them. He played five games in this World Series, but drove in three runs in
two
of them -- both on one swing of the bat (i.e., two three-run homers). And if you saw that coming, your membership card to the American Clairvoyant Society is in the mail.