Jayson Stark:

Tampa Bay Rays
August, 8, 2013
8/08/13
3:34
PM ET
The past couple of days have reminded me of something I'd almost forgotten. There is life after A-Rod-Palooza.
There is a great baseball season going on out there, friends. So let's stop talking about that third baseman for the Yankees and start focusing on all the fabulous baseball stories that are roaring toward their dramatic conclusion.
And what stories do I have in mind? How about these Five Stories I'll Be Watching (Instead of That Guy):
[+] Enlarge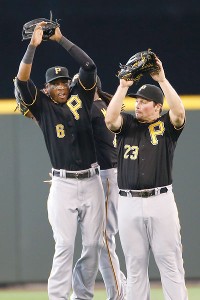 Otto Greule Jr/Getty ImagesIt's hard not to get excited about the Pirates.
1. The Pirates
The
Pittsburgh Pirates
are going to finish with a winning record, ladies and gentlemen. I have never felt more confident about saying that.
They are not going to have 10 pitchers undergo Tommy John surgery in the next 20 minutes. They are not going to lose 37 of their next 48 games. They are not going to reenact August and September of 2012, or August and September of 2011.
They're too good. They have the fourth-best run differential in the National League (plus-60). They've allowed the fewest runs in the major leagues (just 385) -- something they haven't accomplished over a full season since 1984. And opponents are hitting a ridiculous .229 against their pitching staff -- which would be the lowest average against any National League staff since Jim Deshaies' 1986 Astros.
I can't tell you these Pirates are going to win the World Series. I can't tell you they'll win any kind of postseason series. But they're still the best story in the major leagues. So let's just enjoy this ride. OK?
2. The races
The NL East race is over. The AL Central race feels like it's in guarded, but unstable, condition. And over in the NL West, the Dodgers have gained 14 .5 games in the standings on Arizona just in the past seven weeks. So we can see where that one is headed.
But the NL Central is shaping up as a must-see duel between the best offense in the National League (the Cardinals) and the best pitching staff (the Pirates) -- with nine riveting games left between these two teams. Sign me up for that.
And how about the AL West, where the Rangers just made a six-game Oakland lead disappear in a span of nine days. Those teams have two series left against each other. But the schedule, in general, favors Texas, which has the easiest remaining schedule of any AL contender, including 10 games left against their good friends from across the state, the Astros.
And then there's that AL East race, which has a chance to be the best of them all.
The Red Sox just became the first AL team to reach 70 wins -- and did it following a year where they didn't win 70 games all season. Think about that. Elias tells us they're the first AL team to pull off that trick (not counting strike-shortened seasons) since Harlond Clift's 1945 Senators, and (because those Senators got to 70 on the same day as the Tigers) the first to do it outright since George Herman Ruth's 1926 Yankees.
But then there are the Rays, owners of the best record in the whole sport over the past 81 games and a team so hot they just lost their first series in seven weeks. So pick against them at your peril.
And I'm not ready to write off the Orioles, who lead the major leagues in home runs and slugging, upgraded their pitching before the deadline and are currently on pace to become the first team in history to commit fewer than 50 errors in a 162-game season. (Heck, no one else in the expansion era has even finished a season with fewer than 60.) The Orioles have 16 games left against Boston and Tampa Bay. So stay tuned.
3. The awards
NL MVP:
Yadier Molina
was our midseason pick, but his knee issues are about to sabotage his MVP campaign. So are we ready for a starting pitcher (i.e.,
Clayton Kershaw
) to win this thing? Do guys like
Paul Goldschmidt
and
Joey Votto
have MVP finishes in them? And don't look now, but here comes
Andrew McCutchen
, whose credentials include this nugget: He,
Mike Trout
and
Carlos Gonzalez
are the only players in their league to rank in the top 10 in both stolen bases and slugging.
AL MVP:
Uh-oh. Here we go again. If you enjoyed that vintage, old-school/new-school
Miguel Cabrera
-versus-Mike Trout debate last year, get ready for Round 2. As Jared Cross wrote the other day, Trout has injected himself into what once looked like a Cabrera-
Chris Davis
MVP conversation by charging up those AL leaderboards. But if this keeps up, some great sabermetric minds are going to have to explain to the masses how it's possible that Trout leads Cabrera in offensive wins above replacement, but is trailing Cabrera overall because of (gulp) Cabrera's defense. Incredible, huh? But let's save that issue for another day.
AL Cy Young:
Felix Hernandez
can tell you all about how Cy Young voters have finally learned to de-emphasize wins. But let's see them try to factor out wins this year, when King Felix is leading the league in ERA but trying to make his case against a guy who is 16-1 (
Max Scherzer
) -- and first in his league in WHIP, lowest opponent average and lowest opponent OPS. Can't wait for that debate.
NL Cy Young:
With all due respect for the awesome seasons of
Adam Wainwright
,
Matt Harvey
,
Madison Bumgarner
,
Patrick Corbin
,
Francisco Liriano
,
Craig Kimbrel
, etc., all Kershaw does every five days is remind us that he's the best pitcher in baseball. Still. Just so you know, if Kershaw can finish with the ERA (1.91), WHIP (0.88) and opponent average (.188) he has now, the only pitchers in the live-ball era who have ever been in that neighborhood (or better) over a full season are Bob Gibson,
Greg Maddux
,
Pedro Martinez
, Sandy Koufax and Luis Tiant. Whoever they are.
Rookies of the Year:
In the AL,
Jose Iglesias
has a shot to become the first rookie of the year ever to get traded in midseason. But
Wil Myers
can screw up that claim to fame. And in the NL, this remains one of the wildest rookie-of-the-year free-for-alls ever, with
Jose Fernandez
,
Shelby Miller
,
Hyun-Jin Ryu
,
Julio Teheran
,
Evan Gattis
and
Yasiel Puig
all making cases for themselves that are going to require many, many Advil for the ROY electorate.
[+] Enlarge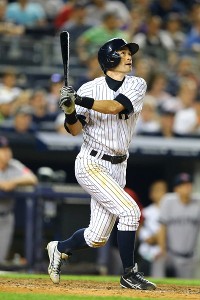 Al Bello/Getty ImagesIchiro Suzuki is about to enter some rarefied air.
4. The 4,000-hit man
The folks obsessed with a certain troubled third baseman may differ. But in my neighborhood, the most interesting story in Yankees Land this month revolves around a man who is chasing a number very few living humans have ever seen chased.
That man is
Ichiro Suzuki
. That number is 4,000.
And no, that isn't how many reporters from his homeland follow Ichiro around every day. It's the number of hits he's about to have on his permanent record if we count the 1,278 hits he spewed in his nine seasons in Japan.
At the moment, he finds himself just 11 hits away. And I hope you don't let that milestone go whooshing by you too quickly before you stop to think about what it means.
The last time we witnessed anyone getting his 4,000th hit was April 13, 1984, when Pete Rose collected No. 4,000 off Jerry Koosman, in a stadium we no longer find on the baseball map (the late, great Stade Olympique in Montreal).
Just for perspective's sake, the Hit King got that 4,000th hit in his 3,259th game. That's nearly 200 more than Ichiro has played (3,075) on both sides of the Pacific. Which means he's going to beat Rose to No. 4,000 by more than a full season. Wow.
The only other 4,000th hit ever? Ty Cobb got that one -- on July 18, 1927. So if you weren't hanging out at old Nevin Field in Detroit that day 86 years ago, you've never seen any American Leaguer do what Ichiro is about to do. Pretty mind-boggling feat -- on any continent.
5. History majors
Finally, here's just a taste of some of the historic pursuits you can keep your eye on over the next two months:
Chris Davis:
On pace for 58 home runs, 102 extra-base hits, 151 RBIs and 72 more extra-base hits than singles. There has never been a season like it.
Mike Trout:
He's leading the American League in walks. He's tied for the league lead in hits. And if he can wind up leading in both categories, he'd be only the fifth player since 1900 to do that in the same season. The others: Rogers Hornsby, Richie Ashburn, Carl Yastrzemski and Lenny Dykstra.
Joey Votto:
See that note above? How unreal would it be if two men finished first in their league in hits and walks in the same season? Well, Votto has a shot, too. He has a big lead in walks. He's three behind
Jean Segura
for the lead in hits. And Votto and
Shin-Soo Choo
have an outside chance to become the second set of NL teammates ever to reach base 300 times apiece (via hit, walk and HBP) in the same season. The other:
Jeff Bagwell
and
Craig Biggio
, for the 1997 Astros.
Miguel Cabrera:
And then there's Miggy. He might not win the Triple Crown for a second straight year. But if he can stay healthy enough to get on the field regularly, Cabrera still has a chance to do something no Triple Crown winner has ever done -- hit that trifecta one year and then have a better season the next year.
Here are Cabrera's numbers from last season, and his projected numbers for this season. This is truly amazing:
2012:
.330/.383/.606, 44 homers and 139 RBIs
2013:
.359/.453/.668, 48 homers and 148 RBIs
I chronicled this a few months ago, but here it is again just to help you digest this man's greatness: Only one Triple Crown winner in history (Ted Williams) ever drove in more runs the following year. Just two (Williams and Mickey Mantle) had a better batting average the next season. And none of them hit more home runs The Season After. But this guy could do all of the above.
So once again, we find ourselves drawn to the flat screen every time Miguel Cabrera starts marching toward home plate. And that beats watching A-Rod-Palooza every day of every week. Don't you think?
May, 11, 2013
5/11/13
1:21
PM ET
If you've perused those box scores from Friday night and your head hasn't exploded yet, there's good news. Three Strikes is here to help you digest the amazing stuff that just happened on a baseball field near you!
Strike One -- K's on the Cobb
We can end the competition for Box Score Line of the Year right now. Let's just hand it to
Alex Cobb
, who spun off this line for the ages in the Rays' 6-3 win over San Diego on Friday:
4 2/3 IP, 5 H, 3 R, 3 ER, 2 BB, 13 K, 1 WP, 1 HBP, 1 balk
Want to attempt to digest that? Great. Let's do it.
• 13 strikeouts, 14 outs? The Elias Sports Bureau tells us that's never been done, in any other game ever played. And there's a good reason for that: It's almost impossible. The fewest innings anyone had ever pitched before this in a 13-strikeout game was five, by
Zack Greinke
this past Sept. 25.
• Of course, to be technical, Cobb did get two outs that weren't whiffs, given that one of his strikeout victims reached base on a wild pitch -- as part of one of the craziest innings in baseball history. Ready for the wacky details?
[+] Enlarge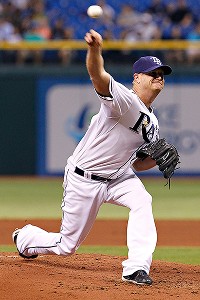 Kim Klement/USA TODAY Sports The Rays' Alex Cobb did the unthinkable Friday night, striking out 13 batters in 4 2/3 innings.
The third inning of this game went: Strikeout/wild pitch, steal of second, strikeout, steal of third, strikeout, run-scoring balk, strikeout.
Got that? According to Elias, it was the first inning ever played in the history of baseball in which a pitcher struck out every hitter he faced – and still gave up a run. Try that on your Xbox 360 some time.
• But wait. Let's think this through another way. As a bunch of our loyal tweeters put it, this guy just had an inning with no hits, no walks, no hit batters and four strikeouts – and he still gave up an earned run!
I asked Retrosheet founder Dave Smith to run that feat through his hard drive Saturday. His verdict, after checking every game since 1951: No pitcher in the Retrosheet files had ever pulled that off. The only other four-strikeout innings that produced an earned run all featured at least one hit.
• One more insane twist to this game: The Rays had had their starting pitcher go at least five innings in
every
game this season -- until this one. It's the second-longest streak to start a season in the 97 seasons for which those records are available. Then Alex Cobb broke that streak -- but set Tampa Bay's season high for strikeouts in a game -- on the same night. Hard to do, friends.
• Another amazing part of this game: Cobb threw 77 strikes (out of 117 pitches) and didn't even make it through the fifth inning. According to baseball-reference.com's fabulous Play Index, only one pitcher in the pitch-count era ever threw more strikes in any game without going five innings:
Mark Gardner
(81, in 4 2/3 IP and 122 pitches) on Aug. 18, 1996.
One huge difference between Gardner and Cobb, however: Gardner had 23 of those 81 strikes put in play. Cobb allowed only
seven
fair balls -- and still didn't get through the fifth.
• Cobb had nine strikeouts through three innings and 11 strikeouts through four. As SABR research genius Trent McCotter reports, both are record-tying feats.
Last AL pitcher to strike out nine in the first three innings: Ron Guidry, on May 10, 1986.
The only other AL pitchers known to have struck out 11 in the first four innings: Greinke in that September game and Nolan Ryan on April 8, 1978.
• Finally, I thought this list would be fun: Fewest outs in a game of X strikeouts:

Fewest outs in a game of 16 K's -- 20 (Randy Johnson, Sept. 27, 2001)

Fewest outs in a game of 15 K's -- 21 (last by Max Scherzer, May 20, 2012)

Fewest outs in a game of 14 K's -- 17 (Max Scherzer, May 30, 2010)

Fewest outs in a game of 13 K's -- 14 (Alex Cobb)

Fewest outs in a game of 11 K's -- 16 (Cole Hamels, July 24, 2006, & J.R. Richard, June 9, 1978)

Fewest outs in a game of 10 K's -- 13 (Bill Caudill, Aug. 17, 1979 & Norm Charlton, Sept. 14, 1989)

Fewest outs in a game of 9 K's -- 10 (Roy Halladay April 3, 2013)
Strike Two -- Near-Perfecto Night in America
Dazzling Cardinals rookie
Shelby Miller
didn't quite pitch a perfect game Friday night – but he did something that's even more rare:
He allowed a hit (a broken-bat hit, as a matter of fact) to the first hitter of the night -- then chewed through the final 27 hitters he faced.
So how about this: There have been 23 perfect games pitched in baseball history. But as loyal research whiz Trent McCotter reports, this was only the
ninth
known game in which a pitcher did what Miller did – allow the first batter of the night to reach base and retire the next 27. Here are the other eight:

Cy Young -- June 30, 1908

Bullet Joe Bush -- Aug. 26, 1916

Curt Simmons -- May 16, 1953

Robin Roberts -- May 13, 1954

Woodie Fryman -- July 1, 1966

Jim Bibby -- May 19, 1981

Jerry Reuss -- June 11, 1982

John Lackey -- July 7, 2006
• Young and Bush pitched no-hitters in which the first hitter reached. So Miller's was just the seventh game in which a leadoff
hit
stood in the way of a perfect game.
• Along the way, Miller struck out 13 of those final 27 hitters -- the most ever in a game like that. The only other double-figure strikeout games in that group: Lackey and Simmons whiffed 10 apiece.
• But of course,
Jon Lester
also came within one hit (in the seventh inning) of a perfect game Friday. And that made this the first day in baseball history, according to Elias, in which two pitchers threw complete-game shutouts of nine or more innings, featuring just one hit (or none) and zero walks. Very cool.
• Then again, those 28-batter complete games are rarities in themselves. This was only the third day in the expansion era in which two starters threw nine-inning complete games on the same day and each of them faced no more than one hitter over the minimum. The other two:
How 'bout that group? One set of living legends (Bob Gibson/Steve Carlton) -- and Odalis Perez/Shawn Estes. You've gotta love baseball!
• Finally, loyal tweeter Brian P. (@Turbo_Pig) wondered whether Miller is the first pitcher to rip off three starts (since his debut last season), this early in his career, of at least six innings and no more than one hit allowed. Here's what we found:
Miller is the only pitcher in the 97-season Play Index era to have three starts like that in the first 13 games of his career (just eight of them starts). But we found seven pitchers who have had two games like that. And it's quite a list:
Matt Harvey
,
Josh Beckett
, Wally Bunker, Marvin Freeman, Chris Nabholz,
Armando Galarraga
and (of course) Cisco Carlos.
Strike Three -- In Other News
• You've gotta love
Jose Altuve
. He's 5-foot-5 – and he has batted third for the Astros in
four games in a row
. He's the first player whose listed height was that minimal to spend four straight games in the prestigious No. 3 hole since another 5-5 dynamo, Albie Pearson, did it for those 1958 Washington Senators on Sept. 9-10-11-12.
•
Craig Kimbrel
did something Tuesday that has happened in only one other game in history: He struck out the first two hitters in the ninth -- then gave up game-tying and game-winning home runs to the next two!
The only other game like it, according to the Sultan of Swat Stats, SABR home run historian David Vincent: May 22, 1964 (Twins-Orioles). Brooks Robinson and Boog Powell K'd for the first two outs. Then Sam Bowens and John Orsino hit the game-tying and game-winning homers -- off two different pitchers (Gerry Arrigo, Bill Fischer). Hey, of course, they did!
• Finally,
Chase Utley
and
Ryan Howard
joined one of history's coolest groups this week. According to the Sultan, they became the 14th set of teammates to homer in the same game at least 50 times. How about the other names in that club:
Hank Aaron/Eddie Mathews 75

Lou Gehrig/Babe Ruth 73

Willie Mays/Willie McCovey 68

Gil Hodges/Duke Snider 67

Ron Santo/Billy Williams 64

Bob Allison/Harmon Killebrew 61

Dwight Evans/Jim Rice 56

Joe Adcock/Eddie Mathews 56

Yogi Berra/Mickey Mantle 55

Jay Buhner/Ken Griffey 53

Orlando Cepeda/Willie Mays 50
December, 10, 2012
12/10/12
1:39
PM ET
Like the rest of the baseball world, I'm still trying to digest that stunning Rays-Royals trade Sunday night. Unlike the rest of the baseball world, I'd like to hit you with some tidbits on that deal from the annals of the hallowed Useless Information Department.
Before we launch into the Three Strikes portion of this program, though, here's a little trivia question for you:
James Shields
is one of four pitchers with at least 200 strikeouts and 15 wins in each of the last two seasons. Think you can name the other three? Good luck. (Answer later.)
Strike One -- Where There's A 'Wil' Dept.
1

The Royals developed Wil Myers into Baseball America's minor league player of the year. Yet, amazingly, he's going to wind up playing as many games in their uniform as Justin Bieber:
Zero.
And that, ladies and gentlemen, is a first. The BA player of the year award has been handed out for 32 seasons now. And how many of the previous 31 winners wound up getting traded before they'd played a single game for the team that developed them?
Not a one. Of course.
In fact, I found only four previous winners who followed even remotely similar paths. Here are those players, and how much time they logged for their original teams:
• Sandy Alomar Jr. (Padres) -- eight games, 23 plate appearances. Won the award in 1989. Traded to Cleveland in December, 1989.
•
Jon Rauch
(White Sox) -- 10 games, 37.1 innings. Won the award in 2000. Traded to Montreal in July, 2004.
•
Paul Konerko
(Dodgers) -- 55 games, 166 PA. Won the award in 1997. Traded to Cincinnati in July, 1998.
•
Derek Bell
(Blue Jays) -- 79 games, 219 PA. Won the award in 1991. Traded to San Diego in March, 1993.
For what it's worth, Alomar wound up playing for seven teams. Rauch played for six (assuming you count the Expos and Nationals as the same team). Bell played for five. And Konerko played for three, although he's spent the last 14 seasons with the White Sox.
Anybody think Tampa Bay is Myers' last stop? Right. Thought so.
Strike Two -- Shields Not Your Average Royal Dept.
I know people debate whether Shields is a true No. 1 starter. But I also know this:
You can count the number of pitchers like him who have pitched for the Royals on one hand. Take a look: As I mentioned in that trivia question, Shields has run off back-to-back seasons of 200-plus strikeouts and 15-plus wins.
In the history of the Royals, I count 199 different pitchers who have started at least one game. And, according to the brand new 2013 edition of Lee Sinins' fabulous Complete Baseball Encyclopedia, you know how many 15-win, 200-whiff seasons those 199 starting pitchers have had COMBINED?
Shields
That would be two -- one by
Zack Greinke
in 2009, the other by Dennis Leonard in 1977. And that's it. So Shields has had as many seasons like that by himself in the last two seasons as all those Royals pitchers have had in the last 44 seasons. Unreal.
• Shields has thrown six complete-game shutouts in the last two seasons. All Royals starters put together have thrown seven in the last SIX seasons -- three by Greinke, two by
Luke Hochevar
and one each by
Gil Meche
and
Bruce Chen
.
• Shields has now ripped off six straight seasons with more than 200 innings pitched. Only one Royals starter in history has ever done that: Leonard (seven in a row, from 1975-81).
And only one Royals starter in the last 25 years has strung together more than three straight 200-inning seasons:
Jeff Suppan
(four in a row, from 1999-2002).
• Finally, Shields has now had three straight seasons with a strikeout rate of better than eight punchouts per nine innings. So know how many Royals do you think have even done that in more than ONE season in a row, while pitching over 200 innings?
The answer: Exactly two: Greinke in 2008-09 and
Kevin Appier
in 1995-96. And no Royals starter has ever had three seasons in a row like that.
In case you were wondering (and of course you were),
Bret Saberhagen
and
David Cone
had zero seasons like that -- in Kansas City, at least.
So I understand the heat Dayton Moore is taking for giving up at least six years of control of Myers, plus three other high-upside young players, for two years of control of Shields and up to five years of control of
Wade Davis
. But as you've just read, this is a franchise that has employed only a handful of starting pitchers in its history with the talent and track record of Shields -- Greinke and Leonard, Saberhagen and Cone. And that's probably all, folks.
So what is James Shields doing in Kansas City? That's what.
Strike Three -- Useless Info Dept.
In other tidbits ...
1

• In Shields' final start with the Rays, he struck out 15 Orioles -- and now he's gone. Well, you sure don't see that much. According to the Elias Sports Bureau, only one other pitcher since 1900 piled up as many 15 strikeouts in a game for any team and then hit the exit ramp:
Ron Villone
, who had a 16-K game in his last start for the Reds on Sept. 29, 2000, then got traded to Colorado that winter. Anybody out there have THAT name on the tip of their tongue?
• Incidentally, that gem by Shields was a 15-whiff, ZERO-walk game. So guess how many Royals in history have struck out at least 15 hitters in a game in which they walked no one? Yep, not a one. Then again, there has only been one 15-plus-strikeout game of any variety in Royals history -- by Greinke, on Aug. 25, 2009, against the Indians (15 K, 1 BB).
• Don't forget how grim life has been in Kansas City over the last couple of decades. Over the last 18 seasons, the Royals have had a winning record exactly ONCE (in 2003). The citizens of Pittsburgh can relate to that. But other than the Pirates (zero winning seasons) and Royals, only three other teams that have been around that long have fewer than five winning seasons in that period:
Pirates 0
Royals 1
Orioles 3
Brewers 4
Nationals/Expos 4
• Finally, Rays PR genius Dave Haller reports that, with the exit of Shields, the Rays are down to one player who ever wore the beloved black and teal uniforms of the late, great "Devil Rays." And who would that be? Mr.
Ben Zobrist
, ladies and gentlemen. (Played 83 games for the 2006-07 Devil Rays before they zapped the "Devil" from their name.)
TRIVIA ANSWER:
Who are the three pitchers besides Shields who have been in that 200-K, 15-win club in each of the last two seasons?
Justin Verlander
is one. Greinke is the second. And if you knew
Yovani Gallardo
was the third, I'm guessing you've probably eaten at least 11 bratwursts in the last calendar year. Or you had him on your fantasy team.
September, 14, 2012
9/14/12
12:31
PM ET
Here we go again. It's time for another edition of the Five Astounding Facts of the Week:
1

If you live in our nation's capital, or thereabouts, we advise you to stare long and hard at those standings today -- because you'll be taking in a sight that folks in Washington haven't witnessed since the early days of the Franklin D. Roosevelt administration:
The Nationals are 35 games over .500.
It's the first time a team from D.C. has reached those heights since 1933 -- and, incredibly, only the fourth time ever. The only other seasons where that happened? That would be 1930 and 1925. Anybody got a number for Walter Johnson? We need to get his joyful reaction.
2
When
B.J. Upton
launched three home runs against the Rangers last Sunday, he wasn't merely the first Upton brother to make three trots in one game. He was also ...

Upton
• Only the seventh American Leaguer in the live-ball era to go deep three times as a leadoff hitter -- and the first since a guy from Oakland who was
not
named
Rickey Henderson
(
Ernie Young
, on May 10, 1996).
• The third man in this millennium to hit three home runs (or more) in a game where the team he was playing didn't even get
three hits
. The others:
Jonny Gomes
(against the Nationals) on Aug. 13, 2009 and
Geoff Jenkins
(against the Padres) on May 21, 2003.
3
Something else happened in that game that got the attention of loyal reader Michael Young (no, not
that
Michael Young). Rangers reliever
Yoshinori Tateyama
compiled one of those box-score oddities that makes laptops explode all around the globe:
Tateyama
One inning pitched -- but only two pitches thrown.
How'd that happen? Simple. Tateyama arrived in the eighth inning with a runner on first, then got a
Jose Molina
double-play ball on his first pitch, and an Upton groundout on his second pitch.
What's up with that: According to baseball-reference.com's
awesome Play Index
, Tateyama was the first pitcher to get three outs on two pitches in over four years -- since
Bobby Jenks
did it on April 15, 2008.
But as Young pointed out, this two-pitch inning was extra efficient, because the pitcher who preceded Tateyama (
Martin Perez
) only threw one pitch in the inning himself. So what was the last tag team to combine on an inning like that? How 'bout the unforgettable Mets duo of Dwight Gooden and Anthony Young, who did it in the eighth inning of a July 21, 1993 game in San Diego. Who knew!
4
Rosario
Rockies catcher
Wilin Rosario
did something Sunday that's almost unheard of -- without the assistance of somebody like
Tim Wakefield
or a Niekro brother, that is:
Rosario racked up not one, not two, not three, but
four
passed balls in one game Sunday -- without a single knuckleballer throwing a pitch.
So how rare is that? Well, the Elias Sports Bureau reports that there have been 15 other games since 1980 in which a catcher had at least four passed balls -- but only two of them took place without a knuckleball being thrown. The others:
• Jerry Goff (Astros) on May 12, 1996 -- a six-PB extravaganza in which Goff hooked up with three non-knuckleballers (
Mike Hampton
,
Jeff Tabaka
and Anthony Young) for two passed balls apiece.
• Dave Nilsson (Brewers) on July 17, 1993 -- a game in which Nilsson and Jaime Navarro combined for four PBs in five innings.
And what's the most astounding part of all? Anthony Young has now worked his way into this blog twice -- and neither note had anything to do with his fabled 27-game losing streak. Who would have thought that was possible?
5


Finally, if there are two teams this season that our Five Astounding Facts private eyes are especially grateful to have around, it's those amazing Oakland A's and the equally amazing
Houston Astros
-- for different reasons, of course. And now (ta-taaaa) we've found a way to combine them in the same Astounding Fact! Ready? Here it comes:
The A's just won 12 road games
in a row
!
The Astros, meanwhile, have also won 12 times on the road
in their past 61 games
(away from home sweet Minute Maid).
Ladies and gentlemen, even the Five Astounding Facts crew couldn't make this stuff up.
August, 16, 2012
8/16/12
7:03
PM ET
Welcome to another edition of Five Astounding Facts:
1
Thanks to the great
Felix Hernandez
, the Mariners just became the first team in 40 years (since the '72 Cubs) to throw two no-hitters in the same season that weren't started by the same pitcher. But we're going to climb to the peak of Mount Rainier and venture this guess:
You'll never find two no-hitters more different than these two. Here's why: The winning pitcher in their first no-hitter, that June 8 six-pitcher special, was their third reliever of the game,
Stephen Pryor
. And he got only ONE out. But he allowed more baserunners (via two walks) in his one-third of an inning than King Felix did in all nine innings he was out there. Try pulling that off on your next trip to the "MLB 2K12" Perfect Game Club. We dare you.
Hernandez
2
We've heard of some bizarre niches in sports, but specializing in getting no-hit? That's the Rays' bizarre claim to fame. They've now been on the wrong end of four no-hitters in the past four seasons -- by
Mark Buehrle
(2009),
Dallas Braden
(2010),
Edwin Jackson
(2010) and King Felix (2012).
So how many other teams since 1900 have gotten no-hit four times in four years? Not a one, of course. The A's did it four times in six years, from 1969 to '74, and the Phillies did it four times in five years TWICE (1960-64 and 1968-72).
And ohbytheway, just to put this in some sort of perspective, the Yankees have been no-hit four times in the past 95 seasons.
3
Then there's Safeco Field, rapidly becoming one of the great no-hit emporiums of modern times. This makes three no-hitters thrown at Safeco in just the past four months. So how does that compare to other parks out there? We'll tell you how:
• In Kansas City, Kauffman Field has hosted three no-hitters in its history -- in 40 seasons. Wrigley Field has been the site of ZERO no-hitters, by either team, in the past 40 seasons. And Shea Stadium was around for 45 seasons -- and hosted just two no-hitters. Then again, in a related development, the Mets played there.
4
In astounding non-no-hitter news, we saw something Tuesday that we'd never seen before: In one game that day (Reds-Mets), the only scoring came on a home run by the last hitter in the game (
Jay Bruce
). In the other (Marlins-Phillies), the only scoring came on a home run by the first hitter in the game (
Jimmy Rollins
).
Well, there was a good reason we couldn't remember ever having seen that. According to the Elias Sports Bureau, it was the first day in history to feature two games that met that description. Yep, that explains it!

Alvarez
5
Finally, if you have a big, shiny, yellow sombrero sitting around the house, you might want to ship it to the Pirates' favorite free hacker,
Pedro Alvarez
. He deserves it. On Wednesday, he racked up his third career "golden sombrero" (going 0-for-4 with four strikeouts). But what made this one special was that it came in a game he didn't even start. (He entered after a
Neil Walker
injury in the first inning.) So how hard is THAT? Glad you asked.
According to Baseball-Reference.com's indispensable Play Index, here is
Alvarez's place in golden sombrero history
:
• He's the first position player to pull off a sombrero in a game he didn't start in 41 years -- since White Sox catcher Tom Egan did it (after pinch hitting for the pitcher) on Aug. 21, 1971.
• He's the first National League position player to do it in 67 years -- since Brooklyn Dodgers shortstop Eddie Basinski went sombrero shopping in a 15-inning game Aug. 13, 1945.
• He's the first NL position player to do it in a nine-inning game in nearly 80 years -- since New York Giants third baseman Johnny Vergez spun a slightly tainted sombrero (by a walk) on July 7, 1934.
• And he's just the fifth position player, period, to earn a sombrero, without starting the game, in the live-ball era.
This means, when you think it through, what Pedro Alvarez did Wednesday was actually more rare than what Felix Hernandez did. Who knew?
March, 9, 2012
3/09/12
2:46
PM ET
You didn't have to be a descendant of Carl Sagan to detect we had a full moon shining on spring training this week. Consider this:
Rays ace
David Price
had to leave a game with a neck spasm -- because he was toweling off between innings, got the towel caught on the hair on the back of his head and spun his neck around like he was auditioning for a remake of "The Exorcist."
"We might need more fabric softener in the towels," manager Joe Maddon told Tampa Bay Times dugout-linens aficionado Marc Topkin.
Then there was Yankees setup king
David Robertson
, who sprained his foot -- while carrying boxes down the stairs -- and had to deny that his wife was chasing him down the stairs at the time.
Hey, it's always a thrill to welcome mishaps like these into the Spring Injury Hall of Fame. And since I've been compiling these calamities for close to 20 years now, it's time to put them in perspective -- by presenting the 10 Greatest Spring Training Injuries of All Time, according to a distinguished committee comprised of, well, me.
•
10th prize
:
Carlos Baerga
cut his finger in 2003 -- when he went to hand money to his cousin to pay for gas at a gas station, and got the car door slammed on his hand. Just one more reason to pay at the pump.
•
9th prize
:
Rich Harden
strained his shoulder in 2004 -- trying to turn off his alarm clock. Turned out that, for once, this was one Rich Harden injury that was nothing to be, ahem, alarmed about.
•
8th prize
:
Mo Vaughn
missed a game in 2000 -- after a piece of leaky ceiling dropped into his eye. "We're meeting that curse head-on," said manager Mike Scioscia. "We're not going to let a little drywall stop us."
•
7th prize
: Cardinals pitcher
Cliff Politte
(1998) missed a start when he stepped on a pair of pliers he was using to tighten his spikes. Just one more reminder that it's always good to avoid a little tightness in the spring.
•
6th prize
: Rays pitcher
Bryan Rekar
burned two fingers in 2004 -- on his lawn mower. That's an injury that ought to be impossible in spring training, except in the case of the only team in baseball that was training (at the time) in its hometown. "Usually," said manager Larry Rothschild, "you'd be in a hotel, and you wouldn't have to mow the carpet."
•
5th prize
: You'd think it would at least be safe to travel TO spring training. But it didn't work out that way for Blue Jays pitcher Huck Flener in 1997. He was flying to Florida when a briefcase flew out of the overhead rack, drilled him in the shoulder and chipped his collarbone. Guess he should have driven.
•
4th prize
: Padres reliever
Jay Witasick
missed a week and a half of spring training in 2003 after straining his elbow -- while throwing out a trash bag. It still ranks as the worst, um, waste pitch of his career.
•
3rd prize
: Talk about having a rough day at the office. On the same day in 2004, Marlins pitcher
Bryce Florie
pulled a rib-cage muscle while throwing, then had a bad dream in the middle of the night that caused him to jump out of bed and slam into the glass on his sliding door. He wound up in the emergency room and had to have 15 stitches to stop a cut in his chin. "I need to drive back home and start all over again," he told the Miami Herald's Clark Spencer.
•
2nd prize
: Phillies pitcher
Amaury Telemaco
was just minding his own business in 2000, working out on a back field behind the late, great Jack Russell Stadium when teammate
Rico Brogna
smoked a BP home run that flew over the right-field wall -- and drilled him on the arm. I bet he's still wondering how THAT happened. "Tons of people cross by that same spot every day," he told me at the time. "They come. They go. They never get hit. I used to be with the Cubs, and Sammy [Sosa] hits all those bombs on Waveland Avenue. Everyone there is OK. So why me?"
•
And the greatest spring training injury of all time is
... Brewers knuckleballer Steve Sparks will never live down this 1994 classic. After the team brought in a group of motivational speakers whose routine included ripping up phone books to demonstrate mind-over-matter techniques, Sparks decided to try the same trick -- and dislocated his left shoulder. Not only was this one of the freakiest injuries ever, trainer John Adam told the Milwaukee Journal Sentinel's Tom Haudricourt, but it was also one of the most annoying -- "because I had to look up a number later."
If you have a favorite spring injury I missed, please tweet it at me, at @jaysonst. Can't wait to peruse them all. Won't hurt a bit!
February, 9, 2012
2/09/12
8:42
PM ET
We think of spring training as a time when the palm trees sway in the breeze, when sunshine brings the boys of summer out of hibernation, when every team has hope -- or at least a convenient case of amnesia.
But this spring training, you won't just find those customary springtime dreams hanging in the tropical air. You can also expect to find some real, live, juicy trade rumors.
"I really think," said one NL executive this week, "there will be a little more [trade] activity in spring training than normal. You've got some interesting names out there -- and a lot of guys who are out of options who are decent players."
So who are those guys? Here's a list of five players whose names are already being floated -- and could legitimately get traded between now and Opening Day:
•
Joe Blanton

Blanton
If there's one thing the Philadelphia Phillies desperately want to avoid this year -- besides running into
Chris Carpenter
again in October -- it's writing a luxury-tax check. And more and more, it appears their only hope of escaping that fate is to trade Blanton, who will make $8.5 million this season.
So it was no shock to hear this week that they'd already begun calling around, letting other clubs know he was available. If they can move him before spring training and not have to eat a significant chunk of his salary, it might enable them to bring back
Roy Oswalt
-- although Oswalt's continuing quest for a contract that pays him in the neighborhood of $10 million could make that a moot point.
But teams that have spoken with the Phillies say they're looking to trade Blanton whether they pursue Oswalt or not, because moving him this spring would give them the financial flexibility to address other needs during the season and, with any luck, dodge the luxury-tax man.
There are rumblings that they have at least mild interest from teams, such as the Pittsburgh Pirates and Baltimore Orioles. Nevertheless, there's next to no chance they can deal Blanton before clubs get a chance to see him pitch this spring. After all, would you deal for a guy who just spent 127 days on the disabled list because of elbow trouble (and never did have surgery) without seeing him throw first?
Exactly. So we can almost guarantee this man will be a Rumor Central attraction all spring.
•
John Lannan

Lannan
Thanks to the miracle of arbitration, Lannan will make $5 million this season. And with the Washington Nationals' signing of
Edwin Jackson
, their trade for
Gio Gonzalez
and the return of
Stephen Strasburg
, they don't especially need the guy.
So the Nationals are already dangling Lannan to every team they think has even a remote need for a 27-year-old left-handed innings-eater. Among the clubs who appear to fit that mold: The aforementioned Pirates and Orioles, plus the Boston Red Sox and New York Mets.
It doesn't figure to be easy to build a market for a guy with a 1.42 career WHIP, a $5 million salary and zero winning seasons on the back of his baseball card. But when we asked an exec of one team that had spoken with the Nationals if they appeared committed to dealing Lannan this spring, his answer was: "100 percent."
•
A.J. Burnett

Burnett
All of a sudden, the New York Yankees have too many starting pitchers. What a concept. So if there's any prayer of moving Burnett, who has $33 million coming over the next two years, this team will jump at it.
The good news is that Burnett still has a live enough arm -- and four consecutive seasons of 32-plus starts -- to be intriguing. The bad news is that he'll make $16.5 million in each of the next two seasons. And he's the only qualifying starter in baseball who has racked up ERAs over 5.00 in each of the past two seasons.
But where is he going? The Yankees would never do business with the Red Sox or Mets. And while Burnett would seem like a fit in Baltimore (where he has family ties), the Orioles and Yankees have hooked up for precisely one trade of major league players in the past two decades.
So that appears to leave the Pirates, a team that seems to have legitimate interest in him. And the Yankees are said, according to sources, to have targeted
Garrett Jones
as an answer to their quest for a left-handed-hitting outfielder/DH type.
However, the Pirates have told several teams that inquired about Jones that they're not inclined to move him. And the Yankees have been telling other clubs they won't chew on a huge percentage of Burnett's salary if they don't get a useful player back. So this could easily drag on into spring training -- and beyond.
•
Bobby Abreu

Abreu
An executive of one NL team predicted recently: "There's no team in baseball more likely to make a deal this spring than the Angels."
It's not all
Albert Pujols
' fault, but Pujols' arrival did set off a ripple effect that leaves this team with too many first-base/outfield/DH guys to fit on one roster, let alone one baseball field. So somebody has to go, and Abreu sure seems like the most logical player to move -- if the Los Angeles Angels can find a team to take him.
That's especially the case if
Kendrys Morales
is healthy enough to DH, because that would wipe out Abreu's only real hope for playing time. The Angels don't have any need or any reason to play him in the outfield.
Ideally, they would love to trade him for more bullpen inventory. But an official of one club that spoke with them reports "they'd do it for a middling prospect, just to move the money" -- which happens to be $9 million, if you're ringing your personal cash register at home.
Abreu, who turns 38 next month, can still draw a walk, steal a base (going 21-for-26 last year) and slap a ball up the gap. But he slugged a career-low .364 last season. And one scout who has seen a lot of him said this week: "He doesn't drive the ball much anymore. He's not very good in the outfield. And he makes a ton of money. So I really don't think he'll have much of a market."
•
Jeff Niemann

Niemann
The Tampa Bay Rays have been listening to trade proposals for both Niemann and
Wade Davis
for months now. But they actually appear less likely to move either of them than they were three months ago. When the offseason began, they thought they might have no choice but to trade a pitcher to fill their offensive holes, because the prices on the free-agent market seemed likely to soar beyond the means of a team whose entire roster made less than half as much money last season ($39.1 million) as the Yankees' starting infield ($78.5 million).
But that's not how it worked out. The Rays were able to scrape up enough loose change in the piggy bank to sign
Carlos Pena
,
Luke Scott
and
Jeff Keppinger
. And now, teams that have spoken with them report they're back to telling other clubs they'll still listen -- but they're not actively looking to move any of their starting-pitching depth.
If they do trade any of their starters, though, Niemann figures to be the guy. He's about to turn 29 this month. He just took his team to arbitration. And he's become only a back-of-the-rotation or long-relief option for a club that can roll out
David Price
,
James Shields
,
Jeremy Hellickson
and everybody's favorite phenom,
Matt Moore
.
At $2.75 million, he's only getting pricey by the Rays' standards, not by the standards of clubs looking for pitching. So he's a guy well worth keeping an eye on this spring. And that shouldn't be too hard, considering he'll be the only 6-foot-9, 260-pound behemoth on the field.

Other names who could get traded:
Gavin Floyd
(White Sox),
Koji Uehara
(Rangers),
Jake Westbrook
or
Kyle McClellan
(Cardinals),
Mark Trumbo
(Angels),
Brandon Inge
(Tigers).
April, 7, 2011
4/07/11
11:52
AM ET
As you might have
read in this space, oh, about 24 hours ago
, it might not seem like a big deal to start out a baseball season 0-4 -- but it is.
So you don't need to be an M.I.T. graduate to assume it's an even worse idea to sink to 0-5. But since many of you -- several of whom appear to be from the New England area, for some odd reason -- have been asking for an update on Wednesday's 0-4 research, here's a quick look at The Perils of 0-5:
• The Elias Sports Bureau tells us that before the Red Sox, Rays and Astros tried this trick this year, 85 previous teams since 1900 had started a season 0-5 or worse. Only two of them lived to play a postseason game -- the 1974 Pirates (88-74) and 1995 Reds (85-59). And just so you're ready, if the Red Sox, Rays and/or Astros make it six losses in a row, you can save the tweets and emails asking for another update. Both those teams actually were 0-6 before kicking it in gear. So you can wake up tomorrow and refer back to this tidbit.
• OK, here's where this gets really scary for the Red Sox and Rays. What did those '74 Pirates and '95 Reds have in common? They both played in the National League. So what does that mean? It means NO team has ever started 0-5 in the American League and made the playoffs. That's what. According to baseball-reference.com, 41 AL teams have tried to
scale that mountain
before this year. None succeeded.
• More on those 41 AL teams that lost their first five: None of them even finished as high as second place. And the only one in the bunch that rebounded to win 90 games or more was Kiko Garcia's 1978 Orioles (90-71).
• Finally, here's a breakdown on how the 85 teams in both leagues that were 0-5 or worse finished their season:

• Had a winning record: 20

• Finished .500: 4

• Had a losing record: 61


• Lost 100-plus games: 19

• Lost 95-plus games: 31

• Lost 90-plus games: 41


• Won 95-plus games: 0

• Won 90-plus games: 3

• Won 85-plus games: 9

On a lot of levels, this makes no sense. Seven of the eight teams that made the playoffs last year lost five in a row at least once. So remember that.
Nevertheless, we're talking about more than a century of history here. And that means that if the 2011 Red Sox or Rays come back to play in October, they won't just have to ignore history.
They'll have to make history.
April, 6, 2011
4/06/11
4:21
PM ET
You know your team is in trouble when ...
You're four games into the season, and you're already playing the old "There's A Lot of Baseball Still To Be Played" card.
Well, here's a shocker: The Red Sox and Rays -- each of them off to 0-and-4 starts, coincidentally enough -- both found themselves rolling that trick out of the deck Tuesday. Hey, of course they did. It's mandatory this time of year.
Here we go. First, let's hear from
David Ortiz
, via ESPN Boston: "We don't have just [16] games like the NFL, or 82 like the NBA, you know. We've got 162, so you can figure things out, because this is a hard game to play and you've got to go day by day."
And now it's
Johnny Damon
's turn, through the miracle of the St. Petersburg Times: "We have 158 games to go. It's not like football. You go 0-4 in football, it's like losing 40 straight baseball games."
Now technically speaking, they're both right about that. This isn't the NFL. This isn't the NBA. There's still plenty of time. That's a fact.
Still, these teams should be pretty darned terrified by what 0-4 starts tend to lead to. I did the math. And it's hard to believe that four games in a long baseball season could mean what those computations seem to suggest they mean for these clubs. But the evidence is hard to refute. So here goes:
• OK, first the good news: Six teams in the division-play era have started 0-4 and still made it to the postseason -- the '99 Diamondbacks, '95 Reds. '85 Cardinals, '77 Phillies, '74 Pirates and '69 Twins. So it can be done.
• And if these teams are looking for true inspiration, they should look back at the 1977 season. The Red Sox and Phillies both lost their first four games that year. The Red Sox bounced back and won 97 games. The Phillies rebounded to win 101. So that's clear proof that if you're a great team, there's still lots of time to prove how great you are.
• But now here's what's puzzling. Teams are recovering from 0-4 starts much less often these days than they did back in 1977. In the 11 non-strike seasons from 1976 through 1987, a half-dozen teams won 90-plus games after 0-4 starts. And two of those six -- the '77 Phillies and '85 Cardinals -- won over 100 games.
• In this era, however, it hasn't worked that way. Between 2000 and 2010, 15 teams started off 0-4 or worse. Not one of them won 90 games. In fact, of the 25 teams that were 0-4 after four games in the wild-card era (1995-2000), only
one
righted the ship and won 90-plus. That was the '99 Diamondbacks, who went 100-62. OK, asterisk alert: Most likely, the '95 Reds (who went 85-59 in a strike-shortened 144-game season) also would have gotten to 90 wins, too. But they can blame the NLRB or someone for failing to make this list.
• As we've heard from the Elias Sports Bureau, no matter how far you go back in time to look at 0-4 starts, the news is all bad. No team has ever won the World Series after losing its first four games. And only those '85 Cardinals even made it to the World Series after going 0-4.
• Finally, here are the grim facts for the Red Sox and Rays to ponder about the 25 previous teams that started 0-4 in the wild-card era:

• Had a winning record: 6

• Had a losing record: 19


• Lost 100-plus games: 3

• Lost 95-plus games: 9

• Lost 90-plus games: 12


• Won 90-plus games: 1

• Won 85-plus games: 4

Inside my brain, there's a voice -- one that doesn't sound anything like Big Papi's voice, incidentally -- that tells me this makes no sense. As the Brewers pointed out on their game notes Tuesday (after their own 0-4 start, in a related development), every team that made the playoffs last season had a four-game losing streak at some point. So why should it matter if it came in the first week of the season?
Excellent point. But the facts say what the facts say. And the facts are saying: This is big trouble.
So maybe
Johnny Damon
is right -- that going 0-4 isn't the same as going 0-40. But obviously, it FEELS kind of like going 0-40. And that's a bad, bad sign -- even for teams as talented as the Rays and Red Sox.