August, 8, 2013
8/08/13
3:34
PM ET
The past couple of days have reminded me of something I'd almost forgotten. There is life after A-Rod-Palooza.
There is a great baseball season going on out there, friends. So let's stop talking about that third baseman for the Yankees and start focusing on all the fabulous baseball stories that are roaring toward their dramatic conclusion.
And what stories do I have in mind? How about these Five Stories I'll Be Watching (Instead of That Guy):
[+] Enlarge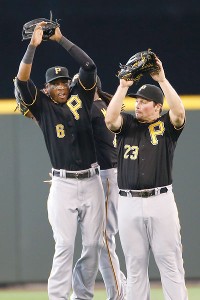 Otto Greule Jr/Getty ImagesIt's hard not to get excited about the Pirates.
1. The Pirates
The
Pittsburgh Pirates
are going to finish with a winning record, ladies and gentlemen. I have never felt more confident about saying that.
They are not going to have 10 pitchers undergo Tommy John surgery in the next 20 minutes. They are not going to lose 37 of their next 48 games. They are not going to reenact August and September of 2012, or August and September of 2011.
They're too good. They have the fourth-best run differential in the National League (plus-60). They've allowed the fewest runs in the major leagues (just 385) -- something they haven't accomplished over a full season since 1984. And opponents are hitting a ridiculous .229 against their pitching staff -- which would be the lowest average against any National League staff since Jim Deshaies' 1986 Astros.
I can't tell you these Pirates are going to win the World Series. I can't tell you they'll win any kind of postseason series. But they're still the best story in the major leagues. So let's just enjoy this ride. OK?
2. The races
The NL East race is over. The AL Central race feels like it's in guarded, but unstable, condition. And over in the NL West, the Dodgers have gained 14 .5 games in the standings on Arizona just in the past seven weeks. So we can see where that one is headed.
But the NL Central is shaping up as a must-see duel between the best offense in the National League (the Cardinals) and the best pitching staff (the Pirates) -- with nine riveting games left between these two teams. Sign me up for that.
And how about the AL West, where the Rangers just made a six-game Oakland lead disappear in a span of nine days. Those teams have two series left against each other. But the schedule, in general, favors Texas, which has the easiest remaining schedule of any AL contender, including 10 games left against their good friends from across the state, the Astros.
And then there's that AL East race, which has a chance to be the best of them all.
The Red Sox just became the first AL team to reach 70 wins -- and did it following a year where they didn't win 70 games all season. Think about that. Elias tells us they're the first AL team to pull off that trick (not counting strike-shortened seasons) since Harlond Clift's 1945 Senators, and (because those Senators got to 70 on the same day as the Tigers) the first to do it outright since George Herman Ruth's 1926 Yankees.
But then there are the Rays, owners of the best record in the whole sport over the past 81 games and a team so hot they just lost their first series in seven weeks. So pick against them at your peril.
And I'm not ready to write off the Orioles, who lead the major leagues in home runs and slugging, upgraded their pitching before the deadline and are currently on pace to become the first team in history to commit fewer than 50 errors in a 162-game season. (Heck, no one else in the expansion era has even finished a season with fewer than 60.) The Orioles have 16 games left against Boston and Tampa Bay. So stay tuned.
3. The awards
NL MVP:
Yadier Molina
was our midseason pick, but his knee issues are about to sabotage his MVP campaign. So are we ready for a starting pitcher (i.e.,
Clayton Kershaw
) to win this thing? Do guys like
Paul Goldschmidt
and
Joey Votto
have MVP finishes in them? And don't look now, but here comes
Andrew McCutchen
, whose credentials include this nugget: He,
Mike Trout
and
Carlos Gonzalez
are the only players in their league to rank in the top 10 in both stolen bases and slugging.
AL MVP:
Uh-oh. Here we go again. If you enjoyed that vintage, old-school/new-school
Miguel Cabrera
-versus-Mike Trout debate last year, get ready for Round 2. As Jared Cross wrote the other day, Trout has injected himself into what once looked like a Cabrera-
Chris Davis
MVP conversation by charging up those AL leaderboards. But if this keeps up, some great sabermetric minds are going to have to explain to the masses how it's possible that Trout leads Cabrera in offensive wins above replacement, but is trailing Cabrera overall because of (gulp) Cabrera's defense. Incredible, huh? But let's save that issue for another day.
AL Cy Young:
Felix Hernandez
can tell you all about how Cy Young voters have finally learned to de-emphasize wins. But let's see them try to factor out wins this year, when King Felix is leading the league in ERA but trying to make his case against a guy who is 16-1 (
Max Scherzer
) -- and first in his league in WHIP, lowest opponent average and lowest opponent OPS. Can't wait for that debate.
NL Cy Young:
With all due respect for the awesome seasons of
Adam Wainwright
,
Matt Harvey
,
Madison Bumgarner
,
Patrick Corbin
,
Francisco Liriano
,
Craig Kimbrel
, etc., all Kershaw does every five days is remind us that he's the best pitcher in baseball. Still. Just so you know, if Kershaw can finish with the ERA (1.91), WHIP (0.88) and opponent average (.188) he has now, the only pitchers in the live-ball era who have ever been in that neighborhood (or better) over a full season are Bob Gibson,
Greg Maddux
,
Pedro Martinez
, Sandy Koufax and Luis Tiant. Whoever they are.
Rookies of the Year:
In the AL,
Jose Iglesias
has a shot to become the first rookie of the year ever to get traded in midseason. But
Wil Myers
can screw up that claim to fame. And in the NL, this remains one of the wildest rookie-of-the-year free-for-alls ever, with
Jose Fernandez
,
Shelby Miller
,
Hyun-Jin Ryu
,
Julio Teheran
,
Evan Gattis
and
Yasiel Puig
all making cases for themselves that are going to require many, many Advil for the ROY electorate.
[+] Enlarge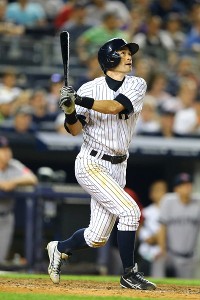 Al Bello/Getty ImagesIchiro Suzuki is about to enter some rarefied air.
4. The 4,000-hit man
The folks obsessed with a certain troubled third baseman may differ. But in my neighborhood, the most interesting story in Yankees Land this month revolves around a man who is chasing a number very few living humans have ever seen chased.
That man is
Ichiro Suzuki
. That number is 4,000.
And no, that isn't how many reporters from his homeland follow Ichiro around every day. It's the number of hits he's about to have on his permanent record if we count the 1,278 hits he spewed in his nine seasons in Japan.
At the moment, he finds himself just 11 hits away. And I hope you don't let that milestone go whooshing by you too quickly before you stop to think about what it means.
The last time we witnessed anyone getting his 4,000th hit was April 13, 1984, when Pete Rose collected No. 4,000 off Jerry Koosman, in a stadium we no longer find on the baseball map (the late, great Stade Olympique in Montreal).
Just for perspective's sake, the Hit King got that 4,000th hit in his 3,259th game. That's nearly 200 more than Ichiro has played (3,075) on both sides of the Pacific. Which means he's going to beat Rose to No. 4,000 by more than a full season. Wow.
The only other 4,000th hit ever? Ty Cobb got that one -- on July 18, 1927. So if you weren't hanging out at old Nevin Field in Detroit that day 86 years ago, you've never seen any American Leaguer do what Ichiro is about to do. Pretty mind-boggling feat -- on any continent.
5. History majors
Finally, here's just a taste of some of the historic pursuits you can keep your eye on over the next two months:
Chris Davis:
On pace for 58 home runs, 102 extra-base hits, 151 RBIs and 72 more extra-base hits than singles. There has never been a season like it.
Mike Trout:
He's leading the American League in walks. He's tied for the league lead in hits. And if he can wind up leading in both categories, he'd be only the fifth player since 1900 to do that in the same season. The others: Rogers Hornsby, Richie Ashburn, Carl Yastrzemski and Lenny Dykstra.
Joey Votto:
See that note above? How unreal would it be if two men finished first in their league in hits and walks in the same season? Well, Votto has a shot, too. He has a big lead in walks. He's three behind
Jean Segura
for the lead in hits. And Votto and
Shin-Soo Choo
have an outside chance to become the second set of NL teammates ever to reach base 300 times apiece (via hit, walk and HBP) in the same season. The other:
Jeff Bagwell
and
Craig Biggio
, for the 1997 Astros.
Miguel Cabrera:
And then there's Miggy. He might not win the Triple Crown for a second straight year. But if he can stay healthy enough to get on the field regularly, Cabrera still has a chance to do something no Triple Crown winner has ever done -- hit that trifecta one year and then have a better season the next year.
Here are Cabrera's numbers from last season, and his projected numbers for this season. This is truly amazing:
2012:
.330/.383/.606, 44 homers and 139 RBIs
2013:
.359/.453/.668, 48 homers and 148 RBIs
I chronicled this a few months ago, but here it is again just to help you digest this man's greatness: Only one Triple Crown winner in history (Ted Williams) ever drove in more runs the following year. Just two (Williams and Mickey Mantle) had a better batting average the next season. And none of them hit more home runs The Season After. But this guy could do all of the above.
So once again, we find ourselves drawn to the flat screen every time Miguel Cabrera starts marching toward home plate. And that beats watching A-Rod-Palooza every day of every week. Don't you think?
December, 10, 2012
12/10/12
1:39
PM ET
Like the rest of the baseball world, I'm still trying to digest that stunning Rays-Royals trade Sunday night. Unlike the rest of the baseball world, I'd like to hit you with some tidbits on that deal from the annals of the hallowed Useless Information Department.
Before we launch into the Three Strikes portion of this program, though, here's a little trivia question for you:
James Shields
is one of four pitchers with at least 200 strikeouts and 15 wins in each of the last two seasons. Think you can name the other three? Good luck. (Answer later.)
Strike One -- Where There's A 'Wil' Dept.
1

The Royals developed Wil Myers into Baseball America's minor league player of the year. Yet, amazingly, he's going to wind up playing as many games in their uniform as Justin Bieber:
Zero.
And that, ladies and gentlemen, is a first. The BA player of the year award has been handed out for 32 seasons now. And how many of the previous 31 winners wound up getting traded before they'd played a single game for the team that developed them?
Not a one. Of course.
In fact, I found only four previous winners who followed even remotely similar paths. Here are those players, and how much time they logged for their original teams:
• Sandy Alomar Jr. (Padres) -- eight games, 23 plate appearances. Won the award in 1989. Traded to Cleveland in December, 1989.
•
Jon Rauch
(White Sox) -- 10 games, 37.1 innings. Won the award in 2000. Traded to Montreal in July, 2004.
•
Paul Konerko
(Dodgers) -- 55 games, 166 PA. Won the award in 1997. Traded to Cincinnati in July, 1998.
•
Derek Bell
(Blue Jays) -- 79 games, 219 PA. Won the award in 1991. Traded to San Diego in March, 1993.
For what it's worth, Alomar wound up playing for seven teams. Rauch played for six (assuming you count the Expos and Nationals as the same team). Bell played for five. And Konerko played for three, although he's spent the last 14 seasons with the White Sox.
Anybody think Tampa Bay is Myers' last stop? Right. Thought so.
Strike Two -- Shields Not Your Average Royal Dept.
I know people debate whether Shields is a true No. 1 starter. But I also know this:
You can count the number of pitchers like him who have pitched for the Royals on one hand. Take a look: As I mentioned in that trivia question, Shields has run off back-to-back seasons of 200-plus strikeouts and 15-plus wins.
In the history of the Royals, I count 199 different pitchers who have started at least one game. And, according to the brand new 2013 edition of Lee Sinins' fabulous Complete Baseball Encyclopedia, you know how many 15-win, 200-whiff seasons those 199 starting pitchers have had COMBINED?
Shields
That would be two -- one by
Zack Greinke
in 2009, the other by Dennis Leonard in 1977. And that's it. So Shields has had as many seasons like that by himself in the last two seasons as all those Royals pitchers have had in the last 44 seasons. Unreal.
• Shields has thrown six complete-game shutouts in the last two seasons. All Royals starters put together have thrown seven in the last SIX seasons -- three by Greinke, two by
Luke Hochevar
and one each by
Gil Meche
and
Bruce Chen
.
• Shields has now ripped off six straight seasons with more than 200 innings pitched. Only one Royals starter in history has ever done that: Leonard (seven in a row, from 1975-81).
And only one Royals starter in the last 25 years has strung together more than three straight 200-inning seasons:
Jeff Suppan
(four in a row, from 1999-2002).
• Finally, Shields has now had three straight seasons with a strikeout rate of better than eight punchouts per nine innings. So know how many Royals do you think have even done that in more than ONE season in a row, while pitching over 200 innings?
The answer: Exactly two: Greinke in 2008-09 and
Kevin Appier
in 1995-96. And no Royals starter has ever had three seasons in a row like that.
In case you were wondering (and of course you were),
Bret Saberhagen
and
David Cone
had zero seasons like that -- in Kansas City, at least.
So I understand the heat Dayton Moore is taking for giving up at least six years of control of Myers, plus three other high-upside young players, for two years of control of Shields and up to five years of control of
Wade Davis
. But as you've just read, this is a franchise that has employed only a handful of starting pitchers in its history with the talent and track record of Shields -- Greinke and Leonard, Saberhagen and Cone. And that's probably all, folks.
So what is James Shields doing in Kansas City? That's what.
Strike Three -- Useless Info Dept.
In other tidbits ...
1

• In Shields' final start with the Rays, he struck out 15 Orioles -- and now he's gone. Well, you sure don't see that much. According to the Elias Sports Bureau, only one other pitcher since 1900 piled up as many 15 strikeouts in a game for any team and then hit the exit ramp:
Ron Villone
, who had a 16-K game in his last start for the Reds on Sept. 29, 2000, then got traded to Colorado that winter. Anybody out there have THAT name on the tip of their tongue?
• Incidentally, that gem by Shields was a 15-whiff, ZERO-walk game. So guess how many Royals in history have struck out at least 15 hitters in a game in which they walked no one? Yep, not a one. Then again, there has only been one 15-plus-strikeout game of any variety in Royals history -- by Greinke, on Aug. 25, 2009, against the Indians (15 K, 1 BB).
• Don't forget how grim life has been in Kansas City over the last couple of decades. Over the last 18 seasons, the Royals have had a winning record exactly ONCE (in 2003). The citizens of Pittsburgh can relate to that. But other than the Pirates (zero winning seasons) and Royals, only three other teams that have been around that long have fewer than five winning seasons in that period:
Pirates 0
Royals 1
Orioles 3
Brewers 4
Nationals/Expos 4
• Finally, Rays PR genius Dave Haller reports that, with the exit of Shields, the Rays are down to one player who ever wore the beloved black and teal uniforms of the late, great "Devil Rays." And who would that be? Mr.
Ben Zobrist
, ladies and gentlemen. (Played 83 games for the 2006-07 Devil Rays before they zapped the "Devil" from their name.)
TRIVIA ANSWER:
Who are the three pitchers besides Shields who have been in that 200-K, 15-win club in each of the last two seasons?
Justin Verlander
is one. Greinke is the second. And if you knew
Yovani Gallardo
was the third, I'm guessing you've probably eaten at least 11 bratwursts in the last calendar year. Or you had him on your fantasy team.