Kansas City Chiefs:

AFC West
November, 3, 2013
Nov 3
9:03
PM ET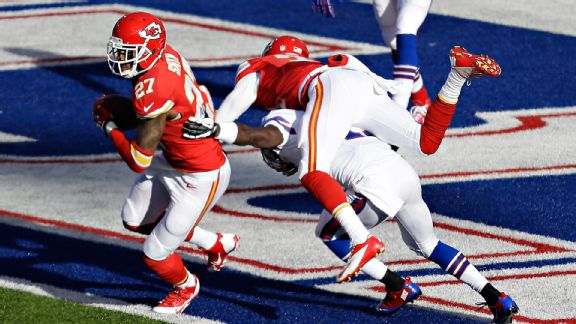 AP Photo/Gary WiepertThe defense scored both of the Chiefs' touchdowns -- including a Sean Smith pick-six in the third quarter.
ORCHARD PARK, N.Y. -- Brilliant football minds can watch all the video they want but they have no explanation for why the NFL's best teams are not just good but lucky as well.
They can have no justification for what happened early in the third quarter Sunday at Ralph Wilson Stadium, where the
Kansas City Chiefs
and their unbeaten season were teetering on the brink against the
Buffalo Bills
.
With Buffalo at the Kansas City 2, the Chiefs blew a coverage and left Buffalo's best and most accomplished receiver,
Stevie Johnson
, uncovered in the end zone. The ball did not go to Johnson but in another direction and eventually the hands of Chiefs cornerback
Sean Smith
.
One hundred yards later, Smith scored a touchdown himself and rather than falling behind by 14 points for their first double-digit deficit of the season, the Chiefs tied the score. They went on to
win 23-13
to go 9-0 and remain as the NFL's only unbeaten team.
"We make mistakes while we're in there," said linebacker
Tamba Hali
, who in the fourth quarter scored Kansas City's second defensive touchdown of the day. "We blow coverages. There's a lot that happens but we just focus on the positive. Sometimes things are going their way and we just keep playing and [then] things happen to go our way. Our guys are just strong-minded men."
Football purists might not like Hali's answer but it better captures what's happening with the Chiefs than any other reasoning. The Chiefs won't be able to get away with leaving receivers open in the end zone in their next game against
Peyton Manning
and the
Denver Broncos
, the following week against
Philip Rivers
and the
San Diego Chargers
or in the subsequent game, a rematch against the Broncos.
The fact remains that Sunday they were playing against the Bills and undrafted rookie quarterback
Jeff Tuel
. He is Buffalo's fourth-string quarterback, playing only because of injuries to the three quarterbacks ahead of him.
On the game's most important play, Tuel didn't go to Johnson but tried to force the ball into coverage instead. The whole stadium was shocked by his decision, Smith included.
"So surprised," Smith said. "It was like Christmas. You know, you go downstairs as a little kid and there's a big box right there? That's how I felt.
"Those are the plays that you always wish happens to you when you're watching on TV. It was my day."
It was the Chiefs' day, really. But all the days this season have belonged to the Chiefs and particularly in the fourth quarter. They again won the final period, which began with the score tied at 13.
The Chiefs scored both of their touchdowns on defense and managed just three field goals with their offense. But that's not a crazy thing for them. They have five defensive and two special teams touchdowns this season and coach Andy Reid didn't have to go back too far in his memory to recall winning a game in a similarly bizarre fashion.
"We've had a couple this year," Reid said. "We're not making excuses for it."
Nobody is asking them to, but if the Chiefs think they can compete against the Broncos playing as they did against the Bills, they're only fooling themselves. They were outgained in total yards Sunday 470-210 by a 3-6 opponent playing its fourth-string quarterback.
Yet if the Chiefs have proved one thing, it's that it's risky to underestimate them. They are on an amazing roll that goes beyond X's and O's.
Take the two touchdowns scored by Hali this season. Both have come from short range. He intercepted a pass in the season opener in Jacksonville and returned it 10 yards for a touchdown.
Hali on Sunday scooped up a fumble and returned it 11 yards for the touchdown that put the Chiefs ahead for good.
The Chiefs were fortunate it was Smith called to go 100 yards and not Hali, who is one of the NFL's best pass-rushers and a relentless player who gives a maximum effort on every play. He's just not built to go long distances, something he jokingly acknowledged.
"With blocking, I can run 100 yards if you're not going to chase me," he said.
Smith is much better equipped to go the long haul. In truth, though, his touchdown return was so well-blocked that indeed even Hali could have scored.
"Do you know," Smith said, "how long 100 yards is in the cold?"
For the Chiefs, no distance has been too long, no hurdle too big. After going deep into the fourth quarter the past three weeks before outlasting under-.500 teams from Houston, Cleveland and now Buffalo, the Chiefs don't appear they will pass any smell test.
Conventional wisdom will undoubtedly hold that they'll have trouble against the high-scoring Broncos in two weeks, after their bye. But little to happen this season to the Chiefs has followed conventional wisdom.
That Nov. 17 game in Denver will probably fall into that category as well.
November, 1, 2013
Nov 1
11:25
AM ET
KANSAS CITY, Mo. -- In a normal year or maybe in most other divisions, the 8-0
Kansas City Chiefs
could already be looking ahead to playoff seedings and trying to secure home field advantage throughout the AFC playoffs.
But since they have a mere one game lead over the 7-1
Denver Broncos
for the lead in the AFC West, they're busy right now merely trying to secure a division championship.

We, however, can look ahead toward playoff seeding, and the Chiefs received some help Thursday night when the
Cincinnati Bengals
lost to the
Miami Dolphins
. The Bengals, most likely the eventual AFC North champions, are now 6-3 and 2 1/2 games behind the Chiefs, a deficit that grows to three games if Kansas City beats the Bills on Sunday in Buffalo.
That helps the Chiefs, of course, only if they win the AFC West. As wild-card playoff entrants, they would be buried in the seeding process by any division champion, even if they have a better record.
The leaders in the other two divisions, Indianapolis and New England, each have two losses. Each also has some tough upcoming games. The Colts are at Houston on Sunday night, at Tennessee on Nov. 14, and at Cincinnati on Dec. 8. The Patriots are at Carolina on Nov. 18 and play the Broncos at home on the following Sunday.
Kansas City's schedule also gets more difficult after Sunday's game in Buffalo. The Chiefs have two games against Denver, two against the
San Diego Chargers,
and a home game with the Colts in the final seven weeks.
Not counting the Broncos, the Chiefs have some margin for error with regard to playoff seeding and the AFC's other top teams. They have enough of an edge at this point that, as long as they win their division, the Chiefs shouldn't have to leave the comforts of home during the playoffs.
October, 29, 2013
Oct 29
7:15
AM ET
KANSAS CITY, Mo. -- More evidence that Andy Reid's aggressive philosophy is taking hold in Kansas City came in Sunday's win against the
Cleveland Browns
. One of the NFL's top return specialists,
Quintin Demps
, took the opening kickoff six yards deep in the
Kansas City Chiefs
' end zone.
Demps
Rather than sit on the ball and put the Chiefs at the 20 to start the game, Demps brought the ball from the end zone, but was soon swarmed by the Browns and tackled at the Kansas City 12.
The next time Demps had the chance to return a kickoff, he made the catch nine yards deep in the end zone. Instead of being afraid of a repeat from his first trip outside the end zone, Demps brought it out for a 34-yard return, giving the Chiefs possession at their 25.
The extra five yards was not a game-changer. But the Chiefs went on to score a touchdown after Demps' second return, going 75 yards in six plays.
Demps later said he's been told by his coaches to be aggressive with his decisions and not be afraid of mistakes. It's indeed another example of how Reid's coaching philosophy is benefitting the Chiefs.
"Not necessarily,'' Reid said Monday when asked whether Demps was being too aggressive with his decisions. "There are certain places you want to down them and other times we're confident in what we're doing and confident in him.''
October, 27, 2013
Oct 27
9:15
PM ET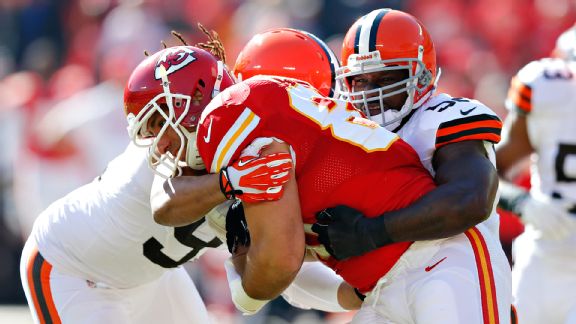 AP Photo/Ed ZurgaNothing has come easy for tight end Anthony Fasano and the Kansas City Chiefs this season.
KANSAS CITY, Mo. -- In many corners of their victorious locker room, the 8-0
Kansas City Chiefs
claimed they were energized by being the last ones standing.
Jamaal Charles
said being the NFL's last remaining undefeated team makes all the work worthwhile. Quarterback
Alex Smith
said it's an honor to have opponents coming hard after them, as has been the case in recent weeks.
Their actions on the field send a much different message. The Chiefs suddenly look weary, like a team carrying a burden.
They survived again on Sunday against the
Cleveland Browns
, winning 23-17. But they continued their unsettling habit of letting losing teams hang around and get to the fourth quarter with a chance at victory.
The Browns fell behind 13-0 at Arrowhead Stadium only to charge back behind their new starting quarterback,
Jason Campbell
. Campbell was playing only because the Browns' first choice at quarterback,
Brian Hoyer
, is out for the season with a knee injury and the first backup,
Brandon Weeden
, was so bad he was benched.
The Chiefs still had to sweat a stressful fourth quarter. Where last week, there was much joy over their ability to hold off the
Houston Texans
, this time the emotion was pure relief.
"These grind-it-out games, they're tough," Chiefs coach Andy Reid said. "You work hard during training camp so you're mentally strong enough to be able to handle things like this, and that's what we did. We'll continue to work hard, and I'm sure there will be other games like this where you have to grind them out."
That's not a good look for a team having just completed the easy portion of its schedule. The Chiefs on Sunday concluded a three-game homestand against opponents who won't be going to the playoffs. There's something to be said for emerging with their winning streak intact, messy as things might have looked.
"The best you can be right now is 8-0, and that's where we're at," linebacker
Derrick Johnson
said. "Everybody is going to give us their best. We know that. If we can take that punch and keep rolling, that's what we did today."
Next week, the Chiefs go back on the road for the first time in almost a month to face the
Buffalo Bills
. What follows certainly qualifies as a gauntlet: two games each against the
Denver Broncos
and
San Diego Chargers
, road games against the
Washington Redskins
and
Oakland Raiders
and a home game against the
Indianapolis Colts
.
Every last one of those opponents figures to be coming after the Chiefs, much as the Texans and Browns did the past two weeks.
"We know next week we're going to get Buffalo's best shot, playing up in Buffalo," Charles said. "We know they're going to give us all they can give us."
Charles went on to say he welcomed the challenge, but his words didn't have the proper conviction to be convincing. Their games have become a grind and, to their credit, the Chiefs have often been grittier than their opponent. They had five sacks two weeks ago in the fourth quarter against Oakland, and four in the final quarter against the Texans.
That kind of effort requires a lot of energy, and they didn't show they had it late in the game Sunday. Maybe they've given too much and the tank, at least temporarily, is empty.
Again, that's not the party line.
"Not that anybody sneaks up on anybody in this league, but when you're the only undefeated team, I think teams have recognized how we're playing and no question they're coming prepared," Smith said. "We love it. You want the stages to get bigger. That's why you put in all the work in the offseason. That's why you do training camp. You want these opportunities. You want that honor."
That much, of course, is true. The Chiefs have lost 12 or more games in four of the past six seasons, so to get to 8-0 is beyond any of the survivors' dreams.
That doesn't explain how the second half looked like it meant more to the Browns, who are now 3-5. They were the ones who turned up the heat in the second half, sacking Smith five times.
"We're not trying to be beauty queens," wide receiver
Dexter McCluster
said. "It's never too close for comfort when it's a win."
That doesn't change the fact that the Chiefs are living on the edge. Maybe they can continue happily on that way. More likely, going on the road to Buffalo, historically a graveyard for the Chiefs, or to Denver in its subsequent game on Nov. 17 will be enough to push them over the edge.
One way or the other, the Chiefs seem intent on finding out.
October, 10, 2013
Oct 10
12:00
PM ET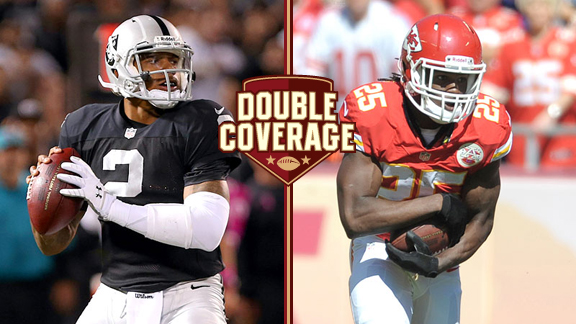 USA TODAY SportsThe Raiders are reborn with Terrelle Pryor under center, but the Chiefs have been flawless this season and are looking to end a six-game home losing streak at the hands of their division rival.
The
Kansas City Chiefs
last beat the
Oakland Raiders
at Arrowhead Stadium on Nov. 19, 2006. The 17-13 victory was secured only in the final moments, when safety
Jarrad Page
intercepted a pass from quarterback
Aaron Brooks
in the end zone.
Since then, the Raiders have won six straight games in Kansas City. The 5-0 Chiefs and 2-3 Raiders have exceeded expectations, which could make for an interesting game Sunday when the teams meet in Kansas City.
Here, ESPN.com Chiefs reporter Adam Teicher and Raiders reporter Paul Gutierrez take a look at the matchup:
Teicher:
It only seems like forever since the Chiefs have beaten the Raiders at Arrowhead Stadium. What chance do you think Oakland has of making it seven in a row?
Gutierrez:
Indeed, the Raiders are riding a six-game winning streak in Kansas City, their longest such streak in this rivalry that stretches back to the dawn of the AFL in 1960. The last time the Chiefs beat Oakland at Arrowhead was on Nov. 19, 2006, when Aaron Brooks, who rocked No. 2, was under center for the Raiders and
Larry Johnson
was busy rushing for 154 yards and two TDs. That 17-13 loss, ahem, helped the Raiders solidify that No. 1 overall draft pick the following spring, a pick that became
JaMarcus Russell
, who also wore No. 2. But I digress. Things have changed in Oakland as far as optimism regarding QBs wearing No. 2, and that's where
Terrelle Pryor
comes in. He was not allowed to wear the number coming out of college but switched back to his old Ohio State digit this year. Al Davis' final draft pick has brought an excitement to a fan base thirsting for it. Pryor can extend plays and if the defense can bottle up
Alex Smith
, I would not be surprised if Oakland made it seven in a row in Middle America.
Speaking of Smith, from the outside looking in it appears as though he should be the toast of the town in leading the Chiefs to that 5-0 record. But have there been rumblings about his being a one-dimensional game manager? Did fans not read the scouting report, or is it all much ado about nothing?
Teicher:
Fans are difficult to please. The Chiefs, to their credit, have tried to play to Smith's strengths by using in large part a shorter passing game. Smith, to his credit, has mostly done what has been asked of him. The Chiefs have opened up their passing game in the past couple of weeks by going downfield more. Smith has thrown only three interceptions and really just one could be pinned on him, so he's not putting the Chiefs in bad situations. The Chiefs trailed in the fourth quarter for the first time this season in last week's game against Tennessee and Smith responded by taking the Chiefs on what proved to be the winning touchdown drive, so he delivered in the clutch in his first try. One area where Smith needs to improve is completion percentage. With so many short throws, he needs to be way better than 58 percent. That's an area of growth for their offense.
Pryor is off to a nice start for the Raiders but has any opponent tried to pressure him like the Chiefs no doubt will? If not, how do you think he responds?
Gutierrez:
The Colts tried to pressure him in the opener, and he responded with 112 yards rushing -- a record for a Raiders quarterback. Granted, much of that came on zone-read option plays, though he was able to take off for long runs on busted coverages when Indy overloaded the pursuit. Truly, his mobility and ability to extend plays has made a makeshift offensive line look pretty solid. Lately, though, teams have been putting a spy on him and his rushing totals have gone down. And really, while the Raiders want him to use his athleticism to make things happen, they don't want him running for his life, either. I'm curious to see how he responds if the Chiefs make it a priority to stop him from rolling out to his right, which is where and how he made a lot of his plays Sunday night, when most of the rest of the country was sleeping. Pryor's play has been surprising, especially to general manager Reggie McKenzie and coach Dennis Allen. The raw talent was there, but how quickly it's come together has been impressive to watch.
Same thing in Kansas City, I suppose. After all, the last-place Chiefs did have six Pro Bowlers a year ago. How has Andy Reid been able to get the Chiefs to buy into his system and philosophy so quickly?
Teicher:
That's been one of the more underrated things he's done. He walked in with instant credibility as the most accomplished head coach almost all of the current players have been under, at least while they were with the Chiefs. That helps. But unlike with several of their other recent head coaches, there's been no whining or complaining about how bare the cupboard was or what a lousy situation he inherited. He just rolled up his sleeves and got to work like a pro does, and I think a lot of players saw that as a refreshing change. Players recognized they had a lot of talent here that was just waiting for some competent direction. They were receptive when they received it.
Looking at Oakland defensively, I can't figure out how the Raiders don't allow more points. I know they do a very good job against the run, but the Raiders haven't forced a high number of turnovers and opposing quarterbacks are completing a high percentage of throws with a high passer rating. How do you explain the way Oakland is playing defensively, and who are some of the defenders playing well?
Gutierrez:
It's the epitome of the bend-but-don't-break philosophy ... and being patient. True, entering Week 5, the Raiders had yet to have an interception. But then they picked off
Philip Rivers
three times. Four of his completions of at least 16 yards came in the fourth quarter, when the Raiders led by 10 and were in a prevent defense. Just don't call it that to the Raiders. Dennis Allen prefers "situational" defense. Hence, a lot of Rivers' completions and yardage came in what the layman would call "garbage time." Individually,
Charles Woodson
has been more than the Raiders could have hoped for when they signed him -- he's been their best overall player. Against the Chargers, he had an interception and a fumble scoop and 25-yard run for a TD.
Lamarr Houston
has made the transition nicely from left defensive end to the right side. He leads Oakland with three of its 13 sacks.
Nick Roach
has been solid at middle linebacker, a far cry from the bust that was
Rolando McClain
. Even rookie cornerback
D.J. Hayden
flashed Sunday night, picking off Rivers in the end zone after a rough go of it against
Keenan Allen
. Observers were wondering when Hayden -- the No. 12 overall draft pick the Raiders loved so much they would have taken him third had they not been able to trade down -- was going to make an impact play.
Small sample size, obviously, but does the Chiefs' top pick, the No. 1 overall,
Eric Fisher
have the look of an impact, i.e., cornerstone offensive tackle, even as he missed last week's game with that concussion and is playing on the right side rather than the left? I know the Raiders were enthralled with him after coaching him at the Senior Bowl.
Teicher:
He's off to a rough start. Fisher has been so bad at times that the Chiefs should have at least considered replacing him. He was playing his best game of the season two weeks ago against the Giants when he left the lineup because of a concussion. The Chiefs are still confident Fisher will become the player they envisioned when they drafted him. It's just taking some time. Opponents have been able to get Fisher off balance and use leverage against him, so his technique needs to be refined. He also needs more strength than a full offseason in the Chiefs' weight room would provide.
.
August, 29, 2013
Aug 29
9:48
PM ET
KANSAS CITY, Mo. — Some observations at halftime from Arrowhead Stadium, where the
Kansas City Chiefs
lead the
Green Bay Packers
13-6
in Thursday's preseason finale:
Chase Daniel didn't inspire much confidence during training camp, and he finished the exhibition season on a down note. Daniel started at quarterback in place of Alex Smith, who, like the other starters, didn't play. Daniel forced a throw into coverage on the first offensive play of the game and the pass was intercepted. Daniel later took a sack on a second-and-2 play from the Green Bay 6. He had plenty of time to unload the ball but instead took an eight-yard loss, and the Chiefs had to settle for a field goal.
Linebacker Frank Zombo is proving to be a nice free-agent signing. Because Pro Bowler Tamba Hali and Justin Houston are the starters at outside linebacker, Zombo is no threat to break into the lineup. But based on the way he's played in preseason, the Chiefs have reason to feel good about Zombo if he has to play. He had an interception and 27-yard return to set up a field goal. In earlier games, Zombo showed good pass-rush skills and the ability to get pressure on the quarterback.
A knee injury that knocked Travis Kelce from the game will force the Chiefs to look for a tight end before the regular season begins. Kansas City already lost Tony Moeaki for an extended period with a shoulder injury.
August, 28, 2013
Aug 28
10:15
AM ET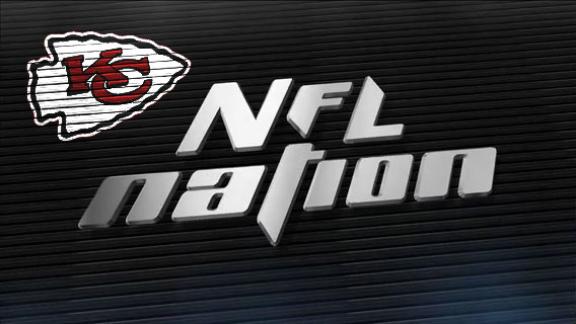 The
Kansas City Chiefs
have too much talent to win just two games again, and they addressed their two major flaws from last season: poor coaching and lousy quarterback play. They also have an early schedule set up for success. But it's still a bit much to expect them to make the playoffs in their first season with Andy Reid as their coach and
Alex Smith
as their quarterback.

In addition to a new coach and quarterback, the Chiefs have new coordinators and new offensive and defensive systems, a new general manager and many new players in key spots. That's a lot to mesh together in a short period of time.
The addition of Smith, who threw just 10 interceptions in his last 25 starts for the 49ers, will cut down on turnovers, and that alone will help improve the offense. But Smith isn't capable of carrying a team on his back and will need more help than the Chiefs appear capable of giving him.
Pass protection has been a problem during the preseason, and the Chiefs had yet to identify a second wide receiver to take some pressure off running back
Jamaal Charles
and wide receiver
Dwayne Bowe
, the only proven playmakers the Chiefs have.
Predicted finish in AFC West:
second
August, 28, 2013
Aug 28
7:00
AM ET
Not much intrigue left to the preseason for the
Kansas City Chiefs
. Just trying to stay healthy through Thursday night's final exhibition game against the
Green Bay Packers
at Arrowhead Stadium.

That, and the final round of roster cuts that loom afterward. The Chiefs, like all NFL teams, must trim their active roster from 75 to 53 players by Saturday evening.
Here's my prediction on how their roster will look for the Sept. 8 regular-season opener against the Jaguars in Jacksonville, Fla., at offensive positions and in the kicking game. I'll post defensive predictions later today.
Quarterback (3):
Alex Smith
,
Chase Daniel
,
Tyler Bray
. This might be the only position where there is no intrigue. They are set and in this order on the depth chart.
Running back (4):
Jamaal Charles
,
Anthony Sherman
,
Knile Davis
,
Shaun Draughn
. The only real mystery here is whether the Chiefs keep Draughn or
Cyrus Gray
as the third halfback. Draughn has been more productive than Gray. The Chiefs don't use their fullback enough to keep more than just Sherman.
Wide receiver (6):
Dwayne Bowe
,
Donnie Avery
,
Dexter McCluster
,
Junior Hemingway
,
Devon Wylie
,
A.J. Jenkins
. This position has come into focus since the Chiefs traded
Jon Baldwin
and released
Terrance Copper
. Bowe and Avery are the starters, McCluster the slot receiver. Hemingway has been steady during camp and the preseason and deserves a spot. Wiley and Jenkins are fast, and coach Andy Reid likes speed. The Chiefs might also keep undrafted rookie
Rico Richardson
, who caught the touchdown pass in overtime in Pittsburgh last week, but I'm not going to predict that.
Tight end (4):
Anthony Fasano
,
Tony Moeaki
,
Travis Kelce
,
Demetrius Harris
. The shoulder injury to Moeaki might lead the Chiefs to place him on the injured-reserve list. Either way, the Chiefs will need to keep another tight end now, and that's likely to be Harris. A former basketball player who didn't play football in college, Harris needs more time to develop, so the Chiefs might be in search of veteran help at this position.
Offensive line (8):
Branden Albert
,
Eric Fisher
,
Donald Stephenson
,
Jeff Allen
,
Jon Asamoah
,
Geoff Schwartz
,
Rodney Hudson
,
Eric Kush
. Stephenson is too good to be a backup for long. He and Schwartz will be the first reserves off the bench. Kush is a developmental player.
Specialists (3):
Ryan Succop,
Dustin Colquitt
,
Thomas Gafford
. They're the only players still on the roster at their respective positions.