Kansas City Chiefs:

Jacksonville Jaguars
September, 8, 2013
9/08/13
10:00
AM ET
By
ESPN.com staff
| ESPN.com
Join our ESPN.com NFL experts as they break down the Kansas City Chiefs' visit to the Jacksonville Jaguars. Contribute your thoughts and questions beginning at 1:00 p.m. ET. See you there.
September, 6, 2013
9/06/13
1:00
PM ET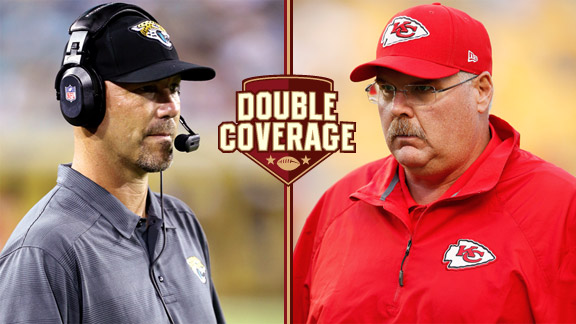 AP PhotoGus Bradley and Andy Reid are looking to get off to fast starts with their new teams.
JACKSONVILLE, Fla. -- Fans know a lot about their favorite teams, but they don't have the same depth of knowledge of the 31 other teams in the NFL. That's not going to be a problem any longer.
Each week the NFL Nation writers will team up Q&A style to help you get a handle on each team. Today, Kansas City Chiefs reporter Adam Teicher and Jacksonville Jaguars reporter Michael DiRocco help break down Sunday's matchup.
Michael DiRocco:
Is
Alex Smith
really an upgrade over
Matt Cassel
?
Adam Teicher:
He had better be or the Chiefs are in some trouble. Cassel and
Brady Quinn
turned over the ball far too many times last season. One thing we know about Smith is that he hasn't thrown many interceptions. He threw just 10 in his last 25 starts with the 49ers. So he's been a quarterback who protects the ball, and if he can just do that, he's already an upgrade over Cassel and Quinn. Another thing: Andy Reid's West Coast offense will succeed if the quarterback completes a high percentage of throws. Smith completed 70 percent last season. If he can get close to that number this season, he's even more of an upgrade.
Teicher:
How patient will the Jaguars be with
Blaine Gabbert
on Sunday and this season?
DiRocco:
This is a make-or-break season for Gabbert, who must prove he's capable of being a franchise quarterback. That's the team's No. 1 goal for the season, so there will be a certain amount of patience. It does no good to give him a half or one game and yank him because the team will essentially be where it was heading into the season. That being said, if Gabbert really struggles during the first two months of the season, then the team will have its answer and may turn to
Chad Henne
or the recently signed
Ricky Stanzi
for the remainder of the season.
DiRocco
: What's the biggest change Andy Reid has brought to Kansas City?
Teicher
: It's a change brought by Reid and John Dorsey, the new general manager. Everybody seems to be pulling in the same direction. The Chiefs went through plenty of infighting the past few years and it was dragging them down. People often had their own agendas or felt they had to align themselves with one person or another. Dorsey and Reid swept that out the door. Winning looks to be the only goal and it certainly appears everybody is on board with that. Of course, it's easy for a new administration to have everybody on board when it's undefeated. So it's an issue to keep an eye on once the Chiefs start losing some games.
Teicher:
What are the biggest changes Gus Bradley and Dave Caldwell have brought to the Jags?
DiRocco:
On the field, it's on defense, where Bradley is implementing a more aggressive attitude and trying to rebuild the secondary with bigger, more physical cornerbacks -- essentially what he did in Seattle. Off the field, Bradley and Caldwell have changed the culture in the locker room. There's a lot of energy and enthusiasm around the franchise even though everyone knows that the talent level needs a significant upgrade and the team likely isn't going to reach .500. It was a much-needed boost, because the atmosphere around the team the past few seasons under Jack Del Rio and Mike Mularkey had become somewhat stale.
DiRocco:
Some NFL experts have pegged the Chiefs as a playoff team just one season after finishing 2-14. What are a few things that have to happen for that to become a reality?
Teicher:
They have many good players, but from the GM to the coach to the coordinators to the offensive and defensive system to the quarterback to 29 other players who didn't play for the Chiefs last season, there's a lot new here. How quickly Reid and his staff can pull everything together will be a key. The Chiefs have a favorable schedule the first half of the season and they need to take advantage because it gets more difficult after that. On the field, the Chiefs have to fix a turnover differential that was minus-24 last season. Their defense and special teams have to do a better job of providing better field position for the offense. This offense won't make a lot of big plays, and if it has to go 80 yards on every possession, it will be a struggle.
Teicher:
What are realistic expectations for the Jags this season in terms of number of wins?
DiRocco:
I kind of let that slip in my earlier answer, but a six-win season would be the best-case scenario for the Jaguars. Four or five victories seems more likely, though, especially considering the team has back-to-back road games on the West Coast, plays San Francisco in London, and has to play at Denver, Indianapolis and Houston.
September, 6, 2013
9/06/13
7:30
AM ET
KANSAS CITY, Mo. -- The issue of whether the Chiefs made the right decision in choosing one offensive tackle,
Eric Fisher
, over another,
Luke Joeckel
, won't be settled Sunday when Fisher's team, the Chiefs, plays against Joeckel's, the Jaguars.
Joeckel
Fisher
But the fact that the No. 1 and No. 2 overall picks in the April draft will be on display in the same regular-season opener provides a handy occasion to look back at the reason the Chiefs picked Fisher instead of Joeckel.
There was no magical moment that vaulted Fisher over Joeckel in the minds of Chiefs general manager John Dorsey and coach Andy Reid. After their exhaustive research, they simply believed Fisher had a better chance of becoming a great player.
"I thought Eric Fisher (would help) the
Kansas City Chiefs
more than Luke (would),'' Dorsey said.
The young NFL careers of both players have run roughly the same course. Each is playing right tackle and missed some time in camp because of injury. It might not be a surprise if the careers continue to parallel one another.
There seems to be little that separates them.
"Both of them are very good players,'' Reid said. "They're both going to have long careers and a lot success in this league . ... I think (Joeckel) is a heck of a football player and I think he's done well in the preseason so I know he's going to have a great career."
Had the draft order been reversed, with Jacksonville picking first and the Chiefs second, Joeckel and Fisher would have wound up with the same teams. Jacksonville coach Gus Bradley said the Jaguars had Joeckel as the top-rated player on their draft board and Fisher No. 2.
Another sign, perhaps, that there's little to choose from between the two.
"If Fisher had fallen to us, believe me, we would have been excited, too,'' Bradley said. "We just felt like Luke, in talking to him and his play on tape and just the conversations we had with him, we had him rated higher but it wasn't a significant difference."