Kansas City Chiefs:

Miami Dolphins
September, 19, 2014
Sep 19
8:00
AM ET
The
Kansas City Chiefs
(0-2) and
Miami Dolphins
(1-1) meet for the first time since 2006 on Sunday at Sun Life Stadium. The Chiefs are coming off a 24-17 loss to the Broncos in Denver, a game in which the result wasn't decided until the Chiefs' fourth-down pass from the Denver 2 fell incomplete in the end zone in the final seconds. The Dolphins, after beating the Patriots to begin the season, are coming off a 29-10 loss at Buffalo.
ESPN Chiefs reporter Adam Teicher and ESPN Dolphins reporter James Walker discuss Sunday's game:
Teicher:
This is the first time the Chiefs will play against Dolphins quarterback
Ryan Tannehill
. Give us a little scouting report on him, his strengths and weaknesses. His season isn't off to a great start, statistically at least. How committed are the Dolphins to Tannehill?
Walker:
It's funny that you mention Tannehill, because heading into this season, I've often compared him to
Alex Smith
. The comparison isn't necessarily based on physical traits, because Tannehill is more athletic and probably has a slightly stronger arm. But in terms of Tannehill's ceiling, I'm starting to think developing into a quarterback like Smith is the best the Dolphins can hope for.
I've watched every one of Tannehill's games in two-plus seasons and nearly every practice open to the media. I don't see that jump into superstardom the Dolphins are expecting. Tannehill hasn't shown he can take over games with his arm and he hasn't been consistent. It doesn't mean you can't win with Tannehill; like Smith, Tannehill just needs a lot to go well around him. Smith eventually figured that out and won with multiple teams. He also got a nice payday from Kansas City. It remains to be seen whether Tannehill can do the same.
Adam, what's the latest with
Jamaal Charles
and how would his potential absence impact the running game?
Teicher:
Charles has a high ankle sprain, so it would be something close to a miracle if he played Sunday. I'll be interested in seeing how
Knile Davis
does with a full week of practice and after the Chiefs have built their game plan around him and his abilities. Davis is a lot bigger at 227 pounds than Charles, but he's fast -- maybe as fast as Charles. So he is a big-play threat, although he lacks Charles' ability to make defenders miss.
Going back to last season and counting the playoff game, Davis has carried the ball far more than Charles, but his average is about 3.3 yards per carry, compared to almost 6.1 for Charles. So Charles has been far more effective, but the Chiefs haven't been able to build a plan for Davis, as they will this week. The loss of Charles is actually bigger in the passing game. Charles is a better pass protector and receiver than Davis. The Chiefs might use either
Joe McKnight
,
Cyrus Gray
or
De'Anthony Thomas
as a third-down back.
James, what about
Branden Albert
? He was the longtime left tackle for the Chiefs before signing with the Dolphins this year. It looks like he's playing well. Has he stabilized Miami's offensive line?
Walker:
Albert has fit in well here in Miami. Not only is he a good player at an important position, but Albert has taken on a leadership role and coached up younger players such as rookie right tackle
Ja'Wuan James
. The Dolphins have some issues on the offensive line, but Albert certainly isn't
one of them. He has been consistent in the running and passing game.
Since we're on the topic of former players, the Dolphins are facing cornerback
Sean Smith
and tight end
Anthony Fasano
for the first time. Both were significant contributors in Miami. How have they fit in since leaving for Kansas City?
Teicher:
Smith is what the Chiefs thought they were getting. Certainly not a Pro Bowler, but a dependable cornerback who can match up with bigger, more physical receivers. He's moved into the No. 1 corner spot after the Chiefs released
Brandon Flowers
. Fasano missed half the season last year because of injuries, but has missed only a couple of snaps so far this season. He has quietly developed into a reliable red-zone receiver for Smith. He has the Chiefs' only receiving touchdown this season.
The Chiefs last season consistently won in the kicking game. That hasn't been the case this season, but the potential is there. Miami had problems last week on special teams. Are the Dolphins truly vulnerable there or was Sunday just a bad game in that regard?
Walker:
Miami's special teams are indicative of its record. The unit was very good in Week 1 and very bad in Week 2. That's pretty much how the Dolphins have played as well. Miami is the only NFL team to allow and successfully execute a blocked punt in the first two games. The Dolphins probably won't dominate on special teams consistently, but I don't expect them to give up a 102-yard kickoff return for a touchdown every week. It's too early to say special teams are a major concern.
Finally, Adam, is this a must-win game already for the Chiefs?
Teicher:
I'm usually not big on the concept of must-win games in September, but this is probably as close as it gets. After losing at home to Tennessee and coming up 2 yards short in their comeback attempt against Denver, the Chiefs have dug themselves a hole and it's impossible to see a realistic way out of it without beating the Dolphins. The Chiefs are 0-2, and after Miami, their next three games are against the Patriots, 49ers and Chargers, with two of those on the road. So this thing has already started to get away from the Chiefs, and they'll be miles behind the pack if they don't win in Miami.
March, 12, 2014
Mar 12
8:00
AM ET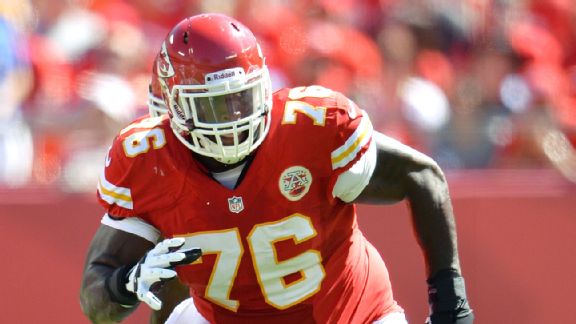 Peter G. Aiken/Getty ImagesThe Dolphins bolstered their O-line by agreeing to a five-year, $46 million deal with Brandon Albert.
NFL free agency kicked off with a bang Tuesday, and Pro Bowl left tackle
Branden Albert
was one of the biggest names to switch teams. Albert signed a five-year, $46 million contract with
Miami Dolphins
. He spent the previous five seasons with the
Kansas City Chiefs
.
One team's loss is another team's gain in free agency.
ESPN.com's Chiefs reporter
Adam Teicher and
Dolphins reporter
James Walker weigh in on both sides of the Albert signing.
James Walker:
Adam, the Dolphins are ecstatic to land a player of Albert's caliber. Pro Bowl left tackles do not grow on trees, and Albert was the highest-rated player at that position on the market. Albert also filled Miami's biggest need on the offensive line, which was torn apart last season with the bullying controversy. The price tag wasn't cheap. But the Dolphins feel it was worth the investment, especially after watching their quarterback get sacked a team-record 58 times last season. Albert will protect
Ryan Tannehill
's blindside. Adam, how are the Chiefs dealing with the loss of Albert?
Adam Teicher
: It's a loss for the Chiefs for the short term without a doubt. Eventually, the Chiefs should be able to handle his departure. The Chiefs and Albert were so far apart on a long-term contract last year that they knew it was never going to happen. So they began preparing for this day last year by selecting a tackle,
Eric Fisher
, with the first pick in the draft. Fisher started as a rookie at right tackle but didn't play well. He was a huge disappointment, but there's no reason to believe he won't eventually become the player the Chiefs envision. He needs a year in Kansas City's weight program. That alone should make him better.
The Chiefs and Dolphins talked about a trade involving Albert last year. How disappointed was Miami they couldn't acquire Albert then?
Walker:
The Dolphins liked Albert last year, but the person calling the shots this year is different. Miami fired former general manager Jeff Ireland and hired new GM Dennis Hickey in January. Ireland liked to acquire picks as opposed to trading them away. So it wasn't a shock when talks with Kansas City failed. It turned out to be a mistake as Miami's offensive line was atrocious, which played a factor in Ireland losing his job. Hickey doesn't want to make the same mistake. It appears he values the perks of a good offensive line and is making it a priority by putting money into Albert.
Adam, the Chiefs' offensive line appears to be in transition with losses of Albert,
Jon Asamoah
and
Geoff Schwartz
. How will they recover?
Teicher
: They've tried to prepare for this. Over the last four drafts, the Chiefs have used five picks in the first three rounds on offensive linemen. Four of them will start next season. They have three developmental linemen and the Chiefs could slide one of them into a starting spot in the middle of the line. Their depth will definitely take a hit, particularly at tackle. They'll have to find some backups and perhaps even a starter through free agency or the draft.
With regard to the offensive line, is anything left for the Dolphins to do or are they set?
Walker
: The Dolphins are far from set, Adam. Unlike Kansas City, Miami has not invested much in the offensive line in the past year. Pro Bowl center
Mike Pouncey
is the only starting offensive lineman expected to return. Last year's starting guards --
Richie Incognito
and
John Jerry
-- will not return due to their involvement in Miami's high-profile bullying scandal. Offensive tackles
Tyson Clabo
and
Bryant McKinnie
are both unrestricted free agents who are long in the tooth. Pouncey and Albert are a solid foundation. But the Dolphins still need two starting guards and a right tackle to play alongside their two Pro Bowlers.