Kansas City Chiefs:

2013 Week 11 KC at DEN
November, 18, 2013
11/18/13
2:42
AM ET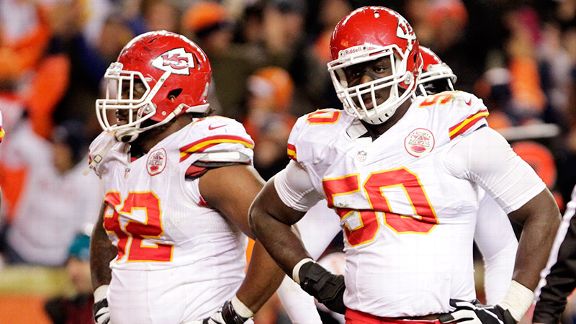 AP Photo/Joe MahoneyThe Chiefs entered Sunday leading the NFL in sacks, but they could not once get to Peyton Manning.
DENVER -- Forget about the rematch against the
Denver Broncos
in two weeks. There's only one game on the
Kansas City Chiefs
' schedule that matters now, and it's next Sunday's meeting with the
San Diego Chargers
at Arrowhead Stadium.
The Chiefs have to get their swagger back. They haven't played their game in several weeks, and on Sunday night they paid for it by losing for the first time this season,
27-17
to the Broncos.
It's just one game, and at 9-1 the Chiefs are still tied for first place with the Broncos in the AFC West. Still, their world suddenly feels like it's teetering. That's what happens when a defense that had carried the Chiefs through the first nine games collapsed, failing to make a single impact play in Denver's 76 offensive snaps.
Think about that for a second. The Chiefs, the league leader in sacks, never got to
Peyton Manning
, rarely even got a hand on him.
The Chiefs, the league leader in turnovers forced, got one takeaway, but it wasn't forced. A bad exchange on a handoff between Manning and
Montee Ball
wound up on the ground, and the Chiefs'
Derrick Johnson
was there to pick it up.
"That's us. That's what we do," Johnson said, referring to the sacks and turnovers that fueled the Chiefs through their 9-0 start. "It's just one game where we didn't do what we usually do."
Similarly, coach Andy Reid described the loss as just one bad day.
"We played a good football team," Reid said. "They got us today."
The Chiefs had better not fall into that trap. They haven't been themselves for weeks, and to believe the Chiefs will return to their previous form is, in all likelihood, wishful thinking.
The Chiefs didn't get a sack in their previous game against Buffalo, either. The week before that, they had just one against Cleveland.
Not every opponent will be able to exploit Kansas City's defense like the Broncos, who have Manning at quarterback and an impressive array of receivers. But other opponents have caught on to Kansas City's methods of pressure and have adjusted. The Chiefs need to adjust as well.
"It's one thing to say offenses are catching up to us just because we lost one game," cornerback
Sean Smith
. "Our defense is still very good. We're not hanging our heads low. You've got to give some credit to the offense. They're very efficient. They don't make too many mistakes. But still we have to find some kind of way to force turnovers. We definitely need more opportunities for our offense."
Perhaps the Chiefs will bounce back next week against the Chargers and return to their dominant form. Yet some ominous signs popped up against the Broncos that more likely mean it could be some time before the Chiefs right themselves defensively.
Rookie cornerback
Marcus Cooper
, who had been a gem since he was pulled off waivers from San Francisco to begin the regular season, had his worst game. Linebackers
Justin Houston
and
Tamba Hali
looked like average pass-rushers.
When opposing quarterbacks get rid of the ball quickly, as Manning mostly did and Buffalo's
Jeff Tuel
frequently did, the Chiefs look average, and sometimes not even that. So expect San Diego's
Philip Rivers
and other opposing quarterbacks to continue to throw quickly to neutralize Kansas City's pass rush.
"This league is a copycat league," Johnson said. "Whenever things work against you, other teams are going to do it, too."
Indeed, the fate of Kansas City's season depends on the defense pulling itself together. The Chiefs certainly can't count on their offense to carry them.
The Chiefs blew their only realistic chance to win Sunday night in the first quarter. After Johnson returned Manning's fumble to the Denver 18-yard line, the Chiefs had a chance to recover from an early 3-0 deficit.
Earlier in the season, they would have jumped all over the opportunity. This time, they returned the favor on the first play when fullback
Anthony Sherman
fumbled. Denver recovered and, with the help of a 70-yard pass from Manning to
Demaryius Thomas
, soon had a 10-0 lead.
It was Kansas City's first double-digit deficit of the season. Predictably, they couldn't overcome it.
So after just one defeat, the Chiefs' season has that fragile feel. They don't have much time to fix their problems. If they don't do it by next week's game against the Chargers, the Dec. 1 game against Denver might not matter much, anyway.
"We have a big division game coming up next week, so there's no time to feel sorry for ourselves," Smith said. "You take [the Denver loss] with a grain of salt."
They'll do so at their own peril.
November, 18, 2013
11/18/13
1:20
AM ET
DENVER -- Observed in the locker room following the
Kansas City Chiefs
' 27-17
loss
to the
Denver Broncos
Sunday night:
Smith
Calling it closely:
Both sides were penalized in the secondary for holding and pass interference in the secondary. Cornerback
Sean Smith
said it didn't take long to understand how the officials were calling the game. "They throw a couple of flags and you understand you get one quick pop and then you'd better get your hands off," he said.
Forsaking the field goal:
Coach Andy Reid initially sent
Ryan Succop
on to the field for an untimed down after a Denver penalty at the end of the first half for what would have been a 64-yard field goal attempt. Then, after seeing the Broncos send returner
Trindon Holliday
out to return the kick, Reid changed his mind and had the Chiefs try one more offensive play that didn't come close to the Denver end zone. "(Sixty-four yards) is a pretty good shot, even in the high altitude," Reid said.
Injury update:
Two starters on the offensive and defensive lines were injured in the defeat. Right tackle
Eric Fisher
injured his shoulder, guard
Jon Asamoah
his calf, defensive end
Mike DeVito
sprained his knee and defensive end
Tyson Jackson
strained his abdomen. Fisher, DeVito and Jackson were scheduled for MRIs.
November, 18, 2013
11/18/13
12:08
AM ET
DENVER -- A few thoughts on the
Kansas City Chiefs
'
27-17 loss
to the
Denver Broncos
on Sunday:

What it means:
The 9-1 Chiefs lost for the first time this season but more importantly they relinquished sole possession of first place in the AFC West. They are now tied with the Broncos for first place in the division. After stepping away to face different opponents next week, the teams will face one another again on Dec. 1, this time in Kansas City.
Stock Watch:
Rookie cornerback
Marcus Cooper
had his worst game of the season. He was beaten by
Demaryius Thomas
for a 70-yard gain. The Chiefs' pass rush had its third straight sub-par game. Kansas City couldn't get much pressure on Denver quarterback
Peyton Manning
, even when Manning was holding on to the ball for longer periods. The red zone offense was again ineffective. The Chiefs scored two touchdowns in their four trips inside the Denver 20. But they came away with no points on one such trip when fullback
Anthony Sherman
lost a fumble. Wide receiver
Dwayne Bowe
, one week after being arrested for possession of marijuana, had one of his better games of the season. Bowe caught four passes for 57 yards and Kansas City's only touchdown.
Double-digit deficit:
The Chiefs fell behind by 10 points at two different junctures in the first half. That's the first time this season they have trailed by more than a touchdown. Predictably, things didn't go well after that for the Chiefs, who were never able to catch up. Entering the game the Chiefs had not scored a touchdown on offense in six quarters. They managed two touchdowns against the Broncos, one coming with less than five minutes remaining in the game.
What's next:
The Chiefs have another game against a divisional opponent on Sunday when they play against the 4-6
San Diego Chargers
at Arrowhead Stadium.