Kansas City Chiefs:

2013 Week 8 CLE at KAN
October, 27, 2013
10/27/13
9:15
PM ET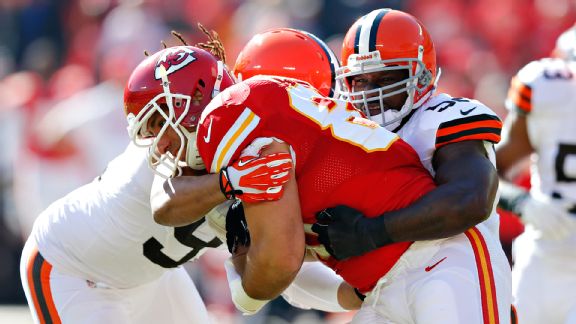 AP Photo/Ed ZurgaNothing has come easy for tight end Anthony Fasano and the Kansas City Chiefs this season.
KANSAS CITY, Mo. -- In many corners of their victorious locker room, the 8-0
Kansas City Chiefs
claimed they were energized by being the last ones standing.
Jamaal Charles
said being the NFL's last remaining undefeated team makes all the work worthwhile. Quarterback
Alex Smith
said it's an honor to have opponents coming hard after them, as has been the case in recent weeks.
Their actions on the field send a much different message. The Chiefs suddenly look weary, like a team carrying a burden.
They survived again on Sunday against the
Cleveland Browns
, winning 23-17. But they continued their unsettling habit of letting losing teams hang around and get to the fourth quarter with a chance at victory.
The Browns fell behind 13-0 at Arrowhead Stadium only to charge back behind their new starting quarterback,
Jason Campbell
. Campbell was playing only because the Browns' first choice at quarterback,
Brian Hoyer
, is out for the season with a knee injury and the first backup,
Brandon Weeden
, was so bad he was benched.
The Chiefs still had to sweat a stressful fourth quarter. Where last week, there was much joy over their ability to hold off the
Houston Texans
, this time the emotion was pure relief.
"These grind-it-out games, they're tough," Chiefs coach Andy Reid said. "You work hard during training camp so you're mentally strong enough to be able to handle things like this, and that's what we did. We'll continue to work hard, and I'm sure there will be other games like this where you have to grind them out."
That's not a good look for a team having just completed the easy portion of its schedule. The Chiefs on Sunday concluded a three-game homestand against opponents who won't be going to the playoffs. There's something to be said for emerging with their winning streak intact, messy as things might have looked.
"The best you can be right now is 8-0, and that's where we're at," linebacker
Derrick Johnson
said. "Everybody is going to give us their best. We know that. If we can take that punch and keep rolling, that's what we did today."
Next week, the Chiefs go back on the road for the first time in almost a month to face the
Buffalo Bills
. What follows certainly qualifies as a gauntlet: two games each against the
Denver Broncos
and
San Diego Chargers
, road games against the
Washington Redskins
and
Oakland Raiders
and a home game against the
Indianapolis Colts
.
Every last one of those opponents figures to be coming after the Chiefs, much as the Texans and Browns did the past two weeks.
"We know next week we're going to get Buffalo's best shot, playing up in Buffalo," Charles said. "We know they're going to give us all they can give us."
Charles went on to say he welcomed the challenge, but his words didn't have the proper conviction to be convincing. Their games have become a grind and, to their credit, the Chiefs have often been grittier than their opponent. They had five sacks two weeks ago in the fourth quarter against Oakland, and four in the final quarter against the Texans.
That kind of effort requires a lot of energy, and they didn't show they had it late in the game Sunday. Maybe they've given too much and the tank, at least temporarily, is empty.
Again, that's not the party line.
"Not that anybody sneaks up on anybody in this league, but when you're the only undefeated team, I think teams have recognized how we're playing and no question they're coming prepared," Smith said. "We love it. You want the stages to get bigger. That's why you put in all the work in the offseason. That's why you do training camp. You want these opportunities. You want that honor."
That much, of course, is true. The Chiefs have lost 12 or more games in four of the past six seasons, so to get to 8-0 is beyond any of the survivors' dreams.
That doesn't explain how the second half looked like it meant more to the Browns, who are now 3-5. They were the ones who turned up the heat in the second half, sacking Smith five times.
"We're not trying to be beauty queens," wide receiver
Dexter McCluster
said. "It's never too close for comfort when it's a win."
That doesn't change the fact that the Chiefs are living on the edge. Maybe they can continue happily on that way. More likely, going on the road to Buffalo, historically a graveyard for the Chiefs, or to Denver in its subsequent game on Nov. 17 will be enough to push them over the edge.
One way or the other, the Chiefs seem intent on finding out.
October, 27, 2013
10/27/13
5:29
PM ET
KANSAS CITY, Mo. -- Observed in the locker room after the
Kansas City Chiefs
'
23-17 win
over the
Cleveland Browns
:

Reid
Momentum changer
: Coach Andy Reid had no regrets about having
Ryan Succop
try a 52-yard field goal late in the second quarter, with the Chiefs ahead 13-0. Succop's kick was long enough, but slightly wide to the left. It took Cleveland just two plays to use the resulting favorable field position to score its first touchdown to cut the deficit to 13-7. "He had been bombing those [kicks] before the game,'' Reid said.
Home run hitter
: Former Kansas City Royals infielder George Brett, a Hall of Famer, was in attendance. He grabbed a drumstick and beat on a big bass drum on the field shortly before kickoff to help fire up the fans at Arrowhead Stadium. "George Brett looked like he can still swing,'' Reid said. "It was great to see him out there. I know he's a big football fan.''
Rookie mistake
: Guard
Jeff Allen
had to wait for rookie tackle
Eric Fisher
to finish his postgame Q&A session with the media because it was conducted right in front of Allen's locker. Asked whether Fisher's move was worthy of a fine, Allen said, "It definitely is.''
October, 27, 2013
10/27/13
4:11
PM ET
KANSAS CITY, Mo. -- A few thoughts after the
Kansas City Chiefs
'
23-17 win
over the
Cleveland Browns
:

What it means:
The Chiefs, the last of the NFL's unbeaten teams, raised their record to 8-0 and assured themselves of retaining sole possession of first place in the AFC West regardless of how the
Denver Broncos
fare in their late-afternoon game against the
Washington Redskins
.
Stock watch:
The Chiefs entered the game leading the NFL in sacks with 35 but were held without one by the Browns until the fourth quarter.
Justin Houston
got the sack, but even then it was the product of good coverage downfield more than great pressure by the Chiefs.
Tamba Hali
had been one of the league's hottest pass-rushers, but matched up mostly against left tackle
Joe Thomas
, he rarely got close to Cleveland quarterback
Jason Campbell
. Cornerback
Sean Smith
had a rough game, first biting on a flea flicker to leave
Josh Gordon
alone for Cleveland's first touchdown, and later getting beaten deep by tight end
Jordan Cameron
. Quarterback
Alex Smith
had one of his most productive games. He threw a pair of touchdown passes, his first in four weeks.
Dexter McCluster
had seven receptions, including a 28-yard touchdown.
Unproductive second-half offense:
After rolling up 20 points in the first half, the Chiefs were scoreless in the second half until
Ryan Succop
kicked a field goal with 17 seconds left. The Browns had allowed 31 points in each of their previous two games. The Chiefs even got a break in the fourth quarter when Cleveland's
Davone Bess
, who had possession at one point, fumbled a punt return without being hit. The Chiefs recovered near midfield, but couldn't take advantage of the favorable field position. Smith was sacked five times in the second half.
What's next:
The Chiefs are back on the road for the first time in almost a month when they travel to play the
Buffalo Bills
next Sunday. The last time the Chiefs were undefeated so late in the season was 2003, when they beat the Browns at Arrowhead Stadium to go 9-0. They went on the road the following week and lost to Cincinnati.