Kansas City Chiefs:

2013 Week 9 KAN at BUF
November, 3, 2013
11/03/13
9:03
PM ET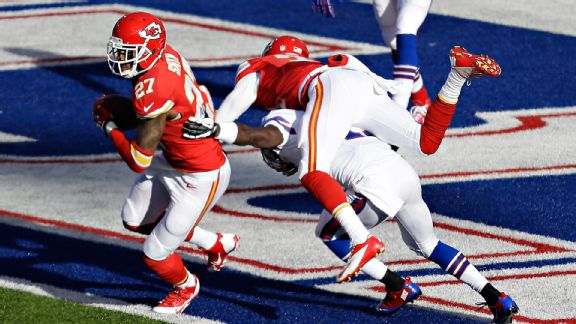 AP Photo/Gary WiepertThe defense scored both of the Chiefs' touchdowns -- including a Sean Smith pick-six in the third quarter.
ORCHARD PARK, N.Y. -- Brilliant football minds can watch all the video they want but they have no explanation for why the NFL's best teams are not just good but lucky as well.
They can have no justification for what happened early in the third quarter Sunday at Ralph Wilson Stadium, where the
Kansas City Chiefs
and their unbeaten season were teetering on the brink against the
Buffalo Bills
.
With Buffalo at the Kansas City 2, the Chiefs blew a coverage and left Buffalo's best and most accomplished receiver,
Stevie Johnson
, uncovered in the end zone. The ball did not go to Johnson but in another direction and eventually the hands of Chiefs cornerback
Sean Smith
.
One hundred yards later, Smith scored a touchdown himself and rather than falling behind by 14 points for their first double-digit deficit of the season, the Chiefs tied the score. They went on to
win 23-13
to go 9-0 and remain as the NFL's only unbeaten team.
"We make mistakes while we're in there," said linebacker
Tamba Hali
, who in the fourth quarter scored Kansas City's second defensive touchdown of the day. "We blow coverages. There's a lot that happens but we just focus on the positive. Sometimes things are going their way and we just keep playing and [then] things happen to go our way. Our guys are just strong-minded men."
Football purists might not like Hali's answer but it better captures what's happening with the Chiefs than any other reasoning. The Chiefs won't be able to get away with leaving receivers open in the end zone in their next game against
Peyton Manning
and the
Denver Broncos
, the following week against
Philip Rivers
and the
San Diego Chargers
or in the subsequent game, a rematch against the Broncos.
The fact remains that Sunday they were playing against the Bills and undrafted rookie quarterback
Jeff Tuel
. He is Buffalo's fourth-string quarterback, playing only because of injuries to the three quarterbacks ahead of him.
On the game's most important play, Tuel didn't go to Johnson but tried to force the ball into coverage instead. The whole stadium was shocked by his decision, Smith included.
"So surprised," Smith said. "It was like Christmas. You know, you go downstairs as a little kid and there's a big box right there? That's how I felt.
"Those are the plays that you always wish happens to you when you're watching on TV. It was my day."
It was the Chiefs' day, really. But all the days this season have belonged to the Chiefs and particularly in the fourth quarter. They again won the final period, which began with the score tied at 13.
The Chiefs scored both of their touchdowns on defense and managed just three field goals with their offense. But that's not a crazy thing for them. They have five defensive and two special teams touchdowns this season and coach Andy Reid didn't have to go back too far in his memory to recall winning a game in a similarly bizarre fashion.
"We've had a couple this year," Reid said. "We're not making excuses for it."
Nobody is asking them to, but if the Chiefs think they can compete against the Broncos playing as they did against the Bills, they're only fooling themselves. They were outgained in total yards Sunday 470-210 by a 3-6 opponent playing its fourth-string quarterback.
Yet if the Chiefs have proved one thing, it's that it's risky to underestimate them. They are on an amazing roll that goes beyond X's and O's.
Take the two touchdowns scored by Hali this season. Both have come from short range. He intercepted a pass in the season opener in Jacksonville and returned it 10 yards for a touchdown.
Hali on Sunday scooped up a fumble and returned it 11 yards for the touchdown that put the Chiefs ahead for good.
The Chiefs were fortunate it was Smith called to go 100 yards and not Hali, who is one of the NFL's best pass-rushers and a relentless player who gives a maximum effort on every play. He's just not built to go long distances, something he jokingly acknowledged.
"With blocking, I can run 100 yards if you're not going to chase me," he said.
Smith is much better equipped to go the long haul. In truth, though, his touchdown return was so well-blocked that indeed even Hali could have scored.
"Do you know," Smith said, "how long 100 yards is in the cold?"
For the Chiefs, no distance has been too long, no hurdle too big. After going deep into the fourth quarter the past three weeks before outlasting under-.500 teams from Houston, Cleveland and now Buffalo, the Chiefs don't appear they will pass any smell test.
Conventional wisdom will undoubtedly hold that they'll have trouble against the high-scoring Broncos in two weeks, after their bye. But little to happen this season to the Chiefs has followed conventional wisdom.
That Nov. 17 game in Denver will probably fall into that category as well.
November, 3, 2013
11/03/13
5:15
PM ET
ORCHARD PARK, N.Y. -- Observed in the locker room after the
Kansas City Chiefs
'
23-13 victory
over the
Buffalo Bills
:
Hali
Celebrating in style:
Linebacker
Tamba Hali
, on his 30th birthday, did something before the game that he says he rarely does before playing. He had breakfast. "I usually don't eat on game day but I ate today for some reason," said Hali, who scored a fourth-quarter touchdown on a fumble return. "A bagel and bacon and an omelet [that] I put on the bagel. It was good."
Injury-free:
The Chiefs didn't lose anyone to injury. Last week against Cleveland they didn't lose any of their front-line players, but rookie defensive lineman
Mike Catapano
, a backup who played mostly on special teams, suffered a high ankle sprain that kept him out against the Bills.
Smith's introduction to Buffalo:
Quarterback
Alex Smith
played his first game in Buffalo on Sunday. On a wintry day with temperatures in the 30s, Smith survived the tricky winds at Ralph Wilson Stadium to complete 19 of 29 passes. But he threw for just 124 yards, with his longest completion of the day going for 20 yards.
November, 3, 2013
11/03/13
4:01
PM ET
ORCHARD PARK, N.Y. -- A few thoughts on the
Kansas City Chiefs
' 23-13
victory
against the
Buffalo Bills
:

What it means:
The Chiefs moved to 9-0 and, more importantly, guaranteed they will head to Denver for their Nov. 17 showdown with the
Denver Broncos
with no worse than a one-game lead in the AFC West. The 7-1 Broncos had a bye Sunday and will play the Chargers in San Diego next Sunday.
Stock watch:
The once-productive pass rush continues to be ineffective. The Chiefs, who lead the NFL with 36 sacks, failed to get to Buffalo rookie quarterback
Jeff Tuel
. The Chiefs tackled as poorly as they have all season in allowing more than 200 rushing yards to
C.J. Spiller
and the Bills.
Dexter McCluster
dropped a deep pass when he was uncovered and could have scored a touchdown. Rookie cornerback
Marcus Cooper
was beaten deep for a touchdown in the first half by
Marquise Goodwin
, but made up for it in the fourth quarter when he punched the ball lose from
T.J. Graham
.
Tamba Hali
recovered the fumble and returned it for the touchdown that put the Chiefs ahead 20-13.
Offensive futility:
The Chiefs had fewer than 200 yards until late in the game, and managed just three field goals offensively.
Alex Smith
completed 19 of 29 passes, but for just 124 yards. Both of Kansas City's touchdowns were scored by the defense. Hali's score came early in the fourth quarter. A bigger play came early in the third quarter. With the Bills ahead 10-3 and on the Kansas City 2, Tuel threw an ill-advised pass into coverage that was intercepted by
Sean Smith
, who returned it 100 yards for the tying touchdown. Tuel had wide receiver
Stevie Johnson
open in the end zone on the play, but apparently didn't see him.
What's next:
The Chiefs are on their bye, and they'll need to benefit from the break. When they return to game action, they'll head into the meaty part of their schedule. Two of their next three games will be for AFC West supremacy against the Denver Broncos. Sandwiched in between is a game with another division rival, the
San Diego Chargers
.