Kansas City Chiefs:

Atlanta Falcons
March, 13, 2014
Mar 13
8:00
AM ET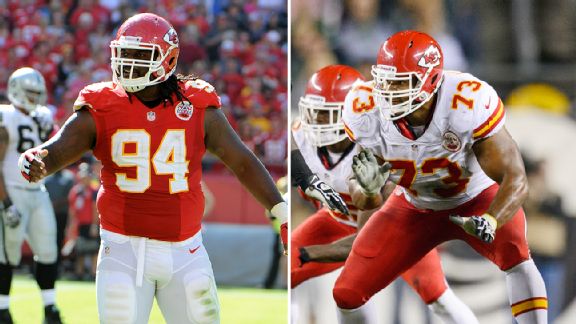 USA TODAY SportsEx-Kansas City linemen Tyson Jackson and Jon Asamoah should give Atlanta toughness in the trenches.
The
Atlanta Falcons
raided the roster of the
Kansas City Chiefs
in the opening moments of the free-agent signing period, adding defensive end
Tyson Jackson
and guard
Jon Asamoah
. Jackson was the Chiefs' first-round draft pick in 2009 and the third choice overall. Asamoah was selected by the Chiefs in the third round of the 2010 draft.
ESPN NFL Nation reporters Adam Teicher (Chiefs) and Vaughn McClure (Falcons) discuss the signings.
Teicher
: Vaughn, tell us how Jackson and Asamoah fit into the Falcons' plans and why they liked those players more than some other available players at their positions.
McClure
: In my opinion, they're both great fits for a team that lacked some toughness up front on both sides of the ball. The offensive line getting pushed around last season led to
Matt Ryan
being the league's most-pressured quarterback and the running game being the league's worst. Asamoah will step in immediately at right guard, where the Falcons tried three players last season but had little success. In terms of Jackson, he has 3-4 experience, and the Falcons are set to move more toward a 3-4 base defense. And if Jackson is as good a run-stuffer as Asamoah touted him to be, the Falcons should be in business.
From the Chiefs' perspective, what were the pros and cons to keeping or parting ways with both Jackson and Asamoah?
Teicher
: The Chiefs would have liked to have retained Jackson but not at the price the Falcons got him for (five years, $25 million). He developed into a solid run defender the past couple of seasons but was still just a part-time player who came out of the game on passing downs. Still, the Chiefs may have to go out and find his replacement in free agency or the draft. They also thought Asamoah was too pricey for them at more than $4 million per year. The Chiefs last year had some good depth on the offensive line. They drafted five linemen in the top three rounds over the previous four drafts. Asamoah was one of them and the other four will start for them next year. They didn't re-sign any of their three free-agent offensive linemen and never came close to reaching a deal with any of them. The Chiefs have some developmental prospects they may try to plug into the starting right guard spot that is now vacant or they could find a guard in free agency or the draft.
These signings have Scott Pioli's fingerprints on them. He was the Chiefs' general manager when they drafted Jackson and Asamoah and is now Atlanta's assistant GM. How much say do you think he has on personnel matters for the Falcons?
McClure
: I think it will be a team effort, Adam, with general manager Thomas Dimitroff, director of player personnel Lionel Vital, and Pioli leading the way. Of course, Pioli obviously had some input in these signings. He had a familiarity with both Asamoah and Jackson and could speak on their behalf. But Pioli learned some lessons from his experience in Kansas City, particularly how to be more open-minded. So, like Dimitroff said, Pioli will be another voice at the table. I'm curious now to see how they all put their minds together and decide what to do in the draft. They need both an offensive tackle and edge pass-rusher.
Adam, since we're talking, I have to ask you this question. My sources told me that the
Seattle Seahawks
indeed talked about trading for Tony Gonzalez. And there were reports that Kansas City felt the same way. What exactly happened there? And Gonzalez is a free agent now, you know?
Teicher
: Bringing Gonzalez back to Kansas City for the last half of last season would have made sense on a number of levels. They had some injuries at tight end and needed a pass-receiver at that spot. The fans would have loved it. But the Chiefs never seemed serious about it. It was fun for everyone to talk about, but it was never close to becoming a reality. That would be something if the Chiefs signed Gonzalez now as a free agent, but their chance to get something done with him was last year.
October, 8, 2013
10/08/13
10:35
AM ET
KANSAS CITY, Mo. -- Fans have been clamoring for the
Kansas City Chiefs
to bring
Tony Gonzalez
back so he can make his final Super Bowl run in Kansas City. The idea has a lot of merit.
Gonzalez
Forget that one of the franchise's all-time greats would be returning to the Chiefs. They have too good a thing going this year to get all sentimental. This has to be about football and nothing else.
So what really matters is this: How much better would their passing game look with Gonzalez attracting plenty of defensive attention in the middle of the field?
A lot. So from that angle, the return of Gonzalez would make a lot of sense.
Don't let anyone tell you it wouldn't work financially, either. It would be a tight squeeze, but the Chiefs have about $2.5 million of available salary cap room. Gonzalez's base salary this season is $3.5. He's due 12 more paychecks this season, so that adds up to a tidy $2.471 million.
The biggest concern for the Chiefs should be their locker room and what introducing a player of Gonzalez's stature would do. Toward the end of his time with the Chiefs, Gonzalez was more interested in personal goals than winning. The Chiefs have some great chemistry, and they need to be wary of everything before introducing a foreign element into their locker room. The only way a Gonzalez trade works for them is if he won't pout if he doesn't get the ball.
It also doesn't make a ton of sense that the 1-4
Atlanta Falcons
would bail on Gonzalez and their season so soon. They're already four games behind the
New Orleans Saints
in the NFC South, so a division championship is out of the question. They could still be a factor in the wild-card chase, but only if they don't trade Gonzalez.
So while this is fun to think about, a Gonzalez return to the Chiefs may be just that: wishful thinking.