Kansas City Chiefs:

Cyrus Gray
May, 13, 2014
May 13
4:05
PM ET
Here's another installment of our detailed look at the
Kansas City Chiefs
' roster by position with a determination whether they improved or not since the end of last season. Keep in mind that the Chiefs can continue to make roster moves and could make significant additions or subtractions before they arrive at training camp. But the bulk of the roster they will take to Missouri Western State University in St. Joseph is intact.
We'll continue here with the running backs.
End of 2013:
Jamaal Charles
,
Knile Davis
,
Cyrus Gray
,
Anthony Sherman
.
Serious 2014 roster candidates:
Charles, Davis, Gray, Sherman,
Joe McKnight
.
Analysis:
For our purposes, we're going to count rookie
De'Anthony Thomas
as a receiver and not a running back. He may play some here but Charles and Davis should get most of the playing time. So this group could be the same unless there's an injury or McKnight is able to steal Gray's roster spot. Sooner or later, Charles' ability to deliver consistently huge production will drop off, but I'm not going to predict it this year. Davis came a long way from the start of last season to the finish. If he's recovered from his broken leg, he's capable of giving the Chiefs more than he did last season. Sherman, the fullback, should have another big season as the lead blocker.
Better or worse?
Slightly better based off predicted improvement from returning players.
February, 22, 2014
Feb 22
8:30
AM ET
Another week, another excellent batch of
Kansas City Chiefs
questions for the mailbag. Here we go:
January, 26, 2014
Jan 26
9:00
AM ET
KANSAS CITY, Mo. – Today's positional analysis takes us to running back, where the Kansas City Chiefs' best player resides.
Roster (7)
: Jordan Campbell,
Jamaal Charles
,
Knile Davis
,
Cyrus Gray
, Eric Kettani,
Joe McKnight
,
Anthony Sherman
.
Potential 2014 free agents
: none.
The position
: The Chiefs asked a lot of Charles last season and he consistently delivered. Charles led the Chiefs in rushing, receiving and touchdowns. It took a concussion that knocked him out of the playoff game in Indianapolis before Charles stopped being productive. Charles is still only 27 but has a lot of wear and tear on him. It would be wise for the Chiefs to plan for the day Charles slows down or has another long-term injury similar to the ACL tear that ruined his 2011 season. They drafted Davis in the third round last season. His season started slowly and he had trouble with his long-standing problem with fumbles. But late in the season, Davis proved to be more than adequate of providing relief for Charles and capable of stepping in to the featured role. Then Davis broke his leg in the playoff game and Kansas City's offseason plans at this position hinge on how quickly he will return. If Davis won't be ready by the start of the regular season, the Chiefs need to find some help for Charles. They clearly weren't comfortable with Gray, who was passed over for playing time even when Davis was struggling. The signing of McKnight, formerly of the
New York Jets
, is an interesting one. McKnight has loads of ability but he wasn't very productive in New York. Sherman was excellent as a lead blocker at fullback last season and also has some receiving ability.
The Chiefs should keep
: Charles, Davis, Gray and Sherman. McKnight could knock Gray from the roster with a strong showing at training camp and the preseason.
The Chiefs should dump
: Campbell and Kettani.
Free agency/draft priority
: The Chiefs have other places to spend their resources.
January, 8, 2014
Jan 8
8:10
AM ET
KANSAS CITY, Mo. -- A little late with this but travel back from the game in Indianapolis has been a "Planes, Trains & Automobiles" kind of thing. Some day, I'll write a book about the last three days, but for today I'm going to talk about injuries for the
Kansas City Chiefs
from the playoff loss to the Colts.
Running back
Knile Davis
broke his fibula and sprained his knee and that could force the Chiefs into acquiring a player to serve as a backup to
Jamaal Charles
. It's clear the Chiefs don't think of
Cyrus Gray
in those terms, so unless the Chiefs are convinced Davis will be ready to go by the start of training camp, they'll need to either sign a back or draft one.
Linebacker
Justin Houston
also sprained his knee but he was walking around on it after the game, albeit with a noticeable limp. That one didn't have the look of a serious injury.
Wide receiver
Dwayne Bowe
had a mild foot sprain that shouldn't be a problem. He finished the game. Charles, wide receiver
Donnie Avery
and cornerback
Brandon Flowers
continue to recover from their concussions.
October, 14, 2013
10/14/13
12:30
PM ET
A review of four hot issues from the
Kansas City Chiefs
'
24-7 win
against the
Oakland Raiders
:
[+] Enlarge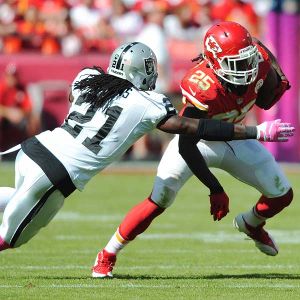 Denny Medley/USA TODAY SportsThanks to running back Jamaal Charles, the Chiefs' offense continues to hum along. But what happens if Charles isn't scoring touchdowns?
Too much Charles, Part I:
Running back
Jamaal Charles
supplied 128 of the Chiefs' 216 yards and both of their offensive touchdowns. Otherwise, the Chiefs produced next to nothing offensively, a troubling development for a team trying to identify reliable offensive threats in addition to Charles. The Chiefs had trouble handling the Oakland defensive front, the result being consistent pressure on quarterback
Alex Smith
. He completed just 14-of-31 for 128 yards, and his season completion percentage slipped to a feeble 56.5. Smith hasn't thrown a touchdown pass in the past two weeks. The Chiefs can survive with such meager offensive production as long as their defense continues to strangle opponents. If the day comes when the defense collapses, the Chiefs appear headed for trouble.
Too much Charles, Part II:
Another offensive failure has been the inability of rookie RB
Knile Davis
or RB
Cyrus Gray
to develop into players who can produce while Charles gets some rest. Davis was in for one snap against Oakland and fumbled after catching a short pass. The Chiefs are understandably fearful of using Davis; given his fumbles, lining up in the wrong place, and running the wrong play, he is completely unreliable. Gray didn't play at all on offense. He isn't as much of a threat as Charles, particularly in the running game. But Gray is a dependable receiver and solid pass protector who should get a few snaps in the hopes of preserving Charles for an entire season.
Catching Houston:
The team sack race appeared over after three games when one outside linebacker,
Justin Houston
, had 7.5 sacks while the other,
Tamba Hali
, had just 1. But Hali, after sacking Oakland quarterback
Terrelle Pryor
3.5 times on Sunday, is within range of Houston. Houston has 9.5 sacks, which is tied for the NFL lead with
Robert Mathis
of Indianapolis. Hali is fourth at 7.5. The Chiefs lead the NFL with 31 sacks.
Winning the turnover battle:
The Chiefs forced three turnovers and the Raiders one, leaving the Chiefs at plus-12 in turnover differential for the season. Don't overlook the importance of that statistic in the Chiefs' 6-0 record. The Chiefs and the sluggish offense have benefited from favorable field position several times this season, while the defense has rarely been put in bad spots. The Chiefs have won the turnover battle in every game except against the
New York Giants
, in which both teams turned the ball over three times.
October, 10, 2013
10/10/13
7:30
AM ET
KANSAS CITY, Mo. --
Jamaal Charles
is not the NFL's biggest running back. Far from it, in fact. At 200 pounds, Charles is the smallest of the three halfbacks on his own team, the
Kansas City Chiefs
.
Charles does not look like a back built to take a consistent pounding. Nobody has ever questioned his toughness or ability to rebound from a big hit, but it's natural to wonder with Charles, how much is too much?
Charles leads the league in touches. He has 92 carries and 28 catches and those 120 touches project to 384 for the full season at his current pace.
[+] Enlarge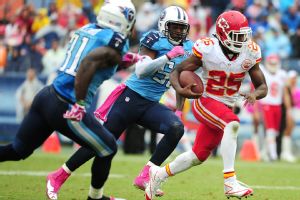 Scott Cunningham/Getty ImagesChiefs running back Jamaal Charles has 120 touches this season.
The potential for overuse of Charles was a concern to the Chiefs last season and they still gave him the ball 320 times between carries and catches. But it doesn't appear to bother coach Andy Reid this season.
"Running backs, this is kind of their deal," Reid said. "I'm not sure you ever quite feel right after the first game. You kind of go off knowing the guy and make sure you keep in good communication. He's handling it pretty good."
Charles has been troubled the past two weeks by blisters on his feet. He didn't practice on Wednesday because of them. But that's not a problem stemming from overuse.
"This is his feet," Reid said. "This is not about the joints or any of that. His feet are a mess. That's unusual but his feet are a mess. He's got blisters. We'll get that taken care of."
Reid's deeds match his words. Charles has been the only consistent threat for the Chiefs. Particularly at running back, the Chiefs have been unable to develop what they consider to be a suitable alternative.
They drafted
Knile Davis
in the third round this year specifically to ease Charles' burden. Between fumbles, lining up in the wrong places and running the wrong plays, the Chiefs don't seem to trust Davis much.
The Chiefs also have
Cyrus Gray
, one of their best special teams players. He has played some in passing situations but otherwise gets little work on offense.
Charles is showing no signs of buckling under the strain. He had his best game of the season last week against the
Tennessee Titans
with 108 rushing yards and a touchdown along with five catches.
How long that will continue is up for debate. That's why it's imperative the Chiefs develop another threat, someone who can take some of the pressure off of Charles.
October, 2, 2013
10/02/13
2:20
PM ET
KANSAS CITY, Mo. -- The
Kansas City Chiefs
are holding
Jamaal Charles
from Wednesday's practice because of blisters on his feet. Charles participated in the walkthrough earlier in the day, an indication he will be ready for Sunday's game against the Titans in Nashville, Tenn.
In that case, it's not a bad idea for the Chiefs to shut down Charles for the day. He's both their leading rusher and receiver, and in either category it's not even close.
When it comes to running the ball, the Chiefs don't appear comfortable with either of their other two backs getting much work. Rookie
Knile Davis
and
Cyrus Gray
have only 13 carries between them despite the fact the Chiefs have had some comfortable leads and could afford to provide Charles some rest.
Charles has 23 receptions, or 10 more than any other Chiefs receiver.
September, 10, 2013
9/10/13
7:30
AM ET
Kansas City Chiefs
running back
Jamaal Charles
has a bruised quadriceps muscle after seeing his leg stepped on during Sunday's game against the
Jacksonville Jaguars
. The Chiefs appear confident he will be ready for their next game, this Sunday against the
Dallas Cowboys
at Arrowhead Stadium.
Davis
Gray
But if Charles can't go, the two candidates available to replace him couldn't be any more different.
One candidate is
Cyrus Gray
, a sixth-round draft pick last year. Gray, a strong special-teams player, is the dependable choice. He's only 206 pounds and an average runner, but catches well out of the backfield and is a good pass protector.
The other is rookie
Knile Davis
, a third-round pick. Davis is 227 pounds, fast -- and brings big-play potential. He returned one kickoff 109 yards and another 79 yards in the preseason.
Davis was a notorious fumbler in college. In training camp and the preseason, he dropped numerous passes, was spotty as a pass-blocker and occasionally lined up in the wrong place or ran the wrong play.
It would be a dilemma for the Chiefs, who would need Davis' big-play ability if Charles isn't in their lineup. But he's a risky option, and the Chiefs don't appear to have complete trust in him.
They showed their hand in Jacksonville, where Gray was first off the bench after Charles left the game for good in the second half. Davis later received some playing time.
"We mixed it up a little bit,'' coach Andy Reid said. "We were using Cyrus in some third-down situations. We're trying to use them the best we could.
"(Gray) is a veteran. He hasn't been around that long, but he's been around longer than Knile.''
Whatever the Chiefs do, they need to run the ball better than they did in Jacksonville after Charles' departure. Davis and Gray combined for 20 yards on six carries.
"(The Jaguars) loaded the box, which we thought they were going to do when they were down as much as they were down,'' Reid said. "We've got to do a better job there. I can help them there a little bit with some of the (play) calls.''
September, 1, 2013
9/01/13
1:35
PM ET
As recently as Saturday morning,
Cyrus Gray
was still sweating over whether he would make the Chiefs' regular-season roster. By this morning, he was frequently the featured back on passing downs at practice.
Gray
It's not as dramatic of a turn in fortunes as it might sound. Gray made the roster because of his skills in the passing game, as well as his ability to cover kickoffs and punts.
The Chiefs kept Gray instead of their other running back candidate,
Shaun Draughn
, because Gray is better as a pass-protector and receiver. The Chiefs don't need another back to run the ball. They have
Jamaal Charles
and rookie
Knile Davis
for that.
But they do need some help on third downs and Gray was the one mostly filling that role today. Gray, a sixth-round draft pick last season, played little as a rookie but played in a pro-style offense at Texas A&M and caught 103 passes over four years.
"A big part of it is pass protection,'' Gray said when asked why he thought he made the team. "I take pride in that part of my game. I've been doing well at it and I have to continue to do well.''
Charles will play some in obvious passing situations, too. But the Chiefs don't appear comfortable using Davis that way. He dropped a number of passes in camp and in the preseason and he's still learning to pass block.
"I wouldn't compare the two that way,'' coach Andy Reid said of playing Gray ahead of Davis, a third-round draft pick. "Knile has come a long way in that area and done a nice job with his protection and with catching the ball. I will also tell you that's one of Cyrus' strengths. He does a nice job. He had a few chances this past game to do some blitz pickup and protection there and he did a nice job with it.''
August, 28, 2013
8/28/13
7:00
AM ET
Not much intrigue left to the preseason for the
Kansas City Chiefs
. Just trying to stay healthy through Thursday night's final exhibition game against the
Green Bay Packers
at Arrowhead Stadium.

That, and the final round of roster cuts that loom afterward. The Chiefs, like all NFL teams, must trim their active roster from 75 to 53 players by Saturday evening.
Here's my prediction on how their roster will look for the Sept. 8 regular-season opener against the Jaguars in Jacksonville, Fla., at offensive positions and in the kicking game. I'll post defensive predictions later today.
Quarterback (3):
Alex Smith
,
Chase Daniel
,
Tyler Bray
. This might be the only position where there is no intrigue. They are set and in this order on the depth chart.
Running back (4):
Jamaal Charles
,
Anthony Sherman
,
Knile Davis
,
Shaun Draughn
. The only real mystery here is whether the Chiefs keep Draughn or
Cyrus Gray
as the third halfback. Draughn has been more productive than Gray. The Chiefs don't use their fullback enough to keep more than just Sherman.
Wide receiver (6):
Dwayne Bowe
,
Donnie Avery
,
Dexter McCluster
,
Junior Hemingway
,
Devon Wylie
,
A.J. Jenkins
. This position has come into focus since the Chiefs traded
Jon Baldwin
and released
Terrance Copper
. Bowe and Avery are the starters, McCluster the slot receiver. Hemingway has been steady during camp and the preseason and deserves a spot. Wiley and Jenkins are fast, and coach Andy Reid likes speed. The Chiefs might also keep undrafted rookie
Rico Richardson
, who caught the touchdown pass in overtime in Pittsburgh last week, but I'm not going to predict that.
Tight end (4):
Anthony Fasano
,
Tony Moeaki
,
Travis Kelce
,
Demetrius Harris
. The shoulder injury to Moeaki might lead the Chiefs to place him on the injured-reserve list. Either way, the Chiefs will need to keep another tight end now, and that's likely to be Harris. A former basketball player who didn't play football in college, Harris needs more time to develop, so the Chiefs might be in search of veteran help at this position.
Offensive line (8):
Branden Albert
,
Eric Fisher
,
Donald Stephenson
,
Jeff Allen
,
Jon Asamoah
,
Geoff Schwartz
,
Rodney Hudson
,
Eric Kush
. Stephenson is too good to be a backup for long. He and Schwartz will be the first reserves off the bench. Kush is a developmental player.
Specialists (3):
Ryan Succop,
Dustin Colquitt
,
Thomas Gafford
. They're the only players still on the roster at their respective positions.