Kansas City Chiefs:

Jerrell Powe
January, 27, 2014
Jan 27
2:25
PM ET
KANSAS CITY, Mo. -- The
Kansas City Chiefs
roster series moves on to the defensive line, where the Chiefs may part with a former first-round draft pick.
The roster (10):
Chas Alecxih,
Allen Bailey
,
Mike Catapano
,
Mike DeVito
, Dominique Hamilton,
Jaye Howard
,
Tyson Jackson
, Brandon Moore,
Dontari Poe
,
Jerrell Powe
.
Potential 2014 free agents:
Jackson, Powe.
The position:
The Chiefs received a Pro Bowl season from Poe at nose tackle and very good seasons from DeVito and Jackson, at least in their run defense. But Jackson, their No. 1 pick in 2009, could be an unrestricted free agent. He would be nice to retain because Jackson has value. But since he hasn't been an every-down player and the Chiefs don't think of him in that term, they don't need to bust their budget to re-sign him. If Jackson signs with another team, the Chiefs have a decision about how to replace him. It might be time to give Bailey a shot. He played well against the run and has some pass-rush ability. If Bailey is in their lineup, the Chiefs would have little in the way of proven depth so adding to their numbers at these positions would be essential. The Chiefs need to find a nose tackle they're comfortable with to provide some relief for Poe. He played a lot of snaps for a 346-pound guy. Powe could be that backup.
The Chiefs should keep:
Bailey, Catapano, DeVito, Poe and Powe.
The Chiefs should dump:
Alecxih, Hamilton, Howard, Jackson and Moore.
Free agency/draft priority:
High if Jackson leaves. The Chiefs wouldn't necessarily need to spend a lot of money or use a high draft pick, but they would need to make an investment. ESPN draft analyst Mel Kiper in his first mock draft of the season has the Chiefs taking Notre Dame defensive end Stephon Tuitt in the first round. If when the draft rolls around Tuitt proves to be a good value when the Chiefs make the 23
rd
pick, they should take him.
January, 9, 2014
Jan 9
2:30
PM ET
KANSAS CITY, Mo. -- The
Kansas City Chiefs
are scheduled to have 16 free agents when the signing period begins, though some will be re-signed before then. Here is a list of the 16 listed by position group:
Quarterback: none.
Running back: none.
Wide receiver:
Dexter McCluster
,
Kyle Williams
.
Tight end:
Richard Gordon
.
Offensive line:
Branden Albert
,
Jon Asamoah
,
Ricky Henry
,
Geoff Schwartz
.
Defensive line:
Tyson Jackson
,
Jerrell Powe
.
Linebacker:
Robert James
,
Akeem Jordan
,
Frank Zombo
.
Defensive back:
Husain Abdullah
,
Quintin Demps
,
Kendrick Lewis
.
Punter/Kicker: none.
Long-snapper:
Thomas Gafford
.
Gordon and Henry are scheduled to become restricted free agents. I'm not clear on whether Powe and James would be exclusive rights or restricted free agents, though neither has a contract for 2014.
Everyone else is scheduled to be an unrestricted free agent.
I'll be starting to dig into this with you beginning in the next few days. I'll have some advice for Andy Reid and John Dorsey as to what they should be doing with this list as well as the players who are under contract for 2014. I've already started on
what they should do
with quarterback
Alex Smith
.
For now, a couple of quick thoughts on this free-agent list:
Ideally, the Chiefs would keep Albert, their starting left tackle. But his contract demands may be out of their price range. Asamoah and Schwartz split time as the starting right guard. The Chiefs will need to keep at least one of them and Schwartz's versatility was valuable last season.
Abdullah, Demps and Lewis are among their top four safeties. But the Chiefs will have Sanders Commings, a rookie, coming back from injuries next year. The Chiefs like him a lot.
December, 19, 2013
12/19/13
3:20
PM ET
KANSAS CITY, Mo. -- The
Kansas City Chiefs
hardly missed
Dexter McCluster
last week when they scored 56 points in a lopsided win against the
Oakland Raiders
. That doesn't mean they won't look forward to having back their slot receiver and punt return specialist in Sunday's game against the
Indianapolis Colts
at Arrowhead Stadium.
The Chiefs signaled Thursday that McCluster would be available to play against the Colts when they released his replacement,
Chad Hall
. They re-signed defensive lineman
Jerrell Powe
to take Hall's spot on the roster.
McCluster missed the Oakland game after a cut on his ankle became infected and swelled. He said he received the cut while returning a punt for a touchdown in the previous Sunday's game at Washington.
[+] Enlarge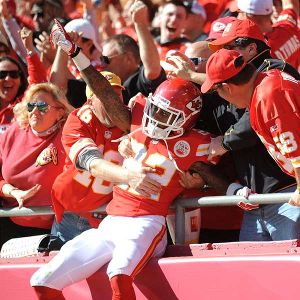 Denny Medley/USA TODAY SportsGetting Dexter McCluster back in the lineup is something the Chiefs and their fans will celebrate.
"Adrenaline took over," McCluster said. "It was just a small cut. I took a shower, bandaged it up, kept moving. Something must have crept in there underneath all that."
He practiced last week on Wednesday as normal, but that's when the ankle swelled on him. He had the wound cleaned out later in the week, but wasn't able to return on time to play against the Raiders.
"This is a first for me," he said. "You get those small cuts every day. It's just something that kind of popped up on me, but we caught it early. Doctors did the (procedure to clean the wound), and I've been taking positive steps forward after that.
"I'm going to keep treating it. I'm going to keep doing whatever I have to do off the field to get back on the field."
Initially, the Chiefs feared McCluster's infection might be MRSA, which is resistant to antibiotics. Tests later ruled that out, and the Chiefs were able to treat the infection.
"I had no idea what that was," McCluster said, referring to MRSA. "My mom, she was calling me (about that). We didn't know what it was (at first). Thank God it wasn't. Something that small, a cut I get every day in this sport. I took it very serious. I wanted to make sure it didn't move, didn't spread, didn't affect my body as a whole. They did a great job of going in and finding out what it was."
The Chiefs scored seven offensive touchdowns against the Raiders without McCluster, their third leading receiver.
Jamaal Charles
scored five of them, four on passes.
The Chiefs attacked the Raiders repeatedly with the screen pass, but offensive coordinator
Doug Pederson
said none of those passes would have gone to McCluster had he been in the lineup.
"Most of that was designed for the tailback," Pederson said.
McCluster has more impact for the Chiefs as a punt returner. He has scored twice on returns this season.
"Getting Dexter back is big," special teams coordinator Dave Toub said. "He's a threat, obviously, with the two touchdowns. He saves field position catching all of those short kicks. He catches the deep ones. Obviously, the threat that he's going to catch it every time, that creates a lot of pressure on the punt team as well."
December, 13, 2013
12/13/13
11:10
AM ET
KANSAS CITY, Mo. -- Wide receiver
Chad Hall
had little to do during his first two tours with the Kansas Chiefs this season. As their sixth and last wide receiver, he was giving the Chiefs little, a fact they acknowledged by releasing him twice.
Things could change this time around for Hall, who rejoined the Chiefs Friday for the third time. Hall could wind up returning punts on Sunday against the
Oakland Raiders
instead of
Dexter McCluster
. McCluster did not practice on Thursday because of a sore ankle.
Hall could also get some of the snaps as the slot receiver that normally would have gone to McCluster.
Junior Hemingway
's playing time could also be increased if McCluster doesn't play against the Raiders.
To clear roster room for Hall, the Chiefs released defensive lineman
Jerrell Powe
.
December, 5, 2013
12/05/13
7:30
AM ET
KANSAS CITY, Mo. – Nose tackle
Dontari Poe
has been as close to an iron man as the
Kansas City Chiefs
have seen from one of their defensive linemen in a long time. The 346-pound Poe has rarely come out of the lineup this season, a testament to his physical conditioning as well as his value to the Chiefs.
Poe
This week's signing of
Jerrell Powe
could be aimed at providing some rest for Poe on running downs. The 331-pound Powe is more capable of holding the nose than
Anthony Toribio
and
Kyle Love
, two defensive linemen the Chiefs had on their roster this season.
Both have since been released.
"Jerrell is a pure nose guard,'' coach Andy Reid said. "That's kind of his deal. We have had some guys in here that I thought were good football players [but they] were probably more [defensive ends] than pure nose. He gives you the flexibility of giving Dontari in our base look a rest. [General manager John Dorsey] thought that was important and we're on board with that. We understand.
"He's somebody the coaches feel comfortable with.''
The Chiefs on Sunday are facing the Redskins in Washington. The Redskins lead the league in rushing, so the Chiefs could be spending more time in their base defense on Sunday than they normally do.
That base defense could include some of Powe and less of Poe than usual.
"We'll see how it goes,'' Reid said. "That base unit is going to play a little bit this week. Their run game is the best in the National Football League, so they're going to play a little bit.''
December, 3, 2013
12/03/13
6:05
PM ET

KANSAS CITY, Mo. -- Given the way he played during the preseason, nose tackle
Jerrell Powe
looked like he would make the
Kansas City Chiefs
' regular season roster as a backup to
Dontari Poe
. So it was a surprise shortly before the start of the regular season when Powe was released.
The Chiefs changed their mind on Powe Tuesday when he was re-signed. They released defensive tackle
Kyle Love
, who had only joined the Chiefs last month. Love was a healthy scratch for last week's game against the
Denver Broncos
.
The Chiefs can't have big plans for Powe, not the way they use Poe. He rarely comes out of the game, so Powe may have little or nothing to do unless Poe is injured. Powe could even be inactive for Sunday's game against the Redskins in Washington.