Kansas City Chiefs:

Terrelle Pryor
September, 2, 2014
Sep 2
8:00
AM ET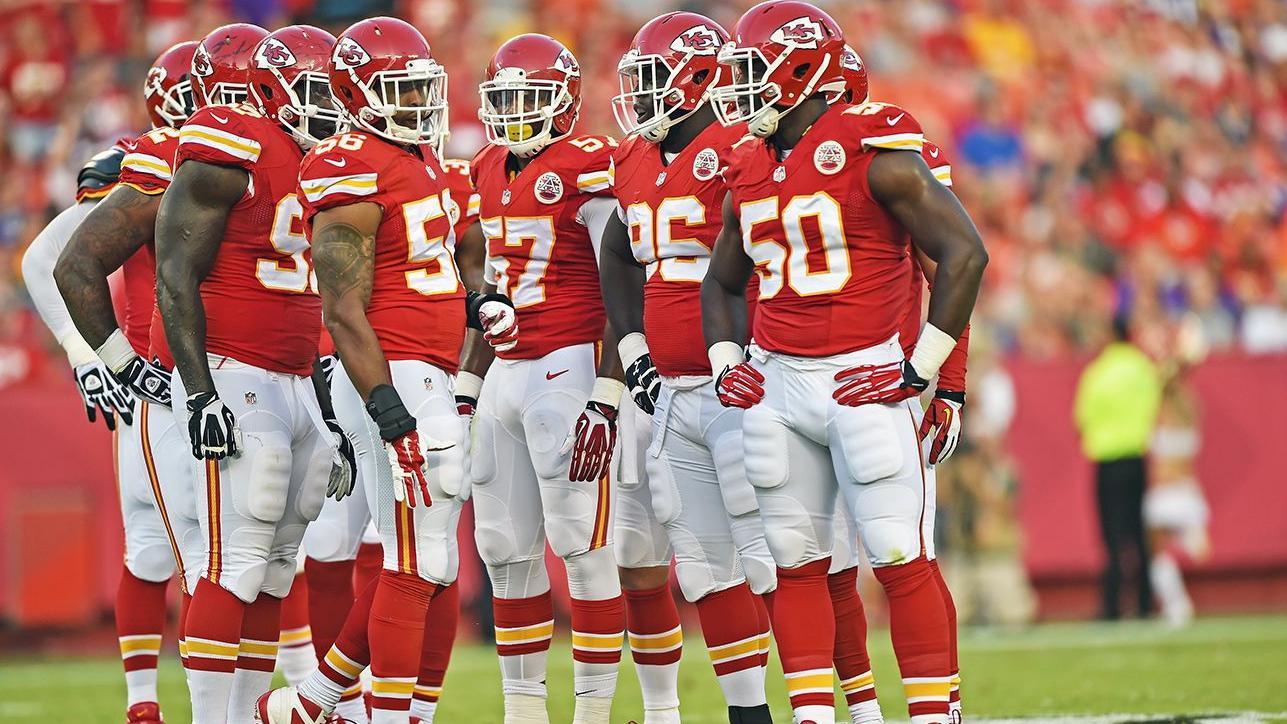 ESPN.com
Kansas City Chiefs
reporter Adam Teicher makes his game-by-game picks for the 2014 season.
Week 1: Tennessee Titans
Although it's ridiculous to label any season opener a must win, this is probably as close as it gets. The Chiefs face a minefield over the next five games, so they need to take care of business in this one. Prediction: Win
---
Week 2: at Denver Broncos
The Chiefs haven't beaten the Broncos since Denver was quarterbacked by Tim Tebow. They are 0-4 against Peyton Manning's Broncos, and this doesn't look like the game in which they will bust through. Prediction: Loss
---
Week 3: at Miami Dolphins
It's not unreasonable to suggest the Chiefs' ability to stay in the playoff hunt hinges on this game. They could get buried if they lose to the Dolphins. Prediction: Win
---
Week 4: New England Patriots
This would be only the third game Tom Brady has played at Arrowhead Stadium. The joint will be jumping for this Monday night matchup. Prediction: Loss
---
Week 5: at San Francisco 49ers
A taxing stretch of schedule, a short week and travel to the West Coast are too much for the Chiefs to overcome. Alex Smith will play well but not well enough to beat his former team. Prediction: Loss
---
Week 7: at San Diego Chargers
The Chiefs are due for a win in San Diego. They haven't brought one home from Qualcomm Stadium since 2007 -- until now. Prediction: Win
---
Week 8: St. Louis Rams
The Chiefs have won all five of their games against the Rams since the Rams moved to St. Louis. They will continue to own the state of Missouri. Prediction: Win
---
Week 9: New York Jets
If the Chiefs' schedule has a flat stretch, the Jets are right in the middle of it. It's hard to see them having meaningful games down the stretch if they don't win this one -- but they will. Prediction: Win
---
Week 10: at Buffalo Bills
Buffalo's Ralph Wilson Stadium had been a haunted house for the Chiefs until they busted through with a victory there this past year. But they won't be able to sustain the momentum. Prediction: Loss
---
Week 11: Seattle Seahawks
The Chiefs will put up a strong fight in front of a raucous home crowd. But they won't have quite enough to beat the defending Super Bowl champions. Prediction: Loss
---
Week 12: at Oakland Raiders
Another tough West Coast assignment for the Chiefs, again on a short week. But this time they rise to the challenge. Prediction: Win
---
Week 13: Denver Broncos
The Broncos can't be looking forward to coming to Arrowhead for a Sunday night game. Again, the Chiefs will make things difficult for one of last year's Super Bowl participants, but they won't quite pull off the victory. Prediction: Loss
---
Week 14: at Arizona Cardinals
The Chiefs' playoff hopes take a fatal hit in the desert. This loss guarantees the Chiefs won't be making a repeat trip here for the Super Bowl. Prediction: Loss
---
Week 15: Oakland Raiders
The Chiefs take out their frustrations on the Raiders. In the process, they will get a second straight season sweep of their longtime rivals. Prediction: Win
---
Week 16: at Pittsburgh Steelers
Pittsburgh has been another place where the Chiefs have traditionally found it difficult to win. This game extends a losing streak that goes back to 1986. Prediction: Loss
---
Week 17: San Diego Chargers
The Chiefs haven't swept a season series from the Chargers since 2003. They get the job done this time against an opponent that will make the playoffs. Prediction: Win
---
Predicted Record: 8-8
December, 15, 2013
12/15/13
9:00
AM ET
OAKLAND, Calif. -- The
Kansas City Chiefs
and
Oakland Raiders
played one another two months ago at Arrowhead Stadium in a game won by the Chiefs 24-7. But that game won't be instructive when it comes to determining how Sunday's meeting between the teams will come down.


The Raiders are a far different team, particularly on offense. The last time, their quarterback was
Terrelle Pryor
. Today, it's undrafted rookie
Matt McGloin
. Their running back was
Darren McFadden
. Today, it's likely to be
Rashad Jennings
or Marcel Reese. One of their best receivers of late,
Andre Holmes
, barely played the last time against the Chiefs. Oakland used a patchwork offensive line against the Chiefs but should have all their linemen available today.
Though their players are mostly the same, the Chiefs are a different team, too. Their offense, which had one of its least productive games the last time against Oakland, has scored at least 30 points in two of the past three games. Meanwhile, the invincible aura that once surrounded their defense was ripped away by a streak of four games allowing more than 425 yards that ended only with last week's win over the feeble
Washington Redskins
.
The Chiefs sacked Pryor nine times in the last game. They won't get to McGloin like that. He has been sacked just five times compared to 29 for Pryor even though McGloin has attempted well more than half of the passes that Pryor has.
That doesn't mean the Chiefs can't give McGloin problems. They got some of their defensive swagger back last week with six sacks against Washington and though he's playing well for an undrafted rookie, the only quarterbacks to beat the Chiefs this season are
Peyton Manning
and
Philip Rivers
. McGloin isn't in their category.
The Raiders, meanwhile, allowed more than 30 points in each of their last two games. These Chiefs should be able to score against Oakland, too. The Raiders largely controlled the line of scrimmage when the Chiefs had the ball the last time. They sacked
Alex Smith
three times.
That, too, is unlikely to happen today. The Chiefs' offensive line is playing much better than it was two months ago.
Expect a higher scoring game, for both sides. The last game was 7-7 until late in the third quarter, when Pryor began committing turnovers that led to 17 Chiefs points.
What won't change is the result. Prediction: Chiefs 27, Raiders 16.
October, 13, 2013
10/13/13
8:41
PM ET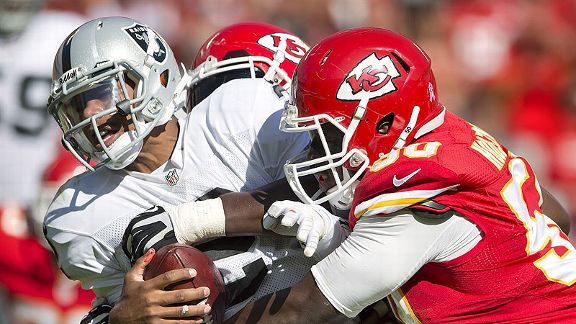 David Eulitt/Kansas City Star/Getty ImagesThe Chiefs sacked Terrelle Pryor 10 times, including six times in the fourth quarter.
KANSAS CITY, Mo. -- Though the situation might have called for it, the
Kansas City Chiefs
refused to panic. They rummaged through their substantial bag of defensive tricks and threw them all at young
Oakland Raiders
quarterback
Terrelle Pryor
, but he simply wouldn't break.
As a result, the Chiefs couldn't shake the Raiders. The undefeated Chiefs were tied with the Raiders late in the third quarter and one play away from the unthinkable: a seventh straight home loss to Oakland.
The safe thing might have been to dial back the pressure on Pryor and keep him from using his considerable running ability to make a big play. But this is what belief in a defensive system and the players in it will do for a team.
The Chiefs served up more heat and eventually broke Pryor. Under pressure late in the third quarter, he heaved one up off his back foot that was intercepted by safety
Quintin Demps
.
Soon, the Chiefs scored the go-ahead touchdown and that was the catalyst for more. The Chiefs sacked Pryor six times in the fourth period and intercepted him twice, returning one for their third pick-six of the season.
When it was over, they had beaten the Raiders
24-7
merely by staying true to what they do.
"It was only a matter of time," veteran nickelback
Dunta Robinson
said. "We just had to stay patient. We knew the plays were going to come. We knew what kind of quarterback we were facing. Things were going to happen. In the second half, things started happening. We smelled blood and we went for it.
"We just did what we do."
Explaining the late defensive dominance is as simple as that. The Chiefs just didn't veer from the plan.
The Chiefs had a couple of other factors working in their favor. The Raiders were playing with a patchwork offensive line because of injuries, and the noise at Arrowhead Stadium in the fourth quarter was at Guinness Book of World Record levels, which made communication nearly impossible.
But it's too simple to believe that's all that emboldened defensive coordinator Bob Sutton to dial up the pressure on Pryor. His decision had more to do with the fact the Chiefs, against a healthy offensive line and without the benefit of crowd noise, had two interceptions in the fourth quarter of last week's win in Tennessee.
It had to do with the fact the Chiefs own the fourth quarter. They've allowed just two final-period touchdowns this season and none in three games at Arrowhead Stadium.
"We did what we always do," Robinson said. "We didn't make any adjustments. We stuck to what we do. We stuck to the game plan. We didn't give any new looks."
In the case of the Chiefs and their defense, success is breeding success. After the Chiefs went ahead 14-7 because of favorable field position provided by the Demps interception, Pryor tried a short pass intended for wide receiver
Denarius Moore
.
The safe thing for rookie cornerback
Marcus Cooper
to do under the circumstances was let Moore make the catch and tackle him for a short gain. But, playing for a team overflowing with defensive confidence, Cooper made a quick break on the ball and cut in front of Moore for the interception.
Soon, again using favorable field position, the Chiefs had a 17-7 lead.
"You know the pressure is eventually going to start to affect him," Cooper said. "It's hard when you have people coming after you like we were coming after him."
Sutton has many tools at his disposal and he's not afraid to use them, particularly in the fourth quarter. The Chiefs sacked Pryor 10 times and have league-high 31 in their six games.
Linebacker
Tamba Hali
led the way with 3.5 sacks, but six other players had a hand in dragging down the Oakland quarterback.
"Everybody's trying to eat around here," said linebacker
Derrick Johnson
, who had two sacks. "Everybody's hungry. Everybody's thirsty."
Sutton is able to call whatever he pleases in the fourth quarter because most of the time, the Chiefs are protecting a lead. They've trailed in the final period just once, last week against Tennessee.
"Teams have been in a situation where they had to throw in the fourth quarter," coach Andy Reid said. "With our pass rush, that's a tough thing to do."
The Chiefs have made a habit of allowing at least one big play early in the game. That continued Sunday when Pryor threw 39 yards to Moore for a touchdown and the game's first points.
As always at home, the damage stopped there.
"The best thing about us is when we get hit in the mouth early, we don't fold," said Demps, who also had an interception in the fourth quarter last week and leads the Chiefs with three.
It didn't work for Tennessee, but maybe the only way to beat the Chiefs is to take a lead into the fourth quarter. Otherwise, they're going to make life miserable for whatever quarterback might be standing in their way.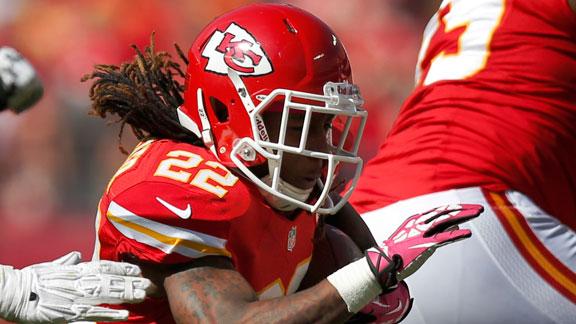 .
October, 11, 2013
10/11/13
11:15
AM ET
KANSAS CITY, Mo. -- The
Kansas City Chiefs
lead the NFL in sacks with 21 and have forced the opposing quarterback to hurry his throw on numerous other occasions, but there's a price to be paid for all of that pressure.
Pryor
They've allowed some long quarterback runs, some to a nimble player like
Michael Vick
, but others to plodders like
Ryan Fitzpatrick
and
Eli Manning
.
They will face another mobile quarterback Sunday against the
Oakland Raiders
in
Terrelle Pryor
. Pryor has running ability like that of Vick, who had runs of 61, 24 and 14 yards against the Chiefs.
The Chiefs didn't back off from pressure against Vick, and that strategy eventually paid off. The Chiefs intercepted Vick twice, returning one for a touchdown, and forced him to fumble once.
So don't look for them to back off against Pryor even though he's Oakland's leading rusher with 229 yards and a 6.2 yards-per-carry average.
"You don't want to get into a position where you're afraid to rush,'' defensive coordinator Bob Sutton said. "You need to pressure these guys. It's not always sacks. We use the word 'affect.' We want to affect the quarterback. You can affect the quarterback in a lot of ways, and sometimes it's pushing that thing where he knows it's going to be relentless, that it's just going to keep coming.
"If he gets out once in awhile, he gets out. We just have to limit those opportunities.''
Sutton's right. The ability to get after and, as Sutton says, affect the quarterback, is the strength of Kansas City's defense. The Chiefs have the athletes to deal with Pryor and his running ability, and they should use them.
October, 10, 2013
10/10/13
12:00
PM ET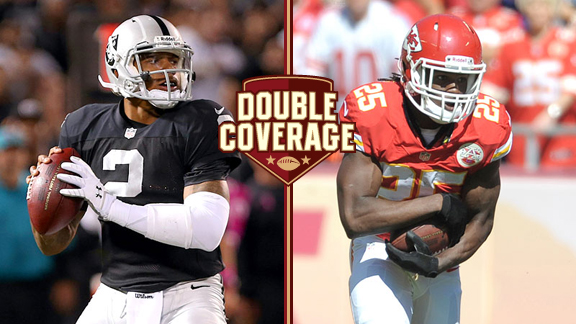 USA TODAY SportsThe Raiders are reborn with Terrelle Pryor under center, but the Chiefs have been flawless this season and are looking to end a six-game home losing streak at the hands of their division rival.
The
Kansas City Chiefs
last beat the
Oakland Raiders
at Arrowhead Stadium on Nov. 19, 2006. The 17-13 victory was secured only in the final moments, when safety
Jarrad Page
intercepted a pass from quarterback
Aaron Brooks
in the end zone.
Since then, the Raiders have won six straight games in Kansas City. The 5-0 Chiefs and 2-3 Raiders have exceeded expectations, which could make for an interesting game Sunday when the teams meet in Kansas City.
Here, ESPN.com Chiefs reporter Adam Teicher and Raiders reporter Paul Gutierrez take a look at the matchup:
Teicher:
It only seems like forever since the Chiefs have beaten the Raiders at Arrowhead Stadium. What chance do you think Oakland has of making it seven in a row?
Gutierrez:
Indeed, the Raiders are riding a six-game winning streak in Kansas City, their longest such streak in this rivalry that stretches back to the dawn of the AFL in 1960. The last time the Chiefs beat Oakland at Arrowhead was on Nov. 19, 2006, when Aaron Brooks, who rocked No. 2, was under center for the Raiders and
Larry Johnson
was busy rushing for 154 yards and two TDs. That 17-13 loss, ahem, helped the Raiders solidify that No. 1 overall draft pick the following spring, a pick that became
JaMarcus Russell
, who also wore No. 2. But I digress. Things have changed in Oakland as far as optimism regarding QBs wearing No. 2, and that's where
Terrelle Pryor
comes in. He was not allowed to wear the number coming out of college but switched back to his old Ohio State digit this year. Al Davis' final draft pick has brought an excitement to a fan base thirsting for it. Pryor can extend plays and if the defense can bottle up
Alex Smith
, I would not be surprised if Oakland made it seven in a row in Middle America.
Speaking of Smith, from the outside looking in it appears as though he should be the toast of the town in leading the Chiefs to that 5-0 record. But have there been rumblings about his being a one-dimensional game manager? Did fans not read the scouting report, or is it all much ado about nothing?
Teicher:
Fans are difficult to please. The Chiefs, to their credit, have tried to play to Smith's strengths by using in large part a shorter passing game. Smith, to his credit, has mostly done what has been asked of him. The Chiefs have opened up their passing game in the past couple of weeks by going downfield more. Smith has thrown only three interceptions and really just one could be pinned on him, so he's not putting the Chiefs in bad situations. The Chiefs trailed in the fourth quarter for the first time this season in last week's game against Tennessee and Smith responded by taking the Chiefs on what proved to be the winning touchdown drive, so he delivered in the clutch in his first try. One area where Smith needs to improve is completion percentage. With so many short throws, he needs to be way better than 58 percent. That's an area of growth for their offense.
Pryor is off to a nice start for the Raiders but has any opponent tried to pressure him like the Chiefs no doubt will? If not, how do you think he responds?
Gutierrez:
The Colts tried to pressure him in the opener, and he responded with 112 yards rushing -- a record for a Raiders quarterback. Granted, much of that came on zone-read option plays, though he was able to take off for long runs on busted coverages when Indy overloaded the pursuit. Truly, his mobility and ability to extend plays has made a makeshift offensive line look pretty solid. Lately, though, teams have been putting a spy on him and his rushing totals have gone down. And really, while the Raiders want him to use his athleticism to make things happen, they don't want him running for his life, either. I'm curious to see how he responds if the Chiefs make it a priority to stop him from rolling out to his right, which is where and how he made a lot of his plays Sunday night, when most of the rest of the country was sleeping. Pryor's play has been surprising, especially to general manager Reggie McKenzie and coach Dennis Allen. The raw talent was there, but how quickly it's come together has been impressive to watch.
Same thing in Kansas City, I suppose. After all, the last-place Chiefs did have six Pro Bowlers a year ago. How has Andy Reid been able to get the Chiefs to buy into his system and philosophy so quickly?
Teicher:
That's been one of the more underrated things he's done. He walked in with instant credibility as the most accomplished head coach almost all of the current players have been under, at least while they were with the Chiefs. That helps. But unlike with several of their other recent head coaches, there's been no whining or complaining about how bare the cupboard was or what a lousy situation he inherited. He just rolled up his sleeves and got to work like a pro does, and I think a lot of players saw that as a refreshing change. Players recognized they had a lot of talent here that was just waiting for some competent direction. They were receptive when they received it.
Looking at Oakland defensively, I can't figure out how the Raiders don't allow more points. I know they do a very good job against the run, but the Raiders haven't forced a high number of turnovers and opposing quarterbacks are completing a high percentage of throws with a high passer rating. How do you explain the way Oakland is playing defensively, and who are some of the defenders playing well?
Gutierrez:
It's the epitome of the bend-but-don't-break philosophy ... and being patient. True, entering Week 5, the Raiders had yet to have an interception. But then they picked off
Philip Rivers
three times. Four of his completions of at least 16 yards came in the fourth quarter, when the Raiders led by 10 and were in a prevent defense. Just don't call it that to the Raiders. Dennis Allen prefers "situational" defense. Hence, a lot of Rivers' completions and yardage came in what the layman would call "garbage time." Individually,
Charles Woodson
has been more than the Raiders could have hoped for when they signed him -- he's been their best overall player. Against the Chargers, he had an interception and a fumble scoop and 25-yard run for a TD.
Lamarr Houston
has made the transition nicely from left defensive end to the right side. He leads Oakland with three of its 13 sacks.
Nick Roach
has been solid at middle linebacker, a far cry from the bust that was
Rolando McClain
. Even rookie cornerback
D.J. Hayden
flashed Sunday night, picking off Rivers in the end zone after a rough go of it against
Keenan Allen
. Observers were wondering when Hayden -- the No. 12 overall draft pick the Raiders loved so much they would have taken him third had they not been able to trade down -- was going to make an impact play.
Small sample size, obviously, but does the Chiefs' top pick, the No. 1 overall,
Eric Fisher
have the look of an impact, i.e., cornerstone offensive tackle, even as he missed last week's game with that concussion and is playing on the right side rather than the left? I know the Raiders were enthralled with him after coaching him at the Senior Bowl.
Teicher:
He's off to a rough start. Fisher has been so bad at times that the Chiefs should have at least considered replacing him. He was playing his best game of the season two weeks ago against the Giants when he left the lineup because of a concussion. The Chiefs are still confident Fisher will become the player they envisioned when they drafted him. It's just taking some time. Opponents have been able to get Fisher off balance and use leverage against him, so his technique needs to be refined. He also needs more strength than a full offseason in the Chiefs' weight room would provide.
.
August, 22, 2013
8/22/13
7:00
PM ET
We held our
AFC West (sans Denver) chat
earlier Thursday. Here are some highlights:
Kansas City
John from Fairbanks, Alaska:
How dominant can this Chiefs linebackers group be?
[Tamba] Hali
and
[Justin] Houston
both top 10 sacks?
Bill Williamson:
Could be best group of 3-4 linebackers in the NFL. Expect a huge season from those guys.
Oakland
Sheldon from Washington, DC:
Any chance
Terrelle Pryor
gets some snaps with the first-team offense tomorrow night against Chicago?
BW:
I wouldn't be shocked. Why not? Get him some work with the better players. If he is going to have a chance to start at some point, might as well see what he can do
San Diego
Nick W. from Indianapolis:
I now it's still very early. But how do you think the [Mike] McCoy era is starting?
BW:
Yes, it's early. Players like him. Camp went well. So far, so good. But wins and losses is what matters most.