Kansas City Chiefs:

Vance Walker
May, 23, 2014
May 23
3:00
PM ET
I've finished my analysis of the
Kansas City Chiefs
' various position groups and whether I think the player additions made those positions better or worse. I also considered returning players and whether I thought they would significantly improve or regress in making my calls.
I broke the roster into nine position groups and determined the Chiefs would be better at six of them and worse at three. You can find all these
breakdowns here
.
But does that mean the Chiefs as a whole are better?
[+] Enlarge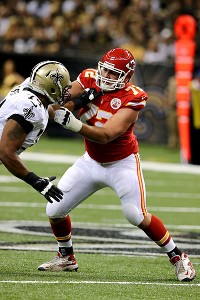 Chuck Cook/USA TODAY SportsWhether Eric Fisher can replace departed tackle Branden Albert is among the questions facing the Chiefs after a busy offseason.
"We've improved the Kansas City Chiefs," general manager John Dorsey said shortly after the conclusion of the draft. "We've created that competitive depth that we continually talk about.
"We'll see. Right now we feel pretty good about where we are at this stage. Any time you have a chance to add the quality of players that we added through this draft class, I feel pretty good here."
The Chiefs took heavy losses in free agency. They watched as seven players who were regulars at one point or another last season walked out the door.
That is not the part that concerns me, and it obviously doesn't concern the Chiefs. They had done a nice job of building depth at some spots, particularly on the offensive line, and in many of the cases they can replace their departed free agents with players they had drafted in recent years. Where they can't, they filled in adequately by signing players like defensive lineman
Vance Walker
and linebacker
Joe Mays
.
Just because they adequately plugged holes doesn't mean the Chiefs are better. In a couple of areas, the Chiefs can only be hopeful they don't take a large step backward. One is the offensive line, where they lost three players who were regulars last season. The big loss was left tackle
Branden Albert
. He will be replaced by
Eric Fisher
, who will eventually become as good a player as Albert was last season.
But anyone who watched Fisher's rocky rookie season last year can't think that day will come soon.
Another position of concern is wide receiver, where the Chiefs had one of the league's least productive groups of players last season. Between a bounce-back season from
Dwayne Bowe
, development from
A.J. Jenkins
and contributions from other young and unproven players, the Chiefs seem confident here. I wonder whether the Chiefs can continue the progress they made in their passing game toward the end of last season without some receiving help.
"It's not over yet," Dorsey said about the possibility of acquiring another wide receiver without acknowledging the need. "There are still opportunities to acquire the type of player you're looking at, if in fact you want to go in that direction."
For the Chiefs, free agency was about finding solid role players, but not impact players. Their draft might eventually prove to be a good one, but looks short on players who can help immediately. First-round outside linebacker
Dee Ford
has a pair of Pro Bowl players ahead of him at his position.
The Chiefs have some intangible things going for them. The biggest is continuity on the coaching staff. They will have the same offensive coordinator for a second straight season for the first time since 2007.
That will count for something. But not enough to help them be a much better team than they were last season.
May, 20, 2014
May 20
11:45
AM ET
Here's another installment of our detailed look at the
Kansas City Chiefs
roster by position with a determination whether they improved or not since the end of last season. Keep in mind the Chiefs can continue to make roster moves and could make significant additions or subtractions before they arrive at training camp. But the bulk of the roster they will take to Missouri Western State University in St. Joseph is intact.
We'll continue here with the defensive line.
End of 2013:
Tyson Jackson
,
Dontari Poe
,
Mike DeVito
,
Allen Bailey
,
Mike Catapano
,
Jaye Howard
,
Jerrell Powe
.
Serious 2014 roster candidates:
Poe, DeVito, Bailey, Catapano, Howard,
Vance Walker
.
Analysis:
Much depends on Walker, who was signed as a free agent to replace Jackson. Walker was mostly a backup until he moved into the starting lineup last season for the
Oakland Raiders
. Perhaps he was a one-year wonder or perhaps his development was just delayed, but the Chiefs are counting on Walker to play the run as well as Jackson did last season and be a more effective pass-rusher. He will be helped by the mere presence of Poe, who attracts so much attention from opposing blockers that others around him benefit. DeVito was a strong run defender last season but comes out of the game on passing downs. Bailey and Catapano have pass-rush ability off the bench. The Chiefs may keep more than six linemen, so there's an opportunity for a younger player if he shows well at training camp.
Better or worse?
Tough call but we'll go with better. Walker is a more well-rounded player than Jackson.
March, 20, 2014
Mar 20
12:40
PM ET
This week's signing of
Cory Grissom
brings to 11 the number of defensive linemen under contract to the
Kansas City Chiefs
. The Chiefs, after losing starting defensive end
Tyson Jackson
in free agency to the
Atlanta Falcons
, replaced him by signing
Vance Walker
away from the Raiders.
Grissom may not wind up making the roster when the regular season begins. He may just be a camp guy. The Chiefs could always use the depth but even without him they look like they have enough bodies on their defensive line.
In that regard, much depends on Walker. If he can be more than Jackson was and contribute as a pass-rusher, the Chiefs will be in great shape. Already, their line in the base defense looks good with Walker and
Mike DeVito
, who had a very good season as a run defender last season, as their ends and Pro Bowler
Dontari Poe
at nose tackle.
The Chiefs also have three intriguing players as their backups. One is
Allen Bailey
. Bailey has pass rush skills but also has played well at end when given a chance in their base defense. He's capable of more than the Chiefs have given him.
The others are
Mike Catapano
and
Jaye Howard
. Catapano showed more pass rush ability last season as a rookie than should be expected from a seventh-round draft pick from Princeton. He may never become an every-down player but could eventually help the Chiefs as a pass-rusher, perhaps as soon as this season.
"With regards to Catapano, he's been here day in and day out,'' general manager John Dorsey recently said. "He's been working his butt off. The guy is driven. He's one of those relentless warriors you want on your team. I'm excited to see him contribute as we go forward here in the second season for him. I've always said all along that those guys make the greatest strides in year one to year two and I can see great strides coming from Catapano.''
Howard is one of the seven players the Chiefs grabbed off waivers at the start of last season. He came from the
Seattle Seahawks
. Howard played little during the season, but the Chiefs thought enough of him to carry Howard all season on their active roster. The Seahawks drafted him in the fourth round in 2012 after he had a successful collegiate career at Florida.
March, 18, 2014
Mar 18
12:30
PM ET
On the surface, the
Kansas City Chiefs
signed
Vance Walker
to replace
Tyson Jackson
as a starting defensive end. Jackson signed as a free agent with the
Atlanta Falcons
and the Chiefs signed Walker from the
Oakland Raiders
.
Walker
If Walker can play sturdy run defense, he will do for the Chiefs what Jackson did last season. But if he can rush the quarterback with any consistency, he will be even more productive for the Chiefs than Jackson.
Jackson never developed as a pass-rusher the way the Chiefs had hoped in 2009 when they drafted him with the third overall pick. He mostly played on running downs and had just nine sacks in his five seasons with the Chiefs, including a career-best four in 2013.
Walker wasn't a part-time player in Oakland last season. He was in the game for more than half of the defensive snaps in the 15 games he played. In most of those, he played a heavy majority of the snaps.
Pro Football Focus rated him a better pass-rusher than run defender. He had three sacks and 32 quarterback hurries, defined as plays where pressure forced the passer to get rid of the ball.
In comparison, Jackson had several games last season in which he played fewer than half the snaps. He had four sacks for a better pass-rushing team than Walker played, but just eight hurries. PFF had him rated as a much better run defender than pass-rusher.
"I would hope so," Walker said Monday, when asked whether the Chiefs told him they would use him as a pass-rusher. "It's also on me to prove to those guys what I'm capable of doing and once I do that I'm sure [Andy Reid] will do exactly what he feels is necessary to help the team. I know I'm capable of doing both of those things, stopping the run and rushing the passer, easily."
March, 18, 2014
Mar 18
9:00
AM ET
Walker
Most significant signing:
Defensive end
Vance Walker
will fill the starting spot that was left when
Tyson Jackson
departed for the
Atlanta Falcons
. Walker will be expected to be a strong run defender, as Jackson was last season. The Chiefs are also hopeful Walker can provide more punch as a pass-rusher than Jackson did. Walker had three sacks for the
Oakland Raiders
last season, his first in the NFL as a full-time starter.
Most significant loss:
Dexter McCluster
developed into one of the NFL's top threats as a punt returner last season. He had a pair of touchdowns, including one against the
New York Giants
that has to be seen to be believed. The Chiefs will find that kind of ability difficult to replace. McCluster had less of an impact on offense as the slot receiver but was still third on the Chiefs with 53 receptions.
Sanders
Biggest surprise:
Emmanuel Sanders
would have gone a long way toward solving the Chiefs' shortcomings at wide receiver. They lacked a consistent threat at the position last year. They could have used him in a variety of receiving roles, including as a slot receiver. The Chiefs believed they had an agreement with Sanders on a contract, but he didn't sign. Making matters worse, the Chiefs lost Sanders to their division rival, the
Denver Broncos
, and will have to play against him twice next season.
What's next?
Including the signings of Walker, linebacker
Joe Mays
and offensive lineman
Jeffrey Linkenbach
, the Chiefs have taken care of their most obvious needs. The major exception is wide receiver. The passing game won't work consistently next season without an upgrade at the position. If there's a receiver the Chiefs like who's available when they make the 23rd pick of the draft, it would be a mistake for them to pass on him.
March, 17, 2014
Mar 17
12:20
PM ET
Louis Riddick has
an interesting piece ranking the best and worst free-agent signings

with regard to contract value. The only player on either of Riddick's lists with ties to the
Kansas City Chiefs
is defensive end
Tyson Jackson
, who signed with the
Atlanta Falcons
after five seasons with the Chiefs. According to Riddick, Jackson's contract with the Falcons is among the worst in terms of value of any handed out during the first several days of the free-agent signing period.
[+] Enlarge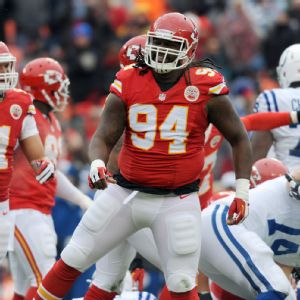 Denny Medley/USA TODAY SportsDespite being a part-time player much of his career, Tyson Jackson landed a five-year, $25 million deal with the Falcons.
While Jackson developed into a solid run defender in his last season with the Chiefs, I agree the Falcons overpaid to get him and, by extension, the Chiefs were smart not to give him what the Falcons did. Jackson's contract is worth $25 million over five years and includes a guarantee of $9.5 million. That's a lot of money to pay a player who has been a part-timer for most of his career. Jackson has been removed from the lineup on passing downs because his pass-rush skills never developed to the point the Chiefs hoped.
Maybe Jackson will be a full-time player for the Falcons. Jackson will turn 28 in June, so there's still time for him to get there.
More likely, he will be for the Falcons what he was for the Chiefs. Interestingly, the Chiefs drafted Jackson higher than he should have been (third overall in 2009) by the Chiefs when their general manager was Scott Pioli because they needed defensive ends for the new 3-4 scheme that new coach Todd Haley just had to use. The Falcons are also switching to a 3-4 this year and, with Pioli as their assistant GM, went after Jackson to fill that vacancy. We'll see if it works better for Pioli this time around.
The Chiefs replaced Jackson with
Vance Walker
, who started last season for the
Oakland Raiders
. They gave Walker a three-year contract worth a maximum of $13 million. Of that, $3.75 million is guaranteed. Riddick thinks the Chiefs are getting a better player in Walker and for a lower cost.
March, 14, 2014
Mar 14
8:10
PM ET
The start of the free-agent signing period wasn't kind to the
Kansas City Chiefs
as they lost five players who were regulars at one point of the season or another last year.
Walker
Since, they've rebounded nicely. Their latest addition, defensive lineman
Vance Walker
, is a solid one. The Chiefs signed Walker to a three-year contract worth a maximum of $13.75 million. He is guaranteed at least $3.75 million.
Walker was about to be in demand. He had visits set up with the
Seattle Seahawks
and
Green Bay Packers
had he left his interview in Kansas City without a Chiefs contract.
He got one and will fill one of the last remaining holes on Kansas City's defense. The Chiefs were searching for a replacement for starting end Tyson Jackson, who was one of those five free agents who signed at the opening of the signing period. He joined the
Atlanta Falcons
.
The Chiefs previously signed a linebacker,
Joe Mays
, to fill a hole in their starting lineup at one of the inside spots. They have yet to sign a free agent to replace free safety
Kendrick Lewis
, a free agent. But the Chiefs drafted
Sanders Commings
last year and may give him first shot at the job.
Otherwise, the Chiefs are now whole on defense. It's their offense that needs attention and that's most likely where they will focus much if not all of their attention in what remains in free agency and the early portion of the draft.