September, 2, 2014
Sep 2
10:00
PM PT
Our weekly look at random stats pertaining the the Pac-12 resumes.
Want another hard-to-find stat looked up?
I take requests on Twitter
.
Thursday
Arizona at UT-San Antonio
Arizona's 787 yards of offense against UNLV was the most in the country in Week 1 and would have been a school record at every Pac-12 school except USC. The Trojans had 978 yards of offense against Pomona in 1925. Only three other schools eclipsed the 700-yard mark last week: Nebraska (784), Western Kentucky (708) and USC (701).
How's this for balance? The Wildcats currently rank No. 9 in the country in rushing (353 yards) and No. 7 in passing (434).
Anu Solomon was one of 12 quarterbacks that started in Week 1 having never appeared in a game before. Among those players, he was the only one that threw a touchdown (four, actually) without throwing an interception.
Friday
Washington State at Nevada
QB Connor Halliday's 532 passing yards against Rutgers was the second-most in the country in Week 1. He's behind Western Kentucky's Brandon Doughty (569 yards), but ahead of Texas A&M's Kenny Hill, who threw for 511.
Washington State's 38 points against Rutgers was the most a team scored last week in a losing effort.
The Cougars' six rushing yards against Rutgers was the fourth-fewest in the county. Houston, SMU and Wake Forest all had negative rushing totals in Week 1.
Saturday
Fresno State at Utah
DE Nate Orchard's 2.5 sacks ranks No. 1 in the conference -- they all came in the first quarter.
WR Kaelin Clay had four return opportunities against Idaho State -- two went for touchdowns (1 punt, 1 kickoff). Ten other players in the country had one return for a score, but no one matched Clay with two.
QB Travis Wilson's QBR (92.8) ranks No. 5 among players from Power-Five schools.
Colorado at Massachusetts
Colorado was one of just four Power-Five schools to lose to a school not from a Power-Five conference. The others were Vanderbilt, Iowa State and Wake Forest.
Colorado had just 11 drives against Colorado State, the lowest number among Pac-12 teams in Week 1.
Only two players in the country had more pass attempts without being sacked than Colorado QB Sefo Liufau (39 attempts).
Sacramento State at California
LB Jalen Jefferson tied for the most tackles in the Pac-12 in Week 1 with 16 -- 11 of those were solo stops.
With its win against Northwestern, Cal was one just three Power-Five schools to win a true away game against another Power-Five school in Week 1. The others were UCLA and Texas A&M.
Cal's win snapped a losing streak of 11 games against FBS teams -- one more and the streak would have equaled the longest such streak in college football over the past 10 years, shared by six schools.
Eastern Washington at Washington
Washington's 17 points were the fewest among Power-Five teams that won in Week 1. Three others in FBS also scored 17 and won: Wyoming, UL Monroe and Ohio.
The Huskies rank No. 11 in the conference in total defense, but are tied for No. 4 in defensive yards per play (4.37).
Despite being from the same state, the schools have played just once before -- a 30-27 UW win in 2011.
No. 14 USC at No. 13 Stanford
Series dates back to 1905. USC owns 58-29-3 lead.
USC's 105 plays in Week 1 ranked No. 2 in college football behind Northern Illinois (109).
USC played more true freshmen (11) than anyone else in the conference in Week 1. Stanford played four.
The 115 yards Stanford allowed against UC Davis was the fifth-fewest in the country.
Stanford's home winning streak (17) is the longest in the country.
No. 7 Michigan State at No. 3 Oregon
QB Marcus Mariota's Raw QBR (97.1) ranks No. 3 in college football.
The Ducks were the only team in the conference to have multiple true freshmen combine to score three touchdowns: RB Royce Freeman (2) and WR Charles Nelson.
Michigan State has not allowed more than 28 points in its last 28 games. Oregon has scored at least 35 in its last eight games at Autzen Stadium.
No. 17 Arizona State at New Mexico
Arizona State was the least penalized team in the Pac-12 in terms of yards in Week 1 (30).
The Sun Devils were the only Pac-12 team to start two true freshmen on defense.
New Mexico passed for just 67 yards in Week 1 -- the fifth-fewest in the country.
Memphis at No. 11 UCLA
Twelve teams scored defense touchdowns in Week 1, but UCLA, with three, was the only team with more than one.
LB Eric Kendricks moved into sixth all-time on the UCLA tackles list with his 16-tackle performance against Virginia.
UCLA has not lost a regular-season nonconference game under Jim Mora (7-0).
Oregon State at Hawaii
Oregon State committed 13 penalties against Portland State, the fifth-most in the country in Week 1.
The Beavers were the only school in the country not to allow a third-down conversion. Portland State finished 0 for 9.
QB Sean Mannion has thrown a touchdown pass in 17 straight games -- the fifth-longest streak in the country.
Statistics via ESPN TruMedia
September, 2, 2014
Sep 2
5:00
PM PT
If there is anything more exciting than bowl projections after one week, I haven't seen it. Maybe one or two things … mixed competitive potato farming … root canals … etc.
You know these are coming every week, so just bear with us.
We don't have much data to work with. I'm thinking a couple of things might get sorted out when USC travels to Stanford next week. And there will be some critical games to keep an eye on in the future (Utah vs. Washington State on Sept. 27, Cal at Washington State on Oct. 4, etc.).
Just a refresher of how things work in the new College Football Playoff era: After the four playoff teams are picked, the selection committee will also pick at-large games for the Fiesta, Peach, Orange and Cotton bowls.
The flexibility in bowl arrangements might shake some things up also. Some conferences have moved away from the traditional "in-order" selection process and moved to a "tier" process.
It's early, so if you see your team listed, great. If you don't, don't get into too much of a huff yet. (What am I thinking? Of course you're going to get into a huff.)
College Football Playoff:
Oregon
Fiesta Bowl:
Stanford
Valero Alamo Bowl
: UCLA
National University Holiday Bowl:
USC
San Francisco Bowl
: ASU
Hyundai Sun Bowl
: Arizona
Royal Purple Las Vegas Bowl
: Washington
Cactus Bowl:
Oregon State
Heart of Dallas Bowl*
: Utah
*-At large
September, 2, 2014
Sep 2
2:00
PM PT
September, 2, 2014
Sep 2
10:00
AM PT
The
Oregon Ducks
made the biggest splash on the recruiting trail over the weekend, landing a commitment from ESPN 300 athlete
Malik Lovette
. The Ducks had the nation's No. 276 prospect on campus for an official visit and sealed the deal rather quickly. Elsewhere, it was a fairly quiet weekend for the conference overall, as three Thursday games, two Friday game and several away games left only four programs hosting Saturday contests and even fewer official visitors.
September, 2, 2014
Sep 2
8:00
AM PT
Leading off
Week 2 brings two of the most anticipated games of the college football season, with Michigan State traveling to Oregon and Stanford hosting USC. Nationally, most are calling the Sparty-Duck game the No. 1 nonconference matchup in college football this year. The Pac-12 blog agrees. And we know what Stanford and USC have been like the last few seasons. It's a good week to be a Pac-12 fan. Here's what some folks are saying about the matchups.
Athlon Sports
on Oregon-Michigan State:
We don't really know anything about either team after lopsided victories in Week 1. Sparty crushed poor Jacksonville State 45-7, while the Ducks routed lowly South Dakota 62-13. This is the ultimate contrast in schemes with Marcus Mariota leading one of the nation's most powerful spread attacks and Pat Narduzzi directing one the gnarliest defensive units in the land.
And their take on Stanford-USC:
Look for quarterbacks Kevin Hogan (204 yds, 4 total TD) and Cody Kessler (394 yds, 4 TD) to build on excellent Week 1 performances. Stanford is looking for revenge after a late-season upset at the hands of the Trojans in Los Angeles a year ago, and the loser will fall a game behind higher-ranked division contenders.
Sports Illustrated previews the MSU-Oregon game as well, with a focus on what this game could mean for the playoff selection committee down the road:
The ramifications of the result from Eugene will transcend what Oregon's Marcus

Mariota

or Michigan State's

Shilique

Calhoun do on the field, as the season's marquee non-conference game provides precious data points in comparing the Big Ten and the Pac-12.
And our own Ted Miller
hit on this yesterday
.
Bowling talk
One of the bolder predictions in the preseason came from Stewart Mandel of Fox Sports, who pegged the
Washington Huskies
as the team to beat in North. Here is
his weekly notebook
with news and notes and his opinion from around college football. Top to bottom, it's a good read with plenty of Pac-12 goodies in there. But the one most readers will stop on are his predictions for the six bowl games on New Year's Day, which still include Washington and UCLA.
Am I feeling a little skittish about my UCLA and Washington picks right about now? Of course. Will I be swapping out Michigan State for Ohio State this time next week? Quite possibly. But I'd like to watch more than one game before jumping to any grand conclusions. After all, a year ago Auburn barely survived Washington State at home in its season opener and Michigan State could barely move the ball against Western Michigan. They wound up a combined 25-3.
Tune in
For all of your audio needs, you can check out the Solid Verbal podcast. They recap a lot of what happened in the Pac-12
(starting at about the 38:20 mark)
. Among the topics:
Some praise for California.
Should we freak out about UCLA?
Washington's struggles.
Washington State-Rutgers.
Worth a listen if you have the time.
News/notes/team reports
*I posted the updated depth charts last week for each team. Is that a weekly feature you guys want?
Tweet at me and let me know.
Just for fun
Never hurts to keep an eye on this:
Notable @HeismanTrophy candidates Week 1 stats » pic.twitter.com/iRLz1vvMXo

— ESPN CollegeFootball (@ESPNCFB) September 1, 2014
Nice to see Cal players celebrating.
#PartyInTheEndzone pic.twitter.com/77t59HZFmf

— Trigga (@BryceTreggs) September 1, 2014
September, 2, 2014
Sep 2
3:00
AM PT
The Pac-12 typically has great quarterbacks and good depth at the position, but the 2014 season is particularly stacked behind center. With 10 returning starters, including a handful who are expected to be All-American candidates and early NFL draft picks, it's almost difficult to keep up with who's doing what to whom's secondary.
No worries. We've got you covered. Each week, we will provide you a top-five ranking of the Pac-12 QBs.
Now, it won't always be a 1 to 5 ranking according to the expected pecking order at season's end or NFL draft lists. It will react heavily to the preceding week. And we'll try to spread some love. If our ratings seem inconsistent and they frustrate you at times, well, we just feel so horrible about that.
Honorable mention
:
Brett Hundley
, UCLA,
Connor Halliday
, Washington State,
Taylor Kelly
, Arizona State: Three big names end up here after being outshined by others, at least for one week. Hundley was victimized by poor offensive line play at Virginia and mostly played well under intense pressure, but he gets hit for he and his team falling well short of expectations. One offensive touchdown ... really? Halliday gets a hat tip for putting up huge numbers in a loss, but it was a disappointing season-opening loss. Ergo, only a hat tip. Kelly put up solid if unspectacular numbers against a terrible opponent.
September, 1, 2014
Sep 1
8:00
AM PT
I can't believe how fast things move on the outside. I saw an automobile once when I was a kid, but now they're everywhere. The world went and got itself in a big damn hurry.
Leading off
Welcome to Week 2. By now, you probably already know what happened in Week 1. But we'll use this space each Monday to give you a quick reference to every game that happened in the Pac-12.
National reactions
Here's a look at what some folks around the nation are saying about the Pac-12 and its teams.
John Taylor of NBC Sports
hit on a couple of Pac-12 teams
in his Week 1 rewind. USC coach Steve Sarkisian is getting a lot of praise for keeping things together after a tumultuous week leading up to the Trojans' first game.
In the first game of the Steve Sarkisian era Saturday night, the Trojans took out all of their lingering frustrations on an overmatched Fresno State squad by the score of 52-13. Quarterback Cody Kessler passed for 310 yards and three touchdowns ... in the first half alone. The offense ultimately rolled up 704 yards of offense on 104 plays, the latter of which set a Pac-12 record.
Anne Petersen of the Associated Press gets to the heart of
what everyone is thinking in Eugene
... we can finally start looking ahead to Week 2 and Oregon vs. Michigan State.
While Oregon is known for their hyper-drive offense, Michigan State's success last season -- the Spartans went undefeated in conference play -- came in large part because of their bruising defense. The Spartans lost standouts Max Bullough and Darqueze Dennard from that defense, but they still have lineman Shilique Calhoun, considered one of the top players in his league, and linebacker Taiwan Jones, who looked promising in the opener with Bullough gone.
UCLA offensive line coach Adrian Klemm is
catching a little heat
from Pete Roussel for the way his linemen performed in the win over Virginia. The Bruins were without starting center Jake Brendel. And that obviously hurt. But there were bigger line issues at play. Not to mention more than a few wide receiver drops.
The resume of a coach is his tape. And right now, Adrian Klemm has his hands full. He knows it, too. That "super assistant" label from the media doesn't look so fitting right now.
Nationally honored
UCLA linebacker Eric Kendricks was named the
Walter Camp national defensive player of the week
for his performance in UCLA's win over Virginia. Kendricks posted 16 tackles, forced a fumble that led to a UCLA defensive touchdown and also returned an interception for a touchdown. Say what you want about the offense (and there is plenty to say), but Kendricks had a monster game.
News/notes/team reports
Just for fun
Saw this Saturday night and had to tweet it out, because it's equal parts awesome and adorable.
Photo bombed by the cops at his first football game @GoDucks #GoDucks pic.twitter.com/V1CK1Syp3h

— Manny Martins (@EmanuelMartins) August 31, 2014
August, 31, 2014
Aug 31
7:00
PM PT
The first week of the season has come and gone, and with it went the redshirts for 75 freshman players in the Pac-12.
USC, which had the conference's
highest-ranked recruiting class
in 2014, played the most freshmen (11) and Oregon State played none. Those 75 players accounted for seven starts (on offense or defense) and eight touchdowns. The total number of players will undoubtedly grow in the next few weeks.
Here's a breakdown of all 75, by school (*-denotes players who started):
Arizona (6)
Arizona State (9)
Cal (8)
Colorado (3)
Oregon (10)
Oregon State (0)
Stanford (4)
UCLA (7)
USC (11)
Utah (10)
Washington (5)
Washington State (2)
August, 31, 2014
Aug 31
10:00
AM PT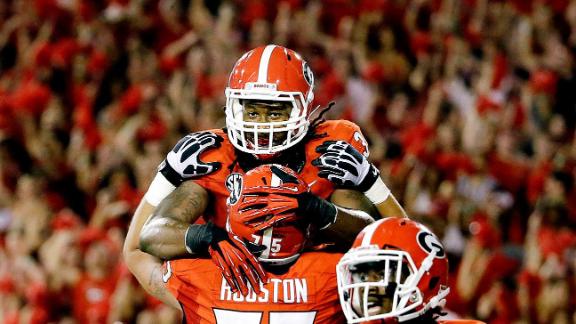 There is one thing the College Football Playoff
didn't
change, and that's the importance of the regular season. The playoff picture has already been affected. Here's a look at how the biggest games impacted the postseason in Week 1:
NOBODY LOOKED INVINCIBLE
[+] Enlarge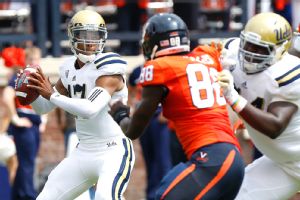 Geoff Burke/USA TODAY SportsHeisman candidate Brett Hundley looked rather ordinary against Virginia on Saturday.
Nobody looked as good as Florida State did a year ago -- including this Florida State. The No. 1-ranked Seminoles got a good scare from Oklahoma State. No. 7 UCLA traveled across the country and ran into a shockingly good Virginia defense. No. 5 Ohio State's defense looked like it had one week to prepare for Navy's triple option -- not all summer. No. 2 Alabama looked vulnerable on defense and had its hands full with West Virginia. Two Heisman hopefuls – FSU quarterback
Jameis Winston
and UCLA's
Brett Hundley
-- looked more average than they did spectacular, and were overshadowed by the likes of
Melvin Gordon
,
Todd Gurley
and – surprise --
Kenny Hill
. Nothing came easy in Week 1 -- including any indication as to who the best team in the country might be -- but that's typical. Look for significant improvement and more clarity in Week 2 now that the nerves have settled and the rust is off.
GAMECOCKS WENT SOUTH
South Carolina coach Steve Spurrier had no answers following his team's 52-28 loss to Texas A&M, one of the most surprising results of the week. The Aggies looked in midseason form against a porous South Carolina defense that allowed a school-record 680 yards. Hill outplayed South Carolina quarterback
Dylan Thompson
, and while South Carolina's playoff stock plummeted, the Aggies' rose. Consider this: The next four opponents for A&M are Lamar, Rice, SMU and Arkansas. The Aggies should be 5-0 heading into October and a trendy playoff pick – especially if Hill continues to play with that poise and accuracy. It was a rough opening for the entire state of South Carolina, as Clemson lost to Georgia, which looked very capable of winning the SEC East. The Bulldogs, led by Gurley's school-record 293 all-purpose yards, scored 24 unanswered points in the second half to break away for a 45-21 win.
GOOD NOT GREAT
Ohio State doesn't look like it's going to bulldoze its way through the Big Ten with
J.T. Barrett
at quarterback and a young offensive line paving the way, but it certainly isn't going to roll over for anyone, either. The loss of
Braxton Miller
to injury was a game-changer, but the team's relentless performance against Navy showed that the Buckeyes can't be counted out just yet. Barrett threw for 226 yards and two touchdowns in his collegiate debut, and coach Urban Meyer used a conservative game plan to keep his rookie comfortable. Ohio State has three straight home games against unranked opponents (Virginia Tech, Kent State and Cincinnati) before opening league play at Maryland on Oct. 4. The Hokies' defense should present the biggest challenge, but the Buckeyes can still enter their Big Ten schedule in exactly the same place everyone thought they'd be with Miller -- in the playoff conversation.
PERCEPTION PROBLEMS
The Big Ten was oh-so-close to gaining some respect this weekend until Wisconsin squandered its 10-point halftime lead against LSU. With the exceptions of Wisconsin and Northwestern, the conference won all of its games. League newcomer Rutgers found a way to beat Washington State in Seattle, and Penn State beat UCF in Ireland, but the Badgers missed their opportunity on the biggest stage. They had the best chance at making a statement for the entire conference. Instead, it was an underwhelming debut for quarterback
Tanner McEvoy
, who completed 8 of 24 passes for 50 yards, no touchdowns and two interceptions. Melvin Gordon had 140 yards -- but only had 16 carries. With Wisconsin's schedule -- the Badgers don't play Ohio State, Michigan State or Michigan -- a win over LSU would've pushed them into the playoff conversation. Now? The Big Ten better hope the Spartans or Buckeyes can live up to the expectations.
BUH-BYE BOISE (and UCF)
The Broncos had one chance to impress the College Football Playoff selection committee against a Power 5 opponent, and it disappeared with a 35-13 loss to Ole Miss on Thursday night. If an undefeated Boise State couldn't get into the title game in the old BCS system, a one-loss Broncos team probably isn't going to sneak into the four-team playoff. The same can be said for UCF, which had high expectations for this season coming off its Fiesta Bowl win over Baylor. A tough 26-24 loss to Penn State in Ireland was hardly an embarrassment, but it's going to be nearly impossible to overcome as a member of the American Athletic Conference.
That's not to say that Boise State or UCF won't play on New Year's Day. The highest-ranked conference champion not from the Group of 5 will earn a spot in one of the New Year's Six bowls, but that's a consolation prize to two programs that have already been there, won that.
August, 31, 2014
Aug 31
2:55
AM PT
We never know. We learn.
We have ideas of what teams will look like, and we project based on returning talent, talking with coaches, watching practices and making educated guesses. But we never
really
know until we see what's on the field.
We're smarter Saturday night than we were Thursday morning -- mostly. The first week of Pac-12 Football 101, which saw the league go 10-2 in nonconference play, was chock-full of intellectual goodies.
Perhaps the team that enlightened us the most was the California Bears, who snapped a 16-game losing streak to FBS teams by going into Ryan Field and notching a
31-24 victory
over the
Northwestern Wildcats
.
[+] Enlarge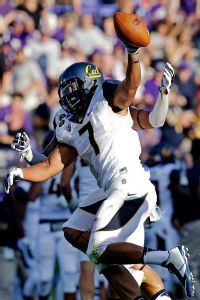 AP Photo/Nam Y. HuhJalen Jefferson celebrates his interception that essentially sealed the game for Cal.
It's not that it was the first FBS win of the Sonny Dykes era, or that the offense looked balanced and explosive. It's the fact that they had a 31-7 lead and won 31-24. Dykes liked the idea that his team had to tip-toe through a little bit of fire to pick up the win. He watched his team evolve from soft to salty.
"I never got the feeling from one player or one coach of 'here we go again,'" Dykes told the Pac-12 blog via telephone after the game. "The guys really believed in each other. And the reason they did is because they have worked so hard. They were prepared. And they knew someone would make a play to give us a chance to win the ball game."
As it turned out, someone made two. On Northwestern's final drive,
Jalen Jefferson
notched a critical sack on second-and-6 for a loss of 11 yards. On the next play, Jefferson snagged an interception that essentially closed out the game.
"It's been a long few months for us, but we're a tighter team than we were last year," Jefferson said. "A lot of those breaks we weren't getting last year, we got them. We can feel things changing for the better."
Added quarterback
Jared Goff
: "I think we learned about resiliency. We knew they would fight back and we didn't give up ... we learned how to finish a game."
It was educational, for sure.
We learned some things haven't changed -- at least not yet. While the Bears were protecting the fourth quarter from a Big Ten team, the
Washington State Cougars
were yielding the fourth quarter to another. And UCLA? Well,
Brett Hundley
is still getting sacked, and his offensive line still looks leaky. If not for three defensive touchdowns, the Bruins would be staring at 0-1.
We didn't learn much from the FCS games -- other than it was good to see Utah's
Travis Wilson
back on the field and that Oregon State seems to makes those games sketchier than they probably should be. We don't know a ton more about ASU's defense or Oregon's offense. We didn't learn much about Stanford's rushing attack.
Ty Montgomery
is really good. But we already knew that.
We learned USC still has the ability to hit the mute button on the outside noise. If there's one team that knows a little something about turmoil, it's the Trojans -- for what they went through last year. That's a team with scary potential.
We learned not very good is sometimes good enough. See Washington and UCLA, whose fans are crawling into bed at this moment feeling both relieved and probably a little jolted.
And the rest of the Pac-12 probably learned a little something about the Bears.
"We're capable of being pretty good, I think," Dykes said. "We have to execute better. We're good in spurts. We have to be good consistently and close people out."
Next week Cal gets FCS Sacramento State with a chance to start 2-0 for the first time since 2011. The schedule ramps up with a pair of high-profile games, including Michigan State at Oregon and USC at Stanford.
Looking forward to what we'll know by this time next Saturday.
August, 30, 2014
Aug 30
5:21
PM PT
After escaping Virginia with a win, quarterback
Brett Hundley
knows more is expected of him and the UCLA offense.
2014 TEAM LEADERS
| TEAM | RUSH | PASS | TOTAL |
| --- | --- | --- | --- |
| Offense | 116 | 242 | 358 |
| TEAM | PF | PA | MARGIN |
| Scoring | 28 | 20 | 8 |