April, 23, 2014
Apr 23
7:00
PM PT
Keeping with our theme of Pac-12 quarterbacks
-- and numbers donated to the Pac-12 blog by the Arizona State sports information department -- Jeremy Hawkes and Jordan Parry compiled a list of returning starts behind center by conference. Not surprisingly the Pac-12, with 10 returning starting QBs, is tied with the 14-team Big Ten for the most returning starters, and the Pac-12 leads the nation in total starts.
[+] Enlarge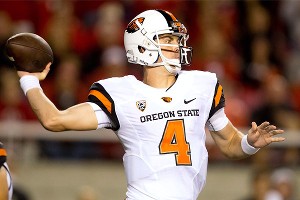 Russ Isabella/USA TODAY SportsOregon State quarterback Sean Mannion is one of the most experienced quarterbacks in the country.
Hawkes wrote: "The logic we used was based around the quarterback who would be considered the 'primary' quarterback by season's end last season. Quarterbacks who were injured early in the season when they were considered the primary quarterback and return this year are also counted on the list (like
David Ash
at Texas)."
The Pac-12 not only welcomes back 10 starting QBs, it welcomes back 198 total starts, topped by 31 from Oregon State's
Sean Mannion
. Seven of the returning Pac-12 QBs have more than one season's worth of starting experience, too.
The Big Ten features 10 returning QBs and a cumulative 158 starts. The 14-team SEC only welcomes back five starting QBs with a combined 68 starts. Ohio State's
Braxton Miller
has the most career starts among returning quarterbacks with 32.
Further, notes Hawkes, "Also notable is that aside from Rutgers'
Gary Nova
(28 starts), Mannion (31),
Taylor Kelly
(27),
Brett Hundley
(27) and
Marcus Mariota
(26) are the four most seasoned QBs among all BCS teams (along with
Bo Wallace
at 26 starts at Ole Miss)."
Here's the list.
Pac-12 (10)
Sean Mannion, Oregon State: 31
Taylor Kelly, Arizona State: 27
Brett Hundley, UCLA: 27
Marcus Mariota
, Oregon: 26
Kevin Hogan
, Stanford: 19
Connor Halliday
, Washington State: 19
Travis Wilson
, Utah: 16
Cody Kessler
, USC: 14
Jared Goff
, Cal: 12
Sefo Liufau
, Colorado: 7
Total
:
198 starts
Big Ten (10)
Braxton Miller
, Ohio State: 32
Gary Nova
, Rutgers: 28
Devin Gardner
, Michigan: 21
Joel Stave
, Wisconsin: 19
Connor Cook
, Michigan State: 13
Jake Rudock
, Iowa: 13
Christian Hackenberg
, Penn State: 12
Nate Sudfeld
, Indiana: 8
Danny Etling
, Purdue: 8
Mitch Leidner
, Minnesota: 4
Total
:
158 starts
Big 12 (8)
David Ash
, Texas: 21
Bryce Petty
, Baylor: 13
Jake Waters
, Kansas State: 13
Jake Heaps
, Kansas: 9
Sam Richardson
, Iowa State: 8
Clint Trickett
, West Virginia: 7
Davis Webb
, Texas Tech: 6
Trevor Knight
, Oklahoma: 5
Total
:
82 starts
SEC (5)
Bo Wallace
, Ole Miss: 26
Nick Marshall
, Auburn: 14
Brandon Allen
, Arkansas: 12
Justin Worley
, Tennessee: 10
Dak Prescott
, Mississippi State: 6
Total: 68 starts
ACC (4)
Anthony Boone
, Duke: 15
Jameis Winston
, Florida State: 14
David Watford
, Virginia: 12
Terrel Hunt
, Syracuse: 10
Total: 51 starts
American Athletic (5)
Paxton Lynch
, Memphis: 12
John O'Korn
, Houston: 11
P.J. Walker
, Temple: 7
Mike White
, South Florida: 5
Casey Cochran
, Connecticut: 4
Total: 39 starts
April, 23, 2014
Apr 23
2:30
PM PT
And I've been up all night, I might sleep all day;
Get your dreams just right, and let them slip away.
April, 23, 2014
Apr 23
2:00
PM PT
UCLA is coming off a 10-3 record in 2013, and it beat rival USC for the second straight season. But the Bruins didn't capitalize as many thought they might on the recruiting trail, finishing with the
No. 26 class
and missing out on some key recruits on signing day. UCLA coach Jim Mora knows the 2015 recruiting efforts will be vital for the Bruins to continue their success, and an
early start
that includes pledges from
Josh Rosen
, the No. 1 quarterback in the country, and two other ESPN 300 prospects is just what the doctor ordered. Mora visited with
RecruitingNation
on some key topics facing the Bruins with the 2015 class and other national recruiting issues.
[+] Enlarge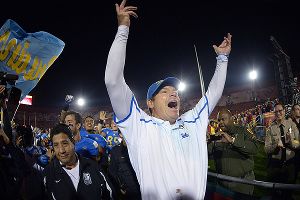 Kirby Lee/USA TODAY SportsJim Mora's energy and success have led to bigger recruiting victories for UCLA.
You're not able to talk specifically about prospects you're recruiting, but how does it help a program on the recruiting trail when they land an elite quarterback early in the process?
Jim Mora:
Prospects follow recruiting very, very closely and they know where others are going or where they're leaning. I think any time you are able to early in the recruiting process land a high-profile recruit at whatever position, it's going to help you. Good players want to play with other good players. They want a chance to go win a championship. So when you can get a verbal commitment from somebody that's high-profile at an important position like quarterback, then it is certainly going to help your recruiting prospects.
Looking at the numbers of players returning after this season and your smaller senior class, most observers say you'll sign between 15-20 players in the 2015 class. What challenges does that present you guys as a staff?
JM:
You have to be very selective. As we have more and more success and more and more kids become interested in playing at UCLA, it just naturally forces you to be a little bit more selective. This year, we have to be very diligent and make the right decisions as to who we let in the door. We're moving methodically through the process, gathering as much information as we can on these kids, recruiting them along the way and hopefully make the right decisions.
How does it help having a coach like Adrian Klemm, who is originally from Inglewood, Calif., on the staff?

JM:
He has a ton of connections in the city. He's very well respected in Southern California, as well as the rest of the country. Any time a guy walks into a living room or into a school out here in Los Angeles with a pedigree that Adrian has, it's significant. The guy has three Super Bowl rings, and he's from L.A. I don't know if you're going to be able to find another college coach in America that's got three Super Bowl rings. Heck, I bet you can't find one with two. He's done it and had success at the highest level, and that carries weight with these kids and with these families in Los Angeles.
Should there be an early signing period in college football?
[+] Enlarge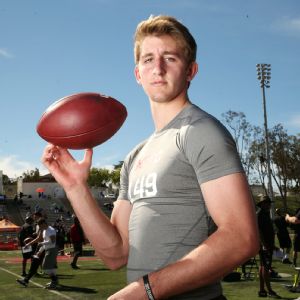 Tom Hauck for Student SportsESPN 300 QB Josh Rosen headlines UCLA's recruiting class.
JM:
I have no opinion on it. That's just the truth. I worry about what I can control and that's out of my control, so I'm not going to worry about it (laughs). There's my dogmatic, on the record answer for you.
Have you reviewed Randy Edsall's recruiting proposal that suggested prospects couldn't be offered scholarships until until Sept. 1 of an athlete's senior year and those offers would only come from a school's admissions department?
JM:
That ain't going to happen. There are folks offering seventh- and eighth-graders. That one is not going to happen, but I respect the fact that he's looking at it that way. I respect all these guys that are looking at it and trying to find a solution. Right now, I have more important and pressing things that I have to worry about. I choose to spend my time and energy on other issues. But there a lot of smart people out there that I'm going to depend on to examine this issue, because something needs to be done about it. I'm certainly not smart enough to figure out all those issues. I only have so many brain cells, and I need to use them on UCLA stuff.
How important is it in today's world of social media to be honest with the prospects you're recruiting? We hear so much about negative recruiting, but not so much about how you have to be honest with prospects.

JM:
Recruits see through the fluff in a heartbeat. If you're not honest with them, you're not going to get away with it. They know what is real and what isn't real. It doesn't matter if it's the NFL level, this level or the high school level. That demands that sometimes you have tough discussions or uncomfortable conversations with people, but you have to do it. You have to do it and have a level of empathy that can earn respect with people. You have to be brutally honest with recruits, high school coaches and parents about where things stand without being attacking or condescending.
April, 23, 2014
Apr 23
12:00
PM PT
It's been about a month since we last checked in on the recruiting front. The Bears have gotten on the board with two commits in the last week, ASU added a hometown quarterback, UCLA added a third ESPN 300 player, the Trojans picked up a commit from the No. 3 offensive tackle and the Huskies got a commitment from the nation's No. 4 pocket passer.
Here's a look at where each school stands in the recruiting game.
Arizona
2015 commits
: 4
Player(s)
:
Taren Morrison
, RB, Mesa, Ariz.;
Darick Holmes Jr
., RB, Westlake Village, Calif.;
Ricky McCoy
, TE, Fresno, Calif.;
Finton Connolly
, DT, Gilbert, Ariz.
Arizona State
2015 commits
: 5
Player(s)
:
Morie Evans
, WR, Huntsville, Texas;
Bryce Perkins
, QB, Chandler, Ariz.;
Nick Ralston
, RB, Argyle, Texas;
Tony Nicholson
, Ath., Grand Prairie, Texas;
Raymond Epps
, TE, Yuma, Ariz.
California
2015 commits
: 2
Player(s):
Austin Aaron
, WR, Napa, Calif.;
Malik Psalms
, CB, Chino Hills, Calif.
Colorado
2015 commits
: 3
Player(s):
T.J. Fehoko
, DE, Salt Lake City;
N.J. Falo
, OLB, Sacramento, Calif.;
Dillon Middlemiss
, OG, Arvada, Colo.
Oregon
2015 commits:
2
Player(s)
:
Zach Okun
, OG, Newbury Park, Calif.;
Jake Breeland
, WR, Mission Viejo, Calif.
Oregon State
2015 commits
: 3
Player(s)
:
Tyrin Ferguson
, OLB, New Orleans;
Treshon Broughton
, CB, Tustin, Calif.;
Kyle Haley
, OLB, Anaheim, Calif.
Stanford
2015 commits:
3
Player(s)
:
Arrington Farrar
, S, College Park, Georgia;
Christian Folau
, ILB, Salt Lake City;
Rex Manu
, DT, Mililani, Hawaii.
UCLA
2015 commits
: 6
Player(s)
:
Josh Rosen
, QB, Bellflower, Calif.;
Alize Jones
, TE-Y, Las Vegas;
Tevita Halalilo
, OG, Moreno Valley, Calif.;
Jaason Lewis
, ATH, Virginia Beach, Va.;
Victor Alexander
, OLB, Jacksonville, Fla.;
Bolu Olorunfunmi
, RB, Clovis, Calif.
USC
2015 commits
: 4
Player(s)
:
Chuma Edoga
, OT, Powder Springs, Ga.;
Ricky Town
, QB (PP), Ventura, Calif.;
David Sills
, QB (PP), Elkton, Maryland;
Taeon Mason
, CB, Pasadena, Calif.
Utah
2015 commits:
7
Player(s)
:
Jake Grant
, OT, Scottsdale, Ariz.;
Tuli Wily-Matagi
, ATH, Kahuku, Hawaii;
Donzale Roddie
, WR, Paramount, Calif.;
Chayden Johnston
, K, South Jordan, Utah;
Brandon Snell
, WR, Miami;
Corey Butler
, WR, Wilmington, Calif.;
Zach Lindsay
, OT, Kaysville, Utah.
Washington
2015 commits
: 3
Player(s)
:
Jake Browning
, QB, Folsom, Calif.;
Trey Adams
, OT, Wenatchee, Wash.;
Myles Gaskin
, RB, Seattle.
Washington State
2015 commits
: 2
Player(s):
Thomas Toki
, DT, Mountain View, Calif.;
Austin Joyner
, RB, Marysville, Wash.
April, 23, 2014
Apr 23
9:00
AM PT
The Pac-12 replaced a third of its coaches prior to the 2012 season. Half of the Pac-12 South changed skippers, with Rich Rodriguez going to Arizona, Todd Graham to ASU and Jim Mora to UCLA. In the North, Mike Leach took things over at Washington State.
Per the hard-working,
number-crunching folks at Arizona State
, 27 schools changed coaches that year, and six of them have already made additional changes. Here's a look at the coaching records of those coaches hired between December 2011 and January 2012.
[+] Enlarge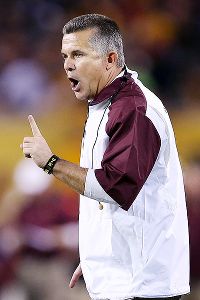 Christian Petersen/Getty ImagesTodd Graham has proven to be one of the best coaching hires made after the 2011 season.
20-6: Fresno State (Tim DeRuyter); Texas A&M (Kevin Sumlin)
19-8: UCLA (Jim Mora)
18-9: Arizona State (Todd Graham)
16-9: Toledo (Matt Campbell)
16-10: Arizona (Rich Rodriguez)
15-10: North Carolina (Larry Fedora)
15-11: Rutgers (Kyle Flood); Ole Miss (Hugh Freeze)
13-12: Houston (Tony Levine)
13-13: Pittsburgh (Paul Chryst)
12-14: Colorado State (Jim McElwain)
9-16: Washington State (Mike Leach)
; Tulane (Curtis Johnson)
7-17: Memphis (Justin Fuente)
7-18: New Mexico (Bob Davie)
6-18: Illinois (Tim Beckman); Akron (Terry Bowden)
4-20: Kansas (Charlie Weis); Hawaii (Norm Chow)
The purpose of the post, coming from ASU, is to show that the Sun Devils believe they hit a home run with the Graham hire, which of course was much maligned at the time. Ironically enough, so was the hire of the guy who ranks one win ahead of Graham, UCLA's Mora. While Rodriguez and Leach were celebrated hires at their respective schools, Graham and Mora weren't met with as warm of a reception.
And yet all four have done a fine job in their own right, given their respective situations. Mora has a South Division championship, a bowl win and a pair of victories over rival USC. Graham has a South Division championship, a bowl win, and a pair of victories over rival Arizona. After missing the postseason in 2011, Rodriguez has come in and given the Wildcats back-to-back bowl victories. And after a rocky first year, Leach brought the Cougars to the postseason for the first time in a decade.
So while there are varying degrees of success, I don't think it's unreasonable to say that all four schools found the right guy. Each has excited the fan base -- and donors -- because all four programs have either had facility upgrades or they are on their way.
And while the balance of power still lies with Stanford and Oregon in the North, the trio of coaches in the South have upped the competition level significantly. The UCLA-USC and ASU-Arizona rivalries will always take center stage. But how great have the UCLA-ASU games been the last couple of years?
Because all four hires were so high profile at the time, the coaches will always be measured against each other. But two seasons in, all four schools have to be feeling pretty good about their choice of coaches.
April, 22, 2014
Apr 22
5:30
PM PT
Welcome to the mailbag, where no question is dumb. Except for the dumb ones.
Jaime in Los Angeles writes
:
Your poll was interesting
about anointing a quarterback. Where do you come down?

Kevin Gemmell
: If you can, you should, without question. Coaches, however, don't always have that luxury.
This is an interesting season for Pac-12 quarterbacks because there are potentially 10 starters returning. That's pretty rare for a conference. But it's also a relief to 10 coaches who don't have to deal with Ted texting them at 2 a.m. inquiring who their starting quarterback is going to be. (Now he just texts me).
To have a starting quarterback in place post-spring --
if
it's the
right
quarterback -- can be a blessing. He'll lead the way in the weight room. He'll call his receivers up to go throw for no other reason than he wants to throw. He'll bond with his guys and they'll start to respect him off the field.
Now for the two schools that don't have a starter coming back -- Arizona and Washington -- there is no reason to rush things. During this time, Chris Petersen and Rich Rodriguez will be getting feedback from their strength coaches about how the quarterbacks interact with the other players. Who is stepping up and being a leader? Who do the guys respect? Who do they respond to? It's not just about the Xs and Os.
So while I wholeheartedly endorse the idea of anointing a quarterback, I also know that if you don't have one in place you shouldn't force the issue.
---
Tim in Salt Lake City writes
: Kevin, Which Pac-12 programs do you expect to benefit the most from new rules allowing coaches to work with players over the summer?
Kevin Gemmell:
I could give you the "duh" answer, and that's all of them. Because obviously it's going to benefit every team. But if you're looking for the impact on just this upcoming season, I think it's a huge asset to every team with a young or new quarterback. An Arizona, California, Colorado, Washington, etc.

The rule offers an additional eight hours per week (assuming student-athletes hit certain academic benchmarks) and up to two of those hours can be spent in the film room. That means extra time studying formations, cutups, etc. It gives a
Sefo Liufau
and
Jared Goff
extra time to review what they did right and wrong in 2013. And it allows one of Arizona's 17 quarterbacks to gain that little extra knowledge that might make the difference. It could either be catch-up for
Cyler Miles
or the difference between starting or sitting on the bench for
Jeff Lindquist
or
Troy Williams
.
The physical aspect of it is important, also. It's a way to make sure guys are sticking with their regimen. And for a team like, say, Colorado, which has dramatically needed to improve its physical strength (and made strides in 2013), it's another few hours of supervised work.

Since you're writing from SLC, this will be especially helpful as the Utes adjust to their third offensive coordinator in three years. Even for
Travis Wilson
(assuming he's the guy), it's a similar system in terms of concepts, but with probably just enough tweaks from the previous one that a little extra film time would be beneficial.
There isn't a coach out there who thinks more time during the summer is a bad thing. If for no other reason than just to remind them to do the right thing when they go out at night. I remember a conversation I had once with Mike Leach about players getting into to trouble in the offseason, but because of limited contact, coaches can't always babysit. Will this new rule stop players from getting into trouble? No. But maybe it stops one from having one too many pops and creating a ruckus.
This is a good thing developmentally for all parties involved on and off the field.
---

Ryan in NYC writes
: Kevin, saw your
interview of the UCLA DC
. You looked pretty sharp in that coat and tie. But seriously, aren't you guys getting a little tired of the relentless "happy, happy and more happy" spin coming from the UCLA camp? I mean, isn't it pretty clear that they've assumed this position that they won't say anything negative or even something not deemed positive about their program? I mean come on man. I can understand their energy and focus. They have a chance at a really good year. But everybody has concerns and questions, let's be fair. Finally, I think the way they ended recruiting is a reason why they need to be careful. They did a poor job of managing expectations and fell on their faces. Yes, college football fans are passionate, but we're not stupid. Be frank and candid. We know they have a shot at something special, but nothing is perfect, right? Just an observation, not a question. Peace out.
Kevin Gemmell
: I found it interesting, Ryan, that you opted to chime in this week regarding the UCLA coverage. Because since I visited both LA schools last week, there was an equal amount of USC stuff -- yet you're choosing to focus on UCLA. Fascinating.
First, thanks for the kudos. But as someone kindly mentioned in the comments section, I could stand to drop a couple of pounds. So that was appreciated.
As for the message, I got a lot of the same positive thinking at USC as I did at UCLA. Heck, Steve Sarkisian essentially said
USC is historically due for a big run
. That seemed pretty positive.
Except for maybe the Week 1 news conferences, you won't find a time when players and coaches are as optimistic about their programs as they are now. Same goes for fans, who are scanning the schedules right now and checking off perceived wins. This is, of course, a dangerous exercise (see Utah-Stanford/Oregon-Arizona etc.). But it's fun to do.
Yes, I happen to think UCLA is going to be pretty darn good in 2014. And though we haven't filled out our preseason ballots yet, I'm strongly considering the Bruins as the No. 1 team in the South.
But you're right. Every team has questions and concerns. The Bruins still need to figure out what's going to happen at right tackle. They need to find a way to replace
Anthony Barr
's production. They need to settle on the running back situation and see just how much the secondary has grown up from last season.
I have no problem with players and coaches putting a positive spin on their team in April. But if a team is 0-5 in October, then the happy-go-lucky chatter gets a little old.
---

Cougar Brian in Stumptown writes:
Hey Kevin, any word on the status of
Gabe Marks
and
DaQuawn Brown
in Pullman? Mum seems to be the word, and both are touching the three pillars of Coach Leach's no-nos. Hope all is well, friend!
Kevin Gemmell:
As of right now, both guys are practicing with the team. Leach hasn't addressed it much, other than when he was asked about Brown during his pre-spring news conference and he offered up this:
We're going to have to wait and see how everything unfolds. I mean, right now it's appearing most of what's come out and been spewed around has been greatly embellished so we'll just have to see how all that comes out.
Marks was limited for the first couple of practices, but has been full go the rest of the way. Though he didn't participate in the scrimmage on Saturday. I talked to someone in the know Monday and they said they didn't think that was because of disciplinary reasons.
My guess is that when the legal side of everything gets worked out in the coming weeks, we'll have a clearer picture of what punishments await. And don't forget that Leach has already booted a few guys from the team in his two-and-a-half-year tenure.
Worth noting that, from the folks up there I've talked to,
Connor Halliday
is having a great spring, along with receivers
Vince Mayle
and
Dominique Williams
. Mayle has leaned up and is "running around and through people," according to one person I talked to. So if Marks isn't able to go, the corps is looking pretty good. And so is the quarterback.
April, 22, 2014
Apr 22
2:30
PM PT
There's a tiny door in my office, Maxine. It's a portal and it takes you inside John Malkovich. You see the world through John Malkovich's eyes... and then after about 15 minutes, you're spit out ... into a ditch on the side of the New Jersey Turnpike.
April, 22, 2014
Apr 22
12:00
PM PT
Teams that commit the fewest turnovers generally win more football games. Teams that turn the ball over frequently generally lose more football games. These are fairly safe axioms to live by, because more often than not they hold true.
But not always, especially in the sometimes-backward Pac-12, where the offense is fast and furious and the defense is underrated.
An examination of turnover margin in the league the last three seasons reveals some very interesting results, trends and trend-busters.
Here's how Pac-12 teams have shaped up the last three seasons:
Some intriguing takeaways (pun intended):
Stanford, the two-time defending conference champion, is well known for its hard-nosed defense. Yet in 2013, it had a turnover margin of zero (19 takeaways, 19 turnovers) and the Cardinal are in the lower half of the league the last three seasons in total turnovers generated. Worth noting, however, that Stanford also takes care of the ball better than anyone in the league, with a conference-low 54 turnovers in the last three seasons.
Oregon has more takeaways than any team in the conference the last three seasons, including a robust turnover margin of plus-21 for the 2012 season (tops in the league for a single-season over that three-year stretch). Wait a second: Doesn't Oregon catch flak for not playing defense? Huh. The Ducks are second in the league behind Stanford with just 57 turnovers over the last three seasons.
Only Arizona State, Oregon and Washington had a positive turnover margin in 2011, 2012 and 2013.
Only California, Colorado and Washington State had a negative turnover margin in all three seasons.
Stanford is the only team to have a zero margin in a season during the last three years.
ASU is the only team in the league to have at least 30 takeaways in all three seasons.
During that three-year stretch, only two teams have created more turnovers than Oregon State. During that same stretch, only two teams have committed more turnovers than Oregon State. So while the Beavers' 83 takeaways look great on paper, the 80 turnovers don't. Makes sense that in the Beavers' best season, 2012, they had a plus-8 margin with 31 takeaways and 23 turnovers. In its worst, 2011, it was minus-8 with 23 takeaways and 31 turnovers.
Washington State has the most total turnovers (86) in the last three years. But Colorado has the worst turnover margin. Worth noting that last season the Buffs cut their margin down to minus-3 from the minus-19 in 2012.
USC tied with Colorado in 2012 for most turnovers in the league (34). So despite 71 takeaways the last three seasons, their 69 turnovers gives the Trojans only a plus-2 margin. Worth noting that after back-to-back seaspns of negative turnover margin in 2011 and 2012, USC was on the plus side last season at plus-5.
Arizona reached the plus side of the turnover margin last season (plus-4) after back-to-back seasons of negative margin in 2011 and 2012.
The most turnovers in a season in the three-year stretch was from Washington State, which had 35 last season.
The most takeaways in a season in the three-year stretch was by Oregon, which had 40 in 2012.
Washington's much-maligned defense of 2011 still finished the season with a plus-1 turnover margin. Though during the last two seasons under then-coordinator Justin Wilcox (now with Steve Sarkisian at USC), the Huskies are plus-12.
The fewest turnovers in a season in the last three seasons is 16 – both from Washington and UCLA last season. Stanford is the only team in the conference to be in the teens in turnovers all three years.
Until last season, Utah had been solid at getting takeaways. It led the Pac-12 in turnovers and turnover margin in 2011 (33 takeaways, plus-10 margin). Even in 2012, the Utes were on the plus side, but failed to make a bowl game. Last year Utah dipped to minus-9.
So as you can see, there is obviously some correlation between turnovers and wins/losses. The three Pac-12 teams that didn't make the postseason last season -- Cal, Colorado and Utah -- each had negative turnover margins.
But it's not a hard-and-fast rule that the team that has the most turnovers will lose every game and the team with the most takeaways wins. Stanford is a perfect example of that, winning the league last season with an even margin. You don't need a lot of takeaways to play great defense, but it doesn't hurt, either.
April, 22, 2014
Apr 22
11:00
AM PT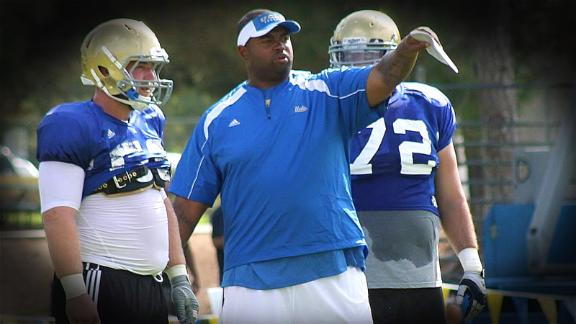 UCLA's biggest recruiting victory in 2013-14 didn't involve a high school player.
ESPN.com's recruiting guru Jeremy Crabtree
has a nice story on how
USC unsuccessfully tried to hire UCLA's ace recruiter and offensive line coach Adrian Klemm away from Westwood. It begins like this:
UCLA offensive line coach Adrian Klemm was returning from a recruiting trip this past December, when he received a call from new USC coach Steve Sarkisian with an offer that all but included the opportunity to use the Trojans' famed white horse, Traveler, any time he wanted to avoid traffic on the 405. But UCLA coach Jim Mora wasn't about to lose one of his top assistants to the school across town, so he did what any good coach would do. He made an in-home visit and left with a commitment.
Sark's a smart guy. He knows that Klemm is an elite coach and recruiter, and luring him away from a crosstown archrival would make the hiring a double-whammy.
And Mora is a smart guy, too.
"I was out of town recruiting, and I landed and drove right to his house at about 10 at night," Mora said. "I think I stayed until till or 1 or 2, until I was sure USC wasn't going to come by. ... Until he signed that contract, I wasn't leaving. I wasn't going to lose him."
It's an interesting story because it touches a lot of bases -- the recruiting process, a battle between rival coaches -- it's also notable that Sarkisian and Mora are (were?) friends -- and a rising coaching talent and how he became so coveted.
Definitely worth a read, even you're not a Bruin or Trojan.
April, 22, 2014
Apr 22
10:00
AM PT
There have been some significant pendulum swings in the rivalry between UCLA and USC since 1991.
That was the year in which the Bruins embarked on an eight-game winning streak against USC, which was countered by the Trojans winning 12 of the next 13 meetings -- though two were later vacated because of NCAA sanctions. Now, UCLA and head coach Jim Mora are riding high after two wins in a row in the rivalry, and things have gotten very interesting on the recruiting trail.
To continue reading this article you must be an Insider
April, 22, 2014
Apr 22
9:00
AM PT
Though two of the
top
quarterbacks
in the country are committed to Pac-12 schools, in terms of numbers at this point in the 2015 recruiting cycle, the conference doesn't stack up to the rest of the power conferences.
And while fans of the various Pac-12 programs might be ready to hit the panic button, there's no such worry behind the scenes.
To continue reading this article you must be an Insider
April, 21, 2014
Apr 21
7:00
PM PT
The biggest theme for the Pac-12 in 2014? Passing, passing, passing.
As you surely know if you frequent the Pac-12 blog -- typically considered the University of Oxford of the Internet -- we've been typing pretty regularly about the returning QB talent in the Pac-12. As in 10 returning starters, a group that includes a handful of national awards candidates.
That alone would support the notion of big passing numbers this coming fall. But there's more!
The Pac-12 is extremely deep at receiver.

The Pac-12 is questionable at running back.

The Pac-12 loses many of its top sack leaders from 2013.

The Pac-12 loses many of its top interception leaders from 2013.
Thus the formula: Experienced QBs plus questionable running games plus questionable pass defenses equals big passing numbers.
Of course, that probably means the teams that can run the ball well and play good defense are going to end up leading the conference.
But here are the supporting facts:
Returning rushing leader from 2013
: No. 5
Byron Marshall
, Oregon (1,038/86.5 yards per game)
2014 challengers
:
D.J. Foster
, Arizona State;
Thomas Tyner
, Oregon;
Jordan James
, UCLA;
Javorius Allen
, USC.
Breakdown
: The Pac-12's top four rushers from 2013 are gone and most conference teams are uncertain that the position. In fact, Foster might be the only certain No. 1 option this coming fall.
[+] Enlarge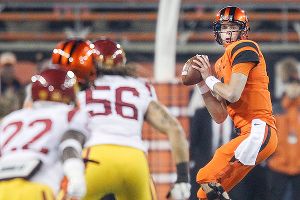 Steve Conner/Icon SMIOregon State's Sean Mannion is one of 10 returning QBs in the Pac-12 for 2014.
Returning passing leader from 2013
:
Sean Mannion
, Oregon State (4,662/358.6 ypg)
2014 challengers
:
Marcus Mariota
, Oregon;
Brett Hundley
, UCLA;
Taylor Kelly
, Arizona State;
Connor Halliday
, Washington State;
Jared Goff
, California.
Breakdown
: With 10 QBs coming back from 2013 -- a number of whom have national pedigrees -- the Pac-12 is as deep at the position as it has been in recent years. And with Arizona and Washington, the two teams with legitimate QB competitions (assuming Utah's
Travis Wilson
is given the green light by doctors), the supporting casts around the new QB will be strong. As noted: big passing numbers this fall, across the board.
Returning receiving leader from 2013
:
Dres Anderson
, Utah (1,002/87.7 ypg)
2014 challengers
:
Jaelen Strong
, Arizona State;
Nelson Agholor
, USC;
Chris Harper
, California;
Ty Montgomery
, Stanford.
Breakdown
: Despite losing the three most productive pass catches from 2013 --
Brandin Cooks
,
Paul Richardson
and
Josh Huff
, not to mention
Marqise Lee
-- the conference is overbrimming with receiving talent. Arizona, California, Stanford, UCLA, Washington and Washington State welcome back most of their top guys from 2013, and Arizona State, USC and Utah also are potentially strong at the position.
Returning sacks leader from 2013
:
Hau'oli Kikaha
, Washington (13)
2014 challengers
:
Tony Washington
, Oregon;
Kevin Anderson
, Stanford;
Leonard Williams
, USC;
Nate Orchard
, Utah.
Breakdown
: Kikaha and Washington are the only returning guys who ranked among the conference's top-12 in sacks in 2013 (another good sign for conference QBs?). One of the biggest injuries this spring was Utah losing OLB
Jacoby Hale
.
Returning interceptions leader from 2013
:
Steven Nelson
, Oregon State (6)
Challengers
:
Marcus Peters
, Washington;
Greg Henderson
, Colorado;
Tra'Mayne Bondurant
, Arizona;
Su'a Cravens
, USC;
Ishmael Adams
, UCLA;
Jordan Richards
, Stanford;
Ifo Ekpre-Olomu
, Oregon.
Breakdown
: Only two of the top eight interception leaders is back in 2014 (another good sign for QBs?). A few guys to watch out for: Arizona State's
Damarious Randall
, Stanford's
Alex Carter
, UCLA's
Fabian Moreau
and USC's
Josh Shaw
.
April, 21, 2014
Apr 21
2:30
PM PT
You picked a dangerous mall to host a game show in. I hear the Easter bunny was accosted this morning.
2013 TEAM LEADERS
| TEAM | RUSH | PASS | TOTAL |
| --- | --- | --- | --- |
| Offense | 196.6 | 251.6 | 448.2 |
| TEAM | PF | PA | MARGIN |
| Scoring | 36.5 | 24.1 | 12.4 |