January, 30, 2015
Jan 30
6:30
PM PT
Happy Friday. Hope your Super Bowl party is a most righteous affair.
Follow me on Twitter
. Please.
To the notes!
David from Calgary, Alberta writes:
By now, most Oregon fans will have heard the fact that UO
has offered a scholarship
to Vernon Adams from EWU. To me, this doesn't look like the coaching staff at UO has a lot of confidence in the QBs that are currently there and have been in the system. Lockie and Alie have taken snaps with the UO offense, and Mahalak and Griffen have red shirted and been in the system. If Adams does end up going to UO, he has stated that he won't join the team until after a summer internship is up in August. Why would anyone want to take a 1 year "place-holder" who will have essentially 3 weeks to learn the play book and jell with the offense before the season opener, when you have guys who have been in the system for at least a year, and don't have as far to go?
Ted Miller:
I would encourage Oregon fans to not overthink this, as it's pretty simple.
Marcus Mariota
is off to the NFL. The Ducks' quarterback spot is open for competition in 2015.
Mark Helfrich and Scott Frost are going to play the quarterback who gives the Ducks their best chance to win next year. If they have an available scholarship for a quarterback who might be that guy, then it behooves them to invite him to become a Duck, whether that's Adams, Ohio State's
Braxton Miller
or Kal-El, a raw, underrated prospect from Smallville High School who can really fly.
This is an interesting opportunity for Adams to step out from obscurity and perhaps show the nation just how good he is. This is an interesting opportunity for Oregon to get a guy who fits the Ducks' offense and has experience carving up Pac-12 defenses. It also would allow the Ducks another year to develop its crew of promising but young quarterbacks.
(Quick Adams note, per ESPN Stats & Information: In two starts against Pac-12 foes, he's been responsible for 13 touchdowns and no interceptions with a 97.2 Total QBR. In 2013, he led Eastern Washington to an upset over No. 25 Oregon State, and last season he threw for seven touchdowns against Washington, the most the Huskies have ever allowed in a game).
You might wonder how the rest of the Ducks quarterbacks might react. That's easy. Their reaction should be, "Good. This makes us better. Another quality guy in the competition will help me leave no doubt with my teammates and coaches when I win the starting job and make this my offense. I want my backup to be the best available guy."
Nothing is guaranteed. Adams getting a scholarship doesn't make him the starter. He still has to win the job.
As for that internship, I'm skeptical. If Adams becomes a Duck, my money is on him showing up in Eugene as soon as possible. I'm guessing whoever enlisted Adams for an internship would understand.
---
Donovan from St. George, Utah writes:
Why can't Utah keep an offensive coordinator for more than one season?
Ted Miller:
You mean eight offensive coordinators in eight seasons is unusual?
Every departure has its own nuances. Andy Ludwig, who spent four seasons with the Utes, left for California after the 2008 season, and Norm Chow became Hawaii's head coach in 2012. You could say those departures were because of promotions.
The transition from Dave Schramm (2009) to Schramm and Aaron Roderick (2010) was head coach Kyle Whittingham trying to promote from within, and bringing in Chow in 2011 was getting a big name from without. Promoting Brian Johnson in 2012 also was an inside move that seemed both risky and inspired because of Johnson's lack of experience, and bringing in Dennis Erickson in 2013 felt a lot like the call to Chow -- a vacillation back toward a big-name veteran after an inside promotion.
Replacing Erickson with Dave Christensen last season felt like Whittingham jumping on an opportunity to get a respected offensive coach he also knew personally. At the time,
it merited a raised eyebrow
, but it also seemed like Whittingham might have gotten his man -- finally! -- a guy who knows the type of spread offense Whittingham wanted.
Nope. I think Kurt Kragthorpe
reasonably reads the tea leaves here
:
Christensen is eager enough to move that he's disregarding his 25-year friendship with Whittingham and abandoning Kendal Thompson and Jason Thompson, the quarterbacks whom he persuaded to transfer to Utah. His decision supports the theory that Christensen and Whittingham couldn't agree about the QB staffing this season. Travis Wilson twice was benched in favor of Kendal Thompson, who then missed the last four games with a knee injury.
As a reporter, Whittingham has always been great to work with -- accessible, insightful, straight-forward -- but there is pretty significant evidence that he's not always easy to work for. By the way, a lot of good coaches are difficult bosses. That whole accountability and demanding the best all the time thing.
What's clear is that Whittingham isn't afraid of change, and even in a year when the Utes broke through in the Pac-12, he's not satisfied. He would probably be a lot easier to work for if his offense averaged 35 points -- or more! -- a game.
It will be interesting to see who Whittingham hires. Despite Utah posting a quality season after two down years, there seems to be plenty of soap opera going on in Salt Lake between Whittingham and AD Chris Hill. Taking another step forward on all fronts in 2015, including retaining an offensive coordinator for more than one season, would certainly help settle things down.
---
Marcus from Canaan, Connecticut, writes:
It's become increasingly clear to me that the ducks will never win a national title until they start landing 5 star recruits on a regular basis. Being that they have been the preeminent program on the west coast for the last decade or so, why are they still losing the majority of those battles to schools like USC?
Ted Miller:
Got $1 that says Marcus wasn't an Oregon fan in the 1980s.
Oregon is never going to win the majority of its battles for 5-star prospects over USC/UCLA. Never. So get over it.
Why? Primarily, it's an issue of location. The vast majority of 5-star prospects on the West Coast play high school football near USC/UCLA. Further, the Trojans have the huge advantage of being perhaps the preeminent college football program in the nation, winning 11 national titles while producing the most NFL first-round draft picks and NFL Hall of Famers.
Oregon lost the 2010 national title game to Auburn on a last-second field goal. It whipped unbeaten defending national champion Florida State by 39 points in the first College Football Playoff semifinal. It beat Wisconsin in the 2012 Rose Bowl and Kansas State in the 2013 Fiesta Bowl. Oregon has won at least 10 games and finished ranked in the top-11 for seven consecutive years. It has finished ranked in the top five in four of the past five years.
Oregon just needs to keep doing what it's been doing for the past six or seven years, which is trying to ... well ... win the freaking day. That probably includes a steady, but incremental, improvement in the quality of recruits.
But becoming obsessed with 5-star recruits is the worst thing the Ducks could do. It is the path to failure.
---
Thomas from Charleston, North Carolina, writes:
It seems very strange that Colorado has been without a Defensive Coordinator for nearly a month. Some speculation has been that head coach MacIntyre may take over these duties for the 2015 season. Do you think that is a possibility? Has that ever been handled this way at other programs before? Love to get your thoughts on the situation.
Ted Miller:
Even if MacIntyre takes over the defensive play-calling, he's going to hire a defensive coordinator. His doing so, of course, would reduce the number of interested A-list candidates because most coordinators want that control.
And, yes, I understand your frustration and impatience. If MacIntyre could have quickly engineered a high-impact hire, it might have given recruiting a bump, not to mentioned energized fans.
Word is MacIntyre made runs at a couple of guys but couldn't close the deal. With signing day closing in, he might have decided to regroup and refocus, which would explain a dearth of rumors on the post. He also might be waiting for a few more NFL dominoes to fall after the Super Bowl.
The good news is that the next coordinator is probably going to be better than the undistinguished Kent Baer, who has led more mediocre-to-bad defenses than good ones. His departure to UNLV, one suspects, didn't evoke tears from MacIntyre. The Buffs took a step back defensively this fall, despite better, more mature talent. With nine returning starters, Colorado has a chance to be much better in 2015, whoever the coordinator is.
---
Brian from Denver writes:
An under-recognized reason for Stanford's disappointing season, in my opinion, was the tough road schedule. In 2015, though, we get UCLA, Arizona, Notre Dame, Cal and Oregon at home. Does the improved home-away balance outweigh
2015's brutal strength of schedule
? I love that we play 9 conference games, insist on playing both LA schools every year, and play 3 legitimate nonconference foes -- there are no dud games this year! -- but should the schedule make me more optimistic or pessimistic overall?
Ted Miller:
Well, Stanford's schedule will be among the nation's toughest in 2015, period. It plays three quality nonconference foes -- at Northwestern, UCF and Notre Dame -- which is even an uptick from past years. Though it helps to get Oregon at home, the Cardinal also is at USC in Week 3.
That said, it certainly is an advantage to play seven home games and do a 5-4 home-road split in Pac-12 play. Last season, the schedule was 6-6 home-road and 4-5 in conference play.
So be optimistic.
---
Tom from Seattle writes
: [
This is funny
].
Ted Miller:
Yes. That is funny.
A.A. Ron Rodgers!
January, 30, 2015
Jan 30
6:00
PM PT
We all know that recruiting is an inexact science, and Arizona linebacker
Scooby Wright
proves the point on his Twitter handle
TwoStarScoob
.
The true sophomore unanimous All-American became the nation's most decorated defensive player, winning the Lombardi, Nagurski and Bednarik awards.

That is the focus of this series. We'll run through each Pac-12 team and highlight a player who was low on star rating when he arrived on campus but became a critical guy.
Up next:
UCLA
Two-Star Scoob:
CB
Fabian Moreau
Recruiting ratings:
ESPN.com: Two stars; Rivals.com: Three stars; Scout.com: Three stars.
Recruiting analysis:
Moreau, who hails from Sunrise, Florida received his only SEC offer from Vanderbilt. A good student, he was pursued by a number of academically elite FBS schools, such as Northwestern, Wake Forest and Boston College. An indication that more than a few folks with a good eye for hidden talent recognized his ability was an offer from Kansas State. Listed as a RB or WR by most recruiting services. Lettered two seasons as a RB and WR at Western High. As a senior, he ran 149 times for 889 yards and 11 touchdowns. Also caught 21 passes for 416 yards and seven touchdowns. From ESPN.com: "Does a lot of things well, nothing great at this stage but we still feel that Moreau is falling under the radar with his versatility and is a solid prospect likely suited for the mid-major level."
On campus?
The key was finding the right spot for Moreau, and Jim Mora did that by moving him to cornerback, at which point Mora almost immediately announced that Moreau had first-round NFL ability. He saw significant action as a true freshman in the secondary and on special teams and has been a full-time starter the past two years, earning honorable mention All-Pac-12 honors in 2013 and second-team honors this past season. He finished with 53 tackles, three tackles for a loss, an interception and nine pass breakups. He and
Ishmael Adams
-- first-team All-Pac-12 -- will give the Bruins the best CB tandem in the Pac-12 in 2015 and one of the best in the nation.
January, 30, 2015
Jan 30
9:00
AM PT
January, 29, 2015
Jan 29
12:00
PM PT
As the week begins to wind down so does the Pac-12 blog's final Quarterback Power Ranking of the season. Throughout the year we evaluated player's individual performances on a weekly basis, but this final ranking is taking a look at the season in its entirety.
Today, we finally get to No. 2.
No. 2: UCLA junior Brett Hundley
Statistics:
271-of-392 (69.1 percent), 3,155 passing yards, 22 touchdowns, 5 interceptions | 159 carries, 644 yards, 10 rushing touchdowns
Why he's here:
There was a lot of debate surrounding Hundley and USC quarterback
Cody Kessler
and which guy should be at No. 2 and which guy should be at No. 3. Statistically, Kessler's numbers are better in a few areas but this wasn't just a numbers breakdown. It came down to two specific arguments for Hundley.
First: Hundley won the head-to-head matchup. Not only did the Bruins beat the Trojans, Hundley's performance was far more impressive in that game than Kessler's. Hundley passed for three touchdowns (1 interception) and 326 yards as UCLA cruised to a 38-20 victory.
Second: Hundley's dual-threat capabilities allowed him to bring more to the table for his team. While Kessler might've passed for more yards at the end of the season, Hundley accounted for 125 more total yards. He more difficult for defenses to plan against -- as evidenced by the fact that the Pac-12 coaches voted him onto the All-Pac-12 second team this season.
Hundley finished the season with the conference's third-highest passer efficiency rating (152.7) and the third-highest adjusted QBR (78.6). His 69.1 completion percentage is the second-best in the Pac-12 and his 8.1 yards per attempt was ranked third.
January, 29, 2015
Jan 29
11:00
AM PT
We continue our look at what positions groups need to improve between now and next season.
UCLA Bruins
Position to improve:
quarterback
Why it was a problem:
With
Brett Hundley
off to the NFL after three years as the starting quarterback, the future of the position at UCLA is a little hazy. The wide expectation is that it will ultimately come down to Hundley's backup,
Jerry Neuheisel
, and highly-touted freshman Josh Rosen, who recently enrolled and will take part in spring practice. However, Asantii Woulard could also be a factor. Neuheisel doesn't have the raw ability of Rosen -- who is ranked second among all pocket passers in the Class of 2016 by ESPN.com -- but he did lead the Bruins to a win against Texas last year after Hundley left due to injury. Outside of that game, Neuheisel didn't see much action -- he attempted a pass in just one other game.
How it can be fixed:
It doesn't mean much, but Neuheisel will likely serve as the de facto starter in spring practice while Rosen learns the offense. Then, when Rosen is on more equal footing, the competition will begin in earnest during the fall. Whoever ends up being the guy, it will be interesting to see how the offense evolves without Hundley's diverse play-making ability.
Early 2015 outlook:
It's really too early to hazard more than a guess about who ends up as the starter. As talented as Rosen is said to be, there's no guarantee it will manifest right away at the FBS level. For example, Zach Kline was the No. 2-ranked pocket passer in 2012 and never started a game at Cal before transferring to Butte College. He recently committed to FCS Indiana State. There are plenty of similar stories that should make people cautious about placing significant expectations on a kid based on a number or the amount of stars next to his name. That said, the player that beat Kline out,
Jared Goff
, is the obvious example of how enrolling early plus a summer and fall of preparation can be enough to bring a talented player up to speed in time to play well as a true freshman. Look for this competition to extend well into fall camp.
January, 28, 2015
Jan 28
3:00
PM PT
If this season was the "Year of the Quarterback" in the Pac-12, then next year is the "Year of the Running Back." With eight of the top 10 running backs returning in 2015, the conference is going to be stacked with rushing talent.
Three of the four running backs who averaged at least 100 yards per game will be back in 2015 with the exception being USC's Buck Allen, who opted to leave early for the NFL draft. But the Trojans don't need to fear. Sophomore
Justin Davis
is primed to enter the competition to be a top-5 running back in the conference, filling Allen's shoes for USC.
But this got the Pac-12 Blog thinking: Who is going to lead the conference in rushing next season? There are plenty of arguments to be made for each of the top eight guys returning and the top spot could really go to any one of them. So, who do you think steals that spot?
1. UCLA's Paul Perkins | 251 carries, 1,575 yards, 9 touchdowns
With Brett Hundley's early departure, the Bruins will likely rely on Perkins even more next season than they did this past season to get things going for UCLA. Perkins averaged 6.3 yards per carry, a Pac-12 best for running backs who toted the ball at least 200 times. He's not a little-by-little type of running back. Expect him to get his 2015 yardage the same way he got his 2014 yardage -- in big chunks. He led the league in rushes of 10-plus yards (46). A few big games could be enough to put him at the top of the list.
2. Utah's Devontae Booker | 292 carries, 1,512 yards, 10 touchdowns

Booker burst onto the scene this past season and carried a Utah offense that was -- at times -- one-dimensional (especially near the end of the season). He proved his effectiveness even when opponents knew exactly what the Utes were going to do. With a little more stability on the offensive side of the ball (specifically at QB), expect the Utes to make some big strides. He'll need to clean it up a bit; he tallied five fumbles last season, the most of any running back who carried the ball at least 100 times.
3. Arizona's Nick Wilson | 236 carries, 1,375 yards, 16 touchdowns
Because of Oregon's title run and the attention that got, Wilson's accomplishments played second fiddle to the other star freshman running back in the conference (No. 4 on this list). But Wilson actually accrued more yardage on fewer carries than
Royce Freeman
did. Of running backs who carried the ball at least 150 times last season, Wilson was the most effective on third down, converting 58.6 percent. With Wilson and quarterback
Anu Solomon
both returning, Rich Rodriguez's offense is going to be even more dynamic and more difficult to stop.
4. Oregon's Royce Freeman | 252 carries, 1,365 yards, 18 touchdowns
Freeman was an absolute truck for Oregon this season. Give him a full season's worth of starts next season and expect these numbers to go up. With the Ducks transitioning to a new quarterback, and one who likely won't be nearly as mobile as
Marcus Mariota
, expect Oregon to rely more on Freeman and the run game to get some offensive yardage.
5. Cal's Daniel Lasco | 210 carries, 1,115 yards, 12 touchdowns
Even though Sonny Dykes comes from the school of Air Raid, he has much more of a balance in his offense when it comes to rushing and passing. Enter Lasco, who made huge, huge strides between his sophomore and junior seasons. He only got better as the year went on, finishing with three 100-yard games in the Bears' final four appearances. Like Wilson, Lasco will benefit from playing with the same quarterback two seasons in a row, which should help his total yardage. Plus, with Cal coming so close to a bowl game this season, don't discount the value of a chip on the shoulders, especially on the shoulders of a senior.
6. ASU's D.J. Foster | 194 carries, 1,081 yards, 9 touchdowns
What makes Foster so valuable as a running back is that he's so difficult to defend. He managed to pick up all this rushing yardage while also tallying 62 receptions for 688 receiving yards -- which led the country for running backs. If he continues to develop his hands (and we've all seen what
Mike Bercovici
can do), he'll just be even more difficult to game plan against.
7. Oregon State's Storm Woods | 121 carries, 766 yards, 5 touchdowns
Woods might be one of the most interesting running backs to watch next season given the coaching change in Corvallis. Gary Anderson coached
Melvin Gordon
to two phenomenal seasons in Madison (549 carries, 4,196 yards, 41 touchdowns). Obviously Anderson won't be able to turn Woods into Gordon overnight, but there should be several reasons for optimism around the Beaver program and what Anderson could do with the run game. And Anderson will be happy with the product he's getting. Woods was the cleanest running back on this list this season, not recording a single fumble despite carrying the ball 133 times.
8. Washington's Dwayne Washington | 132 carries, 697 yards, 9 touchdowns
Washington split carries with freshman
Lavon Coleman
this season for the Huskies, who averaged 188.6 rushing yards per game. It'll be interesting to see who really takes over for UW next season as the competition between Washington and Coleman will be tight this spring. Expect bigger things from the Huskies in Year 2 of Chris Petersen's tenure.
January, 28, 2015
Jan 28
9:00
AM PT
So, Peter, you've become a pirate.
Leading off:
Super Bowl media day has come and gone. With it there were a few notable appearances and quotes by some former Pac-12 players (there are 18 former conference players and five former conference coaches between the
Seattle Seahawks
and
New England Patriots
).
Notes/team updates/recruiting nuggets:
Just for fun:
On Tuesday, Arizona State quarterback
Mike Bercovici
and safety
Jordan Simone
attended Super Bowl media day to add to some of azcentral.com's coverage of the event. We'll have a story later on today with Bercovici's thoughts on the day and his advice to other reporters (now that he has such a deep understanding of the profession), but as a preview to some of the in-depth and exclusive content you'll get from the Bercovici-Simone media team, check out this tweet:
Just talked to Tom Brady about hair products... #BrotherFromAnotherMother

— Michael Bercovici (@MikeBerco) January 27, 2015
We're sure it was enlightening. Someone get this man a Pulitzer.
January, 27, 2015
Jan 27
12:00
PM PT
Michigan and UCLA are battling it out for ESPN 300 tight end
Chris Clark
, who will announce his decision on signing day on ESPN.
The fourth-ranked tight end says he has a tough decision ahead. Clark has taken visits to Michigan and UCLA, and with signing day on Feb. 4, all that's left to do is figure out which school is the best fit.
To continue reading this article you must be an Insider
January, 27, 2015
Jan 27
10:00
AM PT
It was a busy weekend in the conference, as 14 prospects made commitments between Friday and Monday night and several others backed out of Pac-12 recruiting classes. It looks as though this could be a sign of things to come, as the conference recruiting race is heating up with little more than a week until signing day.
To continue reading this article you must be an Insider
January, 27, 2015
Jan 27
9:00
AM PT
Monday was a busy day on the recruiting trail, as expected with just 10 days left until national signing day Feb. 4. The state of Texas is literally hanging on every word and tweet of a handful of top uncommitted prospects that will provide bragging rights for a fan base that no longer plays each other on the field. This and a number of others topics make up today's Daily Social.
To continue reading this article you must be an Insider
January, 27, 2015
Jan 27
9:00
AM PT
Booked a ticket for tomorrow in Tempe
3 a.m., doing cartwheels down the hallway
Leading off:
Jack Follman over at Pacific Takes
broke down the rosters
of this weekend's Super Bowl teams to find out where the Seahawks and Patriots are finding their talent. His findings are very College Football Playoff-y. Here's the breakdown, by Power Five conference:
1. Big Ten, 26; 2. Pac-12, 25; 3. SEC, 22; 4. ACC, 13; 5. Big 12, 9. In all, 11 Pac-12 teams were represented, with Washington State being the lone exception. The full list of players, broken down by team, can be found at the link.
Here are a few other Super Bowl-related items as they relate to the Pac-12:
News/notes/team reports:
Just for fun:
Two groups of alums from USC's School of Cinematic Arts are finalists in Doritos' "Crash the Super Bowl" contest, which has been pared down to 10 finalists. The winner, chosen by an Internet vote, will have their 30-second commercial shown during the Super Bowl and earn a $1 million prize.
You can vote here.
Here are the commercials from USC's two groups:
Middle Seat
Lemonade Stand
January, 27, 2015
Jan 27
12:08
AM PT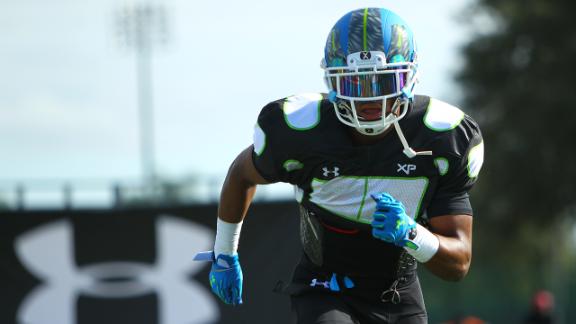 It's tough to imagine a more exhausting and stressful conclusion to a recruiting process than the one
Iman Marshall
orchestrated. Over the past 10 days, Marshall has taken official visits to Florida State, LSU and Michigan, as well as hosted several coaches at his home and school. But just like on the football field, the nation's No. 4 overall prospect doesn't appear to be fazed at all by what's being thrown at him.
To continue reading this article you must be an Insider
2014 TEAM LEADERS
| TEAM | RUSH | PASS | TOTAL |
| --- | --- | --- | --- |
| Offense | 199.4 | 268.5 | 467.9 |
| TEAM | PF | PA | MARGIN |
| Scoring | 32.9 | 27.5 | 5.4 |