Al Scates' 50th, final season winding down
April, 19, 2012
4/19/12
4:53
PM PT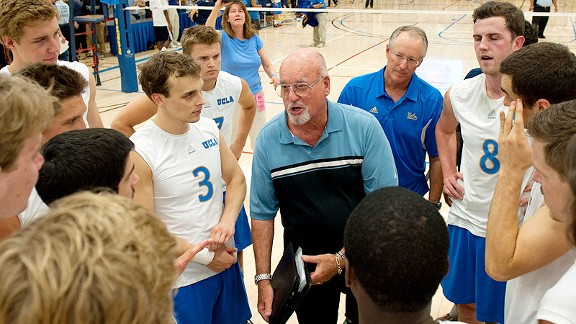 Courtesy of Don Liebig (ASUCLA)There's plenty to know about Al Scates, who will soon complete his 50th season at UCLA.
Legendary UCLA men's volleyball coach
Al Scates
is nearing the end of a career that spans half a century and, to this point, 19 national championships. The 72-year-old Scates, often pegged as his sport's
John Wooden
, will leave his post having changed volleyball forever, just as Wooden did with basketball.
Scates, the longest serving Division I coach in the nation, embarks on a quest for his 20th title on Saturday night when his fifth-ranked Bruins open postseason play at UC Irvine. He will walk away at the end of the season, win or lose. Here are eight things you should know about Scates before he retires:
He was a pioneer. Convincing then-athletic director J.D. Morgan to let his team play inside Pauley Pavilion in 1965 was monumental to the sport's progress. Morgan was adamant to the idea at first, forbidding Scates from drilling holes into the hallowed wooden floor. So to hold a triple-header showcase, Scates compromised and had makeshift referee stands -- built of pipe, plywood and string -- shipped in from Omaha. Five thousand paying customers attended the event, by far the largest crowd the country had ever seen for a volleyball event. Volleyball soon became an NCAA sport. "J.D. Morgan saw his first volleyball match that night, and he liked it," Scates says with his patented chuckle. "He was the chairman of the NCAA volleyball committee and negotiated TV contracts for the networks. When he wanted something done, it usually got done."

He won from the start. Scates captured the first three NCAA championships and six of the first seven. The program was a perennial power by the time Karch Kiraly, arguably the sport's greatest player, arrived at UCLA in 1978. "Al was already a legend when I got to campus," Kiraly says. "You wanted to play for the best? You went to UCLA to play for Al Scates."

He was good at volleyball, too. Scates played on six USA championship teams and was named All-American several times.

He had a calm demeanor. According to former players, it was never clear which team had called a timeout. They could never tell by just looking at Scates. They'd walk to the team huddle, with him front and center, and nothing ever changed. Regardless of the situation he had the same confident expression on his face. Kiraly recalls one memorable moment from a five-match tour in Japan where UCLA, highly regarded in its own right, was expected to lose the finale to a collegiate all-star team. It was winter but the gym wasn't heated. Steam escaped from players' heads, as the Bruins dropped the first two sets. More than 5,000 miles away from home, all that could go wrong did. Scates didn't flinch. "Al kept the same confidence level," Kiraly says. "He had this little laugh that every guy on the team tried to mimic. It was a confident laugh." There was nothing funny about it, though. Scates laughed because he knew what he had. UCLA stormed back and beat the Japanese on that chilly day in Tokyo, dominating the final set 15-2.
He was a master tactician. Scates revolutionized strategy by installing a fast-paced attack that, at the time, Sports Illustrated referred to as the "flying circus" offense. It's now very common to see a team's middle attacker rise above the net before the setter even touches the ball but, in its early days, the alley-oop of sorts caught opponents off guard. "He knew more about opponents than they knew about themselves," Kiraly says.

He was a teacher. At the start of his career Scates, who in 1961 earned a degree in physical education from UCLA, worked full time in the Beverly Hills school district.

He was into stats before stats were big. Scates crunched numbers and prepared game plans, intent on exposing weaknesses and limiting strengths. He always had a plan of attack and, darn it, that plan would work. He taught technique and mastered rule interpretation. There were tweaks to the men's game every four years due to its adherence to Olympic regulations. "Al pushed collegiate volleyball forward," says Mike Sealy, the current UCLA women's volleyball coach who played on Scates' 1993 championship team. "The system of play changed a little bit. Obviously it got quicker, people got more athletic, game got faster. But he won championships all the way through. He adapted well."

He was loyal. Scates entertained coaching elsewhere several times during his career, but could never convince himself to leave Westwood, no matter how intriguing the options were. He once turned down a lucrative six-month deal that would have tripled his annual salary. "It was a job in Riyadh, Saudi Arabia, coaching a club team for one of the princes for half a million dollars," Scates says. "I kept upping the ante because my wife would not move there. I even had them throw in 10 first-class plane tickets to anywhere in the world for my wife and I so we could meet on weekends, and I was asking for $10,000 for expenses per trip. I tried to make it hard for them to give me the job. They eventually hired another coach for $50,000. I could have paid off my mortgage in Tarzana but I just didn't want to go."
2014 TEAM LEADERS
| TEAM | RUSH | PASS | TOTAL |
| --- | --- | --- | --- |
| Offense | 199.4 | 268.5 | 467.9 |
| TEAM | PF | PA | MARGIN |
| Scoring | 32.9 | 27.5 | 5.4 |