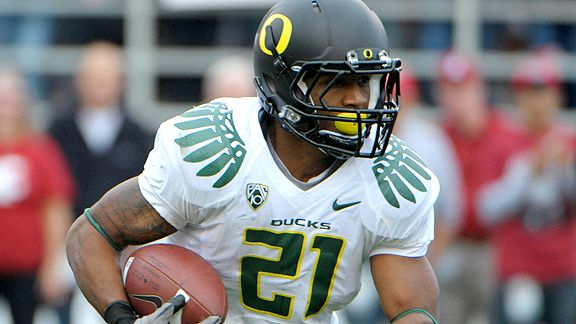 Kirby Lee/Image of Sport/US Presswire
Oregon's LaMichael James is the nation's leading rusher at 169.6 yards a game.
The first word that comes to mind with Oregon's football team is explosive.
And for good reason: the Ducks average a national-best 54.33 points a game and 567 yards in total offense — also tops in the nation.
Those scary numbers are made even more so when you consider the Oregon spread attack is actually losing the time of possession battle against opponents by an average of five minutes per game.
But with a quick-strike attack that has 29 plays of 25 yards or more in six games, Oregon is averaging a mind-boggling 7.24 yards per offensive play and a touchdown every 4½ minutes they have the ball.
"It's a great challenge," said UCLA coach Rick Neuheisel, whose team will face the Ducks on Thursday at 6 p.m. in game to be televised nationally on ESPN. "We're going to need all hands on deck."
Shifty running back LaMichael James, the nation's leader in rushing with 169.6 yards per game, is the main threat in the offense, but dual-threat quarterback Darron Thomas, who has 1,231 yards and 14 touchdowns passing is no slouch.
Thomas was knocked out of Oregon's last game against Washington State because of a shoulder injury, but is expected to play against UCLA. If he can't go, backup Nate Costa, who directed a 24-10 victory over UCLA last season, is fully capable.
And no matter who is at quarterback, the Oregon offense is a well-oiled machine. Chip Kelly signed on as offensive coordinator in 2007 and is now head coach. His offense has been among the top 10 in the nation with Dennis Dixon, Jeremiah Masoli and Thomas at quarterback.
"Obviously the system has been in place for a little bit of time so they do a good job with it," UCLA defensive coordinator Chuck Bullough said. "They know the adjustments they need to make because they run the same thing year in and year out and players feel comfortable with it. And obviously they have athletes, too."
Of course, offense always starts up front and the Ducks feature a veteran offensive line, all returning starters from last year, led by 6-5, 285-pound center Jordan Holmes and 6-5, 293-pound tackle Bo Thran.
The Oregon defense gets overshadowed but it's still a force — especially in the second half of games. Defensive coordinator Nick Aliotti has been the master of halftime adjustments as Oregon has given up only 13 second-half points all season.
In three Pac-10 games against Arizona State, Stanford and Washington State, Oregon is giving up 28.3 points a game, but only 4.3 in the second half of those games.