John Robinson can sympathize with both Pete Carroll and Lane Kiffin.
Not only was Robinson a beloved USC coach who left to be an NFL head coach but he also experienced being a highly touted USC offensive coordinator who was later forced to replace a Trojan legend leaving for the NFL.
As Robinson, 75, watched Carroll make his coaching debut with the Seattle Seahawks on Sunday, he thought back to his first game as the head coach of the Los Angeles Rams in 1983 after spending the previous seven seasons as the head coach of the Trojans and three years as the team's offensive coordinator under John McKay (he spent a year in between as an assistant with the Oakland Raiders).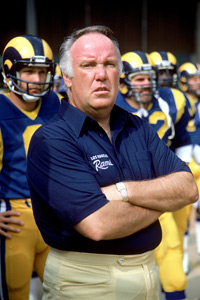 Andrew Bernstein/Getty Images
John Robinson coached the Los Angeles Rams to 75 wins in nine season in between stints at USC.
"I remember I still used to root for [USC] but you're so busy and you're so single-minded that you don't follow them as closely as you'd like," Robinson said. "You read the newspapers, you watch TV and you talk to friends but that's about all you ever have time for. I used to try and go back every spring and go to a couple of spring practices but pretty quickly you become absorbed in your own deal and you don't have time for much else."
Robinson, who has been out of coaching since 2004 but volunteers as the defensive coordinator at San Marcos High School, understands why Carroll felt the need to leave USC and go to the NFL. It's partly why he and McKay both left when they did. When you're at one place for a while you start feeling a need to do something different and take on a new challenge.
"He was there almost ten years," Robinson said. "I think Al Davis was the one who had the line that you should never coach at one place more than 10 years and Pete might have listened to that. I think it is repetitive that you begin to say maybe there's something else out there. He picked a great place and he's got a great challenge."
Robinson believes Kiffin will be successful as USC's new head coach but also thinks he needs to accentuate the positives during the program's current four-year probation period. Wins are still wins, he said, and shouldn't be labeled as disappointments as USC's last two victories have.
"It's a temporary issue," Robinson said. "You have to live through it. It's like having a bad cold. You feel miserable and you want it to be over but people have to focus on the positive. USC won on Saturday and people are saying they didn't win by enough but you won and the excitement of winning is what's important. I think it's important that people contribute to this period of transition by being positive."
This period of transition is being led by new athletic director Pat Haden and J.K. McKay, two former players Robinson coached while he was USC's offensive coordinator from 1972 to 1974.
"I'm excited about that," Robinson said. "I love them both and they love SC. I think that's important at the traditional schools. It's important to have people there that understand and represent the heritage of the school. It's a transition period and I think Lane Kiffin is going to do well but he can use the support of these kinds of born Trojans."
Robinson returned to USC 11 years after he left for the NFL, leading the Trojans to another Rose Bowl win during his second stint which lasted five seasons. While he thinks Carroll will do well in the NFL, he wouldn't put the same urge to return past Carroll in the future.
"At SC he was in the power spot. In the NFL it rotates all the time," he said. "College football Saturday for me was so family-oriented and it had this aura surrounding it. The NFL was very specific. Once you were between the lines in the NFL on Sunday, it was very competitive. I don't remember NFL crowds but I remember college crowds vividly. I'll never forget the scenes surrounding college football games but in the NFL I was so focused on Dan Marino or Joe Montana or whoever we were competing against."
Even if Carroll doesn't return to USC one day as Robinson did, he's fairly certain the allure of college football may be too much to pass up if ever leaves the NFL.
"I think you have more of nostalgia after you leave," Robinson said. "When you're in something full-time you don't sit around and get teary eyed when they play the school song but years after you might."
"There's a great draw to a place like SC. You become a fan of your own school. In the NFL you're not a fan of a team because you coach there. In college you are an SC guy or a Notre Dame guy or an Alabama guy, that's just the way it is. You are an extension of the school and it becomes a part of you. That was always a great draw, becoming a part of something special like that which is something you can't get in the NFL."