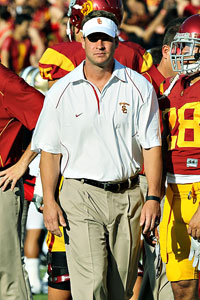 Stephen Dunn/Getty Images
Lane Kiffin's Trojans failed to deliver against former USC coach Steve Sarkisian's Huskies.
LOS ANGELES -- If the USC Trojans were looking at this season as a 13-round heavyweight fight, then consider the Washington Huskies' field goal for a 32-31 win as time expired Saturday a fifth-round knockout.
As far as the country is concerned, the fight is over: USC is officially playing out the stretch.
Because of NCAA sanctions, the only tangible prizes the Trojans were playing for were an undefeated season and an outside shot at winning the AP national championship, the one title they were eligible for. Now the Trojans are simply playing for pride and -- judging by the way they've protected their home turf lately -- that can't be good news.
USC has lost three of its last five games at the Coliseum, all to conference opponents. Its 35-game home winning streak, snapped three years ago by Stanford, is a distant memory.
For the past four weeks, USC has posted signs on the glass double doors at Heritage Hall headlined, "13 Round Heavyweight Fight!" followed by the opponents they defeated: Hawaii, Virginia, Minnesota and Washington State. But the Trojans knew the real fight would commence when Washington came into the Coliseum.
The Huskies didn't pummel USC on Saturday. If the Trojans' offense (Matt Barkley missed Jordan Cameron for an easy first down on their final drive), defense (Jake Locker connected with D'Andre Goodwin for 18 yards on fourth-and-11 on their final drive) and special teams (Joe Houston missed a 40-yard field goal with 2:34 left) had made routine plays, USC would be 5-0.
But the Trojans' mistakes and mental errors finally caught up to them against the Huskies and their coaching staff filled with former Trojans, such as head coach Steve Sarkisian and defensive coordinator Nick Holt, who are now 2-0 against their old team.
"Outside of my children being born, the best day ever," Sarkisian said as he walked off the field.
Said Holt: "Winning at the Coliseum, it feels kind of normal. When I was here we had a lot of success. Being on the opposite sideline felt really, really weird. It's just fantastic coming down here and winning a ballgame."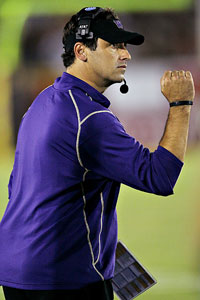 Stephen Dunn/Getty Images
Washington coach Steve Sarkisian took a page out of Pete Carroll's exuberant playbook.
USC's offense and defense, except for one bad half against Oregon State, worked like clockwork in 2008 with Sarkisian and Holt calling the shots under Pete Carroll. Last season, with Sarkisian and Holt gone to Seattle, play on both sides of the ball crumbled.
As Sarkisian paced the sideline Saturday with the Huskies ready to take possession of the ball after Houston missed a 40-yard field goal, he turned around and saw a pack of familiar media faces and smiled. "Why aren't you guys excited?" he screamed. "This is a great game!"
It was a page straight out Carroll's exuberant playbook. As was his postgame news conference, where he gushed, "I love this stuff. I don't get nervous. I don't worry. I love the emotion of the game. It was a great experience in front of family and friends."
Many of his friends, however, weren't in the stands; they were standing on the opposite sideline, none more prominent than Kiffin, to whom he still talks with on a regular basis.
Maybe Kiffin can ask Sarkisian for some advice on a new inspirational flier for Heritage Hall this week after suffering his first loss as USC's coach. In previous weeks the picture of Muhammad Ali standing over Joe Frazier served as a source of motivation; this week it would simply serve as a reminder of the Trojans' current state: down for the count.