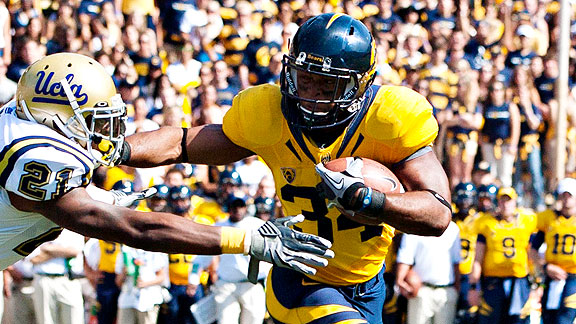 Jason O. Watson/US Presswire
Cal running back Shane Vereen, who attended to Valencia High School, is average 5.7 yards a carry.
One thing USC has going for it this week that it didn't have in each of the previous two: history. The Trojans have dominated Saturday's opponent, Cal, in recent seasons, with their last loss coming back in 2003.
The Golden Bears haven't lost by less than a touchdown to USC since then. In three of the last five years, USC has won by at least two touchdowns.
It's hard to know what to make of a Cal team that was cruising for a disappointing season before a dominating win over UCLA Saturday. Is it still a factor in the Pac-10 race or a team hoping to eke into a bowl game?

The Bears (3-2, 1-1 in Pac-10) have apparently tightened up their defense, at least, after that embarrassing 52-31 loss at Nevada, home of the "pistol" offense. The Bears took advantage of a bye week and easily withstood shots from UCLA's pistol, holding the Bruins to 144 yards of offense. The defense has looked stout overall in back-to-back games, including that 10-9 loss at Arizona.
For years, Cal tried to get its defense to catch up to the offense. It seems to have succeeded at last, but the two appear to have met in the middle. Neither side of the ball has been consistently dynamic.
As usual, the Bears have play makers. Junior running back Shane Vereen is doing a pretty good Jahvid Best imitation now that Best is a Detroit Lion. Vereen, a native of Santa Clarita, is averaging 115 yards rushing per game and has already scored eight touchdowns.
Receiver Marvin Jones is averaging 76 yards receiving and has a long of 62.
A bigger question is quarterback Kevin Riley. Many people wonder if he has the skills to get Cal's offense back to its high-flying days under some of his predecessors. His numbers suggest he has been solid, but far from spectacular.
Riley has thrown for nine touchdowns and only thrown four interceptions, but he is averaging just 186 passing yards per game and he has been sacked seven times, four more than Stanford's Andrew Luck.
Two weeks ago, the media made a lot out of the personal relationship between USC coach Lane Kiffin and Washington's Steve Sarkisian, because the two coached together at USC for several seasons. But Kiffin's ties to Cal coach Jeff Tedford go back way before that. Kiffin played quarterback at Fresno State under the tutelage of Tedford.