Five things to watch:
1. Has the defense adjusted? Can it? Everyone seems to be crying out for the USC coaches to make some changes on the defense, whether they're schematic or personnel-related. Then again, can you undertake an overhaul in three practices, and can you make personnel changes with so many injuries? Tough as it may be to watch, USC fans might simply have to wait for these guys to improve. The good news is the Trojans already played Jake Locker and Andrew Luck, so the rest of the quarterbacks they face will look human.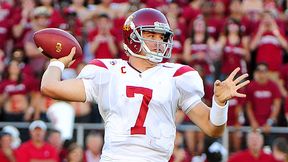 Kyle Terada/US Presswire
Matt Barkley has the pleasure of having two game-changing receivers Ronald Johnson and Robert Woods.
2. Who is Matt Barkley's favorite? Stanford locked a safety onto Ronald Johnson for large parts of last Saturday's game, freeing Robert Woods for a career day. He seized it, grabbing 12 balls for 224 yards. That gives future opponents something to think about, since the Trojans have two explosive receivers carrying reputations. Cal's secondary has been better than expected, but they'll have a hard time accounting for all Barkley's weapons.
3. Will they miss the Baxter factor? Dillon Baxter still was on crutches Thursday with sprained toes and his status for Saturday appears to be somewhere between doubtful and "are you nuts, he's on crutches." If he doesn't play, the Trojans won't have that change-of-pace back to offset Allen Bradford's power running. They also won't have their best option for the wildcat formation, which will limit their playbook.
4. Is Cal's defense really as good as the numbers say? The Bears lead the Pac-10 in pass defense and total defense. Then again, they're not facing Kevin Prince and the low-flying UCLA Bruins this week. Barkley wasn't shy about saying this is a new challenge for Cal's defense, which is feeling good about itself under new coordinator Clancy Pendergast.
5. Is USC's defense as bad as the numbers say? This question might seem redundant since we already touched on the struggles earlier, but it's a weighty enough issue to explore further. Even without making any adjustments, it's hard to believe this group of athletes is the 100th-best in the nation, as the statistics indicate. It's hard to believe this line has gotten this little pressure and this secondary has had this much trouble covering receivers. The Trojans rank 116th in pass defense. By the end of the Cal game, we'll have a better idea about how much longer these guys will stay in their rut.