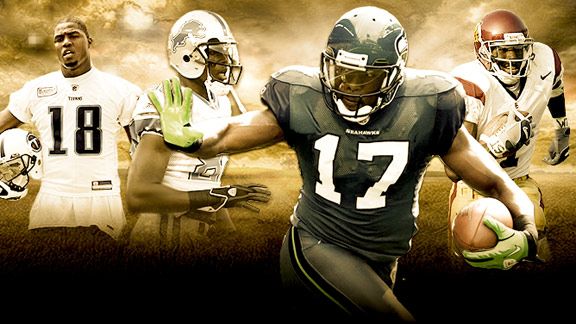 ESPN.com illustration
Mike Williams said everyone thought he was crazy when he said he was coming back. I knew exactly what he meant.
I was one of them.
I covered Williams while he was at USC and I was student reporter at the Daily Trojan. We had a pretty good relationship. He even gave me my first big scoop while I was at school when he told me he was planning on leaving USC early to go into the NFL draft.
I lost contact with Williams towards the end of his NFL career and while he was away from football. I saw him for the first time in three years last season when he came to a couple USC football games with former teammate Alex Holmes. He was bigger than I ever remember him being during his playing days but seemed content with where he was in life. He had a wife, a daughter, a business and a new outlook on life.
When I called him in January to get his opinion on Lane Kiffin being hired to replace Pete Carroll as USC's new head coach he told me he was coming back to football. I figured he was going to make a run at trying out for a CFL or Arena Football League team.
"No, I'm going to be back in the NFL next season, I've been working out like crazy," Williams said.
A part of me felt bad for him when I heard him talk about playing in the NFL again. I was one of those who thought he didn't have chance. I thought he was content with what he was doing with his record company and had moved on from football. I didn't think there was any way the guy I had seen tailgating with old teammates outside the Coliseum before USC games last season was going to be back in the NFL after not playing football since 2007.
As winter turned into spring and spring turned into summer I started hearing about Williams' work ethic and how he had impressed everyone in Seattle after Carroll had signed him following a workout. It seemed like a nice story but Carroll had about a dozen former Trojans on his roster and I knew most of them like Tom Malone and Jeff Byers were never going to make the team. Yet there he was, making big play after big play in the preseason. Not only did Williams make the team, he became a starter on opening day and is now the No. 1 receiver on Seattle.
It was a comeback story I never thought would be possible and turned into one of the most enjoyable stories I've ever written. Click here to read the whole story.