Former USC left-hander Tommy Milone was an afterthought for much of his career at USC, another soft-tossing southpaw with limited big-league potential and only some collegiate success.
Then came his junior season in 2008, when he started to tacitly convince major-league teams he was good enough for the next level. Now, Milone, 24, is a Triple-A All-Star for the Syracuse Chiefs of the Washington Nationals organization and is on the verge of a big-league call-up with one of the best strikeout-to-walk ratios in recorded history.
Let's review his past, present and likely future in this mostly-weekly feature on the USC report: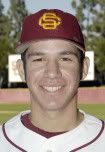 Courtesy of USC
Former USC left-hander Tommy Milone, now a Washington farmhand, is on the verge of getting a call-up to the majors.
College
Milone was without a college scholarship offer until late in his senior year at Saugus High School in Santa Clarita, but he jumped right into USC's starting rotation as a first-year freshman and held his own, winning seven games and recording a 4.64 ERA.
His stuff was much more hittable back then than it is now -- opponents hit .314 against him as a freshman -- but the early stages of his elite control were already evident, as he walked only 21 batters in 98 1/3 innings. He followed up that freshman year with a 5-1 record and 2.61 ERA in the West Coast Collegiate Baseball League over the summer, before he regressed to a 6.17 ERA as a sophomore.
The next summer was when league scouts started to take notice, as Milone was named the Cape Cod Baseball League's top pitcher after a 2.92 ERA and 6-1 record for the Chatham A's. He struck out almost seven times as many batters as he walked that summer, 46 to seven.
Milone was the Trojans' ace in 2008, pitching two shutouts and leading the team in innings pitched (97 1/3) and ERA (3.51). Two weeks later, Washington picked him in the 10th round, and he was in Low-A ball by July.
Pro
Milone hasn't had a bad professional season yet. In parts of four years in the Nationals' system, he has posted cumulative ERAs of 3.51, 2.91, 2.85 and 3.15.
Despite that, and despite the fact he (1) was the Washington minor-league pitcher of the year last season at Double-A and (2) began the 2011 season in Triple-A, Milone didn't secure an invitation to Washington's big-league spring training, where minor-leaguers often get the opportunity to match up against major-leaguers for a few weeks.
No matter, as he has been on an absolute tear this season for Syracuse, with a 7-5 record and 3.15 ERA through 16 starts. The best statistic he has posted yet, though, are the walks: just seven, in 103 innings, for an unreal strikeout-to-walk ratio of over 15.
Future
Milone was selected earlier this month for the Triple-A All-Star Game, scheduled for 6 p.m. PST Wednesday in Salt Lake City. He won't start the game but figures to get an inning or two in relief, as minor-league all-star games are run in much the same format as the big-league varieties.
From there, Milone will fly right back to Pennsylvania to rejoin the Chiefs for five games in four days against the Lehigh Valley Iron Pigs, a Phillies affiliate, beginning with a doubleheader Thursday. He last pitched Thursday against the Pawtucket Red Sox, throwing seven scoreless innings.
As for the rest of the season, Milone figures to get called up to the bigs at least when major-league rosters expand in September -- if not sooner. National prospect analysts are starting to take notice of his superb ERA and super-human walk rate, and many say he's next in line if a Washington starting pitcher happens to get hurt in the next several weeks.
He does have one big-time competitor, beginning next season, for starts with the big club in Washington: Stephen Strasburg. The 2009 No. 1 overall pick underwent Tommy John surgery last September after a spectacular debut with the Nationals in June. He's ace material, obviously, so it's not as if Milone will be going head-to-head with him at the back of the rotation, but it's one less available spot on an all-around young Washington squad that currently has 25-year-old Jordan Zimmermann and 26-year-old John Lannan in its rotation.