July, 22, 2014
Jul 22
12:47
PM PT
Associated Press
ANAHEIM, Calif. -- The Ducks have signed defenseman Sami Vatanen to a two-year contract coming off his rookie season.
He had six goals, 15 assists and 22 penalty minutes in 48 games last season, when he won a bronze medal playing for Finland in the Sochi Olympics.
The 23-year-old Vatanen had one assist in five playoff games with the Ducks. He was drafted in the fourth round in 2009 by Anaheim.
July, 10, 2014
Jul 10
7:55
AM PT
ESPN.com news services
ANAHEIM, Calif. -- The Anaheim Ducks have signed left wing Dany Heatley to a one-year deal, returning the 33-year-old unrestricted free agent to the Pacific Division.
The contract is worth $1 million, according to TSN.
Heatley spent last season with Minnesota. He played for San Jose from 2009-11, compiling 65 goals and 81 assists in 162 games for the Sharks. Heatley also has played for Atlanta and Ottawa in his career, notching 372 goals and 419 assists in 863 career games.
He is a four-time All Star and a two-time 50-goal scorer. Heatley ranks second among NHL players with 143 power-play goals.
The Associated Press contributed to this report.
July, 8, 2014
Jul 8
1:49
PM PT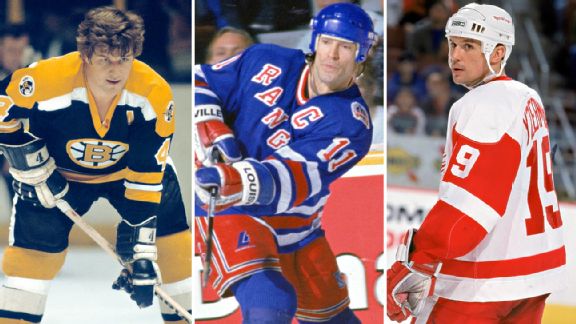 Getty ImagesWho's the best player from their respective franchises? Vote now!
Time to step up, people.
We want you to name your favorite player from your favorite team -- of all time. Not just this season, not just the past five years, not just that one time when they should have won the Stanley Cup but were robbed by a bad call. Of all time.
Columbus Blue Jackets
fans, you've got less work to do than, say, fans of the
Montreal Canadiens
. And keep in mind that the player is representing the franchise, not just the team.
New Jersey Devils
fans, don't forget about your complicated lineage.
Winnipeg Jets
fans, remember those long, hot winters in Atlanta. Etc.
So, who's it going to be? Bobby Orr,
Ray Bourque
or
Zdeno Chara
? Stan Mikita, Bobby Hull or
Jonathan Toews
? Marcel Dionne or
Jonathan Quick
?
Mike Modano
or Cesare Maniago? Yes, it's a tough gig, picking players from different positions and different eras. Who cares if Bobby Clarke had to finish his career wearing Cooperalls? The bottom line: Does he deserve to be named Mr. Flyer over Bernie Parent? Or
Eric Lindros
(wouldn't that be ironic)?
We need representation from all 30 teams, or it's just not going to work, so vote now and vote often. Vote for players on teams you love, vote for players on teams you don't.
You can cast your ballot in three ways: in the comments section below, through our
Facebook page
or, if you're hitting us up from the
Twitter
, use the hashtag #ESPNplayerNHL. We'll sift through all of the comments and isolate the most insightful and invective-free for a grand and provocative unveiling later in the summer.
The time for bellyaching is over. You can't complain if you don't vote. Now, go!
July, 1, 2014
Jul 1
9:53
PM PT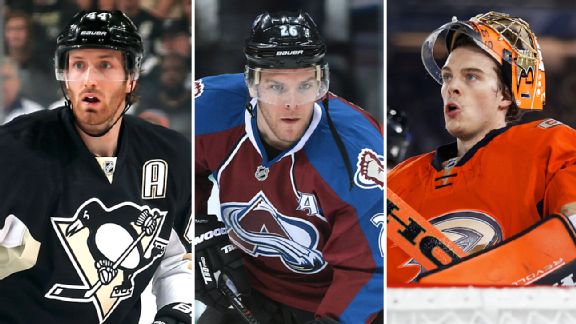 Getty ImagesThe new deals for Brooks Orpik, Paul Stastny and Jonas Hiller met with very different reactions.
The opening hours of NHL free agency were truly frenetic, with signings being announced in a flurry shortly after noon ET.
Some teams made their mark ahead of time -- the
Anaheim Ducks
and
Dallas Stars
made major upgrades down the middle by trading for
Ryan Kesler
and
Jason Spezza
, respectively -- but for the rest of the teams that made impact signings, it's time to grade just how well they did for themselves on Day 1.
Note that these grades reflect the talent and fit of the players signed, as well as the reported length and dollars in their deals.
Buffalo Sabres: C-plus

The Sabres are in the midst of a massive rebuilding project under GM Tim Murray, but it was important for him to surround the young talent with veteran leaders who can help break them in to the NHL. In former Canadiens captain
Brian Gionta
(three years, $12.75 million) and
Matt Moulson
(five years, $25 million) the Sabres have done exactly that.
Neither player is the kind of impact player who is going to put the Sabres in any danger of spoiling the Connor McDavid sweepstakes, but both are quality players and individuals who will help Ted Nolan instill a professional culture in Buffalo. The Sabres also inked
Andrej Meszaros
to a one-year deal that's a pricey $4.125 million. On the bright side, he gives them more trade ammunition at the deadline.
Calgary Flames: C

The
Deryk Engelland
contract (three years, $8.7 million) was immediately criticized, considering he's a borderline No. 6 defenseman on a good team. That's a lot of dough for that kind of player, but at the same time, the reality is that teams in Calgary's position have to pay a premium to land anyone on the first day of free agency, and there was competition for his services.
"There are lots of teams after him," said one source close to Engelland on the eve of free agency. And, he certainly fits the truculent identity Brian Burke and GM Brad Treliving are trying to build in Calgary, along with bringing strong character. The Flames may not make the playoffs, but they'll be miserable to play against. Landing a starting goalie in
Jonas Hiller
on such a short term (two years at a total of $9 million) helps make up for the questionable Engelland deal.
Chicago Blackhawks: A

Considering the high price his counterparts paid to address their needs at center, Chicago GM Stan Bowman deserves credit for bringing in
Brad Richards
on a one-year deal worth just $2 million.
July, 2, 2014
Jul 2
3:11
AM PT
Associated Press
ANAHEIM, Calif. -- The Anaheim Ducks have signed veteran goalie Jason LaBarbera to a one-year, $750,000 contract.
The Ducks announced the deal with LaBarbera on Tuesday.
LaBarbera, who joins his sixth NHL organization, played seven games with the Edmonton Oilers last season, spending most of the year in the AHL.
LaBarbera also has played for the New York Rangers, Los Angeles, Vancouver and Phoenix. He won a career-best 15 games for the Kings during the 2007-08 season.
The 34-year-old goalie will provide competition for youngsters Frederik Andersen and John Gibson in training camp in Anaheim.
The Pacific Division champion Ducks allowed longtime starter Jonas Hiller to leave as a free agent this summer. Hiller signed with Calgary on Tuesday.
July, 1, 2014
Jul 1
9:37
AM PT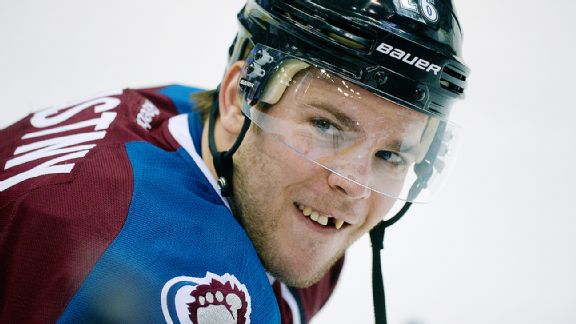 Karl Gehring/The Denver Post/Getty ImagesPaul Stastny's destination in free agency could shift the balance of power in the Western Conference.
Editor's note: This column posted prior to Paul Stastny agreeing to a four-year, $28 million deal with the Blues.
It's the one day a year teams that can close the gap on the NHL's best without giving up an asset outside of cap space. The prices today at the start of free agency are going to be inflated -- and GMs are going to be a little uneasy about it -- but that's how it goes when parity rules and there's a gap to erase between the best and those trying to catch them.
There's no better example of this than the battle to fortify the center position in the Western Conference. The
Los Angeles Kings
are set, with four high-end centers, anchored by
Anze Kopitar
. The
Anaheim Ducks
took care of their business early with the
Ryan Kesler
trade. The
Chicago Blackhawks
have an advantage simply because they have
Jonathan Toews
.
That leaves teams in the middle such as the
St. Louis Blues
,
Colorado Avalanche
,
Nashville Predators
,
Winnipeg Jets
,
Dallas Stars
and
Minnesota Wild
figuring out the best ways to counterattack these powerhouses down the middle.
Today becomes a critical day in that effort, with
Paul Stastny
in the middle of it.
Stastny is the best center available, the only one on the free agent market who can be in the same conversation as some of these other elite Olympians. Where he ends up could help shift the power of the West.
His agent, Matt Keator, has said he'll give the Avalanche the opportunity to match any offers out there, and Stastny loves playing in Colorado, so they still have that edge. If it's not them, the Blues are the other leaders. Chicago is a wild card if GM Stan Bowman decides he's willing to make the space for him.
That puts pressure on the other Western Conference teams to find a way to keep pace with the contenders at center.
"I can't control that part," said Stars GM Jim Nill, who is on the prowl for a center. "Of course, you have to keep up with them. Maybe our 'keeping up' is our kids getting better. We can't speed up our process. That's when we get in trouble. If I try to speed this up... that's where you get in trouble."
In Minnesota, GM Chuck Fletcher has a similar philosophy. He saw strides from
Mikael Granlund
and
Erik Haula
last season, and Haula played really well for the Wild in the playoffs.
[+] Enlarge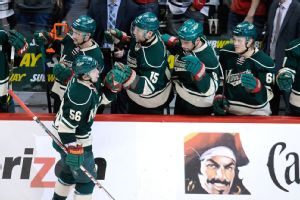 Hannah Foslien/Getty ImagesWild rookie Erik Haula had five points during the six-game series against the Blackhawks.
The Wild may close the gap, not by entering the arms race at center, but by strengthening the team around incumbents
Mikko Koivu
, Granlund and Haula. They have cap space, would like to add help on defense and for the right price (and term) will be in on
Thomas Vanek
.
The complication with the Wild is that they have restricted free agent contract negotiations coming over the course of the next couple years with
Nino Niederreiter
,
Jason Zucker
, Haula, Granlund,
Charlie Coyle
,
Jonas Brodin
and others. With
Zach Parise
and
Ryan Suter
already locked in long term, Fletcher will be trying to lure players without a big appetite to match some of the term other teams will offer.
"Our fear is going out too far with too many players, without knowing what the young guys are going to cost us," Fletcher said. "What exactly is the role? Last year by the end of the playoffs, we had Niederreiter and Coyle on the second line. We had Pominville and Parise on another line. If you're fitting someone in, how does that change our lines? There's a lot into this."
In Winnipeg, they made a bid for Stastny, but according to colleague Pierre LeBrun, didn't find themselves on the pared-down final list.
Like the others, GM Kevin Cheveldayoff is leaning on drafting and developing, but he's also open to being creative to find other ways to fill their need at center.
"You're looking at free agency, a lot of times those things aren't necessarily there for everybody. Someone might get the couple players that are there. You look at it from a trade perspective," Cheveldayoff said. "Sometimes you end up staring at it. It's something you're consciously trying to do, but there are only opportunities maybe to do it at different times. Nothing is ever final. You're always looking."
The Stastny domino is a key one, but there are a lot of other moving parts as free agency gets rolling at noon ET today:
• Vanek was offered some monster contracts from Buffalo and the Islanders, but has been insistent since day one that he's going to test the market. While the preference is always to go long-term for the player, that won't be a deal-breaker for him today. If there's a fit on a team Vanek is comfortable with, he's willing to go shorter on the term of the deal.
To continue reading this article you must be an Insider
July, 1, 2014
Jul 1
11:23
AM PT
ESPN.com news services
Veteran defenseman Stephane Robidas has signed a three-year deal with the Toronto Maple Leafs.
The deal is worth $9 million, a league source told ESPN.com's Craig Custance on Tuesday.
Robidas, 37, spent 11 seasons with the Dallas Stars before being shipped to the Anaheim Ducks at the trade deadline in March.
The well-respected defenseman suffered a broken leg this past season before his trade to Anaheim and reinjured his leg during the playoffs. He played in only three games for the Ducks in the postseason but drew significant interest on the open market when free agency began Tuesday.
TSN reported that Robidas is recovering well from the multiple fractures suffered this past season. He is reportedly skating already and anticipates being ready for training camp.
Robidas provides a boost to the Maple Leafs' back end, adding 14 years of experience to Toronto's defensive corps.
Information from ESPN.com's Katie Strang was used in this report.
July, 1, 2014
Jul 1
11:04
AM PT
Associated Press
WINNIPEG, Manitoba -- The Winnipeg Jets have signed forward Mathieu Perreault to a three-year, $9 million contract.
Perreault spent last season with the Anaheim Ducks, scoring 18 goals and 25 assists.
In 228 games with Washington and Anaheim, he has 51 goals, 62 assists and 106 penalty minutes.
He was drafted in the sixth round, 177th overall, in the 2006 draft.
June, 27, 2014
Jun 27
9:01
PM PT
ANAHEIM, Calif. -- A few hours after the
Anaheim Ducks
added
Ryan Kesler
to their roster, first-round pick Nick Ritchie said he plans to join that group in the fall as well.
The Ducks chose Ritchie with the 10th pick of the NHL draft Friday night in Philadelphia, adding the physical left wing from the Toronto area to their already deep farm system.
[+] Enlarge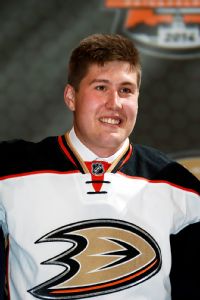 Dave Sandford/NHLI/Getty ImagesNick Ritchie will bring a physical game to the Ducks and already has his sights on making the team next season.
The 6-foot-3 Ritchie is a prototypical power forward with a scoring touch and a mean streak -- and he doesn't lack for confidence in his abilities.
"I think I'm going to try to have a big summer, come to training camp and make that team," Ritchie said.
Ritchie's arrival capped a busy day for the Ducks, who also acquired Kesler from the
Vancouver Canucks
in a major trade. Anaheim gave up center
Nick Bonino
and defenseman
Luca Sbisa
, along with its own first-round pick, the 24th overall.
But the Ducks still had the Senators' first-round pick from the deal sending
Bobby Ryan
to Ottawa last summer. They used it on Ritchie, a bruising forward coming off a strong season with the OHL's Peterborough Petes.
Ritchie led the Petes with 39 goals -- including a five-goal game -- and 74 points, and he played well in the postseason.
Ritchie has never been to California, but he'll be in Orange County next week for a Ducks conditioning camp. He knew Anaheim might be his destination after his hometown
Toronto Maple Leafs
passed on him at No. 8.
"I had a good talk with them at the combine, and I think I knew that they had interest," Ritchie said. "To get picked by them is pretty great, and I couldn't have been happier."
Ritchie also plays lacrosse, and he comes from a sporting family. His older brother, Brett, plays for the AHL's Texas Stars after Dallas drafted him with the 44th overall pick in 2011. Their father also played in the OHL, and their mother was a three-sport college athlete.
The Ducks began the day with two first-round picks, but shipped their 24th overall selection to Vancouver as part of the trade landing Kesler, the Canucks' star two-way center.
Anaheim also is stacked with young forwards who hope to get a major role next season, including
Devante Smith-Pelly
,
Emerson Etem
and
Rickard Rakell
. Ritchie still believes he'll get a shot.
"I'm a big guy, and I like to play a hard game, play physical," Ritchie said. "Get to the net and play like a big power forward. Hopefully I can come in and make the team this year."
June, 28, 2014
Jun 28
9:49
AM PT
PHILADELPHIA -- The NHL draft is first and foremost about distributing the league's future talent among its franchises, but it's also an opportunity for each team to assess its overall needs and set the course of the organization for the coming weeks and months. With that in mind, we set to grade each team's efforts at the hockey-palooza that is the draft weekend. Each team received a grade for the talent they managed to acquire and another grade for how well the team's fortunes fared in the same 48 hours.
Corey Pronman provided the talent grades and emptied his notebook (including re-printing each first-rounder's scouting report from Friday's live blog) to give you a comprehensive glimpse at each team's future, while Frank Provenzano graded each front office's weekend.
To continue reading this article you must be an Insider
June, 27, 2014
Jun 27
5:46
PM PT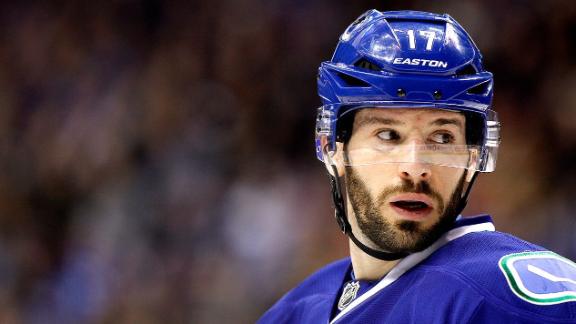 PHILADELPHIA -- In the end, it's not just that the
Anaheim Ducks
got their man, it's that
Ryan Kesler
anointed the Ducks as one of only two teams to which he'd be willing to accept a trade.
For a team that has long struggled to become that kind of team, a destination team, a team that can create a culture of winning that is attractive to top players, the moment was not lost on Anaheim general manager Bob Murray.
"Well, just the fact that he gave the two teams he wanted to go to, [it] was very positive for us to be included in that, because not always have we been included in things like this. To me it means our organization's going in the right direction," Murray told reporters shortly before the start of the annual draft.
"After the season in reviewing things, we knew we had to fill that -- not that he's a second line center -- but we knew we needed someone behind
Ryan Getzlaf
," Murray said. "I think this is a huge move for our hockey team. I think we're better today than we were yesterday."
The acquisition gives the Ducks a formidable one-two punch with Hart Trophy finalist Getzlaf and former Frank J. Selke Trophy winner Kesler.
"Well he's a very good playoff player," Murray said. "He's a heart and soul guy. We weren't very good on faceoffs all year; he's very good on faceoffs. He's an excellent penalty killer. He can play the power play. Just having those two guys back to back, the two Ryans, it makes Mr. Getzlaf's life a little easier I think right now, too. So I think we're going to be a harder team to play against.
"Obviously our division and the whole Western Conference is very difficult and going up against the L.A.'s, the San Jose's and even Dallas. I think Dallas is on the way now, so our middle had to get stronger. ... We just had to get stronger down the middle of the ice," Murray said.
June, 27, 2014
Jun 27
4:43
PM PT
Associated Press
[+] Enlarge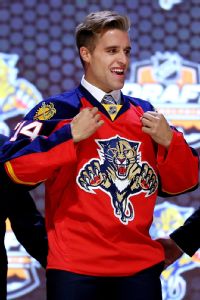 Bruce Bennett/Getty ImagesAaron Ekblad was the OHL's most outstanding defenseman last season, ranking first among defensemen with 23 goals.
PHILADELPHIA -- With the first pick of the NHL draft, the Florida Panthers went with 15 seconds of dramatic pause before announcing the name.
The silence felt much longer for Aaron Ekblad.
"I was just sitting there just kind of scared and excited at the same time," he said.
At last, general manager Dale Tallon made the call for Ekblad, selecting the defenseman with the first pick Friday night.
Ekblad, a 6-foot-4, 214-pound defenseman who played for Barrie in the Ontario Hockey League, is the first defenseman to go No. 1 since St. Louis took Erik Johnson in 2006.
Without a clear cut No. 1 on the board, Tallon was open to trading the pick. In the end, he decided to take the 18-year-old defenseman from Belle River, Ontario, with the first selection at the Wells Fargo Center.
"That is the burden of expectation. I chase it," Ekblad said. "I want that burden of expectation. I want that feel for motivation and I want to succeed under that."
June, 27, 2014
Jun 27
3:34
PM PT
Ducks get:
Ryan Kesler
, Vancouver's third-round pick in 2015 draft
Canucks get:
Nick Bonino
,
Luca Sbisa
, the 24th overall pick in the 2014 draft and Anaheim's third-round pick in 2014
---

Anaheim Ducks: A
The Ducks went into this offseason with a clear-cut need for a No. 2 center and had Kesler at the top of their wish list. That they were able to pull this deal off without trading the No. 10 overall pick, acquired from Ottawa in the
Bobby Ryan
deal, is an absolute coup. It's believed that the Ducks were willing to include that pick at the trade deadline because it meant they would have Kesler for this past postseason, but GM Bob Murray gets full marks for standing firm on this offer now that they're guaranteed only two possible playoff runs with Kesler.
To continue reading this article you must be an Insider
June, 27, 2014
Jun 27
2:46
PM PT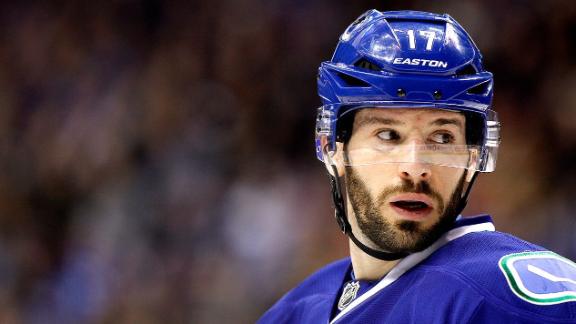 So imagine for a minute that
Ryan Kesler
was wearing an
Anaheim Ducks
jersey this past spring. Do the Ducks prevail over a
Los Angeles Kings
team they had on the ropes but couldn't quite put down?
Maybe it's a moot point, but in our books the answer is yes, the Ducks win that series. And then? We know how the Kings finished up the playoffs, beating Chicago in a seven-game thriller and then storming through the
New York Rangers
in a five-game series that ended with the Kings' second Stanley Cup in three years.
Could such glory be within reach of the Ducks now that they have acquired the highly sought-after Vancouver center?
[+] Enlarge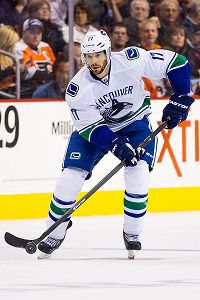 AP Photo/Chris SzagolaRyan Kesler, who is coming off a 25-goal season for the Canucks, has two years remaining on a six-year, $30 million deal.
Again, a moot point perhaps. But what isn't moot, not after Friday afternoon's pre-draft blockbuster trade between the Ducks and the Canucks, is that Kesler is now a Duck and the balance of power in the mighty Western Conference and in hockey's toughest division (Pacific Division) has shifted, and perhaps more than a little.
There will always be durability issues with Kesler, who asked out of Vancouver as the Canucks embark on a remaking of what not so long ago was the top regular season club in the NHL. But when he's healthy -- and he was for most of last season -- Kesler is among the premier two-way centers in the game. The former Frank J. Selke Trophy winner is the prototypical 200-foot player, hard to play against and blessed with excellent offensive skills that saw him collect 148 point between 2009 and 2011.
Playing behind Hart Trophy finalist
Ryan Getzlaf
as the Ducks' No. 2 center, Kesler gives the Ducks the one-two punch they will need to traverse the rocky Western Conference playoff road, the kind of punch they lacked against the Kings this past spring.
Immediately after the trade was announced, there was condemnation on social media for the return new
Vancouver Canucks
GM Jim Benning realized in trading Kesler. But in obtaining
Nick Bonino
, the Canucks got an emerging center who should fit in nicely behind
Henrik Sedin
in the Canucks' lineup. The 26-year-old had a breakthrough year last season with 22 goals and added four more in 13 postseason games.
Defenseman
Luca Sbisa
also went in the deal, as did the Ducks' 24th overall pick in Friday night's draft, plus the teams swapped third-round picks. Sbisa has not developed the way the Ducks hoped when they acquired him in another draft day deal with Philadelphia in 2009 for defenseman
Chris Pronger
.
Could the Canucks have gotten more for a player of Kesler's caliber?
Tough when Kesler held all the cards in this situation with a no-trade clause that essentially left the Canucks with only two teams to deal with: Anaheim and Chicago.
And kudos to Anaheim GM Bob Murray, who gave up a lot but still managed to keep core youngsters like defenseman
Sami Vatanen
,
Devante Smith-Pelly
and
Emerson Etem
. He also managed to acquire a player in Kesler who, at 29, is still in his prime and has two years left on a contract with a very cap-friendly $5 million annual cap hit.
Speaking of Chicago, the Blackhawks have been scouring the NHL landscape looking for a second-line center to fall in behind
Jonathan Toews
on their depth chart as they too were over-matched by the Kings down the middle in the conference finals. Missing out on Kesler is a blow, but it also means they will no doubt redouble their efforts to impress free agent center
Paul Stastny
and/or take a run at Ottawa center
Jason Spezza
, who has asked to be traded out of the Canadian capital.
The much-anticipated Kesler deal has the potential to drive up Ottawa GM Bryan Murray's asking price, as the options for teams looking for help down the middle have now been greatly diminished.
One thing's for sure: With the Kesler domino falling, what many believed would be a wild and woolly draft weekend got off to a roaring early start.