Anaheim Ducks:

Bruce Boudreau
May, 16, 2014
5/16/14
11:45
PM PT
ANAHEIM, Calif. -- This wasn't how
Teemu Selanne
envisioned his final game in the NHL playing out.
Then again, it's hard to tell exactly how Selanne pictured his career eventually coming to an end. After all, there always has been a chance that Selanne's last game of the season for the past decade could be the last game of his career.
[+] Enlarge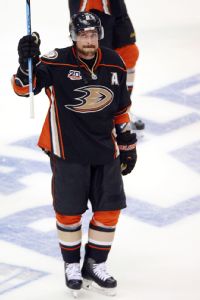 Robert Hanashiro/USA TODAY SportsTeemu Selanne bid farewell after the Ducks were eliminated by the Kings on Friday, but his legacy in Southern California is firmly established.
He nearly walked away from the game in 2004 before returning to play for the
Anaheim Ducks
and momentarily retired after winning the Stanley Cup in 2007 before returning for one more season, which turned into seven more seasons.
It would be only natural to suspect that Selanne, who will turn 44 in July, isn't really retiring this time, either. It's just a pesky thought in the back of his mind that will eventually get checked into the boards when next season rolls around and he's watching games on television. But this time, Selanne promises, he's really walking away for good.
"I just felt now it's time," Selanne said as he stood in the center of the Ducks' dressing room Friday night after a 6-2 Game 7 loss to the
Los Angeles Kings
. "My role got smaller. I still felt that I could play way more with a bigger [role], but when it started going down, it's time. It had to come. I felt it was the right time. … I'm still going to watch, and I'll try out for some beer league teams."
For the first time in his career, Selanne skated off the ice and was content with it being his last time as a professional.
"No regrets," he said. "I've been flirting with the decision for a long time. The passion and the fun always brought me back, and I still love this game. I still know I can play, but it's better this way than having a different situation. It's the right time."
Despite being at peace with his decision, Selanne still couldn't hold back his tears as he walked into the Ducks' dressing room for the last time and removed his uniform and skates.
"I tried to hold it back, but when I came here I couldn't hold myself anymore," Selanne said. "It was something new. I didn't know what to do out there. It's still hard to realize it's all over now. Tomorrow morning it's going to be a weird feeling. I'm going to miss a lot of things, but it had to end sometime and somewhere."
April, 28, 2014
4/28/14
9:38
AM PT
By
Richard Durrett
| ESPNLosAngeles.com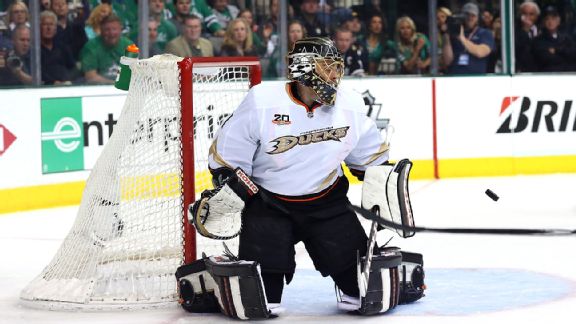 Ronald Martinez/Getty Images
DALLAS --
Jonas Hiller
didn't play the way he wanted to down the stretch during the regular season. He waffled just enough to lose his job and had to watch as youngster
Frederik Andersen
got the chance to start in the first round of the playoffs.
For many goalies, spiraling from the ice to the bench while your team was playing in the playoffs would be enough to lose any mental edge you might have acquired during the season. Sure, you tell yourself you have to be ready to play. But do you really believe it?
"It's definitely not easy," Hiller said after playing a critical part in winning Game 6 and, consequently, the series on Sunday. "Yeah, I definitely had days where I would go, 'Hockey sucks.'"
But Hiller said things would change when he got to the rink.
"We have a great group of guys here," Hiller said. "They're always helping each other out. Yeah, it's fun to come to the dressing room. It's almost impossible to be miserable around those guys, so yeah, I'm trying to stay positive."
Hiller was called upon twice in the series -- both times in Dallas. He came in with his team down two goals in the third period of Game 4 and kept the Stars out of the net, though Dallas got the 4-2 win to even the series. Ducks coach Bruce Boudreau didn't wait as long on Sunday, pulling Andersen midway through the second period when
Trevor Daley
scored to give the Stars a two-goal lead.
Dallas had the momentum and was controlling play. But Hiller made sure four goals would all they would get. He was tested with a quick shot just seconds into the game and responded. He stopped all 12 shots he faced and didn't allow the Stars to get that one additional insurance goal that would have sent the series back to Anaheim for Game 7. That wasn't something a team that lost Games 6 and 7 to Detroit last year, including the final game at home, needed.
"I'm going to enjoy it right now and kind of go from there," Hiller said. "Right now, I'll enjoy it and kind of like take the confidence and good feeling about that win with me and hopefully I get the chance to play more."
He has to play more. It will be difficult after benching Andersen twice for Boudreau to go back to him now.
"It's the stuff we knew he could do," Boudreau said. "We know he's a great goalie, but he hadn't done it in the month of March and April."
Boudreau said Andersen woke up sick, but said he was able to play. The coach wondered if that's why Andersen wasn't sharp. Either way, Boudreau has more goalie questions to answer before the second round starts, though this one shouldn't be too difficult. Boudreau was asked if Hiller will start later this week against San Jose or Los Angeles.
"I'm sure that thought's going to cross my mind," Boudreau said. "I've got to believe there's going to be a lot of talk into it. We have a few days off and let everything settle and make a decision."
April, 26, 2014
4/26/14
9:40
PM PT
By
Richard Durrett
| ESPNLosAngeles.com
Ducks coach Bruce Boudreau, talking to reporters on Saturday in Dallas, said Stars forwards Ryan Garbutt and Antoine Roussel had "been taking little potshots" the entire series.

"It caught up to them," Boudreau said. "Both of them took penalties that in the regular season they get away with and the first couple of games, they were getting away with. Like I said, the thing that happened with the spear, sometimes you don't catch that because it's in the middle of a line change and there's chaos there. But I think it was pretty flagrant."

Boudreau said he "can't comment" on Garbutt's fine, which was $1,474.36. That's the maximum allowable by the terms of the collective bargaining agreement.

"I'd love to because there's a lot of jokes to be made," Boudreau said. "But I'm not going to say a thing."

April, 22, 2014
4/22/14
2:46
PM PT
By
Richard Durrett
| ESPNLosAngeles.com
DALLAS -- The
Anaheim Ducks
were still processing through the fact that they won't have
Stephane Robidas
in these playoffs anymore after he fractured his right leg early in the second period of Monday's Game 3.
But it means they need a replacement. One strong possibility is a longtime teammate of Robidas' in former Star
Mark Fistric
.
"Heartbreaking," Fistric said when asked about Robidas' injury. "I've been a teammate of Robi's for a lot of years and I look up to him as a mentor and he means the world to me. As a young guy coming into the organization in Dallas, he showed me a lot and he taught me a lot. The injury itself is tough to swallow as an athlete and as a friend and teammate, but for it to happen another time, it's not a great thing to see obviously and my heart goes out to him and his family. I know they were there and it's not an easy thing to go through."
For coach Bruce Boudreau, Robidas' injury forces him to dig into the depth at defense. Fistric is a logical possibility now that he's gone through some rehab games and is fully ready to go.
"It's been long, frustrating, but had a lot of good people surrounding me, helping me out and I feel really good now," Fistric said. "If I'm called upon, I'm ready."
April, 22, 2014
4/22/14
12:59
AM PT
By
Richard Durrett
| ESPNLosAngeles.com
DALLAS – Whether
Kari Lehtonen
wants to admit it or not, no one was under more pressure when Game 3 began than the 30-year-old goaltender.
The
Dallas Stars
, newcomers to the playoffs after a six-year hiatus, lost both games in Anaheim and desperately needed a victory on Monday to keep hopes alive for a longer postseason stay. And Lehtonen didn't have a single playoff win on his resume.
Right away, the Ducks tested Lehtonen.
Saku Koivu
found the puck on his stick in close against Lehtonen and fired, only to have it smack off Lehtonen's pads. It was Lehtonen's body language after the save that had Stars goalie coach
Mike Valley
expecting a phenomenal night from his netminder.
"He got that shot and some others early and I could see a little swagger," Valley said. "He relaxed and played his game. Having him as long as I've had him, I know everything about him it seems like. You just know how he moves and you can see when he's feeling it and when his mind is in the right spot. You could tell early on that he was there."
The Ducks could tell, too. They tried to get pucks through him any way possible. But he closed off the 5-hole, blocked enough of the net to watch top-shelf attempts hit the glass behind him. He got his long legs and skates out to keep wraparound attempts away and he stoned point-blank opportunities.
[+] Enlarge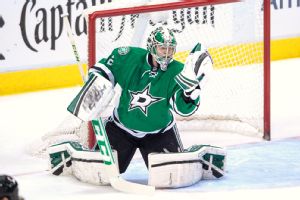 Jerome Miron-USA TODAY SportsKari Lehtonen made 37 saves in the first playoff win of his career.
"We had probably, I think, the most chances we've had in the series before but we couldn't beat him," Ducks coach Bruce Boudreau said. "That's what Lehtonen does. I've coached against him for many years and have seen him play games like that and he can do it, but we've got to find ways to score. We had chances to score. We just didn't get it done."
Lehtonen simply wouldn't allow it. He made 37 saves, some of them stops that looked destined to flutter the netting behind him. Koivu had a few.
Nick Bonino
had one in the slot that Lehtonen blocked and
Corey Perry
took several whacks with traffic in front and still, Lehtonen didn't let anything by him.
He donned a Stars cowboy hat after the game, worn by the MVP of the game as voted on by the team, and didn't try to hide his smile.
"At the age of 30, it was about to get that first one," Lehtonen said. "It was nice to be able to be back there and help the team out."
While there are a bunch of new faces on the ice and in the front office, it's easy to forget that Lehtonen is Joe Nieuwendyk's greatest legacy to this Stars team as the general manager. He traded for Lehtonen when he was an extra goalie in Atlanta dealing with a balky back and helped build him up into a solid starting goaltender. J.J. McQueen and Brad Jelllis got him in better shape and Valley put him through the mental and physical paces to improve him on and off the ice.
"He's changed a lot since he got here," Valley said. "He's playing a style that suits him now. He's a big goalie, so he's letting the game come to him. He has unbelievable athleticism, but it's a balance of being fundamentally sound and using that athleticism when you need to.
"I think just as important, he's matured as a person. Goaltending is so much mental and being able to deal with different situations, being able to deal with pressure, being able to have a short memory and when you let in a goal, move on to the next one. If you have a bad or great game, move on. He's early learned to do that and that's maturity and experience. He doesn't dwell on things. He learns from them and moves on."
Lehtonen played like a true No. 1 goalie this season. He was a big reason this team ended its playoff drought. But the value of a goalie is determined in the playoffs. Things get tougher. Players get more physical. Traffic in front of the net rivals rush hour on the 405 in Los Angeles or 635 in Dallas.
Teams spend much of their time trying to make life as uncomfortable as possible for the goalie. Lehtonen pushed through all of it in a must-win game for the Stars.
"It's an extra layer of confidence," Valley said. "Any time you can accomplish something you haven't done before, which is a playoff win for him, that's huge. That's a big stepping stone. Hopefully, it will create a lot more stepping stones."
Now Lehtonen must prepare to do it all again on Wednesday, when the Ducks are liable to push even harder to get Lehtonen off his game. It will be yet another test for the goalie, who passed his toughest exam yet in Game 3.
April, 21, 2014
4/21/14
11:31
PM PT
By
Richard Durrett
| ESPNLosAngeles.com
DALLAS -- The
Dallas Stars
earned their first playoff victory since 2008, beating the
Anaheim Ducks
, 3-0. It was the Stars' first home game of the series, played in front of a sellout crowd of 19,120.
Some quick thoughts:
How it happened:
The Stars got goals late in both the first and second periods.
Jamie Benn
, the Stars' second-leading goal scorer in the regular season, scored after
Shawn Horcoff
's shot from the left circle hit the pads of Ducks goalie
Frederik Andersen
and came right out to Benn on the right circle and he deposited it in the net. The goal was scored with 35 seconds left in the first period, allowing Dallas to take some momentum into the dressing room.
The teams were physical in the second period and both had some scoring chances. But it wasn't until the clock got under three minutes left that the Stars expanded their lead.
Tyler Seguin
's speed and puck-handling created the opportunity. He skated into the zone and left it for Valeri Nichuskin, who managed to get the puck through Andersen.
Dallas added another insurance goal midway through the third period.
What it means:
The Stars earned their first shutout since April 10, 2008, at Anaheim in Game 1 of the first-round and in the process are back in the series. It was an opportunity lost for the Ducks to take a stranglehold in the series. The result also guarantees that the series will go back to Anaheim for Game 5 on Friday.
Player of the game:
Kari Lehtonen
was terrific when it mattered most. He made several key saves on some point-blank chances, including
Saku Koivu
and
Nick Bonino
early in the second period. That kept it a 1-0 game and the Stars were able to add to it later in the period. Lehtonen was in a good rhythm and not afraid to come out and challenge shots. And he saw a lot of them. The Ducks vastly outshot the Stars, but just couldn't get anything past Lehtonen, even when they got some traffic in front of him. He made 37 saves, earned his first playoff victory and did so in a shutout.
Stat of the game:
The Stars' penalty kill was 5-for-5 and became a big momentum-booster for Stars goals late in the first and second periods. The Stars didn't allow rebound chances, blocked shots and Lehtonen was able to keep everything out. The Ducks haven't had a power-play goal since Game 1.
Injured defenseman:
Stephane Robidas
fractured his right leg early in the second period after getting tangled up with
Ryan Garbutt
in front of the Ducks' net. It's the same leg Robidas fractured in November when he was with Dallas, causing him to miss four months.
What's next:
Game 4 is Wednesday at 8 p.m. ET at American Airlines Center before the series shifts back to Anaheim for Game 5 on Friday.
April, 21, 2014
4/21/14
10:00
AM PT
By
Richard Durrett
| ESPNLosAngeles.com
DALLAS -- Coming into the first round series, the Ducks weren't sure what they were going to do in goal. They had depth at the position, but uncertainty. They made the decision to go with young
Frederik Andersen
and after struggling a bit in the second and third periods of Game 1, he made the key saves needed in Game 2.
"He has the team's faith, there's no doubt about that," said Anaheim coach Bruce Boudreau. "He's pretty calm in all situations. Off the ice, he's a very quiet man anyway. You don't see the nervous energy.
"If it was me, I'd be pacing. When I played, I paced. He just sits down there. He's pretty calm. We have confidence in him. He's been battled tested on the road in some pretty hostile buildings."
It helps any goaltender to have so many players in front of you blocking shots, too. The Ducks do a good job of blocking pucks so Andersen isn't called upon to make every save, but they are also cognizant of moving out of his vision line so he can make the saves he sees.
Andersen hasn't had to be dominant so far this series. But he did have to protect a lead late in Game 2 as the Stars' swarmed the net with the extra skater. So far, he's done the job.
April, 21, 2014
4/21/14
8:00
AM PT
By
Richard Durrett
| ESPNDallas.com
DALLAS -- Through two games, it has been top line vs. top line. That was how the
Anaheim Ducks
decided to counter the
Dallas Stars
' line featuring
Jamie Benn
and
Tyler Seguin
. It will be up to Stars coach Lindy Ruff, since he'll get last line change, as to how he approaches
Corey Perry
and
Ryan Getzlaf
. But it's very possible that we'll continue to see the top lines out on the ice against each other.
"We like it," Getzlaf said. "I've always loved that head-to-head matchup with anybody. It draws out the best in you and forces you to play both ends of the rink and play well. That's always a good challenge for us and so far we've been up to it."
Perry and Getzlaf both had goals in Anaheim's Game 2 win, and Getzlaf added an impressive assist on a shorthanded goal.
"They are two good players," Benn said. "They're going to find ways to get their opportunities."
Perry's goal came when he took away a pass from Seguin intended for Benn and cashed in the chance. Getzlaf scored when he pressured
Erik Cole
into a mistake. Getzlaf impressed his coach with how he played Friday, after getting beat up in Game 1 and not getting much sleep after he and his wife welcomed a baby girl.
"He looked like crap in his face," Ducks coach Bruce Boudreau said. "He's obviously tired. He doesn't like wearing a shield and the first shift he's in, he runs somebody to show everybody, 'I am fine. I am good. Don't think you're going to take advantage of me tonight.' I thought that was such a telltale sign of a superstar."
The top lines on both teams know each other well. After all, Benn played with Perry and Getzlaf on Team Canada at the Olympics.
"They are great hockey players," Getzlaf said. "Benn we saw at the Olympics first hand and [Seguin] has a great season coming here. He plays the game so fast and plays the game at such a high level that when you have Benn out there that can get him the puck, you have to pay attention to them."
Both lines have earned plenty of attention through two games. That's not likely to change in Game 3.